Stylesheet 001: Let's go! • Shorts in winter, and a deep dive into wardrobe problems
G'day and welcome to the first edition of Stylesheet! 🌻 I am excited for this fresh start to what was formerly the long-running Fashion Friday series on my blog. You can expect no less from me – you'll get the usual outfit details, a snapshot into what I'm wearing at the moment, and a peek into my brain as to what I think about when I choose what to wear or choose what to buy.
So, as the title of this outfit suggests… let's go! Let's dive right in!
Shorts and boots in cooler months
The outfit in this edition features a pair of shorts I've already styled a number of times (Split ends and Paper doll). I even recently bought another pair that are exactly the same – I love them that much, the fit, the pockets, the look – and they were marked down to just $20, and if I rotate between the two pairs then they will end up lasting longer.
I wore this outfit on our weekend trip to Melbourne – the temperature is in the mid-teens (Celsius, that is – it's about 60ºF) and a little colder than Sydney during the day. I noticed that the mornings are almost just as cold at this time, though. You might wonder why I'm wearing shorts in temperatures coming into winter, and in a country where we almost never experience snow and is just generally warm overall. Well, I'm trying to maximise the use of all my clothes, particularly by wearing them year-round. The advantage to doing that in a country like Australia is that although the seasons are distinct, they're not at extremes of the temperature and weather spectrum, so you can adopt techniques like layering clothes – as opposed to needing short clothes for summer and giant puffer jackets and scarves for winter.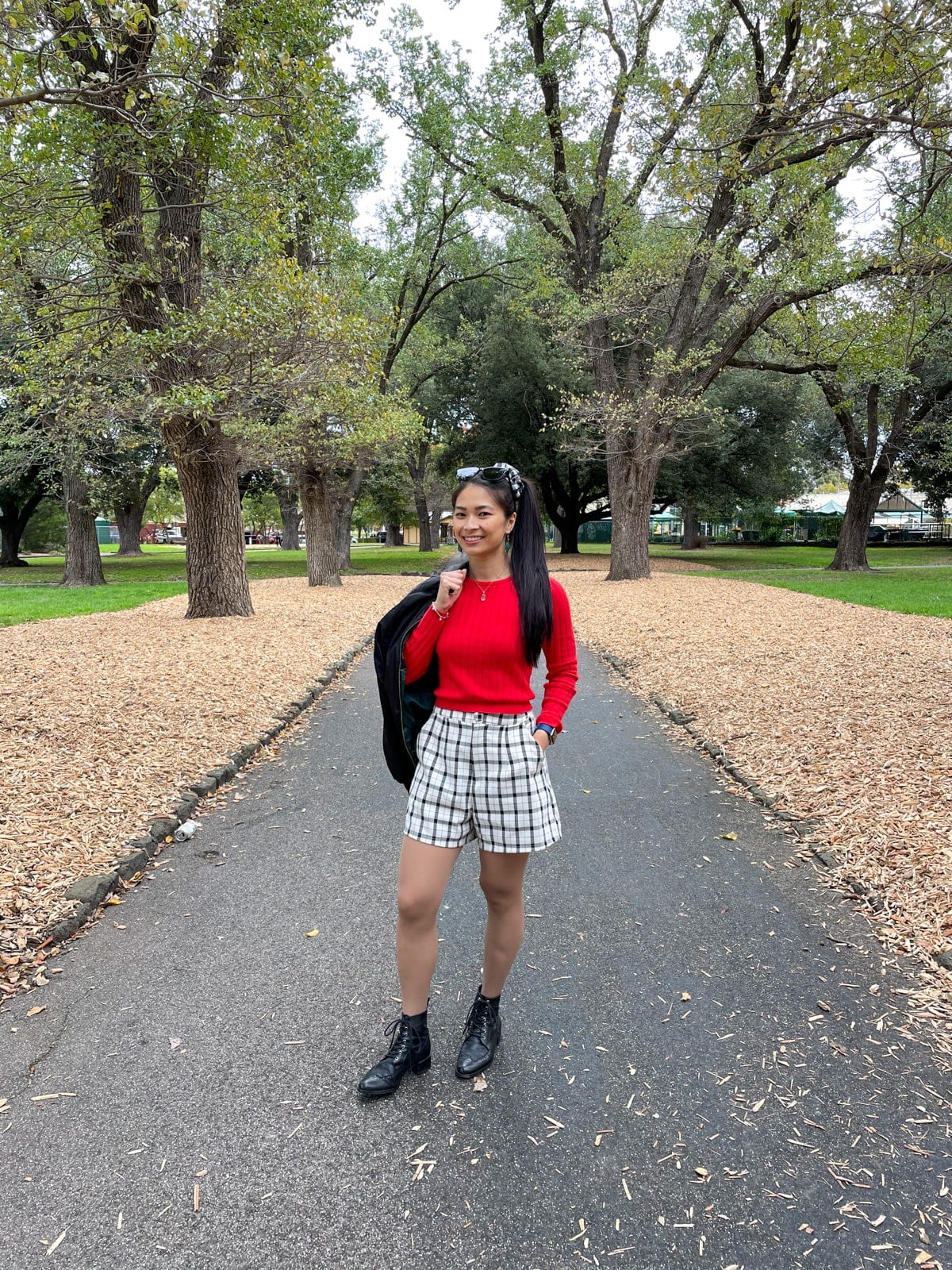 All that said, I decided that one way to maximise the pieces in my wardrobe would be to attempt to wear my skirts and shorts with tights or pantyhose in the cooler months. I don't generally gravitate towards jeans or pants, and I like the way my legs look in shorter garments, so I think this will be a pretty enjoyable experiment.
The only thing I don't love about the pantyhose I'm wearing in this outfit is that they have a slight sheen to them, which kind of doesn't really go with the overall outfit's style. I think opaque tights might work better, but I don't love opaque tights, and I'm unsure of where to purchase them (I need to do some research)… and I generally just prefer my tights to be the same colour as my skin or to contrast a bit with my outfit. I wear black pantyhose sometimes, but even though it makes sense to wear them with black, I don't like all-black or completely dark looks. I've mentioned it before – I enjoy and feel better with a bit of contrast in what I wear!
My choice of shoes was mainly for comfort and because boots just always seem to work in cooler months. However, I've been that person who has worn boots in the heat of summer, even if I don't do it often. 😅 I got these boots a couple of years ago to replace a pair of lace-up boots I had for four years and had worn out their soles. I didn't get those old boots re-soled but I got this pair re-soled when they started to wear out. In the first year of owning these boots I didn't love them – they felt tight and narrow on my feet, and unlike my old boots, they didn't have a zipper down the side so that I could put them on easily. Over time they have actually loosened up, though, and are a lot easier to put on.
A deep dive into why I dislike my winter wardrobe (yeah, bit of a tangent)
Admittedly, I've made quite a few clothing purchases in the past year. This year I've stuck to a budget, and worked hard to make sure I was purchasing things that would replace existing items in my wardrobe (that I would either sell or that were getting worn out). I'll admit that I've spent a lot of that budget already because I have been spending a little extra coin for more quality purchases, and more essentials like socks and underwear needed replacing. I'm actually not sure if essentials should be included in a budget for clothes! Or perhaps they should be separate. 🤔
That said, this red top is a new purchase, and it was to replace a well-worn brown/tan coloured top I bought back in 2018–2019. I wore that top a lot, and it was a viscose/polyester blend, tight-fitting, and with a square neck. I generally love the viscose/polyester blend, and I love square necks, but I wore the top so many times it was time to let it go. It had kind of both stretched out of shape and shrunk at the same time. 🧐 I also didn't love the colour because tan/brown is a colour that just doesn't jive well with a lot of what's in my wardrobe. In purchasing this red colour, I had bought my second-hand red top from the Stop and smell the roses Fashion Friday edition and decided to give the colour red a more solid try in my wardrobe.
Bright colours in summer is easily approachable for me, but I really hated my winter clothes for the lack of bright colours. I have quite a bit of blue and green. I did an analysis of all the photos I took of my outfits in 2020 (granted, we were mostly working from home, but I still dressed as if I was going out), and wrote a list of why I love my summer/warm weather clothes but hate my winter/cold weather clothes. After breaking it down, I realised that my reasons for hating my winter clothes was that I had far less colour, and my winter pieces were not compatible with each other. Hilariously enough, I wrote this in my notebook:
my winter shit doesn't match
the colours are fucked

not my colours
boring
don't match with my usual colours

i have too much fucking blue
It's true about the blue! 🤣 I came to the realisation that I love the colour blue (well, no shit, Georgie), but I kept buying clothes in blue. And that's not a problem because I love it all, but I've learned that I don't love monochrome looks, and that I prefer contrast to contrast with my features. So having too many blue clothes meant that there was less opportunity for contrast.
I'm also not a huge fan of layering. So I didn't like any of the cardigans I owned, and I didn't love wearing them as tops on their own. And my sweaters didn't accomodate many layers underneath because I got into the habit of buying skin-tight stuff all the time. That's something that I learned, in 2020, is something I want to move away from.
My approach to solving my problem was to declutter some of my wardrobe (which I did do) by removing distracting items, and trying on all my clothes. In doing this, I noticed that my winter clothes were missing the bright, fun factor that some of my summer clothes and outfits have. I decided that my action items were to bring some of my exciting summer pieces into my winter wardrobe by wearing my fun shorts and skirts with tights (hence this outfit!), and by experimenting with a different, bright colour.
Introducing… red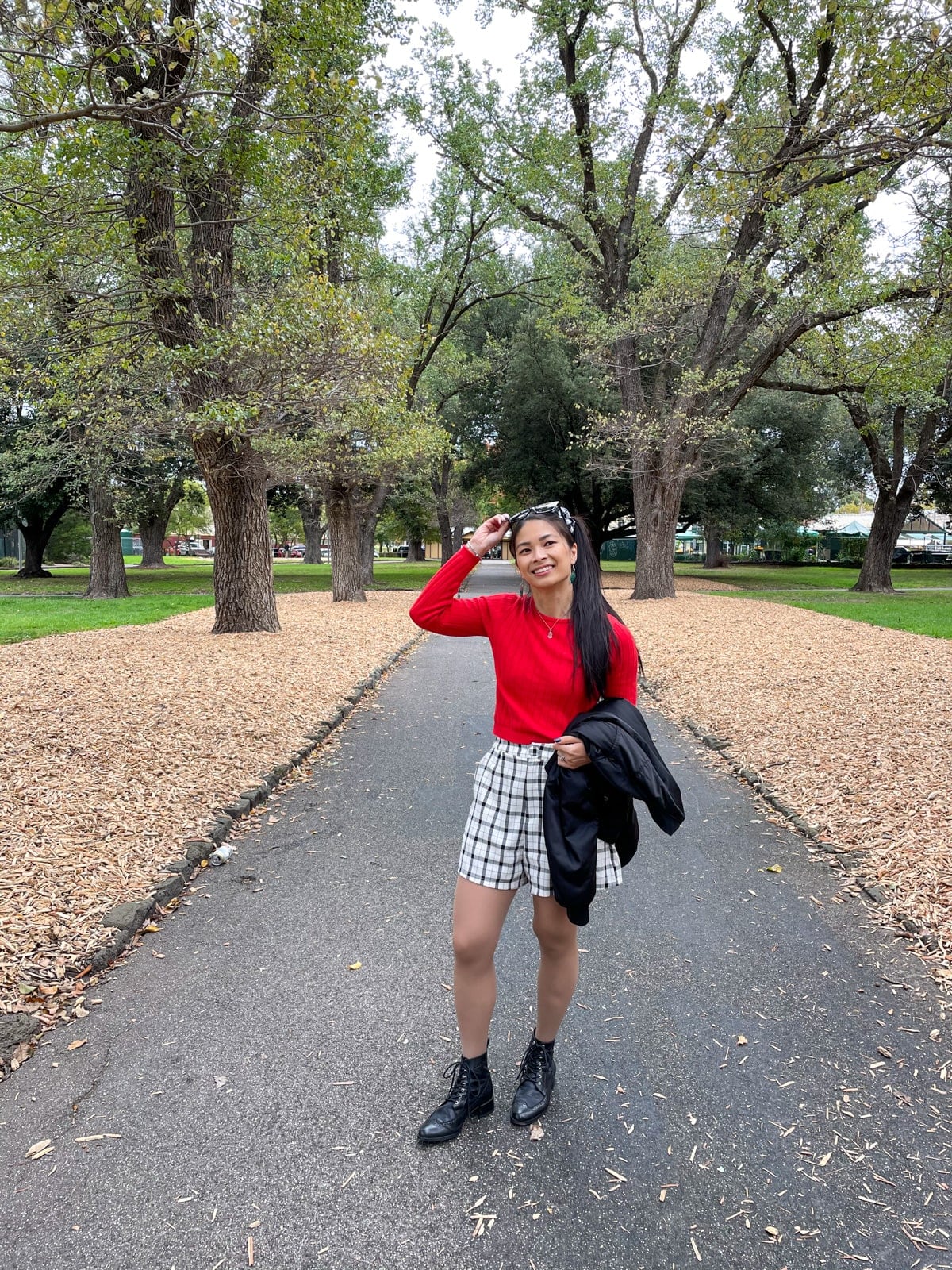 So here we have the red top! I purchased it online and I was very much drawn to the shorter length. It's really difficult, as a petite person, to find tops that aren't long and completely cover my bottom. I'm not really a fan of those. Shorter lengths are more flattering on me. This top is 100% cotton, so is already more of a sustainable choice than the viscose/polyester blend I often go for. It's not super body-hugging, which I really, really love. I don't love oversized items and this is the kind of silhouette that skims my body so it's still flattering without showing my every curve (or lack of, LOL). I think the other thing that has me chuffed about this top is that it's from an Australian brand. When I can purchase from brands closer to home, it always puts a smile on my face. ☺️
There was a brief period of time where I didn't like crew neck tops because I was very particular about pairing necklaces with them. I had gone for open-neck tops for a while, and then I kind of stopped giving a shit because I minimised the range of jewellery I had. 😅 It's often interesting how our personal style choices can come full circle. If you're someone working through your personal style – just know that it's subject to change, and there are definitely things you will be averse to that you'll change your mind about, or even vice versa.
Unusual bomber jacket – a purchase from Japan
I got my bomber jacket in 2017 when we went to Japan. I can't remember exactly what compelled me to buy a bomber jacket at the time, but around the time I was re-building my wardrobe starting with basics. You know that these days I don't really subscribe to some of those traditional "wardrobe basics", but at the time I didn't know any better and was still learning. So I wanted a bomber jacket because I thought it'd really add to my wardrobe. It turned out to be a pretty good jacket for travel and casual wear, even though I definitely go through phases of wearing it, and most of the time it just sits on the back of my WFH desk chair unused. It's a lot more waterproof than I expected, as I found out when we went to Cradle Mountain in early 2020. Due to its baggy sleeve shape and overall unique look, I've actually received a few compliments on it!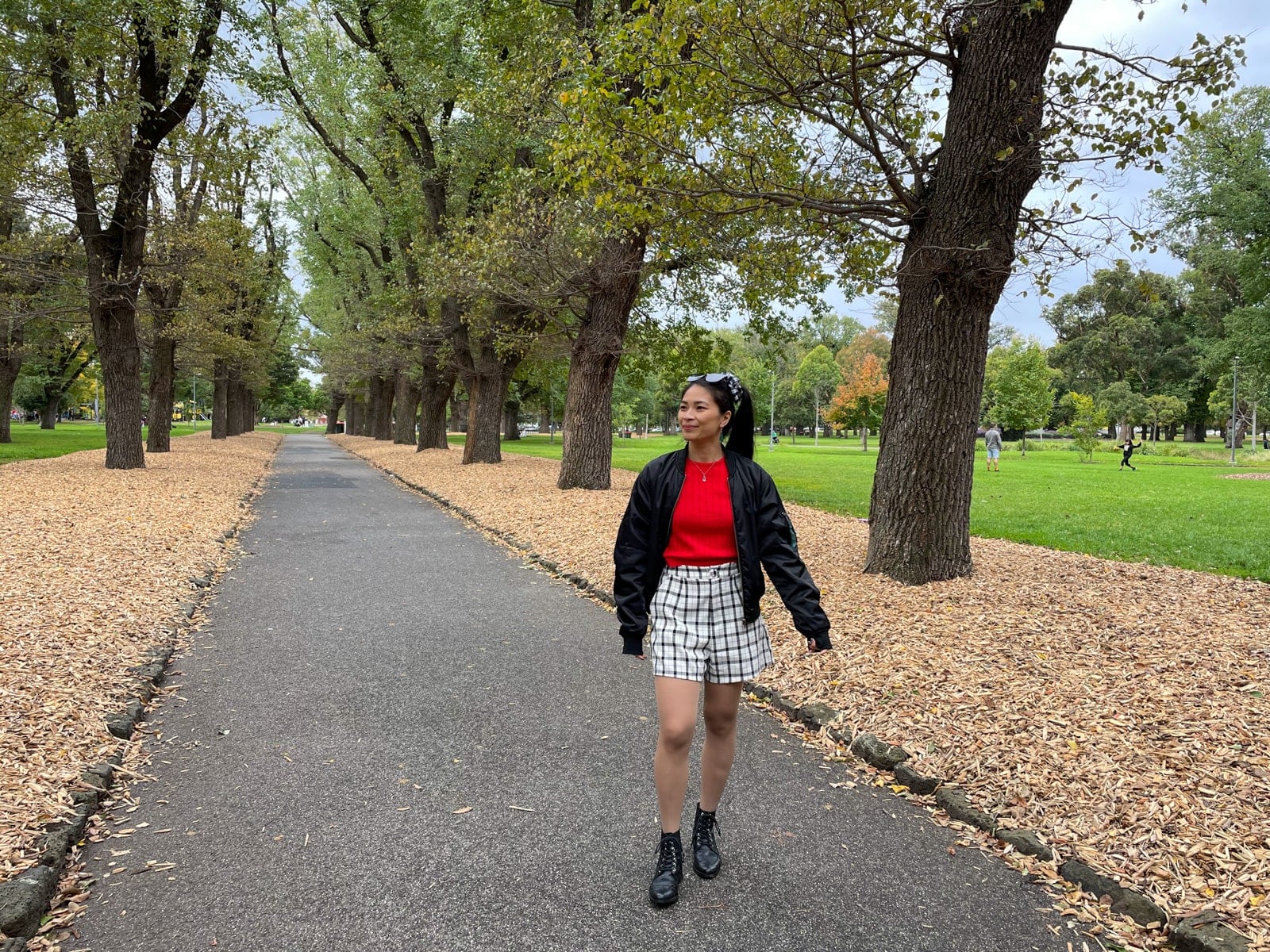 Naturally, I brought the bomber jacket on this trip to Melbourne because it makes for a good layering piece, and I don't have to worry too much about getting it ruined if I have to take it off. I feel a bit too precious about ruining coats and sweaters, so I often try to avoid bringing those with me when I travel. In bringing this jacket I thought it would also go well with most of the clothes that I brought with me. Although, to be fair, these were the only clothes I brought with me apart from one other t-shirt and my gym clothes. 😂 I'm planning a couple of posts on travelling minimally, so look out for those!
Geometric earrings
In my last Fashion Friday post I shared my jigsaw puzzle piece earrings and said that I bought another pair of cool earrings from the same Etsy seller. I'm wearing them in this outfit! I like the geometric look and the angles of these rich blue earrings. I actually really love the shape overall, and spent a long time looking for any earring that was even remotely in this kind of irregular shape. The bonus is that they are in a colour I absolutely love! 💙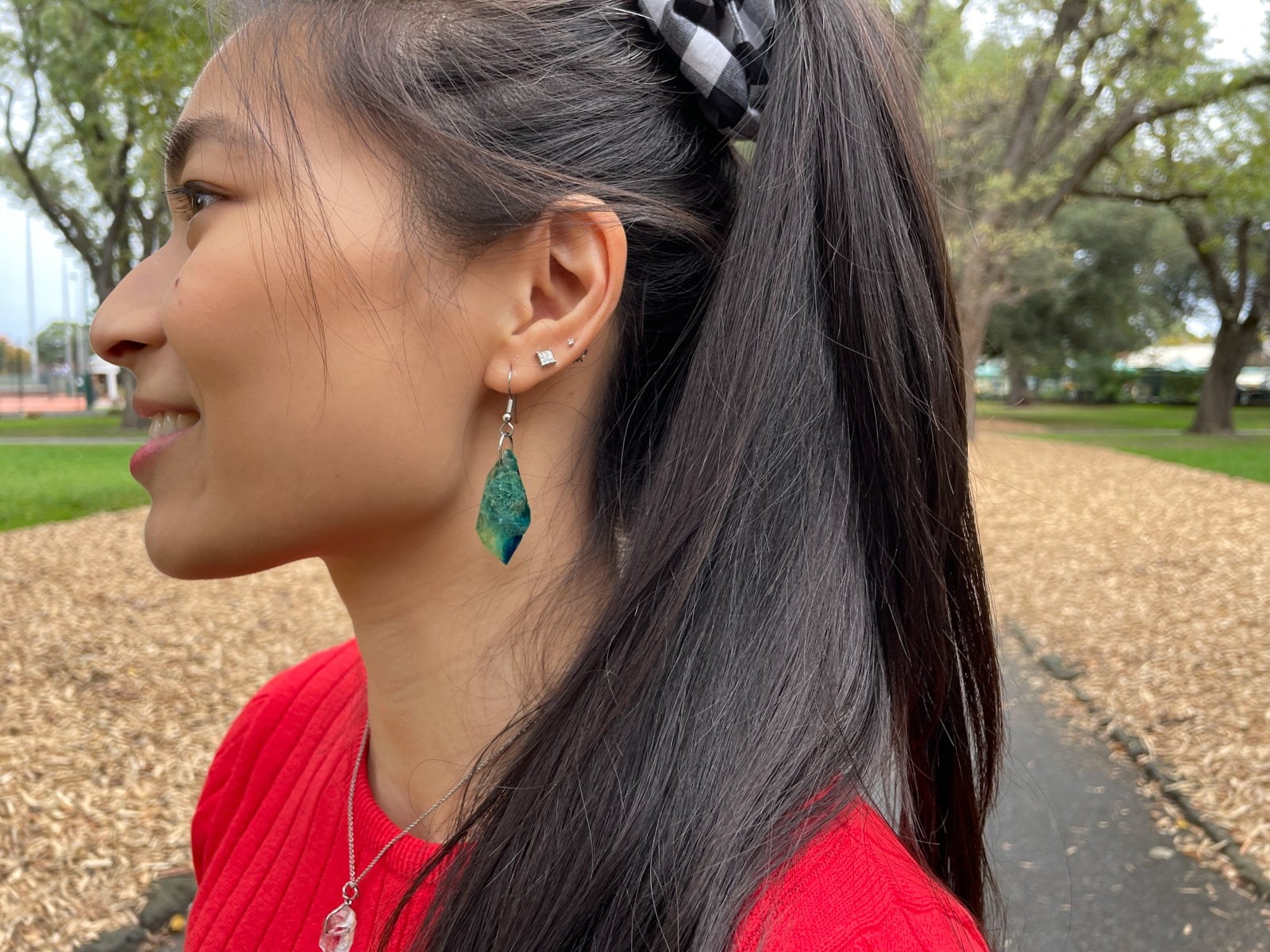 Signature repeated accessory pieces
Some pieces of my outfit that I've repeated several times recently are my hair scrunchie – and my hairstyle too, I suppose! – and my herkimer diamond necklace. I haven't really changed my necklace as much as I used to. I've taken a liking to keeping my jewellery a bit simpler and enjoying the pieces I own. I had thoughts about replacing this necklace but I actually like it quite a lot. I recently did a declutter of my gold necklaces since I don't really wear gold jewellery anymore. I'm planning to add another similar crystal or natural stone necklace into my jewellery rotation at some point in the future.
I always like to have my nails done up nicely. I think they're rarely nude or without nail art on them, but because I use Personail nail wraps, it just makes it a lot easier to keep my nails snazzy. They last for a pretty long time without getting damaged, and are easy to peel and clean off the surface of the nail as well. I'll have you know that I usually make sure my nails are done up nicely before we take outfit photos though… 😉 Otherwise, you probably wouldn't see much of my nails in the photos, haha.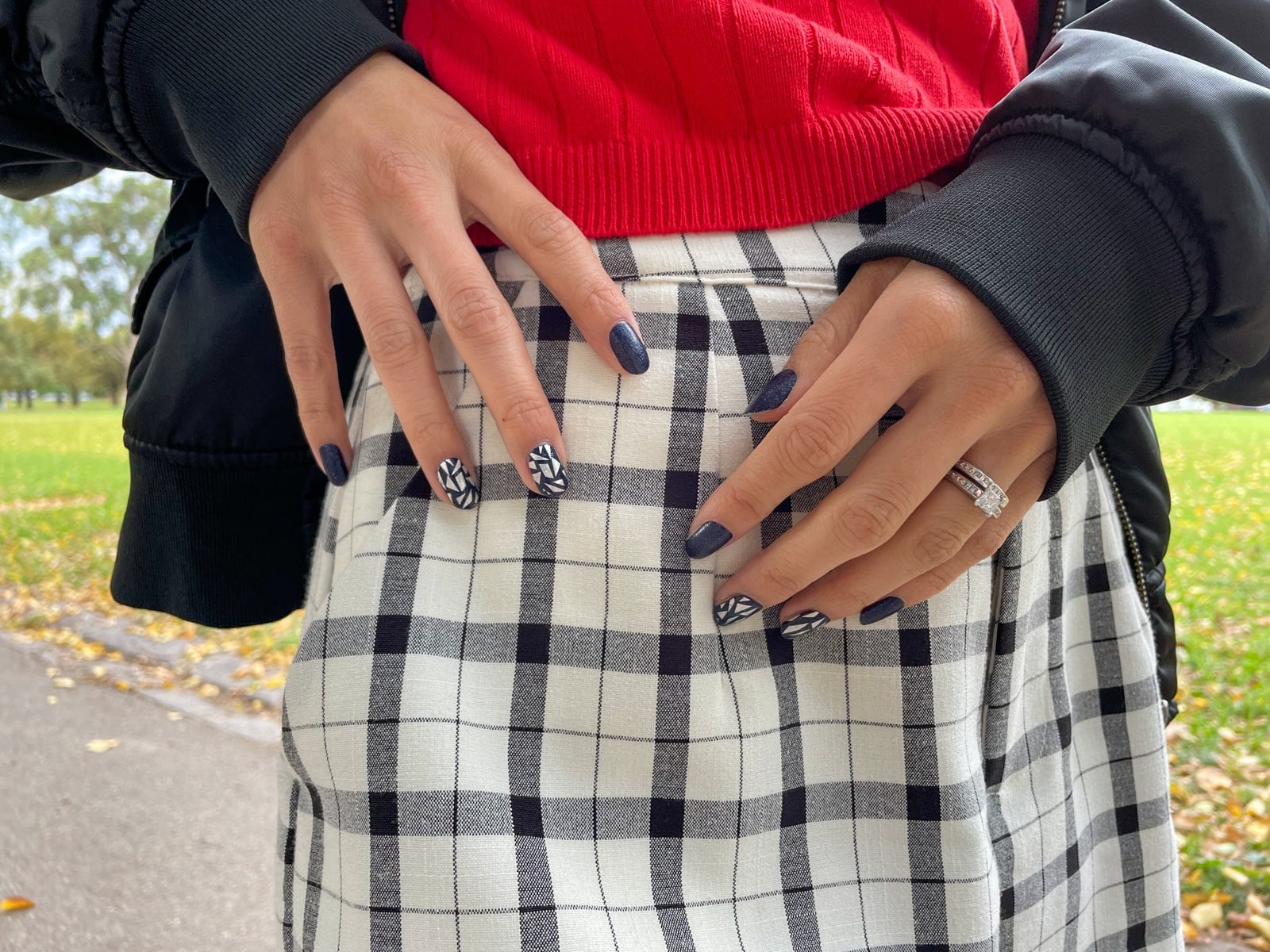 Personail's glitter nail wraps are still my favourite as they tend to last longer than the other styles without disintegrating. I usually put top coat, but I didn't this time, and as of writing this, they have lasted about ten days and still look pretty great with the exception of the holographic accent nails having come off. The glittery navy base is still present, though.
Overall I really love the look of this whole outfit, and I stand by the red top being a great purchase! I've yet to try it as a layering piece, but I like that it's the first long-sleeved item I've bought in a while – that isn't a sweater or jumper – that isn't a tight, form-fitting piece. I've already tried it on with other bottoms in my wardrobe, and I look forward to sharing much more of that. Let me know what you think! Do you gravitate towards any specific colours when the weather cools down or do you maintain the same sort of palette year-round?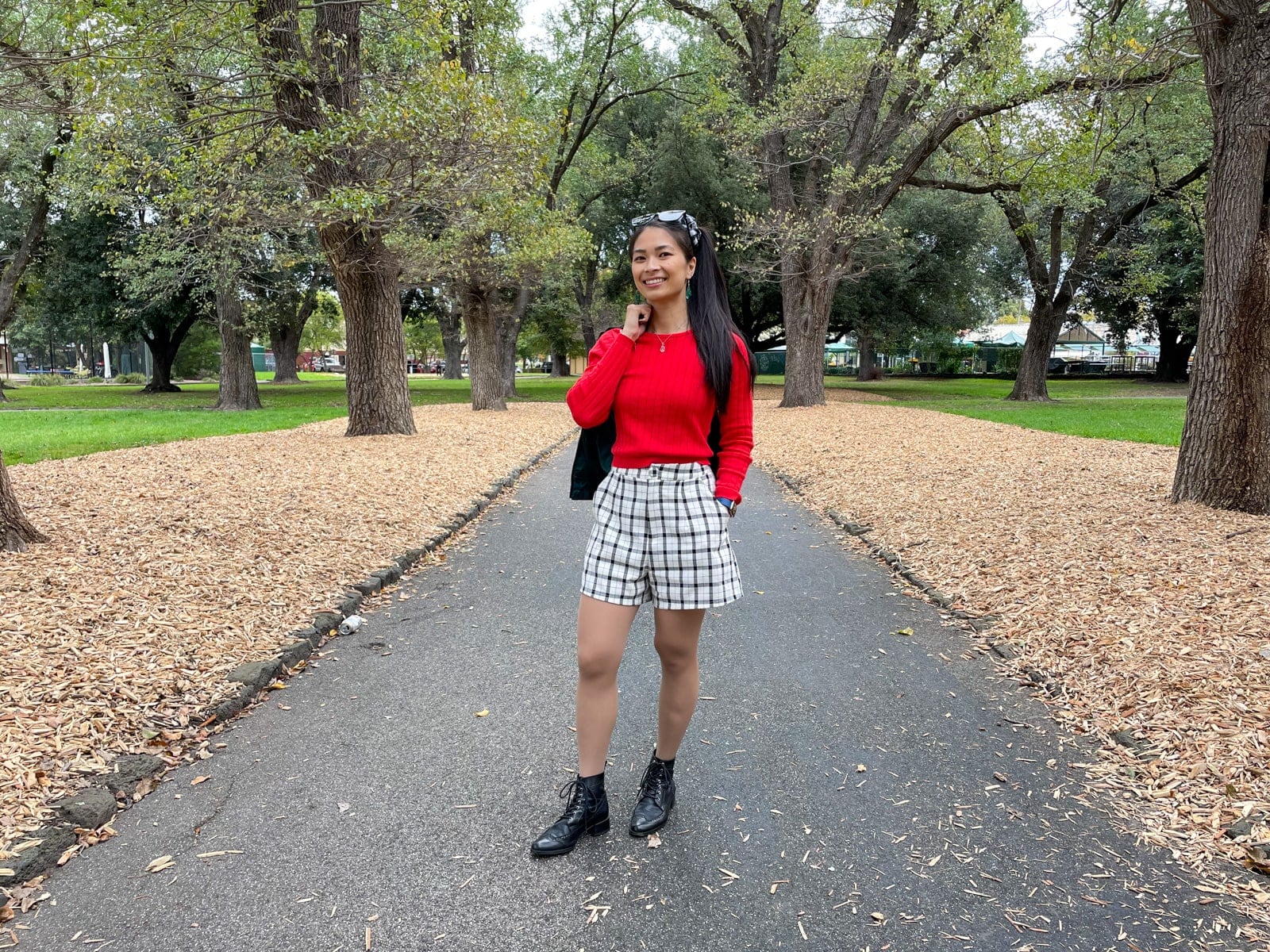 Outfit details
Colophon
📸 All photography by Nicholas Cooke. (on my iPhone 12 mini)
We took these photos in Edinburgh Park in Melbourne. It was raining a little bit before and after we took these photos – we managed to stay dry without an umbrella. Melbourne is known for having "four seasons in one day". I've visited the city a handful of times, and have experienced that most in summer. Cold in the morning, hot during the day, and more likely than not – rain.
I have no doubt that there are other places to take nice photos in Melbourne! This one was just a spot we managed to be at and get to while the weather was fine. More organic and less organised, perhaps you could say? 😅
I named this edition of Stylesheet Let's go! to reflect the excitement in starting this new "chapter" on my blog. ⭐