Fashion Friday: Puzzle pieces 🧩 • Quirky earrings and pointed-toe shoes
Hi friends! We're back for another Fashion Friday outfit. I actually asked Nick to take these photos a couple of weeks back, but then I took my unintentional "break", and chose to deal with some more important things in life. 🤨 Uh, yes, I do have a life outside of blogging. Bahah. That said, nothing to fret about – I'm still the same height, I still have roughly the same hair length, and perhaps my nails have a new design on them now.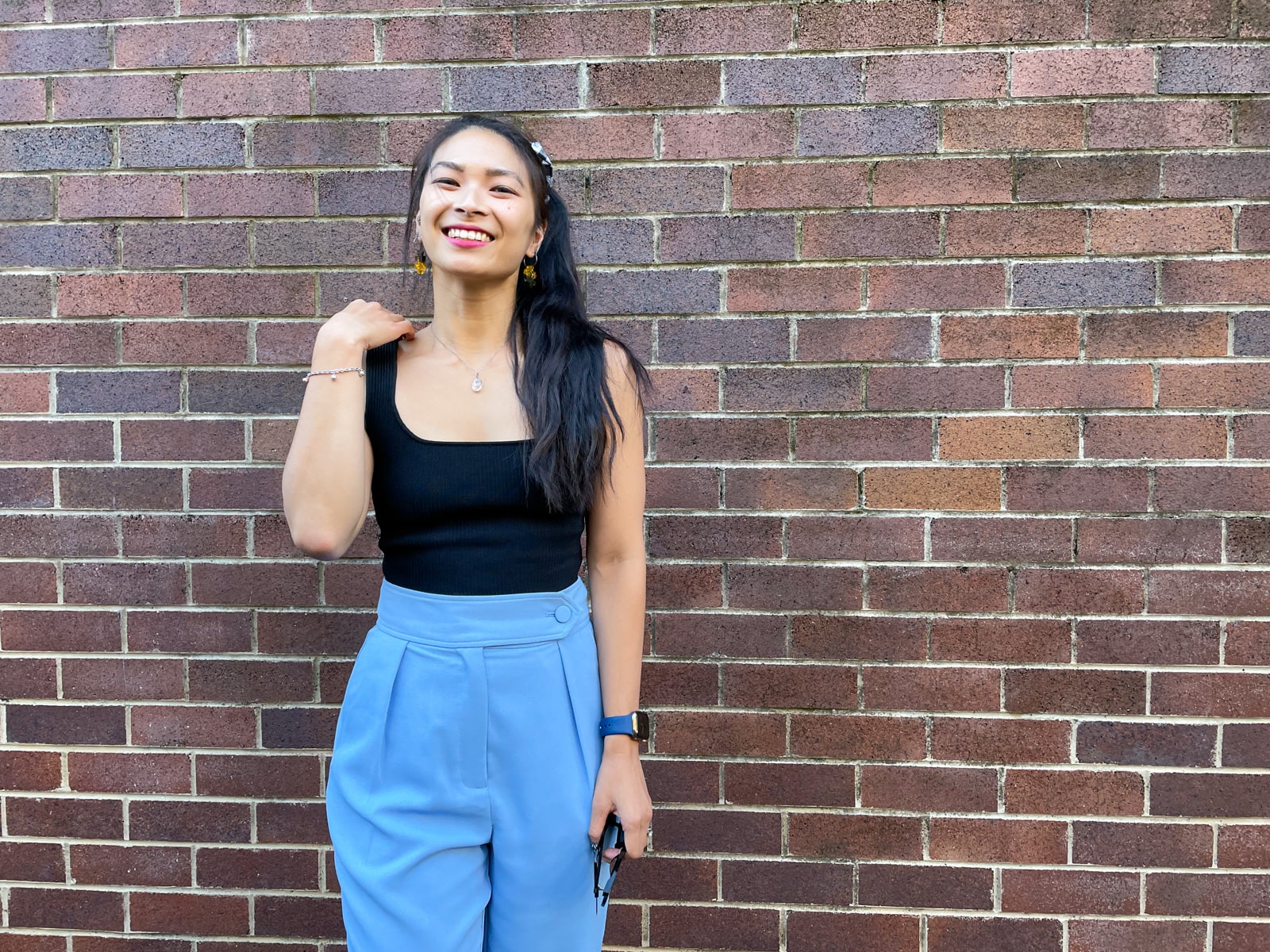 As I've mentioned in the past, though – at some point I really want my Fashion Friday outfits to end up being a cohesive snapshot of my wardrobe at a given time. I feel like my style has evolved a lot over the course of doing these outfit posts, and almost every outfit is vastly different… but I want many of the recent posts to have repeated items, and to distinctly show my personal style. I think that when I manage to get somewhere near that point, I will want to write in more detail about my personal style and my journey, and some of my philosophies around style and minimalism.
💃🏻 Repeat it all
I've been enjoying wearing a dark colour with this sky blue colour. I thought I would go all out and wear the whole suit when I bought a matching blazer and pants set, but I quickly learned that monochrome looks have the tendency to look less interesting on me than outfits with contrast. So black and navy are my preferred options with these pants – although in winter, I did wear them with a blue-grey sweater and a green sweater!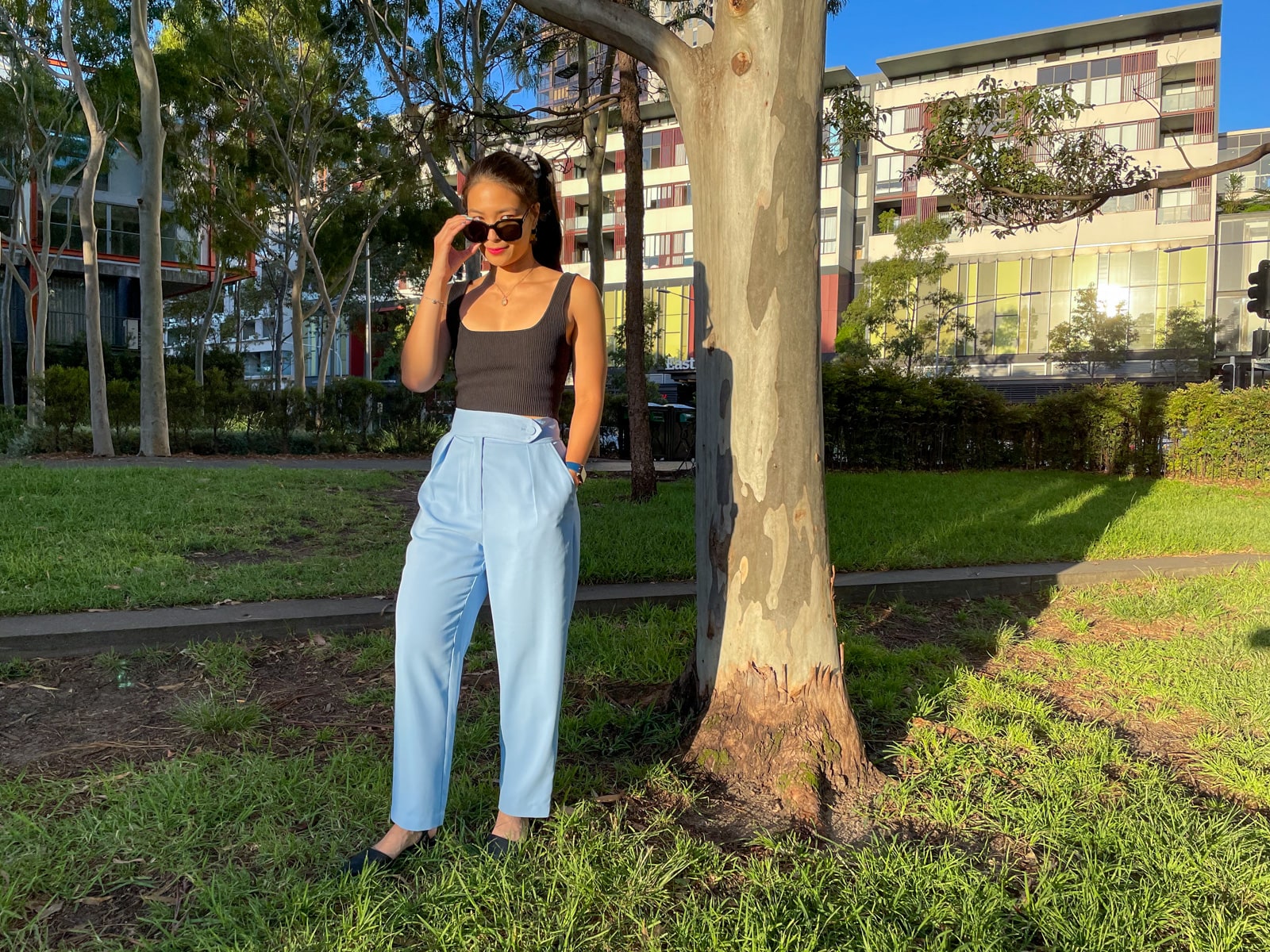 I deliberately repeated the colour of the black top in the black shoes. The top is the same top I wore in Paper doll; it's a top that I was almost reluctant to get, but am glad it's getting a lot of use now. In recent years, after choosing to stop dyeing my hair and to keep it natural, I stopped wearing as much black clothing because I wanted my outfits to contrast more with my features. However, I've realised that black makes for a good base colour and I can make it work when teamed with other colours – and I still get a killer outfit in the process. While I don't think I'll own a black pair of jeans (I did – and never wore them), or a black blazer, I think that black really works for me in simple-cut tops, and when in patterns. I've got the black-and-white checkered shorts in Paper doll, my black-and-white jumpsuit in Everything Now, and my much older gem of a second-hand find abstract print skirt in Unanticipated.
By the way, my opinion on "basics"…
I don't love the concept of "basics" in a wardrobe – they can be very individual things. Things like white t-shirts and white button-up shirts are not basics for me because they don't even suit my personal style. 🥴 Things like black heels, nude heels, and pointed toe flats are the most uncomfortable shoes for me – as they are for many people, I'd imagine – so I'd also take those with a grain of salt. I think it's important that when you are purchasing new clothes, not to fall into the trap of buying something just because some influencer or some website or "guide" told you to buy it. Sometimes, if you take a step back and look at what you really wear, you might find that some of those "basics" are things you don't even wear. So I've tossed out any idea of black t-shirts, because for me, a tighter fitting black crop top with no sleeves is a go. 😀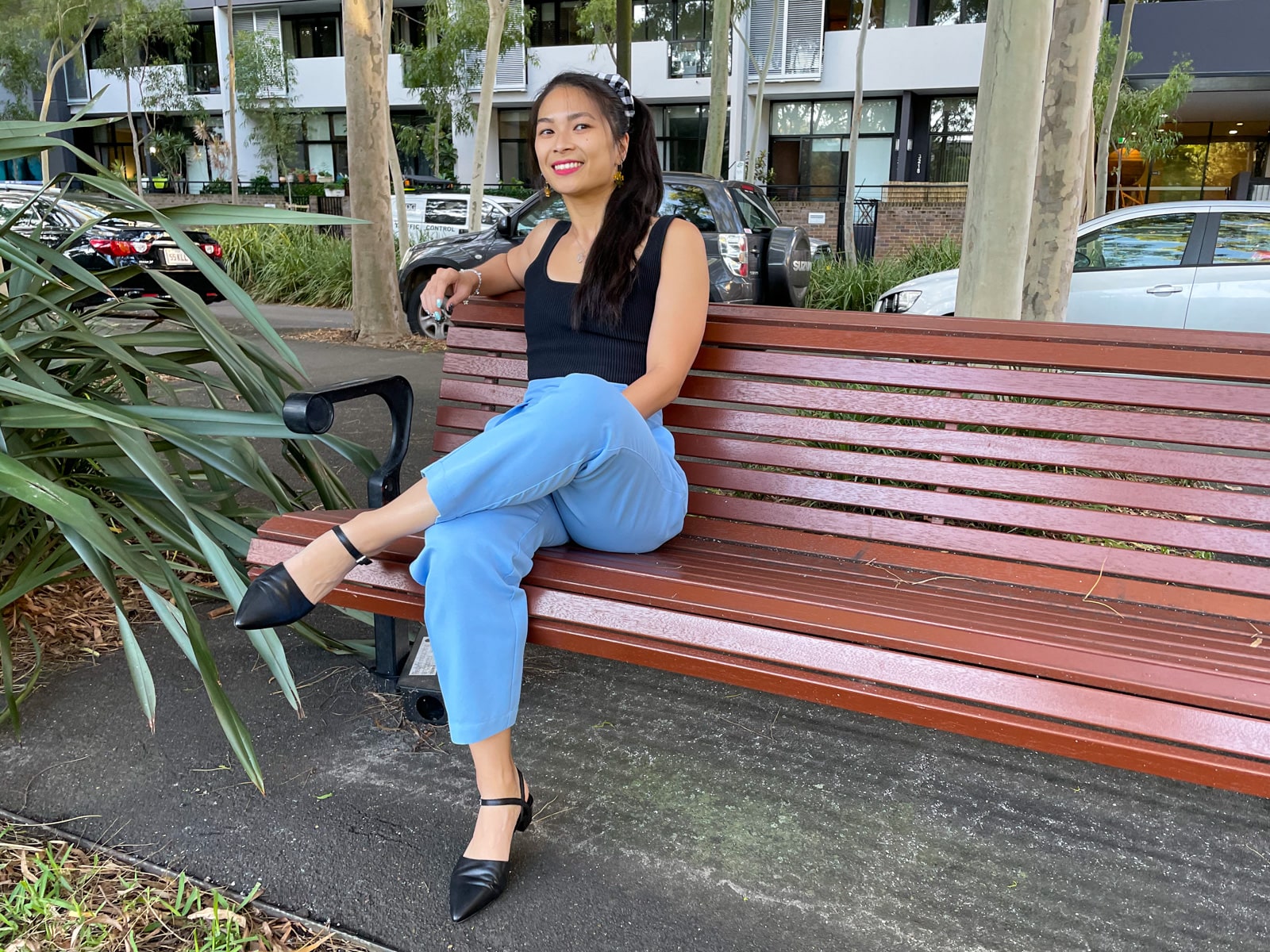 I bought the shoes at a Wittner outlet store early this year. I'd originally gone to the store to look for more comfortable sandals with a small heel. I generally have a hard time finding sandals or summer shoes, since I'm a bit picky about style. I don't look great in sandals with very thick straps or an excessive amount of straps. I dislike sandals that are like flip flops and have a part of the shoe going between your toes. 😩 I eventually picked out these shoes because they looked quite versatile – they can be worn for a nice occasion or casually. Although pointed-toe shoes are not always the most comfortable, these are OK for my feet, and the adjustable strap means that you can adjust them accordingly. The heel isn't too high, so I'm convinced I can wear them for longer periods of time without discomfort.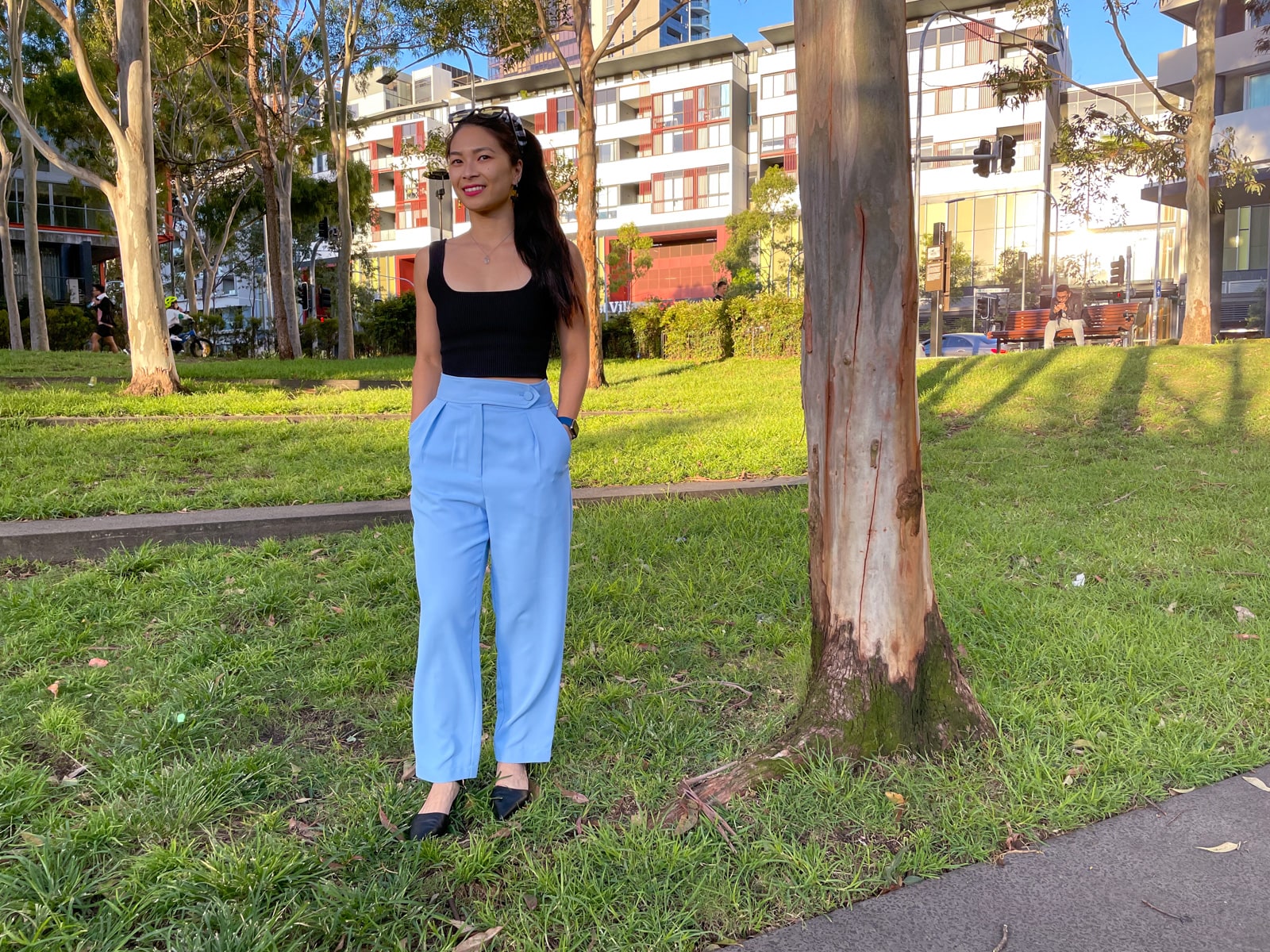 👑 An accessory hunt
Irregular, quirky, bright earrings…
I got some new earrings recently and I'm excited to share one of the pairs in this outfit! 🧩 I'd been on the hunt on Etsy for earrings that fit a specific description. They had to be brightly coloured, geometric or angular in shape, or unusual in shape, and I was also pretty particular about the earring closure being silver in colour and either a hook or a hoop style – not a stud, because studs tend to clutter with my other piercings. I was also pretty concerned about the length of the hook or hoop, since I still want to be able to wear over-ear headphones with the earrings and have the earrings showing underneath without tearing apart the headphones or digging into my earlobes. 😆
I found these earrings from a Melbourne seller who had a great variety of earrings that fit my requirements. It was honestly hard to choose so I only got two pairs, but I adored the quirkiness and asymmetry of these jigsaw puzzle shaped earrings that I just had to get them. I also got a beautiful blue angular pair which I'm sure you'll see in an upcoming outfit soon. 🤩 I like that the black colour in these earrings match with the black in the outfit, but also offer another colour for contrast. This definitely won't be the last time you see these earrings.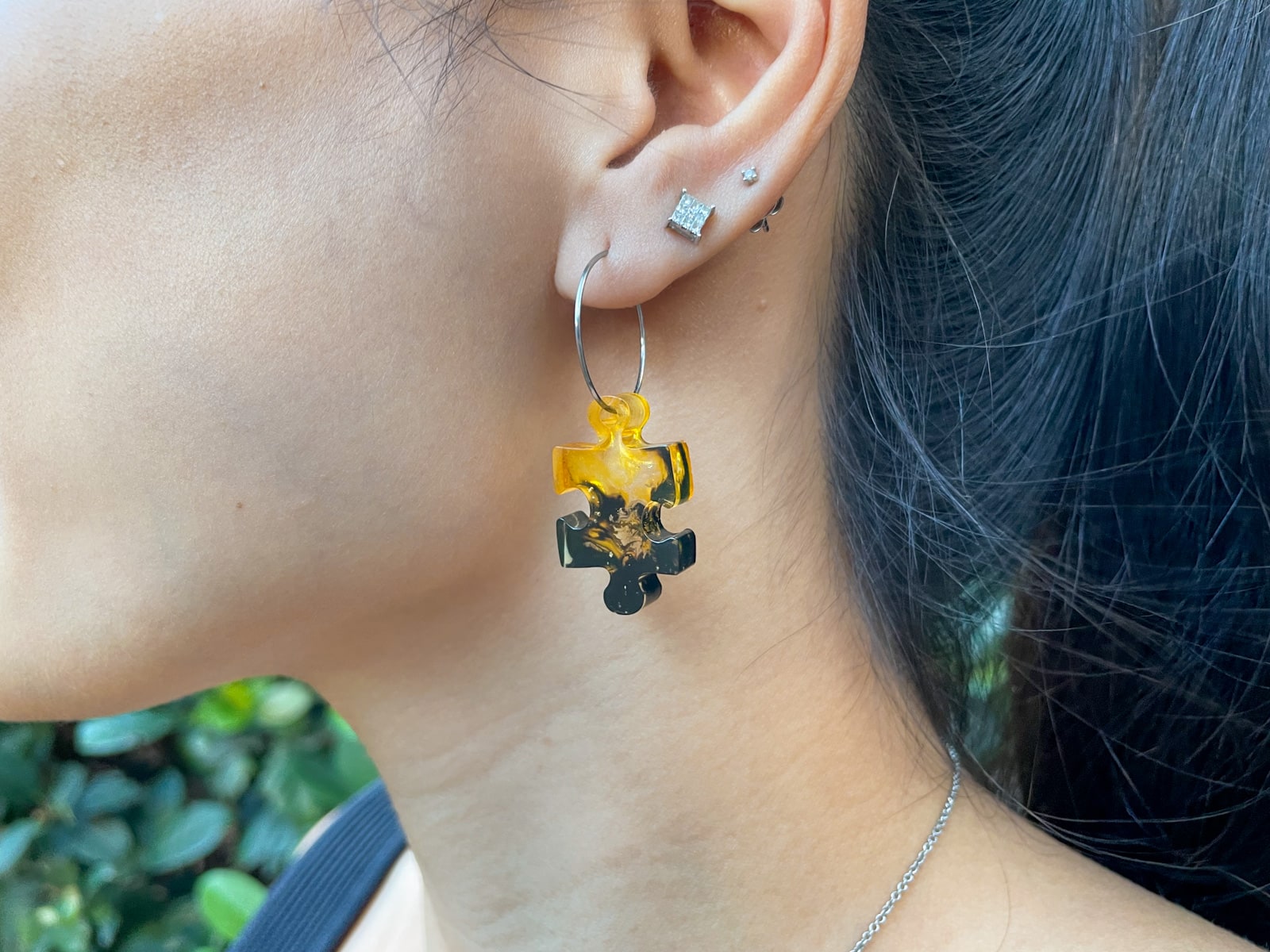 Accessorising instead of purchasing new clothes
I chose to wear my hair scrunchie for the same reason. I bought the scrunchie from an Etsy seller as well, and also bought a light blue chambray one. When choosing this gingham style and the chambray coloured scrunchie, I thought about the clothing in my wardrobe and what would match the best. It was tempting to choose a bright colour like red or yellow to have a pop of colour, but when it comes to accessorising, I prefer to match rather than contrast. 😊 I also got this scrunchie because it matches my checkered shorts!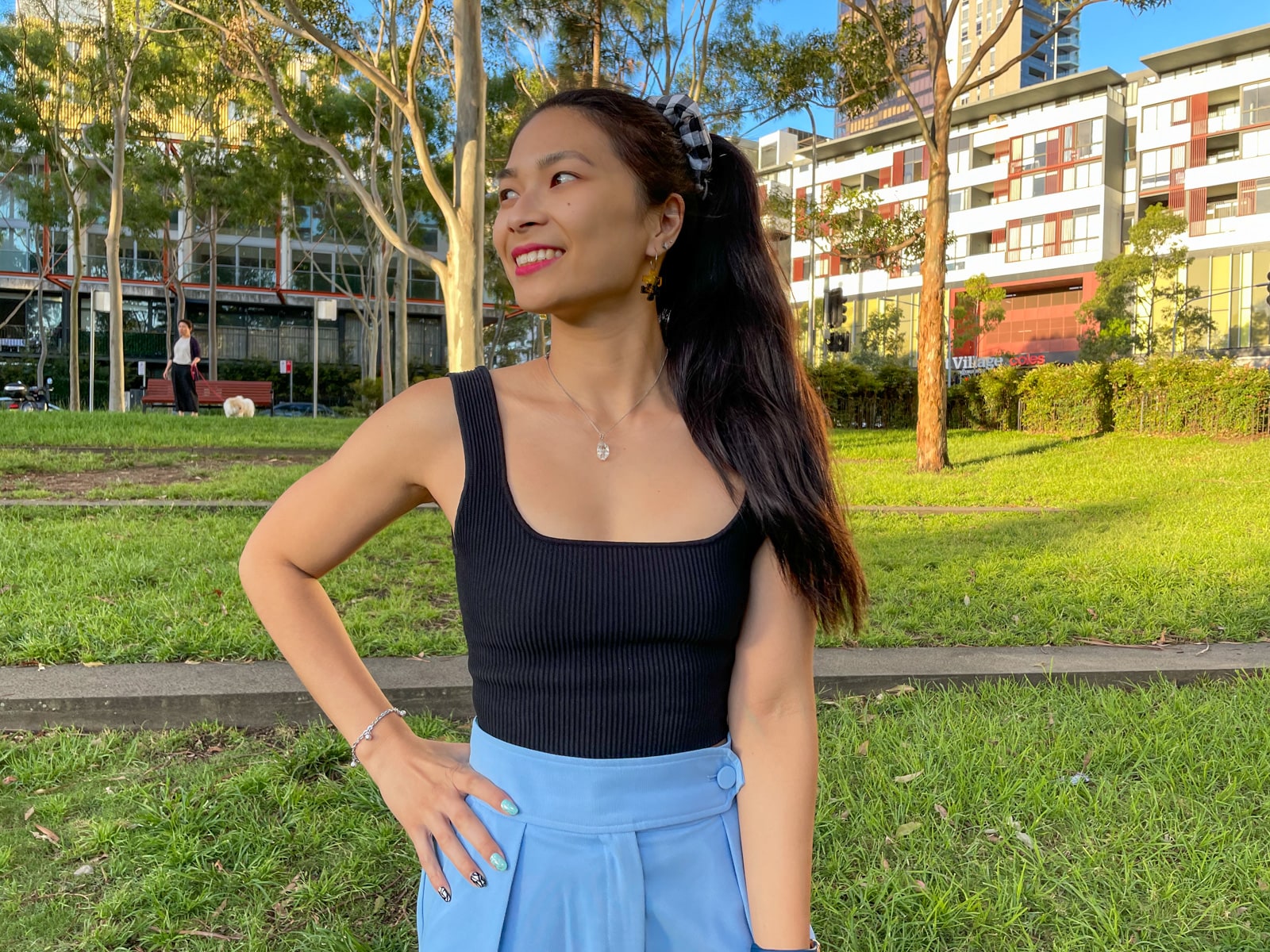 The earrings and the scrunchie are part of my foray into accessorising instead of purchasing new clothes. I haven't been hugely tempted to buy new clothing (although I've bought a couple of pieces to replace things in my wardrobe!), I have been looking for ways to jazz up my outfits with accessories, that are a lot cheaper and easier to deal with than completely new items of clothing. So far I've enjoyed my new earrings very much – I haven't gotten bored of them and I rotate between them. I also enjoy wearing my scrunchies when I tie my hair up to go to the gym.
Exploring Kibbe body typology
The reason I chose to hunt for new earrings that were big and bright is because I wanted to experiment with accessorising that way, and I've been doing a bit of research into Kibbe body typing and suspect I'm a Flamboyant Gamine body type, and that funky earrings suit me. I used to love wearing different necklaces every day, but I got a little bored of that, and often found that all my options clashed with my necklines, and I had to consider my clothing before choosing a necklace. 😕 With earrings, they sit away from the face (but close enough!) and aren't really touching clothing, so they are less likely to interfere with the actual clothing I'm wearing.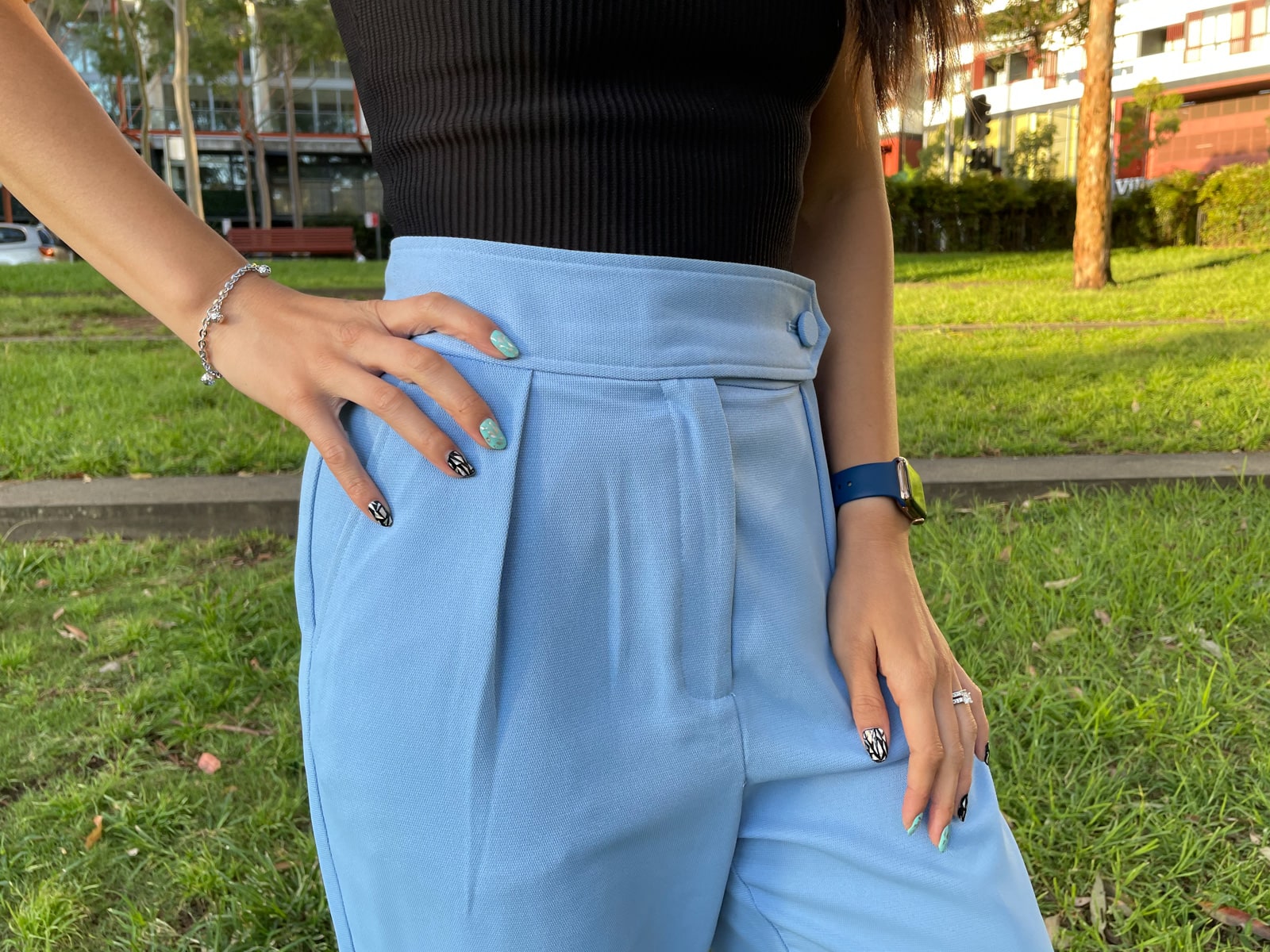 With regards to Kibbe body typing, I haven't written a lot about it on my blog since I'm not sure exactly how strictly I follow it or how much I believe in it. What drew me to it was that it was about flattering the body you have (not about hiding "flaws"), and based on the premise that your body type is related to your skeletal structure and how muscle and fat build on your body – rather than looking at the shape of your body as it is. I've spent the last six or so months exploring and understanding different cuts and fits of clothing, and different shapes and styles of accessories. I think a lot of the suggestions given by the Kibbe system are things I've intuitively known over time while curating my personal style, or learned through mistakes, failures and experimentation. Things like knowing that shorter, more fitted (but not skin-tight) clothing looks best on my frame and figure compared to baggy, relaxed fits and things like long skirts and too many ornate ruffles – that stuff is super helpful but the Kibbe system did sort of clarify some of those things for me.
I'd be keen to hear if you have heard about the Kibbe body typing system or have looked into it!
Otherwise I'd love to know what you think of this outfit and whether the "basics" in your wardrobe are pretty close to – or far from – the typical suggestions you see on the internet! 👕👀
Outfit details
Colophon
📸 All photography by Nicholas Cooke. (on my iPhone 12 mini)
These photos were taken in a park around our neighbourhood.
I named this edition Puzzle pieces simply because of my puzzle piece earrings. I just love how jigsaw puzzle pieces themselves are so different, but they fit together, and the mismatch between the two earrings in the pair really shows that. It feels so apt, too, that puzzle pieces often fit together, and this is indeed a pair of earrings. 😆 "Puzzle pieces" is also, by chance, a phrase from the song Such Great Heights by The Postal Service.