Fashion Friday: Everything Now | ⚡ High contrast wide-leg jumpsuit
Hi friends! 👋 Happy Friday! I hope you enjoy today's edition of Fashion Friday; it features my favourite jumpsuit.
The weather in Sydney has been a little strange – it's supposed to be Spring, and we have been getting some warm weather in the 20s and high 20s (Celsius), but the occasional cold and windy day. The jumpsuit I'm wearing is an easy-to-wear option for when it's warm but not too hot.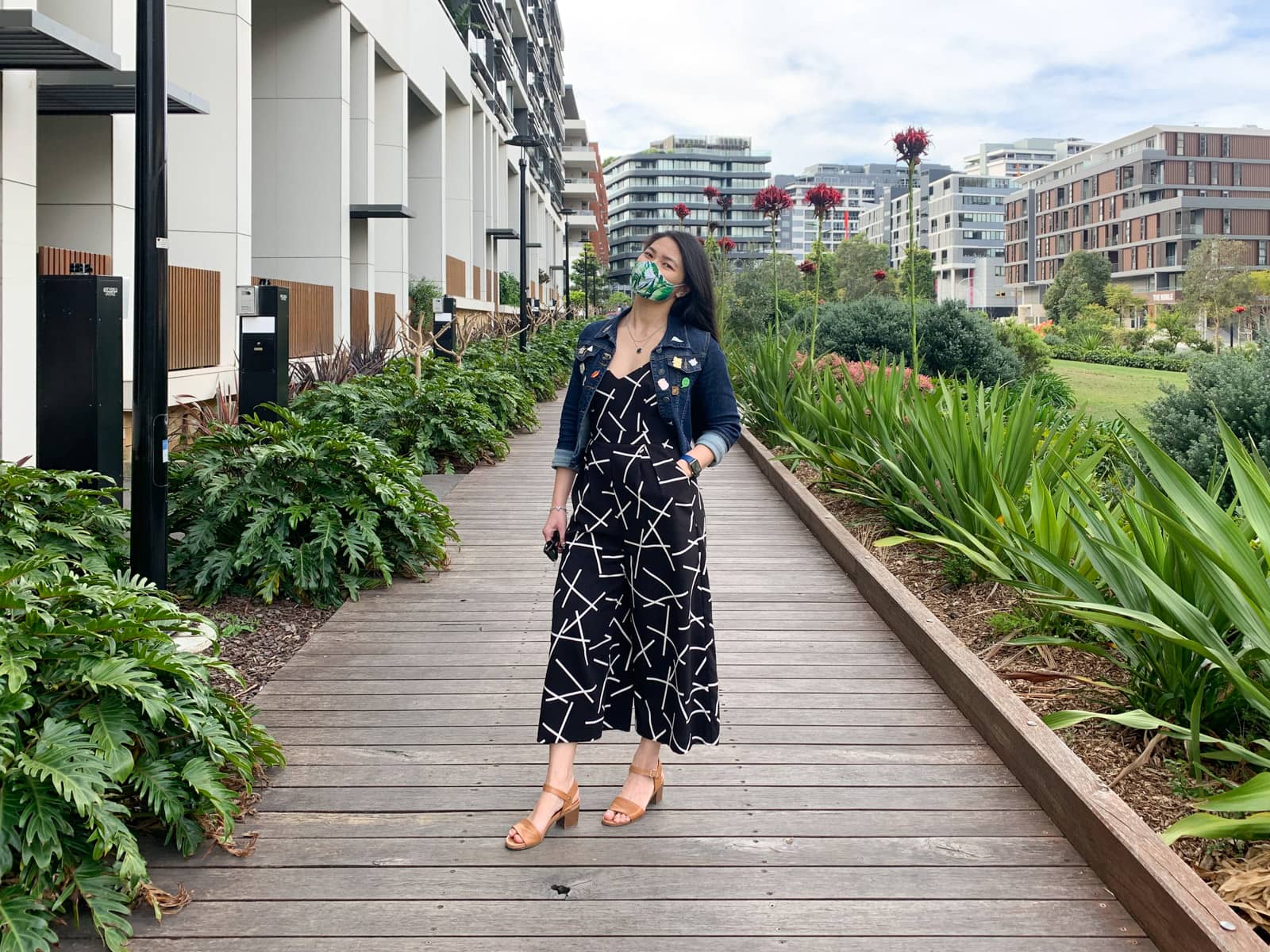 A rare second-hand find
I bought this second-hand jumpsuit on eBay almost exactly a year ago. I'm pretty sure it only cost me $10.50 with an extra $10 or so for postage. Having never owned a jumpsuit before, some of the characteristics that drew me to it were:
I used to own a skirt in the exact same print (featured in the Once upon a time edition), and I really liked it
it has pockets
the legs are wide-legged, so I was certain it would fit my bigger bottom and thighs
the straps are adjustable – I find that some clothes don't sit correctly on my back because I need more space in the clothes
it has a low back, so it seemed like it would be easy to zip/unzip when going to the bathroom 😂
Honestly, as someone who does need to go to the toilet frequently, I wasn't going to invest a lot of money in an item of clothing that would make using a toilet difficult. 😆 I'd previously tried on a few playsuits (the one-piece garments with short legs) but I felt and looked childish in them, so I wasn't a fan. I had been keen on trying a jumpsuit but made the choice to go for a second-hand piece since I was just experimenting with it. I really try to avoid buying brand new clothes for styles I'm unsure about. Trying clothes on and returning them can be laborious, but I do that sometimes. Prior to the pandemic in 2020, I would often try things on in store, but I've been avoiding clothing stores.
This jumpsuit turned out to be a lot better than I expected! I'd bought clothing from this brand before and I was a little worried this size would be too small, but it fits well. When I gained a bit of weight it did start to feel really tight, and sometimes it does feel a bit tight in the crotch when I crouch or bend over, but for the most part, it is an incredibly comfortable jumpsuit. The pockets are sufficient for my phone, cards, keys, and handkerchief too.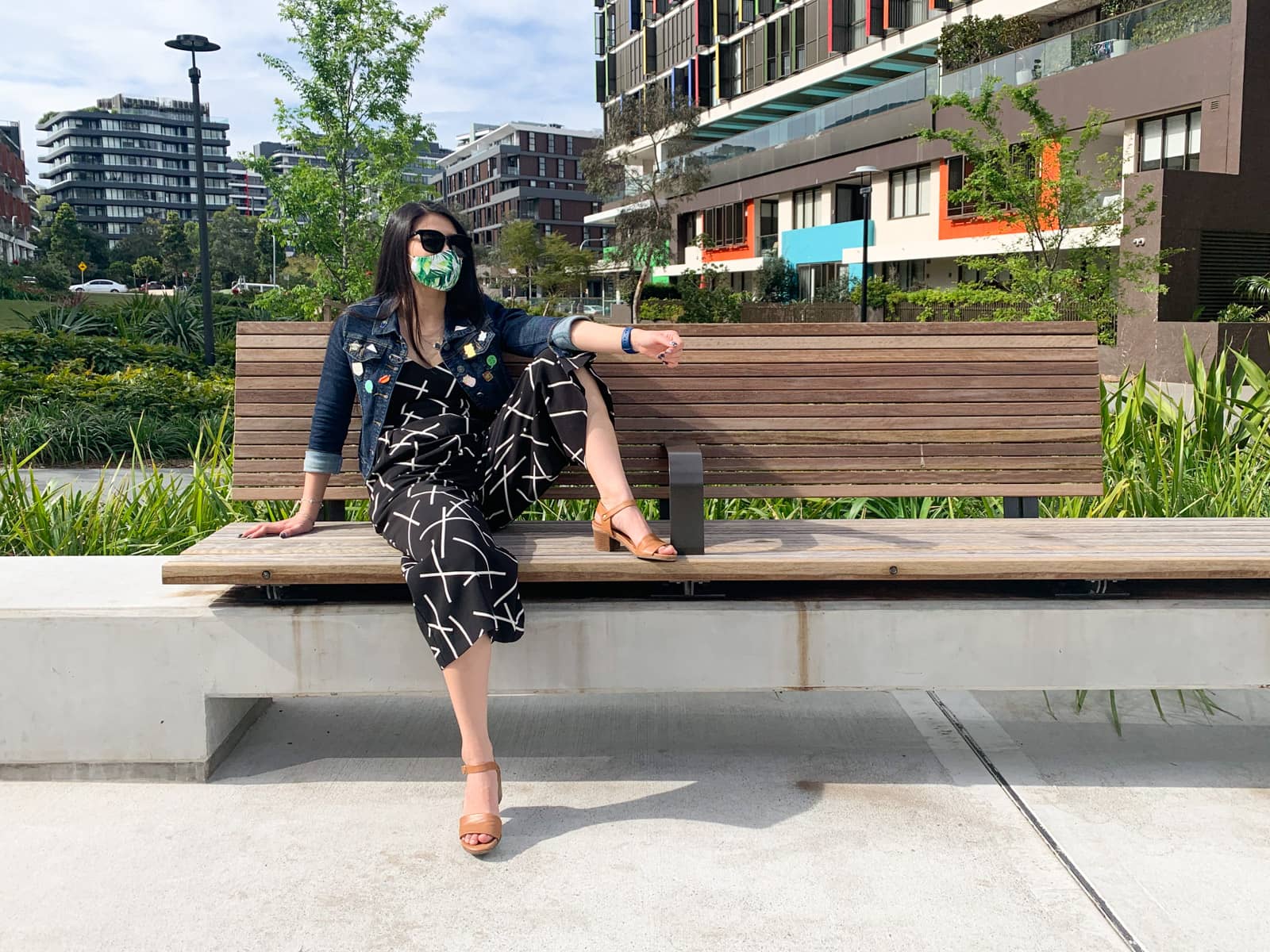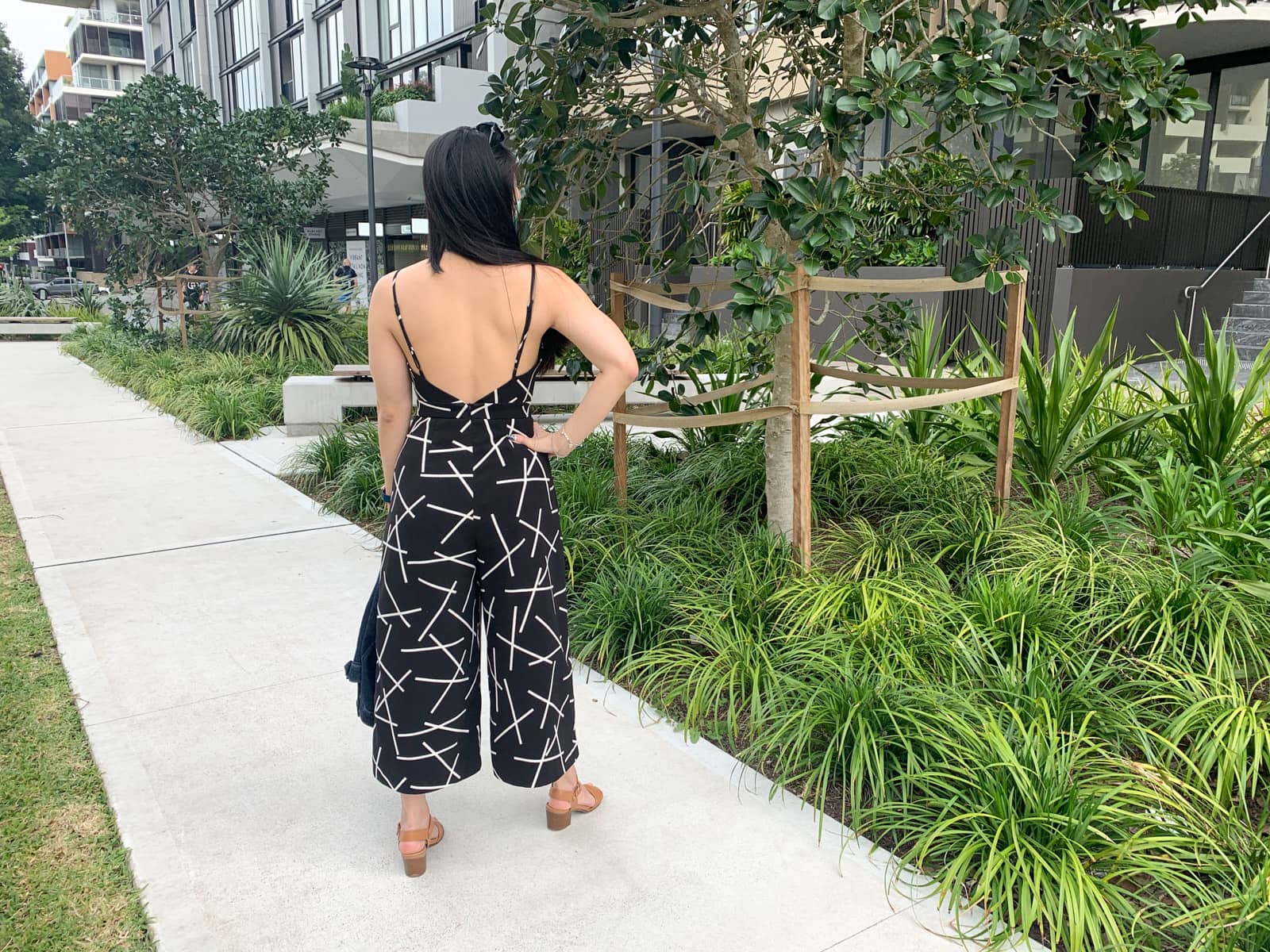 I'd actually bought another version of this jumpsuit (second-hand) later on, in a beige colour, and a size larger. I actually didn't like it that much and ended up re-selling it. The colour just didn't work out for me and I always reached for this black one more. I'm glad I could at least re-sell it.
Finding a(n almost) perfect denim jacket
My denim jacket was a purchase I had to think long and hard about. I never thought of myself as a denim jacket person as I felt like denim jackets were mostly too casual for my wardrobe. I tend to dress a little more formally. But after I started collecting enamel pins, I decided I wanted more than to pin a few on whatever sweater or blazer I was wearing at the time. I wanted a jacket dedicated to at least a handful of my pins. I ruled out a leather or faux leather jacket because I wanted to be able to create holes in the fabric without them showing up if I ever removed the pins. I had worn a couple of pins in my blue coat for some time but I still wanted something else. I spent several months trying on denim jackets in shops and making online orders to try some on. I tried both black and blue washes, realising that black wasn't really what I wanted, and that a dark blue wash worked well with my wardrobe. If you've been following my Fashion Friday for some time, you might know that I used to wear a lot of black clothing but tend to choose navy as a neutral colour these days.
Many of the denim jackets I tried were heavy and stiff. I didn't like it at all because I wanted something a little more fitted, and slightly cropped. Unfortunately, the heavy and stiff ones were the ones that had better pockets. 😆 I finally settled on this jacket, which has enough stretch in the fabric and is slightly cropped. It was a perfect jacket, but it does come with its faults. There are no pockets apart from the tiny breast pockets, but I had an idea to hand-sew pockets on the inside flaps of the front. I found that even after washing it several times, the colour still runs and transfers. I first found out that the dark colour was rubbing off onto my white clothes and light coloured shorts, and I was really disappointed because I saw it as a problem I was going to have for a long time. I love wearing white, and it was definitely going to be an issue if I wanted to continue wearing this jacket.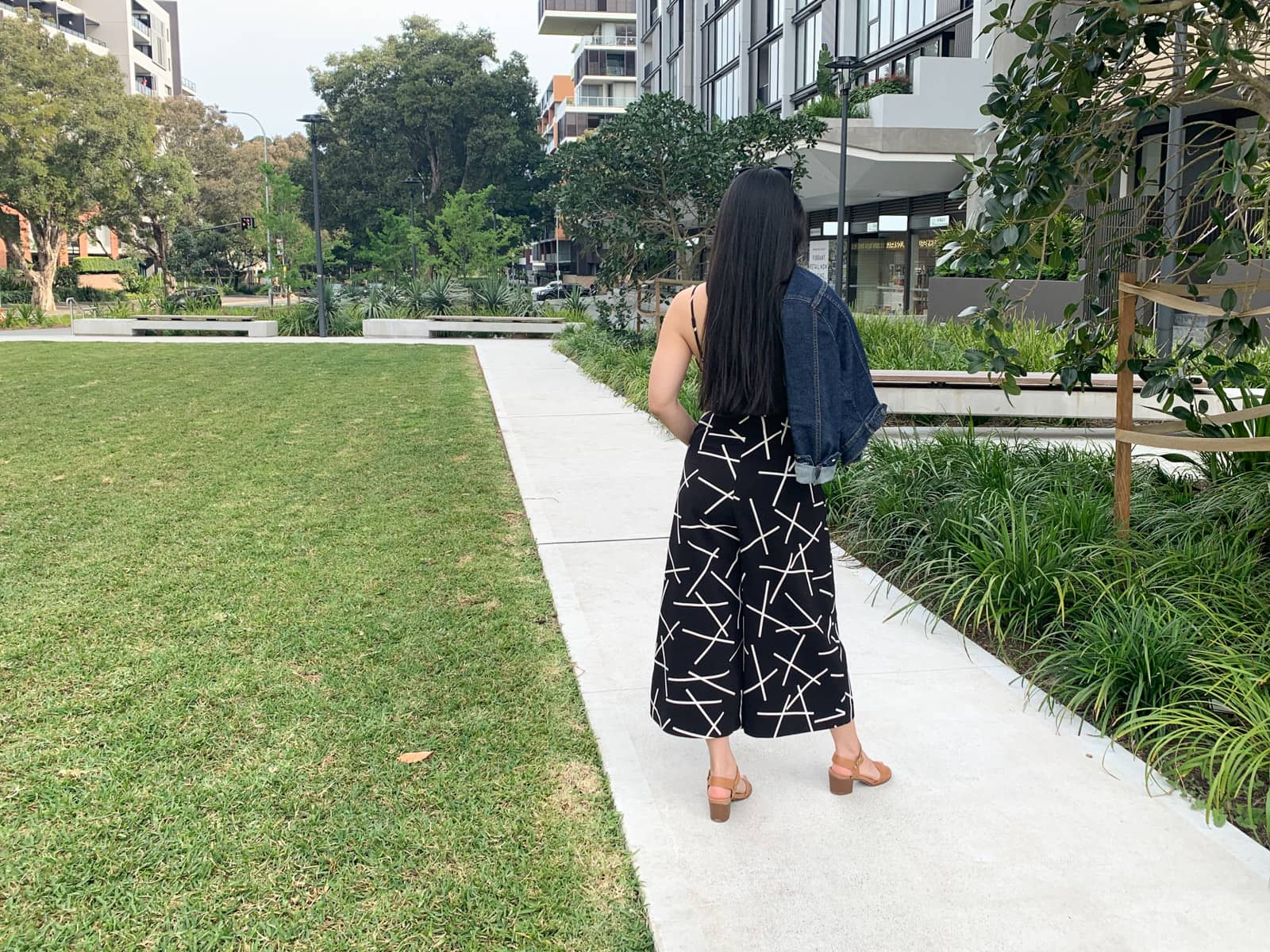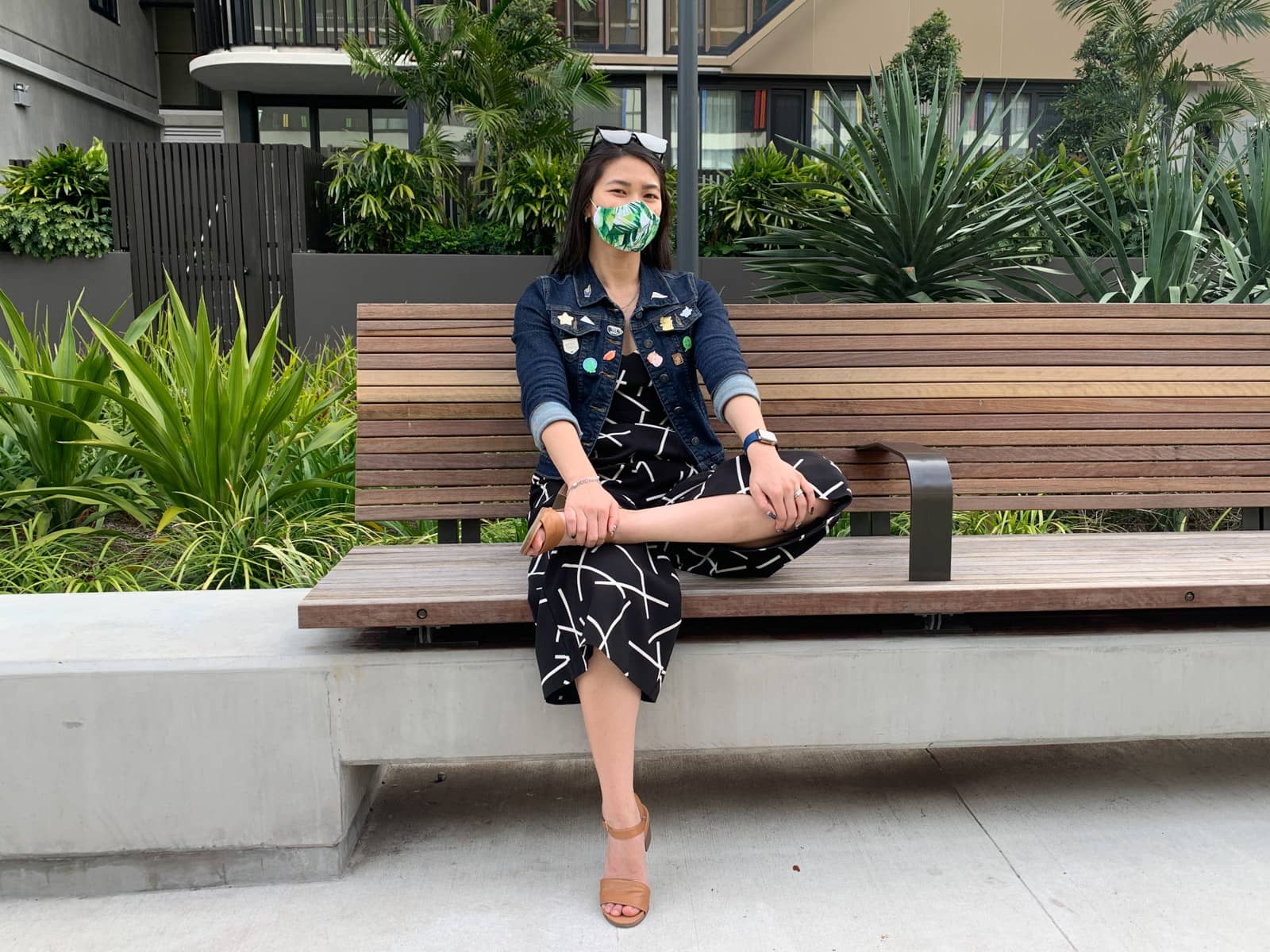 I ended up spending a lot of time looking online to find methods of locking colour into denim, and to stop colour transfer. I soaked the jacket in vinegar and water for two days to try and stop it from doing that! (Then I washed it afterwards, obviously, so it wouldn't smell.) I think that for the most part, it helped, but I still found dark blue marks on my clothes afterwards. I really didn't want to be stuck with only being able to wear dark colours with this jacket. 😆 It hasn't bothered me recently, but I also haven't been wearing it a lot since it only just started getting warmer and this isn't one of my jacket options for the colder months.
I guess I don't have intentions of replacing it any time soon. I know I will definitely try and wash it a few more times if the colour transferring bothers me again.
I like wearing the sleeves rolled up; I actually haven't worn them down too often. I feel like rolling them up gives it a more casual vibe and it's nice when the weather is quite warm but I still want to cover my arms a little.
Shoes and accessories
I wore the sandals in the previous edition of Fashion Friday. As I mentioned in that post, they really fit the bill for a comfortable summer sandal, especially given my pickiness and my need for certain styles that work with my small feet and provide arch support. These sandals are definitely my go-to for summer. I tend not to really wear anything else. I have some comfortable closed-toe shoes I can wear, but when the weather is really warm I just find myself reaching for these.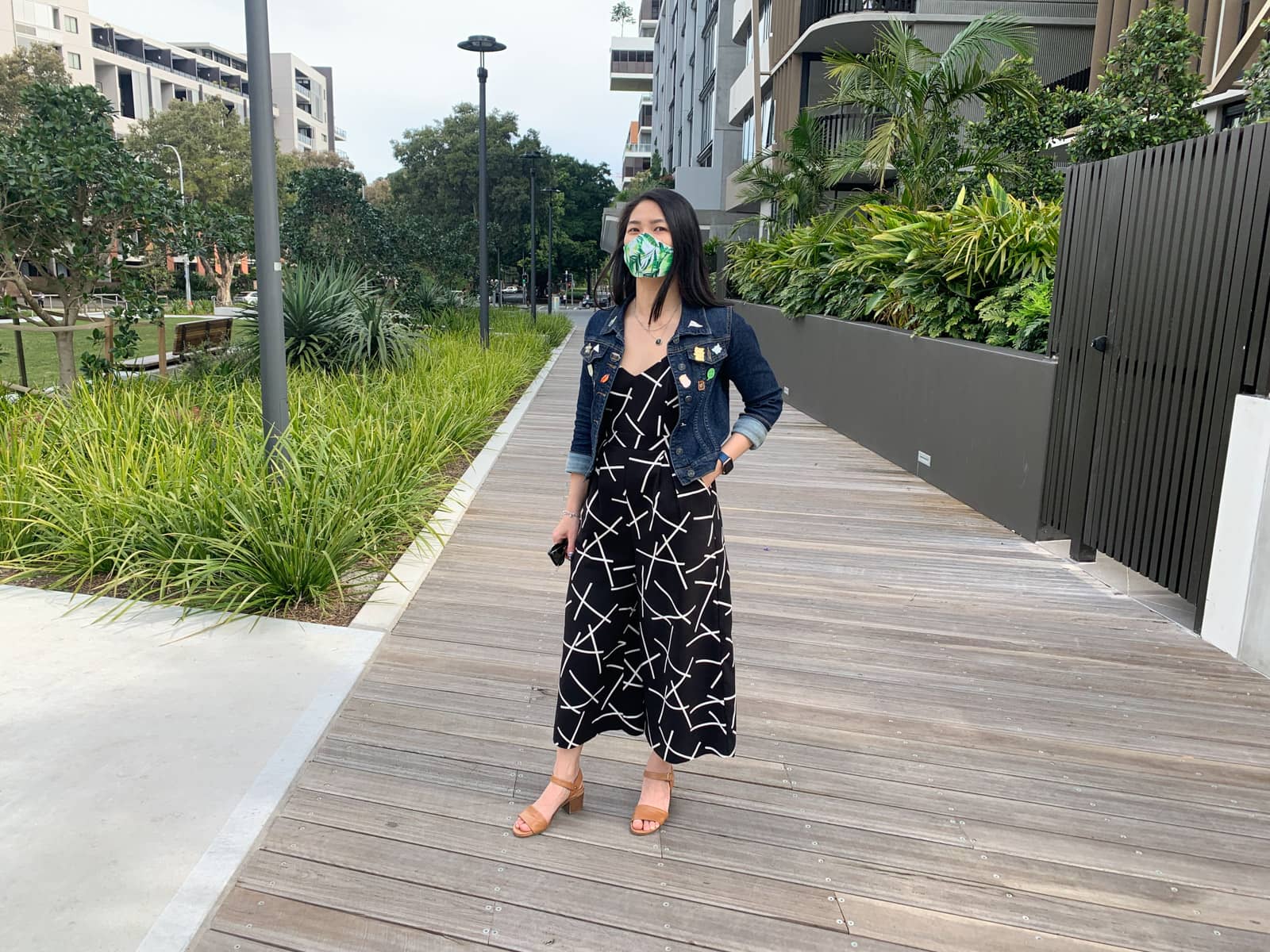 I'm wearing a necklace that I wore in my Hey Georgie! edition of Fashion Friday. I find that it looks really lovely with outfits with open necklines. 😊 When I first got it, I remember not liking the necklace as much as I'd hoped, but I am really getting a lot of wear out of it!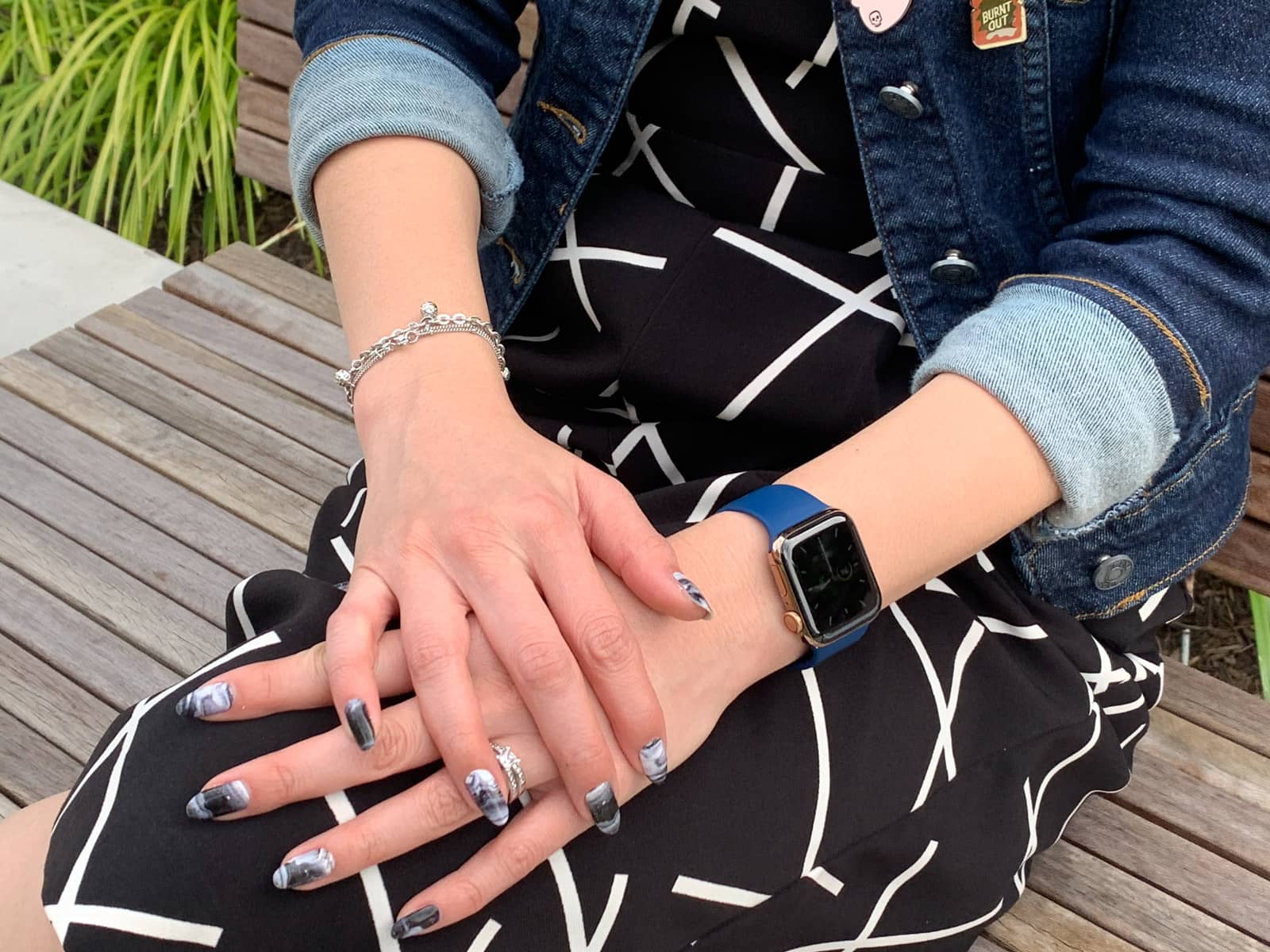 I applied new nail wraps before having these photos taken. I had originally intended to apply something bright and summery, but I had these nail wraps lying around and I decided to apply them since they still looked cool.
Overall I really like this outfit, it's something I would definitely wear again – and definitely have. The jumpsuit is really comfortable and I actually feel like I'll be hard pressed to find a jumpsuit that's any better or even comes close. 😆
Outfit details
Jumpsuit: C/MEO Collective (Power Trip jumpsuit in Geo Black, from the Building Blocks collection 2015 – purchased second hand)
Jacket: Fresh Soul (Elysium Jacket – no longer available)
Shoes: Betts (shop similar Felicity Heel)
Mask: Etsy (seller ElephantNecklaces)
Necklace: By Invite Only [referral link for 15% off] (Stainless Steel Bethany Blue Apatite Necklace – no longer available)
Sunglasses: Gentle Monster (Papas – no longer available)
Enamel pins on jacket: see my enamel pin collection blog post
Colophon
📸 All photography by Nicholas Cooke. (iPhone Xs)
These photos were taken in an open park area near our neighbourhood.
This edition is named after the Arcade Fire song (and album) Everything Now. I thought of the jumpsuit's "power trip" print and naming this edition something with the word "electric". A little further down that train of thought, I thought of the funky style of the music on Everything Now. 🎵