A walk through my pin collection
Hi friends 👋 I hope you're all doing well and staying home as much as you can, and hopefully you aren't bored out of your brains. If you are struggling at home, last week I wrote a blog post on resourceful ways to appreciate your home life – mostly free ways, too, so you might get some ideas from it! 😌
I'm sharing something today that's a little bit out of the ordinary but that I have been meaning to write about for a few months.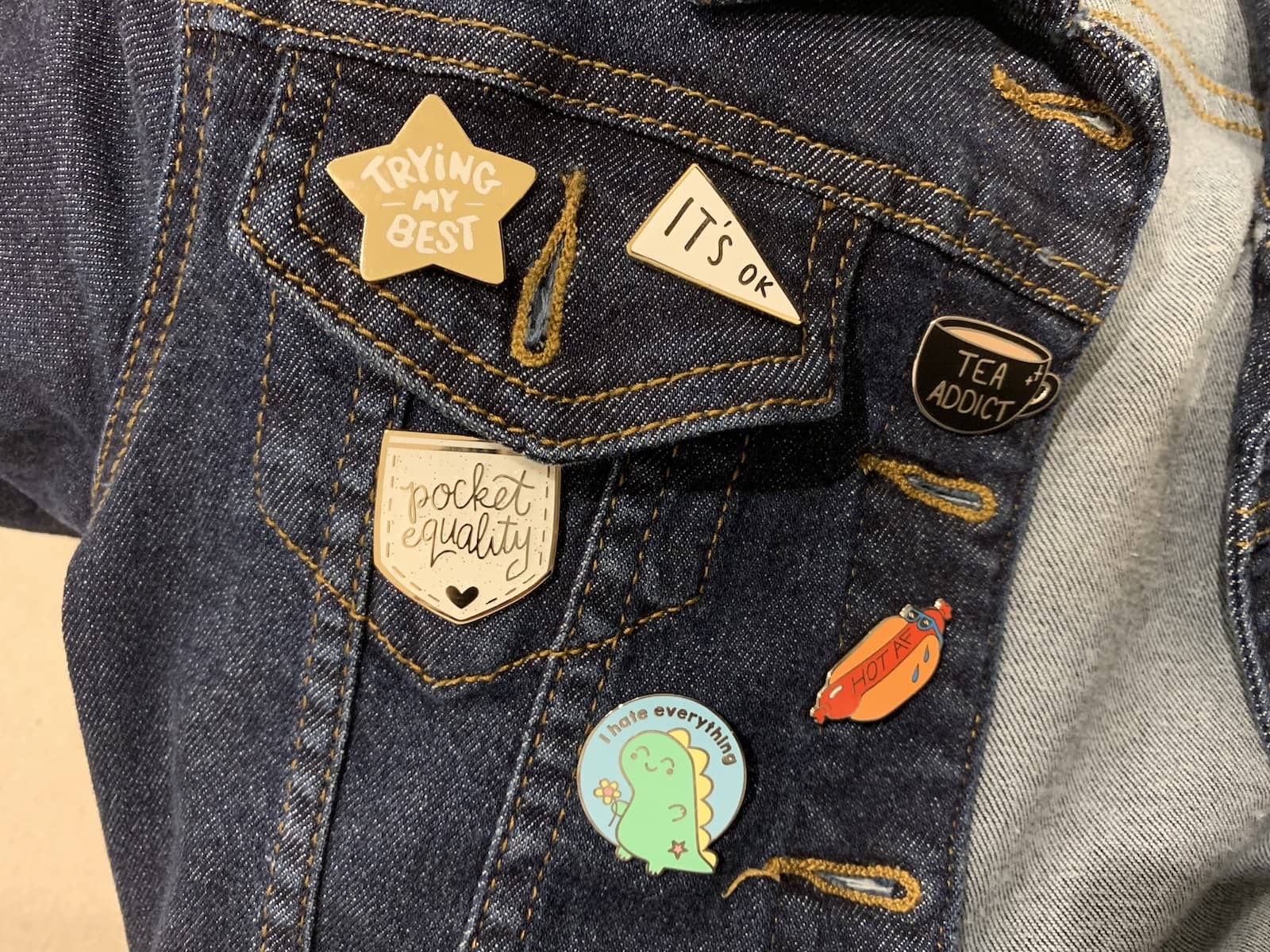 When and why did I start a pin collection?
When I was a teenager – about fifteen years ago, haha – I had a really punk/emo inspired style. I was very into rock music, and I learned how to play the guitar. I also liked accessorising with jewellery and scarves, so my afternoons were often spent browsing cheap costume jewellery stores and the local music store, where they sold a bunch of button badges with various musicians' logos on them. I loved this. I had seen other people with more extravagant style wear button badges on their hats and jackets. I didn't have much in the way of hats or appropriate jackets that actually suited my style (girlfriend didn't have a job; I got very little pocket money). I just had a messenger bag, but that was enough to fill the opening flap and the strap with button badges.
I did go a little bit too wild, though, and I put my entire collection on my bag, such that it was probably a hazard to walk anywhere near my bag because of all the pins. 😂 But I was also extremely protective of it. I didn't think anything about pins being stolen, but I did think about someone stepping on my bag or handling my bag in a way that they would damage the pins. I know, I know. 🤦🏻‍♀️
After many years of having quite a ridiculous bag, many of the pins had worn out. I don't actually remember what I ended up doing with them but I think I might have given them away or even just binned them when I began my minimalism journey in 2012. I started university and I sort of forgot about anything related to pins.
I started an enamel pin collection about 18 months ago in mid-2018. I can't remember what sparked my interest, but a few things happened that contributed to me starting it:
I noticed people at tech conferences I attended wearing pins and badges, some to do with their interests, but some tech-related as well.
I remember being drawn to enamel pins on Etsy, especially ones related to my specific interests or my personality. I was also drawn to a few on Sorry I Have No Filter – and the shop had been around for a long time at this point!
My friend Teresa Watts designed her own pins with the text "Trying my best". (Grab yours!) She sold a twin pack for a discounted price so that you could give one to a friend, and I met up with my friend Jay and gave him one. We saw eye-to-eye on things, and I think we really related to trying our best and relying on that encouragement especially when we might have been struggling.
For some time I had been thinking about wearing pins to accessorise and express myself, as opposed to my usual go-to of jewellery. I wanted to pop them on a blazer, but I also really wanted to find a denim jacket that would suit my style and body shape so I could wear more than just a few. A denim jacket seemed suitable for that.
Enamel pins seemed like a nice sort of souvenir after visiting a place! Nick and I went to the States and I took the opportunity to grab a few pins there.
My intentional approach to buying pins
Much like my approach to life and "stuff", because I'm a minimalist, when I buy pins I try to buy them intentionally. I did start by buying a few pins as souvenirs, but I thought long and hard about which ones I chose and whether the place I was buying it from would be something that really stuck with me. I've seen many a pin over the past couple of years that didn't quite "cut it" when it came to deciding if I really wanted to own this and if it represented my authentic self, rather than being something quite generic.
For example, I did see a "Hell Yeah" pin on Etsy and the design looked great, and I definitely say "hell yeah" a lot, but I just wasn't 100% sure about how I'd feel wearing it on a jacket. It felt on the verge of cussing, and obscenity, but not quite. In the end I decided that the phrase didn't feel unique enough for me to want a pin with that text on it.
On the other hand, one that spoke to me on a deep level was this pennant flag reading "It's OK". What does that mean? It could mean different things for different people, and the description on the Etsy listing wasn't biased. After seeing a handful of pins related to mental health, this was one that related to mental health for me, in a way that wasn't explicit about depression or anxiety. Because I struggle with depression, I feel like "It's OK" is a statement that literally does remind me that it's not the end of the world, and that it is OK, and I am OK too, but in light of mental wellbeing. (Get that pin!)
So I don't just buy a pin because it's pretty but because it speaks to me in a certain way, or really does relate to my personality or way of life.
The reason I also chose to stick with enamel pins rather than just button badges is because of the high quality and the fact that they can be more unique. They cost a lot, and the price adds up, obviously! But button badges are usually all round, and follow a template, and they can get easily scratched, I guess. I might just be really picky. 😆
Pins tend to have different backings too. I've definitely lost a couple of them over the course of collecting pins, but because I don't wear mine on a bag or anything that is exposed and out of reach, I don't worry too much about investing in locking backs. I tend to go for the rubber backs because of comfort, since I wear pins on clothing, but from my collection, the ones with the metal backs have just been placed on flaps or collars where the back isn't touching my skin. Given a choice, I would go for the rubber backs even though the cost is usually extra. I've also noticed that you can't really swap pin backs because some of them are made to suit the thickness of the pins themselves, so some might, in actual fact, be too loose for some pins.
My pins are mostly on my denim jacket.
I used to choose a pin or two every day, to wear on my jumper or jacket. Now that I have my denim jacket, I like to wear most of them there. It did start getting slightly ridiculous if I had my entire collection there. I also found that I liked some pins more than others, so I put aside the ones I don't like as much or that feel too clunky for my jacket. I haven't bought a pin for at least a few months now – just wary of my collection being too large. 😊
It took me some time to find a denim jacket that I liked and that worked with my style. I remember trying on mostly black and blue colours, as I thought that would work well with my wardrobe, but the black was too dark for my liking and too similar to my leather jacket, which is also black. I felt that the traditional blue denim colour would be too much if I wanted to wear it with jeans. I'd never owned a denim jacket so I had to do a bit of experimentation and shop around a little.
I ended up going for a navy denim jacket with stretch. It was the most flattering on my body – I'm pretty big in the shoulders but am generally pretty petite, so anything boxy or too thick and structured on my top half doesn't look (or feel) great. So my jacket is sort of a "fake" denim, but I'm most pleased that it fits well. The only gripe I've had with it is that even after washing it a couple of times, the colour still transferred to my white clothes. 🙄 A bummer because I love pairing it with white, but I guess it's not the end of the world because I have some dark tops I can wear with it too.
The pins ✨
I've already mentioned the "It's OK" and "Trying my best" ones but I'll talk about the others in more detail 😊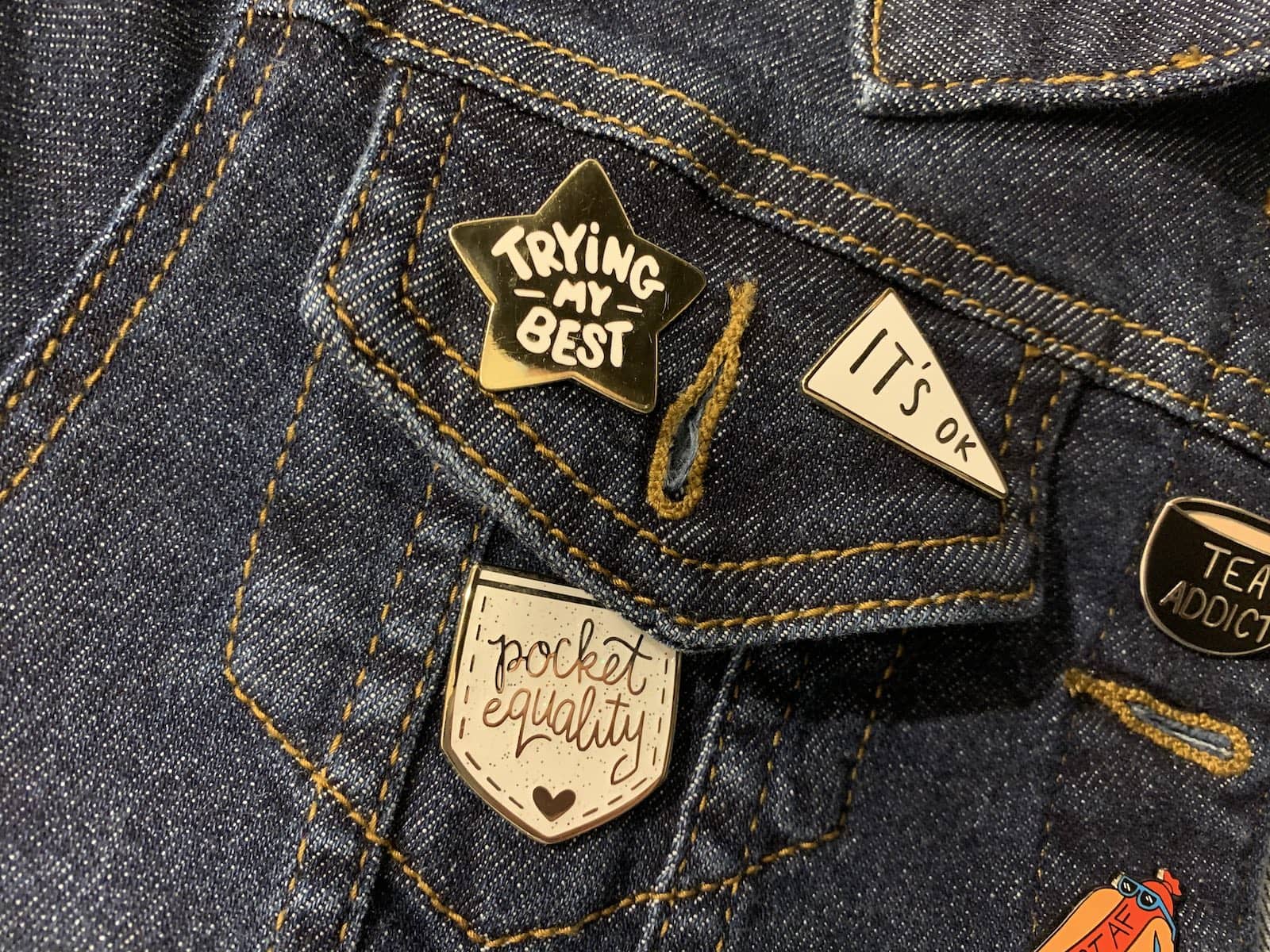 "HOT AF" hot dog
This amusing hot dog pin from Sorry I Have No Filter was one of my first pins. It reminds me of a couple of things: first, just "HOT AF" being a thing that I say on occasion, and it has this hot dog bun with a hot dog that has sunglasses. 😎🌭 It's really hard for me to go outside without sunglasses, so I felt that the hot dog embodied me in some way. Not to mention the subtle vanity that I might refer to myself as being "hot af". Plus, as "af" means "as fuck", it's a way of using profanity without actually explicitly saying so.
I should add that the hot dog itself reminds me of a funny short story I wrote in high school, about a man in a trance, dreaming of a hot dog, on a hot day. The way I wrote the story was that the hot dog sounded like the food hot dog, but it's slowly revealed that it's literally a hot dog – the animal. 🐕 The reason I love that story so much and am so proud of it is that I had been writing strictly romance fiction, up to that point, and my English teacher (whom I adored and really looked up to because he was really supportive) encouraged me to write something else. He said I was a good writer but was basically saying that my soppy romantic stories were predictable and silly. When I came out with that story, he was so amazed and commended me on how incredible of a short story it was.
Do I like hot dogs though? Maybe? A little bit?
"Burnt out" toast
I also bought this pin from Sorry I Have No Filter; they sell many pins but this one and the hot dog one were the only ones I really loved. Being burnt out is something I know all too well, but it's now a common phrase used to explain someone who has taken on too much or has reached beyond their limits or capacity and now has little energy to continue – usually the case when one doesn't prioritise their mental health and takes on too much work. I love the pun of it being on toast, since I don't have such a problem with toast myself. I think it's a clever pun, I like wearing this one along with my "Trying my best" pin because it's sort of like they either contradict or support each other. ⭐
"Self-love club"
I got this pin at the same time as the It's OK pin I mentioned earlier, from Etsy user OldEnglishCo. They have some beautiful pins, and I really just wanted them all. 😆 But after some thought I picked out the few that meant the most to me. Self-love club is pretty explanatory. It's not just a reminder to myself to be kind to and love myself, but also a reminder of my journey thus far. I think many people who celebrate self-love have also come from a place of being critical about not just their physical appearance, but just themselves in general. I remember getting a compliment on this pin at least once! 💕
Get it. Also, if you like the style of pins from OldEnglishCo, there is a "hot stuff" hot dog pin that echoes a similar sentiment to my "HOT AF" pin.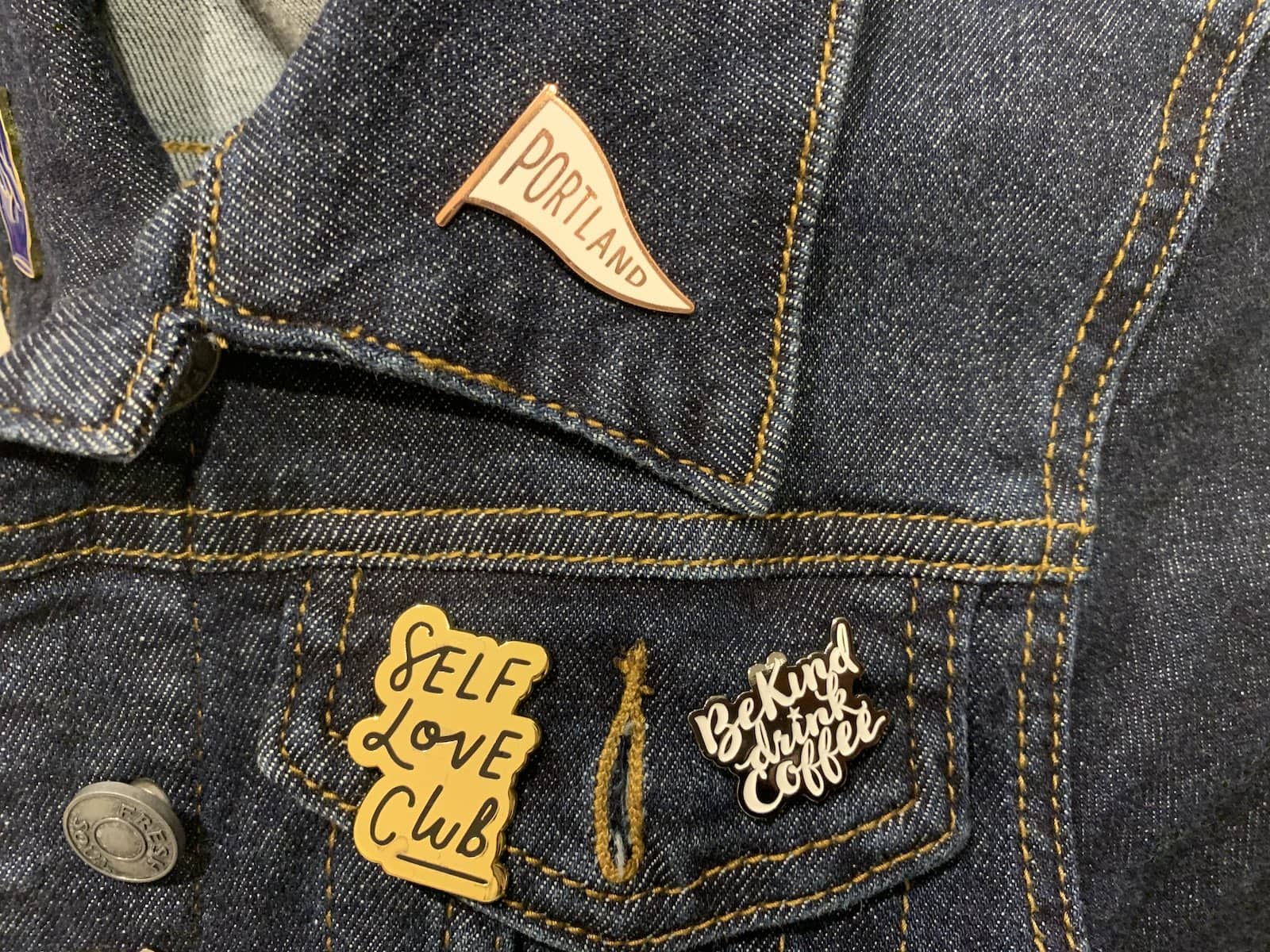 "Be kind, drink coffee"
While visiting Portland in 2019, Nick and I stayed in the area of Hawthorne, which was dotted with nice eateries and coffee shops. There was one called Seven Virtues, which made a terrific chai latte that I kept going back for. 🤤 One of the staff there was also thrilled when I kept bringing my own coffee cup. They also sold this pin. They had their "be kind, drink coffee" motto printed on the wall as well. Although this pin has a slogan that I don't relate to on a deeply personal level, it is one of the only coffee-related pins that doesn't particularly brand me as a coffee snob or completely addicted to the stuff. It does relate to how I feel about coffee: a drink that lifts my mood and that connects people. Get your own 😊
Whilst in Portland, I also wanted to get a Fried Egg I'm in Love pin since I was purely obsessed with the place – they do amazing fried egg sandwiches… I have never had a fried egg sandwich as good as that. But I didn't love any of the designs, so I passed.
Portland pin
It's no surprise that I've loved Portland, Oregon since I visited in 2018 for XOXO. I'd seen this pin online, but I bought this in Portland last year (at least I didn't have to pay for shipping if I'd ordered it while at home). There was an Oregon one, but as I've only been to Portland, I don't know just how much I love Oregon as a whole state, haha. I wanted something to represent Portland and this was just about as simple and explicit as it got. I like the rose gold colouring on the pin; it's a bit different from the metal colour of my other pins. Get it at Buy Olympia.
Anberlin crossed fingers pin
Anberlin is a powerful band who were one of my favourite bands when I was in high school and university. I loved their music so much but for some reason, I kept missing out on their concert announcements! I did finally get to see them years later, in 2013. I saw them again in 2014, which marked the end of the road for them. I thought it'd be the last time I saw them but they actually reunited for a bunch of shows in May 2019, and I decided to buy this pin.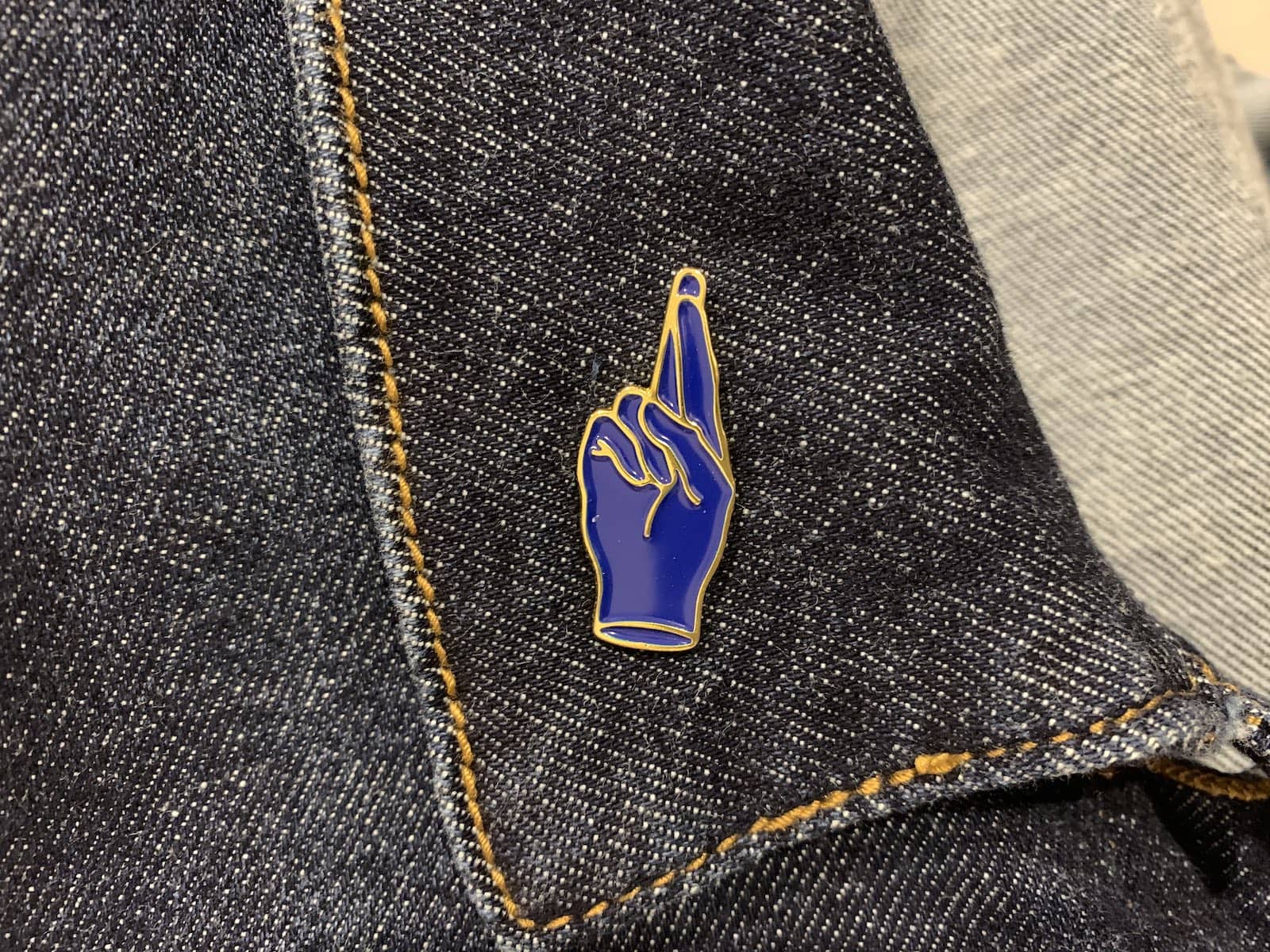 The crossed fingers is representative of their Lowborn album cover; it's been discussed as a religious symbol, but to some it's also just the way one would cross their fingers for luck or hope. Either way. 🤞 Get one from Anberlin's website.
"oh no"
I was late to the party in discovering Alex Norris's webcomic name comic. I only found out about him when I attended XOXO 2018. Not too long ago, he started selling merchandise on his website, and I took the opportunity to grab an "oh no" pin. I love his work and his comics, and this was my favourite of all the pins he had designed. Get your own.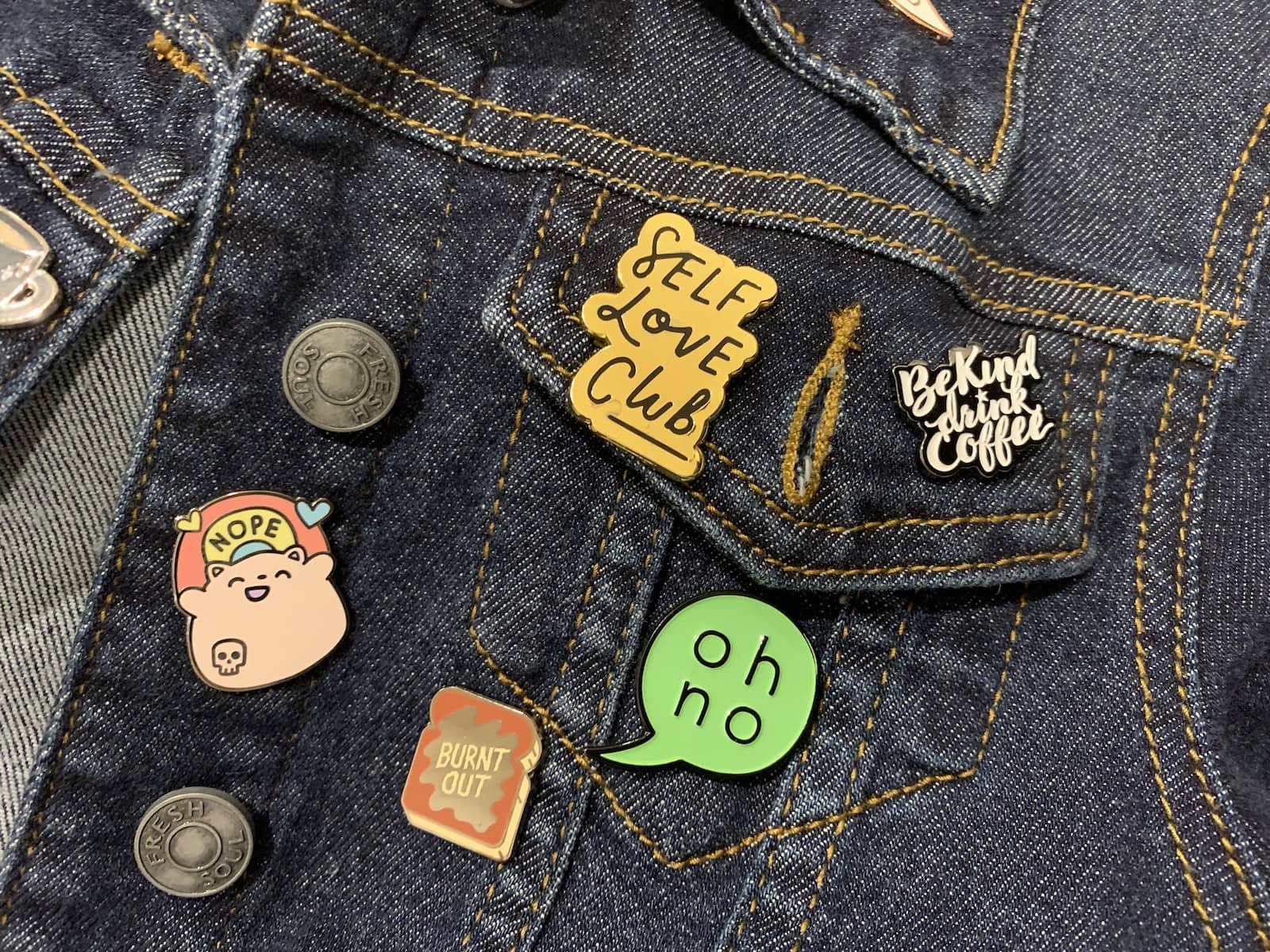 "Pocket equality"
Ahhh, love a good feminist jab at the way of the world. I've seen many feminist pins but I haven't really ever felt compelled to get them. Yay, girl power and women running the world and all that – but as you might have noticed, I don't love generic pins all that much. I'm definitely passionate about not having pockets in most women's clothes. 😂 Like what the fuck makes you think it's okay to not consider pockets for women's clothing, and why!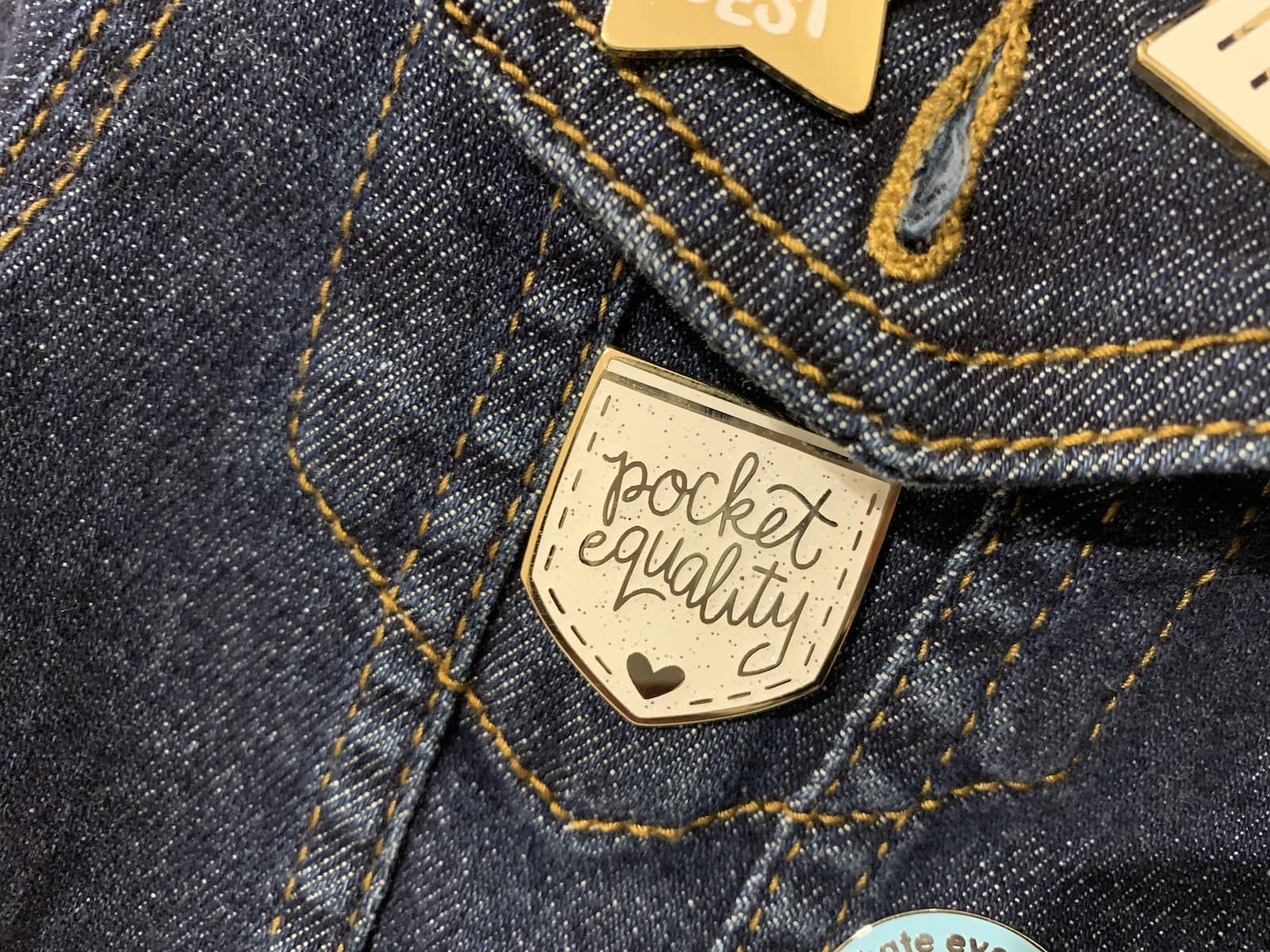 This was purchased from an Australian seller; I debated against buying it at first. But I shared it one of the private Slack channels I'm in in the XOXO workspace; there are many like-minded folks whom I know would love it. The shop sold out of the pins and I found I actually really wanted one, so I bought one when they restocked. Amusingly enough, I have placed it on the pocket of my jacket. Even though the pocket is too small to hold anything substantial. 🙄 There are no other pockets in my denim jacket, but I decided to live with that because it was hard to find a well-fitting jacket that did have pockets. 😅
"Nope" and "I hate everything" dinosaur
Anita from Sugar and Sloth is an incredible illustrator, and I love the creatures she illustrates to design funny greeting cards, pins, button badges, clothes and other merchandise. Her approach to crassness is unapologetic and her approach to mental health is open and honest. I've really loved her cute depression and anxiety pins (the depression one being a rainbow and the anxiety one being a unicorn), and they line up with how I like to express myself as being open about mental health, too. But I was after something less explicit about mental health, so I held off.
Then she released these really lovely pins with "nope" and "I hate everything". Both of these reflect my attitudes when my mental health is low. I definitely do hate everything when I'm feeling depressed, but the dinosaur character is reflective of how I might be on the outside. Apart from feeling so much "nope" when my mental health is low, I also "nope" at things I completely disagree with, sometimes unapologetically, too.
Do you ever hate everything too? 😅 Or maybe life is sometimes a big pile of nope.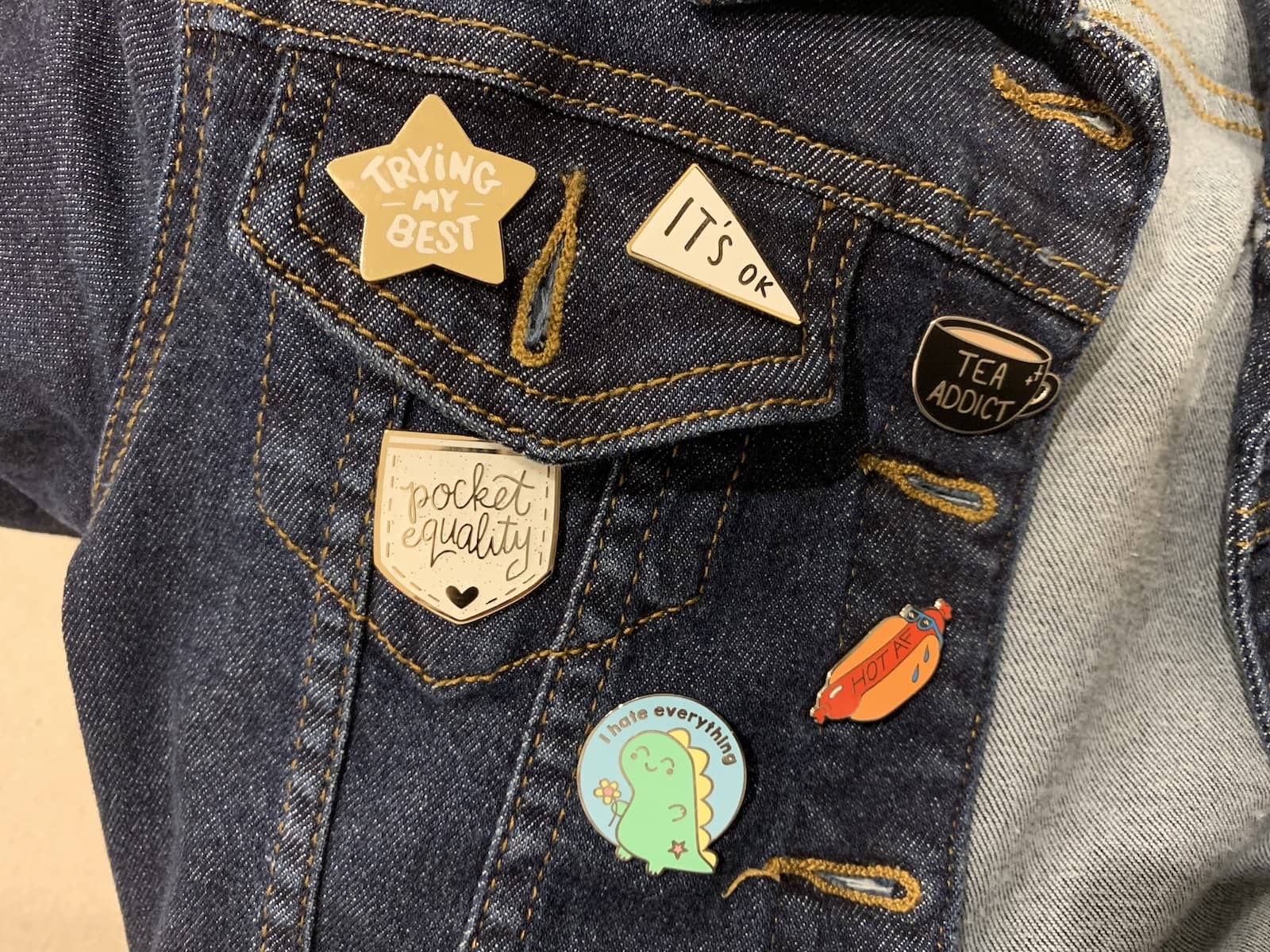 Tea addict
It's no surprise that I love tea, so when it came to buying a pin that would represent my tea addiction, I browsed many pins until I found one I wanted. I wasn't a big fan of the tea puns that I saw floating around, like "tea-riffic" and "tea-licious"… there is absolutely nothing wrong with them but I just wanted something that would simply show my love for it without being pun-ny. There were many bubble tea/boba related ones, but even though I love bubble tea, I was after something that was a bit more related to your standard tea-in-a-teacup. Thankfully I found this one that just says "Tea addict", and it's in a teacup.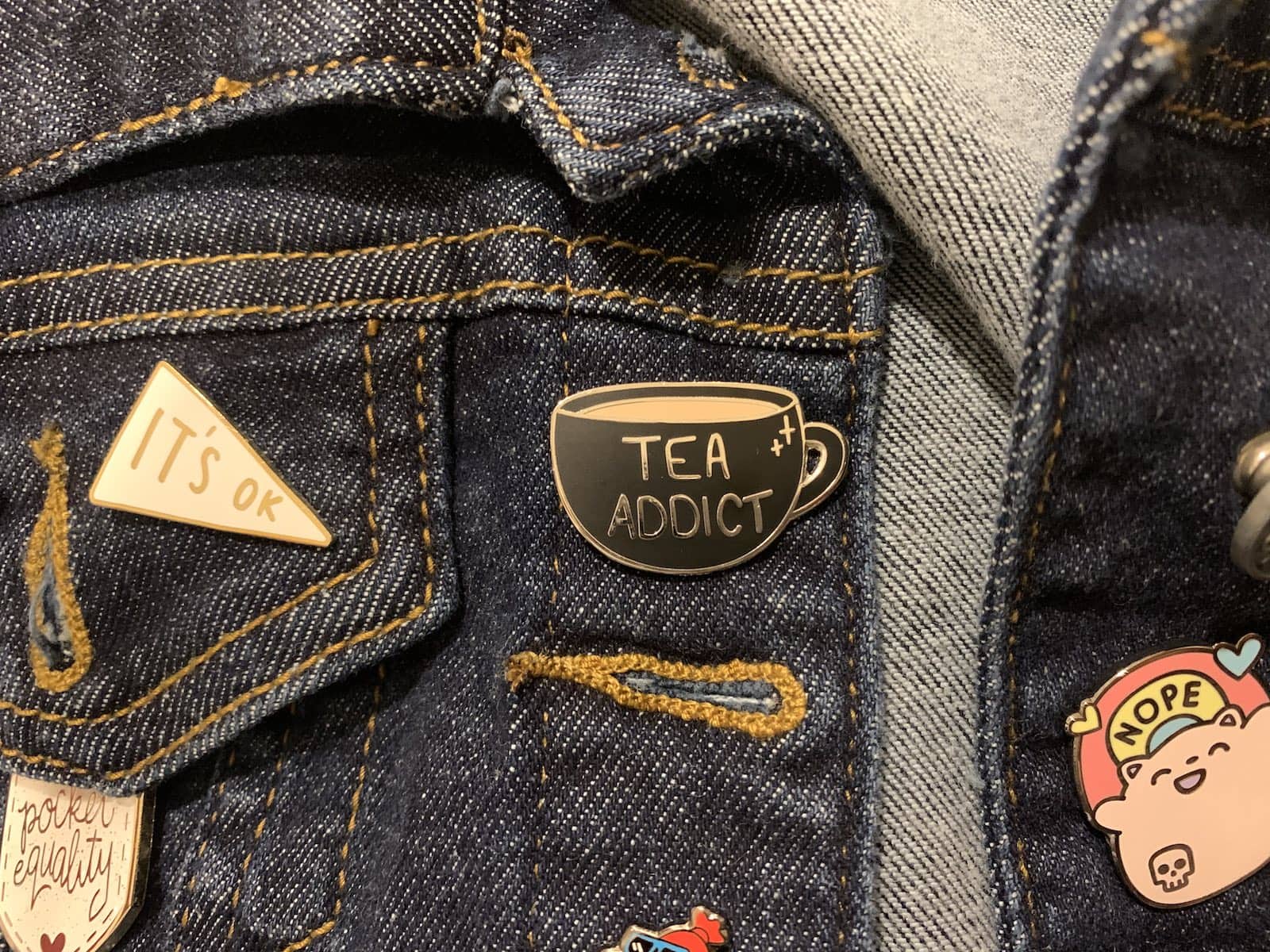 The stockist Moonfire and Silver is currently having a break, but keep your eyes peeled!
Jar of sprinkles
I got this from the Museum of Ice Cream on my visit to San Francisco in 2018; it was one of my first pins. Looking at it now, I don't love the colours as much anymore (I prefer more saturation), but it's a nice souvenir. Looks like you can grab a handful of other variants of pins in the MOIC shop.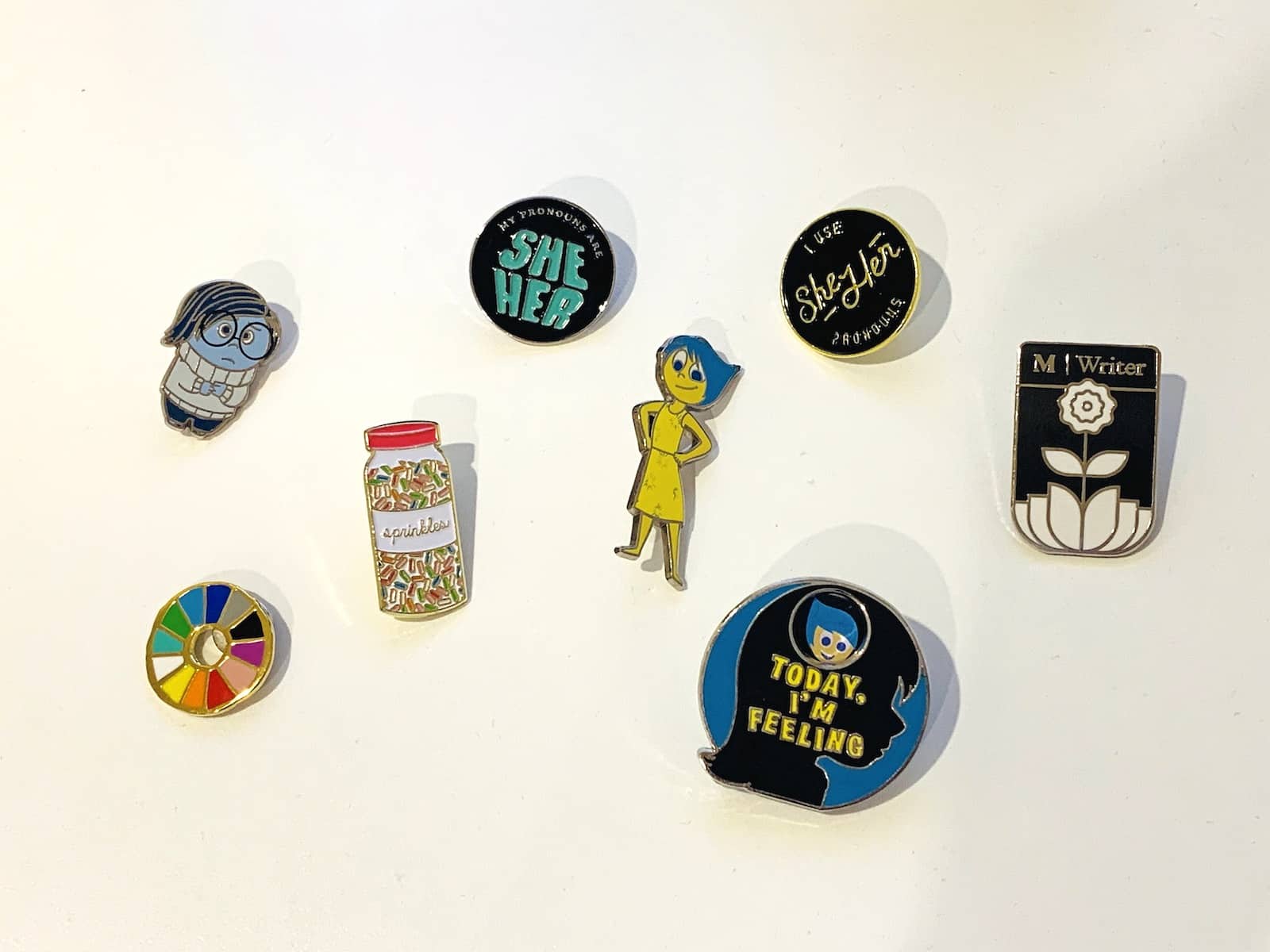 Colour wheel
Yellow Owl Workshop makes some really quirky pieces of jewellery and accessories. I was really getting started on my pin game when I bought this pin, and I associated the colour wheel with my love for colour and my eye for design. The pin has a magnetic backing, which can be a bit bothersome when it comes to other items getting stuck on it (depending on where it is; I've had jewellery stick to it before), and even though it's pretty strongly held, I can't help but feel paranoid every time I wear it, that I'm going to lose half of it. I've also had the entire front face randomly flip back-to-front while I was wearing it – not sure how that happened. Get this pin.
Joy & Sadness from Inside Out
Inside Out is one of my favourite Pixar films… I don't know if it's my favourite, but I love it enough to have watched it a couple of times over. Although I like Pixar films in general, more so than Disney, I remember feeling never quite like I enjoyed Disneyland because even as a child I never cared too much for the Disney films – classic or modern. So going past a lot of the gift stores in Disneyland resorts I visited on holidays, it was rare that I found something I liked. This set of pins was just screaming my name. Every other pin I've seen at Disneyland (that I liked the design of) has been too clunky. My favourite Disney film is The Fox and the Hound, but the only pin I saw from that film was kind of ugly. So, Joy and Sadness it is – I can relate to Sadness so much, but Joy is a movable character as well.
"Today I'm feeling" Inside Out pin
My sister-in-law gave me this as a souvenir from one of her recent trips to the United States. It's a pretty big pin I haven't decided where to put on my jacket for days when I do want to wear it, but it's really cool how you can rotate between the various characters to express how you're feeling 😀 "Interactive" pins are very fun; I feel like I used to see them a lot, before I was into pins, but they seem to be less common these days.
Medium "Writer" pin
I am not… I am not the biggest fan of Medium, which is why I don't think I will ever wear this pin. 😂 I know the "M" logo is small, but the pin itself is really large. I got this at the writing meetup at XOXO 2019.
Pronoun pins
I got both of my pronoun pins at XOXO 2018 and XOXO 2019. Not much else to say here 😌
What's next?
I don't have my eyes on too many pins to add to my collection, but I have been looking at Super Team Deluxe for a long time because of their nerdy design and tech related pins. I have been holding off because of the cost of both the pins and shipping, and because the Australian dollar is so bad right now. But since I've been eyeing them long before I even started my pin collection, I should just do it.
---
Do you collect pins or something similar? Or collect anything that expresses yourself or your personality? I'd love to hear about it – and let me know if you see any pins that you think I might like 😊