💵 Low-buy check-in #8: A new budgeting spreadsheet, selling old clothes, and a tax return
Hi friends 👋 It's hard to believe another month has passed since my last check-in. I don't even remember what I've been doing. Basically, it feels like I got rich again because I got a flurry of cash back after I did my taxes, and Nick and I got over $2000 each refunded to us from our flights to Greece that we were supposed to take in May. Obviously the pandemic changed things, and I had already accepted that "the money was spent" even though we never got its worth, so it was almost like a neat little surprise after Nick made a phone call and attempted to get a refund.
I have no actual plans for the money, but I paid all my bills straight away, even paying one of them a little early. 😅 I put a little bit into my savings account, but the rest is kind of just sitting there. I know that Apple will be announcing a new phone soon, and I think it is time for me to upgrade as I have the iPhone 7 which is four years old. Its battery life is deteriorating and I wouldn't mind a nicer camera in my phone. So I'm prepared to part with some cash. 🙂
I feel like I have sold a lot of clothes this year, but I did continue selling more this past month. It was a huge effort to take photos of everything and list them online, but it felt good to re-home my items instead of just donating them where they're more likely to go to landfill. I was really happy that some of my clothes were purchased because it was starting to look like I might not have any interested buyers. I've learned that sometimes you do need to be patient – but it also makes you realise how much you should be thinking about your purchases before you bring items into your home.
I didn't expect to get so much money back on my tax return, so last month I said I was not expecting to save anywhere near $2000. But due to the amount of money I got back, the amount I saved was through the roof! I saved $2965. I could probably add more to my savings, but I might leave that for a couple of weeks until another credit card bill gets issued, and possibly leave aside the ~$1500 I will need for a new phone.
Purchases in September
I mentioned last month that I was planning to buy some clothes and some new gym gear. I have held off on the latter, since I decided to first sell some of my gym gear that wasn't serving me anymore. I successfully sold two sets of sports bras & leggings, and another two sports bras that were – to be honest – beyond uncomfortable.
Nike Metcon 6
I did, however, buy a pair of Nike Metcons (the new Metcon 6). I had actually had these on my wishlist in mid-2019. I kept saying that I was going to get them and I didn't. 😆 I stopped wearing my old Nike TRs because they were getting old and the toe box was too big. I started wearing my running shoes for lifting, which I didn't mind too much, but they were not the best shoes for lifting really heavy, which prompted me to finally get the Metcons. So that set me back $190 – they seem to be a little cheaper than they were in previous years.
New clothes
As for clothing I bought, I did buy a few new pieces… 😳 Perhaps a little more on the pricey side is spending $200 on a blue sweater and a blue cardigan. There was a spend-and-save deal, so that did knock $100 off the original price, but I know it's still a lot of money. I had been looking for a nice blue sweater at the beginning of the year but just hadn't found the perfect one (or even the right one) until now. Aiming for a little variety in my wardrobe, even though I saw several blue v-neck sweaters similar in style to my green sweater in Fashion Friday: Hey Georgie!, I decided to wait until I found something just a little bit different in style. I found a blue wrap-front sweater which was a relatively new release, but at least I held out until there was a spend-and-save to buy it.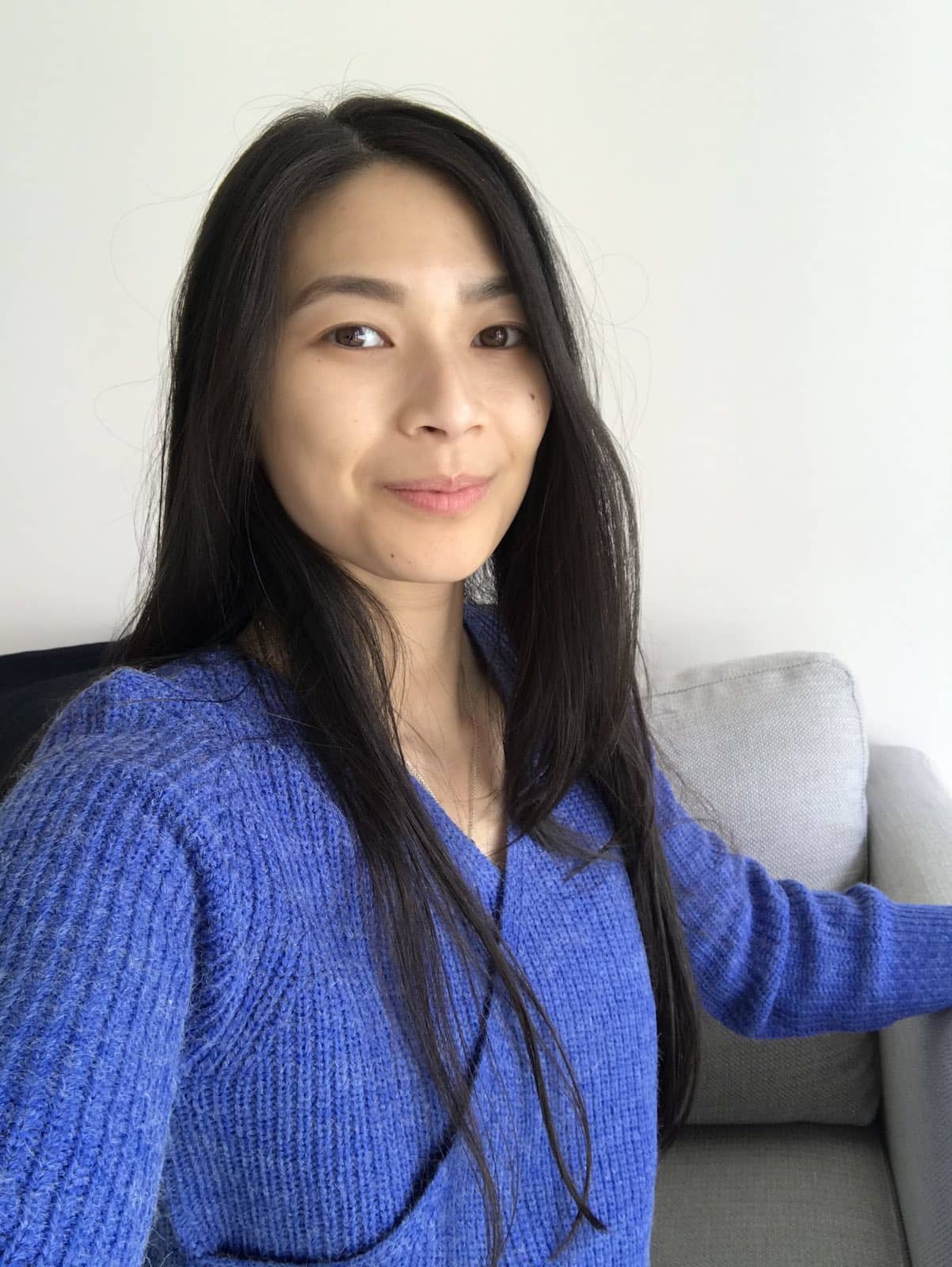 As for the cardigan, it was a bit of an impulse buy, but I couldn't get past the light blue colour (I own two pants in this colour!), the slouchy fit, and the fact that it was an open-neck piece that wasn't too low-cut.
New second-hand clothes
In second-hand purchases, I landed a couple of things, which I paid between $10 and $30 for (as a rule, I generally avoid paying more than $35–40 for most second-hand items unless they are items like winter coats or leather jackets):
a red off-the-shoulder top, which was partially an experiment in the colour red, but it turned out to be too big because I misjudged the sizing based on other garments that I owned by the same brand – this one I will try to re-sell
a red jumpsuit, which was also an experiment in a slightly different chroma of red, and giving off-the-shoulder garments a second chance
a white pair of culottes, which was an experiment in culottes on my 5'2 body – and they have turned out to be amazingly comfortable and suit me really well, so that is a win
a blue pair of shorts, which is yet to arrive in the mail.
Haircut (first one since April)
I got a haircut which cost me a little over $100. Since deciding to get more quality haircuts a year ago, I accepted that it was going to cost me more, but I was happy to pay for the expertise and experience of the hairdresser, compared to the $25 "OK" haircuts I used to get at an "all-in-one beauty stop" kind of salon. Especially since I'm keeping my hair longer these days.
A new budgeting spreadsheet
As I mentioned last time, I decided to create a new budgeting spreadsheet to re-think some of the pieces I plan to add to my wardrobe. The spreadsheet I originally created no longer met my needs – I learned some things along the way and it needed adjusting. I haven't filled in everything here, yet, though!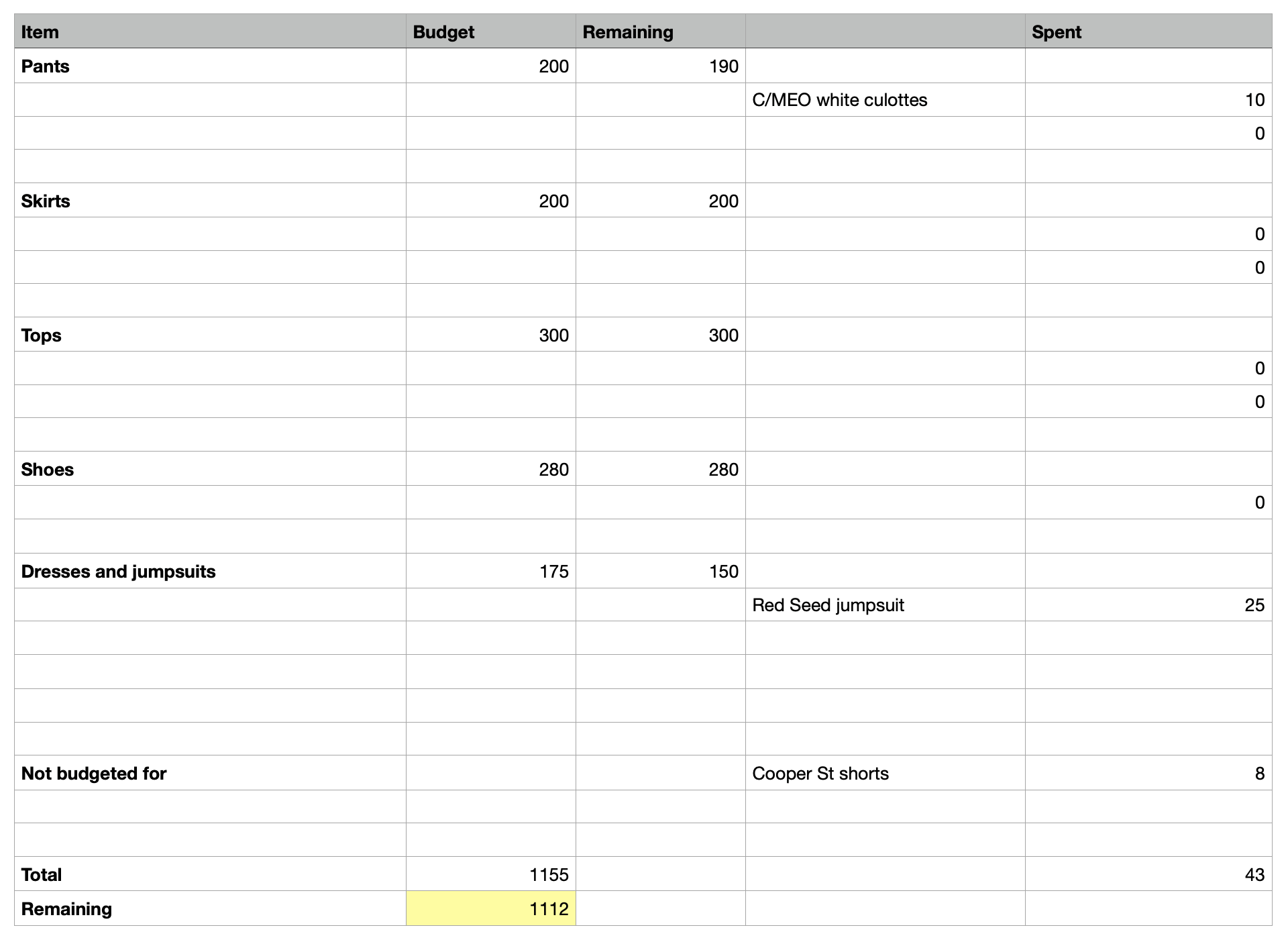 Phew.
So I am still planning to buy some new gym gear, and I have my eyes on a couple of second-hand items on eBay. And then there's the new phone.
Also, as I was writing this blog post, the transformer on my 2015 MacBook Pro charger basically exploded. I think it wasn't connected properly. I had a spare charger, but it looks like I might have busted the battery because it's suggesting I service the battery. 👀 So I hope that won't cost a fortune – I have no idea how much it'll cost. I'm not desperate to fix it since I can use my work laptop, but it would probably still be good to.
Anyhow. I think I'm hoping to still save another $2000 next month, but, I think this time I might actually struggle to hit that. 😆 I'll be back with another update. ✨
Are you doing a low-buy 2020? How are things going for you? What plans do you have for the next month?