Fashion Friday: Retina and the Sky | Warm weather, sky blue ☀️
Well, it's hard to predict the weather around here! I thought it was getting warmer in Sydney for good… but occasionally we have those cold, windy days. The day we took these photos was one of those.
I've really warmed to this sky blue colour. I don't know what it is about it, but since I bought my blue pants last year that I featured in Only In Dreams, I've realised that it's a colour I continue to gravitate towards. I used to look for colours in cobalt blue and royal blue a lot, but in recent years I found that the colour was a bit too bright for my liking. I love blue, but I wanted a softer blue colour that was still bright. Now I get drawn to these sky blue hues when I see them. 🥰
💙 Sky blue all over again
This particular cardigan was, admittedly, a recent purchase. I mentioned it in last week's low buy update, but after thinking about the slouchy cut and the colour, and how I was certain it'd serve me well for the warmer months but not when it's too warm – I decided to buy it when there was a "spend and save" deal on.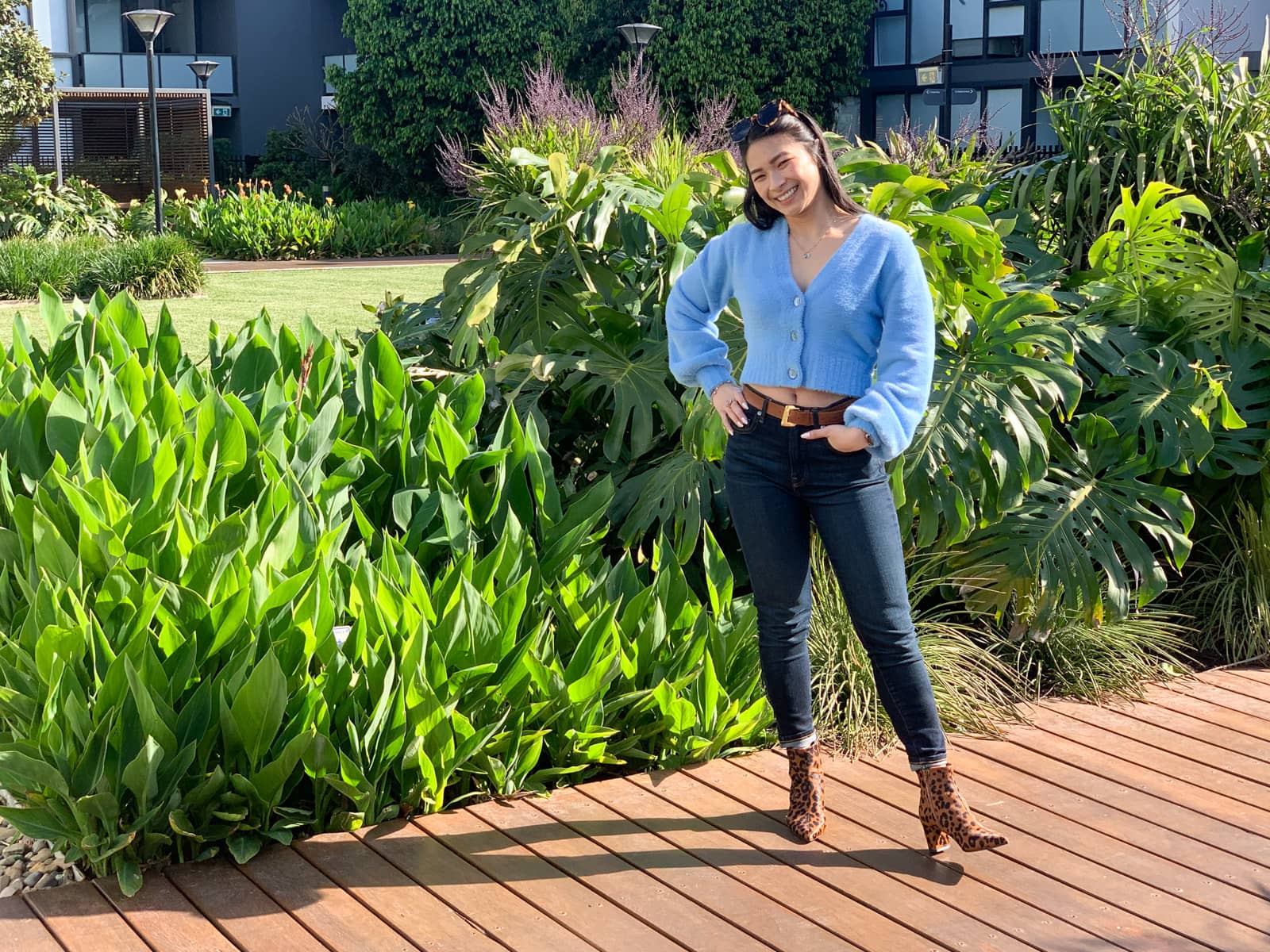 I've actually worn this cardigan a lot. I bought it in the same order as a royal blue long-sleeved wrap knit top, and I thought I'd wear that more, but I've actually been reaching for this cardigan a lot more often. I even wore it four days in a row during this past week. 😂 I also wore this exact same outfit two days in a row on the weekend. Something about the weekend just makes me mind a lot less about outfit repeating (not that it bothers me all that much in the first place).
The material of the cardigan is honestly not as sustainable as I'd like (nylon and elastane), but it's the price you pay for an item that's a bit more of a "fashion item" than a classic basic. If you have been following my blog for a while then you'll know that my style is very far from classic, traditional and basic, so most of the clothes I buy are unfortunately going to be made from synthetic rather than natural materials. Every now and then I come across a brightly coloured garment made from mostly natural materials – which is lovely to see.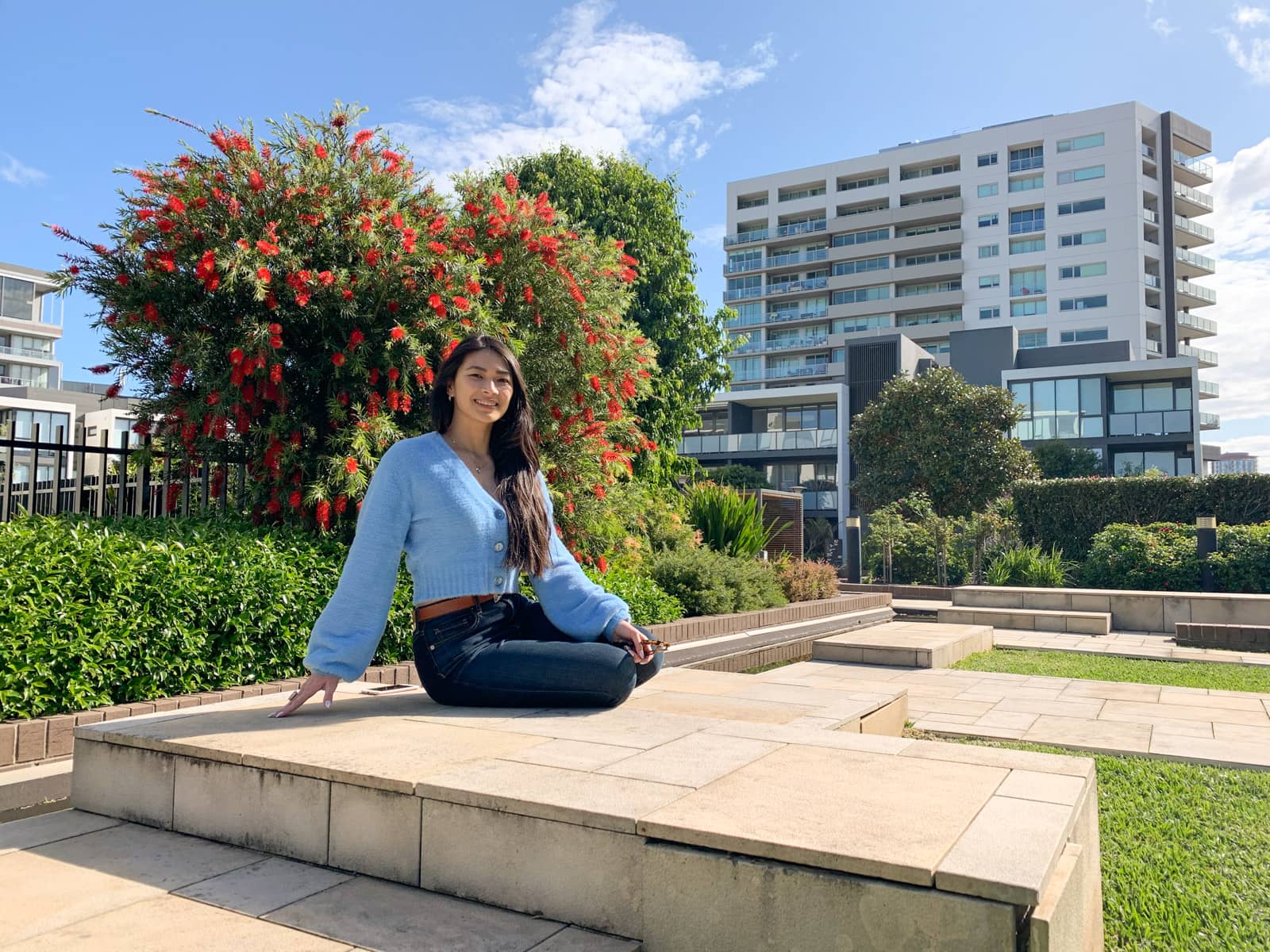 👖 Everlane curvy-fit skinny jeans
These jeans were the last pair of jeans I purchased and are from Everlane. Despite all the hype, I can say that they were very disappointing. And despite that, I've actually worn the jeans quite a handful of times. 😅 I bought the jeans during a sale (I think it was 30% off), and it looked like there wasn't ever going to be another sale with that big of a discount, so I decided to make a purchase since I'd been eyeing Everlane's jeans for years. I've spent years looking for good denim (you might have seen my Denim Debacle spreadsheet) but it's been difficult to find something that fits my large waist-to-hip ratio, and with very few brands available in Australia, finding the perfect pair of jeans was expensive and I couldn't get access to many brands that were curvy-friendly.
These Everlane jeans are the curvy fit skinny jean. They claim to have more room in the hip and thigh, but alas, I had exactly the same problem I have with regular jeans: they are extremely tight around the thigh when I get my correct waist measurement. So that was disappointing. I even got my regular size even though reviews recommended sizing down because the jeans stretch a lot.
They didn't stretch much for me at all. In fact, compared to most skinny stretch jeans I've tried, these feel rock solid. I guess they're going for that authentic denim feel that doesn't bag out in the knees, but with the caveat that my knees hurt whenever I crouch or bend in these. 😂 You can't win. I have to admit that the reason I keep wearing these jeans is because they look lovely and are, for the most part, comfortable. I have to wear a belt with it because the waist is too big – a result of me stretching it, probably, since I need to pull them up over my big thighs. But this is the same problem I have with most jeans; the waist stretches or becomes too big.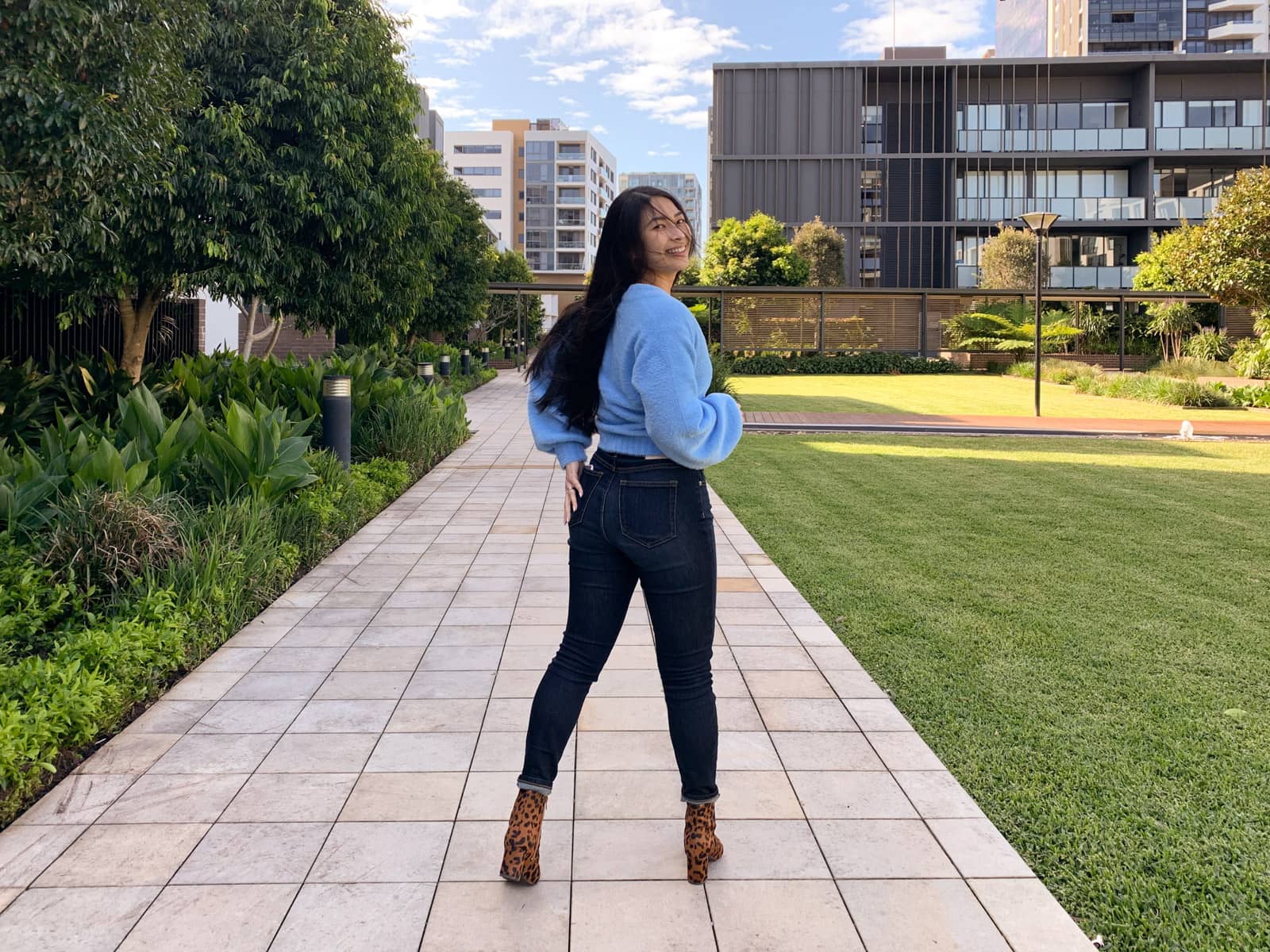 I probably wouldn't recommend Everlane if you have a similar body shape to me – unless you can easily find the jeans second-hand and want to give them a shot. They're good quality denim, but I've also heard that the quality has dwindled in recent years.
(For reference: I'm 5'2/158cm tall, and my inseam is usually 26–28in/68–72cm. My waist is 66cm/26in and my hips are 97cm/38in. The widest part of my thighs are 55cm/21.5in. I usually wear size 26 jeans and US4/AU8.)
When I said that these were the last jeans I bought, I also mean that I don't intend on buying any more jeans anymore. I had told myself that these were the last jeans I would try: if they were great, then I wouldn't mind buying more, but if they were disappointing, I would've lost all hope. I've pretty much lost all hope at this point after trying so many jean brands and styles and logging my findings into a big spreadsheet. But hey, at least I have these jeans which I'm still content in wearing for the time being. 😆
✨ Accessories and shoe-repeating
I got the belt from my mum a while back. It's a vintage Sportscraft belt, and to be honest I didn't like it that much at first. I didn't care much for belts, and actually disliked them. But I didn't own a single belt and at some point I decided to try this belt so it matched a pair of brown shoes I had at the time. I've just hung onto it ever since. I don't love to wear it, but if I want to wear it, it's there. In this particular situation I realise it goes well with my boots.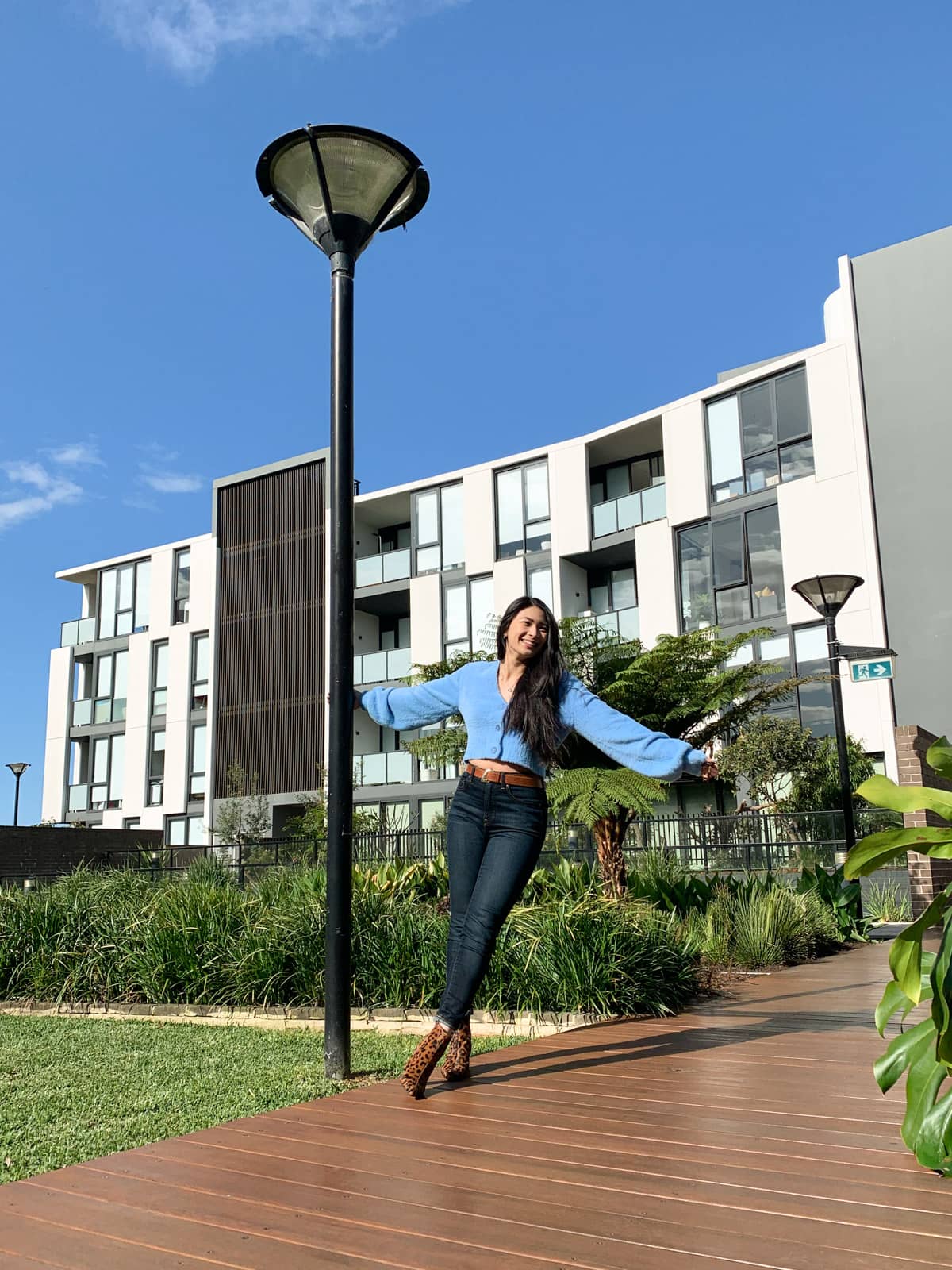 I wore these boots in the little Fashion Friday comeback I did a couple of months ago, when this series returned in 2020 for the first time in a year. I've e definitely worn these boots a handful of times since, and I particularly like how I dressed them up a little in this outfit. I folded the jeans up just a little bit at the bottom, because I struggled to get them to sit nicely if I tried tucking them into the boot. Definitely a scenario where having a legging or a very skinny jean that hugs the ankle is a better option.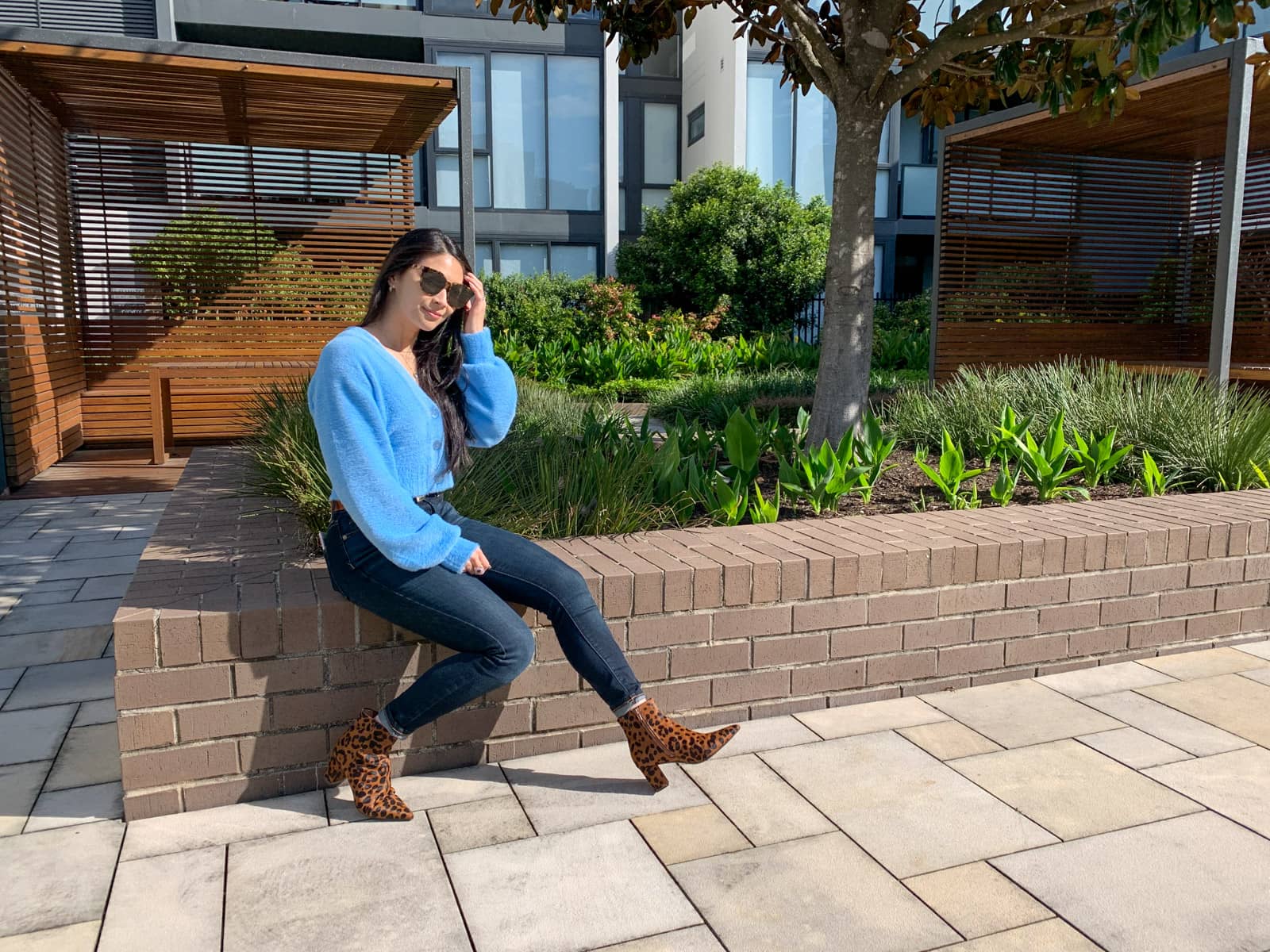 I mostly wore the necklace because the blue matches my cardigan. I have started moving away from gold jewellery in favour of silver, and won't be buying any more gold – but I'm still wearing some of my gold pieces for now.
I have an my affinity for natural stones and crystals, as you might've guessed. I pulled out my amethyst ring, which I love the shape and size of – it's nice without being too clunky or getting in the way of things. I hadn't worn it in a while so it was nice to add to this outfit.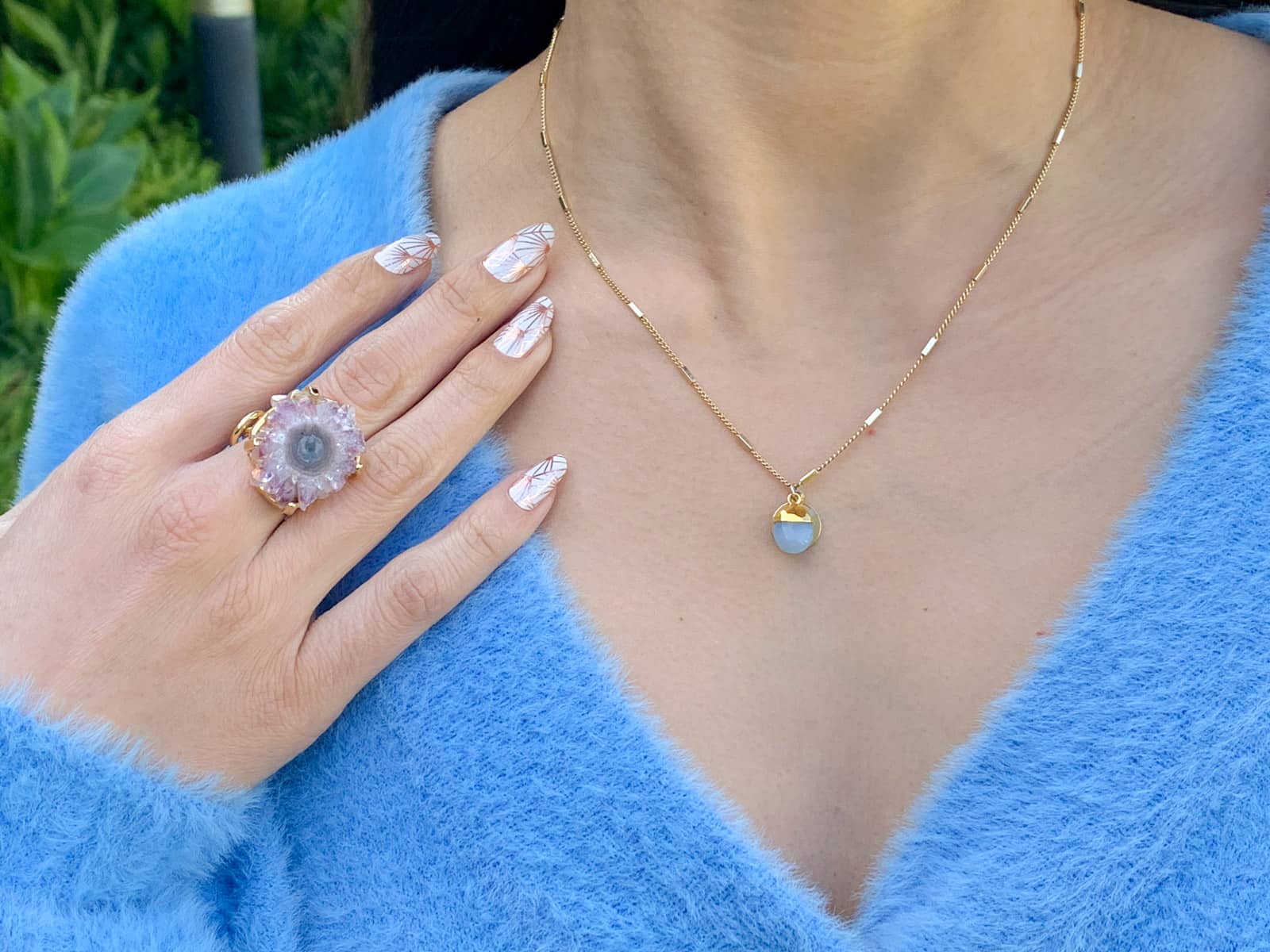 I re-did my nails again recently with another set from Personail [referral link for 20% off]. I held off applying these even though I bought them a while ago – I wasn't too sure if they would look too busy on my nails. Since I've been growing my nails out a little, I thought it was a perfect opportunity to try something with more detail. These are actually a lot more beautiful on my nails than they are in the packet. 😆 They have a rose gold sunburst kind of pattern and actually look kind of subtle on the white – not too loud. I actually find that quite versatile.
What's your go-to colour? What's the weather like where you are now? 🌻
📓 Wardrobe diary
I wanted to give a little update on what I'm doing in my so-called "style reinvention 2020". In my planning for curating what I hope to be my best, most-loved, least wasteful wardrobe yet, I have been keeping somewhat of a wardrobe diary and taking photos of my outfits every day. I've mostly been documenting this on my Instagram stories (follow me there!), writing notes on my clothes and how I feel about the outfit. I'm trying to do this as naturally as possible, reaching for what I feel like wearing in my wardrobe, and not staging the photos.
I've noticed some mind-blowing patterns. I know at a glance what items of clothing I wear over and over, but sometimes taking photos of every outfit really shows me how much I love some of my existing items and re-wear them. It also shockingly shows me that – even though I have a pretty small wardrobe compared to most people – I own a lot of clothes that I don't wear and probably don't need. 😅
I might write a more detailed blog post about this experience in the future, since I think it will be interesting to note down what I've learned about my wardrobe and shopping habits. Stay tuned for that. 😊
Outfit details
Colophon
📸 All photography by Nicholas Cooke. (iPhone Xs)
We took these photos in the resident-only sky park of our apartment block. You've probably seen this setting in quite a few of my previous Fashion Friday posts.
The name of this edition, Retina and the Sky, is a song by the post-rock two-piece band Idiot Pilot. I used to listen to them over ten years ago when I was my last years of high school – they had a very unique sound. Retina and the Sky was on the first Transformers film soundtrack. I hadn't listened to the band in a while and actually only found out yesterday that they independently released an album, Blue Blood, in 2019, after a 12-year hiatus. I've been listening to it as I write this post and I am enjoying it so far. 😌 I named this outfit after the song because I was reminded of it when I thought of how my top matches the colour of the sky.