Fashion Friday: In the springtime | 💅🏻 Silk, buttons and bright red nails
Happy Friday, my friends! ☺️ I hope life has been treating you well. Recently I found myself still looking for a couple of new sweaters to add to my wardrobe, but then caught myself… winter is over in Sydney! We have some days where it's 19°C (66°F) – which for us can feel "a little cool" – and maybe I'll need a sweater, but otherwise, the truly cold days are well behind us.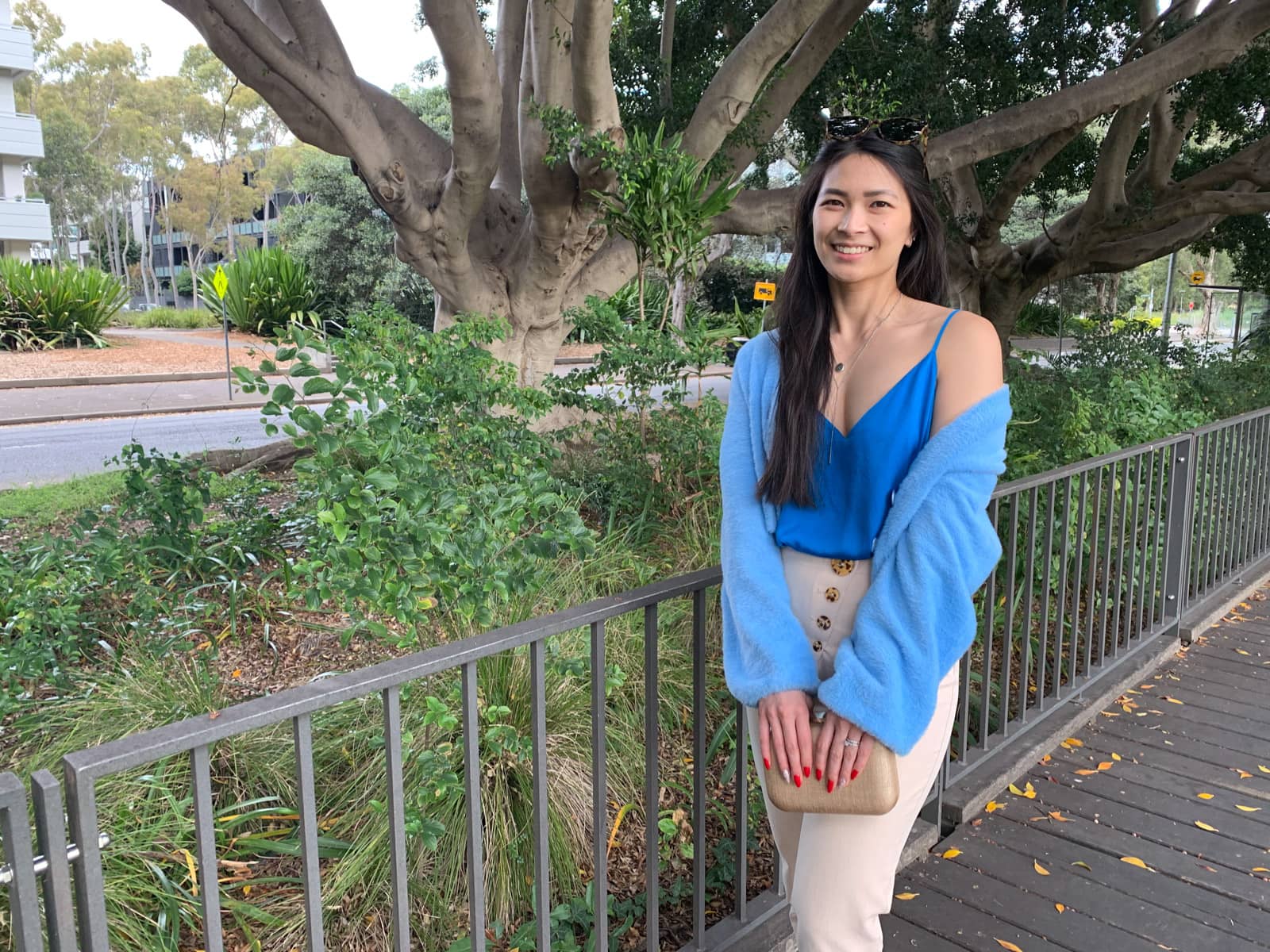 Button-fly pants, yay or nay?
I'm wearing a pair of pants I got around Christmastime last year. After deciding to look for more pants rather than tight jeans, and not finding relaxed jeans to work well for me, I bought a blue pair of pants (you've seen them in previous Fashion Friday editions) and then bought this champagne-beige pair.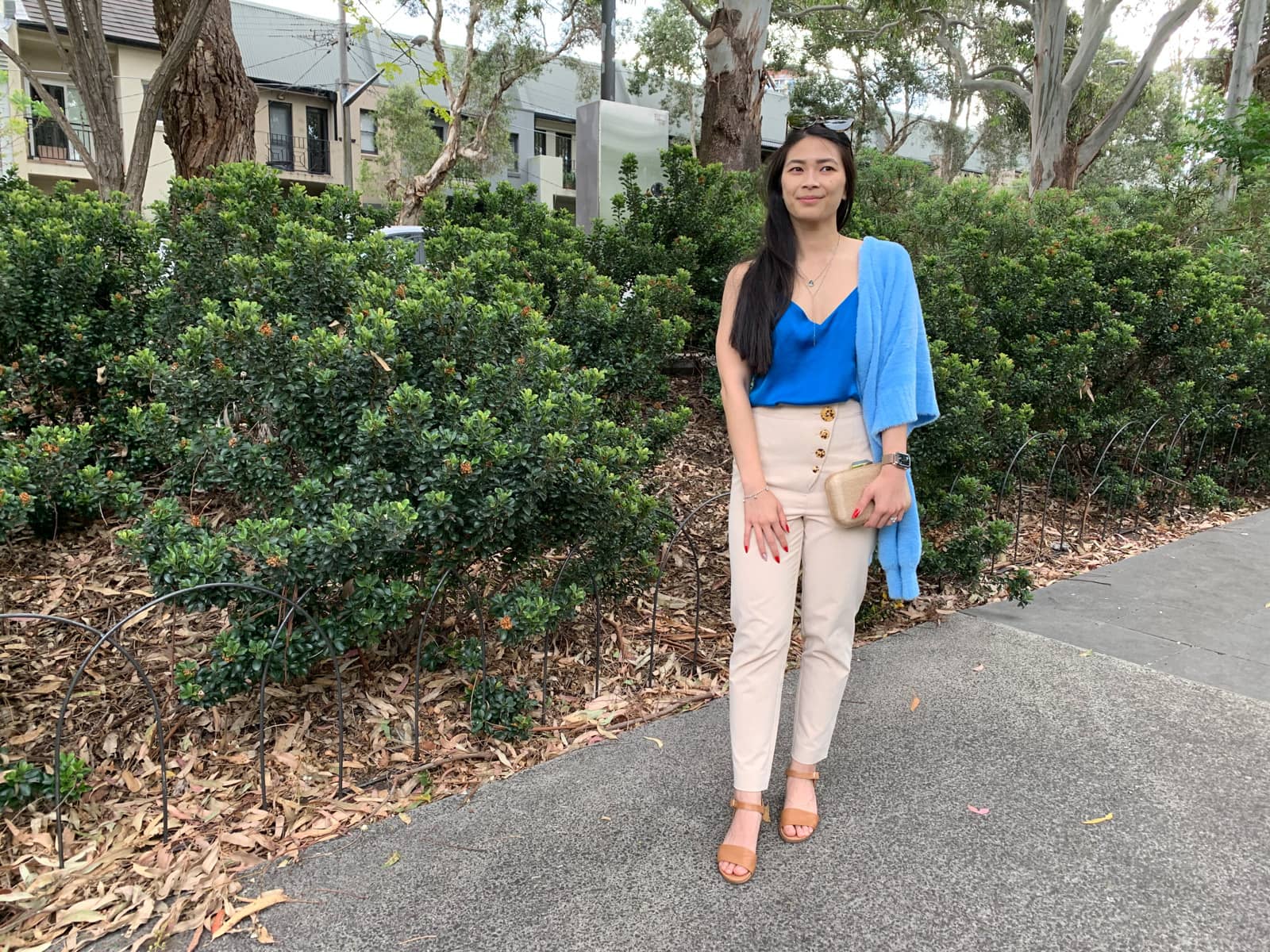 I'm not sure what drew me to these pants, to be honest. I think I was looking for something neutral but not white (even though I love white). Something that felt like it belonged in summer weather. I don't often like to follow the tradition of wearing certain colours in certain seasons, but I do generally prefer light colours in summer like most people do. These pants were a little bit of a risky purchase: I wasn't quite sure I could stand having a fly with four buttons and a zipper, and I was pretty sure these pants wouldn't offer enough room for bigger legs. I did my best to ignore the model shots but that can be hard. I'm pretty sure the model was wearing the same size as me but the pants looked so loose on her. The website only gave the model's height, and not her measurements. If you're a woman who isn't extremely tall and skinny, you're probably thinking the same thing as me: just telling me the height doesn't tell me jack shit. 😂
The pants did fit, though they got really tight as I started to gain weight during the pandemic. They fit a lot better now but I think you can tell that these pants were not made for someone with big thighs. 😅 I had a laugh with my friend about how, effectively, because of my body shape, the pants are being held up by my thighs, and if my thighs weren't that big then the waist would fall down because it's actually too big. Hahaha.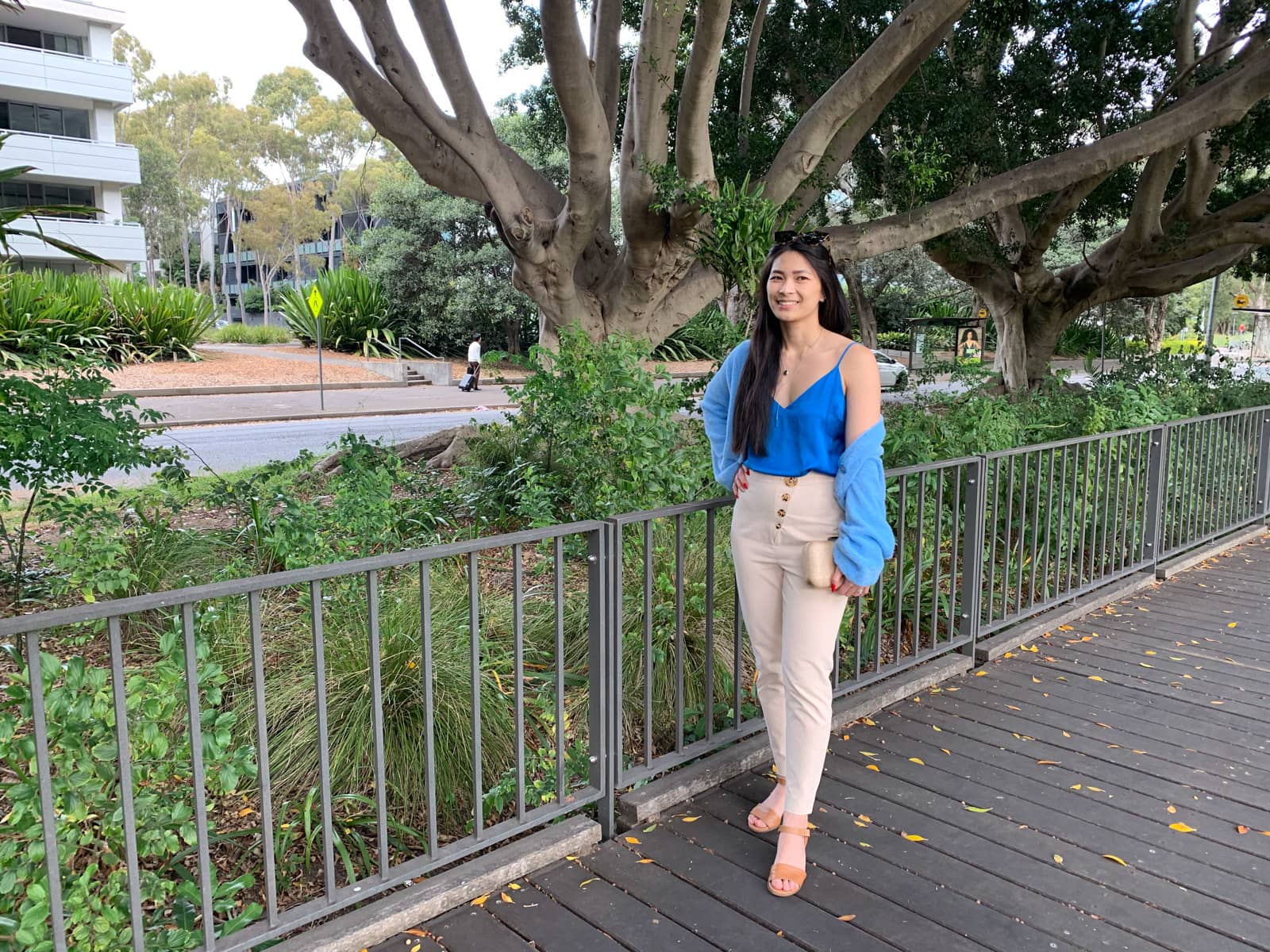 Anyway, I like the pants a lot and I even tried to look for them second-hand in a bigger size so I could then get the waist taken in, but to no avail. I'll keep waiting. I'm pretty surprised that the button fly hasn't annoyed me yet!
Searching for silk and other natural fabrics
I got the singlet top/camisole second-hand on eBay. To be honest, I didn't give it a lot of thought when I bid on it. I think I'd been watching the item and it already had a couple of bids… and sometimes I do watch items on eBay and keep an eye on them even when they get relisted. But if they receive bids, sometimes that's my cue to make a decision as to whether I'm really interested in the item and should snap it up now, or just give up on it. I guess this was an example of something I really wanted.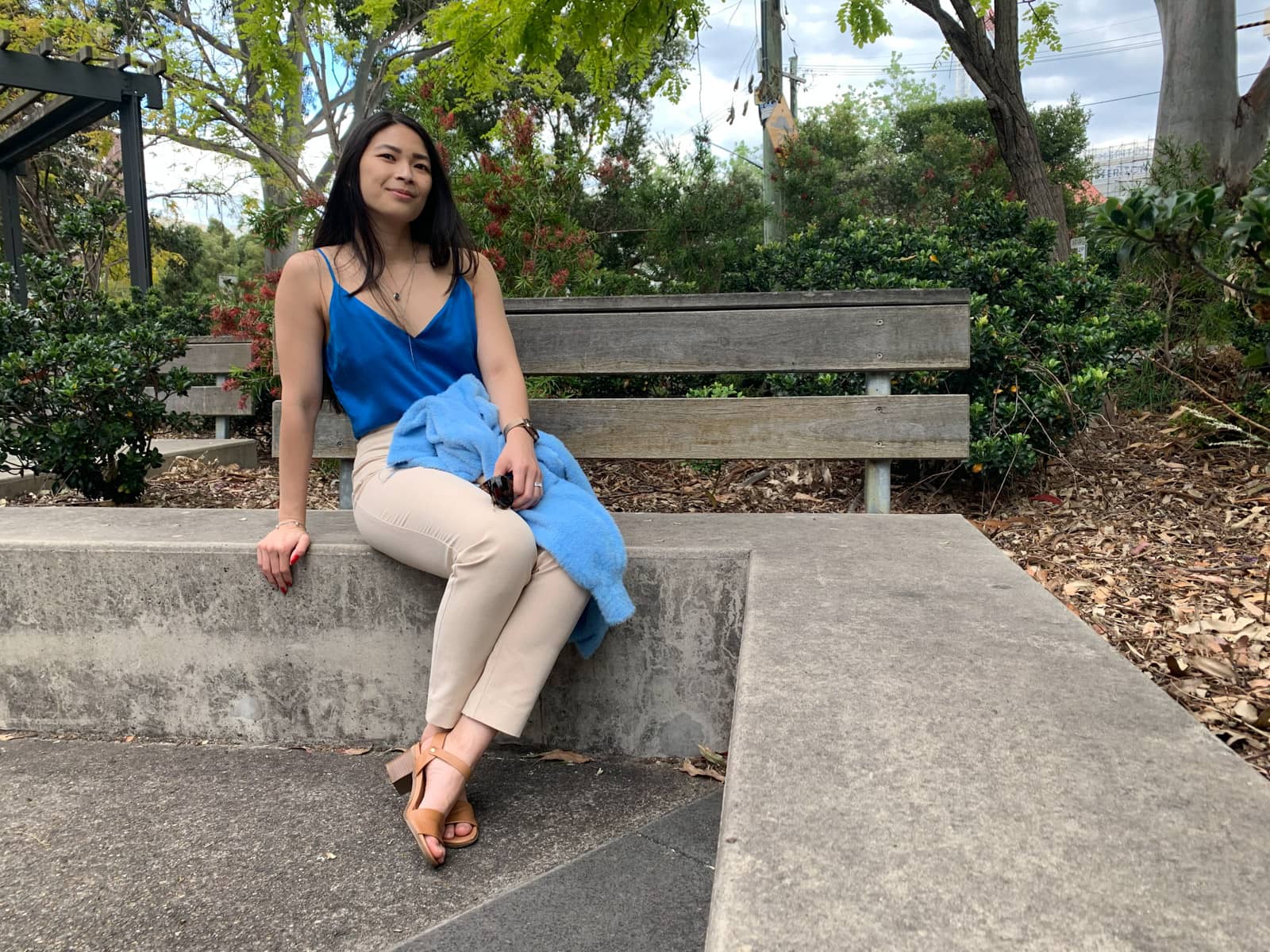 I was really drawn to the colour; you all know I love blue. 💙 I actually like the top a lot more than I thought I would. I have a history of hating camisoles and singlet tops – especially ones with thin straps! – because of how they looked on me. I used to be quite self conscious about my broad shoulders – but I've learned to embrace them. I've found that not squeezing them into tops or trying to visually narrow them actually complements them nicely. It goes to show that our tastes really do change over time.
A large percentage of the material composition is silk. I've been trying to pay more attention to the fabric composition of the clothes I buy. This top is of really good quality and I think I got it for a bargain price!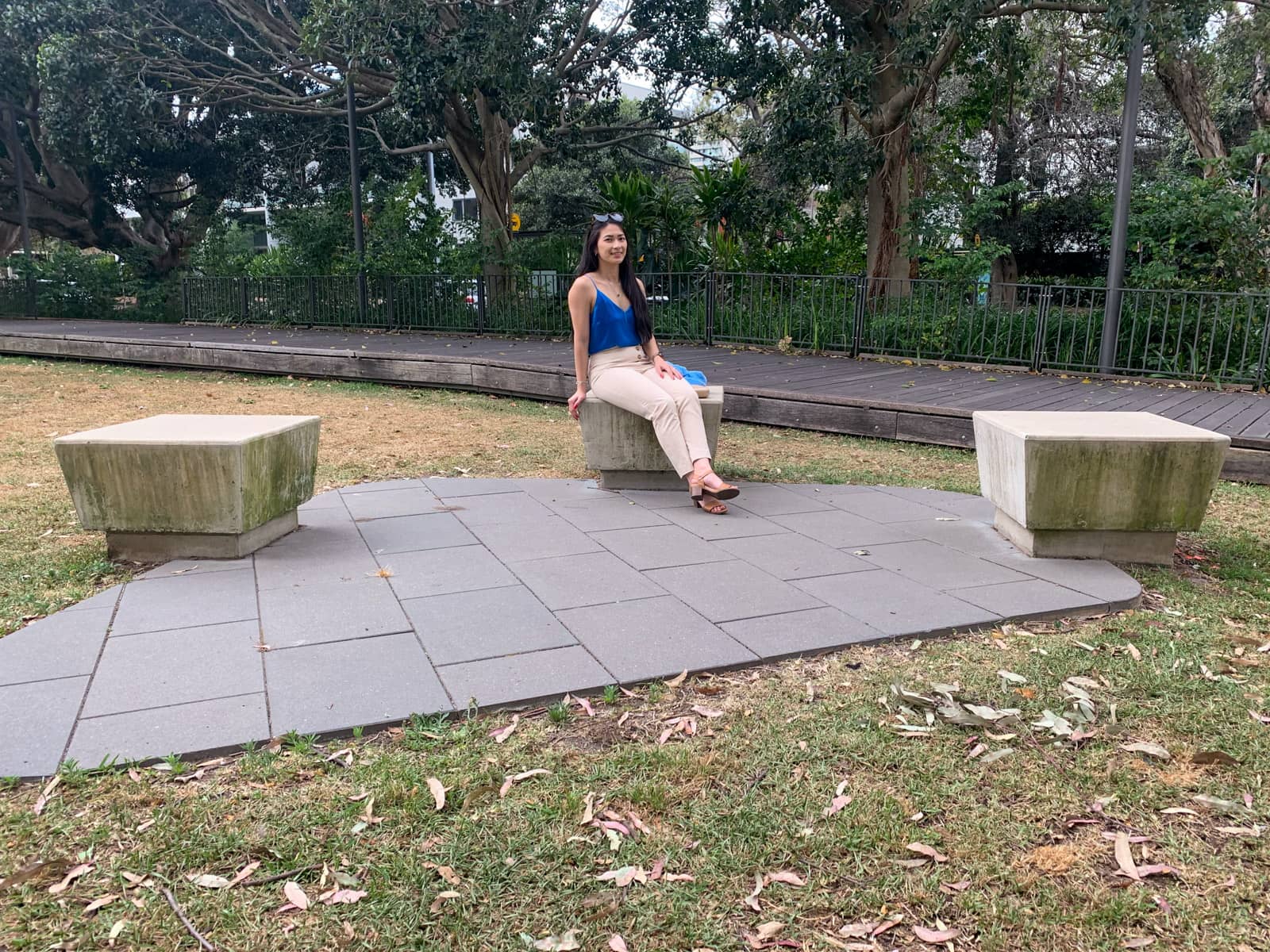 Nails, a clutch handbag, and the other familiar bits and pieces
I've been growing my nails out as much as I can and continuing to use nail wraps on them even though I'm working from home and hardly going out. There's no reason why I should stop enjoying doing my nails! I think these are the longest my nails have been for some time. I always have to be careful not to use the ends of my nails to open and grab things because it makes them more susceptible to breaking. At some point, typing with long fingernails does get annoying but it hasn't bothered me that much yet. I think it helped that I did my best to properly shape my nails. I went for a red colour with an accent; it's been a while since I've picked a bold colour like red.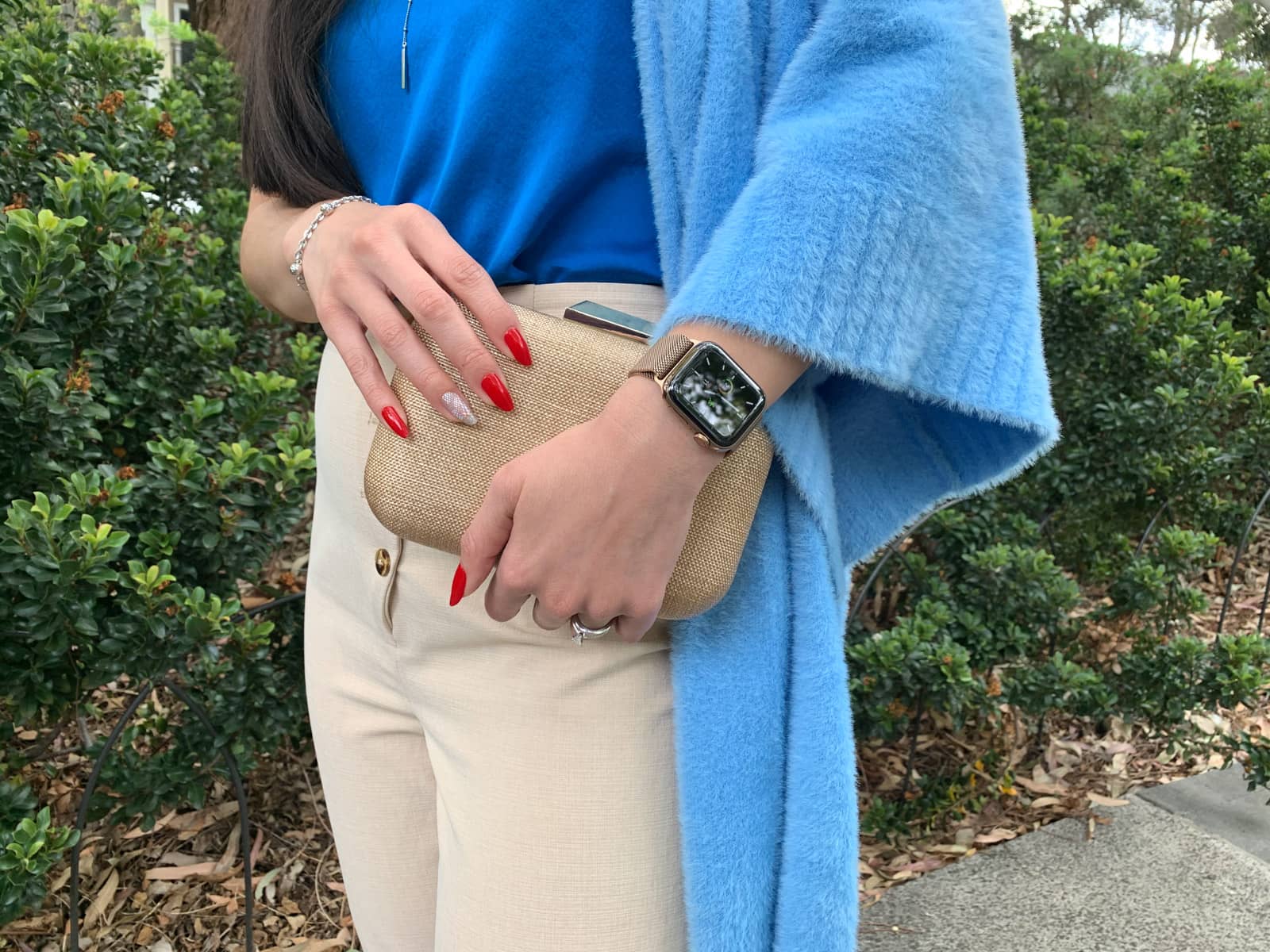 The clutch/purse was also a purchase I made late last year. I don't buy bags for occasions, but I felt that I needed a small clutch-style bag for a Christmas party, because I didn't have anything like that in my wardrobe. Before the pandemic I was expecting to go to a couple of weddings this year that I could use the bag for, too, but those events didn't happen. I think this was still a lovely purchase and I did manage to get it at a discounted price. It's amusing how long it took me to find a style I liked, though. The amount of cheap, tacky-looking clutches out there is outrageous! Covered in embellishments, not having a strap (this one has a detachable one), not being able to fit a smartphone… just wow. 😆
To top off the outfit I put on my cardigan from the last Fashion Friday edition. I thought it was going to be windy when we took these photos but the view from our apartment balcony was deceiving. 😜 I think the outfit looks nice with or without the cardigan – and it was a good opportunity for me to see how it looked as a piece of outerwear and not simply a top. 👌
Sandals-wise, these are my only pair of sandals so pretty much one of my only summery options. I've got a pair of yellow slingback flat shoes but I think they're classed more as a flat shoe than a sandal! Either way, these are my go-to for most of my summer outfits, haha.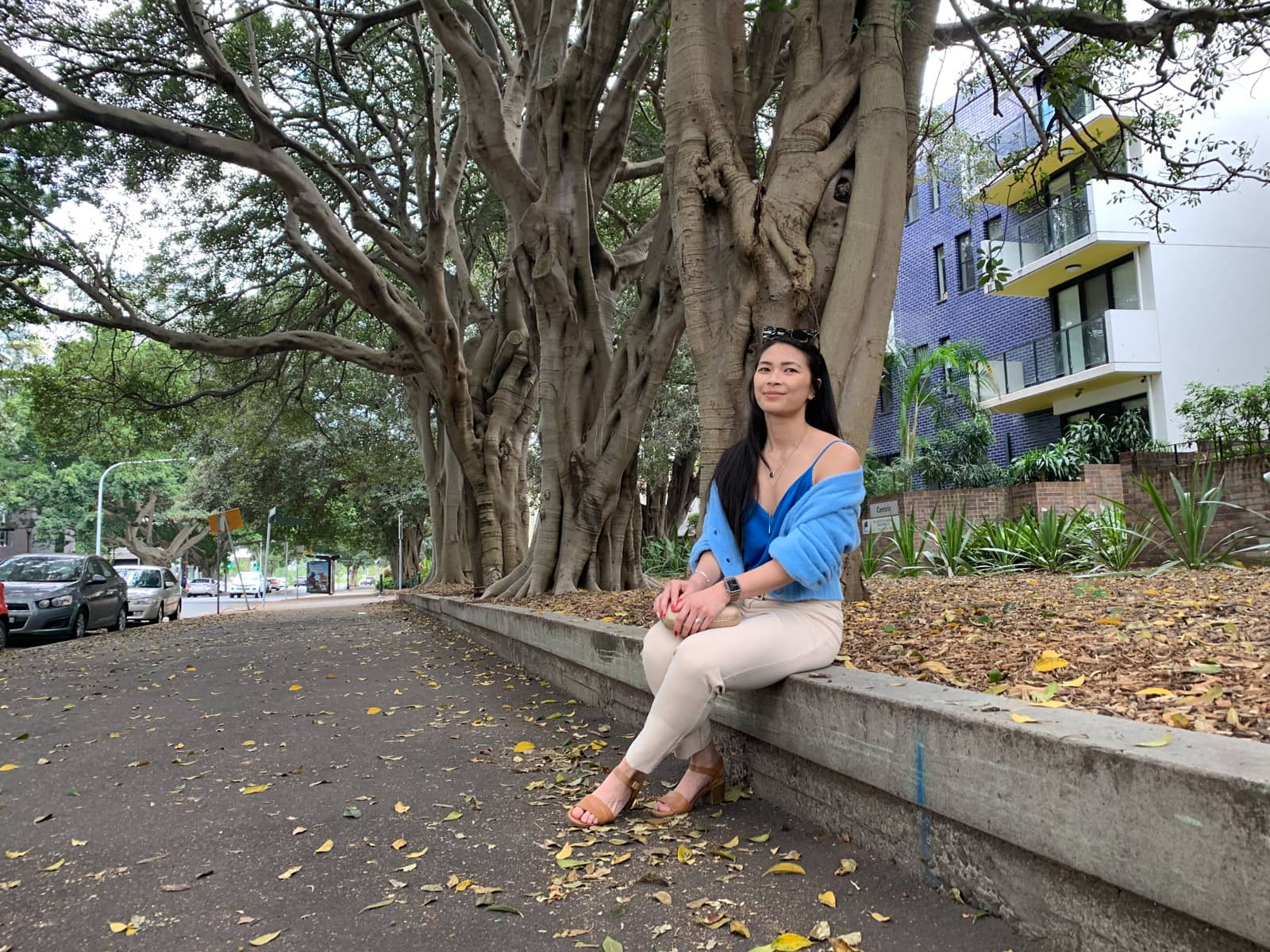 I really love this outfit because of the contrast of the blue and the light colours. I honestly don't wear a lot of colours apart from white, because colours like tan and beige – those that have a warm tone – make me disappear because of how they look against my skin. I think the contrast helps alleviate that, as well as including those colours in my accessories rather than "main" pieces. I've also kind of taken the advice that any colour that isn't "your colour" can be worn further away from the face if you really want to wear it. It's a tip that I think works really well. 👌
Outfit details
Colophon
📸 All photography by Nicholas Cooke. (iPhone Xs)
We took these photos around our neighbourhood area, just a corner of a park that we hadn't captured yet. It's actually a common area for people to walk through when walking the dog or socialising, or run through while exercising, but with the right camera angles you can crop most people out of frame.
I named this edition In the springtime after the Velociraptor song, and inspired simply by the fact that spring is (kind of) in full bloom. We might see some flowers and real symbols of spring in upcoming editions? 🌺