Fashion Friday: The calm between the storms | Jacaranda trees in Sydney 💜
Hi friends! 😊 Welcome to another edition of Fashion Friday. I was actually a little worried we'd be stuck in the rain with this one, but the weather cleared up a bit. Although the weather has been warm in Sydney, we have had some unexpected rain. I know that an "on the couch" kind of Fashion Friday – during this working from home era – would be appropriate too, but these jacaranda trees make for a lovely backdrop.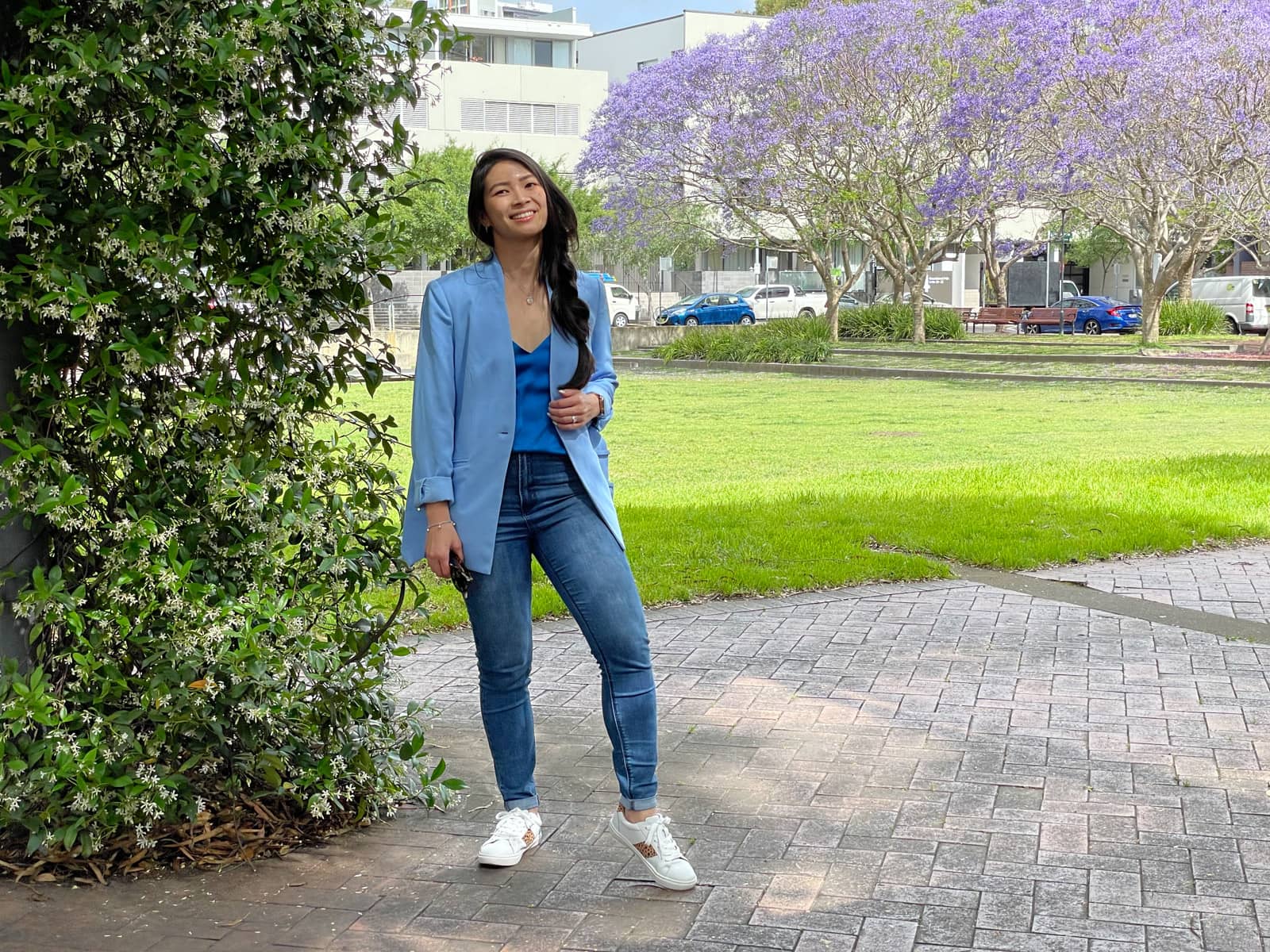 I grew up in Western Sydney where jacaranda trees were absolutely everywhere. I don't know what it's like these days, and I'm actually not sure how populous jacaranda trees are across our very dense and large city, but the trees do remind me a little of my childhood. Though it was never nice when the trees shed a little in the wind, because the lavender flowers would drop to the ground and look like a mess when they were trodden on.
These photos were taken on Nick's new iPhone 12 Pro! Let's get into it. ✨
🥰 A blue blazer that has grown on me over time
I bought this blazer earlier this year because I was convinced I needed a light-coloured suit in my wardrobe. This whole year has been a process of exploring new fits and cuts for my clothes. I decided I needed to move away from wearing tight, very cropped clothing all the time, because I began to find it uncomfortable with my fluctuating weight, and also started to feel rather juvenile in that style of clothing. Of course, your taste might differ too – if tight clothing is what you enjoy wearing and it doesn't bother you, go right ahead. 😊 As I've said many a time on my outfit-related posts, style is something that is so personal to each individual that sometimes you have to ignore the trends, what the internet suggests, and what you are drawn to just visually. So I purchased this blue suit with matching pants, but definitely had mixed feelings about it.
Blue is my favourite colour and I have definitely warmed to this sky blue hue in the past year. Being dressed in all-blue doesn't bother me at all, but I've found that I actually prefer a little contrast in my outfits. So when I wore the suit as a whole, I actually didn't like it very much. I think it looked too stark on me, so I have been wearing the pants and blazer separately and come up with some interesting outfits that I've grown to love. 🙂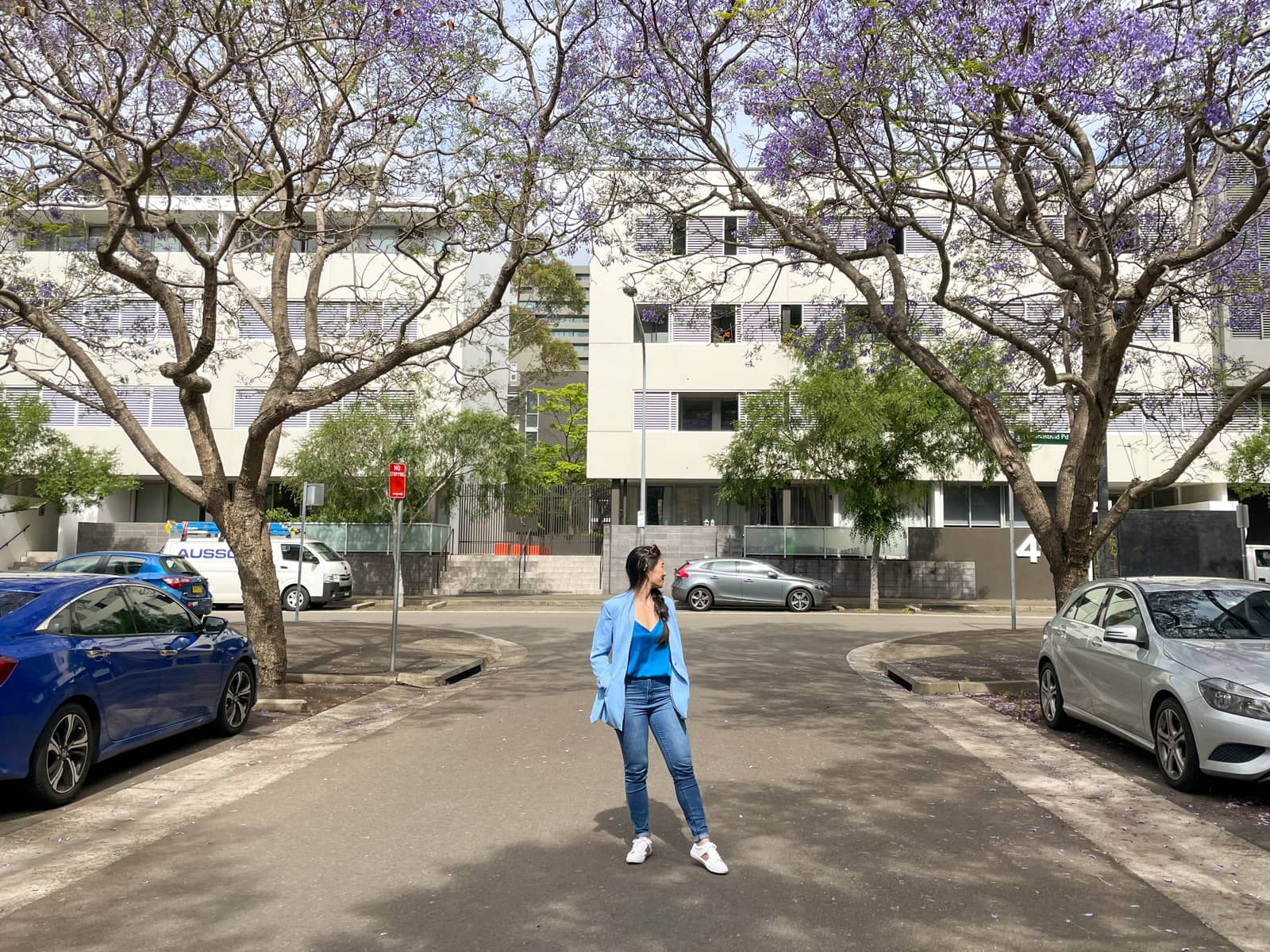 I hadn't owned a blazer in years. If you've been following my blog for at least a few years, you might remember a couple of outfits with blazers and that "professional" look. I have a job that doesn't really call for a professional dress code, so a blazer really isn't a necessity in my wardrobe. I found myself moving away from blazers and preferring cardigans and coats. I liked the idea of a blazer as something that could polish up a drab outfit, but I could never find a blazer I liked. This blue one caught my eye in a different way – the colour and the belted middle, with a style that seemed pretty no-fuss, seemed like it was worth a try (I bought it at 30% off, haha).
The blazer has grown on me over time, for sure. A few months after I bought it, I actually started to regret it and wonder if I'd ever actually wear it. When you haven't owned something for a while – and for me, that was the blazer – there's likely a reason behind it, so I'm often cautious about what I bring into my wardrobe especially if it's a variant of something I no longer wear, or even used to dislike. However, I gave it a go with jeans and a couple of other things in my wardrobe, and I found that with the right combination, it actually really added to my outfit and I felt quite comfortable in it.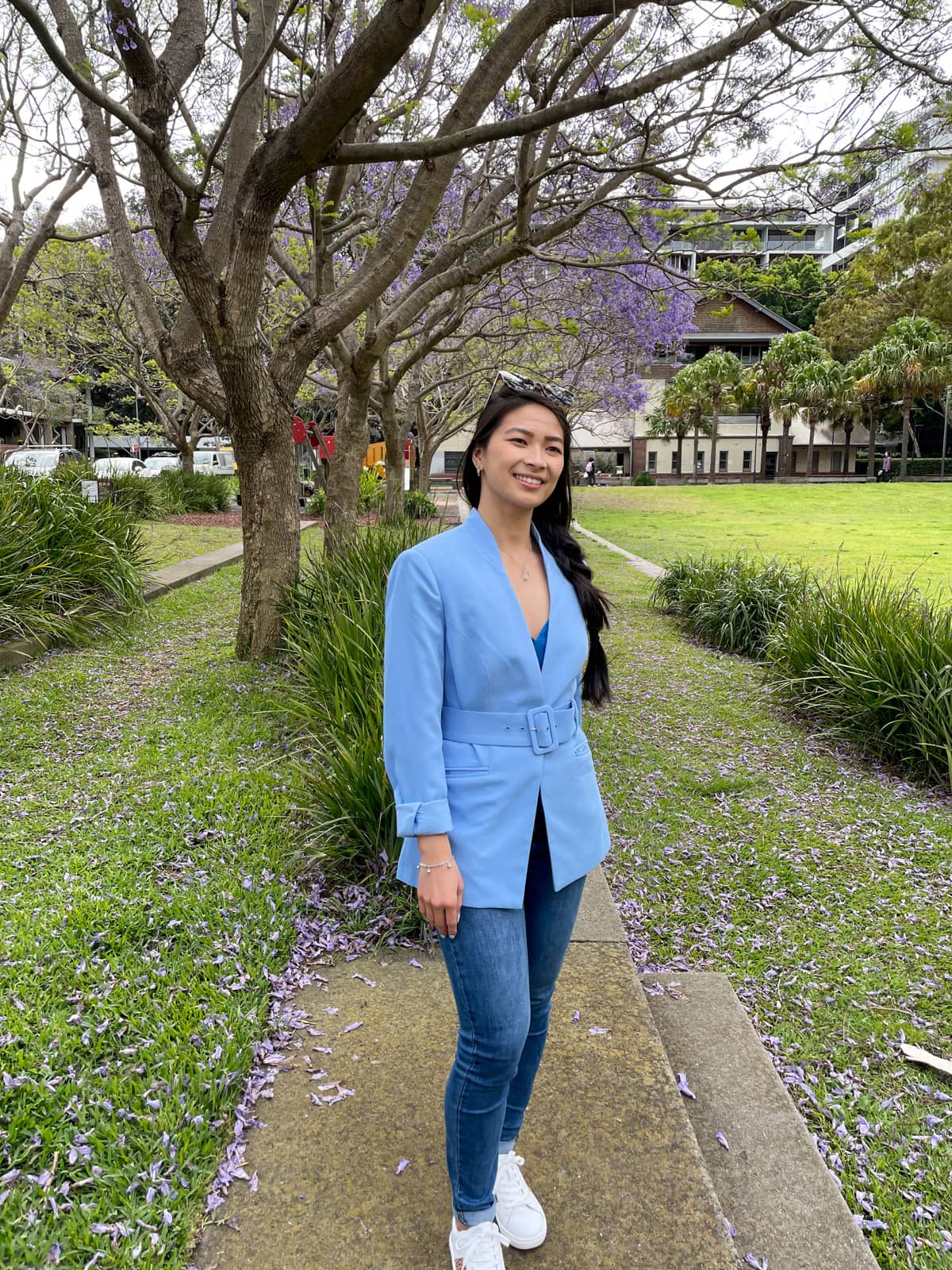 I folded the sleeves up. I felt that my wrists looked better exposed in the blazer, but I don't always do the same with all pieces of outerwear. I really love to roll up my sleeves with sweaters and cardigans but with jackets it certainly depends. The pockets of this blazer have open flaps that go over the opening of the pocket, but I liked them tucked in and hidden so that the rest of the blazer could look quite streamlined.
I prefer the blazer open and relaxed rather than belted and closed. I think I just look too stiff when it's closed. 🤔 I've just realised that the blazers I've owned in the past had stretch in the fabric, or the fabric was light and draped the body rather than being structured. Those were definitely more flattering fits on my shape than this structured one, which probably explains why it is more flattering when open and loose. Something to keep in mind if you think you look stiff in a blazer – it's probably in the cut, the collar, the fabric, or the details.
👖 lol, jeans?
So y'all know I hate jeans, but I'm wearing jeans?! True – this is one of only two pairs that I own. I don't love them, but when I sold many of my other pairs, I kept these because they had a large amount of stretch in the fabric and were heigh waisted enough for me. I have a high rise (long waist-to-crotch measurement) of 28cm (11 inches) that most "high-rise jeans" don't even come close to covering, but this pair is pretty close to that. The quality isn't amazing since it's thin and stretchy, but it accommodates my big legs and curves, so I've kept it since it works. 🤷🏻‍♀️ Haha.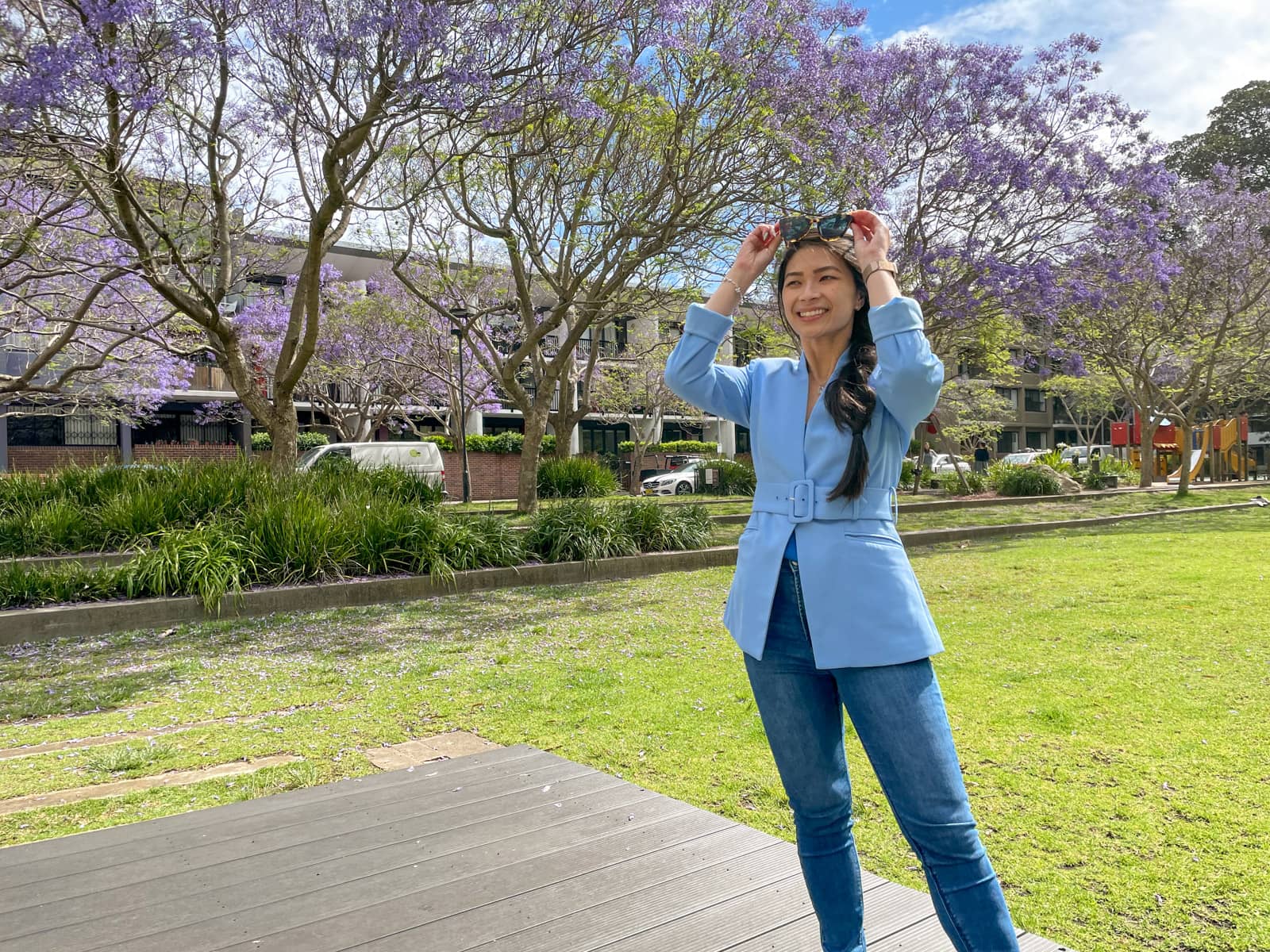 👟 Stylish white sneakers
It has also been a while that I haven't owned a pair of sneakers that aren't just a pair of gym/running/athletic shoes. I used to own a pair of Converse sneakers that I loved to death until the sides tore and the soles were pretty worn down. I also grew out of that style and I felt that Converse looked a little like clown shoes on me. As I grew older, the style felt too youthful for me. So when I next went looking for sneakers recently, I gathered all my knowledge and searched for a stylish shoe in white.
I love the colour white in both clothing and shoes – most of my running and lifting shoes have white as the base colour. 😆 I know some people are averse to white clothing and shoes because they get dirty easily, but I tend not to worry about that. I've definitely spilled food or splashed drink on my shoes and clothes, but I generally clean the stains off immediately and I don't mind that it can be a little more maintenance. I think it helps both to avoid treating white clothing like it's gold, but also avoid treating it like "it's going to get dirty anyway". I honestly treat my white clothes the same as my others, with maybe just a little, tiny bit extra care while I'm wearing them.
I got this pair of shoes from Australian brand Sandler. They make very comfortable, timeless shoes, and I have had many booties and boots from them in the past that have lasted years of hard wear. I really liked the style of these sneakers and couldn't go past the cheetah print. You know and maybe have seen some of my previous Fashion Friday posts (Lagoon and Apollo) where I am wearing my giraffe print boots and loafers – and I have really been enjoying that spot (mind the pun!) of animal print in my shoes. These add a bit of an edge to the white sneaker and I love it. 🐆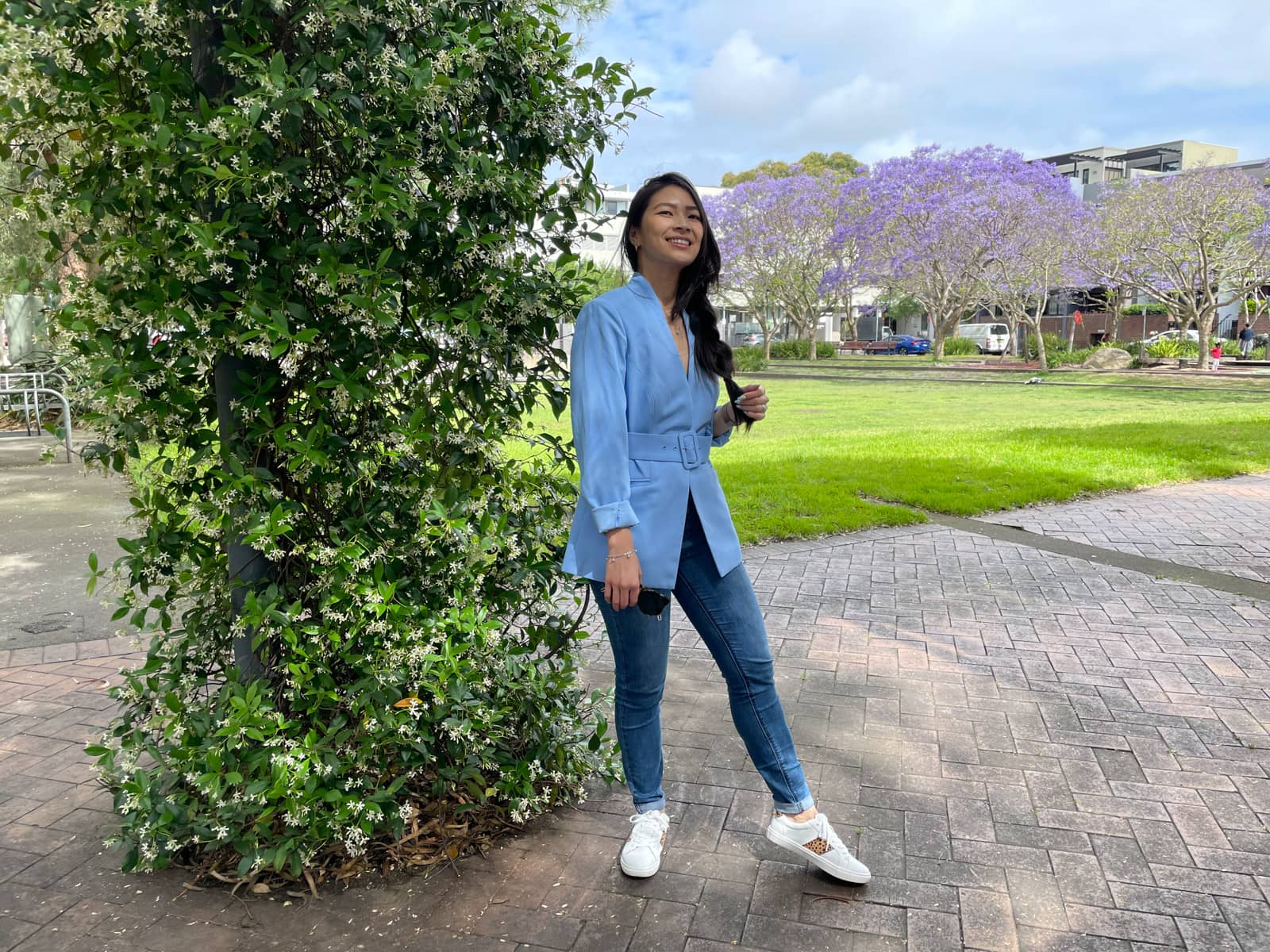 🔷 A blue repeat
I'm outfit-repeating the blue silk top from my previous Fashion Friday – it's a really versatile and comfortable piece that I don't mind wearing frequently, and goes very nicely with many of my clothes.
💁🏻‍♀️ A soft and loose braid
Apart from the braids I featured in the Hey Georgie! edition, I don't often have my hair braided at all… most of the time it's loose and free. But I felt like doing a big messy braid for a few days this week, just for something a bit different. I think that the hairstyle goes particularly well with the blazer because it makes the outfit more relaxed – which is what I prefer. 😊
Overall I like how this outfit turned out and how I'm getting more use out of the blazer after I thought it was a bad purchase. 🙈 Fingers crossed that I'll continue to wear it as time goes on. I've actually worn it twice this week already, so that's not a bad sign.
I'd love to know what you think of blazers and "professional" wardrobe items. Do you have to wear them? Do you put your own spin on it? Do you avoid them at all costs? Similarly, a blazer with jeans is seen as "a look", but is that a look you'd ever try? Not your thing? I'd love to hear your thoughts! 💬
Outfit details
Top: Witchery (purchased second hand)
Blazer: Sheike (Charlize Jacket in corn blue – no longer available)
Pants: Black Palms (High Rise Skinny Jean – no longer available)
Shoes: Sandler (Storm Sneaker in white and animal print leather)
Necklace: created myself with a herkimer diamond and silver chain
Sunglasses: Gentle Monster (Black Peter – available in other colours)
Nails: Personail [referral link for 20% off] nail wraps (Mint & Birthday Suit)
Colophon
📸 All photography by Nicholas Cooke. (🆕 iPhone 12 Pro)
We took these photos in the same area as Fashion Friday: Reversal, except back then there was no real semblance of jacaranda trees (they were all gone by then, because it was summer).
I named this edition The calm between the storms because of the strange amount of rain and storms we have been having, and the fact that we managed to grab these photos when there was a calm moment.
If you were going to ask, yes the camera on Nick's iPhone 12 Pro is pretty cool, but I'm personally going to upgrade my very old iPhone 7 (four years old) to the iPhone 12 Mini and order that when it's released. 📱