Fashion Friday: Blue Lagoon | Clothes matching cocktails + white is the new black
Hey there! Welcome to another Fashion Friday! ✨ Today I'm featuring a skirt I bought recently to replace a skirt I had that didn't fit, and a winter top that I bought when it was not winter, so this is the first time I'm wearing it. 😀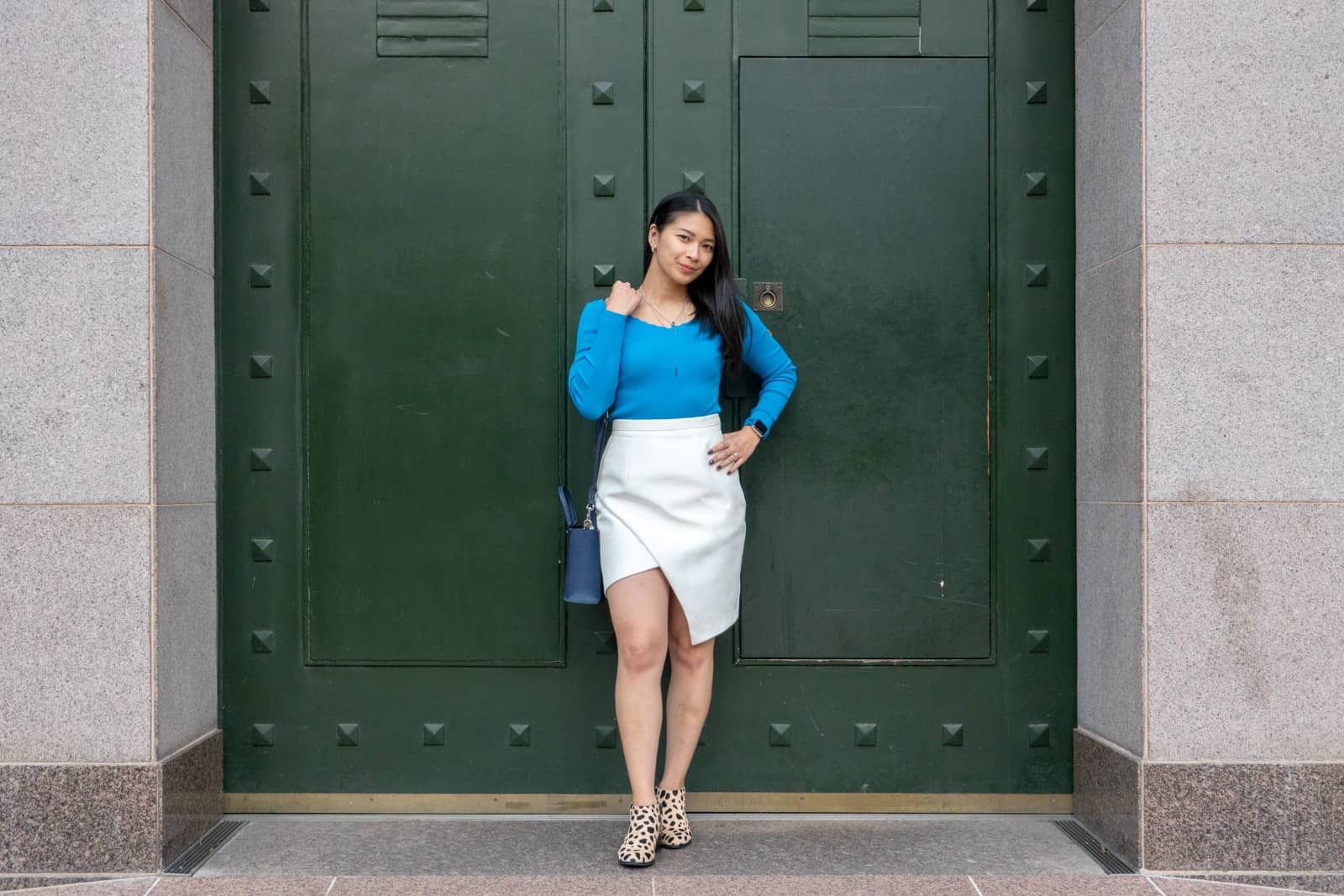 A winter wardrobe staple
In my wardrobe, I feel like I can hardly go wrong with a long-sleeved top in a ribbed knit fabric. Something about the ribbed knit makes it durable even when the cheapest of materials are used, and it adds a texture that gives the item of clothing a bit of character.
I bought this top last year when the weather was warming up, so I actually didn't get to wear it until this year. One of my coworkers, Farnaz, saw me try on the top in the restroom and she said to me, "Don't your date return that top! It's so nice!" 😂 It cost me a pretty penny but I bought it at a discounted price before they ran out of stock. I'm obsessed with the scallop neckline and the colour!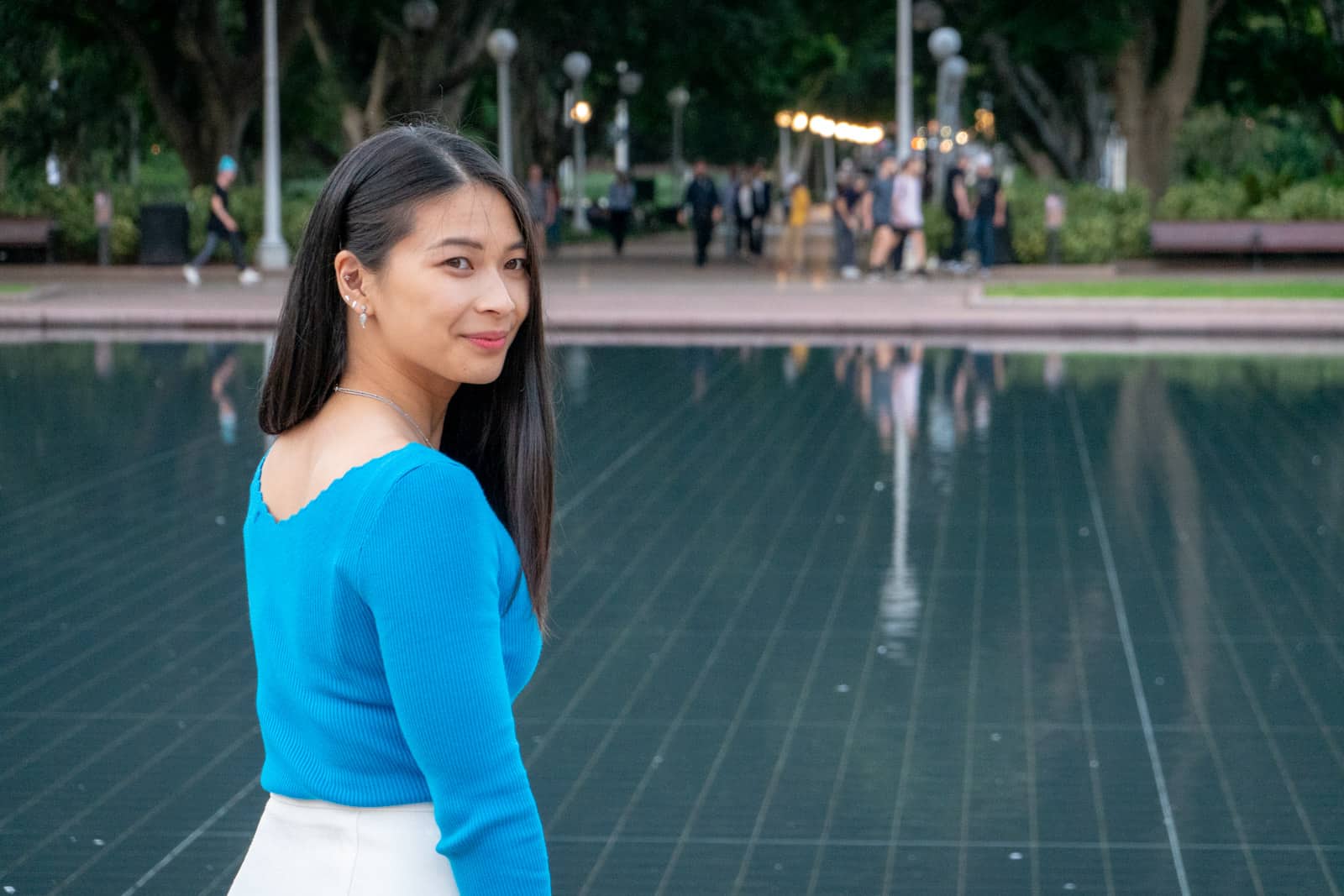 There is something I really like about long sleeved snug garments; I suppose they can be really flattering. I was worried that this top, as an extra-small size, wouldn't fit me anymore since I've gained muscle in my back in the past year. But thanks for forgiving, stretchy fabric, it fits!
A lot of women's tops come with some kind of extra ribbons to help hang the garment on a clothes hanger. A lot of women cut these off because they become more of a hassle than anything else – showing under the clothes, showing or hanging outside the clothes, etc. This top had a ribbon that went all the way across the back of the neck. It was really odd, actually. And I was also concerned about cutting it off because I thought it might mean that the top would keep sliding off my shoulders. I know – I was worried about the top not fitting at all. Haha. But it sits quite nicely on my shoulders.
On the topic of ribbed long sleeve tops, too, my friend Monica and I were discussing long-sleeved tops in smooth fabrics and how they often wrinkle or gather (at the elbows, for example) in a way that doesn't look good. For me personally, it doesn't work with my arms. I have thick biceps and long-sleeved tops in smooth fabrics provide zero distraction, making it look like I'm really wide. 😂 So yeah, definitely prefer tops with some kind of texture. ☺️
This blue colour, I've learned, looks excellent teamed with black, but even more magnificent when teamed with white. Besides, I don't tend to wear too much black often since I find it a bit dull. I like my high saturation colours!
I made the choice of wearing a longer necklace to offset the wide shoulders of the top. It also complements the slight v neckline of the top. You know what they say about vertical lines – they draw the eyes down. So that is a plus for my height. 🙂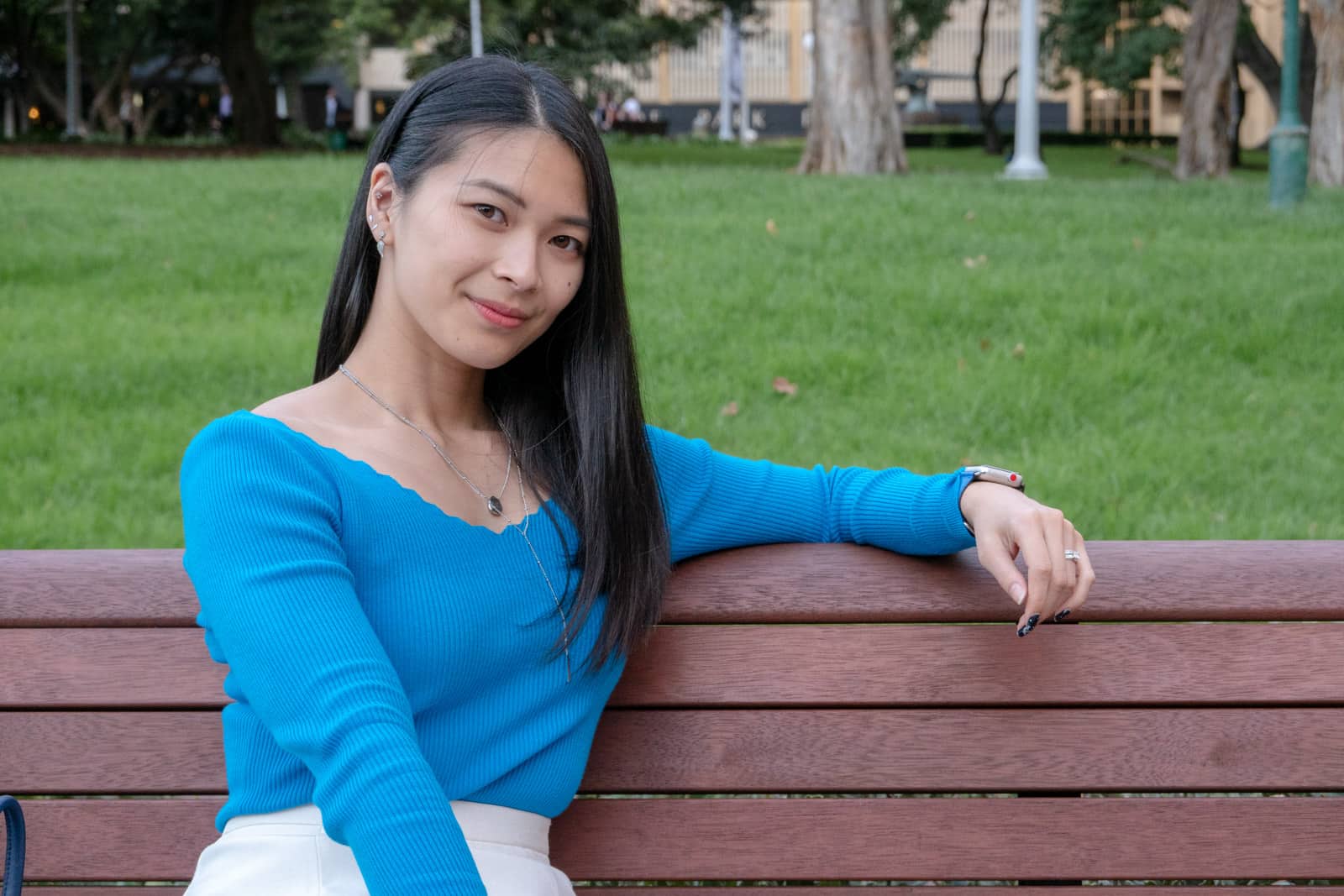 A skirt with a bridal feel
I liked trying this top on with my white fake leather skirt (see my Delta outfit), but that skirt has since become too short for me so I'm trying to sell it. 😅 It's a bit of a shame since I liked it so much. But I couldn't sit without it becoming basically indecent, so I scouted for another white skirt.
I have really enjoyed having lots of white in my wardrobe. I bought this skirt from a seller on eBay who had purchased it but never worn it (it still had the tags on). The measurements and cut were perfect for my liking, and it fit perfectly. It is more of an ivory colour but I am really thrilled with it. I was actually a little concerned that I would need to alter the waist to be smaller, but because of the thick structured fabric, it fits well.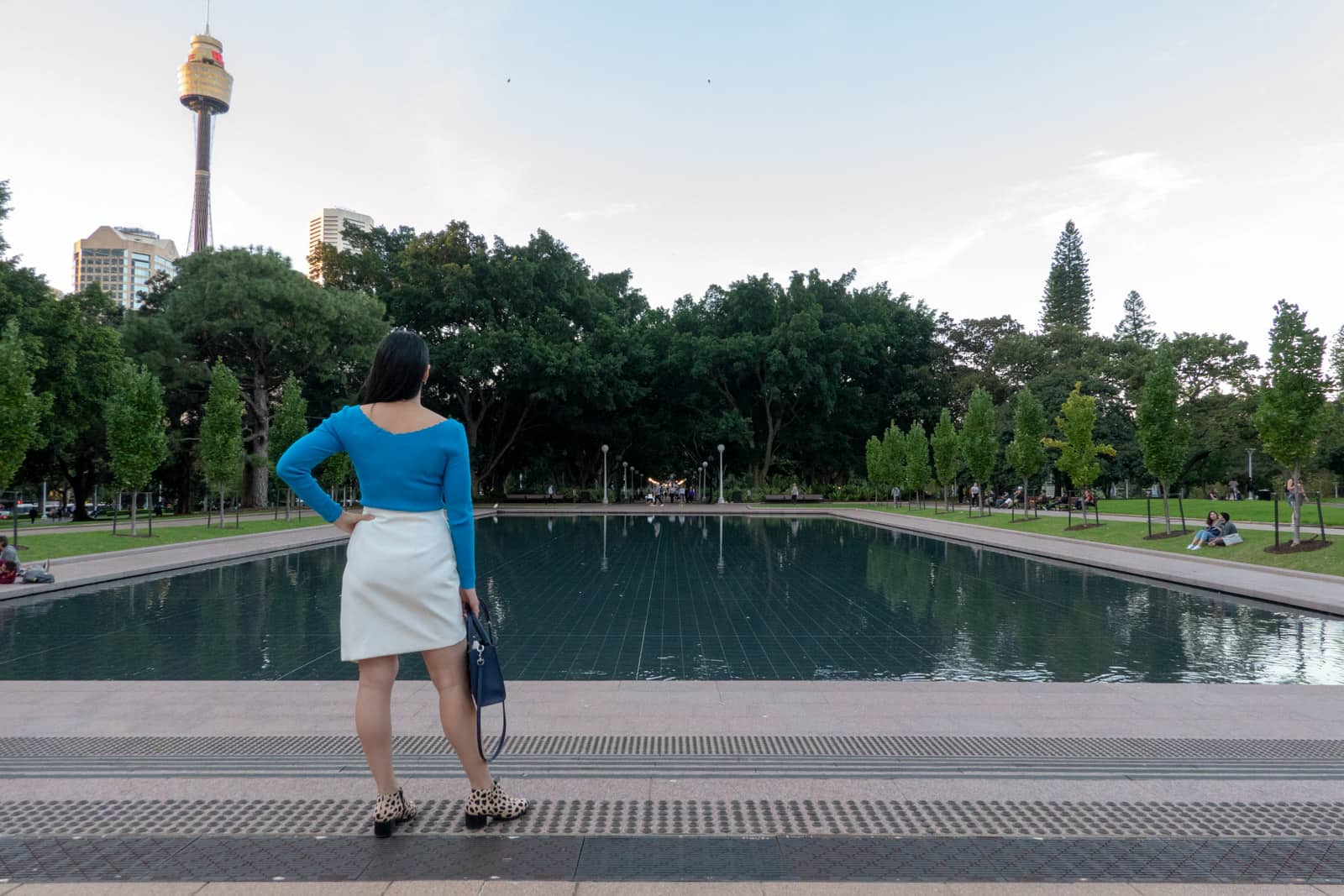 And the rest…
As for shoes, I went with one of the only options I feel super good about – my giraffe print boots. 😆 They have made one too many appearances on my blog. But I feel like they go with everything apart from my red leopard print skirt (see my Summer Daze outfit) – that one might be a smidgen too much to match these shoes with. I think the neutral colours really make them go well with everything. I'm honestly glad I've been wearing them as much as I have been!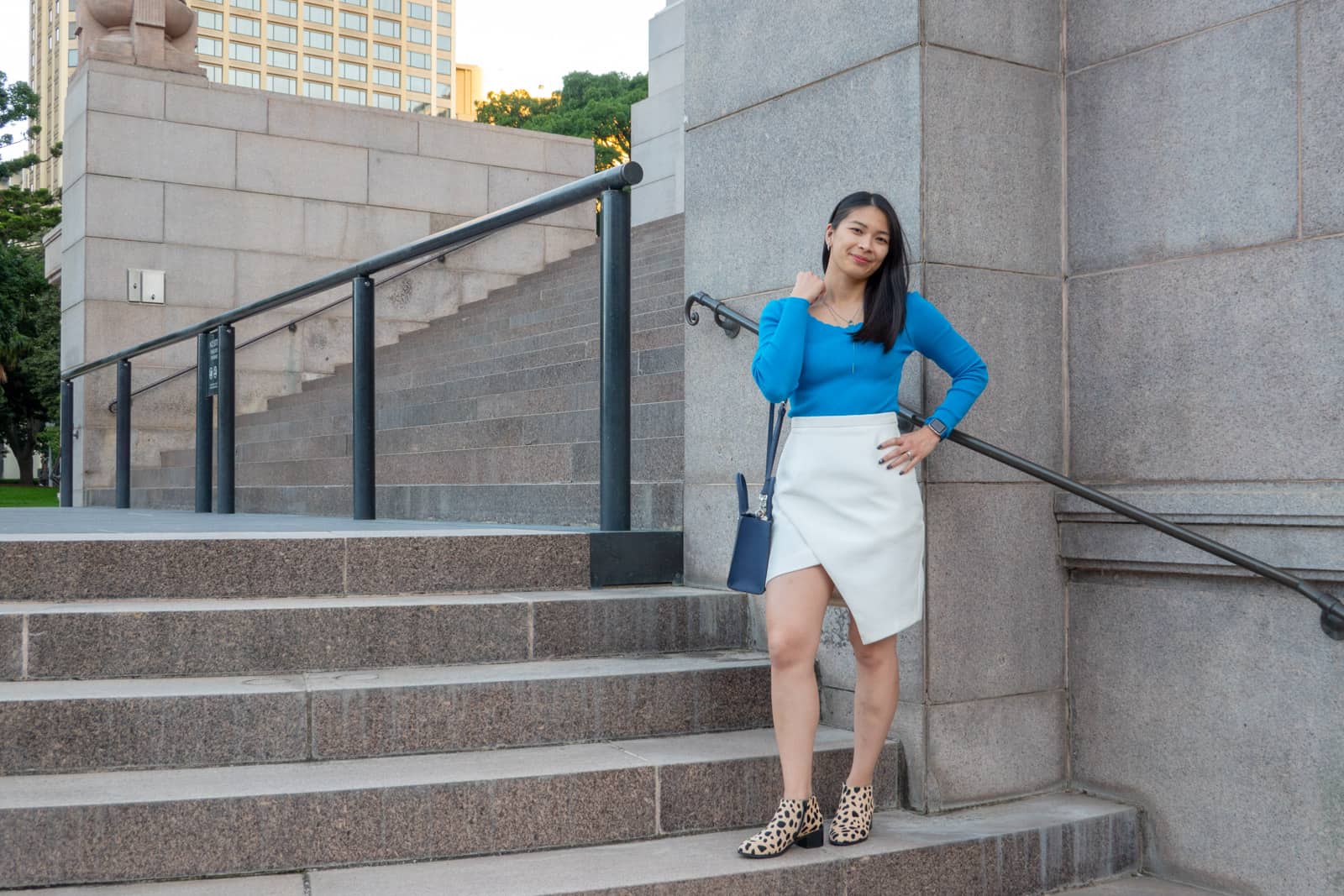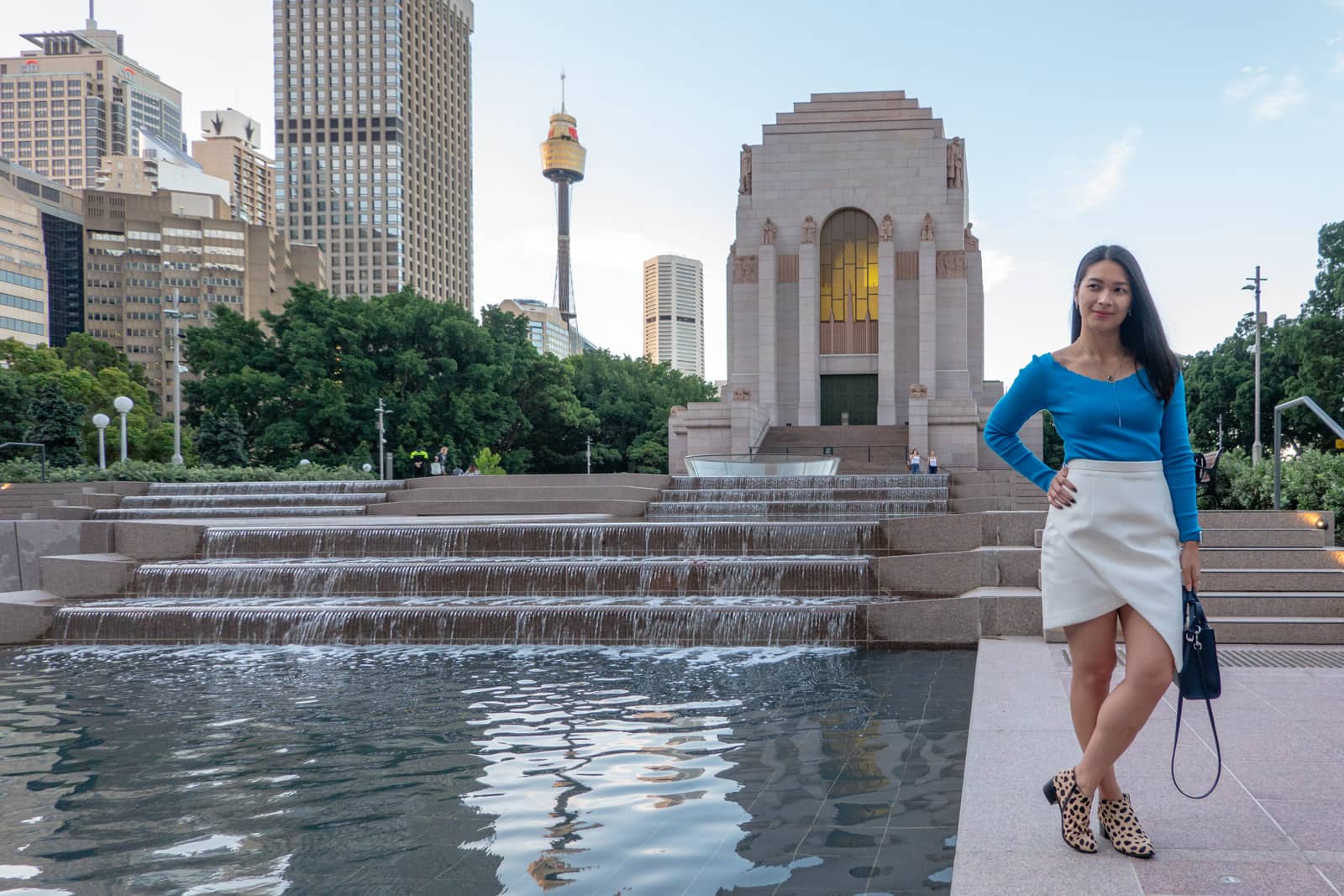 I didn't want to make a comment about my nails because they're not in tip top condition, but whatever. I want to make it clear that I don't really "dress up" for these Fashion Fridays, but these are, more often than not, clothes I wear on a daily basis. So I don't always do my nails specially for an outfit shoot. I've had these nail wraps on my nails for almost a couple of weeks, and I actually ran out so my thumbnails had black nail polish to match… until they chipped off. 😂
---
Outfit details
Colophon
📸 All photography by Nicholas Cooke. (Sony RX100 VI)
We took these photos in Sydney's Hyde Park. The side that has the war memorial had been under construction and fenced off for a while, and today was our first time coming back to see that side of the park. I actually work pretty close to the park and walk through it when I want to take a break. ☺️
This outfit was named Blue Lagoon after one of my favourite cocktails. The top I am wearing is a similar colour to the Blue Lagoon cocktail. I'm a sucker for any drinks with the citrus liqueur known as Blue Curaçao – if it has that in it, I'll probably like it. Typically served in a highball glass, these are the ingredients for a Blue Lagoon:
50 ml Vodka
20 ml Blue Curacao
100 ml Lemonade
1 orange slice
Ice cubes
According to Wikipedia, pour vodka and blue curacao in a shaker with ice, shake well & strain into ice filled highball glass, top with lemonade, garnish and serve. 🍹
Fun fact: A Fruit Tingle is a cocktail similar to the Blue Lagoon but with raspberry cordial!