Fashion Friday: Summer Daze | White denim + unconventionally coloured leopard print
Happy Friday! ☺️
It's been hot, hot, hot in Sydney lately – reaching temperatures of up to 32ºC. The sun in our country can burn. We've also got the heavy afternoon breezes that you can hear from indoors, and that make your hair a total mess if it's not short or tied up. I've been wearing my hair tied up lately, but also to combat the fact that I got lazy washing it this week. I returned to rock climbing this week (after two long months!) and knowing that I would end up sweaty and gross with chalk in my hair meant that I delayed my hair washing for a couple days more.
That said, I wore my hair out for these photos because my hair was so soft and silky smooth post-wash. 😆 I love to straighten it sometimes, which gives it that slick look. You might be able to tell the days I don't straighten it, because the ends have their natural curve.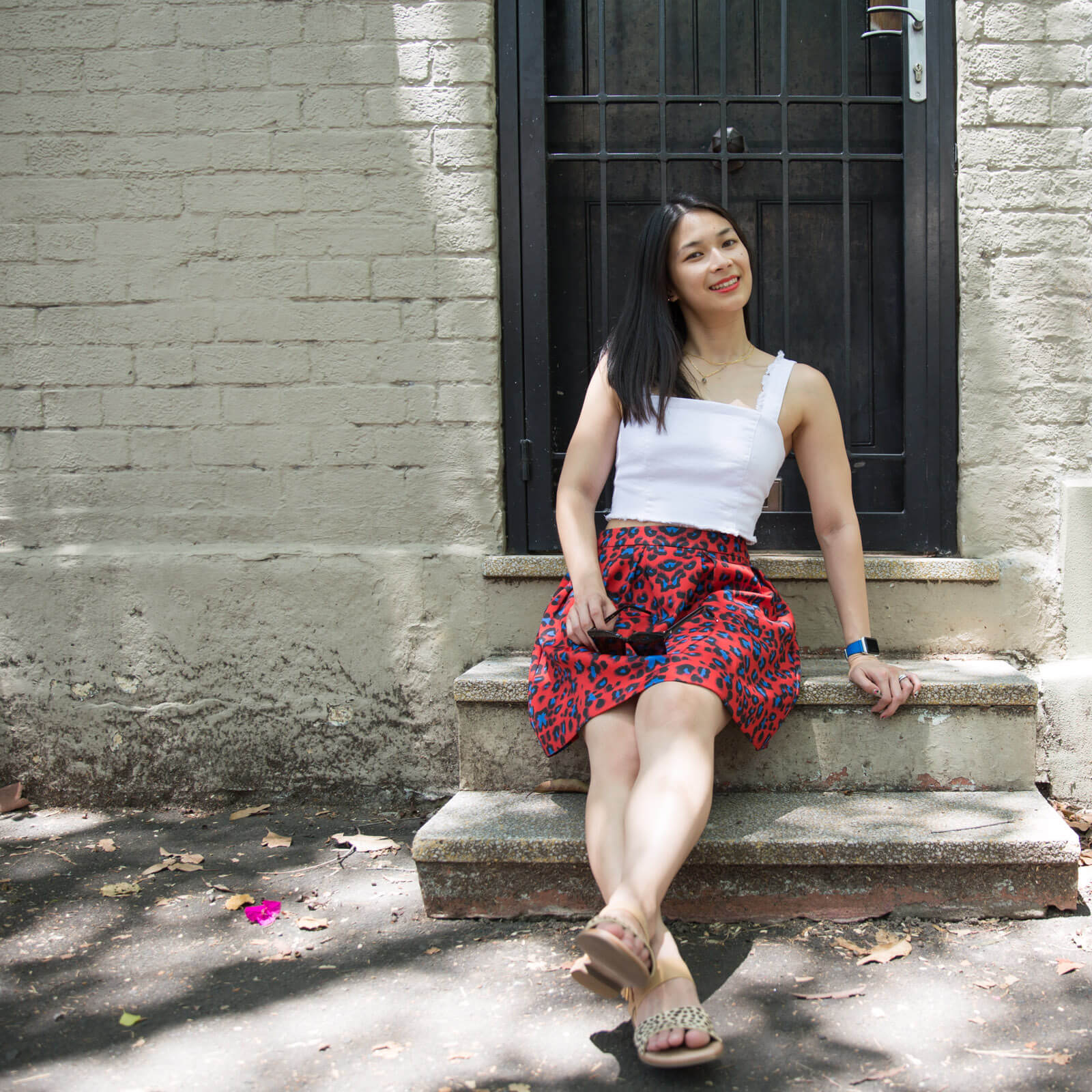 White denim? Not just for skirts and jeans
The white denim bustier I'm wearing in this outfit is one that I bought about a year ago. My friend Monica and I got matching ones, as we both like the cut and style of tops that have this square neck, wide straps, and are cropped. In the first week of getting this top, I wasn't even 100% sure about it. I didn't think the denim fabric was my style and I wasn't sure how it would work with the rest of my wardrobe. It was also really cropped compared to my other tops (even though I love crop tops).
A lot of time passed that I didn't wear this top, but later I found myself wearing it more often when the weather got warmer because it's easy to wear, it's a nice bright white colour, and it's possible to wear it without a bra and still have a fine looking silhouette. So I ended up liking it more than I did. I love this kind of pleasant surprise.
We unfortunately were in a rush and didn't get a photo of the back 😱 but the top zips up in the middle at the back with silver hardware and an O-ring pull. It's a lovely little detail.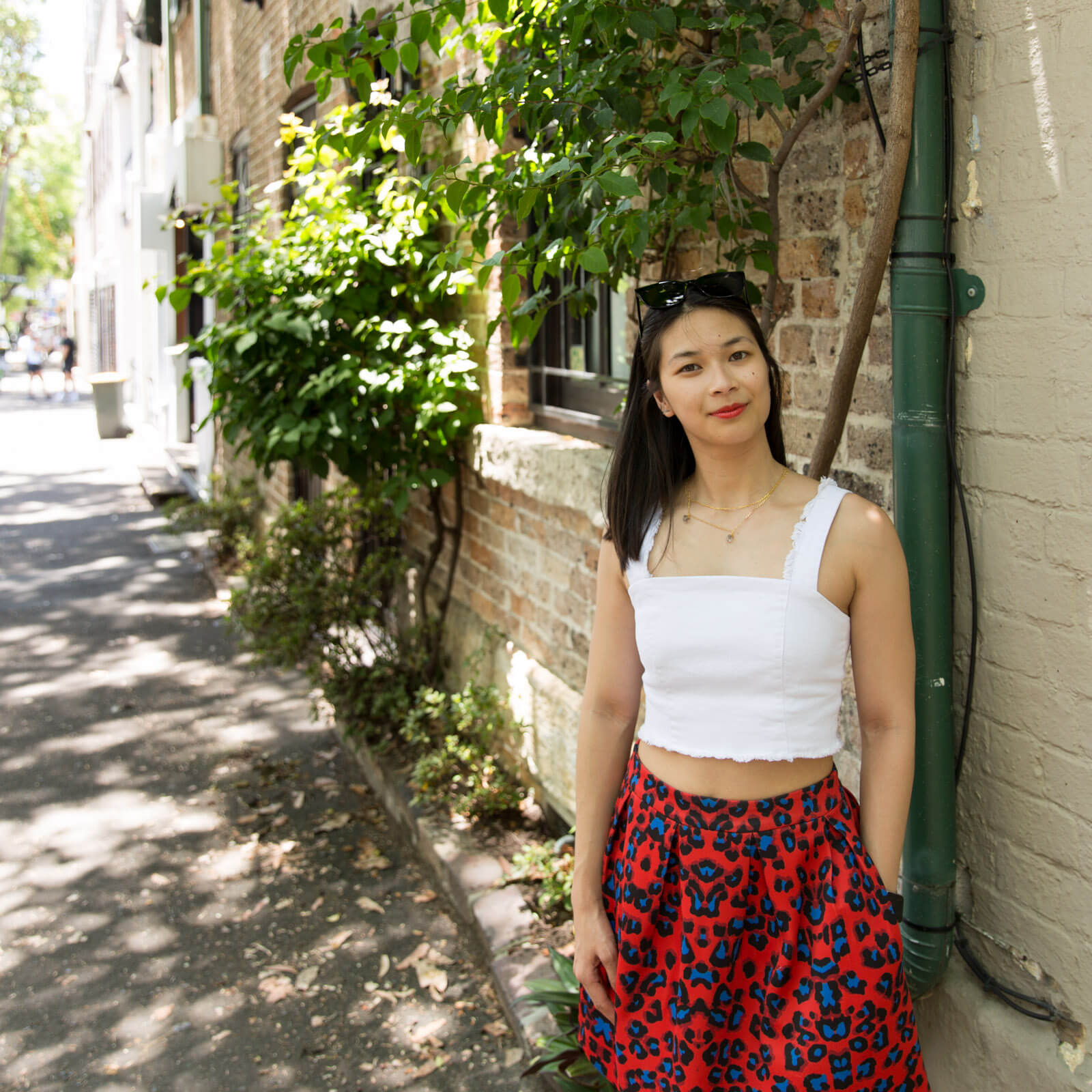 I remember also thinking that the tasselled inside edges of the straps were not to my liking. I actually dislike tassels on clothes because they sometimes look tacky. These aren't really tassels, just detailing. But if I think about it, this top really fits into my love for "clothes in unusual colours and fabrics with interesting cuts". How often would you come across a white denim top that happens to be cropped, have a bit of tassel detailing and an O-ring pull at the back? Possibly not often. 😍
A leopard print, in an unconventional bright colour
I bought the skirt second hand late last year. It's a designer brand called Nicholas, and I found that I really liked their style of clothing. At first I strayed from this leopard print skirt because I don't like skater style skirts. But I kept being drawn to it – it wasn't just the fact that it's got pockets, but the bright print really caught my eye. I don't usually like leopard print at all, but something about the colours made it very different and gave it a cool retro vibe.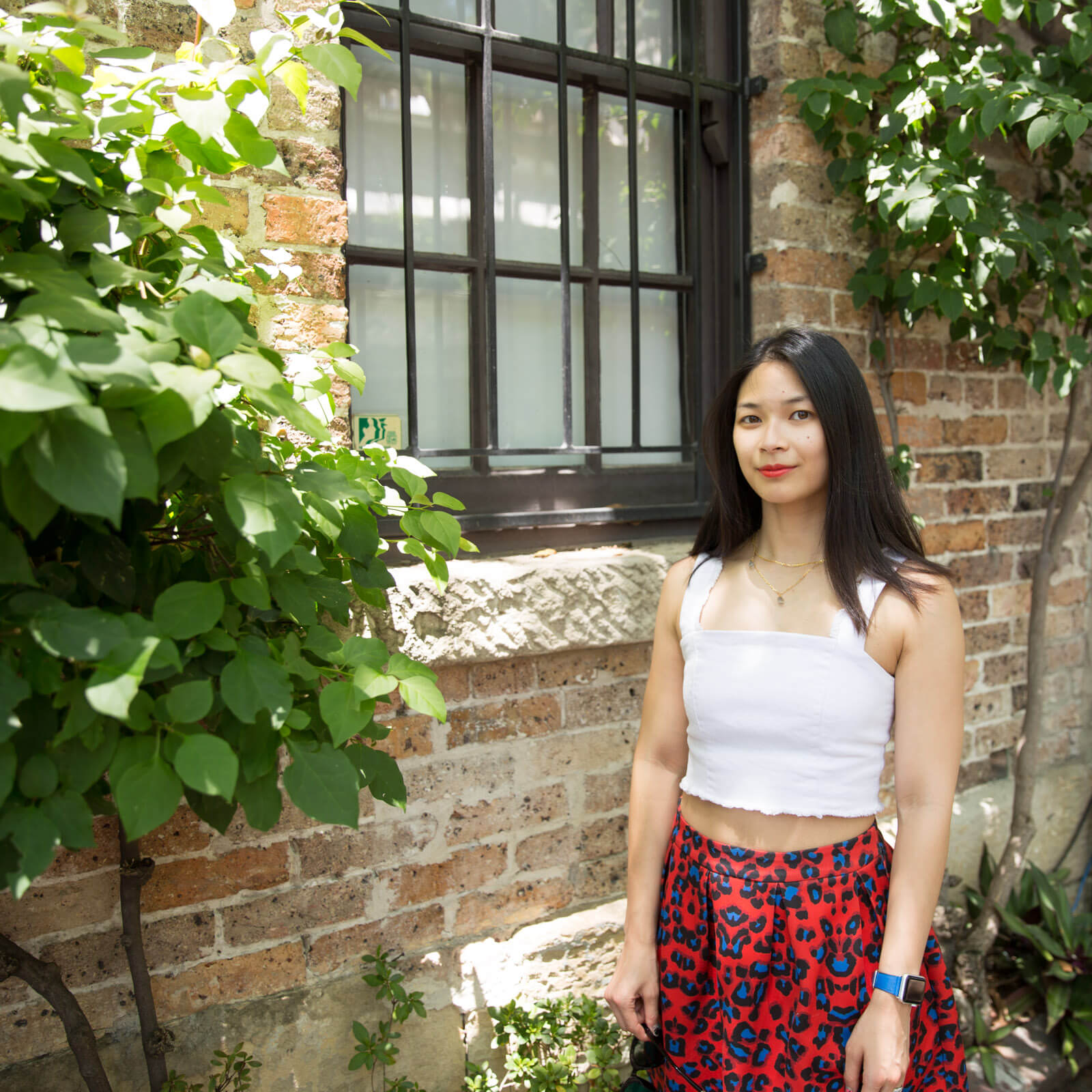 Blue is one of the colours I'd consider to be in my colour palette, but red is one that I'm wishy-washy about because only some red shades work well with my skin colour (mostly true red and slightly deep red!). I was pretty convinced I'd like the shade of red in this skirt, and I love it more than I thought I would due to how comfortable it is! The fabric is quite soft and good quality.
Everything else: Shoes, necklace and DIY nails!
I wore my new nude sandals with animal print. At first I wasn't too sure if it would clash with the skirt, but hey, it's subtle enough that it doesn't. I did choose them for their subtlety after all. ☺️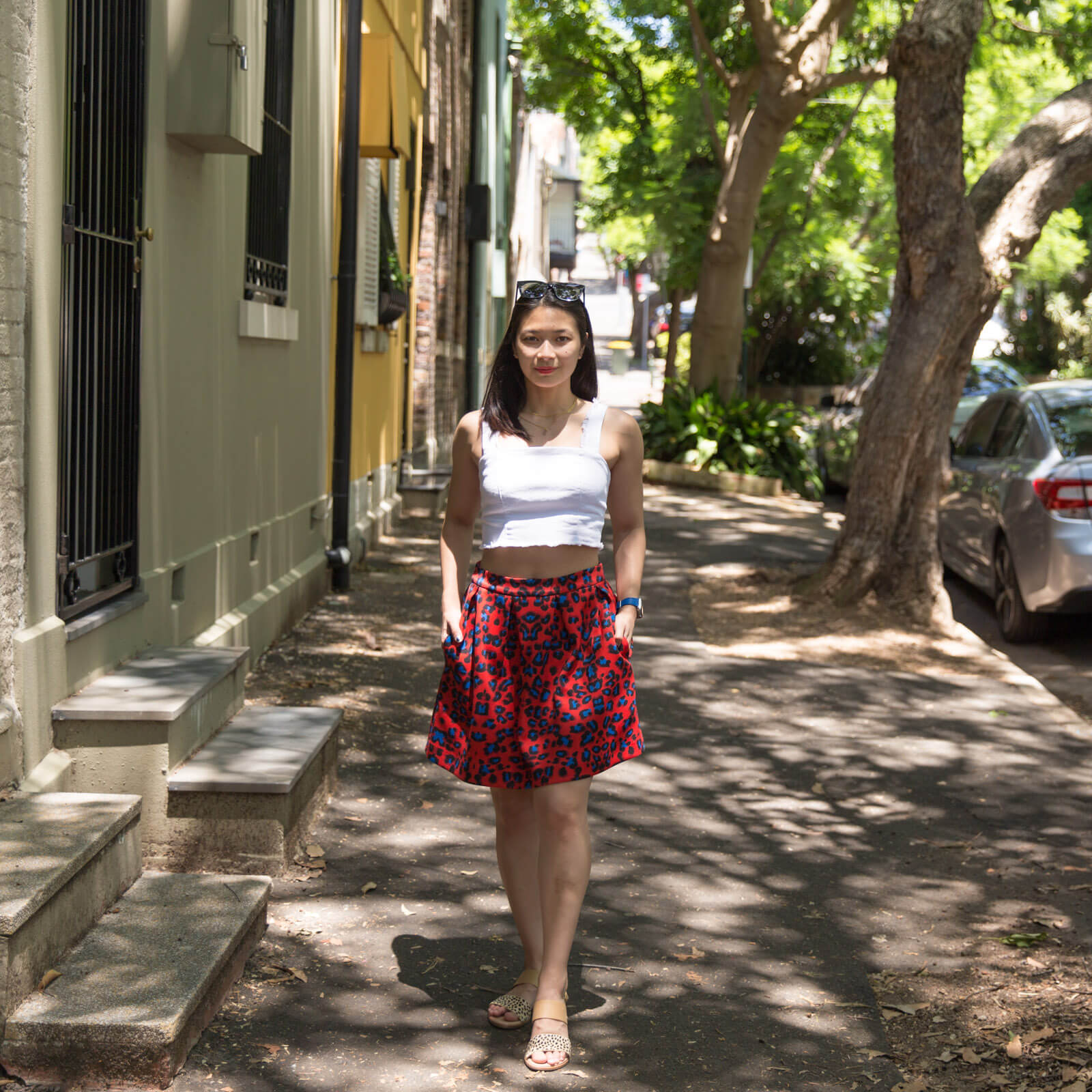 The necklace is from By Invite Only, and is no longer available. It's an asymmetric styled herkimer diamond necklace. The double-chained necklace is supposed to have one diamond drop in the centre and another slightly higher, but the weight of the diamonds sometimes makes the necklace go a bit asymmetrical over the course of the day.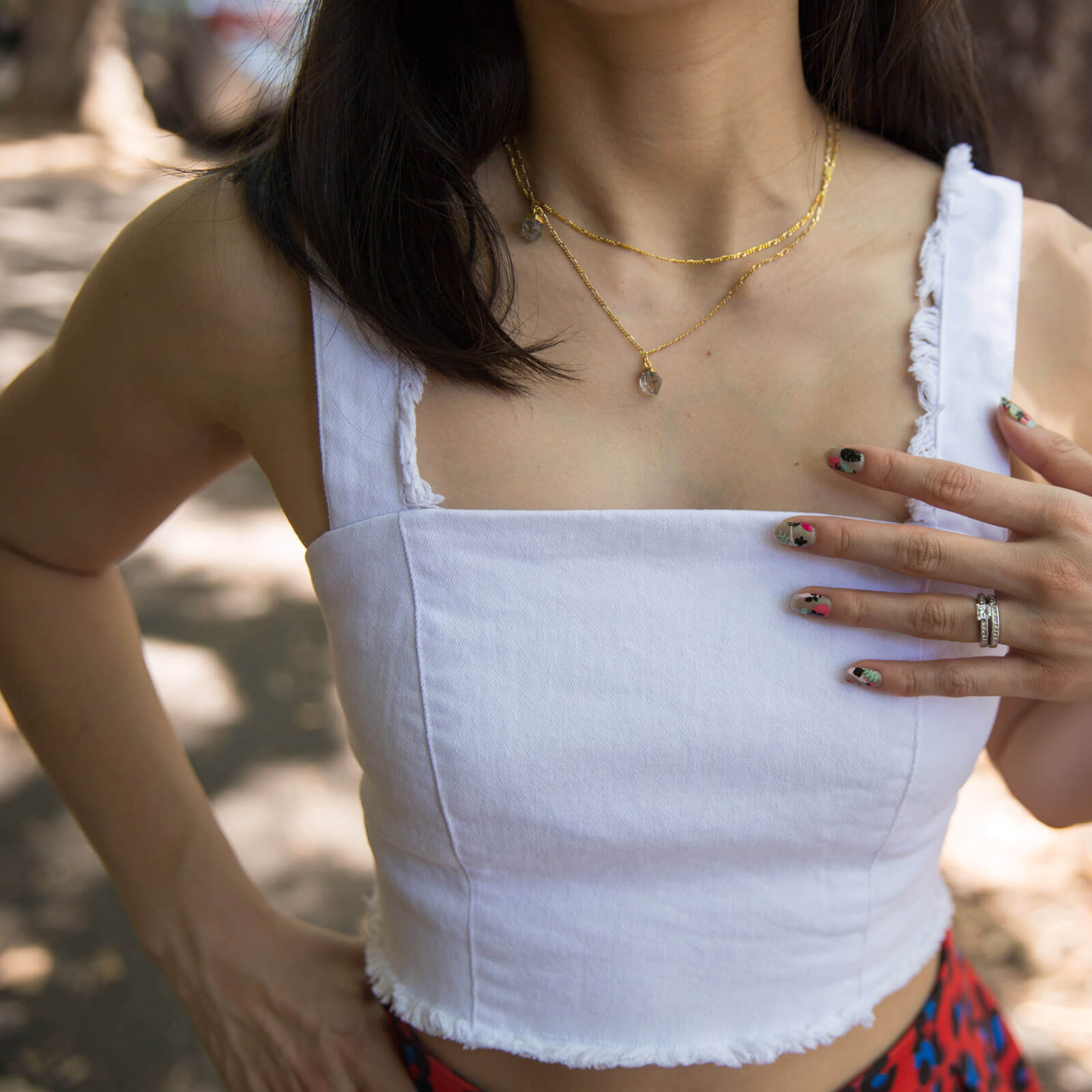 I did not plan for the nails to go with any outfit. I had just removed my bright light blue polish featured in Fashion Friday: Reversal, and instead of spending money and going to the salon to have my nails done, I used some of my collection of nail wraps at home. I'm trying to go through them before I get my nails done again, because I sort of miss how fun it was.
I selected my electric blue Apple Watch band purely because it is almost exactly the same blue colour as the spots on my skirt!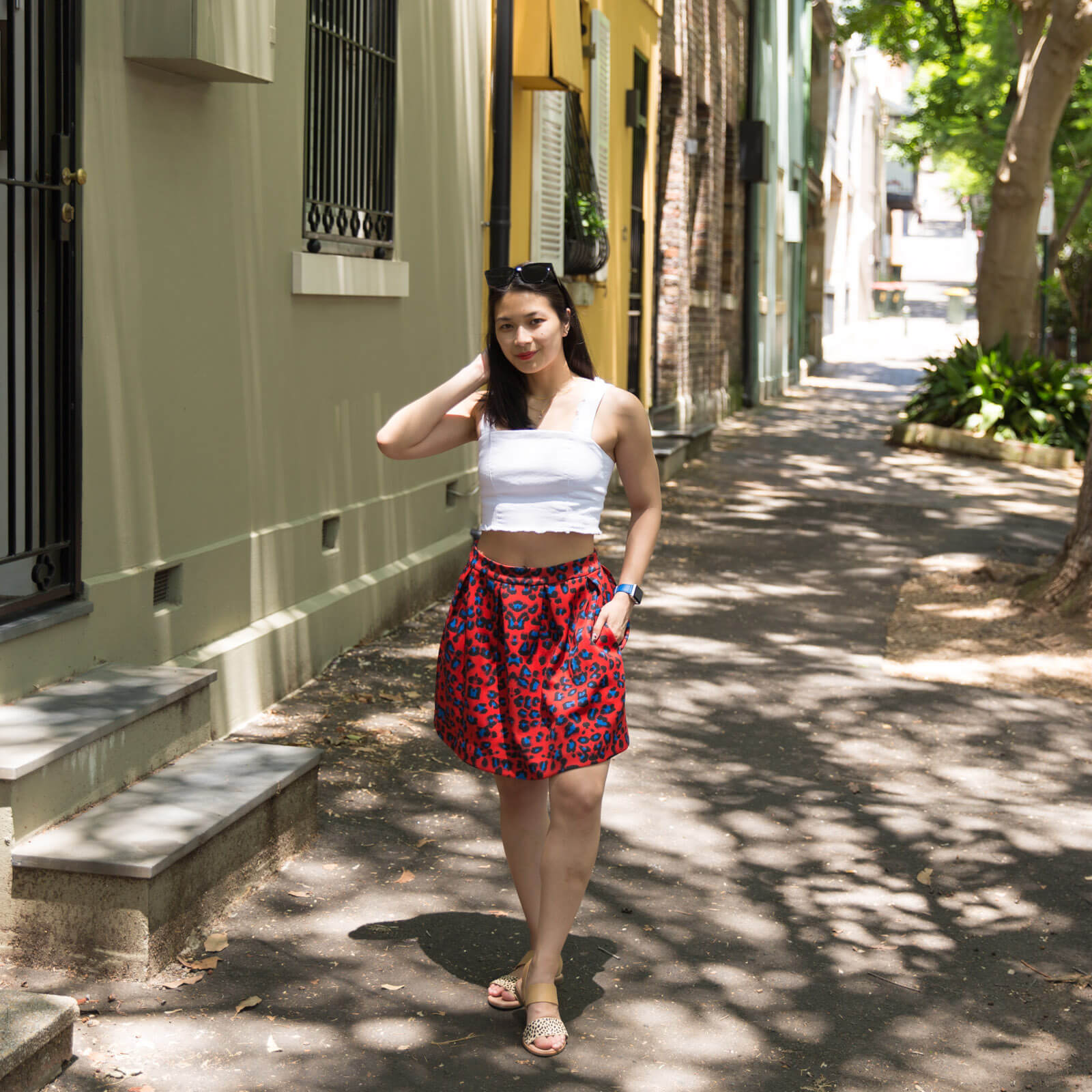 Wait, these photos are squares?! 😱
Yes, they are!
The retro-vintage feel of this outfit with the coloured skirt, and the white top with the chilled-out vibe, along with the slight greenery and run-down backdrop of the photos encouraged the Instagram-style square cropped photos. There were also a couple of photos Nick took that were a little off centre, and we found that cropping them made them more interesting and suited the backdrop.
---
What do you think of this outfit? Do you have a go-to summer outfit, or certain colours that you steer towards? I don't find myself going for certain colours, but sleeveless tops are a must! 🌞
Outfit details
Top: Lulu & Rose (Piper Denim Bustier – available at Surfstitch)
Skirt: Nicholas the Label (style unknown, purchased second hand)
Shoes: Jo Mercer (Godiva Flat Sandal in light tan/multi)
Necklace: By Invite Only [referral link for 15% off] (Gold Jenny Herkimer Diamond Necklace – no longer available)
Nails: Revlon "Chroma Chameleon": Topaz + Scratch subscription Tropicana wraps (May 2018)
Sunglasses: Gentle Monster (PaPas 01)
Colophon
📸 All photography by Nicholas Cooke.
We took these photos in a street off the main road in Sydney city, where there are a lot of boutique stores, restaurants, and terrace houses.
The name of this outfit, Summer Daze, refers to hot summer days, but the word "daze" also alludes to the extreme Sydney heat that often incites laziness. This is also a reference to the vintage feel of the photos that comes from both the outfit and the surroundings of the photos.