I'm eating a lot of food, aka. bulking
Content warning: This post contains some details about food, diet, and eating habits.
I am currently in a phase of bulking to gain muscle. Bulking involves eating more to gain weight and training harder to gain muscle mass. I started on 1 January and I'm planning to do this until the end of February.
Even though I have been lifting weights for quite some time, I've never bulked before. From the very beginning of my fitness journey, the goal was to get strong, get "shredded", and lose body fat and stay lean. It was about being tiny and toned.
I soon found, as with most things, our goals and directions change, and what I began to chase was an exaggerated hourglass shape. Big legs – which I was already blessed with – and glutes – which I had to work on, and a wide back and broad shoulders, with a smaller waist.
After getting stronger in my lifts, and growing my glutes, my progress began to stall last year. It was a combination of a few different factors that left me rethinking what I wanted out of my workouts, and deciding to bulk.
I had done a ketogenic diet (high fat and high protein) for half of December and decided it was not for me. I did not find it sustainable or enjoyable. I wanted to eat nutritious non-ketogenic food, and stick with a diet I could stick to as a lifestyle, and long-term, not a diet for a short-term goal.
Bulking plan
I'm trying to trust the process. I wrote a bit of detail in a post about my fitness journey, but growing up, I had a bad relationship with food – disordered eating – starving myself, skipping meals, binge eating, avoiding certain foods, and being terrified of gaining weight. Bulking might be a trigger for someone who previously had these tendencies, but I haven't found it that triggering yet.
So what was my plan? I have been impatient with my fitness journey so far, getting too worked up with numeric values, and obsessing over burning as many calories as possible, and forever trying to stay lean, but at the same time wanting to get bigger. What, Georgie, what? I was so engrossed in all of this that I didn't have any solid direction.
I started the year by allowing myself to eat freely, with no restriction, but still making sure I eat food of nutritious value. My game plan was this:
increase my protein intake by having extra helpings of meat
supplement with an extra protein shake daily
eat an extra meal or nutritious snacks during the day
do all of the above incrementally to work my way up to eat more calories
don't do cardio
focus on lifting heavier weight for less reps
assess how things are going every two weeks with a weigh-in, how I feel, how I am performing in the gym
stop at the end of February, assuming I am happy with my process, and do a mini cut/shred
In terms of my workout split, I am generally following an upper/lower split (other styles include the bro split of one muscle group per day of the week, push/pull/legs, and full body split workouts). If you're new to exercise, simple beginner workout routines can be a good way to start working on building strength and muscle as well as improving overall fitness.
Experience summary
On the second day of January, Nick and I went to Braza, a Brazilian barbecue restaurant, with an all-you-can-eat option. It was good preparation for me to see how much my stomach could hold at that point.
During the first week, I began eating carbohydrates again. I started eating oats with fruit every day, as I did before I went on keto. I went back to eating two breakfasts a day – something I hadn't done for a while because I spent a lot of the second half of 2018 trying to eat less.
I started eating larger servings of protein at each meal. I let myself eat a lot of chocolate and sweets in the first and second weeks, really just finishing off a Christmas stash I had in my desk. I was frequently eating protein bars in the afternoon. I let myself have dessert when it was available at work, I didn't restrict myself. I basically ate when I was hungry.
Because I was lifting heavier in the gym, and working hard, I think my appetite slowly increased. I toned down the dessert and chocolate about a week ago. I think it got less appealing because I focussed on eating larger servings of nutritious food for my main meals, so I didn't feel the need to snack on sweets. Certain sweet and dessert cravings are actually caused by a lack of vitamins, which is why eating protein in the form of fish, beef, or other meat can actually be helpful to kick a sugar craving. Fruit is too!
In terms of rest and a recovery formula, I take protein powder and creatine after every workout. I don't do many classes but even though there are warmups and cool downs as part of them, it's useful to spend time to do more of your own stretches. I've found it useful to stretch even not directly after a workout, but in the morning or during the day. When it comes to injury, I'm careful about listening to my body and not pushing it too hard – a lot of injuries will require a visit to the physio. Personally, I see a chiropractor every two months for a checkup.
The hardgainer problem
I have been convinced for some time that I am an ectomorph and a "hardgainer" – it's hard for me to gain weight in the form of muscle or fat, and I eat very little.
I was about to turn that right around.
I have been monitoring my weight on my scale at home. When I started bulking my weight was about 51kg. After bulking, towards the end of the second week, I found that some days I would be as heavy as 53kg. But it would be at about 52.2kg the next day. I was convinced that my body was burning up what I'd eaten too quickly, which led me to start eating even more, making sure I added that protein shake in before going to bed, and making sure I ate a lot at dinner.
My progress so far had basically convinced me that, in years gone by, my muscle growth had stalled because I must not have been eating anywhere near as enough to support it. I was getting stronger in the gym and could see physical growth in my muscles, even though I had gained a little bit of weight. One of my coworkers even commented on how big my arms were starting to look.
My bodyweight dropping drastically overnight could have been water weight, but I wanted the benefit of the doubt, so I made the assumption that my body was burning up calories overnight and I would need to eat a bit more. I'm usually one to eat very little in the evenings, so I had to be very conscious of the fact that I wanted to eat more for dinner.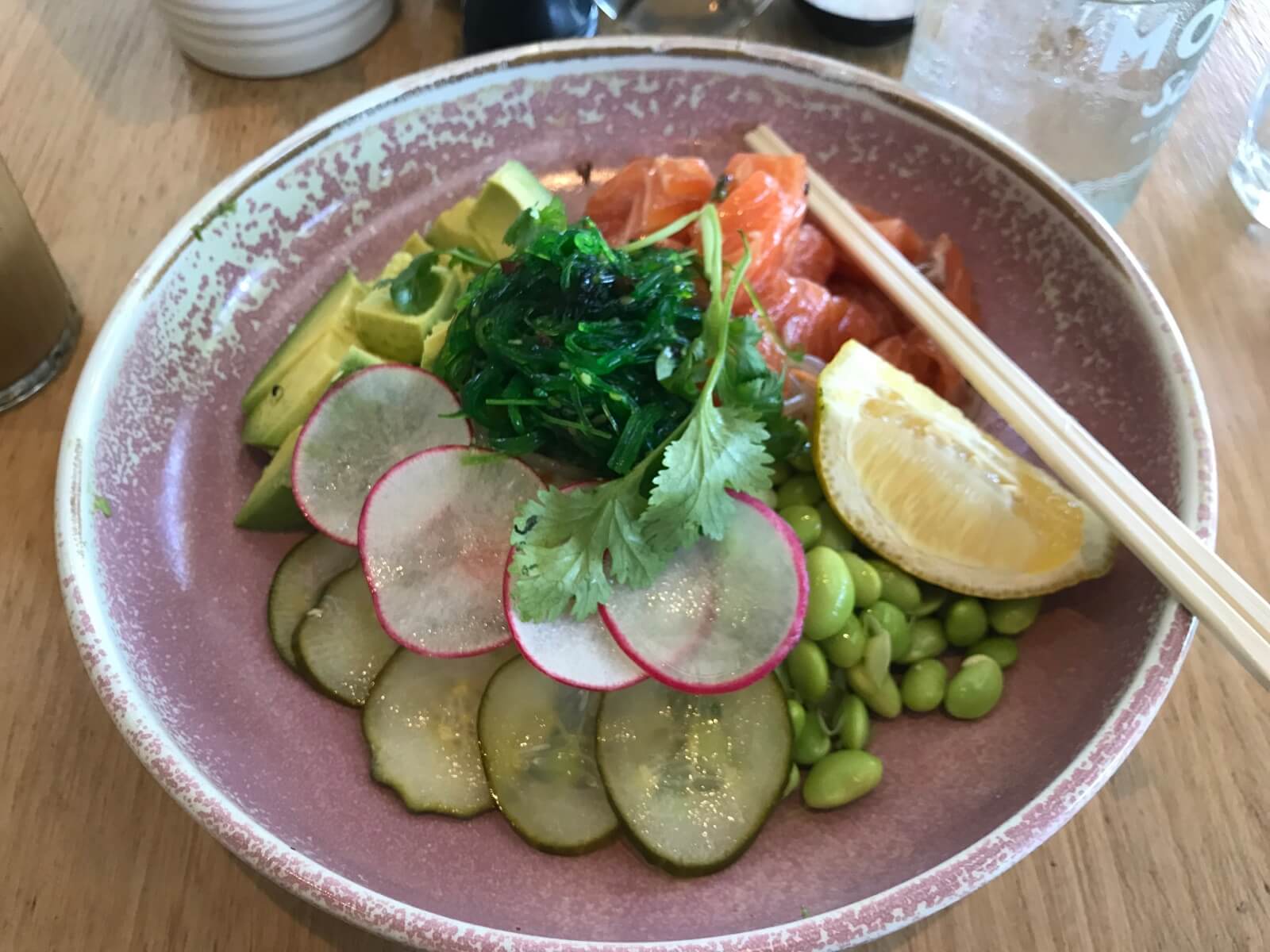 Now, my thoughts on eating so much.
This is where it starts getting hard. People who are experienced bodybuilders have told me that it's very hard to gain muscle, and even more so if you are a woman like me. This really suppressed any fear I had of gaining too much fat, and it helped me a little to decide to take the risk. For many, bulking is not seen as a risk. But as someone who used to have a terrible, terrible relationship with food, I began to worry how it might make me feel.
The past week I've really pushed it – I feel like I have been stuffing my face with food. But I seem to know when to stop. In the past when I tried to eat a lot, I would push too far and start to feel sick. I believe that my tolerance to eating a lot has become better, perhaps my stomach is more accustomed to having more food in it.
I also do get hungrier more often. Even though I push myself to eat more, and feel very full and like I can't eat anymore, I feel fine. I feel comfortable. And I'll be hungry again just two hours later. 🙄😂 I have been drinking a lot of water (obviously!) but I find that following a big meal, having about two glasses of water really, really helps everything settle and go down.
I'm slightly worried this eating is going to wear me out.
Nick pointed out that I used to eat so little when we first met. I don't know how best to explain this, but I used to eat the equivalent of a bowl of cereal, a few rolls of sushi, and a handful of vegetables and a serving of fish in one day. It was… really not a lot at all. When I caught up with Lilian last week, she said, "Yep. You ate nothing". 😅 I am probably eating least four times that amount now, daily.
Recently I watched a video on YouTube by a woman who started her fitness journey very lean, and went on to do powerbuilding because she wanted to become bigger and more muscular. After some time she became exhausted of having to eat so much just to maintain that physique. I know I have a ways to go before I get really big and muscular, and I don't know exactly how big I want to get (the answer is not very), but I fear that I will get tired of eating too.
But I'm determined to keep giving it a shot.
I'm going to keep at it. I'm still doing the absolute most important thing that I refused to do in the past: listen to my body. Resting when I need to. Eating when I need to. Stopping when something doesn't feel right. Giving my body the right nutrients. Not overtraining. Because as I once said before, if you love your body, it will love you back.
---
I'm keen to answer any questions you have about my fitness journey or nutrition – I'm collecting questions for an upcoming post! 💪 Leave a comment on this blog post and look out for that post in the future!