Fashion Friday: Delta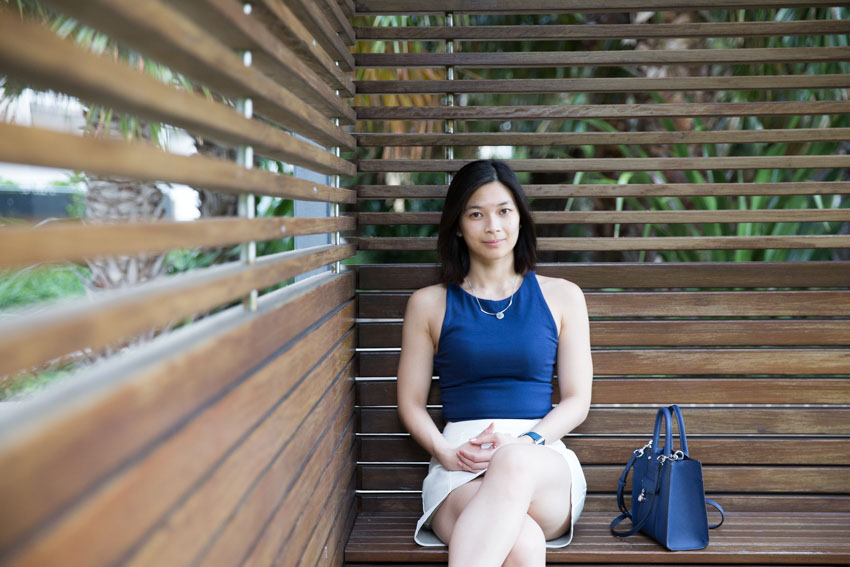 It's been four months since I last did a Fashion Friday post. It feels like it's been a lot longer than that – in fact, these photos were taken almost a month ago but I wasn't sure whether I liked them enough to post. It's no fault of Nick's, either – and he was the one who photographed this outfit, of course – we were in a rush and I desperately wanted some photos taken before the sun went down.
So last time I did a Fashion Friday post, I wasn't married, my hair was still long, and I dare say my wardrobe has updated a little bit since then. I'm still purging out clothing that I don't think suits me anymore, and I don't like the silhouette of certain items of clothing as they looked on me before. The funny thing about Fashion Friday is that I have kept it going on my blog for so long, and I go back even just a year or two back, and I think, "I wouldn't wear that now, my style has changed quite a bit".
We have had some dang hot 🔥 summers here in Sydney (Australia). I think this outfit was a good option for summer and I have worn this exact same outfit a couple of times.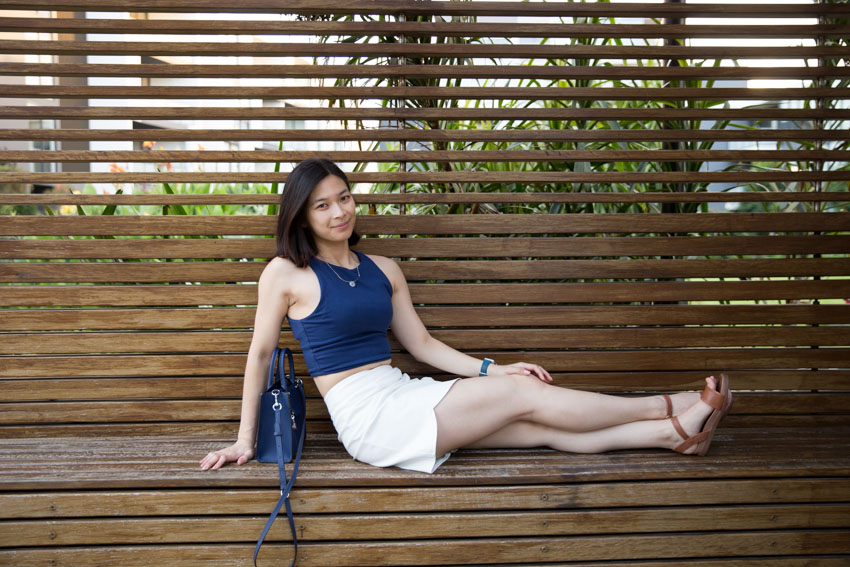 I invested in the crop top after my friend Monica told me that Kookaï sold really basic tops that were of good quality. I thought I would give it a shot. I've been try to employ a new method of avoiding trying on clothes, or buying clothes online (after checking the returns policy) so that I can try clothes on in the comfort of my own home. Nothing like 1) a shitty experience in a change room, and 2) spending money on something that looks totally different to how you saw it in the store. That said, I bought this crop top without even trying it on. Risky, given that Kookaï seems to favour exchanges and gift cards over refunds. But I knew for sure it should fit on me, given the sizing guide and the generous stretch in the material.
I was pretty happy with the top once I tried it on at home, but at the same time I have to admit that I had to let it grow on me a bit because it didn't seem very exciting when I first tried it on. I chose the navy blue because I have recently learned it's not a bad neutral/base colour. After having so much black in my wardrobe for years and years, I am embracing colours that are not black, but still go well with other clothes.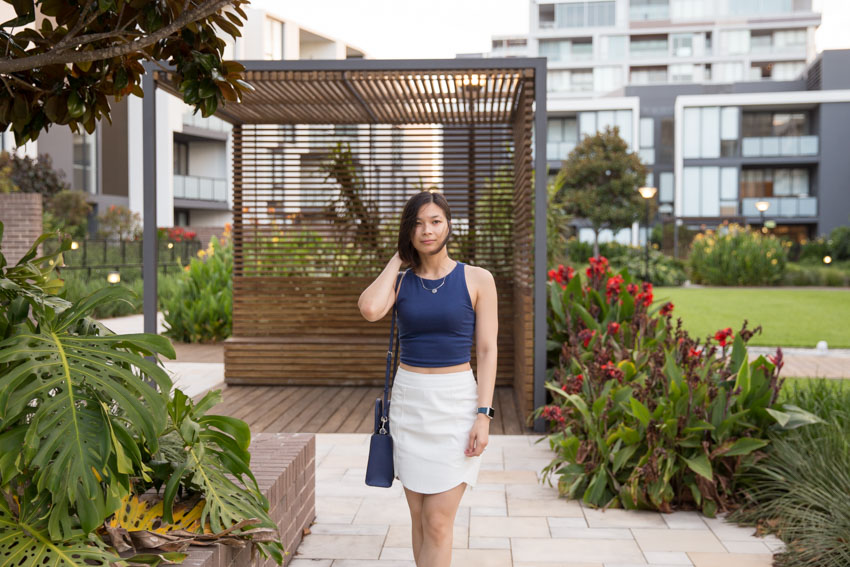 Perhaps the only thing I dislike about this top is that I have to wear a strapless bra with it, or one where the straps can be converted so I can make it angle inwards and cross at the back instead of just going straight back. Every woman knows strapless bras are a joke though. And I gotta admit I like the cut of this top quite a lot. In the past, the fact that I'd have to wear a different non-standard bra would be a serious dealbreaker. 😆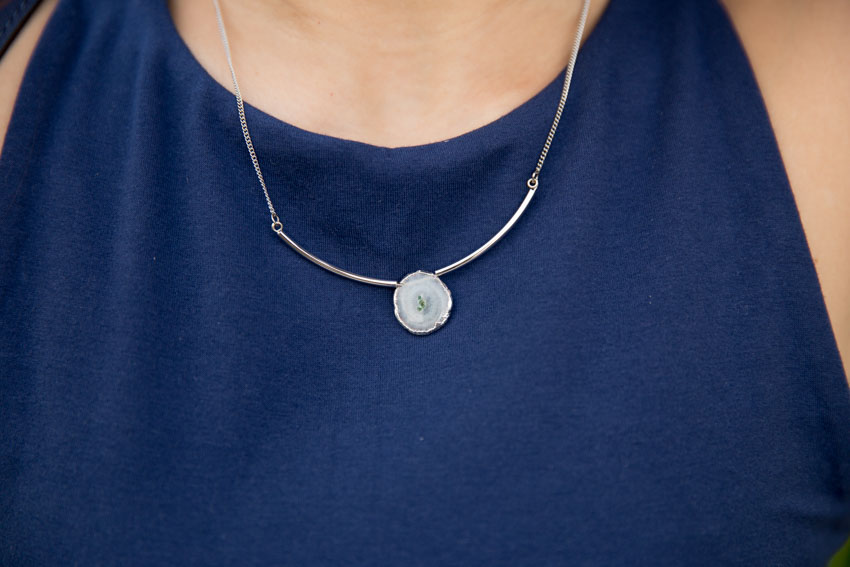 White is another colour I don't wear too much of, especially when a lot of materials in white tend to be sheer. But I do own a fairly thick white dress which isn't sheer at all, and a pair of shorts (which I am going to ditch because there is a long pull down the front from when something got caught on it – and I am a bit over it anyway), and when I saw this "pleather" (fake leather) skirt I thought, well, it surely won't have that problem. I also have the same skirt in black! The thing that made me love the skirt before I purchased it online is that it had a zip all the way down the bottom but was still silhouette-skimming. When you have big legs like me, it can be hard pulling a structured skirt on if the zipper doesn't unzip far down enough.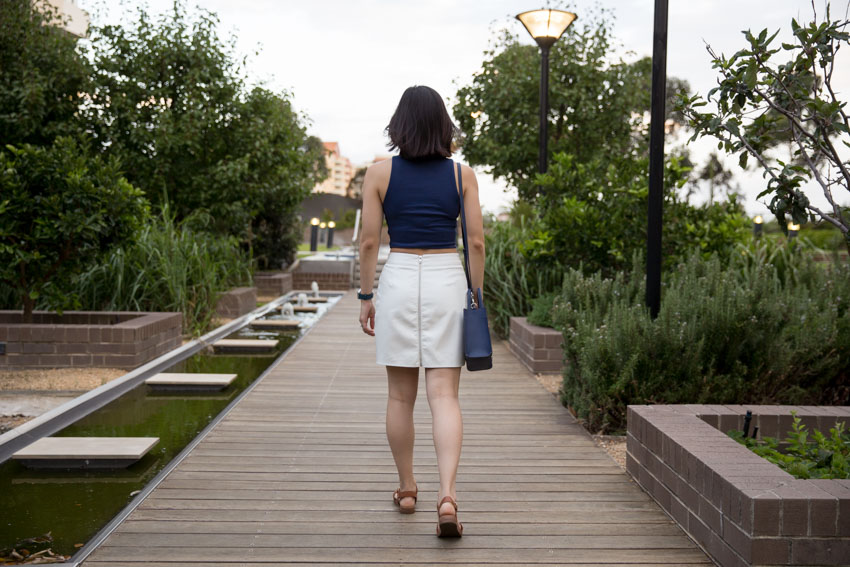 But I love that about this skirt! And the scalloped hem adds just that right amount of interest. I don't know why but a straight cut across my legs doesn't flatter much – I get the feeling that the hem here gives the illusion that my legs are a little bit longer.
I also decided to invest in some sandals because I didn't have any good quality ones, just one cheap pair I bought on a whim. I used to wear high heels a lot, and I don't know if many of you keep track, but on my 27 by 27 list I tried to go for a month without high heels. After not wearing them on our honeymoon at all (because why would you, LOL), it felt relieving walking around in my new Nike shoes, and after returning to work, I felt like my feet and legs could do with a little less torture. 😛 Especially in summer when I don't want to be wearing boots but want some kind of flat shoe. So you can say I was missing an essential in my wardrobe.
I bought these Windsor Smith sandals in a tan colour. I picked them up in a Black Friday sale – the brand specialises in leather shoes and is usually quite pricey so I was glad to pick up a bargain. I also got the same pair in black, though I think these tan ones get more wear. Black tends to contrast too much with the rest of my outfit.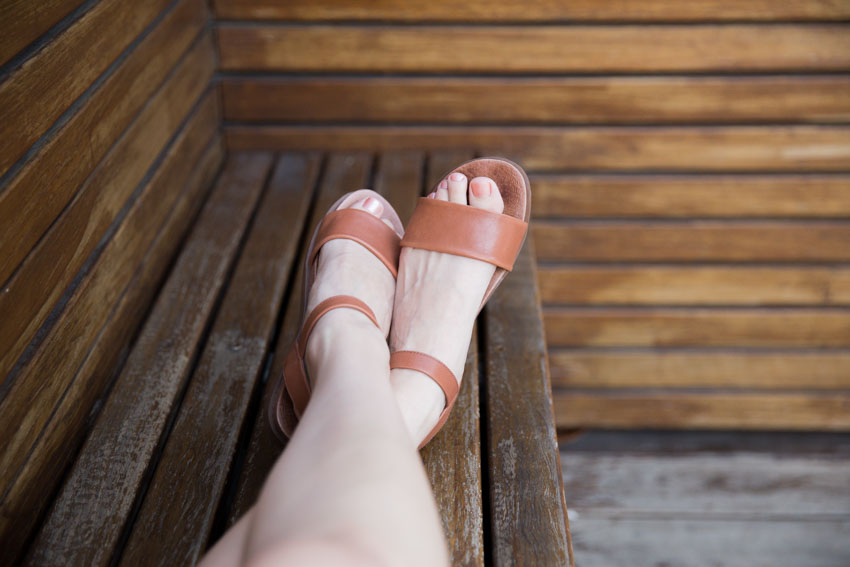 Unfortunately it bloody rained on the second day I decided to wear these shoes. 😞 The sole got a bit damaged and discoloured but you can't really see it when I wear them. Still, annoying. They are, however, comfortable sandals. I had to wear them in a bit because the strap at the back was rubbing on my ankle. I like the style of these sandals too – I don't like sandals where there is a piece that goes between your big toe and second toe. I'm one of those people who can't stand having some piece of material between my toes. Also, with flip-flops, which I can't stand – isn't it weird how you're holding an entire shoe basically between two toes? 😂
Also – new bag! I was over my tan Fossil bag which I had for over a year. I think I decided that it didn't keep its shape very well unless there was a lot of stuff in it. After a while the bag just sagged and lost its shape. I managed to sell that bag on Gumtree for about $85! Which isn't too bad considering its wear and tear, and age.
I wanted a more structured daily bag and I think I wanted a different colour as well. I didn't want to get another tan bag because I realised that if I wanted to wear the bag, I would almost have to wear tan shoes with the bag otherwise it might look odd. I mean, I did wear black shoes and other shoes when using the bag, as I used it daily, but it still looked odd with some outfits.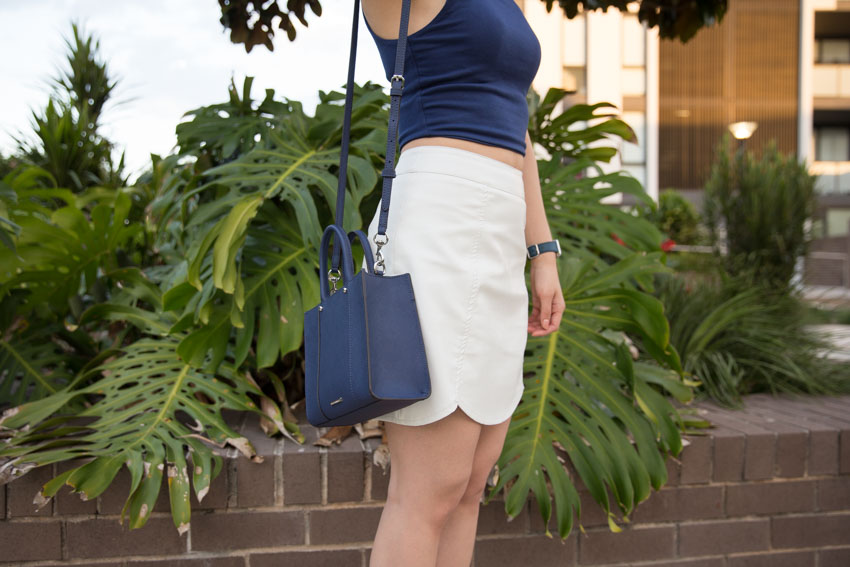 I ended up buying three bags from The Iconic, and this one was the one I liked the most. The others I had chosen were a nude or blush colour. I picked them up in a sale – this particular bag was the cheapest of the lot, discounted to $198 from about $265. That's not bad at all in my opinion. It cost less than my Fossil bag! And this one had seemingly better quality than the others. There was a little tassel as a zipper pull on the back, but I removed it because it seemed out of place. I also liked the bag for its size. Small enough to fit what I need, but not too big that it looks bulky.
So that's my first outfit of 2018. I really feel it's easier to pick out outfits now that I've invested in more basics. I used to struggle to match things because all my clothes were too dressy or patterned. I'm keen to show you more outfits that use basics but are dressed up or jazzed up with an accessory, or basic clothes that have a bit of an edge. Like this skirt having a scalloped hem that makes it more than just a pleather skirt.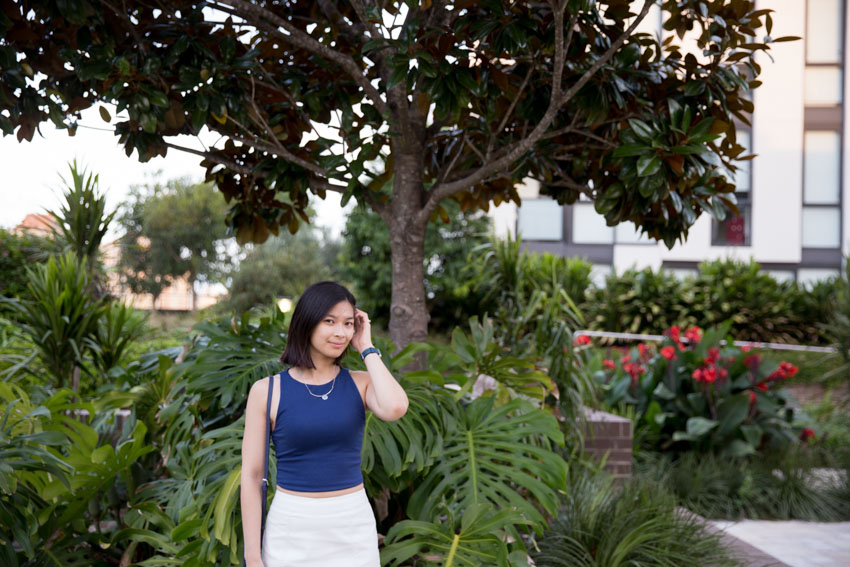 I had actually had my hair cut after I got married and before we went on our honeymoon, but it wasn't this short. When we came back, I still wasn't quite happy with the length and I think the lightened parts of my hair were really annoying me. After years of having coloured my hair I think I've finally got to the point of appreciating its natural colour. So I got it chopped so the lightened parts were basically gone. 😊 After that though, I think I'm going to grow out my hair to a medium length, but still past my shoulders!
This post is named after the style of the Delta crop top. I couldn't really get very imaginative with this. 😆
📷 All photography by Nick.
Outfit details
---
What do you think of my outfit for a hot summers day? Do you have a good balance of "basic" items in your wardrobe?