Fashion Friday: Only In Dreams | Sky blue pants and pink textured socks 💕
Happy Friday! Let's explore this outfit from the ground up, just for fun. 😊 This outfit has some of my favourite pieces in one of my favourite combinations. It's currently winter where I live, but there have been some warm days too (20ºC).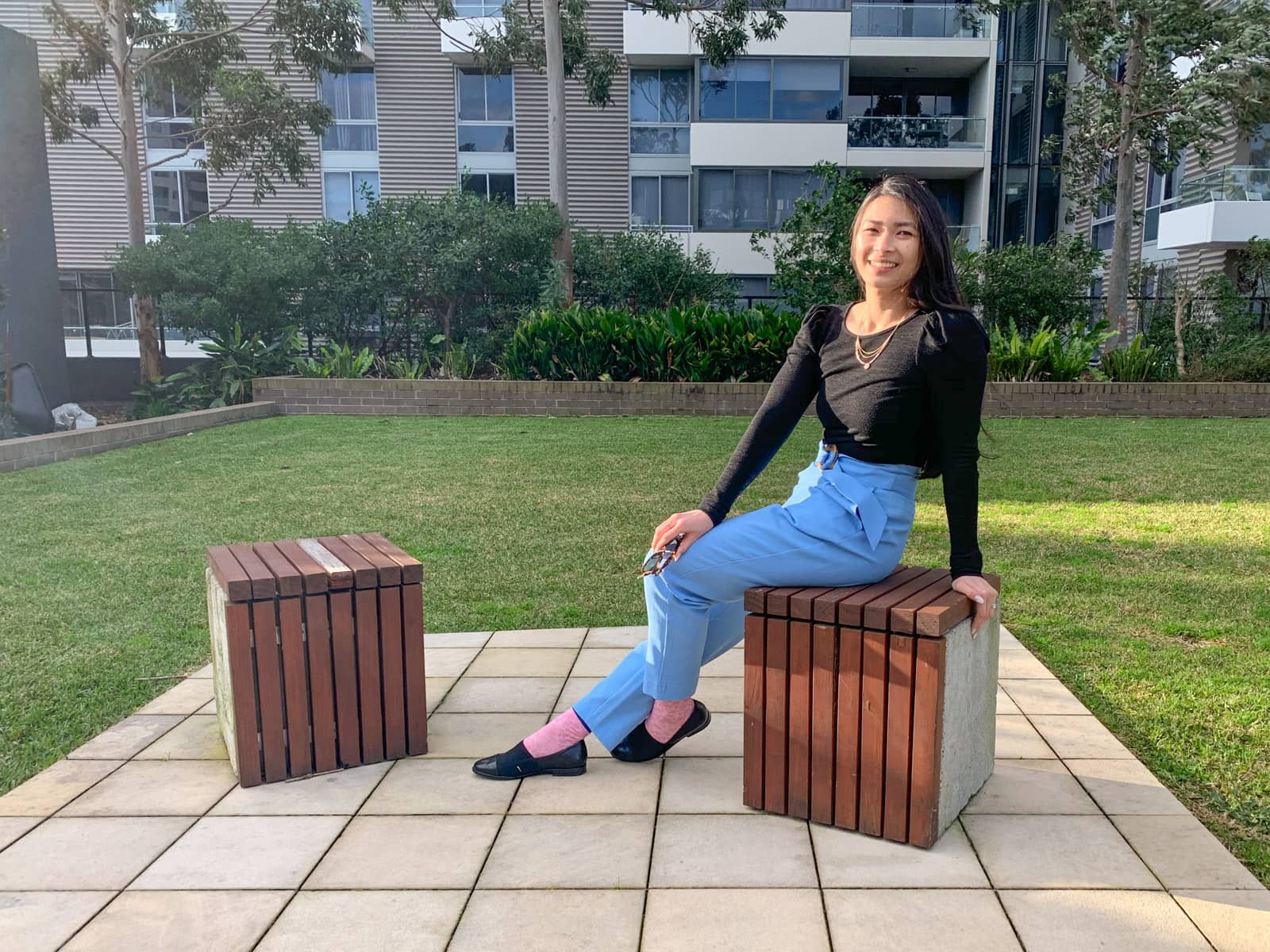 A simple, comfortable shoe
When I sought out these black shoes, I wasn't completely sure what I was looking for. I previously had a pair of loafers that I featured in the Midnight edition of Fashion Friday, but the quality of the leather was not great, and the stitching was rough so it didn't play nice with socks. I also didn't love the overall look with the silver buckle so I went looking for something else. I still like the look of a flat-heeled, plain black shoe that's pretty low-fuss. I can't wear very pointed shoes because I need a wider toe box, so that rules out all ballerina flats. The annoying thing is that shoes sometimes follow trends, so finding a shoe that suits your needs can sometimes be hard.
These shoes were marked down and were the last pair in my size. They were $102 and I umm-ed and ahh-ed about getting them. I tried them on in the store, and walked around in them, and they were so comfortable. The inside has just enough heel to support my foot – so the shoe isn't too flat. They are very classy-looking and easy to slip on and off, but at the same time they don't slip off my feet. I decided to get them and am very glad with my decision. Nick made fun of me and said they look like "granny shoes", then I retaliated and asked him to point out the next time he saw a "granny" wearing shoes like mine. 🤪 I've worn the shoes a bunch of times in the summer and several times in the winter with socks, because they are so easy to wear. And they make black shoes less boring.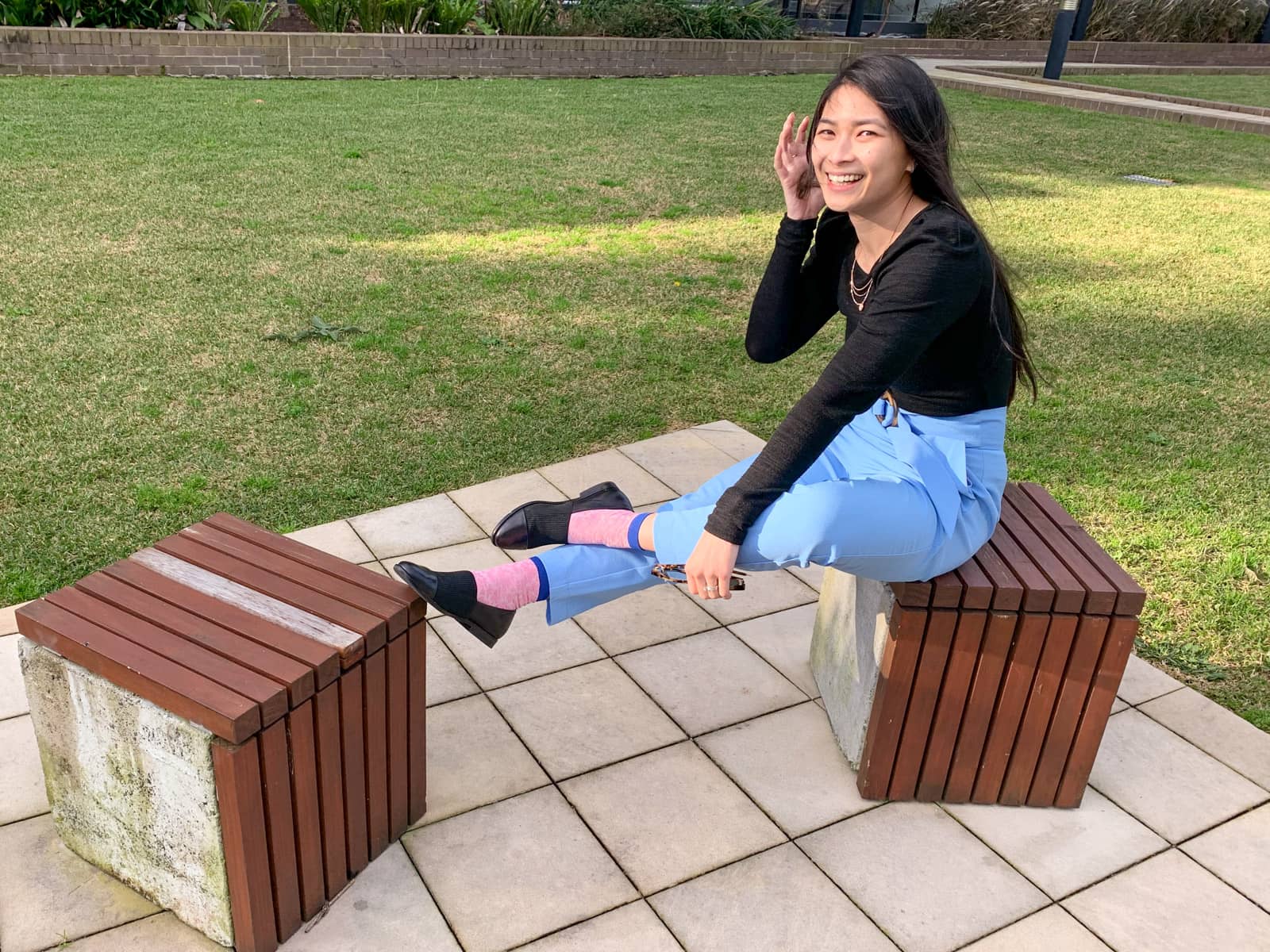 Even though we can't travel right now, I'm still thinking about what shoes I can invest in for travelling. I usually end up wearing my running shoes, some of which are white (my black ones have a rip in them). White gets dirty easily, as you all know – but I just love white shoes. Since mine are made of fly knit, and not like, a white leather shoe, they are more difficult to clean. I would say that in terms of comfort, these black shoes are pretty magnificent. Before we got into more stringent restrictions, we went to the shopping mall on a public holiday and I remember walking around a lot in these shoes and just never feeling any pain from them. They were very comfortable. Even walking home felt really comfortable and not like I wanted to rip the shoes off my feet when I got home. 😄
"Coronavirus socks" 🧦
My socks are from the Hysteria range by Happy Socks.🤩 You might be familiar with Happy Socks' printed socks – the Hysteria range is a more feminine range with a bit of edge and boldness. I first discovered them about two-and-a-half years ago, in 2018, when I had a bit of an obsession with socks, especially coloured and printed ones. I bought a handful of socks from the range, and tried to make them work with my outfits, but it didn't work out too well. I still loved the socks, though, so I'm glad I kept some of them this far down the track where they work really well with some of the pants I own. Back then, I didn't have any pants, and I didn't think too much about combining colours properly with my socks, so the socks always looked a bit mismatched with my outfits. 😝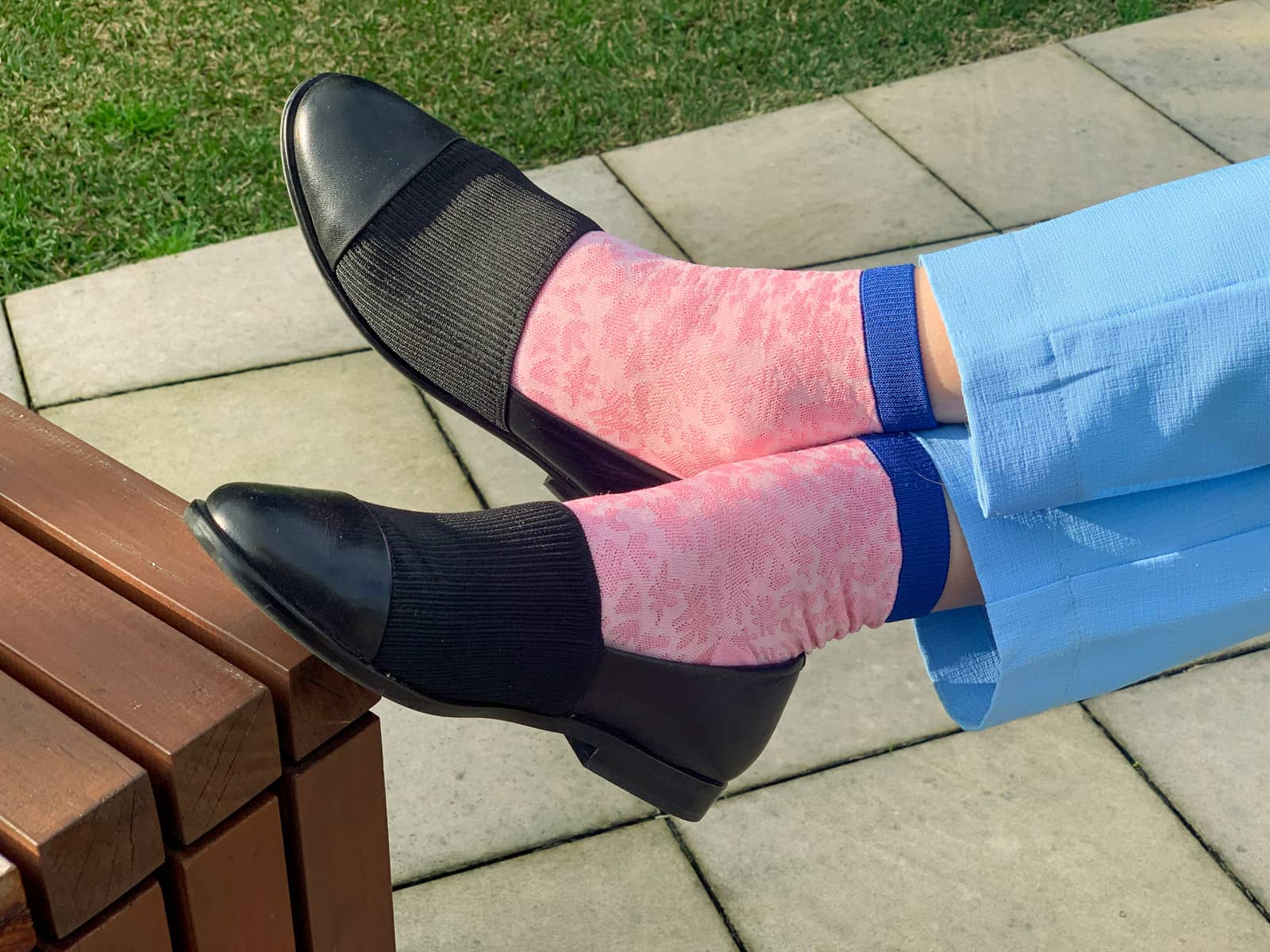 These socks have an interesting texture that actually reminds me of the virus emoji. 🦠 I'm sure you are sick of seeing virus photos everywhere – so am I. 😅 I guess I felt like making the connection and calling these my coronavirus socks.
Pants with pockets 🙌🏻
I got these pants in the summer (last December – I'm in the southern hemisphere!) from a store called Sheike. They are my new obsession because their clothes are better suited to curvy women, which ends up really working out for me. I remember not actually intending on buying anything when I set foot in the store. I might have looked at a few things online, but I was on my lunch break and just wanted to browse and get some inspiration. But I saw these pants and I was immediately drawn to them, especially because of the colour. There was a matching top, but I was really drawn to the pants. I noticed the colour, but I also noticed the cut had a lot of room in the hips and upper legs, so I decided to try them on.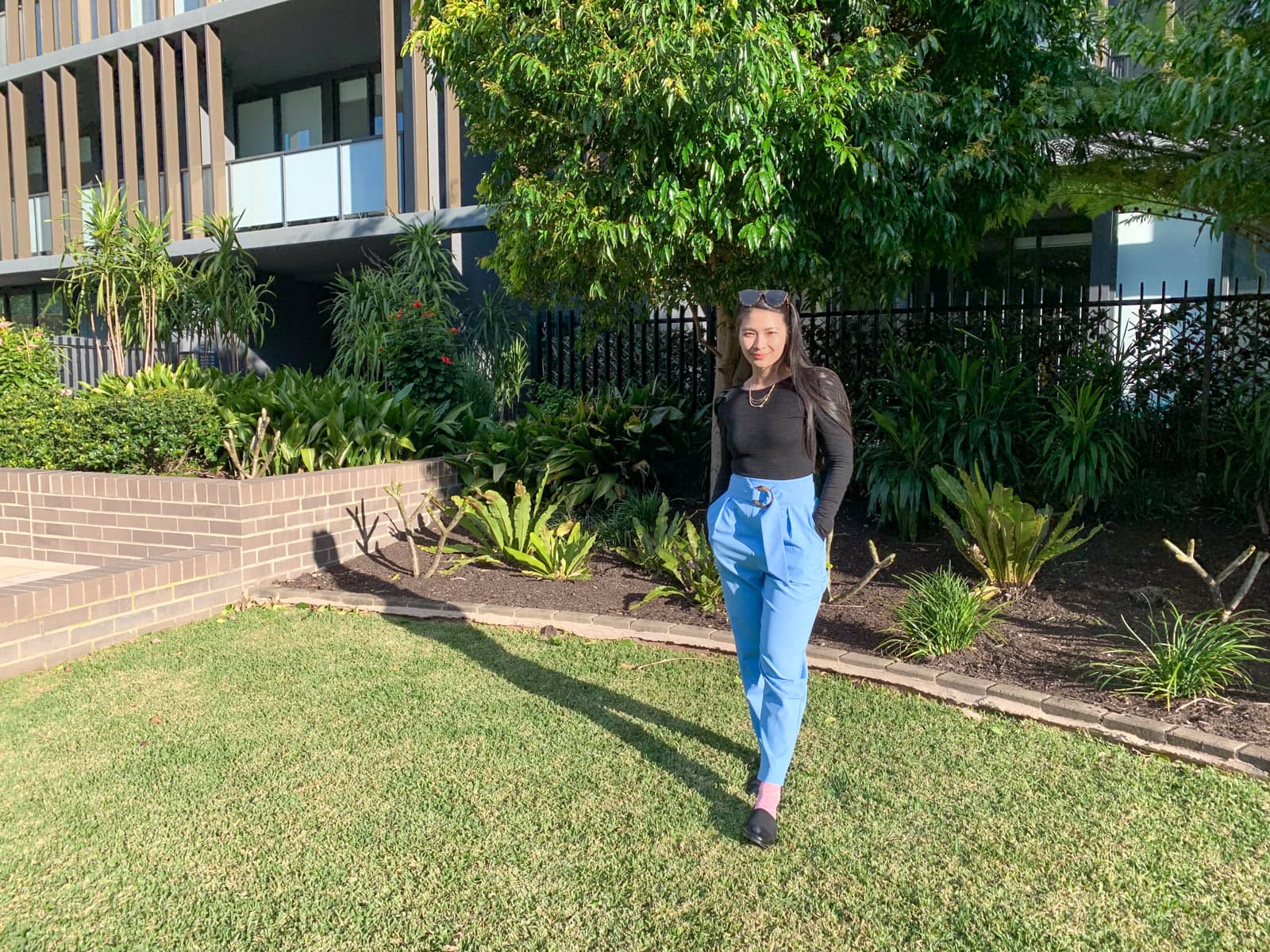 When I tried them on in the dressing room – which I usually hate, mind you – I was pretty amazed at how wonderfully they fit. They were perfect. I'd never tried on a pair of pants that had enough room for my big legs. Of course, I tested them out and crouched and bent my legs and squatted to see if they were still comfortable, and they were. 😂 I've worn the pants countless times since then – I wore them all summer, and they have even been perfect in winter as well. Now the waist is a little on the tight side, but I'm pretty sure it's just from the bit of extra weight I've gained. 👀
The pants zip up at the back so they are pretty easy to wear. None of this weird button-zip-fly stuff. 😆 They also have pockets, as you might be able to see from the photos. No fuss carrying a minimal amount of things around.
Puffy-shoulder top, outfit-repeated
I'm keen to do Fashion Friday editions in the summer and show you what this looks like with some of my (pretty basic) summer tops! But for now, I am wearing the same puff-shoulder top from my previous edition of Fashion Friday. I just really love it paired with these pants. I feel it's very stylish.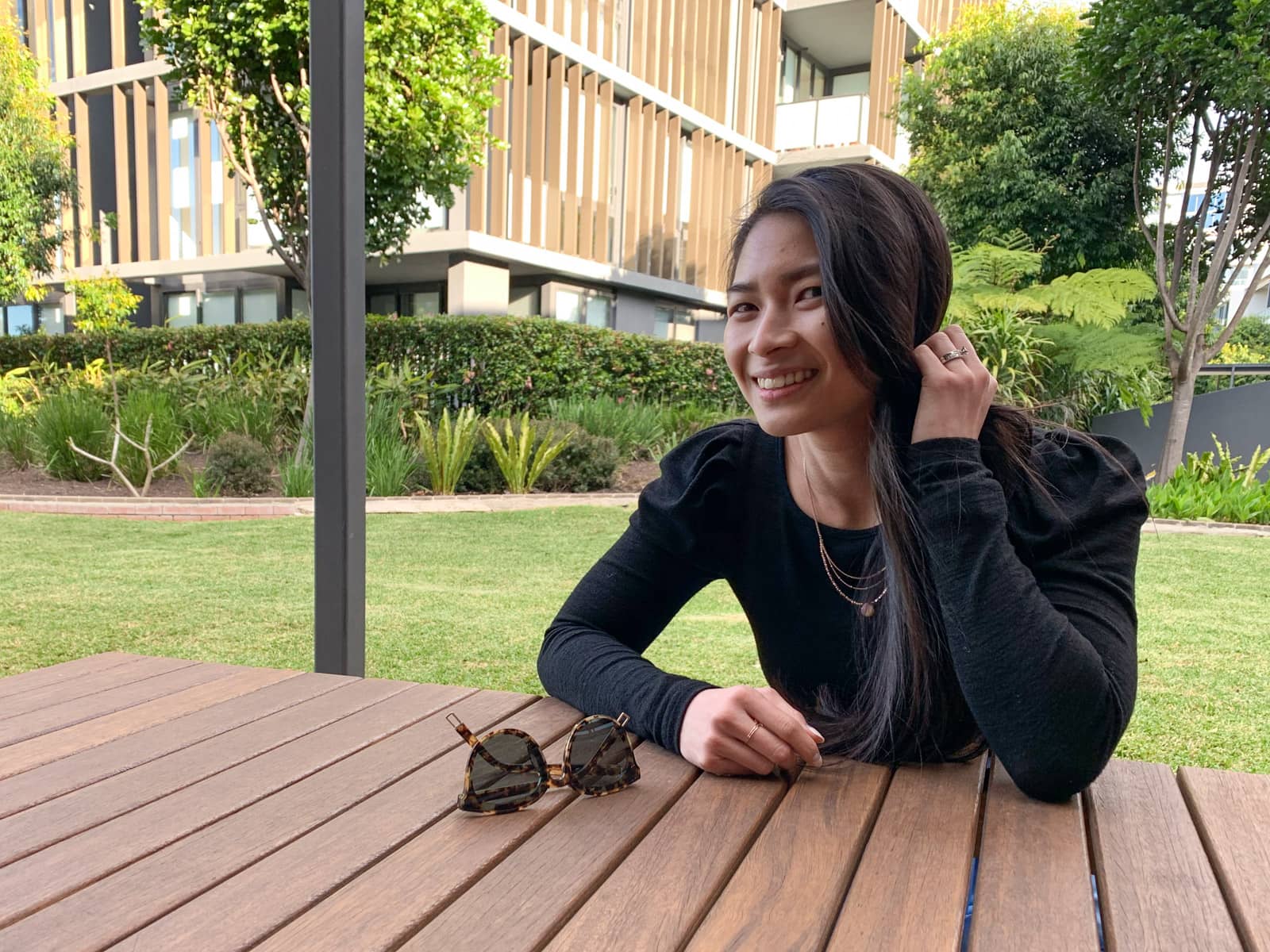 The necklace is one I've owned for a while and featured a while back in 2018. During this pandemic I've realised that after buying a profuse amount of gold jewellery, silver jewellery actually looks better on me. 🤦🏻‍♀️ I feel like I've made this mistake so many times after I get a minor obsession with gold. Rose gold is usually no issue, though! 😊 I felt like wearing something different with this outfit, so I wore this more elaborate necklace here.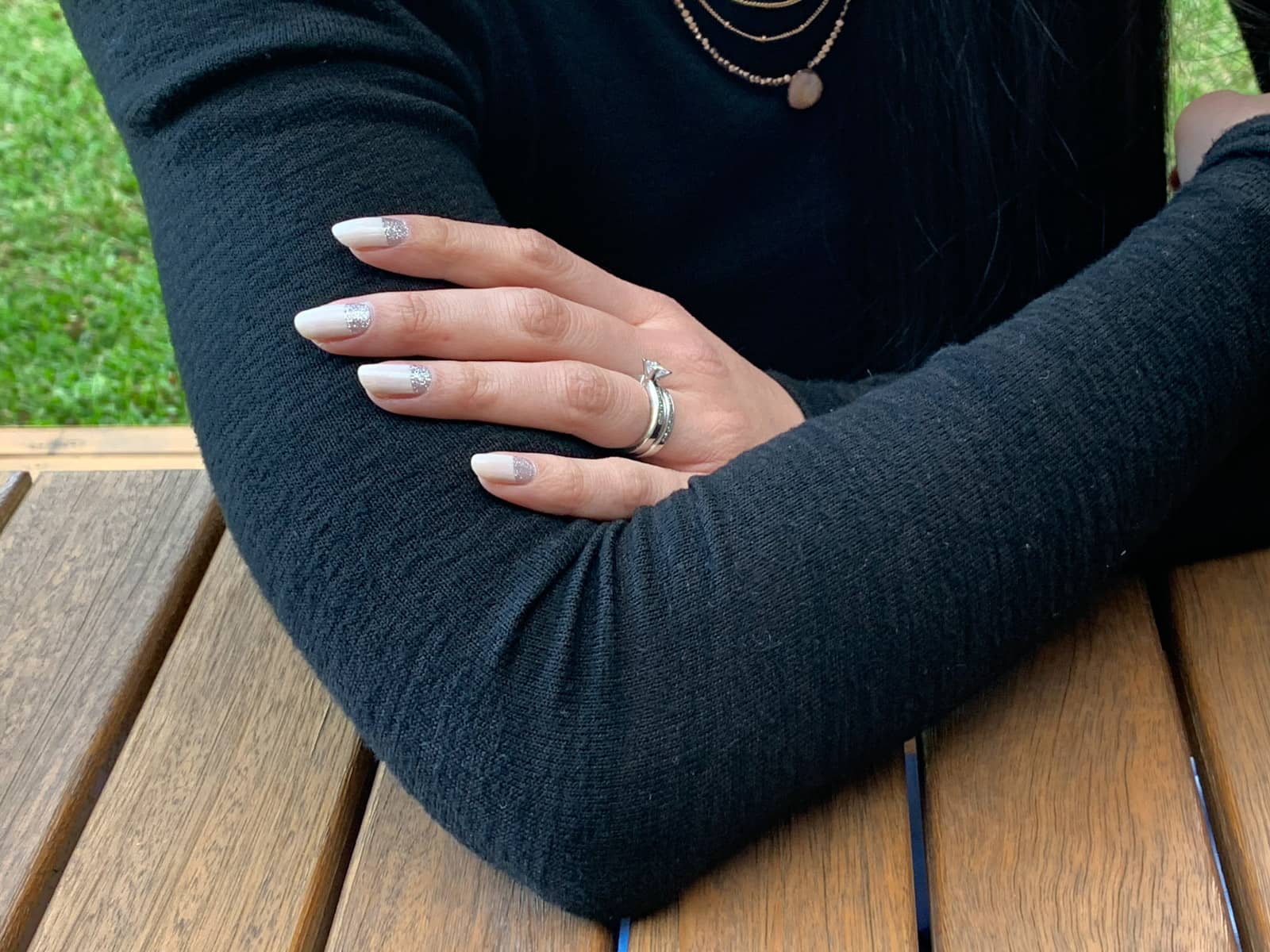 I hope you like this outfit and are keen to see the blue pants appear in future! 💙 Do you have any comfortable favourites in your wardrobe?
Outfit details
Colophon
📸 All photography by Nicholas Cooke. (iPhone Xs)
These photos were taken in our apartment sky park. These fixed blocks make for an interesting setting. I can always imagine two people sitting on them having a coffee, sitting-on-a-milk-crate style. In the photo where I'm standing, our apartment is actually the one above the balcony. 🏡
This edition was named after the Weezer song Only In Dreams; it may not be my favourite song by them, but I've been listening to them a lot lately, and when my outfit is a little feminine like this one – with the puffy shoulders and the blue and pink colours, I tend to think of some kind of dreamy, relaxed vibe. ☁️