Fashion Friday: Unanticipated | Bright colours + abstract prints
Today I have the first Fashion Friday of 2019 – featuring, yet again, orange. 😆🧡 I've outdone myself yet again. In all honesty, though, I've become more and more attracted to orange since realising it was a colour I could somehow pull off better than the majority of the population. #humblebrag I feel confident wearing in the colour, which is what we want out of the clothing we choose to wear, right? No point having clothes that make us feel awful.
I'm also switching up the format of Fashion Friday a little bit, which you will see in this post. I'm trying to be more descriptive in titles as well as naming the outfit, but including more headings to make the post more easily digestible. ☺️ I know I'm not your typical "fashion blogger" as I don't get paid or sponsored, these clothes are my own purchases, and I very much like to talk about the stories behind my clothes and not simply "look at how I styled this!" I hope you enjoy, please let me know if you have feedback. 👍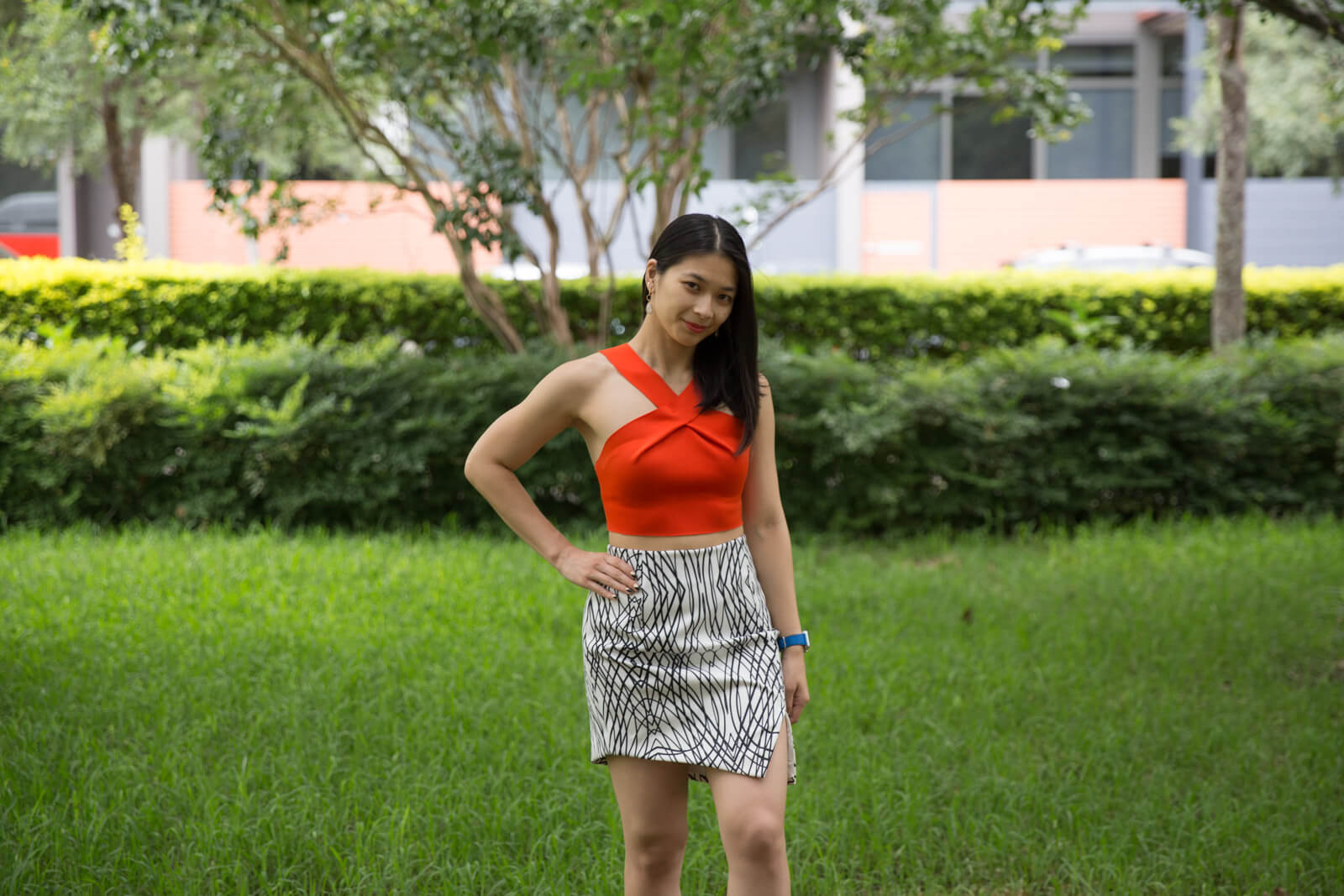 I've decided to go toe-to-top in writing about the details of this outfit!
Neutral but fun sandals
The sandals are by Jo Mercer, a fairly reputable shoe brand. I bought them when they were marked down because their regular price was over $100. I didn't think too much before buying them, because this kind of over-the-toes sandal is my favourite. I can't stand sandals that have parts that go between the big and second toe, and I don't like ankle straps that are just single loops and don't attach to the sides of the shoe. For some reason finding a good quality basic tan/brown/nude sandal with this kind of style and minimal accents/decoration/detail is very hard! I know this has a spotty print on the top, and I haven't always liked animal print, but I like that this is subtle and still very much in neutral colours.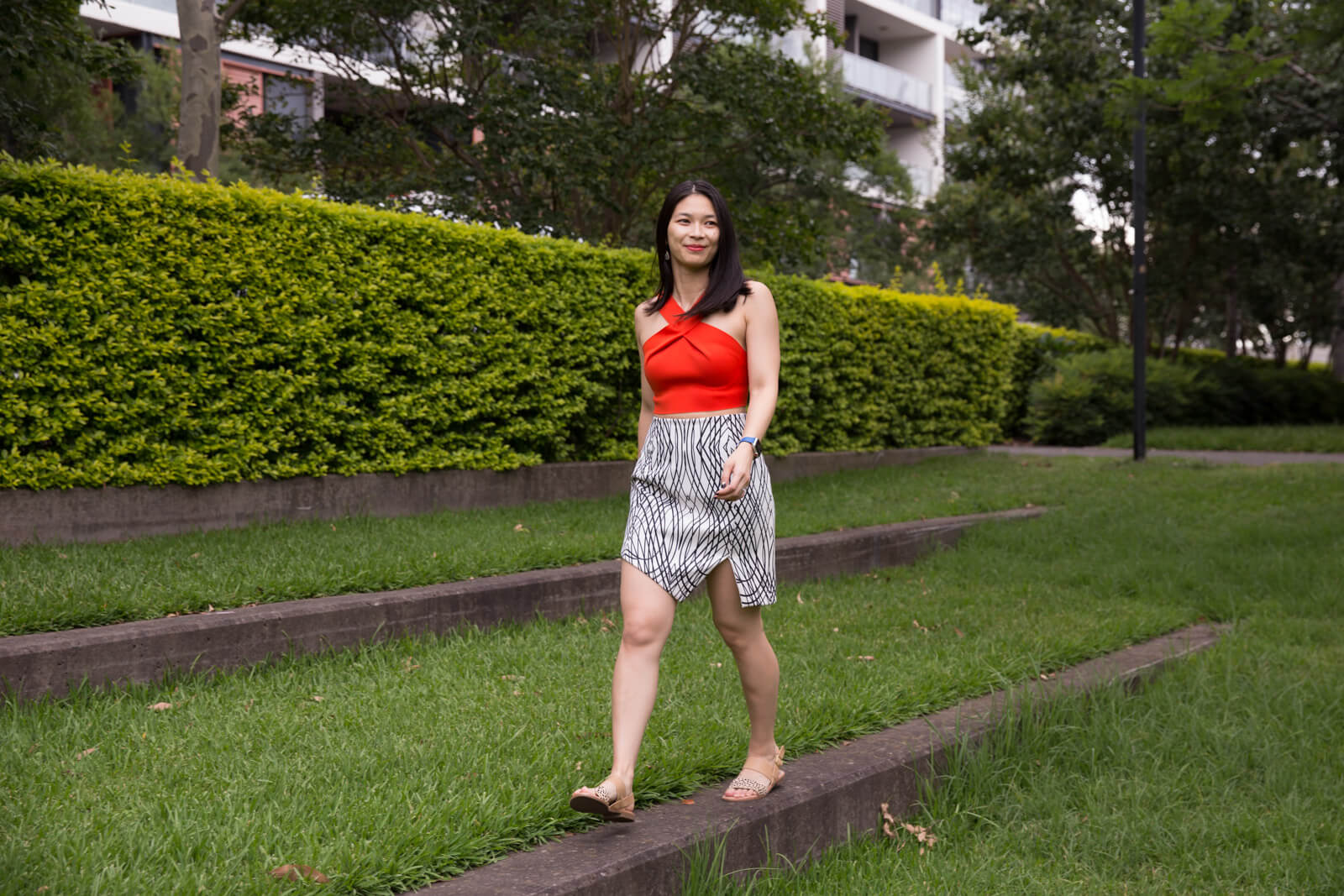 I mainly bought these sandals to replace the brown sandals I wore in my Delta outfit (with the Kookai Delta crop top). Those were my go-to, but they got pretty destroyed during bouts of rain. They've held up pretty well, and I do still wear them, but the leather sole is peeling in multiple places and I knew I'd soon need a replacement. I maintain that those are good for travelling, but these ones are a nice, dressier pair of flat sandals.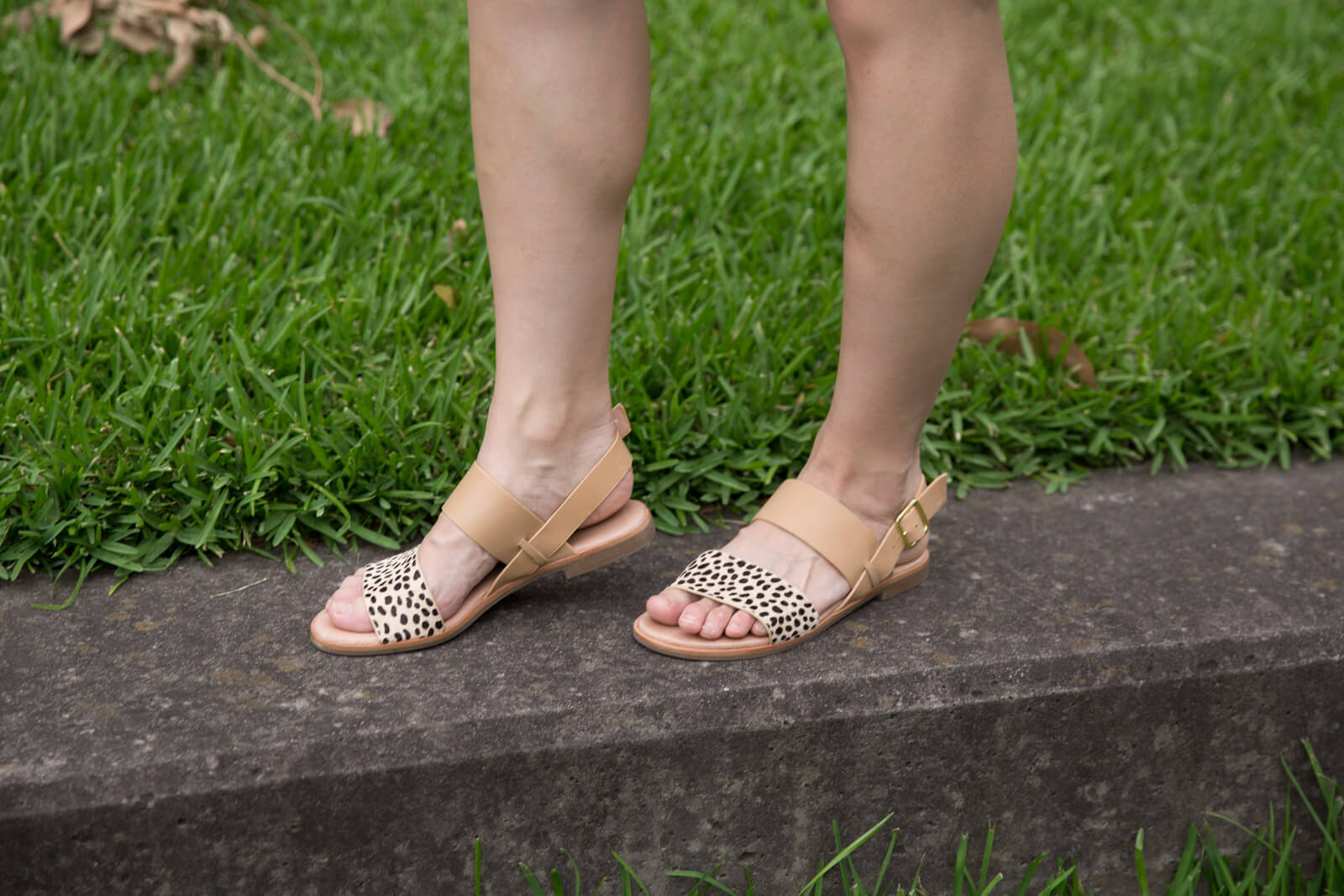 A little funny story about these sandals, though – we had some kind of flash flood in Sydney on the very first day I decided to wear these sandals out. I was furious because rain wasn't in the weather forecast, and I didn't think to bring an umbrella because the temperatures seemed pretty wild as well. I had an emotional outburst on the way to the bus stop (Nick thought it was very funny, and unbelievable) and sat down as torrential rain soaked us and threatened to destroy my shoes.
It was just my luck that that very morning, I decided to grab a bag of clothes to donate during my lunch break, and I put an old pair of boots in there. We stopped under the front porch of an apartment block entrance, I took my sandals off, used an old pyjama top to wipe both my brand new shoes and my wet arms and body, and I wore my destroyed old shoes until I arrived safely at work. Talk about first world problems. 🙄 I simply didn't want my new shoes to get ruined!
Keepsake the Label skirt, an "unanticipated" new favourite
I bought the skirt second-hand from eBay last year. It's by a label called Keepsake the Label (or just Keepsake), a label whose recent designs I dislike, but whose past collections have very much been my style. I struggled to find a sizing chart for the brand and I consulted my friend Monica about sizing since she knows about the brand – she said she goes for XXS and she's about a size smaller than me, making XS (Extra Small) about right for me. I was really concerned about skirts fitting me around my thighs, though, so when I noticed that this skirt was size Small, I thought it'd be a good fit.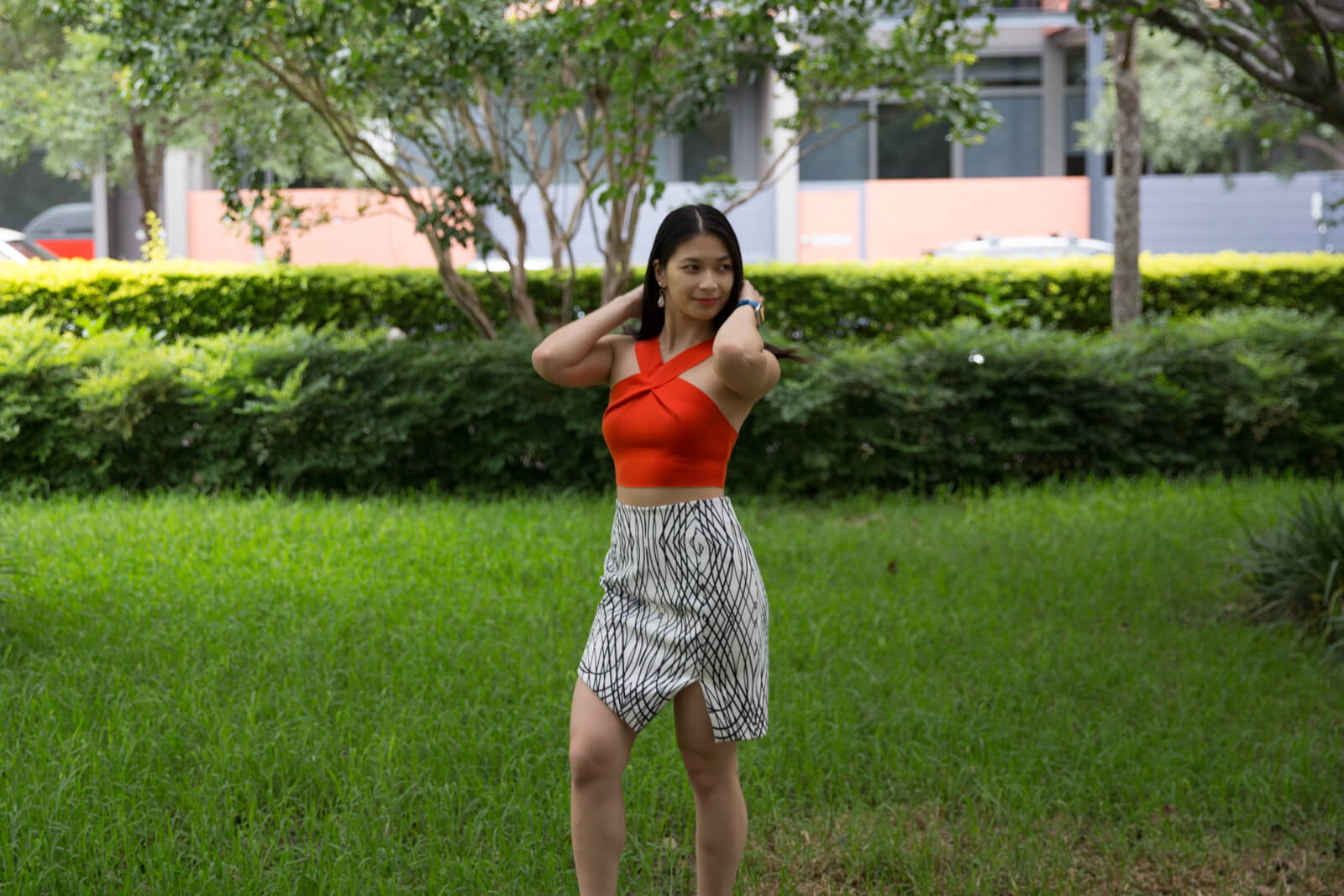 I honestly impulse bid on the skirt before the listing ended. I wasn't sure how to feel about it after I won the auction and made the purchase. I know the label's pieces retail for over $100 and are generally high quality and well made. I ended up using a promotional eBay voucher to pay for the skirt, so I ended up only paying $13.50 including postage. I patiently waited for the skirt to arrive.
The skirt gave me a really disappointing first impression when I opened the parcel. It was in excellent condition, but it felt very underwhelming. As with most second-hand items, you're likely to experience Previous Owner Scent, and there was definitely that – not unpleasant, but it made me want to give it a fresh wash at home because perhaps it had been sitting in storage amongst other clothing from the previous owner. It may also have been the indoor lighting at work when I opened the package, but the print looked extremely dull and the white of the skirt looked almost grey. I actually thought it was a bit ugly. I tried it on in the bathroom, and realised it fit rather loosely on me. I could still wear it but it was sliding around on my waist a little.
I started to wear the skirt a lot because it was very comfortable, and I didn't care too much about the pattern. After a wash, and seeing how it looked in regular daylight, I soon found that it was a lot more exciting and interesting than I'd initially thought. I took the skirt with me on my travels to Hong Kong. When I travel, I pack light and try to create as many outfits as I can with a minimum amount of clothing. I found that I really liked wearing the skirt and it had grown on me, and it also looked fantastic with some of my solid coloured tops. Solid colours and contrasting patterns make an amazing combination! Upon arriving home, I took the skirt to the tailor to have the waist taken in a bit. I was really happy with the way it fitted after that.
The orange skirt I wore in my last Fashion Friday is also Keepsake, but in size XS. It fits better without needing to be altered at all, and it's actually the same cut and style as this skirt, but a thinner construction of fabric. I'm so thrilled with this skirt, but I know I'll be looking for XS in Keepsake clothing from now on. 😉
A bright colour to team up with the abstract print
I bought the top recently on eBay. After trying on some tops with a similar neck style, I found that I liked the style a lot more than I thought. This was honestly a bit of a gamble, and although the eBay seller kindly gave me accurate measurements, I wasn't entirely sure how it would fit. I was worried it would be too small. The top is actually by a designer brand called Bec and Bridge whose pieces normally retail upwards of $90. I got it for a bargain price of $33.55 including shipping. When it arrived I was thrilled to find that it fit perfectly and the quality was excellent, and despite it being second hand, it was in perfect condition. 😍 You all get the idea that I like orange as well… I think it was a stroke of luck that this is a shade of orange I like! As you know, it can be hard to discern colours from photographs or on a screen.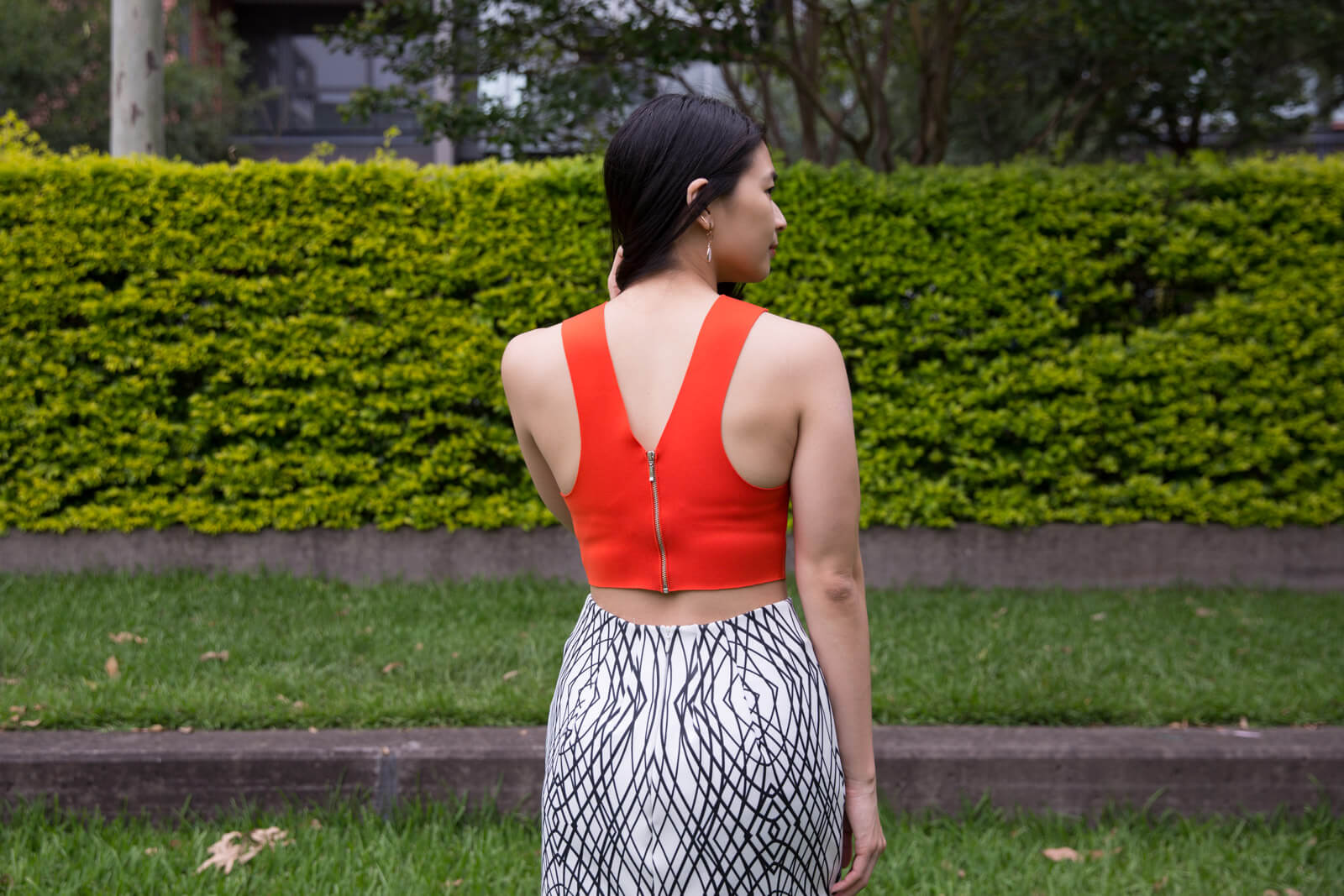 I have a lot of skirts with prints or patterns now, and I actually made the decision to stop buying printed tops and opt for solid colours. The main reason for this is that I really like wearing necklaces (although I am not wearing one in this outfit!) and they tend to clash or get lost amongst printed tops. I've taken a liking to more interesting skirts these days, so a solid top and a patterned bottom makes for a good combination. I particularly like how well orange goes with a black and white pattern. I didn't actually realise this until I was trying on clothes with this skirt!
Black and gold nail wraps
These are actually the same nail wraps I wore in my Midnight outfit almost a year ago. I had some left over, and I had removed my light blue gel nail polish, trimmed my fingernails, and really wanted to do them up again. I have a large stash of nail wraps that I should really use up!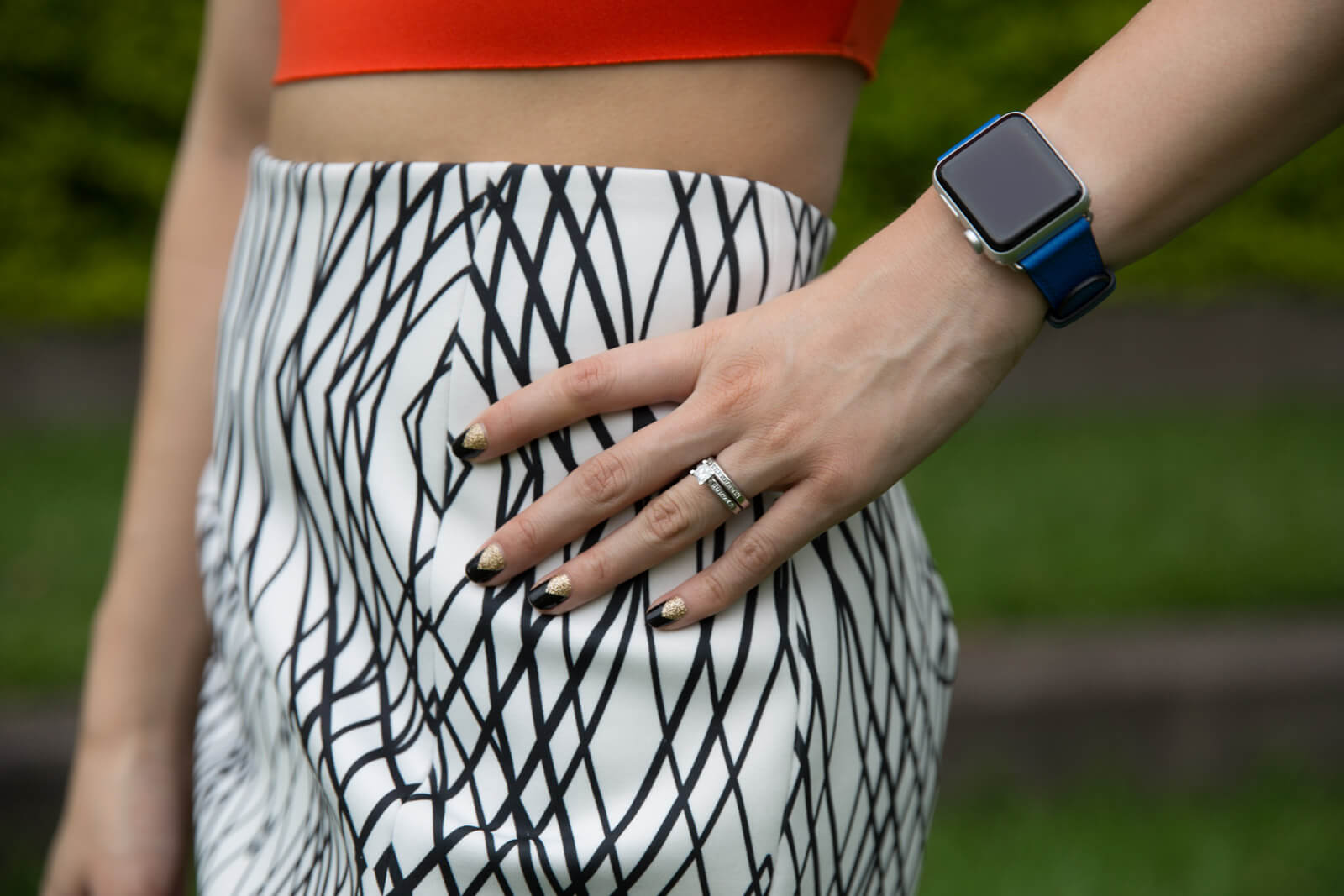 Rose gold earring combination
These gold moonstone earrings were a Black Friday sale purchase. I wore them to our company's Christmas party as well. I have mixed feelings about rose gold – I generally prefer silver, but rose gold would be my next choice. I didn't have any large feature earrings in rose gold to go with some of my studs, and I liked how these were moonstone – so a very versatile coloured stone – so I added them to my cart. By Invite Only is my favourite jewellery store and I exclusively buy from them, so I was quite happy to purchase from them again.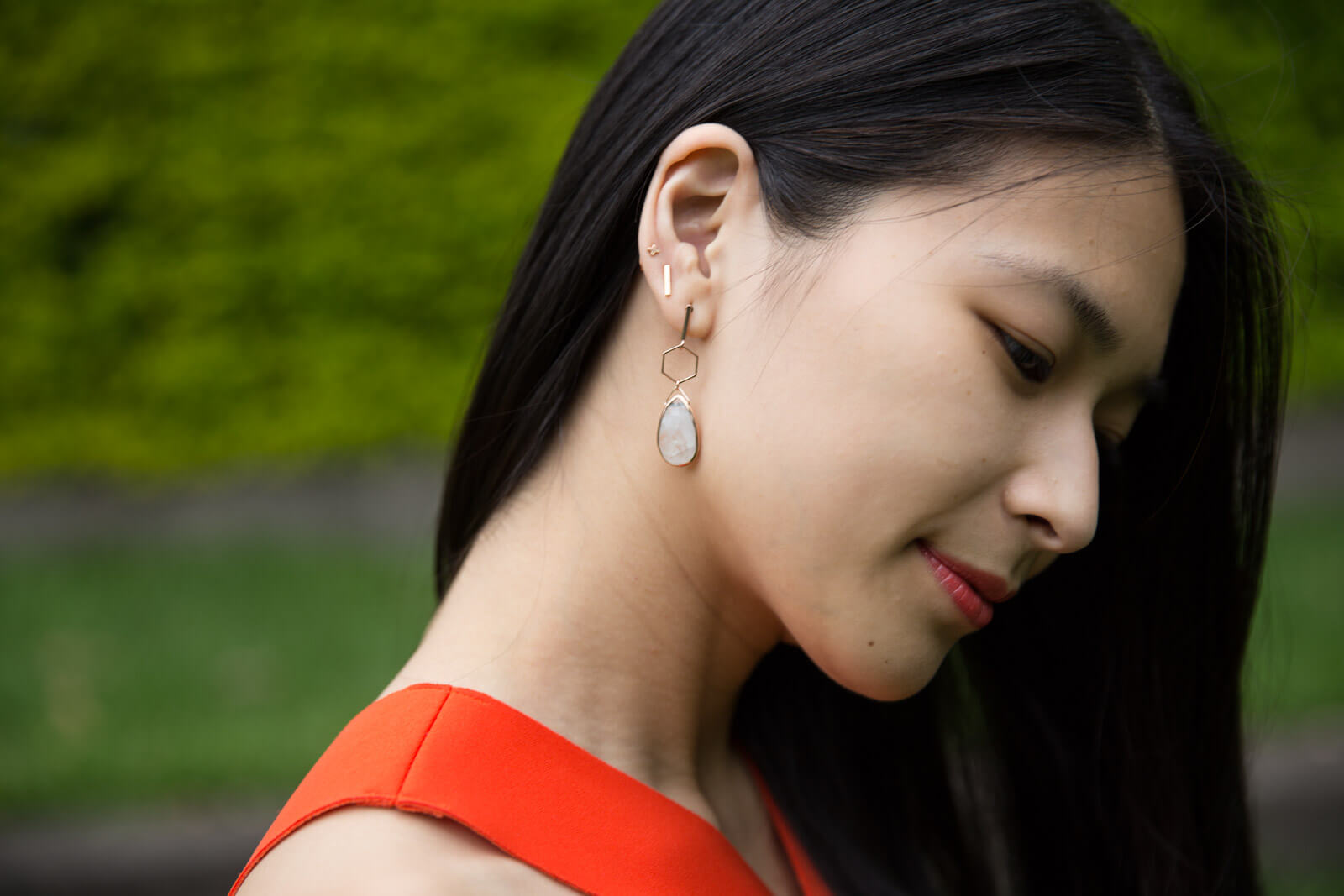 ---
Have you ever bought an item of clothing that you didn't like at first, or something you thought wouldn't suit you at all, but really grew on you or ended up surprising you? Let me know in the comments!
Outfit details
Top: Bec & Bridge (Drifter Top in orange, purchased second hand)
Skirt: Keepsake the Label ("Into The Flame" skirt, purchased second hand)
Shoes: Jo Mercer (Godiva Flat Sandal in light tan/multi)
Earrings: By Invite Only [referral link for 15% off] (Rose Gold Moonstone Honeycomb Earrings – no longer available); RabbitsFantasyWorld (Cross Stud Earrings; Bar Earrings)
Nail wraps: Personail (Midnight nail wraps
Colophon
📸 All photography by Nicholas Cooke.
We took these photos at a park near where we live. This was the same park we shot the Daydreamer outfit in.
The name of this outfit, Unanticipated, comes from the experience I had with being disappointed in the skirt when I received it, to eventually liking it a lot.