Stylesheet 004: Fire engine • Casual but polished
Hey folks 😊 We're in a lockdown in Sydney for a couple of weeks sadly. It's not a topic I want to dive into right now – obviously! – it's a tough time and I'm honestly trying to get through it by taking it one day at a time, and doing my best to control what I can control, because obviously there are some things I can't control now. Last year I wrote about how to appreciate your home life, because I knew that many people were struggling to do so during isolation or lockdown. I feel like it's time for me to refer back to that post myself. 😅
Anyway, Nick took these photos of me about a week ago, and it looks like any Stylesheet posts in the next couple of weeks will certainly be limited or non-existent due to the lockdown. We've definitely talked about doing a work-from-home or at-home one, we'll see! 😆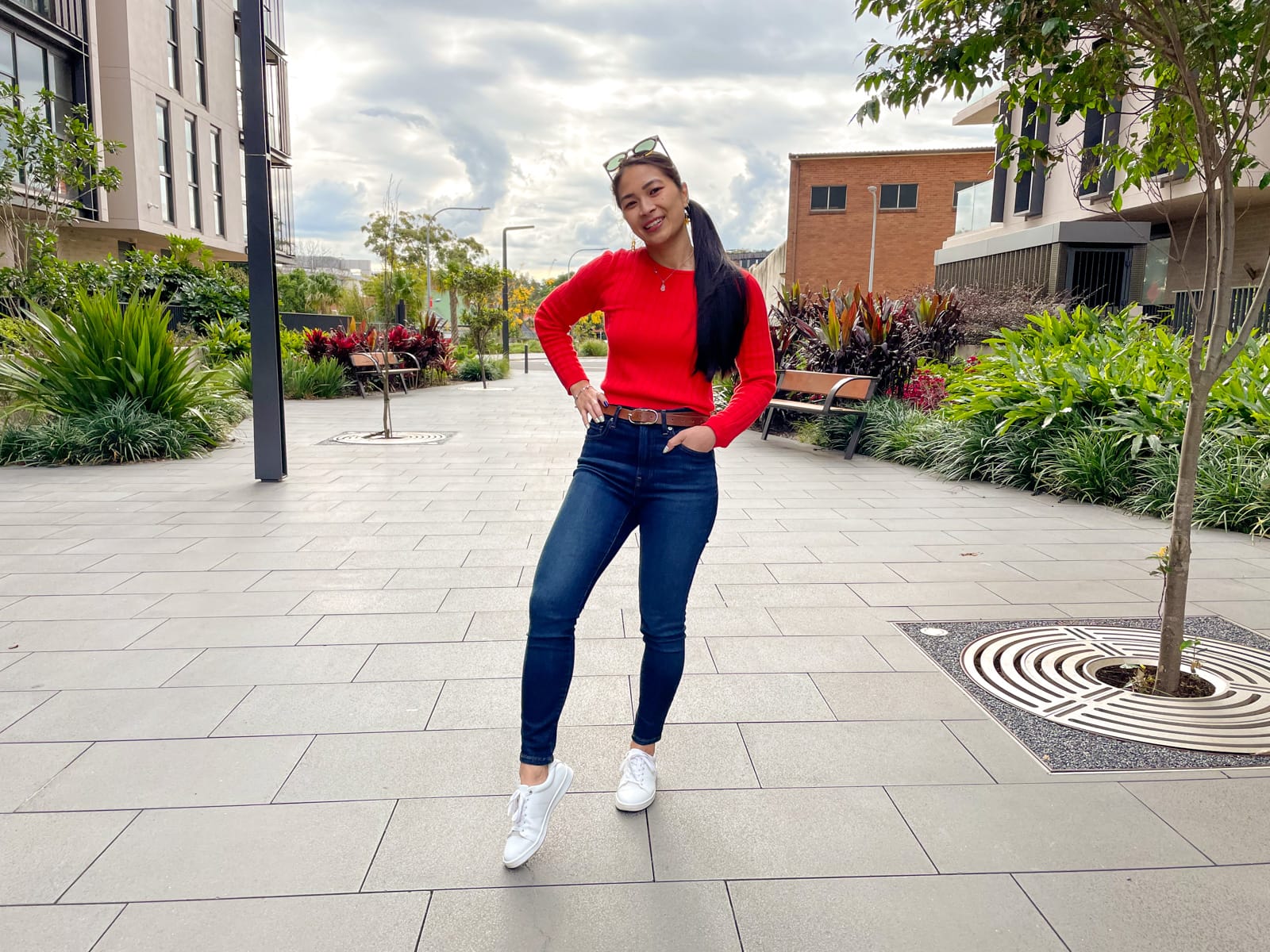 In this outfit I'm wearing the red top I wore in Stylesheet 001. I still find this top such an easy garment to wear, and I'm really glad I made the choice to buy it. It's so comfortable since it's 100% cotton, and close-fitting without being skin-tight. It's been getting a lot colder here, and after trying on some of the sweaters and tops I own, I've realised just how awful acrylic sweaters are, so this top feels great in comparison.
I honestly hadn't put much thought into fabrics until recently, and when I think about knitwear, I think about how the number one priority is to be warm but also comfortable. I have a couple of sweaters that are at least partially made from acrylic fibres and I've often had them feel a little itchy, but worst of all, the ability acrylic has to trap heat makes them uncomfortable in winter. It really becomes noticeable when you walk around outside or when you are indoors in a heated room. I'm pretty active and do a lot of walking, and I do get quite sweaty in my armpits when I exercise, so wearing a sweater that doesn't breathe makes the experience terrible. I also tend to get warm in my armpits, yet cold in my neck and arms, and this is aggravated when I'm indoors and wearing a sweater that just doesn't breathe.
Anyway, sweater ramble aside, I'm making a decision to try harder to purchase more natural fabrics when it comes to something like sweaters, jumpers, and coats. 🙂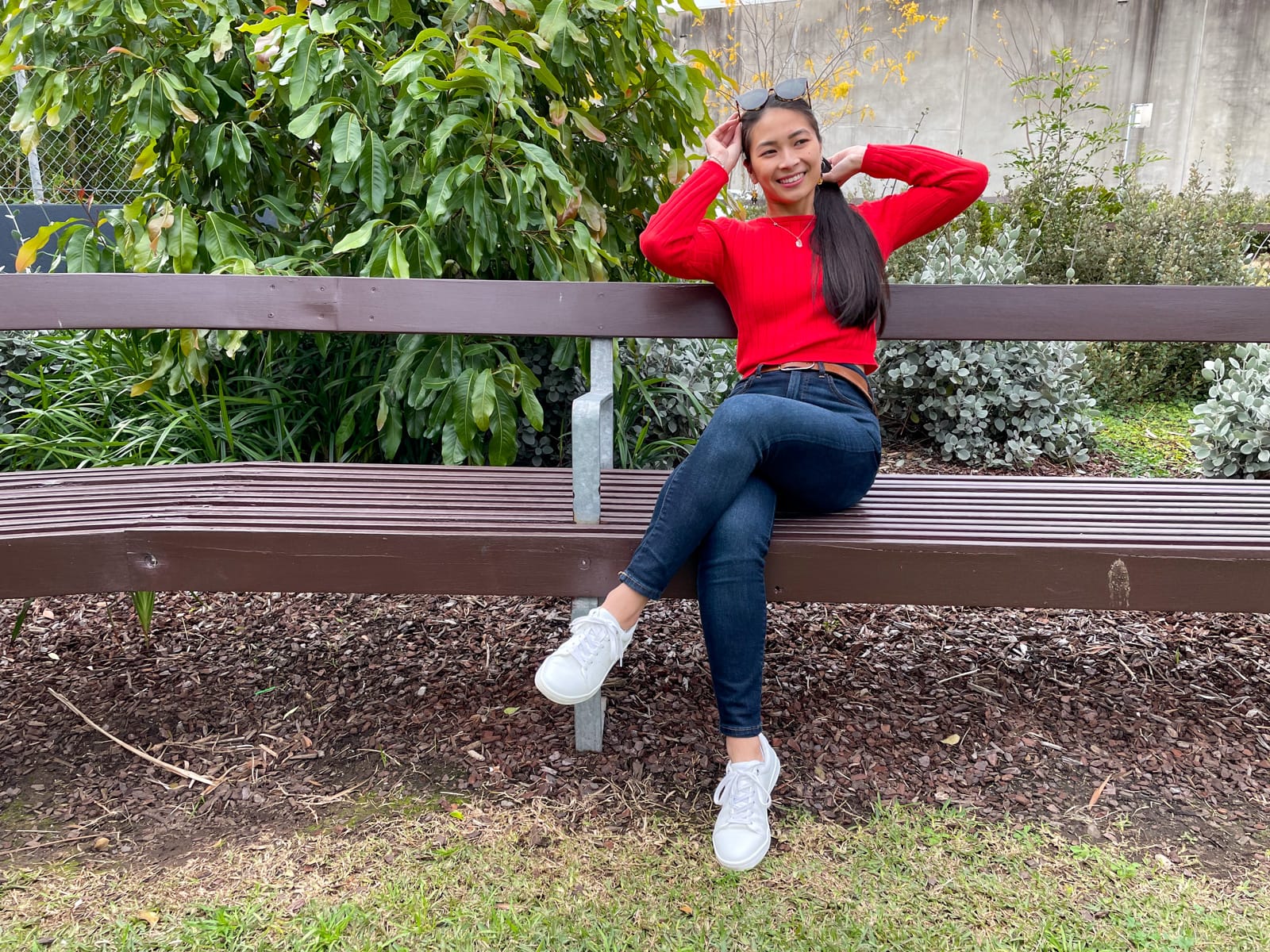 n
I'm wearing my Everlane skinny jeans (featured in Fashion Friday edition Retina and the Sky), which I have found to be a beautiful combination with this red top because of the contrast with the red, and the overall depth of colour, which I think really suits my complexion. When I first wore this outfit, I wore it with my giraffe print loafers and my hair in my signature side ponytail, and it looked incredible. I was just really impressed with it, so I knew it was an outfit I had to repeat in some form.
Since we were going for a little bit of a long walk to eat brunch, I chose to wear my white sneakers. These aren't my Vans from last Stylesheet, but they are my leather sneakers that you have seen in many Fashion Friday editions gone by. I think it's another part of the outfit that adds some contrast, and I like to complement the natural contrast in my skin, hair, and eye colouring, because I think that flatters me best.
I'm not a big fan of the low ponytail, but there are days I just want my hair to be sleek and pulled back neatly without putting it in a big bun on top of my head, and without doing a high ponytail. It often does feel heavy on my head and I want to be gentler on my hair some of the time! That was my option for today's outfit, and I have been changing it up a bit lately because even though I love having a signature hairstyle, I want to try a few different things with my hair, too.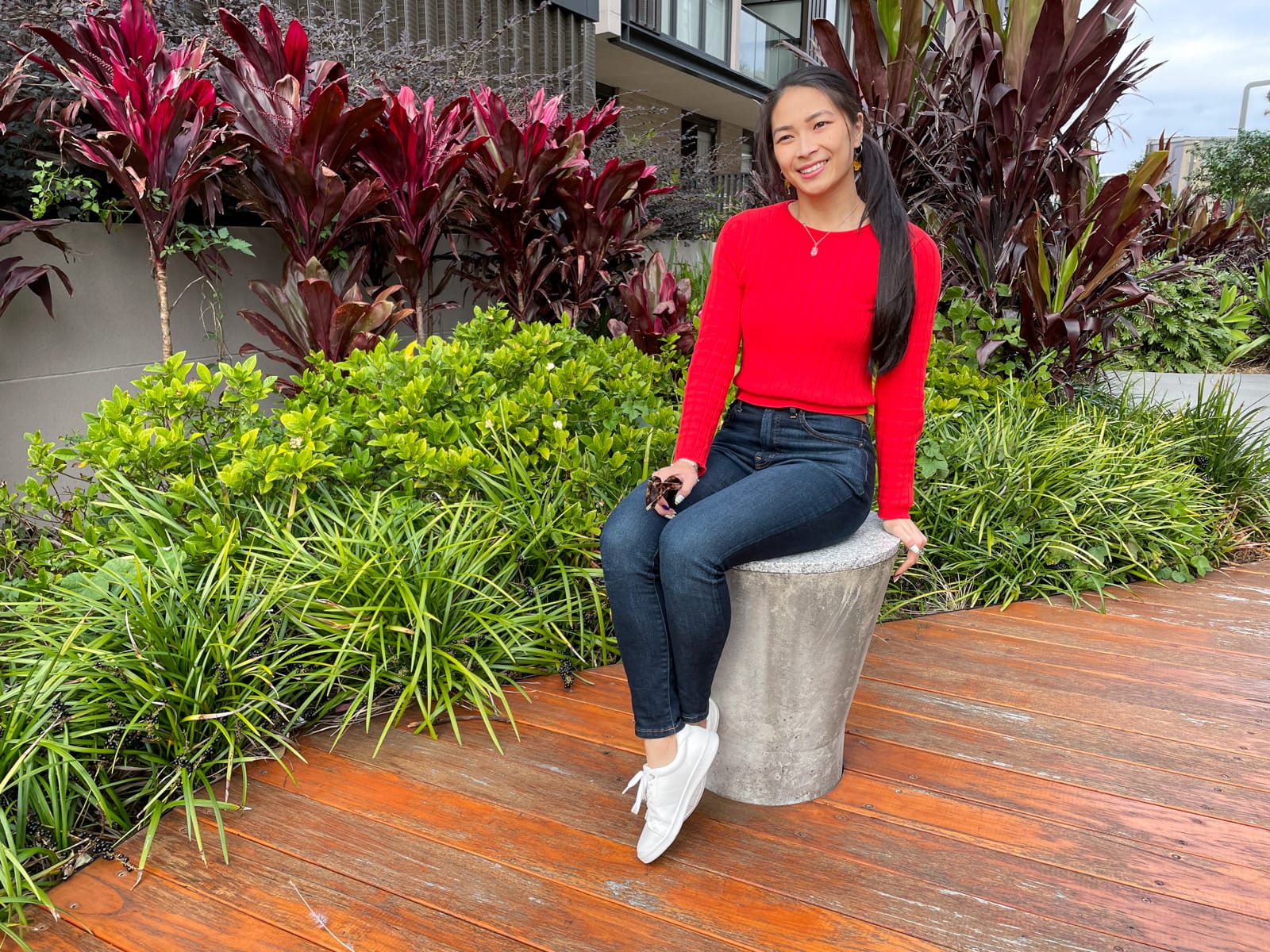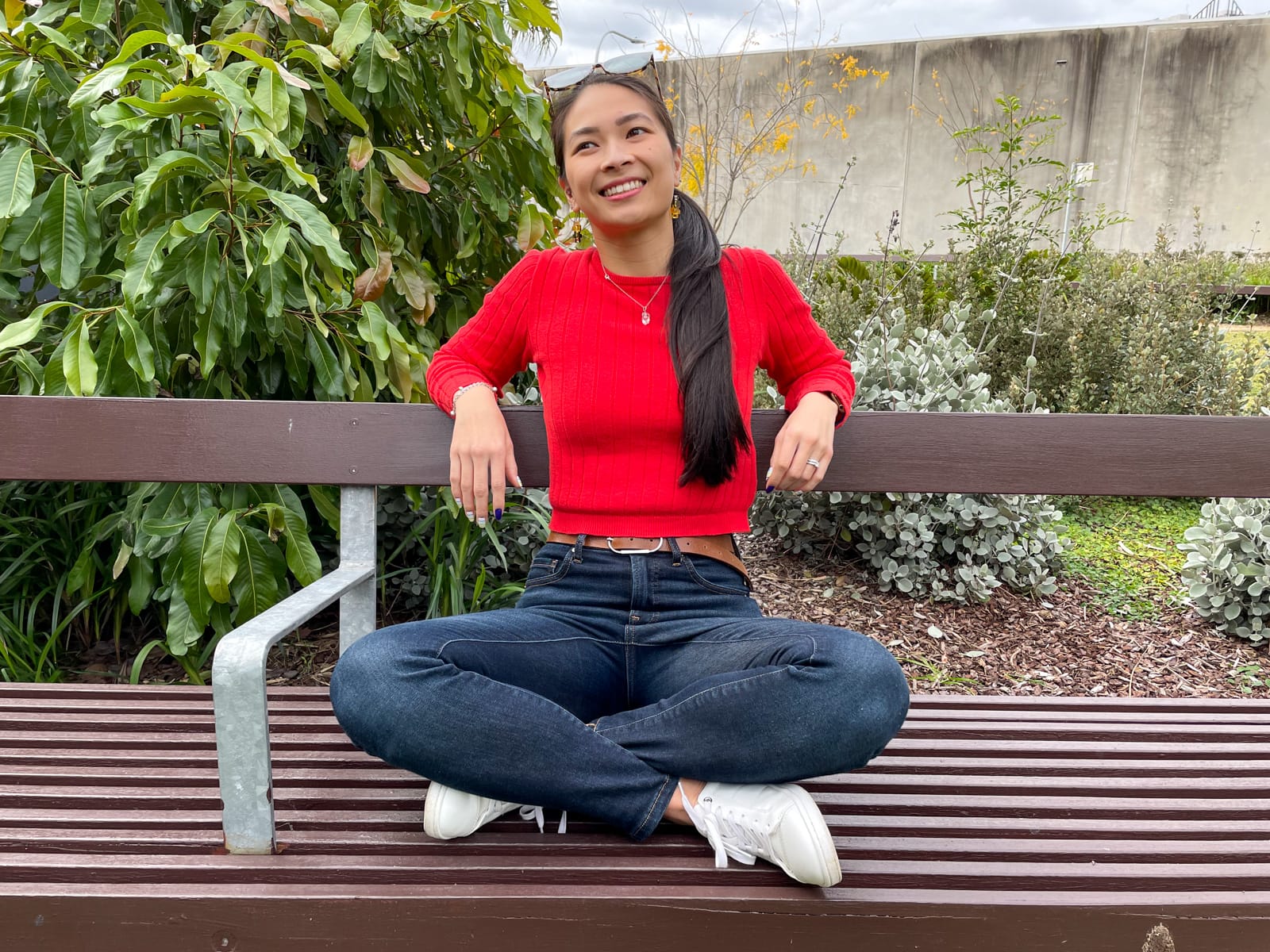 Last Stylesheet I wore a new black belt and mentioned that I decided to invest in a couple of belts after realising how different belts could give different looks. This brown belt was originally the only one I was going to get, because my one and only belt previously was a vintage brown one with a gold buckle, that I got from my mum. Almost all brown belts I saw had a gold buckle except this one, which is silver. Silver matches the hardware I prefer to have, and the colour of jewellery I wear most – despite having mixed metal colours in the past, I've decided to move forward with just silver. I had to get an extra hole punched in the belt because it was too big, and the guy at Mister Minit was nice enough to do it for free. My mum has a belt hole puncher at home but she hasn't been able to find it. 😅 I mean, how often do you need one of those?! 😆
I love the belt and the full-grain leather lets me add texture to my outfits in a subtle way. I also love that the buckle is a wide, round shape – I find that really unique. I think I would have preferred if it was more angular and chunky, but given how difficult it was to find a brown belt with silver hardware, this was as good as it got. My only issue with the belt right now is that the end of it always slips out of the belt loop. Nick said it was because the end of it was still quite straight and hadn't become accustomed to sitting properly around my waist because I'd have to pinch and roll it up a little. I think it's also that the belt loops are not snug enough to hold the belt, so I might have to resort to a belt hack at some point to stop it from slipping out. 😉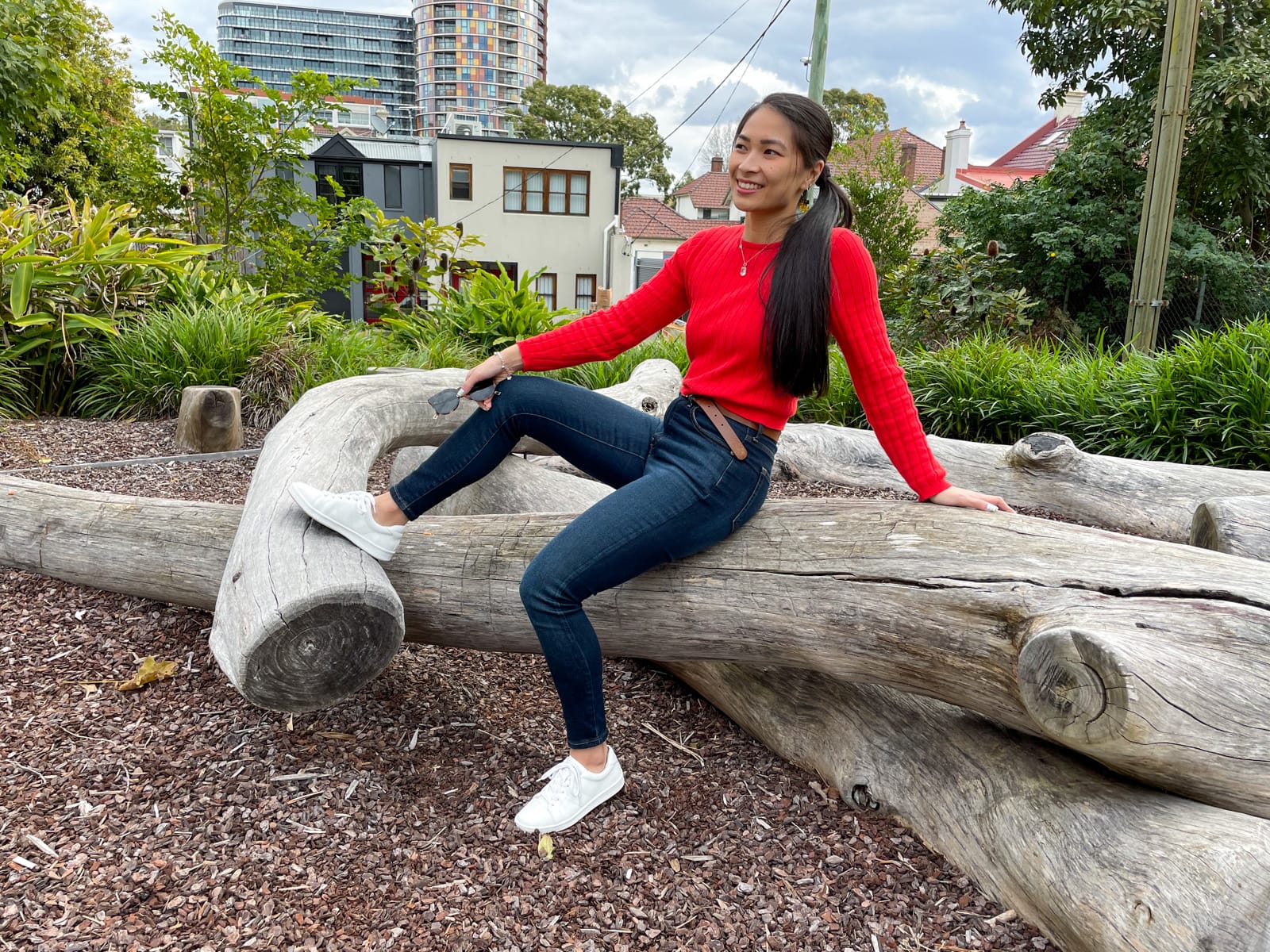 Even though I wore my blue resin earrings in my very first Stylesheet, I think that I like my jigsaw puzzle ones paired with this red top. The red and yellow are a bright combination and I like that!
I realise I've never really addressed my choice of sunglasses in all of my outfit posts. I have two pairs from Gentle Monster – this round-framed tortoiseshell pair, and another slightly square-framed all-black pair. I go for the black pair when I want to match my outfit and have a more sleek, almost formal look, and also if it happens to be extremely bright outside (because the lenses are a little darker). I also choose that if I want a more stark vibe. This pair is a little more casual and I wear it when I'm not wearing any black in my outfit, or if I want to create a contrast with my outfit rather than complementing it.
I recently put striped nail wraps on my nails – I had my eyes set on Personail's Jamie striped nail wraps since they were released. I don't love stripes all that much for clothes, but I like geometric patterns on my nails, and if I see them, I will give them a go! I've actually received many compliments on these striped nails thus far. 😊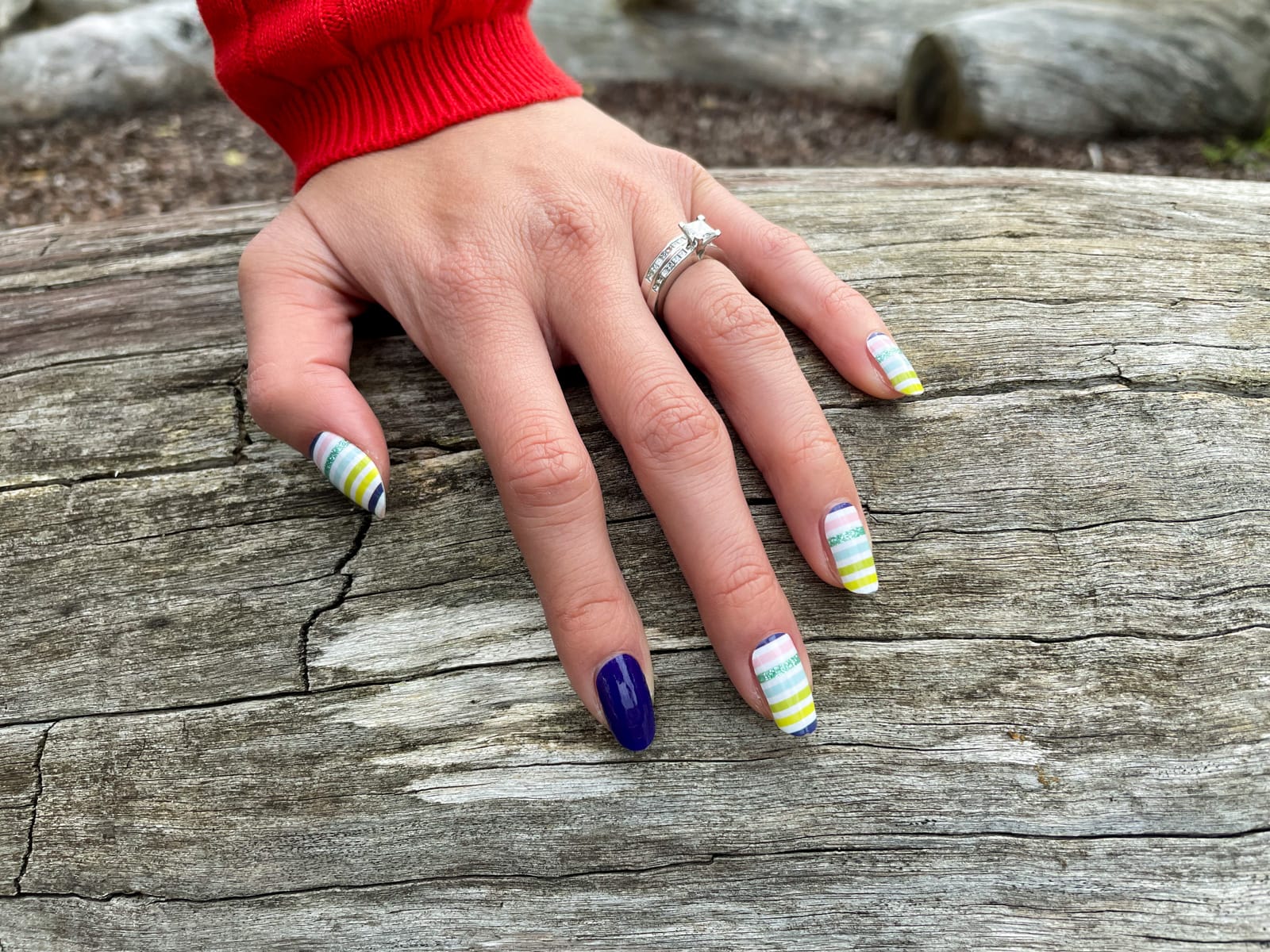 Outfit retrospective
As I mentioned earlier, I was inspired to wear this outfit again after I wore the same top and jeans with giraffe print/animal print shoes. The overall combination felt fresh and stylish and polished. There is something about wearing a bright and powerful colour like red, with animal print. In this case I went for a more casual look, but dark jeans often adds a bit of formality to an outfit compared to light wash jeans. I also think that the inclusion of red made this outfit stand out in a way that makes it feel a little less casual.
The outfit was really comfortable and I can also think about ways I might be able to take it up a notch, with an updated hairstyle and maybe some updated jewellery. For everyday style, I think this suits me well, while being comfortable too. I've actually been debating buying the same top in the colour navy. 😆 But I do already own a navy long-sleeve knit, and I try to avoid having too many duplicates in my wardrobe, so we'll see.
I've worn the red top with lighter bottoms, like pure white, but to be honest I find that it has a less striking effect than this outfit, and doesn't look as good on me. 😆
Outfit details
Footnotes
📸 All photography by Nicholas Cooke. (on my iPhone 12 mini)
We took these photos in a small park near our neighbourhood. The concrete area is actually a public walkway between some apartment buildings.
I named this outfit Fire engine for the red colour of my top.