Stylesheet 003: 90s kid • Is the denim debacle at an end?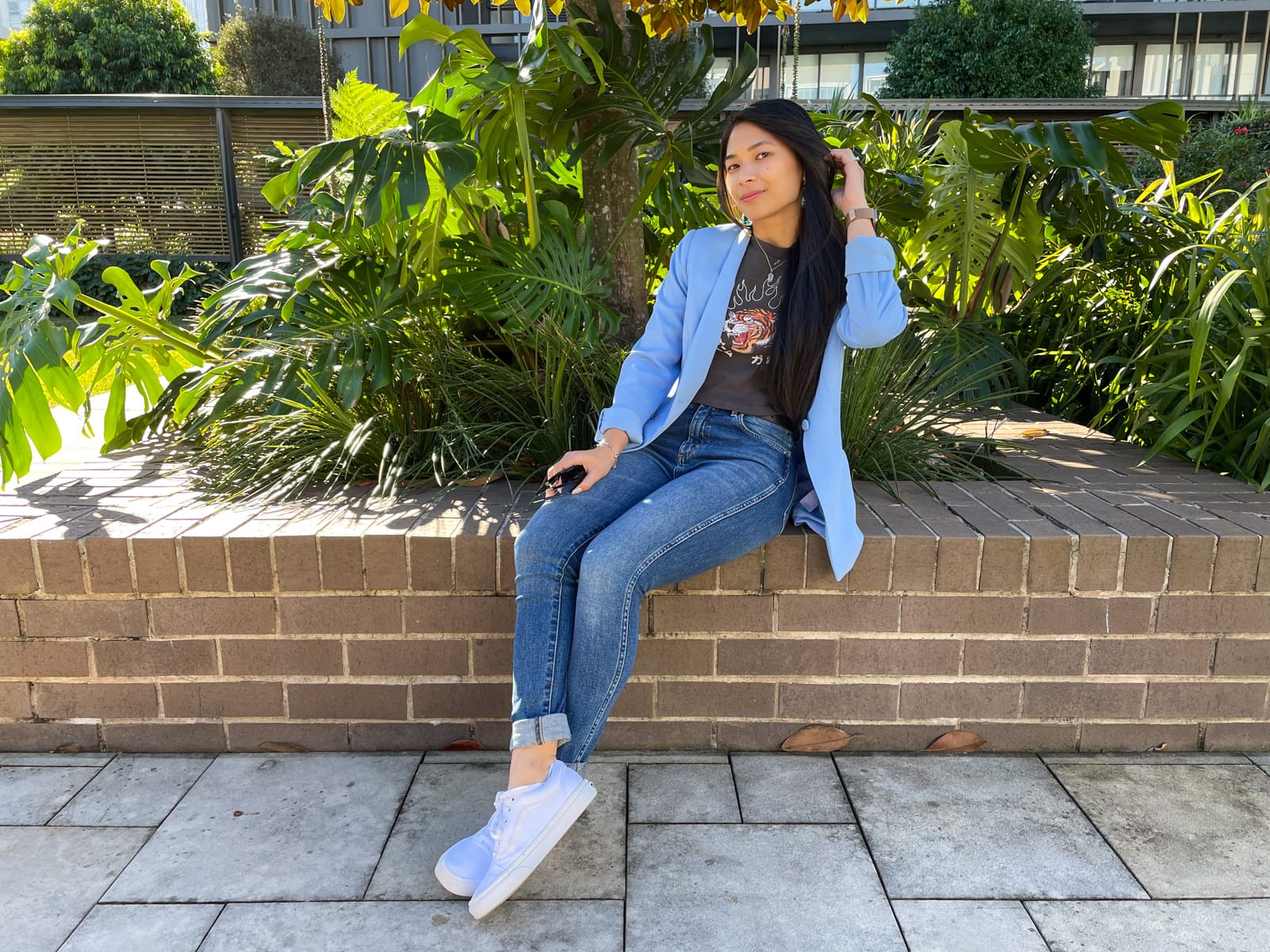 Oh my goodness she's wearing jeans. 😂 In a miraculous turn of events, I have invested in a pair of jeans. Yep. Me, Georgie, hater of all jeans – I finally have a pair of jeans again.
It was a bit of a journey getting here, and I'm not completely sure what exactly made me persist. I definitely think that a bit of focused fat loss towards the end of 2020 made me lose a bit of size on my legs and around the waist, thereby making my re-started mission to look for jeans a little easier. But it had also been a while since I tried on and looked at denim. It had been an easy three years or so that I'd given up putting that much effort into it. As I learned a few years ago, denim is one of those things that people tells you lasts decades, but in reality it couldn't be further from the truth. I learned that denim evolves over time – we're a long way from the Levis of yesteryear and the jeans that people wore in the mines. I also decided to accept my fate and realised that as long as I kept buying super stretchy, almost jegging-like jeans, I would have jeans that would hug every curve but at the same time wrinkle and crease endlessly with my natural movements. I would have jeans that would wear out more easily the more I purchased jeans with synthetic fibres.
On the hunt for denim again!👖
So I decided to suck it up. I decided to suck it up and look into real, "authentic" denim. None – or very little, at least – of this 30% spandex and polyester bullshit. I needed to suck it up and try some 98% cotton bullshit even if it pissed me off. I decided I would try a pair of "real denim" jeans and wear them in like a pair of shoes, and put up with it, and see what I'd get out of them.
I'd heard about the Australian denim brand Neuw a while back. It has taken me a bit of time to appreciate local denim brands, but I have learned that they are made very well and are of great quality, with some of them putting in a lot of effort to have a variety of high quality, hard-wearing denim. Because I don't know if you folks know about this, but the much-loved Levi brand has an abysmal offering in Australia (when compared to the US). We probably get like 4 leg styles and that's it. LOL. Skinny or die. (Not exactly, but you get the idea.)
I've complained about my experience with jeans to no end. I won't exhaust you with another monologue about why. Basically: girl lifts weights, has thick thighs, small waist, never finds jeans that fit, doesn't find jeans comfortable. I tried Neuw's jeans a while back but I found that they – and I quote – "cameltoe'd me like a hot spud". 🥔 Even with the right sizing I just couldn't get the jeans to sit correctly in the crotch area. I have also had issues with jeans not reaching my belly button despite being labelled as high-rise jeans. Maybe I have a long belly-button-to-crotch ratio or something, but I just found the lack of coverage off-putting.
Fast forward a few years and I'm trying Neuw again, to find that I am having better luck. The denim has a less malleable quality – it's thicker. It's not super thin like what I tried in the past, though I'm aware that that varies across washes and colours. The rise on the jeans works better for me, even though I don't think it's changed. Maybe my body shape has changed a bit since then. But it also feels like there is more room in the hip area.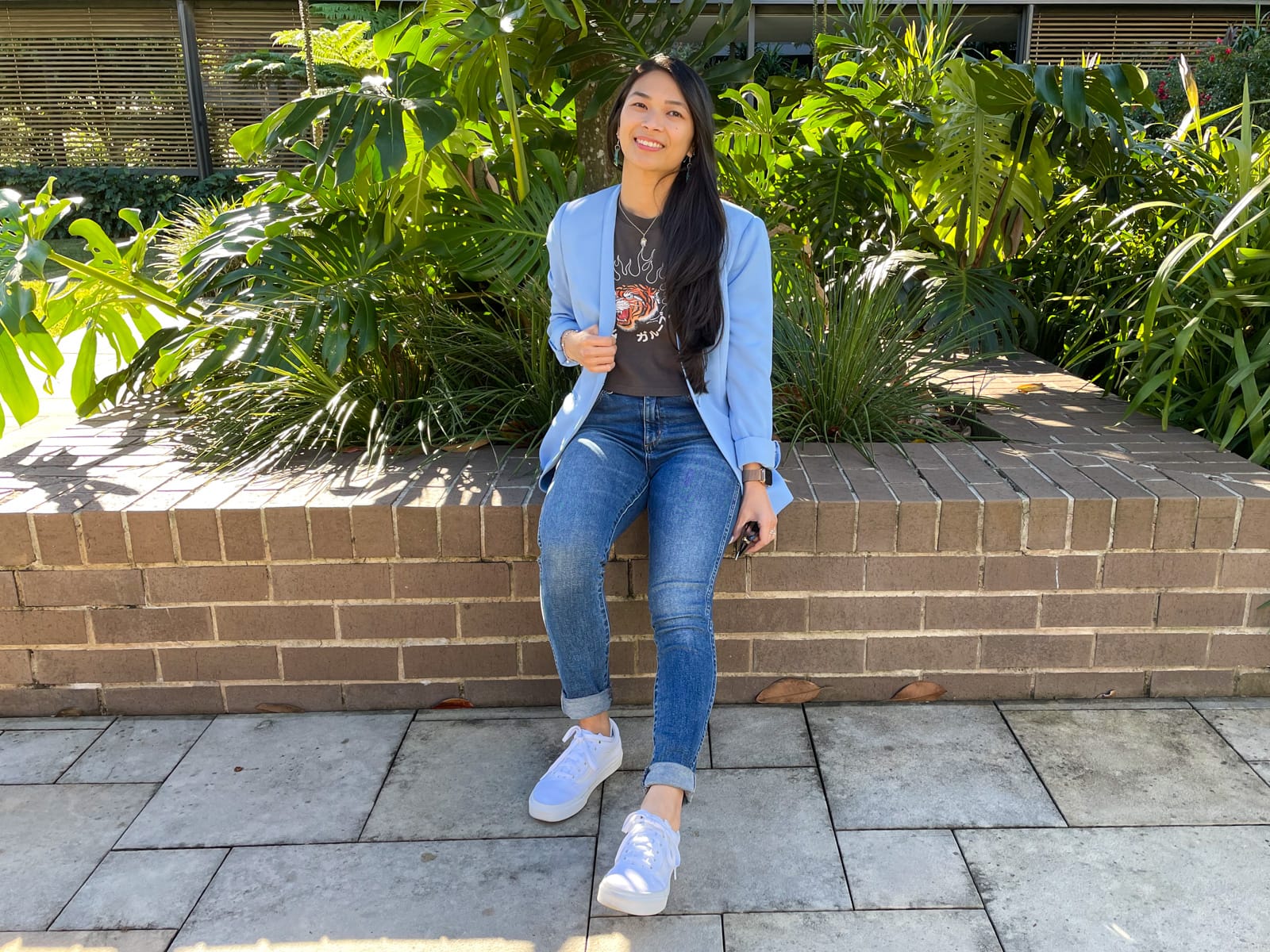 I think that the most disappointing factor was that I'd have to also suck it up in terms of the length of the jeans. I'm only 5'2 and most jeans are long on me unless they are cut for "petites" right from the off. The disappointing thing with my Neuw jeans is that they have a nice stitch in the centre back of each leg, and I kind of lose that if I get my jeans hemmed. For now I've been cuffing my jeans – something I used to dislike severely, but now basically stopped caring about. I'm short. Get over it. 😛 I also think that when I show a little ankle, my outfits look less slouchy on me.
I had sort of wanted a darker blue wash instead of this number, but the dark wash I tried on seemed to have far, far less give in the fabric, and I was scared that "breaking them in" would not do much. This particular blue wash fit much better from the beginning even though it was a bit snug. I thought I could handle that better. Since these jeans aren't extremely mass-produced, I'd expect – and am not surprised – that the sizing might vary ever so slightly across products.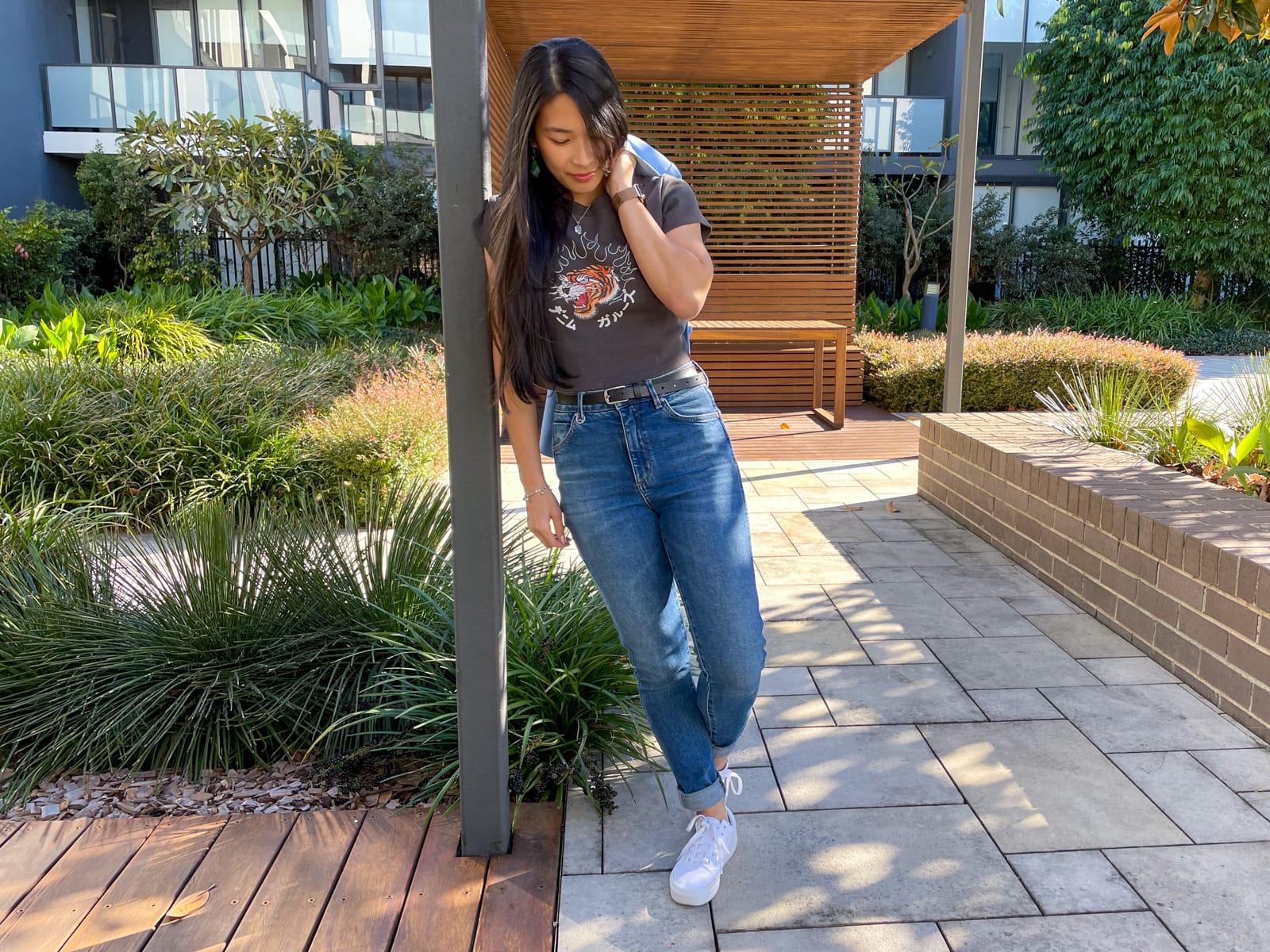 Getting picky about graphic tees
This tee is also a new purchase. I had been on the hunt for graphic tees since the end of last year, but I just couldn't, for the life of me, pick out one that I liked. I spent a long time focusing on the prints of tees I was browsing, getting really particular about what I wanted to portray with my tees. I don't like to be obvious with the graphic tees I wear, and I don't love puns, and I don't love slogans.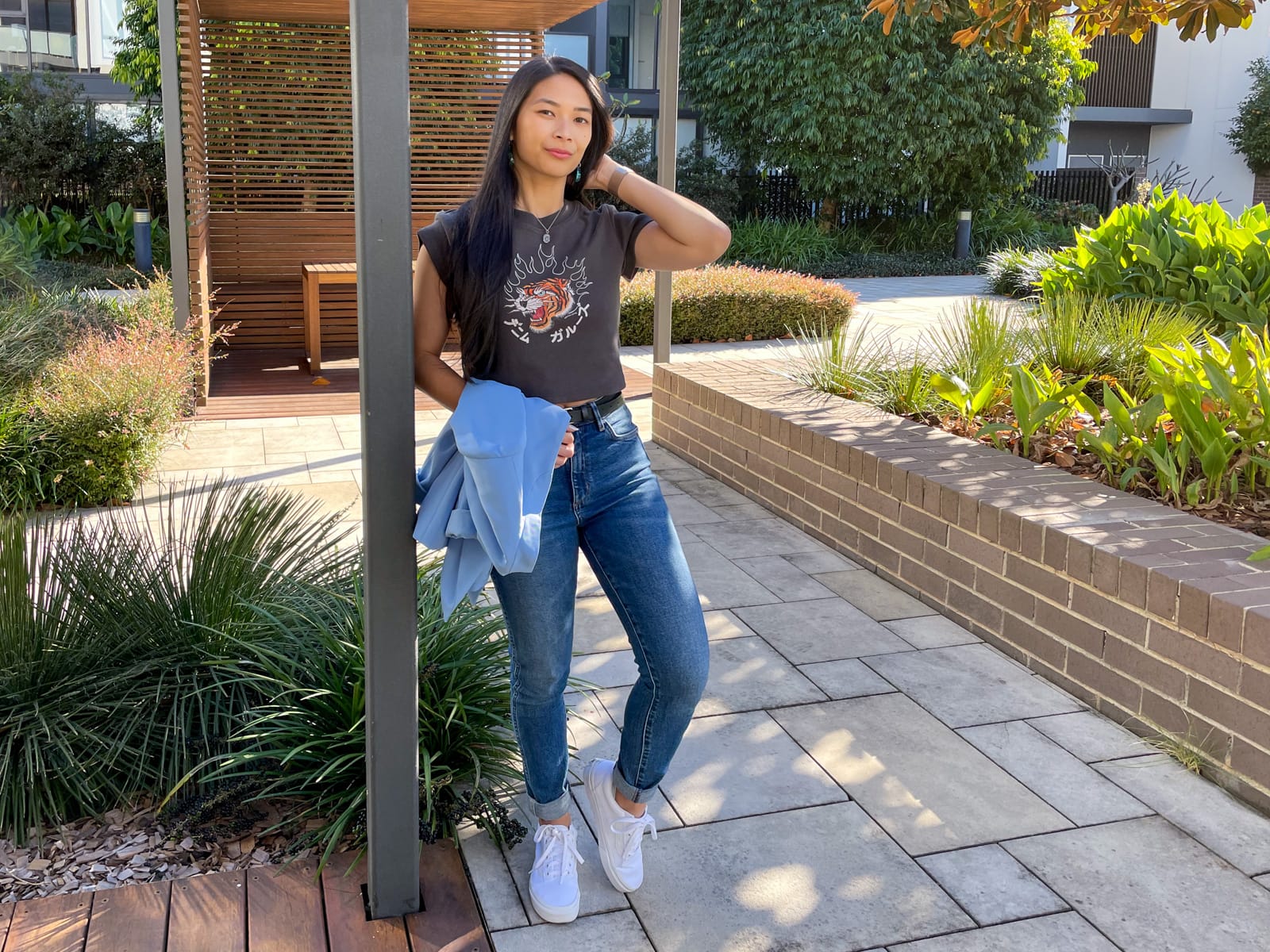 I think I got a bit lucky with this tee because it was mostly the cut of the tee that I liked the look of, the fact that it was dark in colour without being completely black, and that it was 100% cotton – since I've been trying to make better decisions around the fabric of the clothes I wear. I thought the print was OK. I don't mind tigers, and I liked the rocker aesthetic of the tee, but I care so much about the prints on graphic tees I buy, that I even went out of my way to translate the Japanese katakana (I studied Japanese for four years in high school and can still read some of it 🇯🇵), just to make sure it didn't read anything embarrassing. It reads "denim girls" – which is fair enough, because the brand is Abrand Jeans, so, sure. I should also add that I don't love wearing clothing with brand names on them, even if it might be subtle.
This tee has honestly been my go-to during the transitioning period between autumn/fall and winter. I've worn it on its own when it's warmer, and under jackets when it's colder. It's pretty thick and structured, and it actually goes well with a bunch of clothes in my wardrobe. The cropped length and capped sleeves is a 90s look that's kind of reflected in my style, and also makes it a breeze to wear with high waisted bottoms (which, let's face it, makes up most of my wardrobe). If I'm honest, I've probably worn this tee more than many other tees I've bought in the past few years.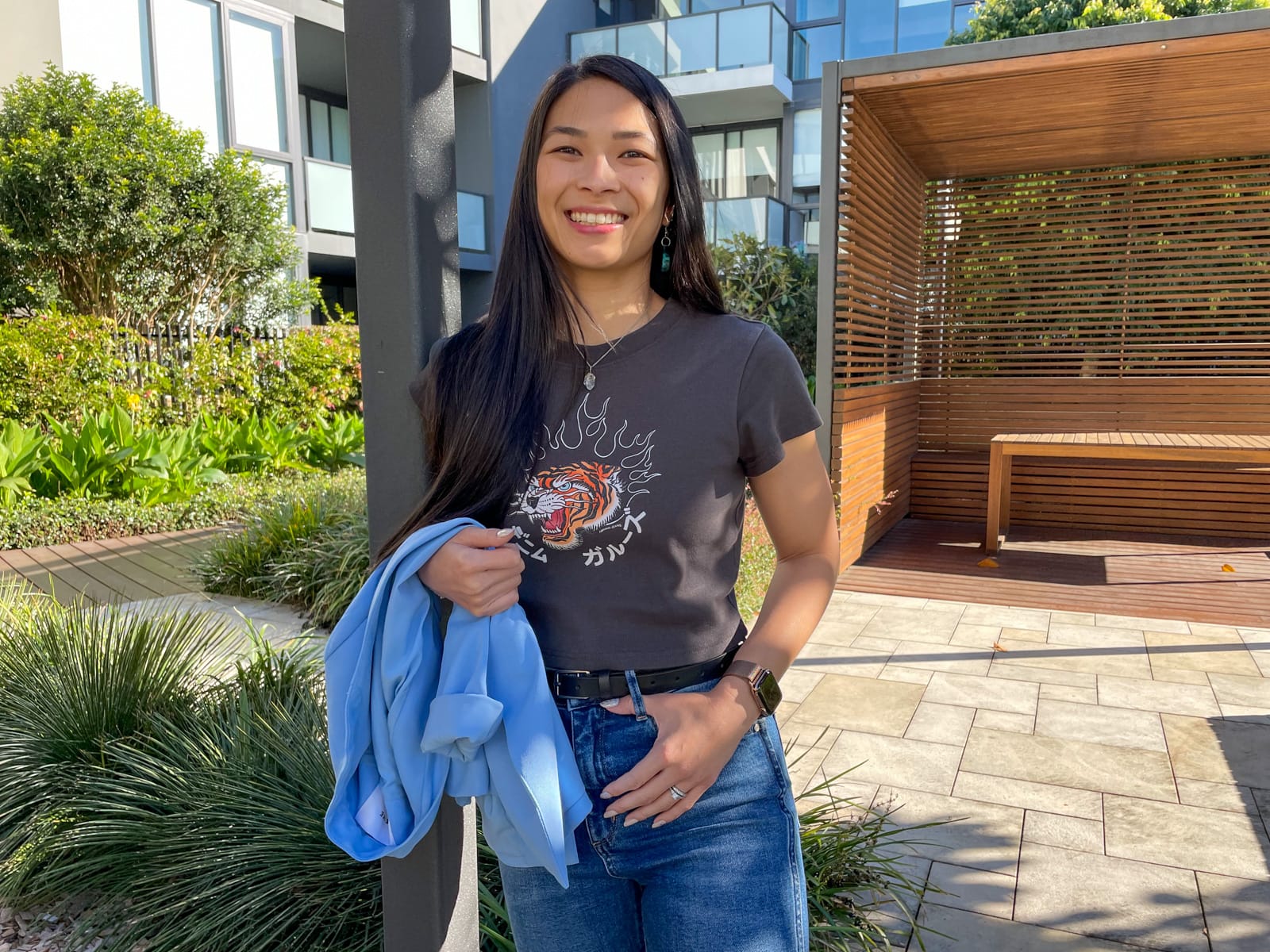 Old skool Vans, and getting orthotics to fix my feet issues
I recently decided to see a podiatrist to get a professional opinion about shoes and about my feet, and was prescribed with orthotics (personalised shoe inserts, basically). My history with my feet is that I spent almost a third of my lifetime wearing high heels and experiencing discomfort for the sake of being stylish or looking tall (don't do it, friends!). I've since learned to appreciate my 5'2 of verticality and wear flat shoes, but flat shoes, for the most part, have always been painful to wear since I made the switch some five years ago. I put it down to tight hip flexors and bad ankle mobility, which meant that I had a "duck walk" when I wore flat shoes. I gradually lowered the heels of shoes I wore to become accustomed to it, but I still had some pain and tiredness in the balls of my feet after walking.
It was really fascinating when my podiatrist got the foot model and showed me what was actually happening with my feet when I walked, and what she could tell from the way my feet looked. Turns out I have flat feet and need more arch support in my shoes, so I've been wearing orthotics in my shoes for almost a month. My Vans were the best shoe for them to fit in. I bought these shoes a couple months back, after thinking about getting another pair of white sneakers. My animal print sneakers that I wore in a previous outfit had actually worn out after I walked miles and miles in them and the lining compressed pretty badly. The bottom of the sole cracked as well – definitely a sign to get a replacement!
I settled on Vans because of the thick rubber sole, and frankly it had been some time since I'd had canvas shoes, and I wanted something that wouldn't take much time breaking in. I think the only bother I've had with Vans is the unisex sizing which means that I had to get half a size up for my foot. I think this might just be an Australian thing, but I couldn't get my actual size. 💀 The shoe felt pretty big in the toe box, but the orthotics actually make them better to walk in, which is great. 🙂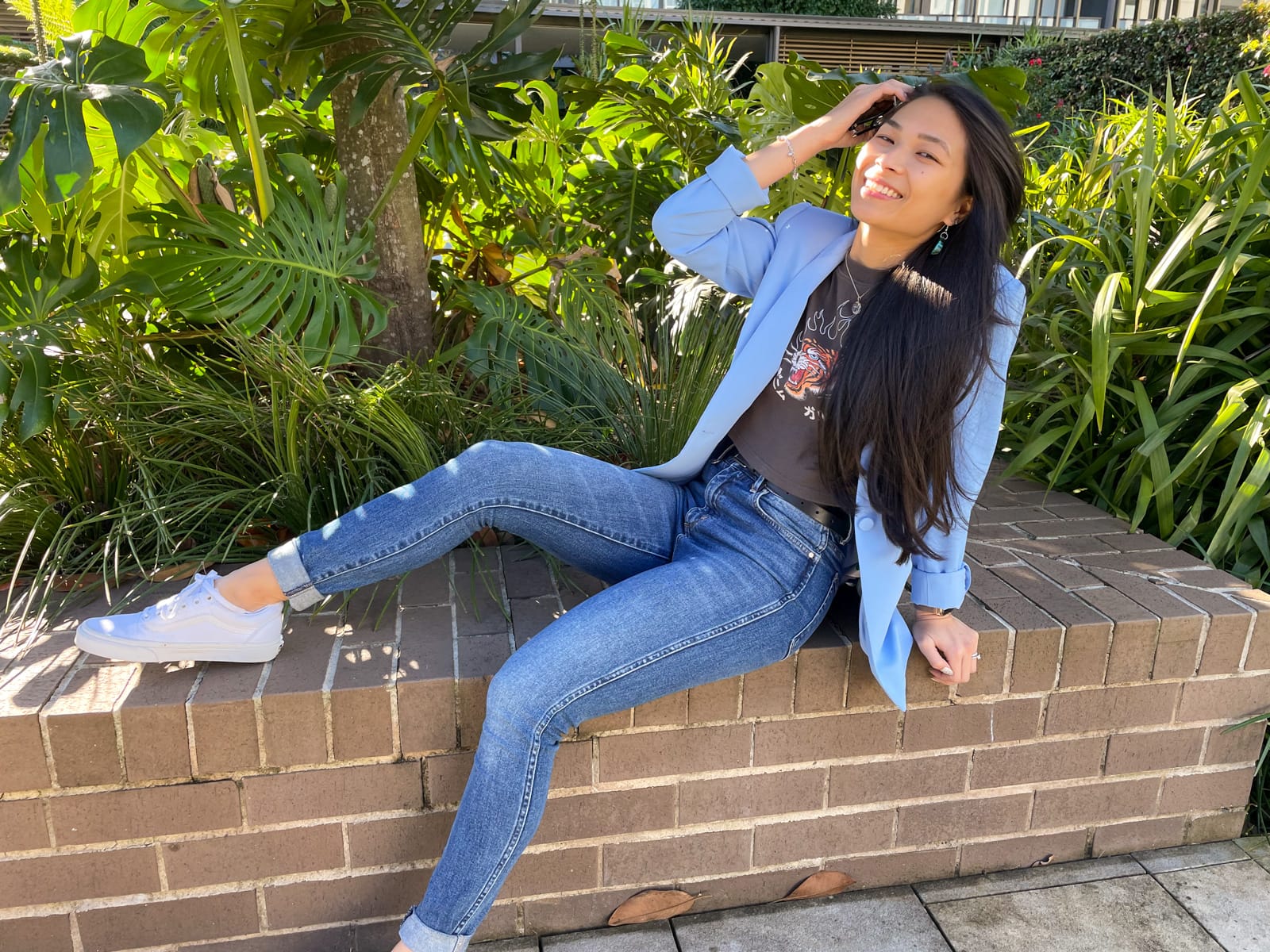 I've had to wear the orthotics for several hours a day, but there are some days I wear them almost all day, and other days I wear them far less. I'm pretty used to them now. I've noticed that when I wear shoes with no arch support, I get foot pain pretty soon after. My podiatrist said that the orthotics last a couple years but hopefully by then I won't have an issue. I'm feeling a bit more "natural" when I walk, which sounds odd, but I think that's a sign that I'm walking a bit better. 😅 Just like my other pair of white leather sneakers, these Vans go with almost all my outfits – although, as I've realised recently – they don't really go well with black tights and look a bit unusual. 😆
Belts are an accessory!
For a very long time I hated belts. I still dislike them a bit, because they are not fun to bend over and tie a shoelace in, and I just don't find them comfortable. I wore my mum's brown vintage belt in an outfit last year but it was getting quite old and worn out, and then I spilled water on some of it which made it worse. So I bought a couple of new belts recently and I actually felt pretty good about buying something to replace something that was worn out. My thinking has changed – I can understand why belts make a good accessory, and with some of the outfits I wear, especially with cropped tops, the belt adds a nice bit of contrast to my waist area. Also, they kind of hold up my jeans… and my jeans have never fit perfectly as the waist is always loose or stretches!
I thought I should just get a brown belt since I enjoyed wearing my old brown belt with blue or black, but I chose to get a black belt as well, and an animal print one just for fun. They're just another accessory like jewellery, I guess – wearing a different one can give an outfit a different look, and you can choose one depending on your mood, and you can do that without investing in a completely new item of clothing.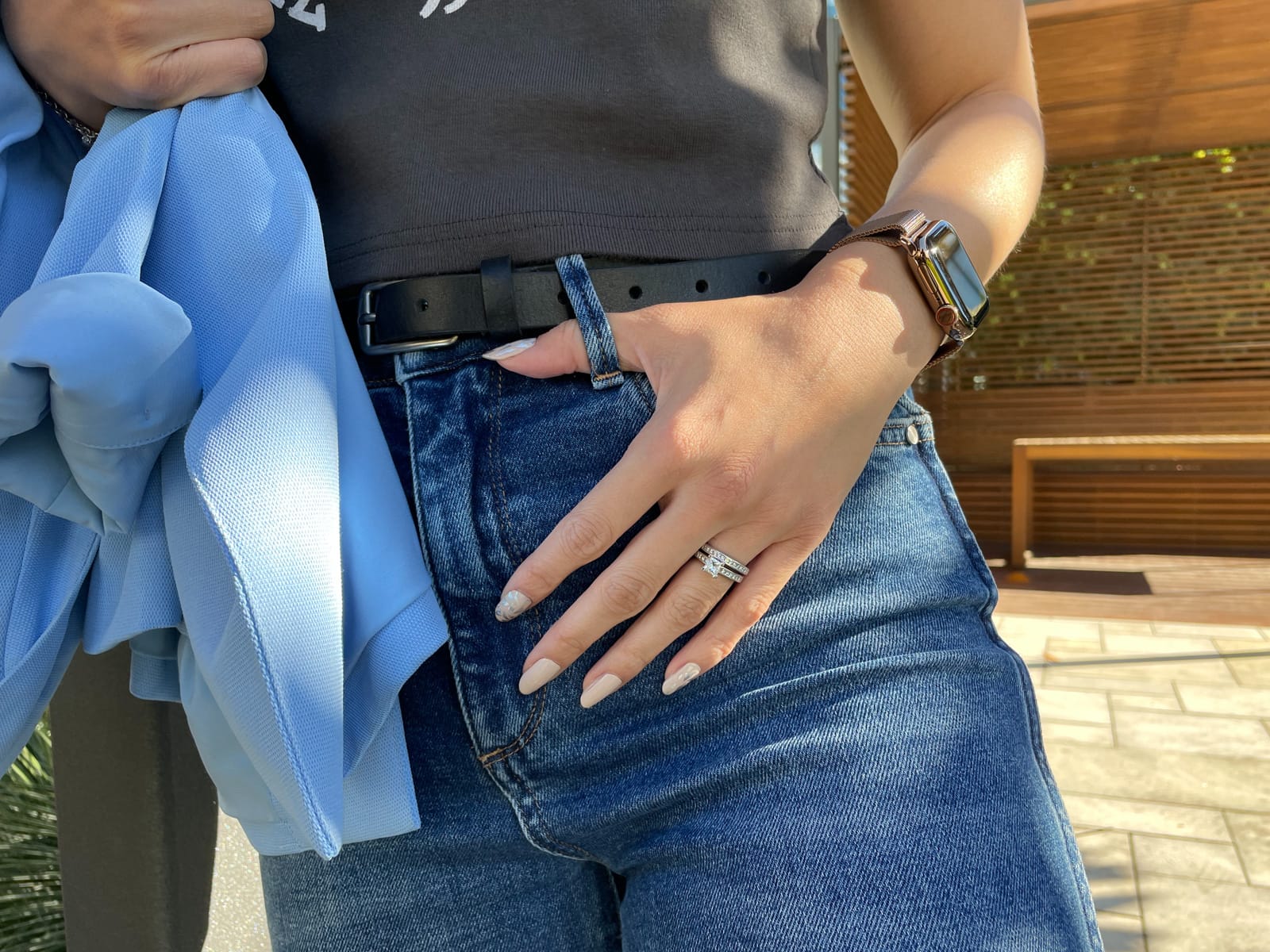 I have been wondering if I need really thick belts though, or if this black one was too skinny, because I still kind of felt like the pants were dropping low below the belt. 😅 I'm glad I found this belt with silver hardware – I'm seeing a lot of gold hardware in belts and bags, and that's kind of a dealbreaker for me since I primarily wear silver jewellery and accessories, and I do prefer a cohesive look now (compared to a few years ago when I would have mixed metals or frequently changed between silver and gold).
I topped off the outfit with my trusty sky blue blazer. In all honesty, I wore the blazer for these pictures and because I don't have a lot of good options for outerwear at the moment (more on that in a future post). It was cold and windy and this blazer would not have sufficed if I was going to be outside for much longer. 😛
My jewellery is the usual – my herkimer diamond necklace, and a pair of one of my funky resin earrings. I've been switching between these blue kite-shaped pieces and the jigsaw puzzle earrings I first wore in my last Fashion Friday post and again in my previous Stylesheet post.
Outfit retrospective
I decided to add my overall thoughts to my outfits from now on. Although I share my thoughts throughout my posts, I think a summary or some kind of critique would be good. 🧠
This outfit funnily enough reminds me of what I used to dislike wearing when I was in my early twenties and still in university. I was often seen in dresses, coloured tights and boots, and would rarely – if ever – wear jeans. I hated them! People often didn't recognise me when I wore jeans, because they rarely, or never, saw me wearing them. A t-shirt and jeans was precisely the kind of outfit that "makes me look 12". I think the prime reason I've come full circle is not only because I'm older, have a different body shape, and that clothes look different on me – but also because the way I wear a t-shirt and jeans is fundamentally different in the cut and fit. The fit of what I'm wearing in this outfit flatters my body, and fabric and fit was just something I wasn't educated on before. I've learned a lot about clothes and personal style over the years. There is also a confidence I have now in what I wear. No matter what I wear these days, I don't feel uncomfortable, and if I look 12, then the difference today is that I'm owning it. 😂
I like that the blazer adds a polished element to the look, and I think there is something about the sneakers being completely white that offsets the casual vibe of the outfit too. I can imagine that if I wore sneakers with contrast (like the popular black and white Vans), it might look less polished. I'm a bit obsessed with wearing this blazer with everything I wear, and I think that because it's blue it complements the casualness of the outfit. If I went with a classic black blazer I might look like I'm dressed up to go out, haha.
Outfit details
Footnotes
📸 All photography by Nicholas Cooke. (on my iPhone 12 mini)
We took these photos in our apartment sky park. Definitely the go-to location for when I want photos in a rush. 😂
I named this outfit 90s kid mostly because of the crop tee, but because of the overall look and feel of this outfit. Also, I am totally a 90s kid – even though parts of my personality and some of my interests make it seem like I'm an 80s kid.