🏁 8 by 28: Checkpoint #2
This is another update on my 8 by 28 goals! Last time I wrote them in order from most negative progress to least negative progress – or, actually, it's more optimistic to say least positive progress to most positive progress. 🙂 Today I'll just do them in the order I wrote the goals in my original post.
🧗🏻‍♀️ Rock climb a level 23 wall.
Last time I mentioned that I completed "half of two 23s", which was a bit of a silly effort to be honest. While half plus half is equal to one, I wouldn't count this as having finished a level 23 – not at all.
However, what made me really happy was finishing a level 22. I got very stuck at one point about a third of the way up. I just hung out there, because it was a comfortable spot to stop and rest and think before continuing, and it was also not painful. My friend Phuong gave me some encouragement and I called back that I didn't think I could reach and that's why I stopped. The encouragement was what I needed to make the extra stretch though – and the rest of the climb was, comparatively, a piece of cake. It wasn't a painful climb that required a lot of strength, either, it was more technique. I'm proud of my achievement!
Unfortunately I haven't climbed in over a month, so I'll probably be hella sore next time I go climbing, but I'm sure I'll work back up to those 21s quickly. 😉
💻 Finish my wardrobe app.
I've made no progress on my wardrobe app, unfortunately, and if you keep reading you'll probably realise why. 😆
👗 Buy no more than 15 items of clothing/shoes.
I realised, after wearing my orange sweater almost several times a week, that I loved it a lot and had never felt so strongly about an item of clothing before. It made me realise I was keeping and holding onto many of items of clothing that I thought were "just OK" and didn't make me feel as amazing, confident and happy as this orange sweater. I was keeping a lot of things because I thought I needed them, they're still in good condition, and so on.
While I'm not one to usually think of good purchases of clothing being feeling-based, I had an epiphany. It was a combination of this and reading Marie Kondo's book The Life-Changing Magic of Tidying Up that gave me this epiphany. For a long time I've sought after wardrobe "basics" and done a lot of research and spent a lot of money on what is generally recommended for women to wear. I thought, fuck it. The clothes that make me feel good are also the clothes that make me look good and that I want to wear time and time again. This is the reason I am into fashion and style in the first place. I wear what I like and what makes me feel good.
Which brings me to the timing of this damn epiphany. It was during a time I should've been on a clothes shopping ban. But I decided that it was important for me to overhaul my wardrobe and invest in a few quality pieces I absolutely loved, and needed, while also replacing existing items that had been loved but no longer loved, or kept without me really liking them.
I wanted to be very open about this, so these are the items I've bought since my last update:
Wrangler Hi Pins jeans in Phoebe blue – oh boy. Where do I start. I found jeans that actually fit me. They were perfect. High waisted and didn't ride up or fall down. Thick denim that didn't cling too much to my skin. Perfect length. No awkward cameltoe or bunching in the crotch. And somehow I got a good deal on them for $45 (original price $160) because they were marked down, but also marked down further because the store was not going to sell much of that brand anymore. Wow.
Kookai Pheobe bodysuit in mirage – I purchased two basic tops on sale, in a style that I already have, but then exchanged them for my first bodysuit in a bright blue colour I love. It's proven to be one of my favourites now, and I really appreciate the benefits of a bodysuit providing a smooth silhouette with no need to tuck a top in.
Articles of Society Ankle Hug Lisa jeans in RIP – I wanted to try this brand after liking the fit and material of one of their jeans in the past, except that one had fake pockets, which I didn't really like. I tried these ones and was shocked to find that they fit really well and the fabric was stretchy but snug. The length was perfect as well. It was overall a very good fit. The waist probably isn't quite as high as I'd like it, but it's good enough.
Nude Lucy black waffle crop tee – I was in love with this top from the moment I tried it on. It was extremely flattering and a good basic to my wardrobe.
Nude Lucy denim shorts – I don't have any shorts, apart from a black pair which is pilling and wearing out, and I searched high and low for comfortable, casual denim shorts that were rather loose. I needed shorts that were not too short because of my thicker thighs. After purchasing and returning many, I settled on this one.
Neuw Denim slim tee in grey – I loved the soft feel of this shirt and I went back and purchased it after I tried it on. It was 30% off, which I didn't realise until I was on my way to the cashier! The fabric is great quality cotton, tightly spun, so should retain its shape well.
Neuw Denim slim tee in stripe – I tried this shirt on and really loved the fabric. The shirt was expensive but good quality ($80), and I was rubbing and feeling and manipulating the fabric. I really liked the stripes as well. I am particular about stripes because I prefer them to be narrow and not wide, because they work better for my small frame, and the fabric quality was just very impressive. Ended up buying this for 30% off too.
Keepsake the Label orange asymmetrical skirt (second hand) – I am obsessed with this skirt. I don't even know what else to say. I've worn it at least six times and I only got it less than a month ago.
Keepsake the Label abstract black and white print asymmetrical skirt (second hand) – I won't go into too much detail, but even though I didn't like the skirt when I first unpackaged it, I actually ended up liking it a lot.
Nicholas the Label light blue and orange leopard print pencil skirt (second hand) – I bought this and ended up wearing it to our work Christmas party. (Turns out Nicholas the Label is a high quality designer brand. I did my research!) I started looking at patterned skirts because I moved away from patterned tops, due to the fact that I love wearing necklaces and they go better with solid coloured tops. So I looked around for second hand patterned skirts to team with my mostly plain top collection.
Nicholas the Label red and blue leopard print skater style skirt (second hand) – I don't normally like leopard print but since buying the shoes I wore in my last two Fashion Friday posts, I realise I like animal print that is a little out of the ordinary and not traditional leopard. That is what drew me to this skirt. I also don't like skater skirts that much because they tend to make me look like I'm a teenager, but I think this one had a more mature edge about it.
Karen Millen orange asymmetrical shoulder top – Yet another designer item, I tried this on in store when I was sorta looking for an orange top to replace my off-the-shoulder orange top in Autumn Flame. I didn't like the style anymore and the elastic was starting to be very uncomfortable on my shoulders. The asymmetrical style of this top meant that it wasn't too jarring (not like those single-long-sleeve tops, I find them a bit odd), because one sleeve is normal and the other is just off the shoulder, and it looks flattering and the top stays up without the need for being adjusted. I love it and can see myself wearing it a ton of times.
Since my last update I have also donated and/or sold about seven bags' worth of clothing.
So it's fair to say that I failed this goal. I don't know if I should be reporting on it any longer, but I think for consistency's sake I will. I am planning a series on 2019 on my journey as a minimalist fashionista – stay tuned for that. There will be many details about these purchases and my mindset along the way. 💙
🏋🏻‍♀️ Bench press 45 kilograms and deadlift 100 kilograms.
I got my bench press up to 42.5kg. I have to admit that I haven't been focusing on this goal entirely, as I've been incorporating more high intensity, low-volume high-repetition workouts into my routine. I've only got 2.5kg to go, I know! Hopefully I'll get there soon. I want to have good form when I do it so I'm taking my time to make sure my form is good before I add more weight.
My deadlift is at a solid 75kg. It's also something I'm not focusing on because I've been doing higher reps with lower weight, but I must admit I feel that I'm getting much stronger in my deadlifts and have made good progress.
💰 Save $15,000.
Saving hasn't been too crash hot and I still haven't saved back the money I spent on Portland earlier this year. I recently went to Hong Kong to speak at a conference (keep reading!) so spent some money there. I hope to do a lot better in the next few months, and I'm also trying to save money by selling some of my belongings. At present I've only saved a few hundred dollars compared to what I started with on my 27th birthday. 😞
I played around with my bank account's app and they have a new and pretty positive-looking feature that helps you save towards a goal, so I'm trying it out. When I created a slightly arbitrary goal it said I would have to save $399 a week, and prompted me to review my goal if I wasn't able to do this. My mind told me negative thoughts, but I decided to bite the bullet, believe in myself, and give it a shot. Let's see how we go. I don't know how well I'll go exactly.
📚 Read 20 books.
I've read two books since my last update, bringing my total to 5 out of 20. One was the Marie Kondo book, The Life-Changing Magic of Tidying Up. I really enjoyed it. I also read When Breath Becomes Air by Paul Kalanithi, which wasn't a tearjerker but the epilogue by his survived wife made me tear up hard.
Next on my list is The Art of Racing in the Rain by Garth Stein! I'm borrowing books from my friend Lilian and I hope to try and finish this one by the time I catch up with her this week.
🗣 Submit a talk proposal to an international conference.
I mentioned last time that I missed the deadline for a call for proposals – but what ended up happening is that the team saw my message about it in their Slack group, and re-opened the form for me. So I submitted not one, but two conference proposals. One was for a talk I'd already done, and the other was for one I hadn't written yet.
Well, I delivered the latter talk at Hong Kong Code Conf a couple of weeks ago, so I've successfully completed this goal! 🥳 I'm very happy with how I did. It was my first international conference and I was very proud of that. If you're interested in seeing a transcript and the presentation slides, they are on my speaking page.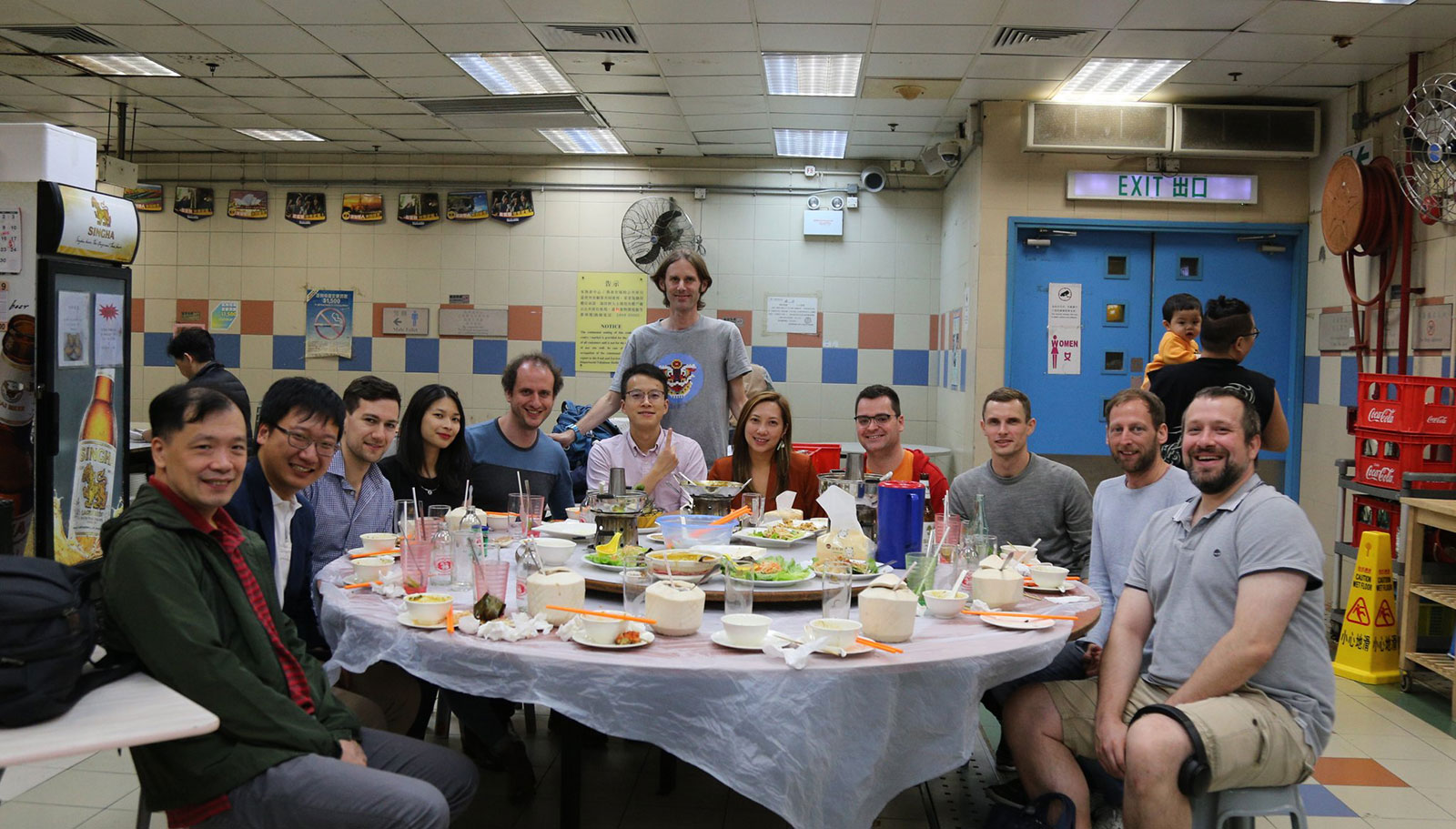 📸 Take 50 pictures of different locations outside of Sydney.
I still haven't pulled together the photos I want for this collection, but I can tell you that some of the ones from my Multnomah Falls and Bridge of Gods post will make the cut!
---
Thank you for following my goals! I hope to do another update sooner than it took me to get this one out. 🙂 Follow the tag #8by28 on my blog for more updates on my goals. ✨