Fashion Friday: California Poppy
Hi friends! 😊 I wanted to introduce a new photographer to Fashion Friday – my friend Geoffrey. He carries his camera almost everywhere and is working on improving his portrait photography. 📸 Geoff took all of the photos in this post. 👏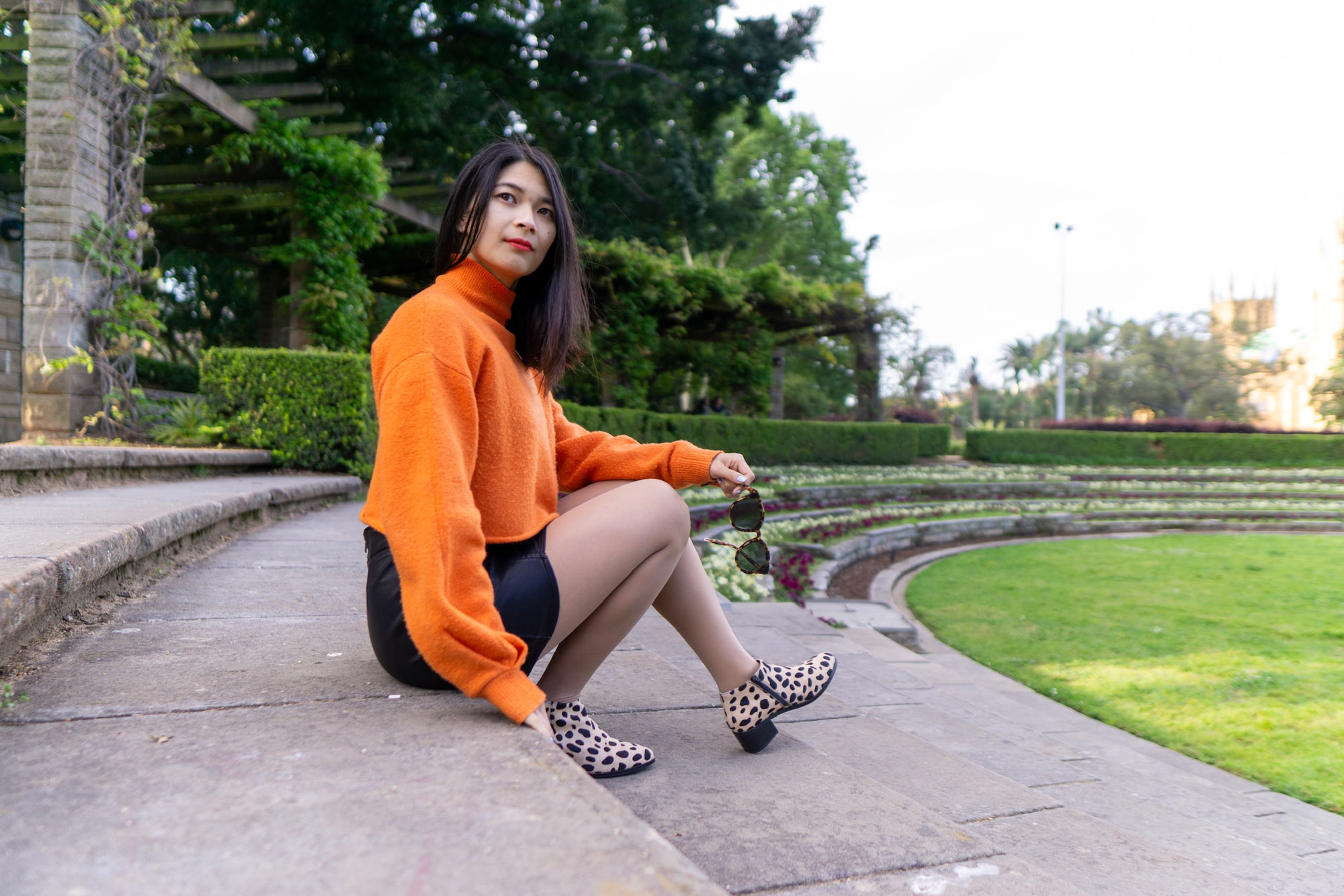 I am freaking in love with this sweater I'm wearing and I couldn't wait to get some photos with me wearing it. At first I wasn't a big fan of the turtleneck. One of my rules for clothes is that necks should be crew neck or more open neck, and nothing like mock neck, cowl neck, or turtlenecks. Turtlenecks are warm and terrific in winter, but I wanted to move away from them because the necklaces I often wear and prefer to wear don't work well with them. But when I tried this sweater on, I didn't want to return it. I loved it.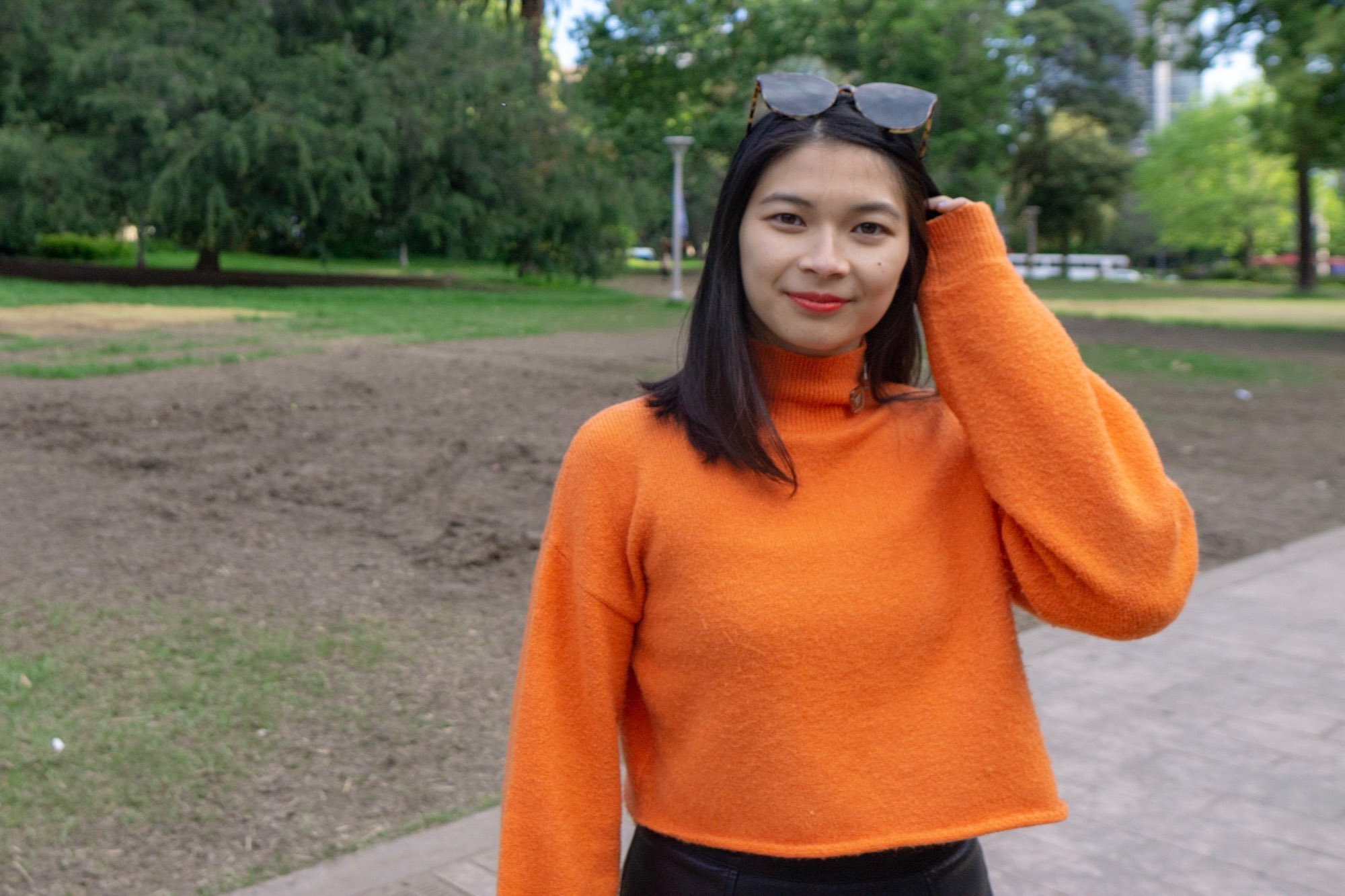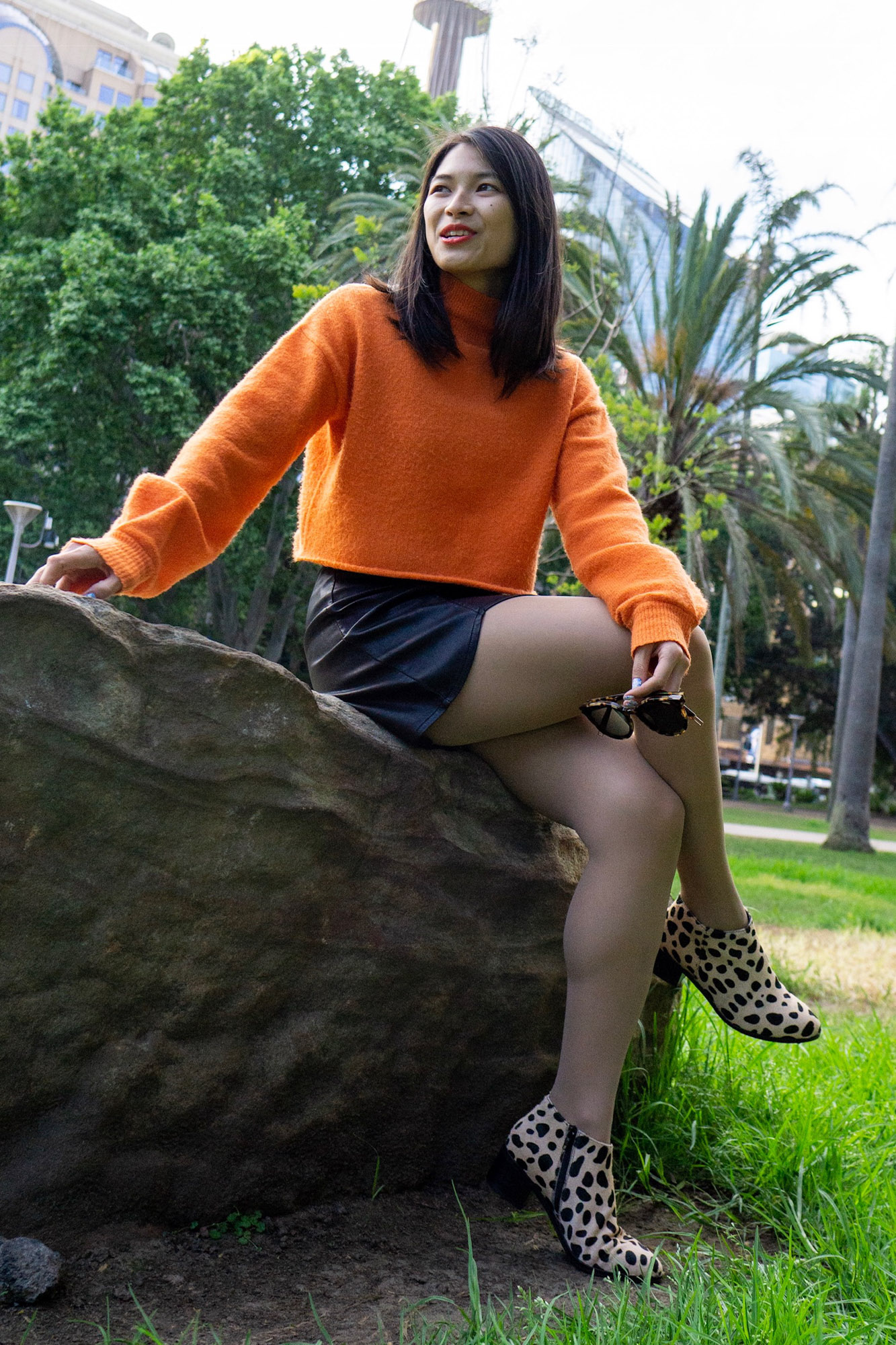 Normally, I would put an item of clothing back on the rack or return it even if there is only one thing I dislike about it. Because usually that one thing will bother you to no end. But I decided I would live with the turtleneck. It's been comfortable and the sweater is oh-so-cosy. I also started a pin collection recently and enjoy decorating the neck of the sweater with a pin or two.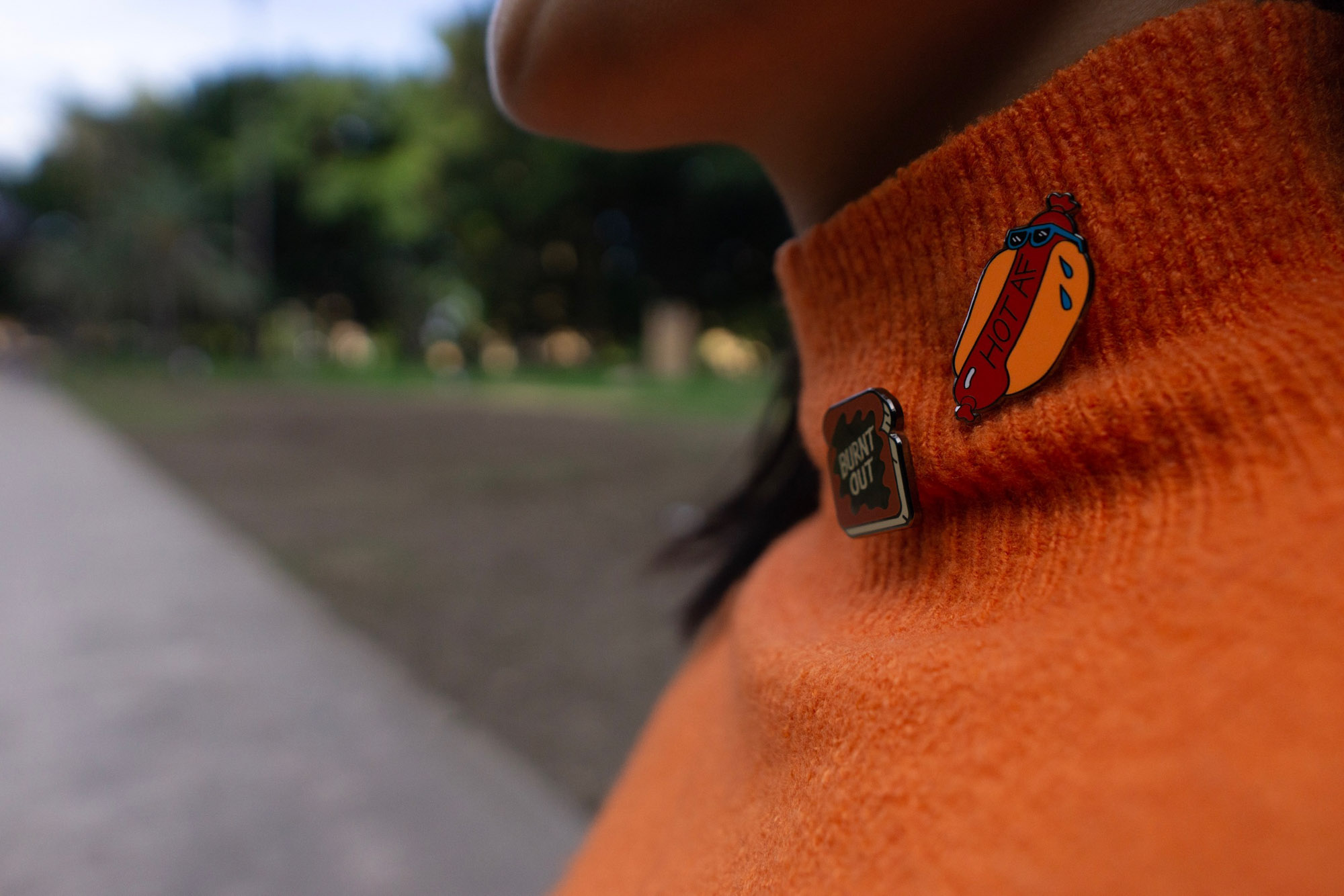 I bought these two pins because I feel like I can relate to them a lot; the "HOT AF" one speaks to how confident I am about myself sometimes. 😂 The "burnt out" one is all too relatable; there have definitely been times when I've taken on too much and burnt myself out.
I love the colour of the sweater so much, and I really like the style. The dropped shoulders lessen the wideness of my broad shoulders, and I really like the fact that it's cropped and has an overall relaxed look. Something about the sleeve cuffs makes me really like it as well – a lot of sweaters just have a straight sleeve but I like the way this one is nicely cuffed, with a really nice fold at the cuff too.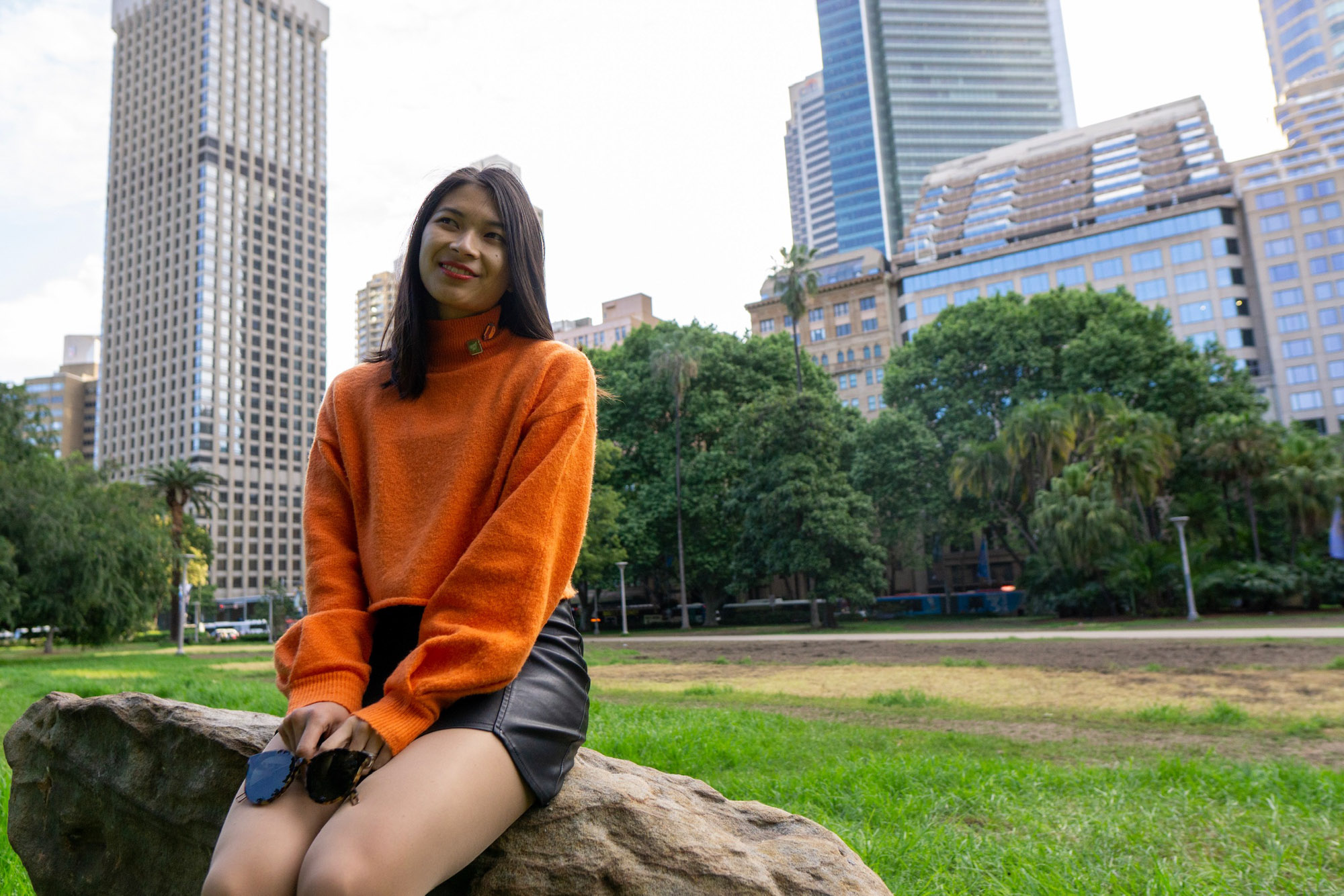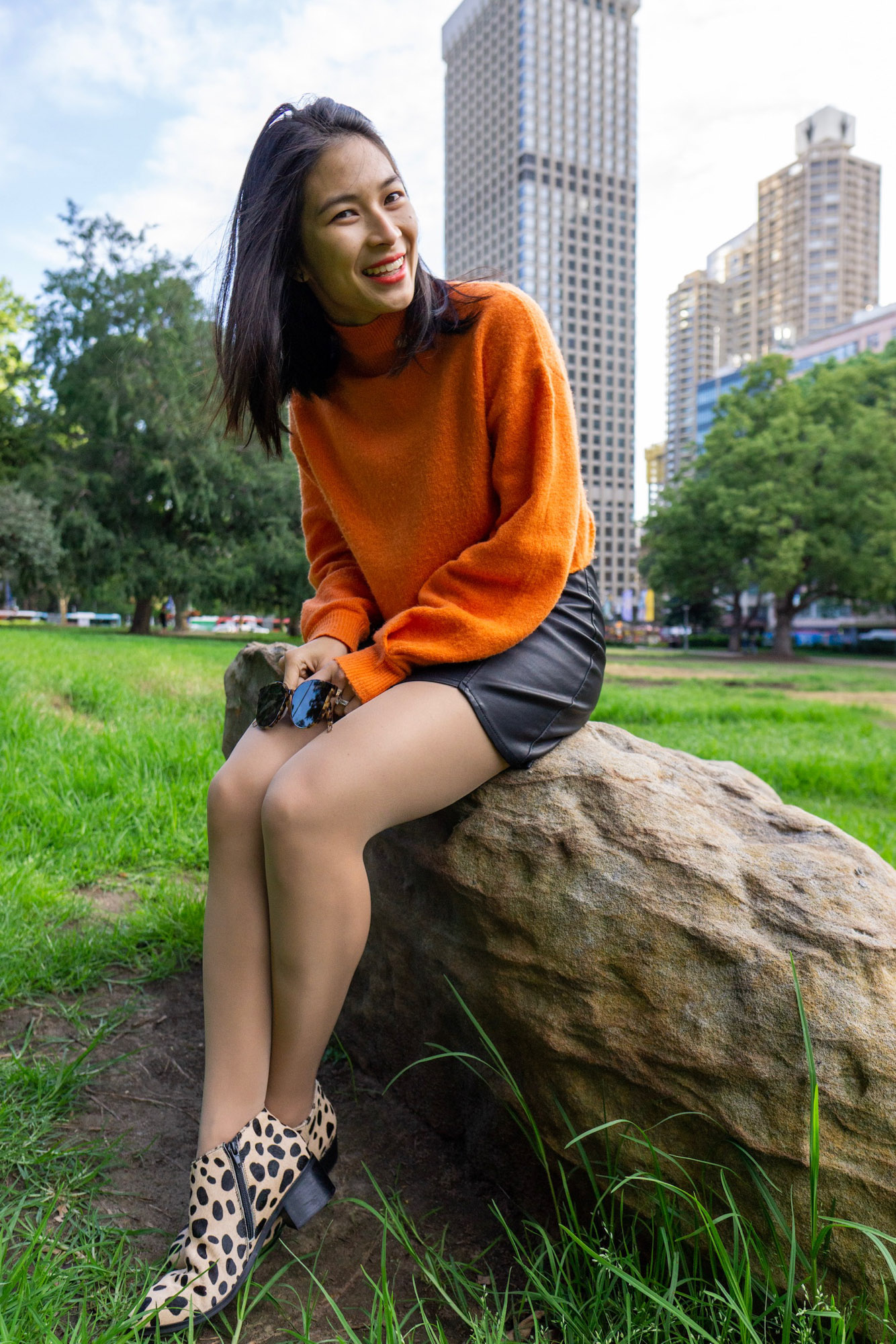 Not gonna lie, I'm already sad thinking about when this sweater gets ruined and when I will need to replace it – I'll never be able to find one that's the same. 😢 My friend Monica suggested I hunt it down and buy a backup. I'm not usually one to buy two of something, but I highly considered it given that sweaters can sometimes be delicate. I knew there were some stores that still stocked the sweater, but when I went to look again, they were all sold out. 😞 I guess I will be taking extremely good care of this one.
The sweater teams well with quite a few colours including black, white and dark blue, but I mostly wear it with black jeans or this black skirt. I have this skirt in white, which I wore in Fashion Friday: Delta. I really adore the scallop hem and the fact that the skirt unzips all the way at the back means there's not really much of a struggle trying to get it on (I have big legs).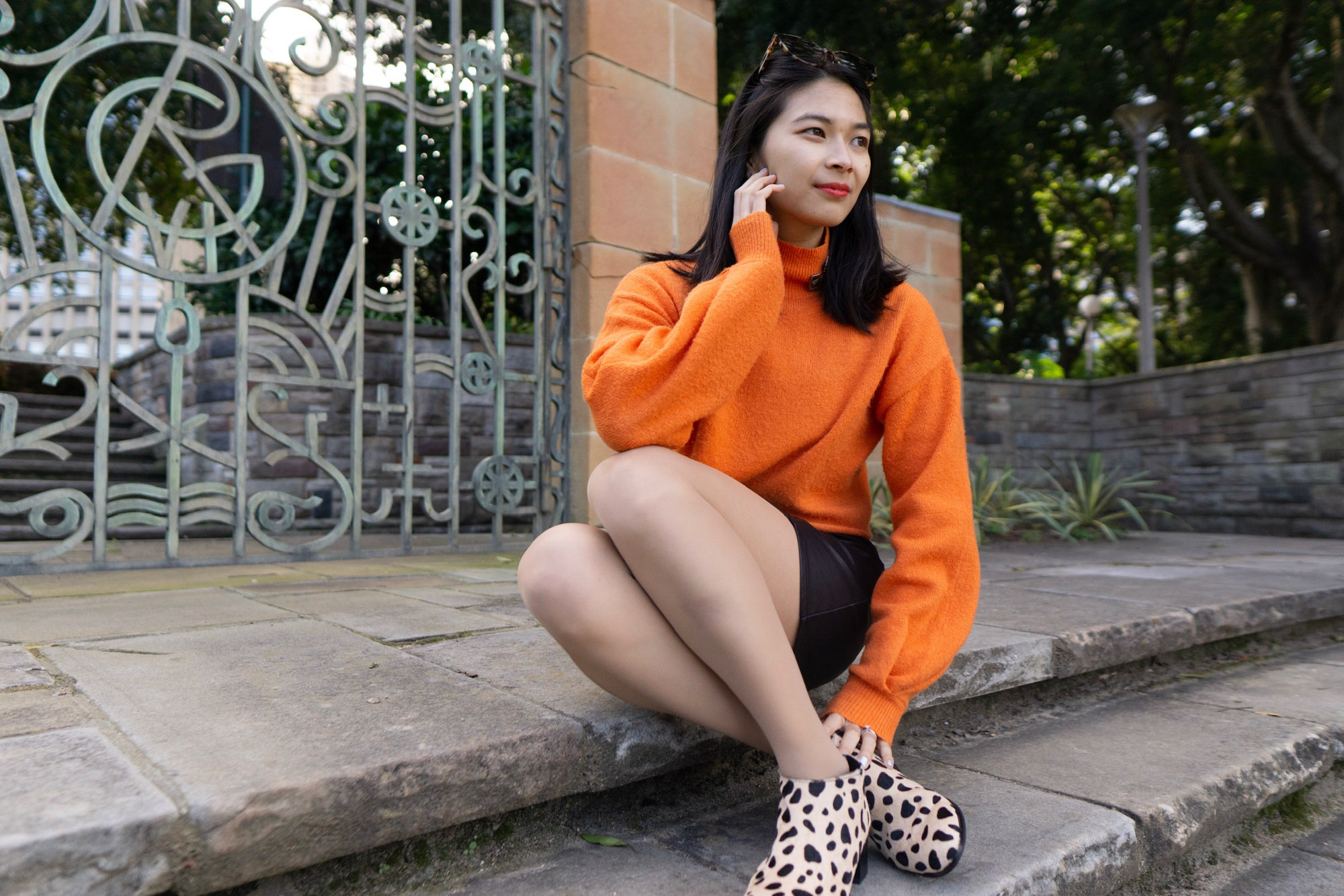 The giraffe print booties are one of my new favourites. My mum bought them for me along with the giraffe print loafers from my previous Fashion Friday. I like the style of the boot because it's pretty basic, easy to wear, the block heel is attractive without being too high, and that means these boots are very comfortable too. I'm not usually one for statement shoes or animal printed clothing, but since getting these, I'm in love. 🦒🧡 I think it might be because an animal print on shoes isn't as loud as on a larger garment like a skirt or top, and covers a smaller surface area.
I've really enjoyed wearing my giraffe print shoes with the orange sweater. I've gotten quite a lot of compliments on the combination or either the sweater or the shoes. I'm not saying I need external validation… 😜 In all honesty, I love this combination and knowing that others like it too just makes me feel that extra bit better.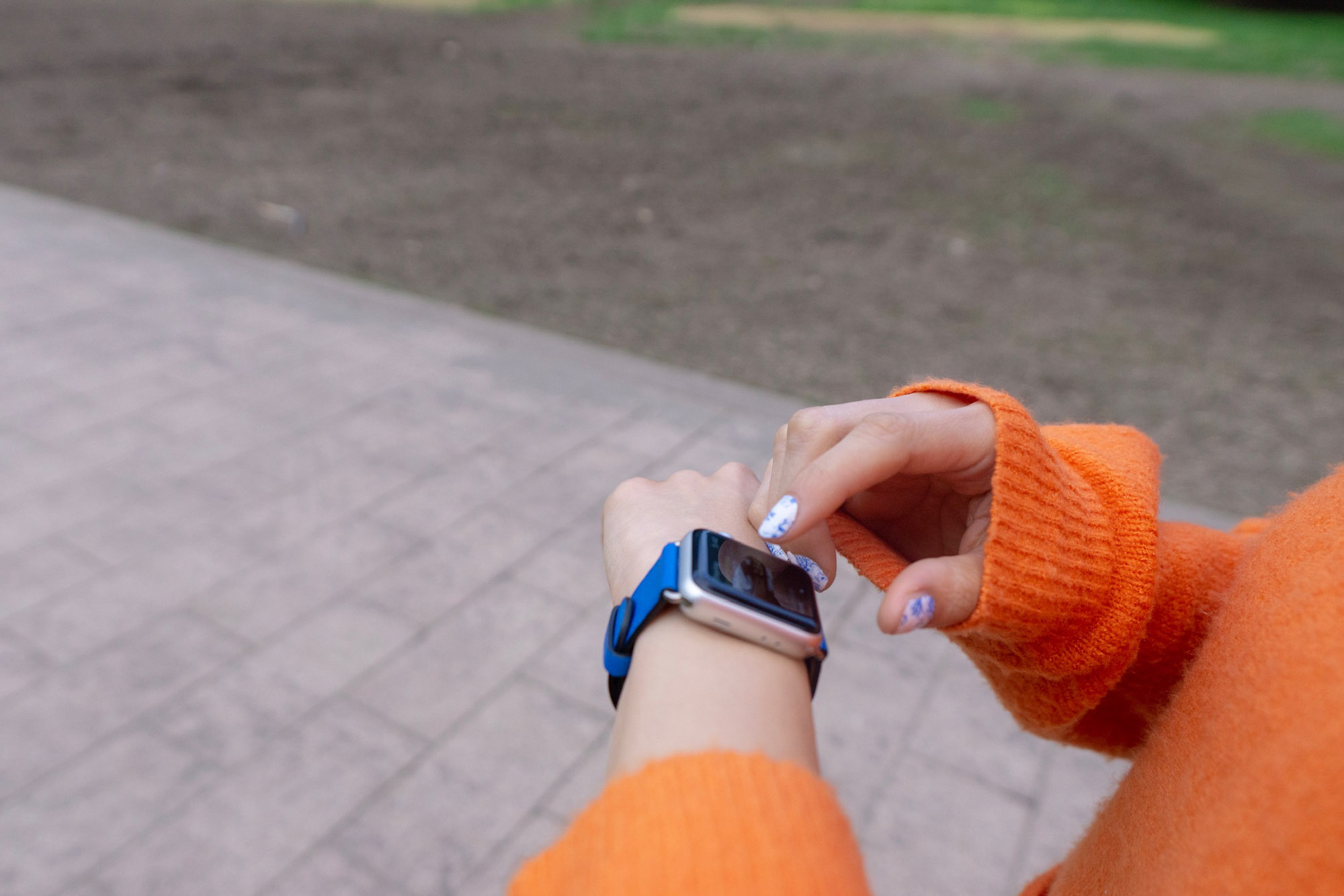 Orange and blue are complementary colours, and if you have been following my blog for some time you will know that I frequently wear orange or blue. I like wearing both colours as well, and almost all my Apple Watch bands are blue, but this bright blue one is a gem. My nails are pretty subtle and I wouldn't say they match with the rest of the outfit – they are slightly elegant, flowery nails that resemble tea cup patterns, while the rest of my outfit is a bit wild and loud. 😅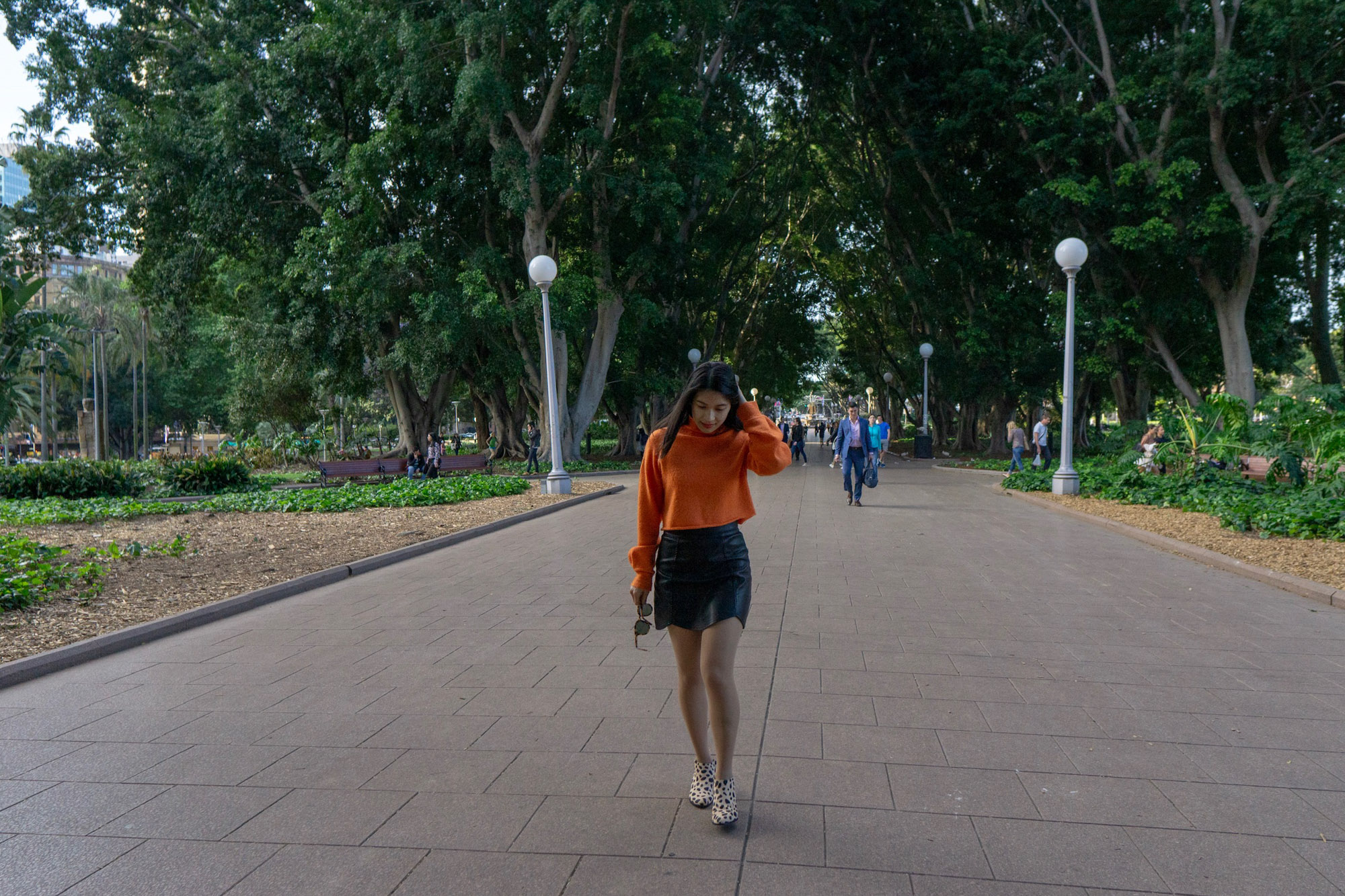 This outfit was named after the California Poppy – scientific name Eschscholzia californica, meaning California poppy, golden poppy, California sunlight, or cup of gold – a flower that often blooms in the same colour as my sweater. We took these photos in Hyde Park, Sydney.
📸 All photography by Geoffrey Chong.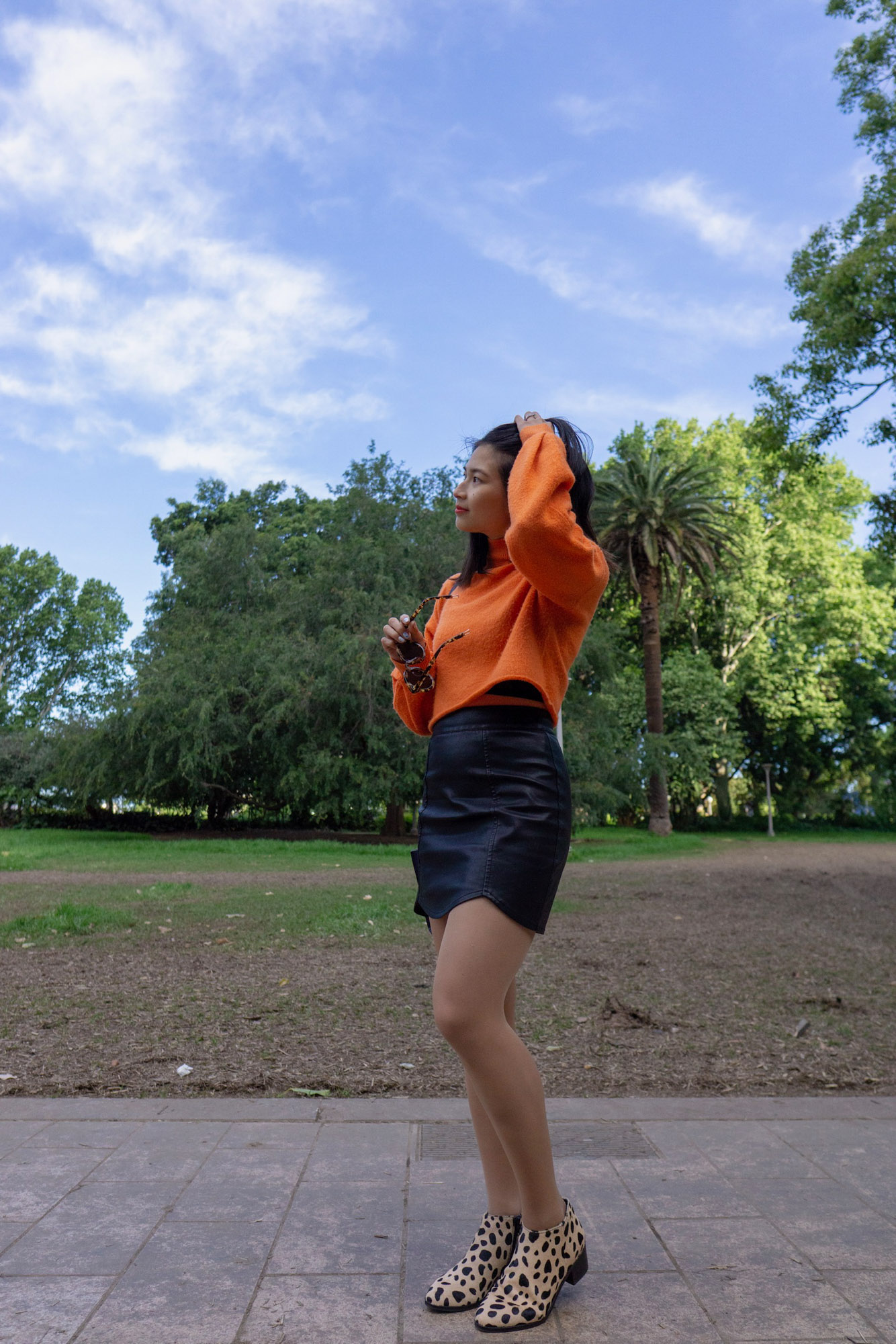 Outfit details
---
What do you think of the orange sweater? How do you like your sweaters and in what style? Or do you not like sweaters at all?