The Georgie Gazette #16: I have a bruise on my head, hate high heels, and… self worth
I hit my head – ouch
OK I did a really silly thing this morning at the gym and hit my head really hard. It could have happened anywhere, to be honest – but it just so happened when I was re-racking the safety racks that I didn't need (the previous person who used the squat racks left them there), and then stood up quickly, not realising that the racked barbell was right above my head. Because I got up so quickly, my head hit the barbell really hard and I got dizzy for half a minute. It hit me on the top side of my forehead – one would call this "the corner of my head", but heads are typically round so don't have corners – and I felt throbbing for the rest of my workout. I only did two sets more, and I probably should have just stopped and rested, but I wanted to push through and then get home and ice it.
If there's anything I learned from my first aid course it's that you definitely 100% should not fall asleep after you've hit your head because it could increase risk of damage to the brain.
I did ice my head, but it's definitely going to bruise and it's going slightly purple already. I saw a doctor late in the afternoon and after assessing my symptoms he said it's highly likely that I'll be fine and 24 hours after the injury should be enough time to tell if it's more than a superficial bump. He did give me a referral for the hospital, though, and said to go there immediately if symptoms worsen over the weekend. I was miffed because I went to a different medical centre to the one I usually go to, and I had to wait for over an hour to be seen by a doctor. There were folks who even walked in after me and saw a doctor before I saw one. And I had an appointment. So what is the point of an appointment again?
Seriously, doctors waiting rooms are pathetic and the system needs to somehow consider how long some folks' appointments need to be (or how short!). I know far too many people who have only needed to see the doctor for five minutes but spend ten times that amount of time waiting to see the doctor. If someone needs an hour, by all means… but not at the expense of ten people who probably just need a new prescription (cough, myself) having their entire day out of whack.
I'd also love to know exactly how much time I've spent waiting in a doctor's waiting room. When I used to live in the suburbs it was totally normal to wait two hours to see my doctor. It was like, yeah, I'm bringing my laptop and doing my university assignments because there is no way I'm going to waste all that time. RIP.
Other things on my mind
Monthly reflections
I had a conversation with Mitch about Achievement Unlocked posts and how I'm bored to death of doing them (in our conversation I probably watered it down a bit and didn't sound that hateful about it, LOL). I think I need a refresh. I've actually just been really bad at reflecting lately, which is why this current blog post is another sort of mind-dump-style one. I want to do more of these. It helps me reflect better, to be honest. I'm thinking of still reviewing each month, but perhaps with some refreshed prompts, or something else, perhaps along the lines of "tiny wins". I don't know yet. We will see. Mitch does Achievement Unlocked posts too though. You should have a read.
I hate high heels now
I never would have said this years ago, but I tweeted the following:
After walking in high heels for most of seven years, doing ballet for ten, weightlifting for four ? I conclude that walking in high heels is nothing to do with strength, balance, dexterity, or any combination of the above.

High heels are fucking bad for your feet. That?s it. ?

— Georgie C. Cooke ? (@georgiecel) December 11, 2018
Announced this to my family, and the fact that I wore high heels only a few times this year, and the pain was just hardly worth it, and my mother agreed. She works in retail and spends a lot of her days standing. She said wearing other shoes that aren't flat Skechers are a pain in the ass. Also, the options for flat boots are damn endless and I love boots. 😍
Self worth
I want to write more about this in a separate blog post, but let lack of self-esteem and recognising your worth. I'm awful at doing this, and I feel like a large part of it comes from my upbringing and working in toxic workplaces and also being in a role (user interface engineer) that is undermined by other roles (back-end engineers). Not gonna lie, I legitimately start tearing up when someone commends my efforts, even my manager Chris. I feel very humbled.
Generally speaking, I've become better at saying "thank you" and not the shitty "no I'm not that great" self-deprecating response (which only serves to make the bearer of the compliment feel even shittier! – don't do that), but I think that having someone feel I've done a great job or a wonderful thing really truly makes me feel better as a person. It can also be reassuring. It also helps me continue to do better and be better. Without these kinds of words, I struggle to even find any direction. I'm not just talking about work either.
Writing transcripts for talks
I've had folks thank me personally and say that they appreciate me writing transcripts for my talks. These folks have learning difficulties, are hard of hearing, or have other struggles with digesting and processing information in a recorded video/spoken form. I have never disliked writing transcripts – to me, as someone who cares about being inclusive and accessible, I feel it's only normal that I supply this as a resource. Presentation slides/slidedecks only do so much, especially when they can often serve as simply a guide for the speaker during the talk itself. Also, some folks simply can't make it to the conference I'm speaking at, and I still want to share the information I delivered.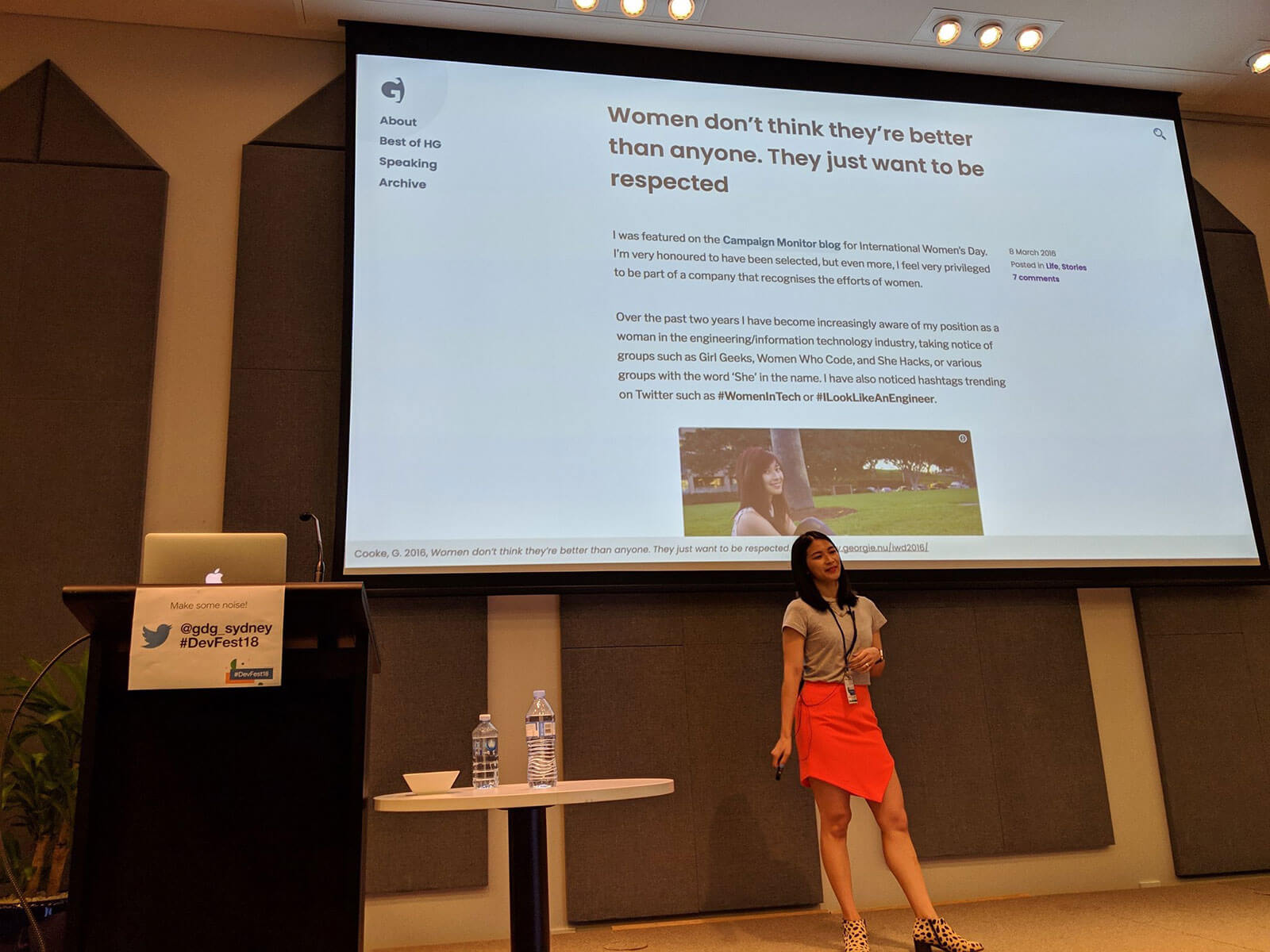 I don't find it too much extra work to write a transcript, especially when my general process of writing a talk usually starts with some kind of outline and lots of words (like writing a blog post). I spoke at DevFest Sydney last weekend and I've linked to the slides on my speaking page, but I haven't finished the transcript yet, largely because this was a talk I somehow managed to memorise pretty well. 😅 I'll have it up soon. ♥️
Thank you
Thank you for reading this blog post. 🙏 I hope you have a nice weekend. If you work on the weekends then I hope you enjoy your next day off!
I'm planning a blogging schedule and some more posts for 2019, so keep an eye out, and don't go bumping your head on stuff at the gym.