Nick's Fashion Quarterly: Winter 2015
I really hate the cold and as a result I'm not so fond of winter. It's hard to get up in the morning, it's hard to go outside… It's just a difficult time of year for me. However, one thing I love about winter is the opportunity to dress really smartly. There's nothing I love more than going out in pants, a big coat and an interesting scarf. This Fashion Quarterly, Winter, is pretty much based on my daily style in winter, the only thing that changes day to day are the individual elements and colours.
The location for this shoot was the University of Sydney, the same as Georgie's recent Wanderlust post. While Wanderlust focused on the historic sights of the campus, mine focuses on the more modern sights. The pics were primarily taken around the law buildings on Eastern Avenue, the main pedestrian street on campus.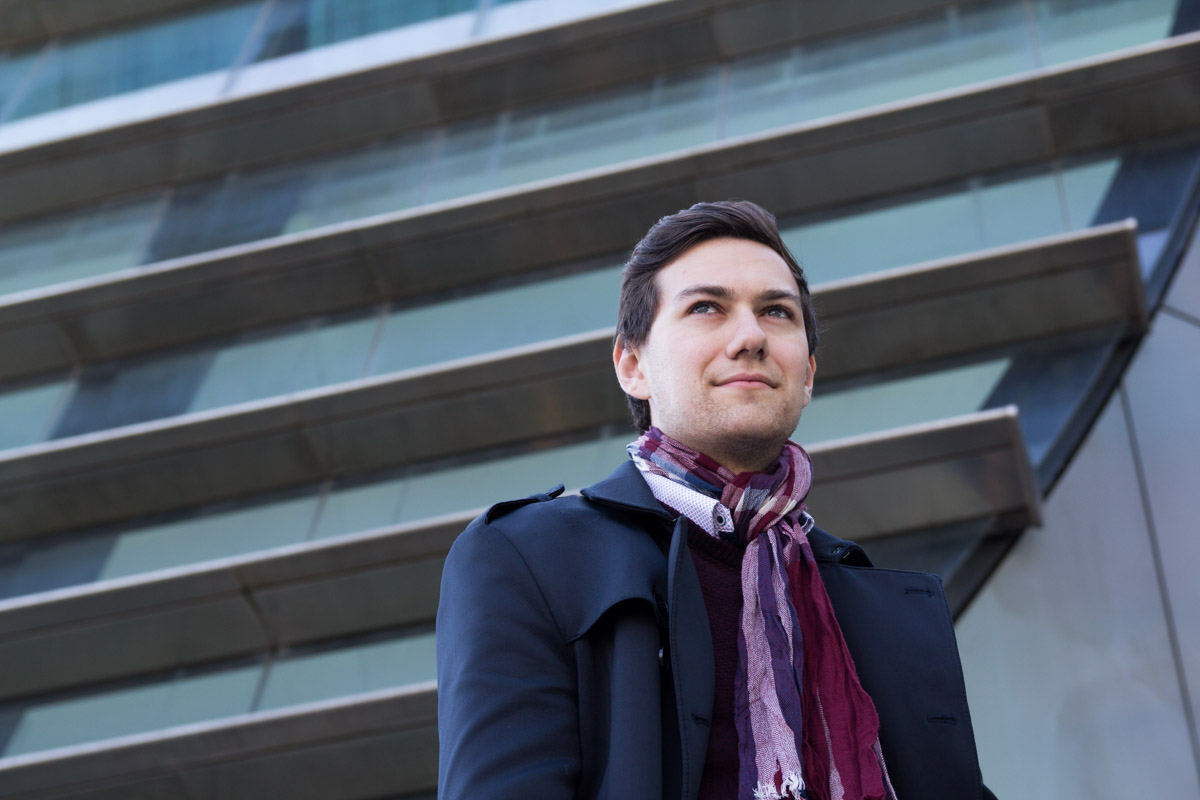 You may recognise the shoes, they featured in my Autumn Fashion Quarterly so I won't really talk about them.
I wore blue Levi skinny jeans, not the same ones as my previous FQ, but very similar in style and colour. In fact I mentioned them in my previous post; I got them for a great deal in the Levi outlet store at the Woodburry Shopping Outlet Centre in New York. I purchased them in July 2013 and have worn them quite a lot, they are beginning to show their age and probably will only last one more season.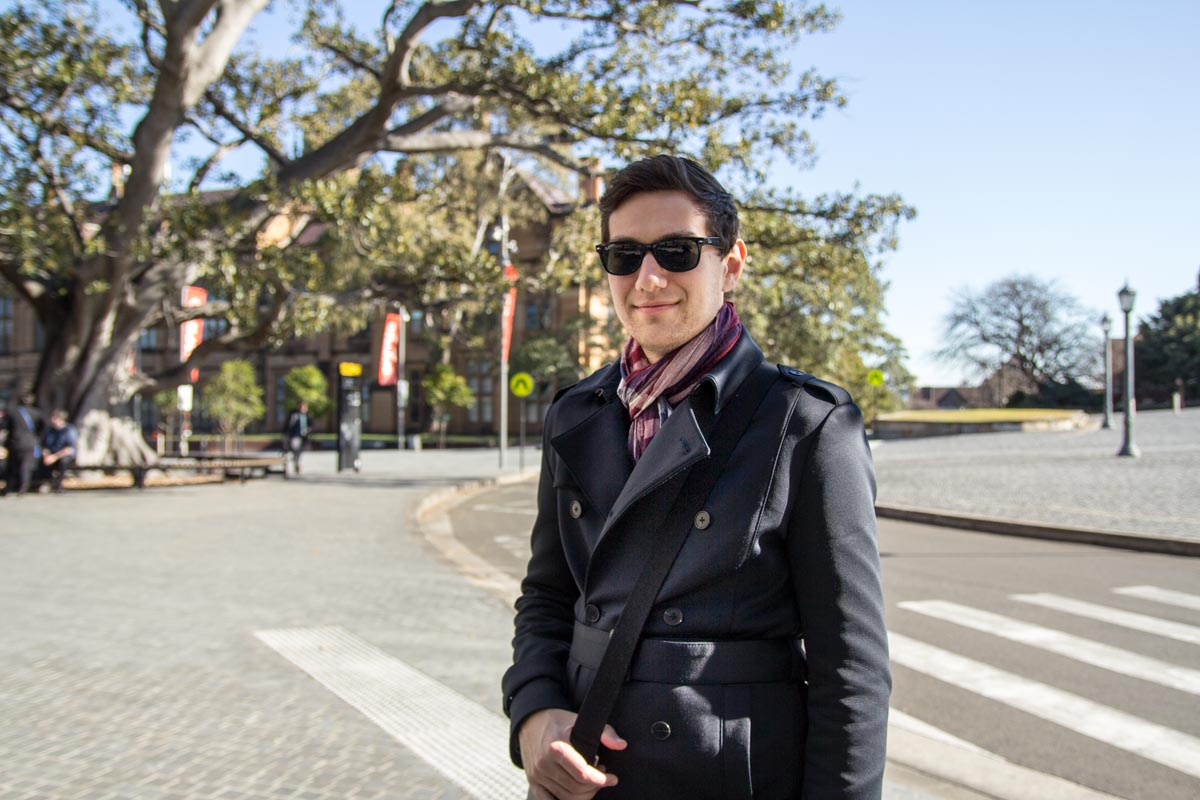 The shirt is from yd., a store for young men in Australia. There is a store near my workplace that always has a sale on, so I generally go there every few weeks for a peek. I picked this up at one of my 'peeks'. It's white with blue and burgundy lined diamonds all over and blue accents on the sleeves and buttons. I really love this shirt, in fact, I wore it every Friday for 4 weeks in a row after I got it.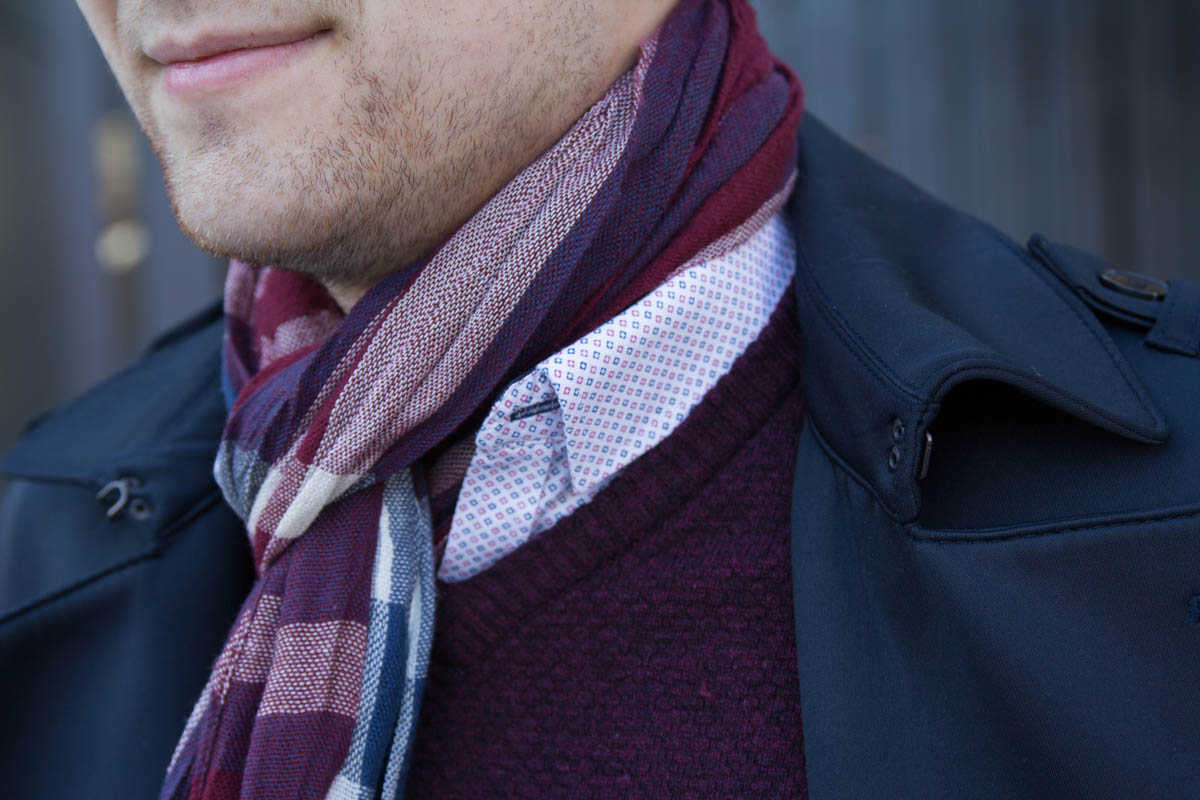 Then we have the jumper, it's a burgundy and has a slight geometric pattern on the top half of. It's not too thick but also not too thin. I got this a couple of months back from Tarocash, another store aimed at young men (actually owned by the same company that owns yd.). There's not really much to say about it, it's nice and I love wearing it on top of a collared long sleeve shirt and pants. It results in quite a different, but smart look… Maybe the subject of a future post?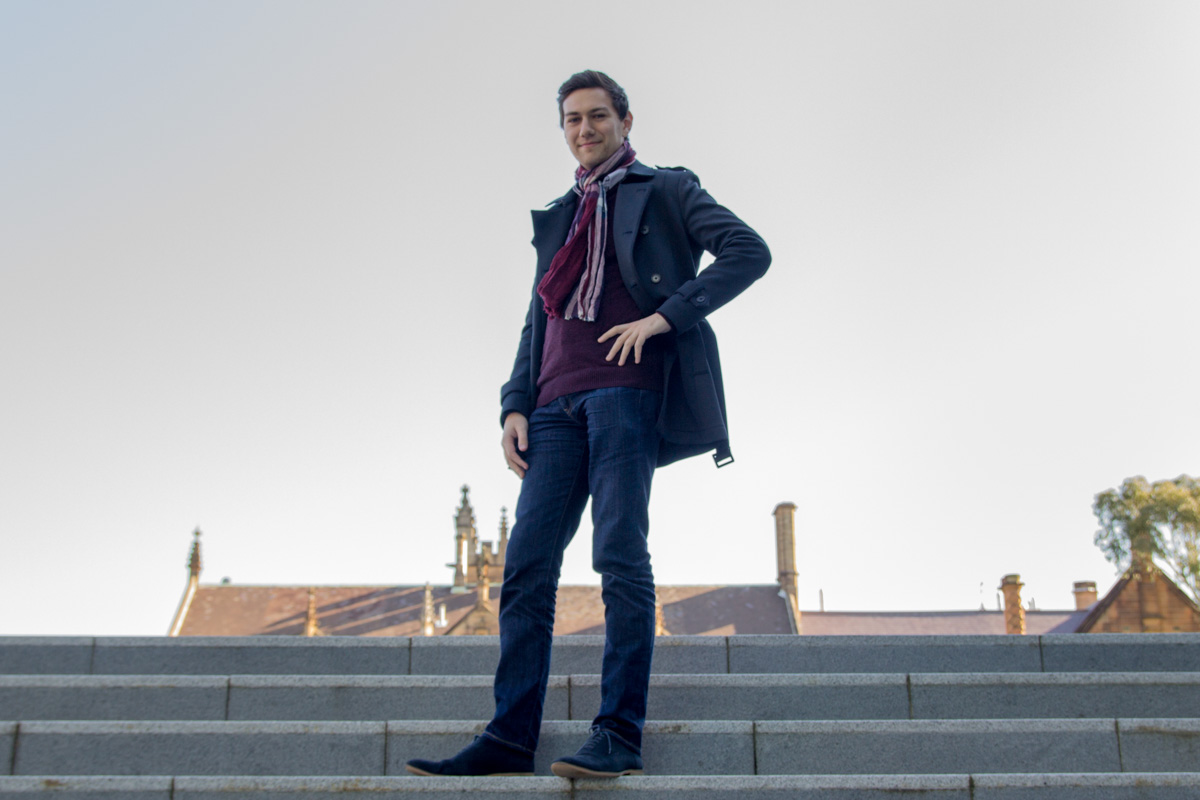 My favourite element by far is the coat. As soon as I saw it I immediately fell in love with it. It's from Zara, and I'm not really sure what the material is, but it's that typical trench coat kind of material. I really love coats, but this is my favourite, I wear it every week without question. When it's really cold (mostly on my way to work in the morning) I do up all the buttons and tie up the belt, however when walking out and about during the day, I leave it open. I love walking around with my hands in its pockets :D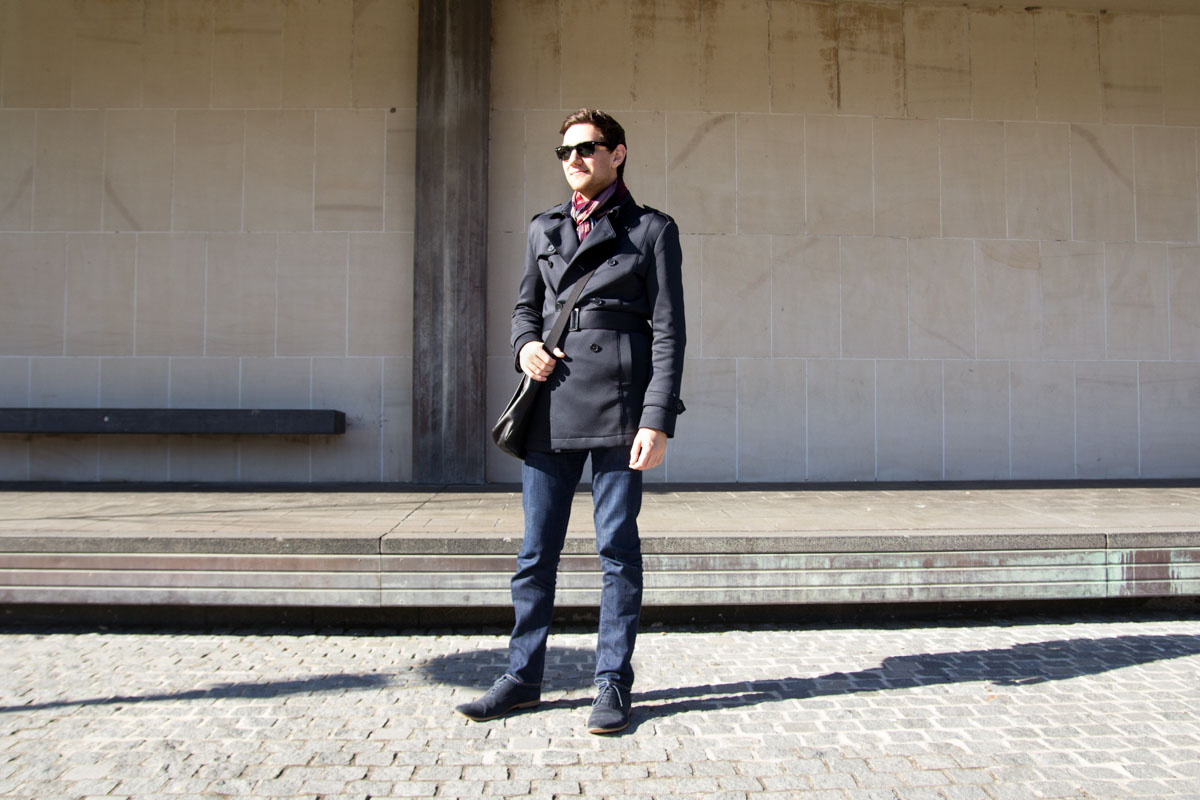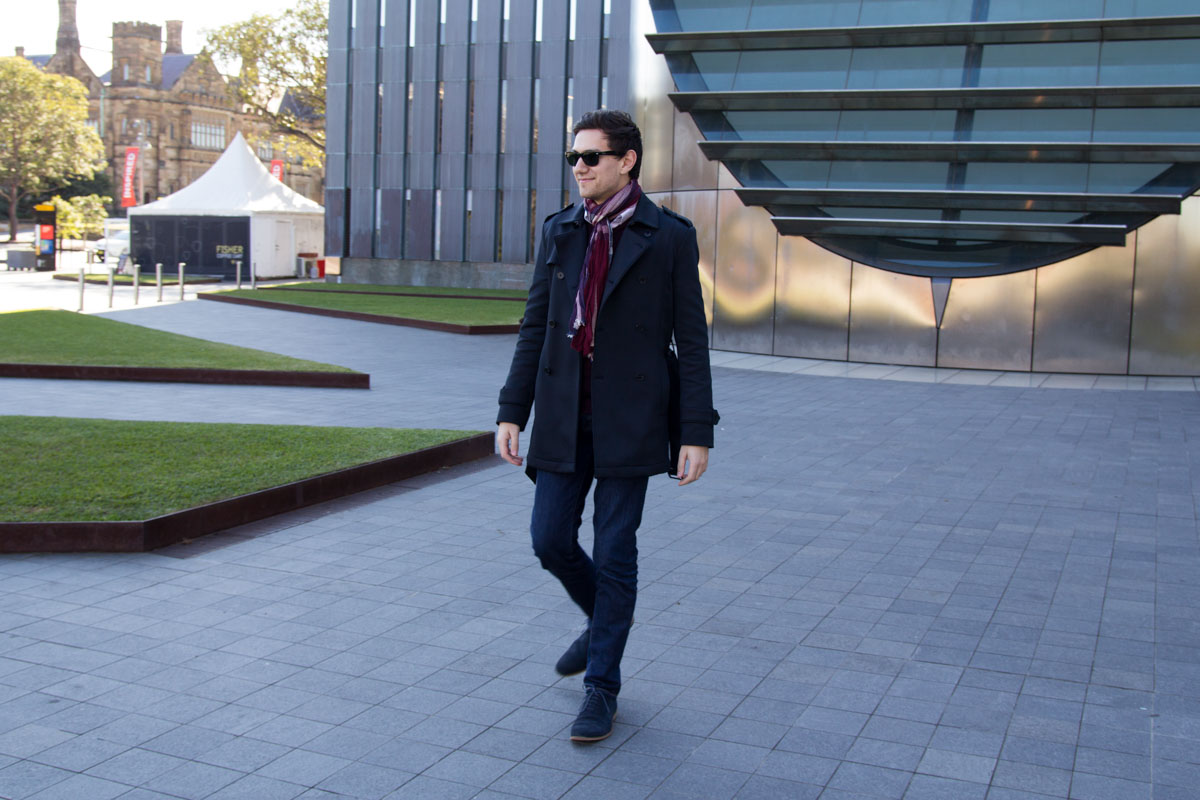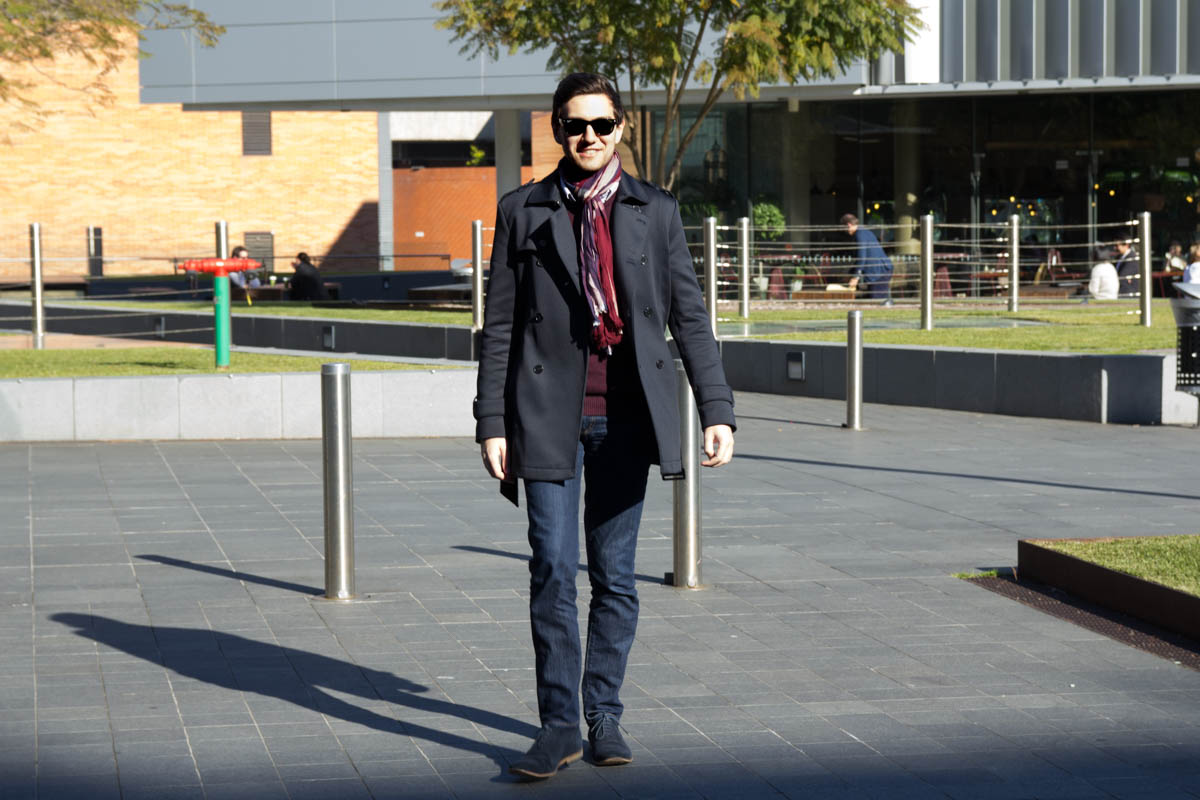 The scarf (sometimes referred to as 'the ironic scarf' by my colleagues, still not 100% sure why) really ties the whole look together. I really liked it at first sight, and Georgie purchased it for me (naughty) a few short weeks later from Myer. The brand is Kenji. It's actually quite a short scarf which I like as it means it's not too bulky (though I do change it up every so often depending on the colour of shirt).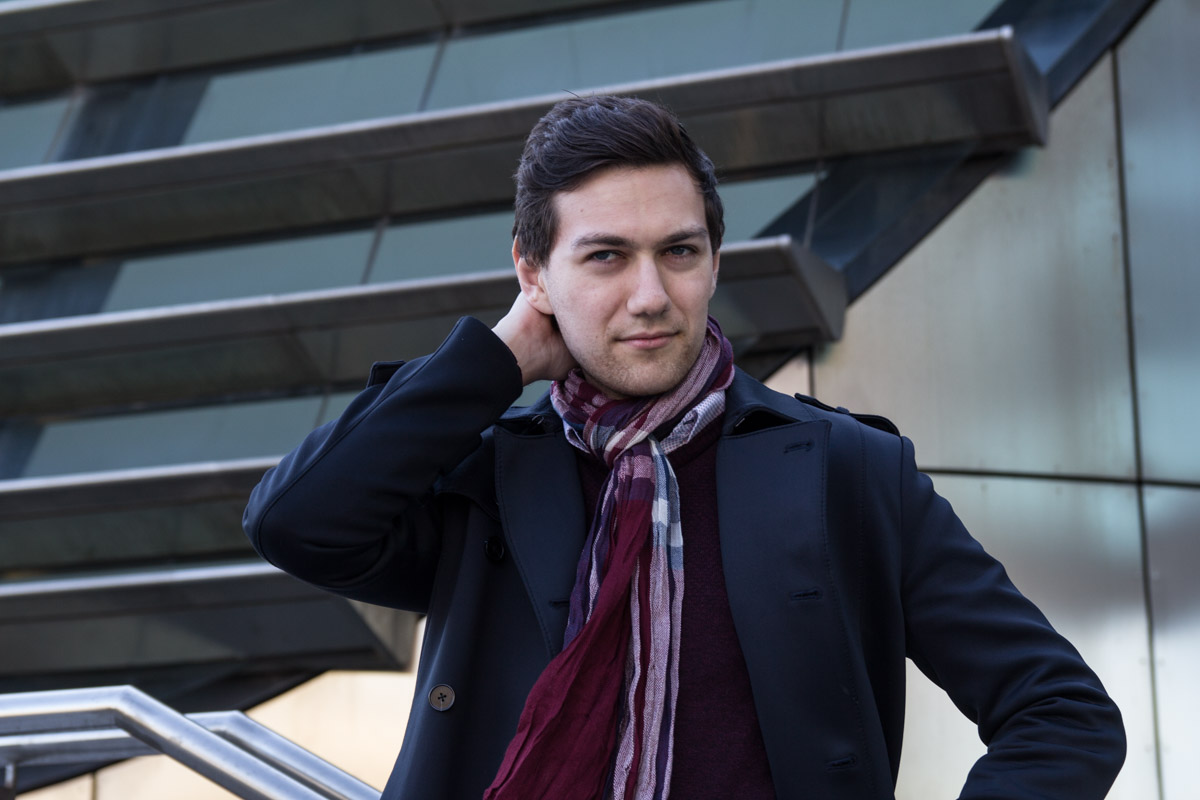 Finally the satchel, this was a beautiful birthday present from Georgie. It's black leather and from Fossil. I carry it with me almost every day, I really love satchels for some reason, and I feel it is a great compliment to this look. The sunnies are Ray Ban's which I got on my last trip to New York.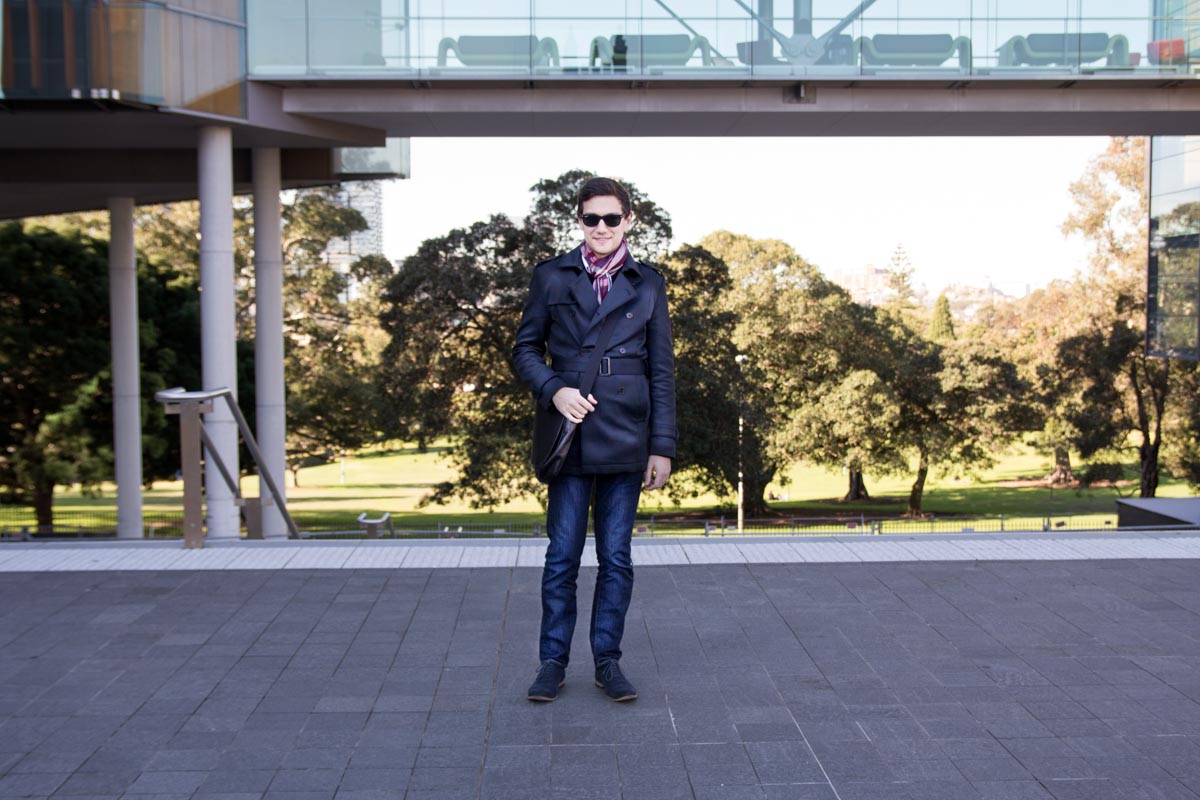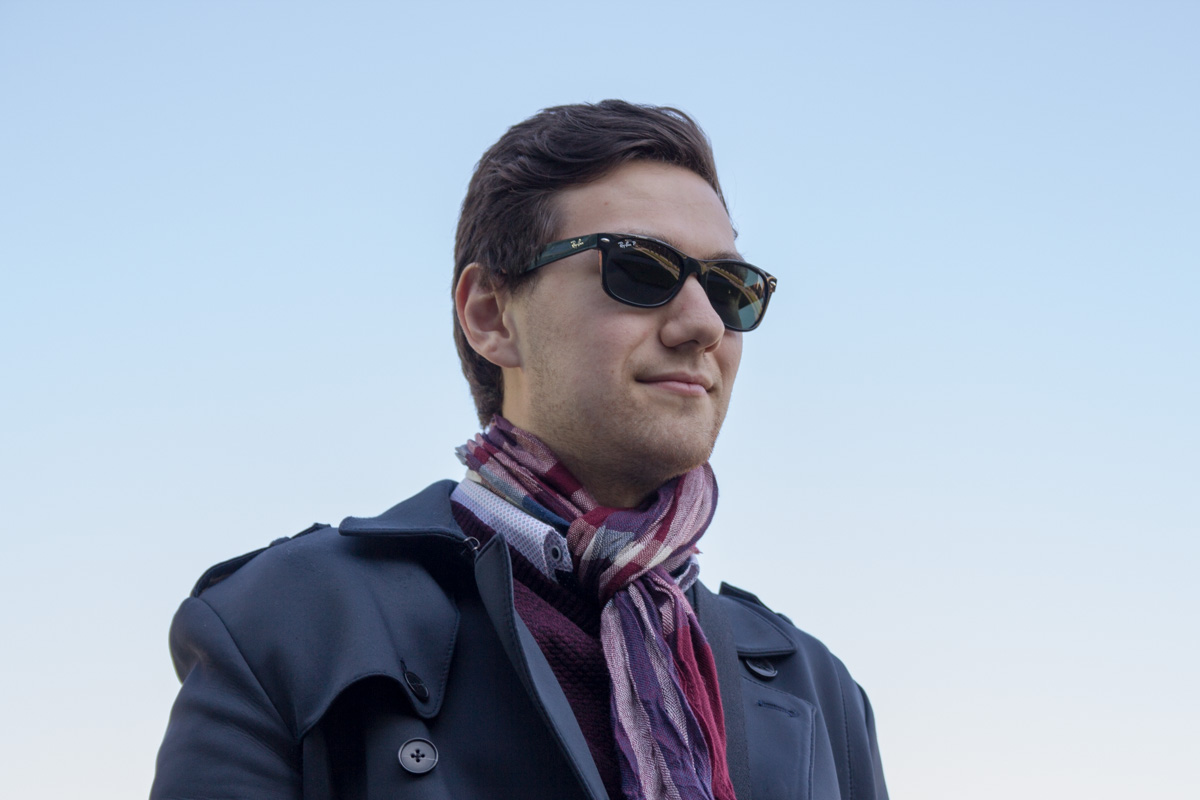 That's a wrap. Thanks again Georgie for inviting me to post on your blog, it's really such an honour. I hope you all find this interesting and be sure to ask any questions you may have in the comments :)