💵 Low-buy check-in #3
Hey friends 😊 I hope you are all staying safe and doing alright during this tough time. It's time for another low-buy check-in, and I hinted at this one last week when I wrote about mental health in the time of COVID-19. In that blog post I mentioned that I had been stress-shopping but doing my best to shop for things I already planned to purchase, or purchase consumables that I already pay for regularly.
In my last blog post, my Style snapshot, I also mentioned that I'm thinking about reinventing my style a little bit. In this post I'm going to be honest and come clean about the things I've purchased in the process. I know it's a bit of a toss-up whether reinventing your style during a global pandemic is the best time, or actually a terrible time. I like to think it's a bit of both, depending on how you look at it. You definitely don't want to stress-shop. 😩 I've been working from home, and I've already mentioned how very grateful and fortunate I am for being able to do so.
I like to be comfortable when working from home, like most people want to! Many people like to think of working from home as being comfortable and being in trackpants or sweatpants, and a t-shirt. That's actually not really my idea of comfortable – I don't love t-shirts, and I actually don't own a single pair of trackpants! I usually wear them as pyjamas and sometimes I didn't change out of them on the weekend during the day, but my last couple of pairs of trackpants got holes or had been worn so much that the fabric wasn't comfortable. Since prioritising comfort in my wardrobe over the past few years, that the skirts and tops I usually wear to work are most likely comfortable to wear at home anyway. So I've been "getting dressed" for work every day, even though I'm just sitting and standing at my desk.
My style reinvention idea came about when I felt compelled to declutter my wardrobe, and when I realised that some of my clothes were not cutting it in terms of comfort. I decided that my new requirement will be that something has to be comfortable to be at home in, whether I'm sitting on the couch, at my desk, or standing at my standing desk. A good portion of my wardrobe is this comfortable, but some of it isn't! I'll go into detail below…
Cancelling things for our Greece trip
Cool. The elephant in the room. We had a trip planned to Greece a couple of months before the pandemic got worse. We had splurged on a couple of parts of the trip, and being from Australia, the flights were also really expensive. We held out until last week before we started to cancel things. Only a few weeks before we're due to fly out and there are travel bans in place that mean that leaving the country will be difficult or impossible, and returning may also be impossible. Nick cancelled any of the accomodation that had free cancellations (including one on Airbnb – a ~$300 refund was processed) and contacted the ones that were not free to cancel, to see if they could provide special consideration.
We heard back from a couple of them and they were really understanding and allowed us to rebook for any time, or gave us travel credit. We'll contact insurance companies as a last resort, but at the very least, the money isn't being totally wasted. Something that is a bit concerning is that we might only be able to rebook by the end of this year, but who knows when things will return to some sense of normalcy? We're happy to postpone the trip by one year, but hope that we can rebook the same trip and the companies we've booked with don't go bust or run away with our money… 🤞
Things I spent money on
New bedding
Nick and I ordered new bedsheets and pillows from the Sheridan outlet store. We bought our current bedding there in 2017. So it's been well over two years sleeping on the same sheets every night. That's like 600 or more days. And our pillows are totally un-fluffed. I decided to go for a memory foam pillow because I generally side-sleep and my shoulders are broad, and I end up sleeping on my shoulder in a fucked up way. 😅
Our new bedding is due to arrive next week. I'm looking forward to it. We had been talking about this for a while because of our white coloured sheets discolouring really easily. Some of our pillowscases and our quilt cover are actually spares that mum gave to us when we moved. So I think new bedding is deserved – especially now we're going to be at home more due to the pandemic. We're really appreciating what we have at home, so improving our bedding is just going to add to that. 😌
Protein powder
I was running low on protein so I bought some protein powder. My protein of choice is currently Happy Way [referral link for 10% off]. Pretty much every time I buy it, I use a 10% discount code, and I usually buy three bags at once so that I can get free shipping. (I spend about $118 for 16×3 servings, which works out to be about $2.45 per serve. A lot of commercial protein powders are cheaper, and a lot of vegan protein protein powders are way more expensive, so Happy Way is actually a happy medium. 😊) This time I saved a little extra because they had a 21% off sale. Bingo.
Dumbbells
Since I just mentioned protein powder, we can talk about the gym. Our gym has closed, and they have waived all membership hold fees, so we basically don't have to pay for anything and memberships are paused until the gym re-opens. Our gym normally costs about $37 a week, which is expensive, but since we joined this gym a few years ago, we do get our value for money, and the cost never feels like it burns or anything.
Nick wanted to really buy dumbbells and at first I wasn't all that keen, but we talked about it and decided that spending a few hundred dollars on dumbbells of heavy but varying weights would be useful. Nick does PT sessions, so he compared the cost of the dumbbells to a couple of those sessions. We chose 8kg, 12.5kg and 15kg pairs, which are challenging enough for various exercises. I've been doing slightly different exercises to what I can do in the gym, obviously, but since they arrived I've gotten some sore muscles! 😎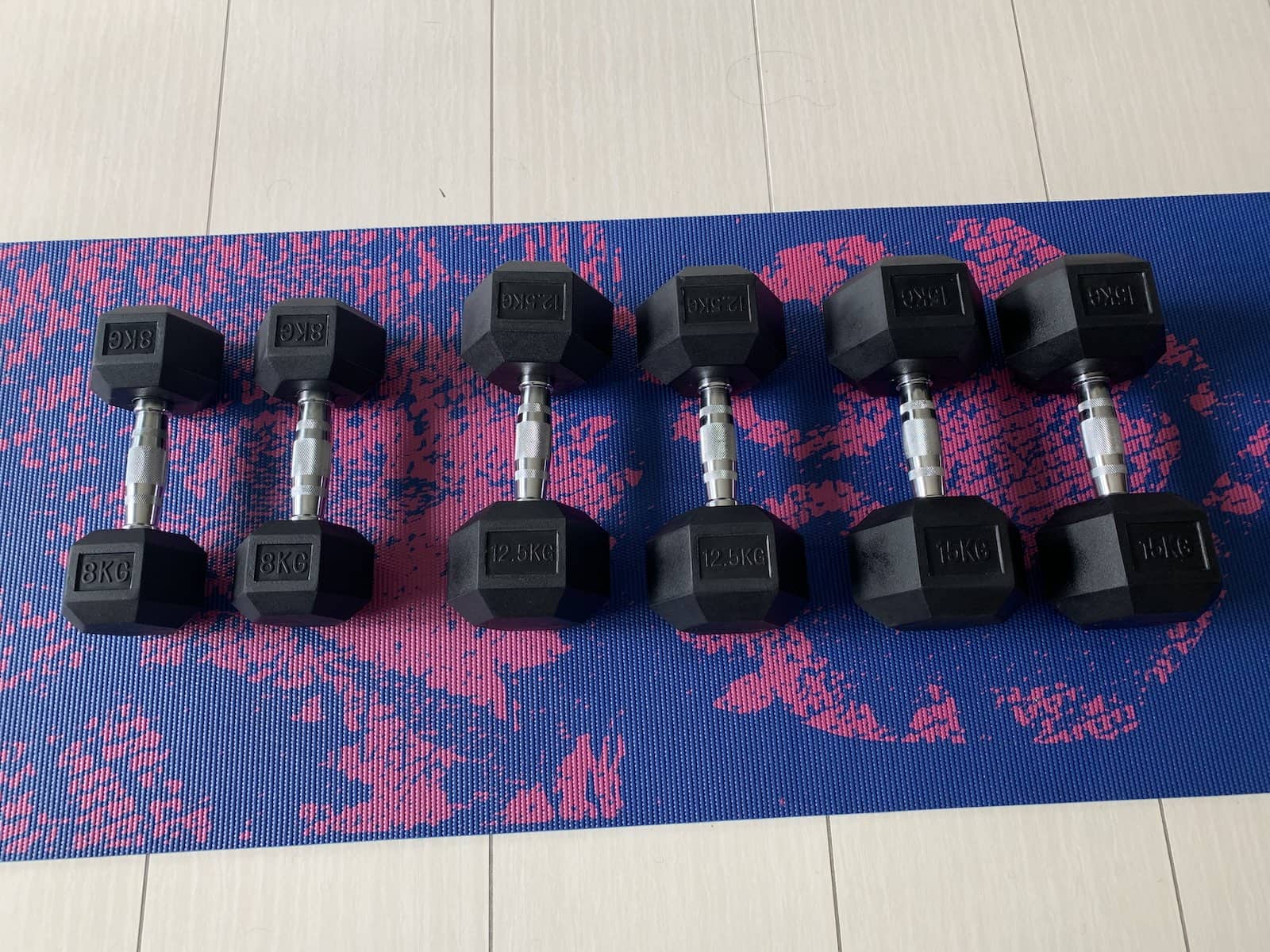 Clothes
OK, here goes. 🤦🏻‍♀️😅 I've bought quite a few clothes since my last check-in and I'm going to be transparent about them all.
In my last check-in I mentioned that I was thinking about a turquoise top in a square neck cut, which is the cut I usually go for in tops. I also mentioned that I was looking for a versatile white top and one of the first ones I tried on was good, but I wanted to see if I could find a better one. After looking, I couldn't find one, so I ended up purchasing that, and the turquoise top, from Sheike. There was a 20% off sale earlier this month after their physical stores closed, so after further consideration, I decided to place an order. I've already worn both tops in my #wfh adventures. 💙
I also mentioned the search for a versatile sweater. After finding a beautiful cotton-cashmere blend sweater in a natural oat colour (from Elka Collective – an Australian label), I returned it and re-ordered the same one in navy. Although I loved the oat colour, I was confident that the navy one was going to work better with my wardrobe. I got $25 off the price too, since I had a voucher I could use. 😅 I feel like I might buy the oat coloured one if it gets marked down a lot, but that does depend on where my wardrobe is at in the next few months. I'm happy with the purchase of the navy colour.
Another item on my wishlist was a versatile black skirt. I purchased one off eBay by one of my favourite brands to seek second-hand pieces from – C/MEO Collective. I managed to haggle the price down to $17. 🙂 In all honesty I might have been able to find a more perfect black skirt… but this, I'll settle for.
I bought a pair of Everlane jeans when they had a 50% off sale. I have been eyeing Everlane's jeans for a while, and since they released a curvy fit, I decided to give it a go. I actually openly said to Nick and a couple of my friends, that this would be the last brand and last pair of jeans I'd try. If they didn't work out, then I would give up on jeans forever. Yes, forever. I have spent years and a lot of money looking for jeans that fit me, and tailoring hasn't quite worked for someone with a waist so much smaller than her thighs. In summary, after reading hundreds of reviews and ordering my usual size, the jeans were really nice, and they fit, and they are comfortable, but they only fit marginally better and are a bit more comfortable than my existing jeans – and they were not that amazing. I decided to keep them, but I have since decided to move onto and focus on investing in pants, as I mentioned in my Style snapshot post.
Not on my wishlist but something I had been eyeing recently were two square neck tops – yeah, you can tell I'm really into the square neck tops. I did some research on them and found that the fabric content was similar to a blue top I have owned for a couple of years and really love. The cut was pretty much the same, too. Although similar to my blue top, it was a fraction of the price. I bought a green one and black one and I'm really impressed with the quality and how they fit into my style and wardrobe. I don't own a lot of green clothing but I have been wanting to have that as a more dominant colour in my wardrobe, because I'm sort of moving away from too much bright blue.
So. Also not on my wishlist, was spending $600 on dresses. 🤦🏻‍♀️ I'm not sure why exactly I was tempted, I felt like treating myself to something, and I wanted to try more green in my wardrobe. I don't wear dresses a lot, and some of the dresses I do have, I don't even like. I ended up returning most of the dresses and keeping two of them – a lacy bottle green one, and a pale sage/aqua one with puffy sleeves.
Workout gear
On my wishlist was also workout gear from Ryderwear. Late last year, I really looked forward to a new collection of theirs, but although I put it on my wishlist, I continued to hold off from purchasing it. I still wanted it by mid-March so when they had a 30% off sale, I made an order. They have another 30%+ off sale right now and I'm tempted to grab a couple of things I chose not to purchase last time, but I'm still making my decision. All that said, I managed to sell two sets of my own gym gear that were too small or ill-fitting, and I've put aside some more to sell.
Supporting local businesses
A fact: I can't really cook. Sometimes we get lazy to cook up food. Another fact: I get free breakfast and lunch at work. Since working from home, I've had to pay for and make it myself.
Although we cook food up sometimes, Nick and I have occasionally been buying takeaway from the local cafes and eateries. I like to think that we're still keeping them in business despite them only offering takeaway options due to COVID-19. (Some have unfortunately simply closed.) I know it's generally cheaper to purchase and cook up food, but honestly… I've put things into perspective, and I'm fortunate enough to still have my job in its entirety, and be paid in full, and staff are being laid off in other businesses and companies. I hope that continuing to support these local businesses means that they can get through the struggle and that we can keep some of our neighbours employed. They need the money more than I do right now.
I've also been doing the same with some of the companies I've been purchasing from. Happy Way, the protein powder company I mentioned earlier, are Australian, as is Ryderwear, the company I have bought some of my most recent workout clothing from. Some of the clothes I've bought are from Australian designed and made companies, some of whom take pride in ethical sourcing and practicing. I'm happy to support these local businesses, both big and small.
Low-buy, guilt, and rules set earlier in the year
A lot of what I've written in this post is not really committing to a low-buy. It's almost as if I have fallen into old habits and started spending money again. ☹️ But Christina, one of the Instagrammers/YouTubers who inspired me to do a low-buy, mentioned in one of her recent videos that there's no room for guilt in a low-buy, and she didn't guilt herself over buying a blazer that she really thought about and eventually decided to buy.
I am not feeling guilty about my purchases. I've put a lot of thought into them and have actually weighed up some of my thoughts with a few of my friends, who responded objectively. Although I have made a handful of clothing purchases, I have tried to stick by my one-in-one-out rule that I made in my initial low-buy post, so quite a few of these pieces I bought that were not on my wishlist will replace existing pieces. I'm going to sell at least two dresses that are too small for me in place of the two new ones I bought. I will also remove and try to sell two jeans from my wardrobe in place of the Everlane jeans.
It's not the best way to think, but because we are no longer travelling and won't be travelling for the better part of a year, and I'm not spending money on getting my eyebrows done or getting my eyelashes lifted, I'm OK to be spending a bit of money (that would normally go towards travelling) on improving my wardrobe. If you've been reading my blog for a while you will know that that is something I am really passionate about, while trying to be reasonable in terms of amount and cost. That said, I'm actually really happy to be appreciating how my eyelashes look without being enhanced, and how my eyebrows can experience some growth and I can still manage to tidy them up myself. It goes to show that I don't need nor find the services completely essential.
Making the best use of what I have
I won't lie: I've bought some things where I didn't need to. But I wanted to share that I am making the best use of products and accessories I have at home, and really making the most of my current wardrobe despite buying new things. I've started to wear clothes that I thought I didn't like, but actually found a way to make them work. I haven't had to spend on soap and toiletries because I've got a small amount stashed away. I've been able to use an excess of shampoo as shaving gel or to clean my feet in place of soap. 😆 (It works!)
I've found that I have a whole bottle of moisturiser which could last me a long time, so I definitely don't need to buy any. I'm enjoying using the small amount of makeup I have because I realise a little goes a long way! The idea of having to spend months at home but still having enough makeup (I do put some on at home when I work!) is a nice one.
The month ahead: Make a budget
As I said – I look back on these purchases and I don't feel guilt. I will continue to put a lot of thought into my purchases, but because I'm thinking about a style reinvention at the moment, I am going to do something I absolutely hate but believe I should do: create a budget. I want to create a budget for some of the things I am thinking about purchasing, particularly for clothes. I'm even thinking about making a sinking fund of some sort especially for wardrobe purchases. 🤔 Blech, writing that down really made me think hard, but I've been really honest in this post, so I might as well. 🤢 (Yes, yes I hate budgeting – a lot.)
I will report back. 🙂
---
Are you doing a low-buy in 2020 as well? How are you finding your habits since the global pandemic started affecting us more? Are you stress-shopping or do you have things under control? Let me know; I'm keen to hear about it!