💵 Low-buy check-in #2
Time for another low-buy check-in. 😌 I went really well in January, basically holding off and not having bought anything outside of the usual.
I was really distracted in February, though, because I started to browse online websites a lot more and found myself going to the shops to browse for certain items on my wishlist. I started the month off by looking for a blazer, but looked around so much and didn't find anything that fit my personal requirements for a blazer, so I temporarily gave up.
At the same time I began looking for something else on my wishlist – a versatile sweater. But the more I looked, the more my requirements for a "versatile sweater" became kind of muddy. The same thing happened with looking for a slightly loose-fit versatile blouse. I started wanting something neutral for both the sweater and the blouse – sticking with beige or navy for the sweater, and white for the blouse. But I found myself constantly looking for colour.
Purchases in February
I teetered towards a brighter blue sweater, before telling myself that I already have a light blue sweater, and that I used to have a bright blue long-sleeved top that I stopped liking because of its contrast with other clothes, and its relative "darkness". I'm definitely going more towards beige, because I want a lighter neutral for winter. I ordered a 100% merino wool lightweight sweater from McIntyre, but I'm still deciding if I'm going to keep it. It's lightweight, which isn't completely what I was after, but I'm also low in long-sleeved tops in general, so it honestly wouldn't be a bad addition to my wardrobe anyway. The other thing that maybe isn't a hundred percent for me is the neck, which is a little bit high – and I've been moving away from higher necks – but it's not a complete turtleneck, so, I don't know. Still sitting on that one, and trying to find a similar cut and fabric. I really love it because it's a beautiful cropped length, too. 😩
I also purchased a new set of gym gear from WearWolf. I'd decluttered a fair few of my gym leggings and sports bras that were too small, and I had been eyeing the WearWolf brand since last year. They announced a Black Friday sale last year and I held off, until they had a 50% off sale of the set that I wanted. Even then, I held off for basically the past month, and after scouting a discount code and asking people about their sizing, I made the purchase. It was something I definitely put a lot of thought into, and I don't have an excess of gym clothing considering I work out six times a week.
The other thing I purchased was that beige jumpsuit I mentioned. It's exactly the same print as my black jumpsuit, just in beige. It's one size up, so it's roomier and looser. It definitely fits more nicely in the bum and doesn't feel like I'm getting a wedgie. 😆 Though the bust area is really roomy, and I could get it altered, but I'm also kind of not really bothered. I don't regret buying it, but to be honest I like my black one a little bit better – and it's mostly because of the more tailored, less relaxed look, even if it does get tight in the bum. But at least I have two options which both look great.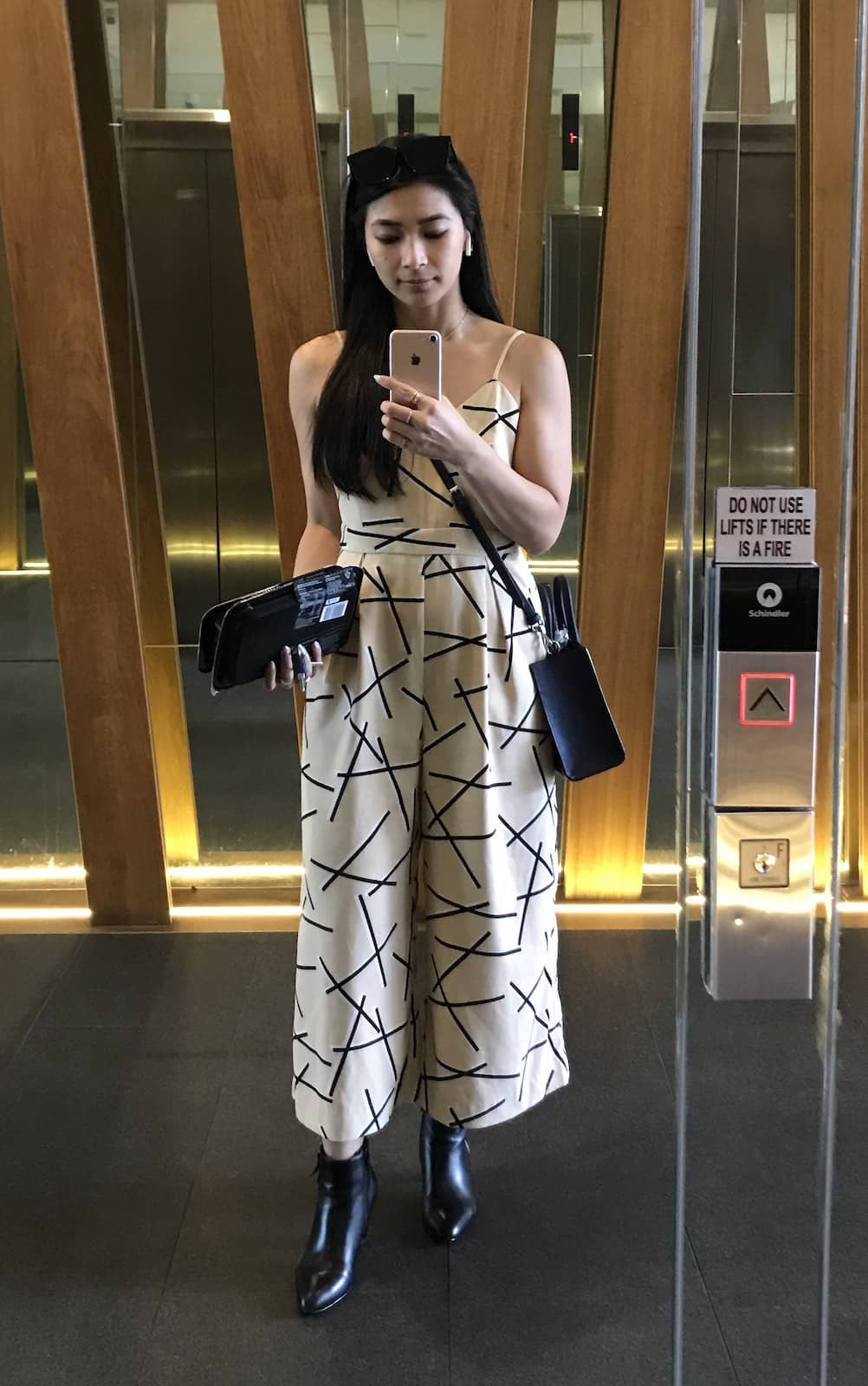 Distractions throughout the month
So, back to the distractions. I spent a lot of time looking for my usual brands on eBay, and I really could have done that a lot less. I also spent a lot of time looking at jewellery because I had started to get frustrated with my earring collection being a miso-mash of both gold and silver. I have seven ear piercings, and for a while, two of them were gold. I don't have the mixing and matching down-pat unless I intentionally make one ear have gold earrings and the other have silver. The reason I have a mixed collection is because I initially gave up gold earrings as a teenager, realising that silver looked better on me. But as I started to try more gold necklaces and rings, I realised gold earrings looked similarly lovely on me. So I got stuck between the middle. Around this time, I also learned that I have olive-undertoned skin, which means that both silver and gold look on me.
The problem is, I wanted to make all my jewellery the same colour for consistency. I kind of gave up on that, though, but I do want all my earrings to have the same metal colour. So I shopped around for more silver earrings that I wouldn't get bored of.
When shopping around for a white blouse, I did find one which was gorgeous, but for some reason I was not 100% happy with it. Yet, to this day, I think it is actually my favourite! 🤔😳 I continued to look around for white blouses but nothing was "sparking joy" or whatever. Then I started looking at coloured blouses, like ones in a beautiful teal or blue colour. Then I started looking at floral blouses, realising that a floral blouse could be versatile too. But I got caught up in this weird rut, because I know I hate florals, but I was pushing the envelope or some shit, trying to see if I could force it to work. It's sort of what I do when I experiment with new styles.
Most floral prints were positively gross on me, but I did actually find one that looked lovely, but the style of the blouse was not my thing. It was shorter-sleeved and the elasticated cuffs bothered me a little, as did the buttons down the front. It was a little too much of a fuss. But it did make me a little more open-minded to florals. When I look back on the photos I took in the change room, though, I have to admit it's still maybe a little bit too much. Maybe I'm not ready. LOL. 🤣
During my endeavours I did find an aqua coloured top in a square neck cut – if you know me well or follow me on Instagram, you know I live and die by my square necks. Although I haven't done a Fashion Friday in a while, but I can assure you that if/when it comes back, you know you'll see a lot of that. 😆 But I was practically drooling over this aqua top because it is beautiful. It would definitely go with a lot of what's in my wardrobe. I don't own anything in that colour, but it's mostly because when I try to look for aqua or turquoise, no brands seem to manufacture such bright colours! Anyway, that is really something I'm keeping an eye on but making sure isn't a completely impulse decision.
Wardrobe cleanse
I did a Brutally Honest™ wardrobe clean about two weeks ago. I'm slightly upset by the outcome, for various reasons:
A blue dress I really love just didn't really fit anymore. Doing it up was annoying because of the rouleau buttons (which I've decided I do not like), the high neck bothered me more than usual, and my bottom and thighs have gotten bigger since I last wore it, thanks to working out at the gym. It's a no-go. It doesn't stretch so I cannot sit in it properly. As it was a second-hand purchase, I feel less bad about it, and I have an alternative dress that is just as nice (if not nicer), and fits better.
I came across some clothes my mum had palmed off to me, from when my family were downsizing to demolish and rebuild my childhood home. I sold a lot of it, but there was some left which I thought might fit me. I felt like I was hanging onto them out of guilt, because they didn't fit me, but I also hadn't put in the time to sell them.
I found clothes that I had purchased in the past year that I had completely intended to wear regularly, but ended up not working because I overestimated their value as a piece in my wardrobe.
I found second-hand clothes that I bought and wore to pieces when I first got them, but stored them away when the seasons changed, and now I've found that they don't fit my growing bottom half, or I actually don't love them as much anymore.
I found clothes I wore a lot when I first bought them, and thought they would last for years, but they have only been in my wardrobe for a year and I find that I don't really like them anymore. Not to mention, some of them are too small, especially t-shirts, even though I sized up when I bought them.
Basically all of my jeans are really tight and uncomfortable.
I think there was more "wastage" than I had intended. But I wanted to be Brutally Honest™ for a reason – I knew there would be items in my wardrobe that I was holding onto for one invalid, petty reason or another. I am upset that I don't like some of these clothes anymore, when I loved them at first, but the main reason I don't like them is because they don't fit, thus they drape on me or sit on my body in a different way, and have stopped looking nice. This isn't the first time it's happened to me though – over the past 18 months I know well enough now that I can't afford to buy tight clothing with limited stretch – I have a growing body, not to mention one that gets bloated and puffy from time to time – and comfort has become top of the list for me. And yet, while I've been careful to buy slightly looser fits of clothing, it's a bit of a rude surprise again to find that parts of your body don't fit in clothes.
It's strange, though, the way I've gone from being mad at myself and having negative body image from trying to fit into clothes, to just getting angry and upset at the clothes themselves, or even my own choices. But it's tough, being an athletic person, because you constantly have to think about how clothes are hardly catered for athletic people, and the compromises you have to make. It's a lot of mental overhead.
Things I spent money on
Nick and I booked some more accomodation for our Greece trip, but the plus side is that quite a few hotels don't require payment until we arrive. We just have to book our place. That works out quite nicely especially since some of those hotels are on the cheaper end.
In other purchases, I ran out of beforeyouspeak coffee, so I made another order, and I decided to add their new coffee creamer to give it a try. It arrived today and it tastes fabulous! Quite sweet though, so maybe I will end up getting a lot more out of the 30-servings tub than expected.
---
I think that during the month of March I might continue my search for a sweater, but hold off looking for too much else. I'm going to attempt to browse stores (both physical and online) less, especially since I got into that bad habit again in February. I'm planning to replace some of my underwear that I've owned for a year (if you haven't read my post about decluttering underwear, consider it 😉), and I really might have a second think about that aqua coloured top. I am also planning to get a haircut, so that's where some of my expenses might go.
If you're doing a low-buy year I'd love to hear about it. Let me know what you're up to!