My plans for a low-buy year
Hi everyone! I hope you've had a dazzling first few weeks of the year. I've already hit the gym and seen mini-crowds of people, as it usually is this time of year – people having new year's resolutions, hehee. The crowds usually taper out by March. 😆
I've switched up my training split, so I'm also going to the gym with a newfound kind of excitement. For at least the latter half of 2019, I was doing an upper/lower split, three times a week. I was very unenthusiastic about working out different upper body muscles and that's why I preferred to do them all in one workout. But now, I've adopted a full-body workout split, working out all major muscle groups in one workout (chest, back, shoulders, biceps, triceps, abdominals, glutes, hamstrings, quads, and can't neglect the calves 😛), five to six times a week. I am keen on writing more about the details in a future blog post and why I decided to try it, once I've tried it for at least a month or two. (Let me know if that might interest you!)
Let's talk about spending and saving in 2019…
After I re-evaluated some of my spending and saving habits for 2019, I realised I slipped up for basically the whole year, and most of the year I was in a process of re-inventing my wardrobe. Story of my life. Not to mention I never finished the last 6 episodes of Journey of a Fashionable Minimalist – I actually plan to return to that some time in 2020. 😉 I'm a minimalist, yeah – but I like expressing myself through my style, and over the past few years I have not only struggled to find my personal style, but my body shape has changed dramatically since gaining weight and building up muscle. And that can be a hard thing to deal with when you've had a slim build for your whole life, but have also enjoyed expressing yourself through clothes your whole life.
In 2019, even though I genuinely needed to replace some things that I owned that were worn out or ill-fitting, I think I still had a very bad "shopping" mentality ingrained into my head. There were bad habits I should have recognised much earlier on, and I had made goals that were clearly setting myself up for failure instead of focusing on progress over time. We all know that progress is far more important, valuable, and long-term, than the rather simplistic action of achieving a goal.
I'm generally pretty anti-shop. But I swing towards being addicted to "window shopping", too.
I spent most of my life disliking any kind of shopping. I tend to shop – apparently – like a man. I go in, look at what I'm after, and go out after buying it. I might try an item of clothing on, but generally I dislike stores, and I try not to get distracted from the original intent.
When it comes to clothes, though, I overthink it. I get really caught up in how things fit, the colour, how it matches with my wardrobe, and so on. I ask myself endless questions as to whether this purchase will be a worthy one, and the thing that takes the most time is the decision, rather than the "shopping". I've taken a liking to online shopping and looking at things online, even inspiration on websites such as Pinterest. But because I genuinely enjoy the activity, I dismissed it as not being a waste of time.
But really, who am I kidding? This problem became worse in 2019. I definitely spent hours upon hours of "looking for inspiration" on the internet and doing window shopping in real stores to look at things, or versions of things, that I could add to my wardrobe, or could even "maybe" add to my wardrobe. There was endless scrolling and wish-listing for things I didn't actually need. Even though I was making the best use of what I already owned, I was setting myself up for a whole year of bad habits by essentially putting myself in an environment of new and shiny things to buy, buy, buy.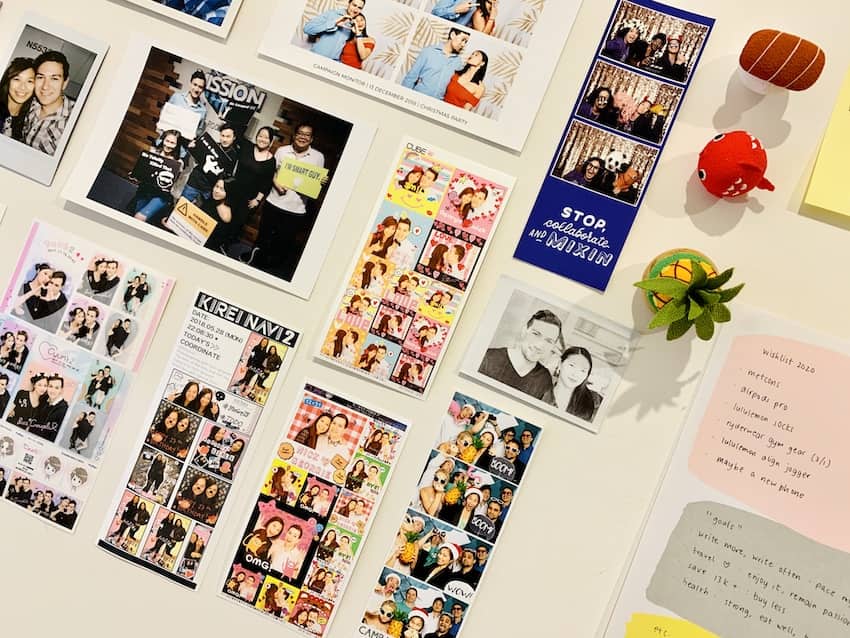 A low-buy 2020
I feel a bit embarrassed and weird about sharing this, because I often dislike sharing my goals with "the world", but I have decided to go for something of a low-buy year, starting with a no-buy January.
The way a low- or no-buy works differs from person to person, but the basic premise is that you limit yourself to only purchasing things that are essential (such as food), and avoid purchasing material goods. People have different reasons and motivations for doing this, and the result can often solve an underlying issue that the person has been struggling with.
I had reached a point of exhaustion when I was shopping for a simple black top suitable for summer, and trying on different items, and looking at different items, just burnt me the fuck out. Buying a black top sounds easy, but for me, it just wasn't. I had many requirements for such a simple top. My big shoulders and built arms mean that sleeveless tops are best for me – no fussing with fabric over my arms. Fabric had to stretch, or at least have enough room. I legitimately have trouble putting tops on over my head if the fabric doesn't stretch or if the fit isn't loose, because I have flared ribs and a big back. If something zips up on the side or at the front, that works really marvellously. I could go on, but basically, trying to look for a simple black camisole was annoying because every time I had to get a bigger sized top to fit my armpits, it would just look like I was wearing a blanket in the rest of the body. In the end I gave up and decided that I didn't need a black garment anyway, and I was pretty chuffed with the two stretchy navy tops I've been rotating all summer so far.
But it really made me go take a proper look back in my wardrobe and really spend some time with the clothes I already owned. I started taking photos of all my clothes and creating a visual wardrobe by Photoshopping the backgrounds out and putting together combinations with images without having to be physically sitting in front of my wardrobe all the time. This inspired me some, and I decided I would try very hard to really, truly appreciate what I already owned, and enjoy wearing items of clothing over and over, and avoid browsing new items altogether.
I also felt really guilty, and basically shitty, about the amount of items I'd ordered online, and how much I'd returned (actually that is probably more of the embarrassing part). It always becomes a reminder that I'm just contributing to more waste produced by the packaging, the parcel packaging, and the energy required for the parcel/s to actually be delivered.
I may not have spent a wild amount of money in 2019, but I spent more money and time than I could have. I still saved money, but I know I could have done better by making some wiser decisions. I want to save money for travel and for future Georgie, whatever the hell she decides to do in her time. But travel is something I love, and that can often cost a lot of money. I hope that changing my habits can help me save more to do the things I want to do, rather than buying just "stuff".
No-buy January
I decided that for the entire month of January, I will not buy any material or consumerist item that isn't essential for my day-to-day. That means none of the following (many of which are my weaknesses!):
no clothing
no shoes
no jewellery
no gym clothing
no technology
This might not sound like much, but these are the things I usually spend my money on that aren't food, drinks, or general body/self-care. I didn't add some things such as bags, books, and organisational storage because I simply don't buy those things.
There are also things that I have a large supply of at home that I can use up. I am actively avoiding buying anything like this, or I am really trying to use it all up. 🙂 I have a mild obsession with using products up. I get a feeling of accomplishment when I finish something right up to the end. It also makes me feel like I deserve to purchase a refill or a new one.
Face moisturiser: It's safe to say that the 1.5 bottles I have left will last at least six months! They were a gift from my mum, and she does provide me with a lot of my skincare since she works in that field.
Lipsticks: In actual fact it takes over a year to use up a single lipstick that you may not wear every day! I have more than enough to last me a while. And a variety of colours too. I love to wear red, but more recently I've actually preferred a more natural look or a colour close to my natural lip colour.
Hand cream: Definitely got enough to last me some time here, and it can also be used as a body lotion in some cases. I accumulated a few because some were gifted to me.
Miscellaneous makeup: I'm not very interested in makeup – I only draw in my brows, and sometimes wear eyeliner, but I've definitely got no purpose to buy any more of this. My current brow balm has lasted me almost a couple of years now, because it's quite dense and I don't need very much to draw my eyebrows in. My mum supplied me with most of my other makeup because she used to work in makeup.
Shampoo and conditioner: As someone who washes their hair only once or twice a week, the large bottles of shampoo and conditioner I bought two years ago have only just finished. I bought refills, but I absolutely won't be needing any more. Nick and I also collected a bunch from the hotels we visited on our travels – apparently they throw those all away, so you're actually better off taking them so they don't get wasted.
All that said, we are halfway through January and I am doing pretty well. I went into this month with a wishlist for the year (which I'll go into detail later below), which kept me pretty grounded. I repeated some outfits – which was absolutely no problem at all (I've never been a woman to dislike outfit repeating, to be honest – what a silly concept), and I did not feel like I had a shortage of clothes. If anything, my 60-ish item yearly wardrobe felt like a bit too much at times!
I went into this year knowing that I was keen on purchasing some more new gym clothing after finding a brand whose products really fit my body well. It was a bit difficult knowing that they would release new items at the beginning of the month. But I decided to suck it up and enjoy the new gym clothing I had already purchased a few months ago, and hold off. It literally isn't the end of the world.
I set time limits on my phone and computer for some shopping websites I frequent. In the past, let me tell you, this has definitely not worked. I'd ignore the time limit and continue browsing. But I told myself, if I started looking at stuff, I would probably end up disappointed and still bored. I told myself it would not cure my boredom or do anything for me. It also served as a reminder for what I already owned. The fact that I take selfies after the gym and at the end of a work day is helpful – I quickly looked back on those to remind myself that I had enough that I was already happy with.
Wishlist for 2020
At the end of 2019 I decided that instead of coming up with some arbitrary, unachievable goal like "buy literally nothing for 2020", I would create a wishlist of things that I really truly wanted or had been thinking about for some time already. I had a clothing wishlist for 2019 but I strayed from that in all my online window shopping distraction. This wishlist, similar to my previous one, I wrote out and tacked to the wall next to my desk.
On the same page I wrote my mindset changes for 2020, and other habits or things I was aiming towards.
I'll share what is on my wishlist:
Nike Metcons (a gym training shoe)
AirPods Pro
Lululemon socks
Ryderwear gym gear
Girlfriend Collective gym gear
Lululemon Align jogger
Maybe a new phone
Versatile sweater: I'm thinking a simple crew neck in a neutral colour, because all my sweaters are brightly coloured.
Black tailor-made v-neck tee: Given the story I opened this post with, I am still not 100% sure about this. But I have found that I really liked simple v-neck tees in the past, and Citizen Wolf tailor-makes them.
Relaxed-fitting open neck blouse: I don't own anything like this in my wardrobe. I've tried looking for a long-sleeved shirt or blouse but I'm very picky about the fit, and really hate button-up shirts.
Versatile year-round blazer: I no longer own a blazer, but would like just one to spruce up the simplest of outfits, but I'm stuck on what colour exactly, and am super picky about the fit and length.
Versatile short black skirt: I've got long black skirts, but I would like a shorter one that has a bit more give in the fabric. At the same time, I feel like this is not something I want that much anymore, so I might reassess.
Casual coat: This is something that, in recent days, I've become less sure about wanting, but something for cooler weather that isn't too big and bulky. My cobalt blue coat does the job for most things but I would like another option in a more neutral colour perhaps.
New piercings
Knowing that there is very little that I actually want should be a reminder that I really don't need (and shouldn't want) to go out and buy anything else. I'm not sure about the new phone, but I've had my iPhone 7 since the day it was released in 2016, and although I have no real issues with it, nor do I feel like I need any of the newer phone features, it could be nearing the end of its days. I am prepared to spend the money on a new phone, but I'm also considering second-hand options.
I do have AirPods Pro on the list, but I have the regular AirPods. They're fine. I do love the noise cancellation features of the new AirPods but they are very expensive. I decided I can wait. Maybe until my current pair dies, or when I really get sick of them.
There's some gym gear on the list, because I've been eyeing it, and I love the way some of these brands fit. I am not as addicted to buying new gym gear as I was in the past. The Lululemon Align jogger was actually on my list last year but I never bought it. The colourway I wanted never went on sale, and I really wanted this as a versatile but stylish travel pant, but I ended up wearing normal gym leggings or stretchy jeans instead. I still think it may have a place in my lifestyle, though.
I also decided I can hold off on the Metcons for the time being, but may need them later this year. Although I have had my current pair of gym training shoes for almost two years, they're OK. And I realised my Nike React shoes haven't been too bad and have been really supportive for some exercises for me, so I've started to wear them more.
The socks are nothing, really. I wouldn't even call them a proper wishlist item, but I wrote them down for some reason. Lululemon socks with anti-stink silver last a lifetime – I've had mine for almost two years and only have a few pairs. No holes or stretching out at all. Extremely comfortable. I just expect that maybe they'll die this year.
Where I see a lot of money being spent is the ear piercings, mostly because of the jewellery. I had been planning to get these piercings since a year ago when I got my first cartilage piercing – I knew I wanted more and have also talked to my piercer as to which ones I plan to get next. The jewellery is expensive because it's high quality and it's going to sit in your ear for basically life!
And for February onwards?
I wanted to try a no-buy January because I wanted to see how I went. I truly believe that by the end of the month, my tendencies to shop and look at shit and my interest in it will dwindle. At the end of the month I plan to extend the no-buy another month, and keep on going, though this does depend on any purchases I foresee.
I will reiterate that the reason I am doing it this way is because I do not want to set myself up for failure. It's not reasonable to say I will not buy anything for a whole year. Things happen, life happens, and unexpected things happen. To me it is far more reasonable to set a small goal, and also develop positive habits along the way, than to make a giant goal that you will struggle with or even give up on very quickly.
Another random little thing I wanted to add is that just before Christmas, I stocked up on nail wraps and stickers from Personail (one of my favourite nail wrap brands). I had spent a lot of money on fancy gel nails at the salon in the second half of 2019. Not only did I spend a lot of money, but my nails are suffering. Nail wraps are not only nicer but can be more economical. So I've actually set a bit of a goal to not get my nails done at the salon for the entirety of 2020. 🙈 I got more than enough to last me the year and I also got some nicer ones for more special occasions, so I really have no excuse.
I also am trying to adopt a general one-in, one-out rule – if I purchase something, I need to sell or donate something similar that I already own, to give the new item room in my life. Things I buy should replace things I own.
What's allowed?
I mentioned that the no-buy and low-buy is for non-essentials, and wants, but I will clarify what I am allowed to buy:
food and drink, you know, shit you need to live
workout supplements that I am already paying for, like preworkout and protein
undergarments (though I don't need any new ones right now, I can tell you that)
clothing that replaces something that is broken or worn out, where I don't own a suitable alternative
software and entertainment services that I am already paying for and use regularly, such as Adobe and Netflix
personal care and health services that I am already paying for and use regularly, such as the chiropractor, gym membership, eyebrow waxing, and eyelash lifts
travel! I am allowed to travel – after all, it's a big thing I care about and enjoy, and much of my savings goes towards travel 🌎
Where do I see myself struggling?
I'm inclined to say "nowhere!"… I honestly think that I can beat the struggle if I don't consume media or look at things that will tempt me to buy something or think that what I own is not enough.
I started a pin collection in 2019, so I might want to buy pins on my travels as I like them as souvenirs. But I haven't bought any in a few months because I wasn't actively looking for them or nothing came up that I liked. I do have a fairly substantial collection and I don't even "wear" them daily – they just stay on the same denim jacket. So I could be tempted quite a bit if I'm in a nirvana of enamel pins… but otherwise, I think I'll be fine.
Because I go to the gym almost every day, and really enjoy fitness, I find myself exposed to more advertisements and temptation to get new gym clothes. I genuinely feel good in gym clothes, and because I do use and wear them regularly, I see these as reasons to validate my purchases. But I need to think more wisely about them and also remember that I own some pretty good pieces too.
Other than that, I think my bad shopping habits are mostly tied to clothes, rather than anything else. I hope that the upcoming months and year will help me fix those bad habits.
I'm excited! Let me know – do you have plans for a no-buy or low-buy month or year? I'd love to hear about it. ✨ I will definitely check in with you super soon!