Style Snapshot: April 2020
Last year I had planned a 12-part series Journey of a Fashionable Minimalist, and even though I had already planned all 12 parts out by topic, I only ended up writing and publishing six of them, before my mental health took a toll on me and I just stopped. 😩 Fashion and minimalism, and finding the balance between them, is really important to me, so I still want to finish writing the series, though the original plan for parts 7–12 might have changed slightly.
The purpose of Journey of a Fashionable Minimalist was to be anecdotal, and somewhat chronological, and tell a story about my journey through finding my style and adopting a minimalist lifestyle, and to end with where I am today. But there are things outside of telling a story that I want to share, just on their own. A handful of Fashion Friday posts has brought forward some of my reasoning and decisions around style and clothing, and I have endlessly ranted about jeans (now that is definitely a topic in and of itself), but I wanted to share some of the elements of my style and give a sort of "Style Snapshot". I think it would be interesting to revisit this every 6 months to a year, and see what's changed and what's stayed the same.
So let's explore the details and dive into my current style at the moment.
---
I don't have a name for my current style. I feel like I probably should in future, but right now I feel like I'm going through a strange sort of transitioning and phase. About 14–18 months ago I adopted more bright colours into my wardrobe and attempted to purchase less fast fashion. My style took a turn to what I'd describe as bold and confident, whereas prior to that (and before I embraced my natural hair colour), it was generally classic but with hints of textures and prints.
The way I embodied "bold and confident" was in both my style and my personal confidence. I had better self esteem and improved body image, and felt stronger mentally, physically, and professionally. I dared to wear orange as a new bright colour. I wanted to wear things that were loud and own it. To be bold and confident in my style was mainly to be experimental, because I had largely stuck with clothes I felt were "safe".
I am definitely still feeling the description of bold and confident, and generally this feeling of being my own hero and having confidence in myself all the time. But since late 2018, my view of what bold and confident translates to, in terms of clothes, has changed, and that is why I feel like I'm in a period of transition.
🌟 Bright colours and prints
Orange
I have been attracted to bright colours and colour in general for the past couple of years. Basically, since I stopped having red or blonde hair, my natural dark hair has meant that my complexion appears clearer due to the contrast with my hair. That meant that I felt and looked very washed out when I wore large amounts of grey and black like I did the past. So introducing colour really improved how I looked and felt physically wearing the clothes. I turned to the colour orange and felt really good about it – I can't remember what drew me to it in the first place, but I soon realised the right shade of orange looked nice against my skin, and I got compliments from people who were in awe of how I could find the "right" bright colours for my skin colour and tone.
I stopped going hard on the orange a few months ago, because it was a lot of time and effort to find the right shade. It's a bit of a rare and not very popular colour, and obviously dyeing clothes is expensive, not to mention many good quality designers make clothes in only classic or neutral colours. So searching far and wide for orange clothes took time.
Fifty shades of blue
I adore the colour blue and it actually is my favourite colour. I buy most accessories and "things" in blue, too, if available. I've tried many shades of blue for clothes, but I find that navy and cobalt blue tend to look the best on me. The blue items in my wardrobe have been downsized to mostly navy, though. I began to gain a lot of my own pigment in my skin (that is, become more naturally tanned) and I found that cobalt blue just didn't look as impressive as it once did on me. A bit disappointing, but that led me to stick with mostly navy items. Navy can pair beautifully with orange since it's so dark, and it's a neutral colour that's close to black without actually being black. I'm not averse to black – I just prefer more of other colours in my wardrobe.
I am being a little more careful with bright shades of blue these days because I'm still not 100% sure which shade looks best on my skin. 😬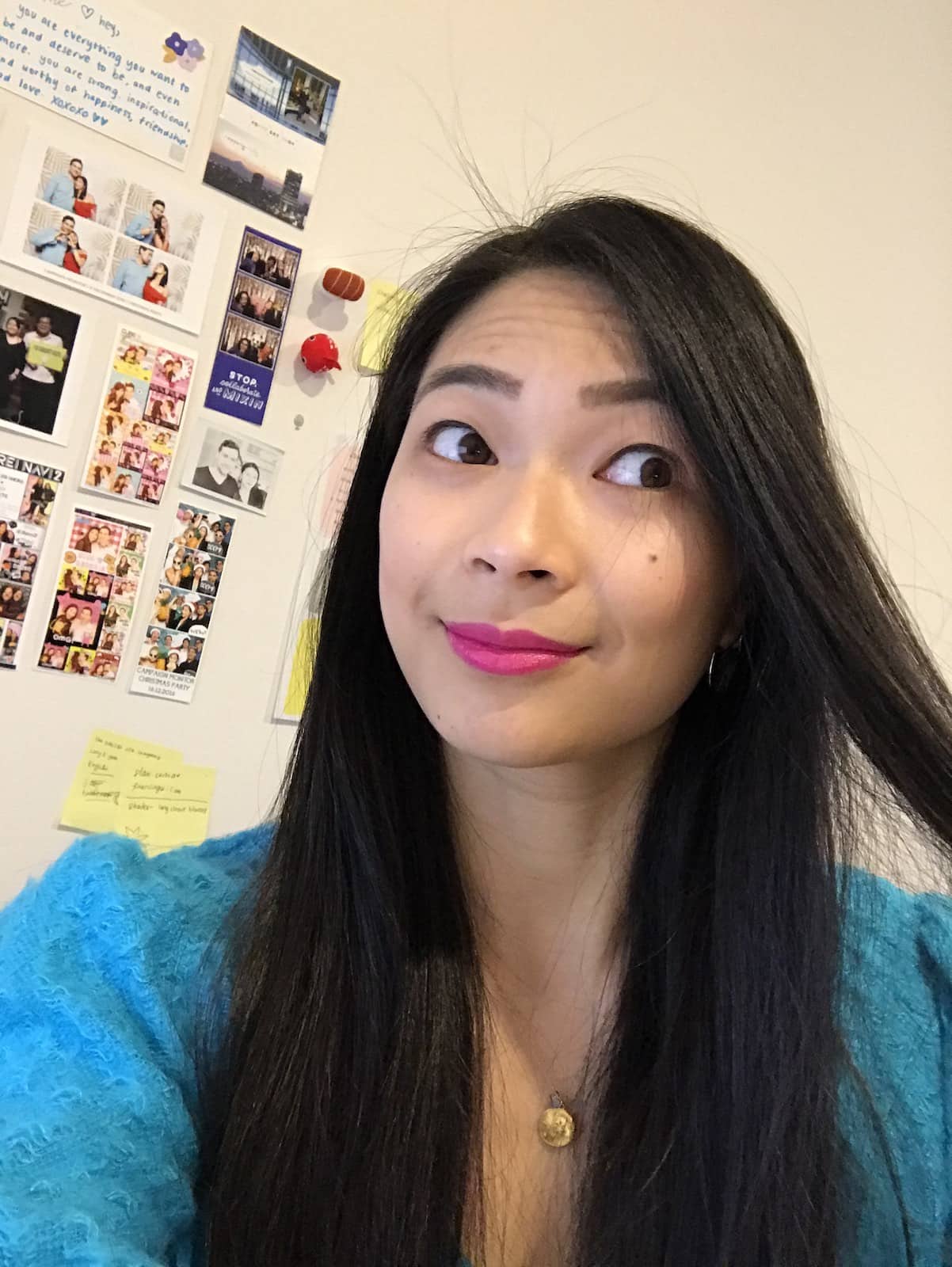 Prints and patterns
Before my bold and confident style, I adored prints and patterns in tops. I started moving towards prints and patterns in skirts instead. My main reason is that I've gained a lot of muscle in my upper body, I have broad shoulders, and and prints up top look too busy. Prints on the bottom half balance things out a bit for me. I prefer solid colours on top.
I've also had a bit of trouble matching some of my bright colours with prints and patterns that are coloured. Generally, bright colours work beautifully with black-and-white patterned combinations, but it's still tricky to get right.
I'm moving more towards solid colours now, and that's part of my style transition: to move away from prints. I am actually starting to see pantsuits and suits as a bold and confident style element. I don't love the idea of a suit, but there are modern takes on the classic suit that can look quite professional, and are in unexpected and bright colours. I'm really keen on that look, and I plan to explore it later in the year.
🎽 Mostly sleeveless tops
T-shirts are not my thing. I got a t-shirt custom made by Citizen Wolf, which was really lovely, and I planned to get more, but I generally don't love wearing them, even if they are considered a wardrobe "staple", blah blah. It's just always made me look juvenile, whether I'm 16, 22, or 28. I've tried several different cuts and fits and somehow they just make me look younger in a way that I really don't like. I have one white tee and it's kind of enough right now.
My preference for most tops – except long-sleeved winter knits and sweaters, which stretch and cover the entire arm – is generally for them to be sleeveless. So, mostly tank tops and certain styles of singlet tops. Varying amounts of short sleeves actually look and feel terrible on my arm. I've got some amount of arm definition that makes some sleeve lengths and fits look really awkward. Some claim that a tight sleeve to the elbow makes good biceps look better, but I feel so gross in that look. I'd rather my entire shoulder and arm be uncovered, or totally covered, really. (I feel like a huge "all or nothing" person saying that, LMAO.)
Another thing is that sleeves generally don't fit my arms if they don't stretch! So I avoid them. I've got a wide back that makes it hard to pull clothes over my head and put my arms in sleeves, unless the garment stretches a lot. So sleeveless options just make it a lot easier, and even better if the fabric stretches. Another good option is if the garment zips up at the front or back so I don't have to put it over my head.
👖 A preference for pants and trousers over jeans
I had a giant obsession with skirts for a while and I accumulated almost 15 skirts. As a minimalist, I realised this was far too much. My general preference for skirts is to have them structured, and I generally buy them second-hand (the brands I like to follow on the second-hand market are Finders Keepers, Keepsake, and C/MEO Collective). Since realising I was obtaining far too many skirts, I randomly decided one day to try on a pair of pants simply because I liked the colour, and the fit looked relaxed enough to fit my bigger legs.
Although I initially felt guilty about the purchase – because I had no intention of buying a pair of pants upon entering the shop – I absolutely love the pants and they are comfortable beyond belief. I ended up buying them in a light green colour too, which I actually don't like the colour of as much, but at least they are comfortable pants.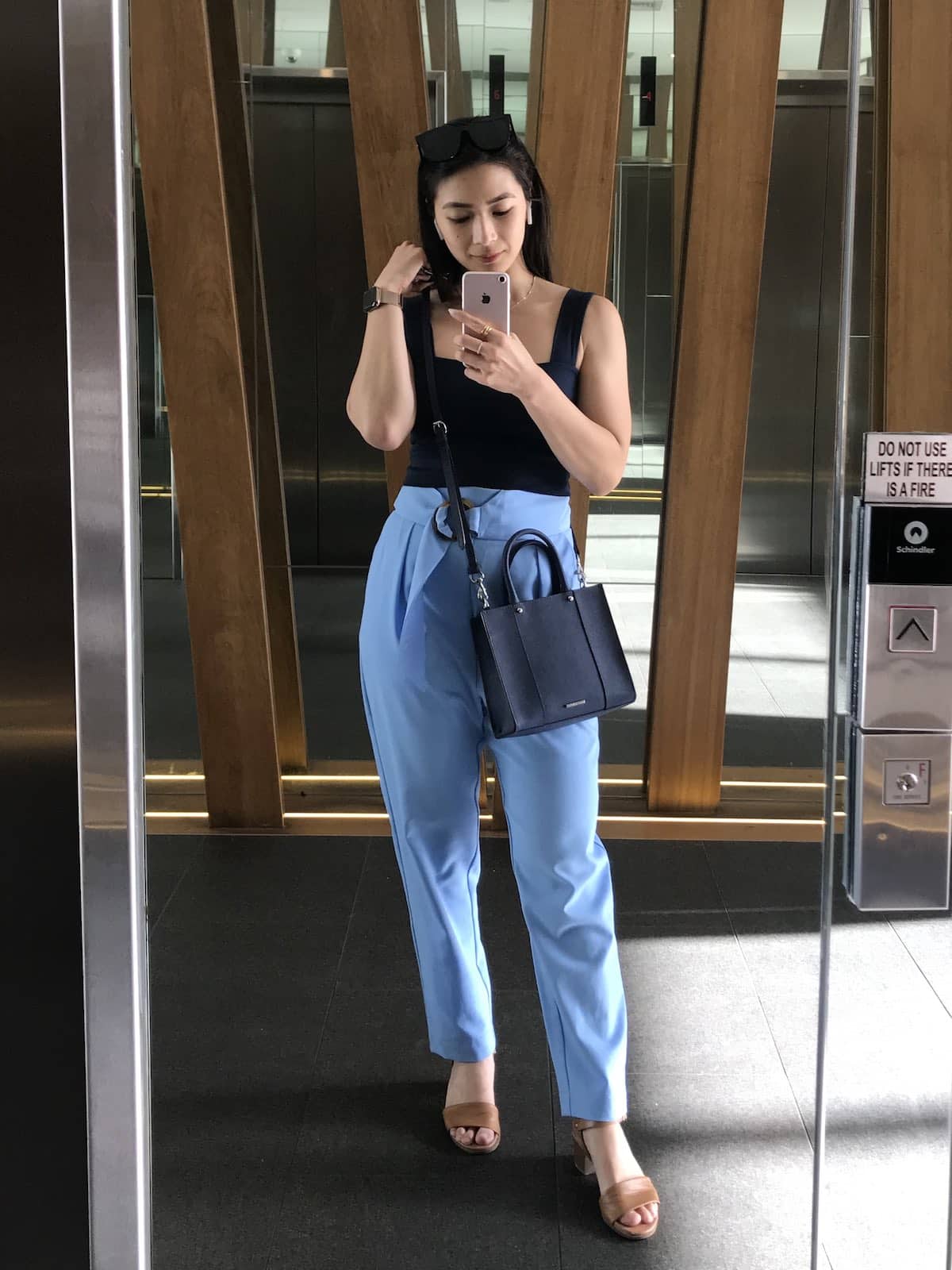 But yeah, I'm a bit on a pants and trousers roll. More pants please.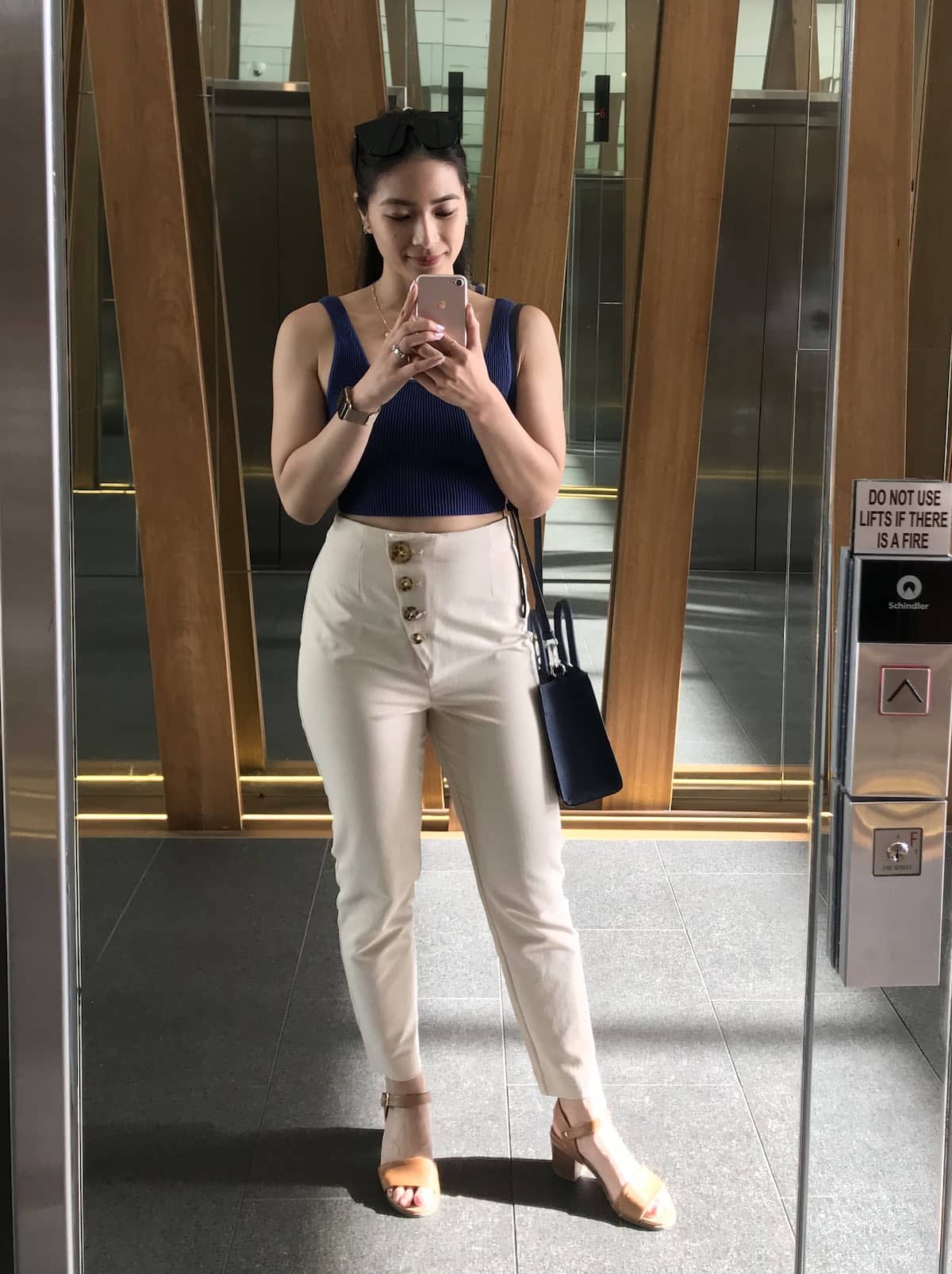 I bit the bullet and tried Everlane jeans recently, because everyone kept harping on about it, and they released a curvy fit, which I thought should work well for my bigger bottom and legs. In summary (and I won't go into detail), I was disappointed, and although the jeans look great, they aren't perfect, and I still had the same problem of tightness around the knee area and the jeans being too loose around the waist. Turns out when there is a 12 inch difference between your hips and waist, you are still forever going to have trouble getting the jeans up over your legs.
🩰 A mind-blowing thing about clothing fit issues: Well, your feet rarely change size
I only realised this the other day, but, while some of my clothes become too small for me within a year, I realise I have owned some of my shoes for several years. Also, before you @ me, I buy my usual size or size up and my clothes still become too small. It's called gym gains. It's also called clothes-are-not-made-for-curvy-women.
So I've had a couple of pairs of shoes for years, one of them being this giraffe-print boot which I absolutely adore. I get compliments on it all the time, and they are just the kind of animal print that I like that isn't too loud. It's generally a neutral colour. And I love boots, in general.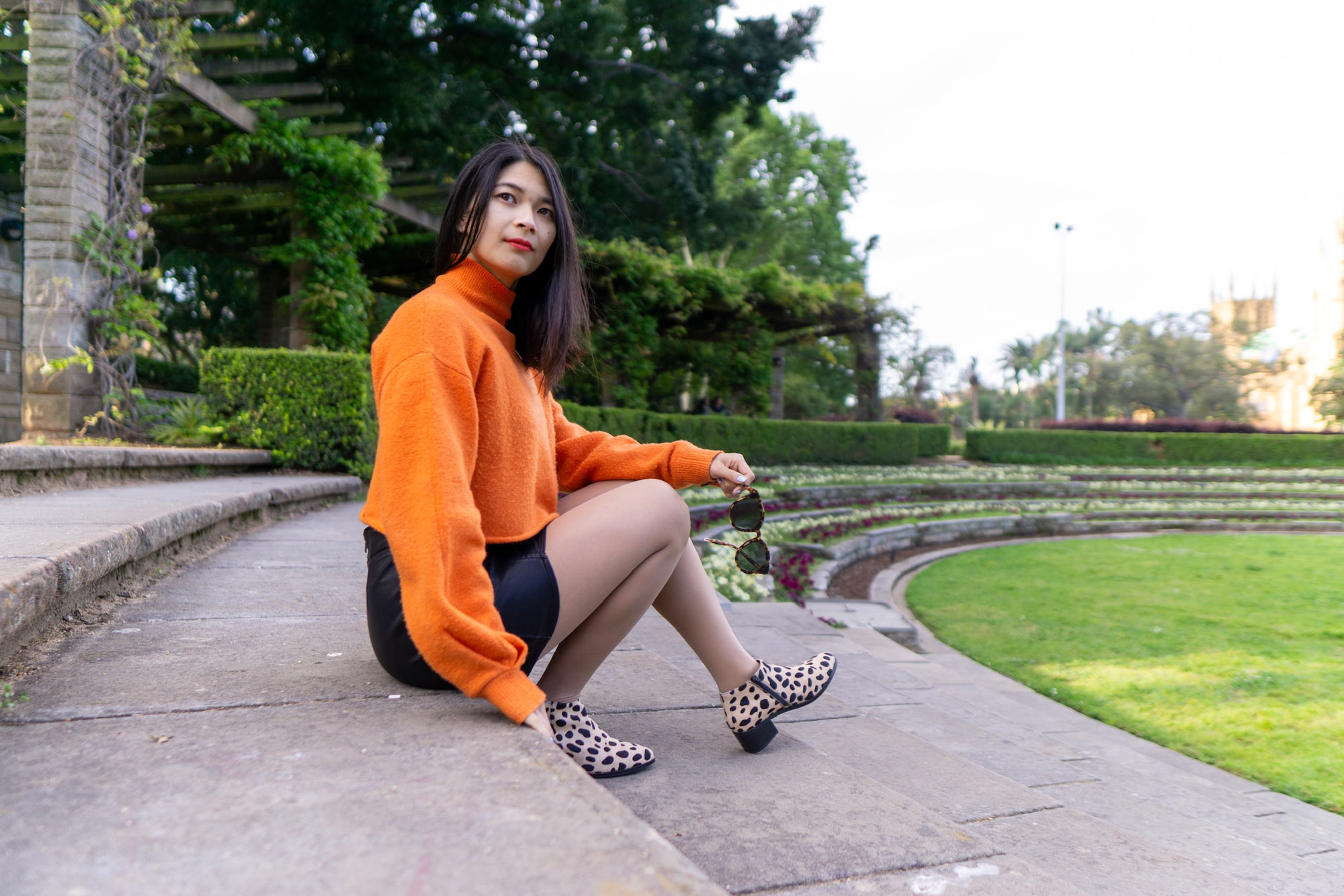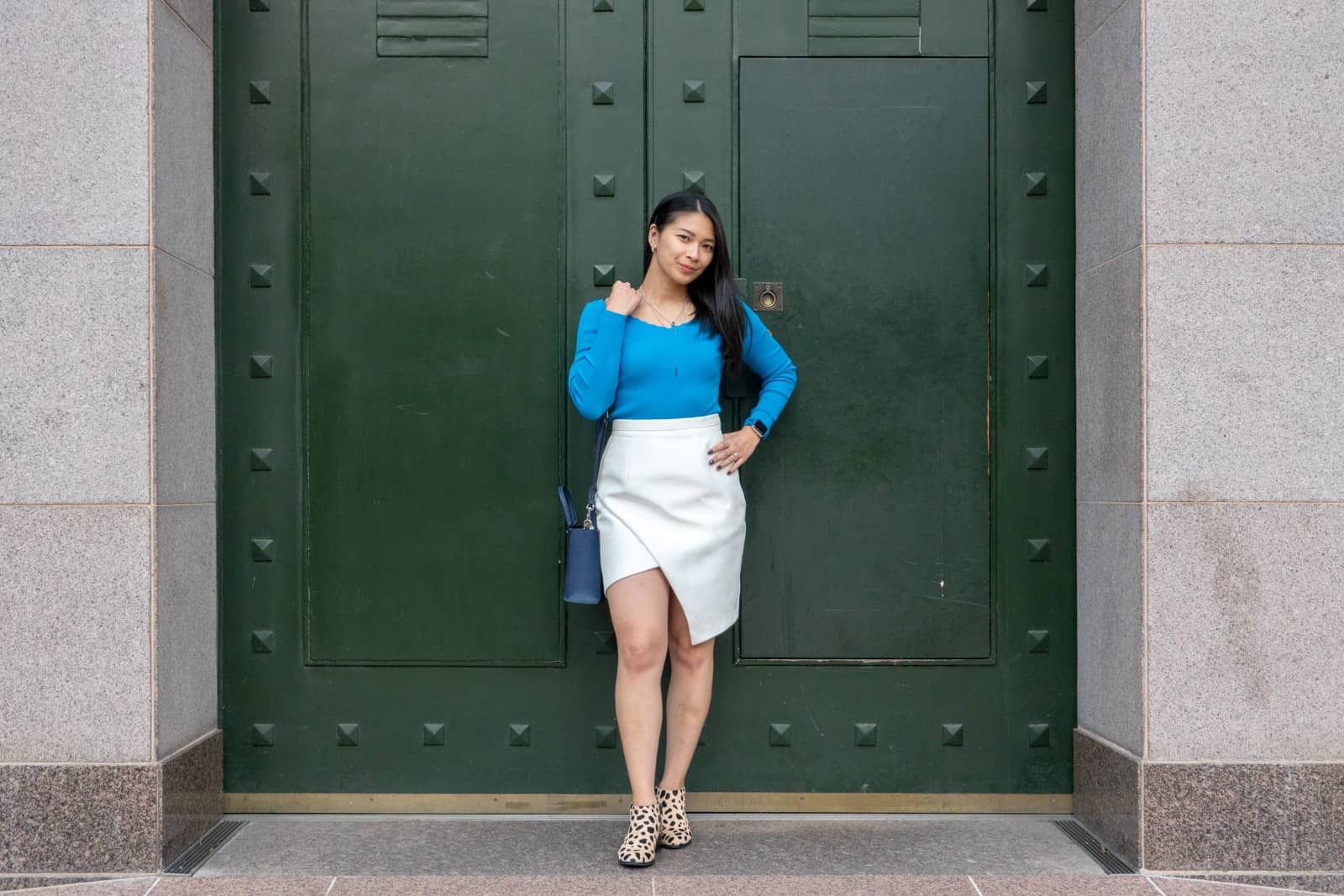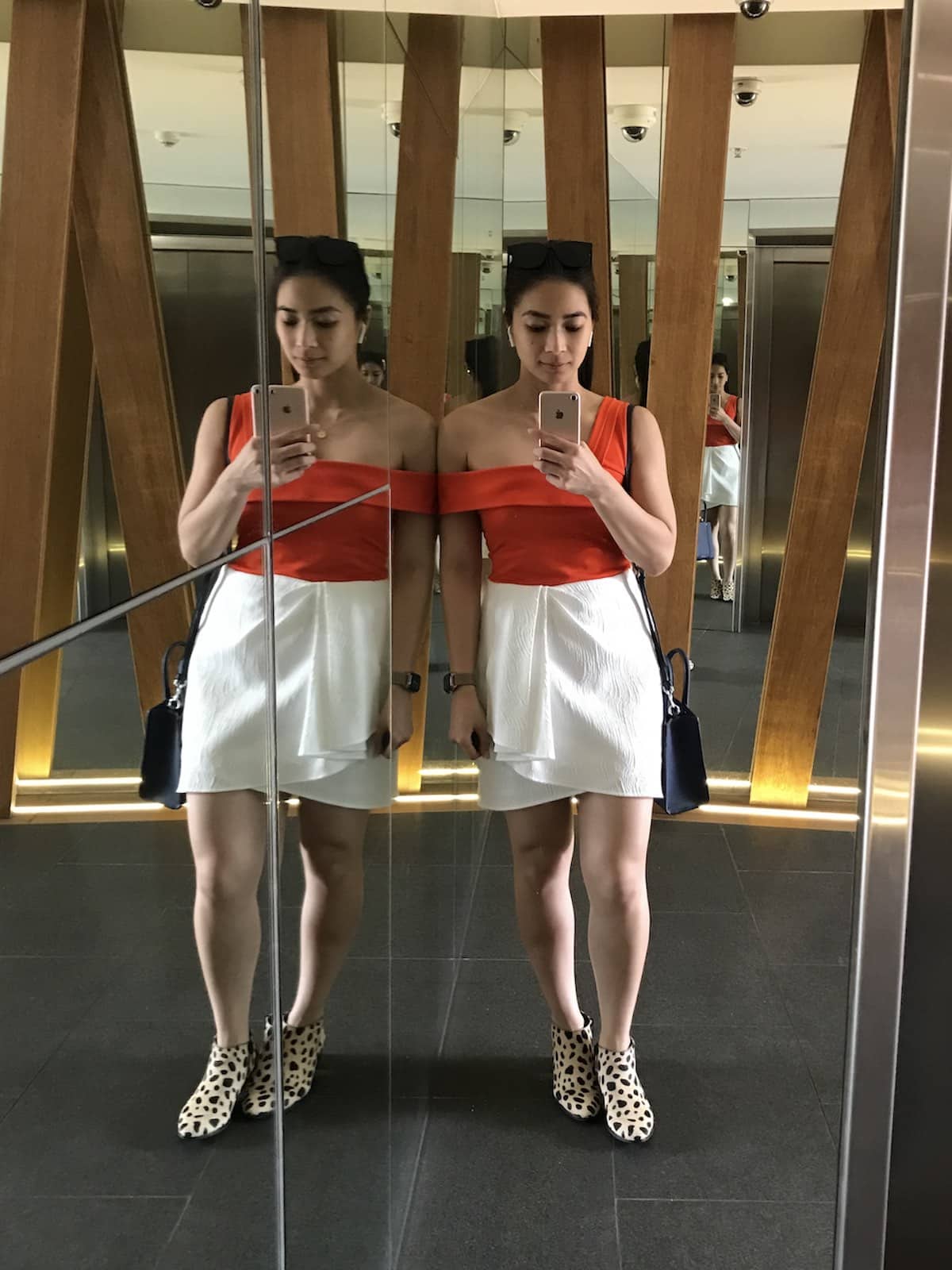 Making a statement with my shoes has not always been a thing for me. But now that I think about it – even when you gain or lose weight in your body (so long as it's not super significant), your foot tends to stay the same size. So why the heck don't I invest in shoes and making a statement in shoes, and stop buying clothes? If I stick with what works in terms of my clothes, and avoid buying new things, I will further avoid disappointment when my clothes stop fitting. But my shoes will be there to stay.
I mean, I never wanted to be that kind of woman who has a tonne of shoes, but now this idea has me thinking a bit more strategically.
🥶 General uncertainty for winter 2020 (Southern Hemisphere)
Over the past couple of years my style has changed very little in winter. I'm generally okay with outfit repeating in winter, but I like to keep it interesting by wearing bright colours. I have an orange coat and a cobalt blue coat, both of which have been extremely fun to wear, but I definitely tire of it all by winter's end. 😆 Last year I was wearing the same black wool top on most days.
I'm uncertain about my clothing for winter this year because of the COVID-19 situation, so I'll mostly be at home. My winter wardrobe is quite small, and to be honest I'll probably be fine and totally warm with what I have now – I'll just have a lot of outfit-repeating going on. I have no problem with that. I did want a versatile classic sweater for this year, though, so I recently purchased a navy cotton-cashmere sweater. When it comes to winter clothing I am more willing to spend good money on quality items, because you want to be warm, and not warm in too much polyester or acrylic fabric, but more natural fibres.
I am unsure about the lack of cohesion in my winter tops. Quite a lot of it is blue in colour, but there are some odd colours like purple and green. Most of my bottoms (pants and skirts) are suitable for winter (with skirts worn with pantyhose) and I am trying to refrain from thinking that I need any "special" pants for winter. It is tempting to buy a couple more winter pieces to add cohesion to my wardrobe and to have more to choose from, but hey – working from home, and I don't care about outfit repeating, and I may just turn the heater on if I don't want to wear layers of scarves indoors… wait, actually, my apartment doesn't even get that cold.
🚶🏻‍♀️ Next steps
I've mentioned on Instagram that I have been doing Brutally Honest™ wardrobe cleanses, and just decluttering items that even mildly feel wrong or off. It's so easy to think that a small thing about our clothes is something we can live with, but then we remember it every time we see it. Small stains, small annoyances in the fit, something is too short or long – but we hang onto it. So I've got to conduct another Brutally Honest™ wardrobe cleanse.
I would like to think about more cohesive winter outfits but I am sure I don't need to be buying new clothes to do this. I don't buy into a capsule style wardrobe because I like my clothes to generally work year-round. But I have a lot of sleeveless tops that might not really work in cooler months. I will try to get creative.
I will begin to be on more high alert for nice shoes, although there is really no reason to rush with them right now (staying at home and all that jazz). I'm keen to look in the direction of pantsuits and bright modern styled suits, as well – stuff that doesn't look too corporate. I generally feel like I'm in an experimental but cautious phase, and also constantly reminding myself to relax because I'm enjoying my clothes in the comfort of my own home, and that's actually encouraging me to wear some clothes more often and not care if someone notices in a conference call that I wore the same thing as yesterday. It's alllllll good.
---
Let me know if you liked this post or found it interesting. I'd love to hear about how you're thinking about your style, whether you're looking for inspiration online, shopping online and overhauling your entire wardrobe – or even if you're just doing a wardrobe cleanse because you have time.
Stay safe out there folks. 💐