🧠 Mental health in the time of covid-19
I reckon you might have expected a blog post on this topic. I hope you're not too tired of seeing this topic covered on social media or on the internet, though – it's really important. 🧡 In fact, I think that people sharing their stories of struggling with positive mental health during this tough time just helps many of us feel less alone. We're all doing our best right now, given the circumstances, and it's hard for everyone in different ways. I wanted to share some of my experiences so far, and be as honest as I can about how I felt/am feeling.
This blog post is structured in a rough chronological order of events, so before diving in, please realise that it felt mentally tough for me, to begin with, but I'm feeling more positive now and there will be more positive thoughts at the end of the post.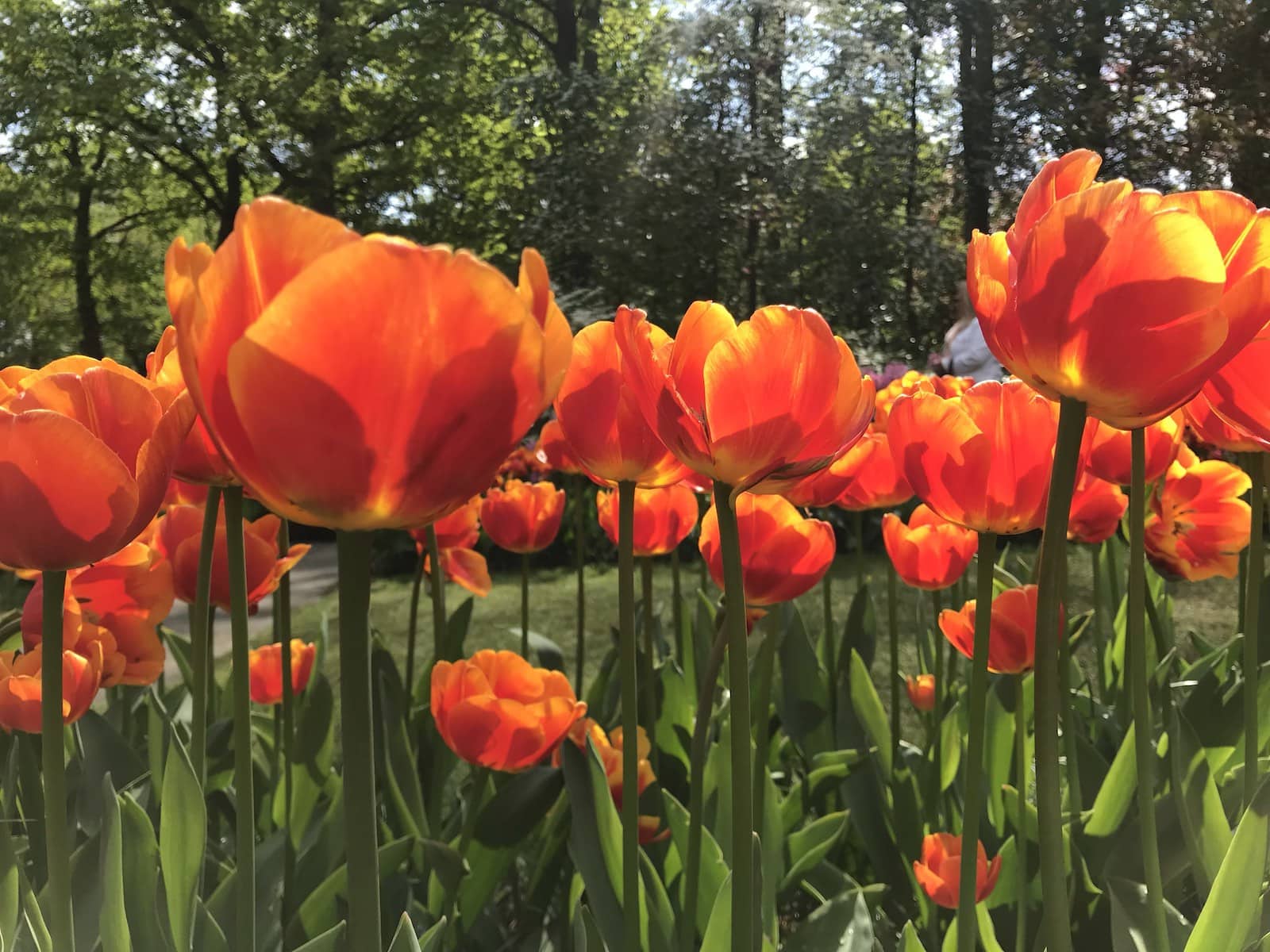 👩🏻‍💻 Working from home
The first few weeks of having to work from home were really, really tough for me. Looking back, I don't really understand why I was so depressed. After things started to look and feel better, I put it down to simply depression. I've struggled with depression in the past, but it really hit me hard this time.
Now, I am really privileged to be able to work from home. I have friends who have lost their jobs, or family who are unable to work because their place of employment has had to close. I am very fortunate that I can still work, albeit from a home environment. But one reason that working from home triggered me was because it used to be something that I did to get away from toxic people and toxic environments. Home was toxic for me at times. Home didn't feel like "home" at times. Sure, I sometimes worked from home out of convenience if I had an appointment or other commitments, or if I wasn't feeling well enough to travel but I felt okay enough to work. But – and I have seen many people make the same commentary on social media – being told to work from home feels really different. It's something you may be able to plan for, but indefinitely? It's a bit tougher.
For the first two weeks of working from home, getting used to my home set-up was pretty easy. I have an external display, keyboard and trackpad that were easy to set up with my work laptop, and I was allowed to buy a stand for my laptop and have it reimbursed. I shifted my workspace a little so that it didn't feel "samey" and that I could enjoy a slightly different physical workspace. I found my focus was incredible – I would throw my headphones on, jump into conference calls, and do my work with such intense hyperfocus that I could be pretty proud of myself for how productive I'd been.
🧶 From the work context to a personal context
All in all, I can say that working from home has been one of the better things to cope with. In contrast, though, I was not happy with my personal life. I could completely disconnect from a work context – that wasn't hard at all – but going to a personal context immediately made me very upset. Thoughts of the global pandemic and of uncertainty of the future flooded my mind. No matter what I did to wave the thoughts away, they wouldn't go away and I found myself crying and feeling helpless.
The other way I could tell that I was truly depressed was because some things would cheer me up, but only temporarily. I'd feel good for a minute but then digress into a sad mood. Nick would cheer me up with funny videos and I would genuinely laugh, but afterwards would feel unmotivated and start wondering what would next "keep me busy". Even when I tried to keep myself busy with things I would normally do in my spare time, it was so hard to shake any negative thoughts about the world and the situation we're all in. I tried to blog, but I had zero motivation. I felt like I had no energy to do the things I love, because a lot of it had been used up on working, and the rest of it was exhausted by mental strain caused by the pandemic. I literally didn't feel like doing anything. I wanted to just lie in bed and do nothing.
🐝 Keeping busy, somehow
I realised that work was doing a good job at keeping me busy. My colleagues are amazing to work with, and we have all been looking out for each other. The transition to working from home has been fairly seamless, and we're actually doing a fantastic job, given that we are going through some organisational changes and starting some big projects. I really enjoy everyone's company, and even though we are all working from home, it actually feels like we are still managing to stay connected and socialise despite not being in close physical proximity with each other.
I created a #wfh-blues channel on Slack, with the description "Working from home can come with all sorts of problems. This is a safe space to whine about them all. No judgment." I created the channel and didn't think too many people would join, but a handful of people did. They have all been asking opinions and sharing experiences of working from home where they might be struggling (like how to move and go for walks more, what to eat, how to take adequate breaks, and other similar things).
So, while I was keeping busy at work, I had to figure out how to do that in my personal life. In my mind I had intentions – during this time, I want to write for my blog, and I want to maintain a level of fitness despite not having access to a gym, for example. I know that many things are possible even though we are "stuck at home". I want to emphasise that I'm an introvert and my evenings are usually filled with watching videos, browsing social media, and writing for my blog, and my mornings are most definitely filled with exercise. But even being in an environment I was used to, I felt like there was nothing I wanted to do.
I generally find cleaning therapeutic, but I found it even harder to do once we had to work from home. Every time I turned to iron or wash the dishes I'd just get in a foul mood or find my thoughts wavering to how horrible of a situation this all is. And then I would feel upset.
🛍️ Stress-shopping
This year I'm supposed to be on a low-buy, but I found myself turning to shopping as a means of entertainment. My behaviour most certainly indicates that I am a shopaholic, but I make really mindful decisions about what I choose to buy and I often spend hours debating whether I should buy something or not. I also really hate shopping in stores and prefer to look at things online. I also believe I have an addiction to spending money rather than the actual shopping, because I get a thrill from clicking buttons like "place order" and feel immediate relief afterwards. 😕
I did not want to go out of control, but after holding back for a few weeks, I couldn't take it anymore and I ended up buying a lot of things to help me feel better about everything that was going on. To start with, though, I bought things I knew I'd need. I bought my usual before you speak coffee, and not even a couple weeks later bought extra boxes as I knew Nick would be working from home. I booked a haircut, going for the full wash, cut and blow-dry, because I hadn't had one since September. I bought a lot of nuts and chocolate coated coffee beans from the bulk foods store downstairs from our apartment, because I knew I'd have to eat snacks – and nuts were a healthier option than crackers.
I felt stress shopping for clothes was on the rise. At the same time I felt empowered to go through my wardrobe and do an honest declutter – even now, after doing it, I don't think I was 100% honest. 😬 There are definitely things there that don't fit that I'm trying to hold onto. But I made the decision to clean my wardrobe and assess it, and my personal style and clothing decisions over the past year, before jumping into buying anything.
But, yeah. I decided now might as well be the time to buy items from my wishlist that I mentioned in my initial low-buy post, so in the midst of browsing eBay and having online retailers slowly creep in with their sales, I ordered a couple of things from my wishlist:
I ordered gym gear from Ryderwear – the very set I had been eyeing since December. A 30% off sale happened, so I took it as my chance.
After searching, I found a lovely cotton-cashmere navy sweater from Elka Collective as my versatile sweater. I bought it from one of their stockists, and I had a $25 voucher (that I got in a previous order) that I could use towards the purchase.
After I tried on many a white long-sleeved blouse, I purchased the Bayside Blouse from Sheike that I had tried on in-store prior to lockdowns, now that the website had it at 20% off.
On eBay, I found a black C/MEO Collective skirt and queried the seller about the measurements, and I thought it'd be a perfect fit for a black short skirt. I bargained $5 off the asking price and only paid $26 including shipping.
There were other clothes I bought as well (Everlane jeans, a couple of dresses, and a couple of square neck crop tops that are very in my style), but I won't lie: I don't have any regrets about them. I thought about them before buying and before deciding to keep them. And while I'm working from home, I'm definitely not one of those people who wears loungewear or pyjamas. I get completely dressed for work and since I have more time, I've been putting some makeup on too. So some of these clothing purchases are definitely getting worn already.
I've actually sort of realised that there are some things on my wishlist that I no longer want, and I've grown out of a lot of my clothes, so I still hope to keep the amount of clothing I own at a reasonable amount.
🗞️ The news and other media
So I just want to talk about the news for one tic. I want to make it clear that I never read or watch the news. In fact, although I read it to improve my vocabulary and knowledge of the world as a teenager, I stopped when I was in university, at least ten years ago. After studying the media in English, and realising and digesting traumatic and sensationalised stories, repeated over and over again, while I was struggling with depression, it simply became detrimental to my mental health. It was several years before studies would surface about the negative psychological effect of the news on us. I am of the belief that so much information is pushed down our throats, especially now that we are in a digital age, and that a lot of news you consume has information that will be irrelevant next week.
Now I totally understand that it's different with the current global pandemic, but I have a lot of trust in my husband, Nick, who shares relevant news with me and filters out anything that is irrelevant. So it's fair to say I've been getting that kind of news from him.
About a month ago, I had to tell my family to stop spreading misinformation that they got from friend-of-friends and such, and to check their sources. I had to tell them to calm down because it was causing me so much anxiety on top of the information I was seeing on Twitter. I don't use Twitter a lot, but I post things, and I connect with friends, but seeing things related to the pandemic made me so anxious and upset. I deliberately muted any words to do with COVID-19 and the pandemic because I wanted to control my media consumption.
💔 Going from being sad about myself to being sad about everything
Now I realise I've just been sharing mostly negative and tough sorts of things that have been happening, but I've definitely felt better in the past ten or so days. Before I get to that point, though, I want to highlight my change in mindset over the past couple of weeks.
I started out feeling completely shit and useless. People started sharing their home-cooked meals on social media, and I felt crap about my own situation because I can't cook. I don't have many non-digital hobbies and I struggled to find a way to occupy my time that was not moping or watching television and movies. I was very tired of looking at a screen by the end of the work day. But I came to realise – as I mentioned earlier in this blog post – my privilege in being able to work from home. I began to accept what was going on. I acknowledged the fact that I could be carrying and potentially spreading the virus without realising, and I watched the social distancing and lockdowns impact people around me. I didn't see it affect too many people I care about, but I saw it affect strangers. And this made me really sad.
My initial sad thoughts were that we were all going to die. That I was going to die. 😰 I felt, what is the point of anything? But then I started to feel sad that the world was in a terrible situation. I started to get angry at people making jokes about it. It was no longer appropriate.
I started to think about how people's lives had been effectively ruined. I know "ruined" is a huge word, but the countless ways people have been affected: losing their jobs, being told to take unpaid leave, being afraid of leaving the house, weddings cancelled, trips cancelled (yeah, that's kind of pretty much happening to us), having to homeschool children, not to mention exactly what this blog post is about – ill mental health and extreme anxiety. Every now and then I remember this… and I get upset and angry because I see people not social distancing, people seeing this as a joke. I see health workers being completely overworked, and people still trying to make ends meet. The postal service is still running and I am so thankful for everyone working to get things delivered for everyone. But these people need time too. We all deserve to have our lives back. All of us.
🏡 The road ahead: Maintaining control in isolation
Nick and I have made every effort to eat healthier while still supporting the local small stores in our neighbourhood. We have tried to go out for walks when possible, but we have also been feeling really tired. And not sleeping well. I literally don't know what's up, but it's like a switch went off once lockdowns happened. I felt like I just instantly slumped.
Personally, since our gyms are closed, I know I will have to find a way to continue exercising and trying to maintain muscle mass. But I know Nick and I have been working so hard up to this point that we probably needed a break from working out anyway. After taking some days off and not exercising too much at all, I've accepted that it's possible to still be fit and still move and be strong without pushing tonnes of iron. It's obviously not the same as lifting heavy weights in the gym, but it's possible. Our bodies can do incredible and amazing things, and I'm always surprised by how much I can push myself when I put my mind to it. So I'm motivated, and I've started doing short HIIT workouts at home, and I hope to do short runs as well. I am honestly curious and keen to see how my body responds to a different kind of exercise – even though many people have been saying, our bodies don't know the difference between whether you're at the gym or at home. 😆
I think the important thing for me now is to remember that there are things I can control. I've seen some people post about it on social media. We can't control a lot of things right now, but we can control the spread of the virus by staying at home. We can control our home environments, and there are things that are still in our ability to change and make better.
Perhaps one of the things I am still most upset about is related to our trip to Greece, that we had planned for the month of May. We haven't cancelled anything, but we will have to soon because it looks like even if we are able to go, it won't be a great trip. I was really, really looking forward to it, because of the beauty of Greece and the great itinerary we had planned. 😞 I was also really excited to meet Pauline again, especially since me and Pauline's boyfriend Matt planned for us to be in the same place at the same time, as a surprise for Pauline! 😭💔 I've accepted that it… well, it won't be happening, but in my heart I get this feeling that the real upset just hasn't hit me yet.
I'm definitely trying to look on the bright side though. I feel such a small joy when I eat something that is already in our pantry, or use up a bar of soap, or even wear some of my clothes. I feel like I'm a little more alert about these small things, and I feel so happy that my things I own are getting used, used up, or worn. I can order and buy certain things to add to my life at home, whether it's consumable or non-consumable. I can move things around. I can make use of the space I have.
That's another thing we can control: Home can really be – well, home.
We will all get through this. Please stay home as much as you can.