🏕️ Organising Devcamp 2020 – just prior to a global pandemic
Hey friends.
It, again, has been some time since I've written anything for my blog, but I wanted to write about this experience before it truly slipped away from me. The rise of the global pandemic of c*vid-19 was extremely tough for me to deal with in the beginning, just a few short weeks ago when I had to change my routine and what had become comfortable. I found myself struggling more than I thought was appropriate. I was upset more than I thought was necessary, but I couldn't stop crying my eyes out for what seemed to be no apparent reason. Then the focus on my world turned into a focus on the people around me and how incredibly fortunate I am to still be able to work from home. Now, I only want the pandemic to disappear because everyone else deserves to have their lives back. I'm thinking of all of you – and though you might have heard it time and time again, we're in this together.
---
So let's talk about a thing I organised called Devcamp, which I first organised last year! I had the honour of organising it this year as well, in early March. Many of you know me well enough – once I commit to something as big as organising something, I find it extremely hard to quit. I'm not a quitter. I don't do easy. Fire challenges at me that are hard and I will do them. If not to show others what I'm capable of and what I care about, then it's almost always to remind myself of what's important to me. So that's why I was still very set on helping organise the event this year, too.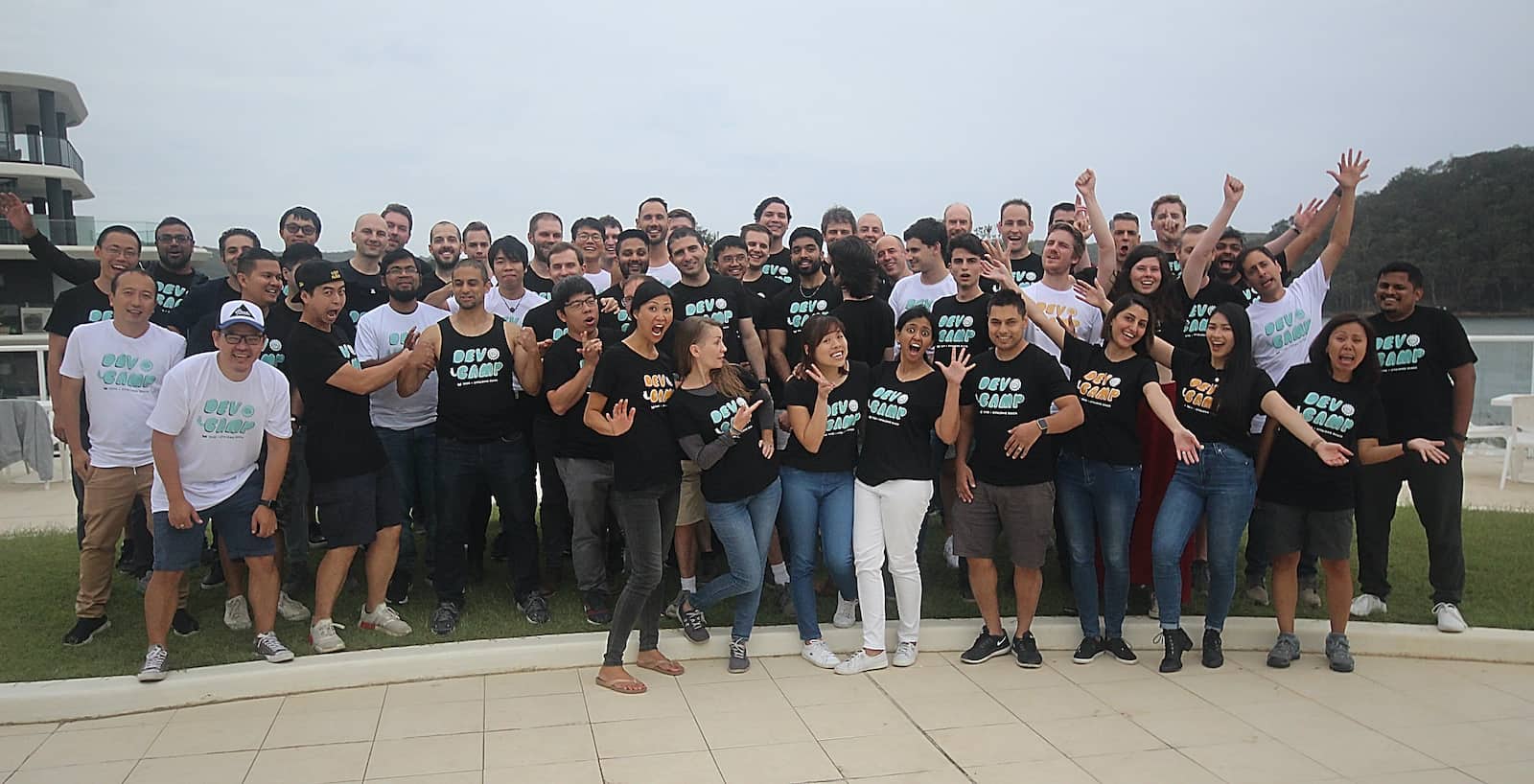 It hit us pretty fast – with three new folks (Shen, Stu and Chris) organising and just two (Farnaz and myself) from the original team, we got together late last year, collating feedback from the 2019 event to apply to organising 2020's event.
Rather than get into the boring details of six-ish months of organisation, I will discuss how different aspects of the event occurred and the organisation behind each of them.
🏖️ Venue
The venue was Ettalong Beach, which was only about a 90-minute drive. Last year, the venue was an excruciating three-hour drive, and that meant that by bus it would have taken longer. Hours and hours. The closer venue was reasonable, and it meant that people who were unable to come for the full duration could still drive up during the day and then make their way back to Sydney to be with their family.
Stu spent some time actually going to the venue when he was in the area, checking it out and seeing how good of a fit it was for our needs. It turned out to be an easy venue to navigate. Someone gave us feedback and said that they liked that the leagues club was a nice spot to just sit outside of the conference rooms, so you felt pretty free and not like there were areas that were "out of bounds". People liked that it was close to the beach (even though it rained). The conference rooms were spacious. I feel that they were really tightly packed at last year's venue.
👕 Shirts and thoughts about other potential merch
The shirts were largely a huge success. We got Elle to design them again because everyone loved her design from last year, and she just did a fantastic job. ☺️ The design was fun and bright, characterised by bubble lettering, and we employed the same idea to allow attendees to choose between a light or dark coloured shirt. At the last minute, when we had the idea to give organisers a different coloured shirt, Farnaz and I realised that we'd made it a bit difficult since there weren't many options available. Instead, we asked Elle to create a different coloured design for "VIP" folks.
In the end that worked out well. We ran into a snag with the shirt supplier not responding to us. We had tried to use the same company as last year, but found another Australian-based one quite quickly. We were able to pay for a rush order… and even though it was expensive, we were still under budget, and I managed to find a discount code on the internet. 😂 I'm not really that frugal, but if I can find a discount code, I sure as hell will have it. 😛
I think the design looked a bit better on the black shirts than on the white. But it did seem like most people chose black shirts anyway.
Initially we had thought about supplying other merchandise but were also quite concerned about wastage and not sure about logistics. We weren't 100% sure who would want a coffee cup, or a water bottle, or a notepad… we had the idea of tea towels, or beach towels, since the venue was near the beach, but we sort of unanimously settled on just doing the shirts. I've just realised that we thought stickers were a fantastic idea but we never got around to doing them. Maybe next time that would be cool. (We were under budget so we could have!)
🎙 The talks! (the speakers were all fucking amazing)
We did something different to last year. We restricted talks to 20 minutes, 40 minutes and 60 minutes. This seemed to give speakers a better idea of the format of their talk – a short one, a slightly in depth one, or a very detailed that might also take the form of a workshop. We also gave deadlines as to when talk titles and descriptions should be submitted. Last year people often had no idea how long their talks were. This change sort of kept some of the speakers grounded, and gave us enough time to communicate the schedule to the attendees without any of them questioning what they should expect from Devcamp.
I can't praise or thank all the speakers and presenters enough. They did an amazing job, and at least half of them were first-time speakers. They had never spoken in front of an audience, not even presented to a small group of people in the company. We have a handful of opportunities at CM to speak about both technical and non-technical topics, but some people who had never given this a try had actually put their hand up to speak about something at Devcamp. And they did amazingly – you probably couldn't even tell it was their first time speaking in front of an audience. It's worth noting the hard work that goes into all this as well. Putting a talk together doesn't just take an hour or two. It can take several. It can take days. And these people worked on their talks and presentations while they also managed to meet deadlines and perform their normal work tasks.
I should add, not only was it the first time that we had so many first-time speakers, but it was the first time we had three of our organisers also do a 20-minute talk on top of organising duties. 😅 Myself, Chris and Shen decided to fill in a few gaps in the schedule when we had a bit too much break time and when a handful of our international engineers could no longer present.
That was when COVID-19 burned a hole in our schedule. We dealt with it really quickly, but with basically less than 3 business days until Devcamp, we were notified that all international business travel had been cancelled because of concerns about the virus spreading. It was really disappointing because we were obviously looking forward to having our visitors, and they were looking forward to coming along too. We had a few holes in the schedule and had to do a shuffle, and eventually we were left with an 80-minute lunch break and a 2-hour break between end of sessions and dinner one night. This actually turned out to be for the better – we had a more chilled out lunch, and people were well refreshed for dinner too.
We also managed to hire a company to bring recording equipment this year, so the talks could be recorded. This means we can share them with anyone who wasn't able to come, and it means less people moving between parallel streams, because they know the one they are missing out on will be recorded.
We had some last minute drop-outs from the talk schedule. This was a bit of a shame but many of these were for personal reasons. What I've learned from this experience is that you have to be ready to take action fast, but don't feel like it's something to panic about. It's literally not the end of the world (little did we know COVID-19 would be even more disruptive than these hiccups). It's difficult to suggest some kind of back-up plan to something like this, but I think that the handful of cancellations simply taught us that we can sort through these things as long as we communicate and collaborate.
🗓️ Communicating the schedule, making it available online, and the structure of the days
We had great feedback last year about the online schedule being a great idea. It meant that people could view the schedule without going on VPN. I was so overjoyed last year when I saw presenters actually had it open on their laptops! I made it a little more mobile-friendly this time, too… yeah I'm not going to argue the fact that having a UI engineer on an event-organising team isn't a bad idea. 😛 (Just don't judge me for updating it via cPanel's built-in code editor. 😂)
Since we made speakers choose from a variety of time slots, it made it easier for us to put the schedule together. At least I think it was easier than last year. We knocked it out in one afternoon. I remember it being more spontaneous last year, for some reason. And it was more difficult because people had different time slots.
On day 1 we decided to have a mystery keynote speaker – who was actually our head of Employee Experience, Karen. This idea came really early on, and although we weren't sure if she would be keen, we just really hoped she was. After she agreed, we really shut our mouths about this, wanting to keep it a secret but also maybe have a game around it. It didn't end up being a competition or a game, but it was a lot of fun when people tried to guess who it was. Some of us (the organisers) gave them false information to keep it a surprise. They still loved to guess. 😆 They thought they might get extra clues after the company suspended international business travel, but they didn't.
Karen's presentation was a wonderful way to set the tone of Devcamp as she talked about saying yes to opportunities, even if they might sound terrifying at first, even if you might have to learn something new. We were all really glad to have here there. 💕
The schedule was definitely packed, and we had two streams running in parallel for all of day 2, even with the aforementioned 80-minute lunch break and 2-hour break before dinner. We had morning and afternoon tea at appropriate times, too, so I don't think it was more than 90–120 minutes that people would be sitting without a break. Not to mention the fact that we were able to squeeze in a comfortable five minutes of break between each session, to allow for toilet breaks and any accidental overtime. It really bit us last year when we didn't pad the time out, so I am so glad it worked out this time around.
The sessions that ended day 2 were a great pair of activities: Henry ran a group activity that was a continuation of his session from last year – it was more hands-on. Shen ran a challenge linked to our company's Giving Back initiative, where people teamed up to construct animal beds to transport injured wildlife from recent Australian bushfires. Both these activities were a nice change from a day full of talks.
The evening activity on day 1 was one of our engineers, Riz, performing on his guitar and singing a songs for a few hours, with a couple others joining in to sing. On day 2 we had dinner at an Italian place, which was out in a lovely courtyard. People actually said they really liked this! Then we watched a movie at an old-style cinema. Some people fell asleep during the movie, apparently. We had some mixed feedback around the movie being less interactive than a team bonding activity, while some people liked the idea. I think it was about striking that balance – we had definitely looked into some more recreational activities to do during the day as a big group broken up into smaller groups, but many companies were only able to do this sort of thing during the day. The logistics of going kayaking or paddle-boarding only to rush for a shower to return to talks was not good… 😅
📨 Email communication
We maintained email communication in the lead-up to Devcamp. OK, maybe I should say that I maintained communication, because I just called dibs on doing the same organisational tasks I did last year, so I just made another email list (dogfooding our own product… yum) and got the ball rolling. 😂 You want to communicate effectively but also not over-communicate. We used email for more formal communication and when we wanted people to RSVP. These kinds of important things where you need to collect information are bound to get lost in another platform like Slack.
I had a really basic design for the email communication last year. There was just an emoji of a camping tent in the header of all the emails. This time I decided to use some brighter colours pertaining to our marketing site, and use a different emoji for each email that was related to content, so that it was more interesting. I'm no "master" at scribing emails, I just enjoy it as a form of communication so I really put my heart into it, haha. I tried to employ a fun tone of voice throughout the emails (same as last year), and I tried to make them as personalised as possible by attaching first names to each of the recipients' details, and trying to include their name as part of the subject line – along with emoji, because that stuff converts. ✨
I would say that the emails were less disjointed than last year. We never had a grand plan around when emails would be sent, but I didn't like the disjointedness and irregularity from last year. Some of the emails had too much content bundled into one, and some details could easily be skimmed over. This time around, I tried to plan them so that there was just one CTA or one thing to think about or action in each email.
There weren't a lot of challenges with email, I just had to triple-check I was sending to the right email list and take all those precautions (sending anxiety is a real thing). I had to keep the list up to date when new people joined the company, and also update the list when we found out that people could no longer attend. We didn't have a formal ways for people to tell us that stuff – they just messaged one of the five organisers, which wasn't a huge issue. We're still a pretty small engineering organisation, so we didn't need some kind of formal change-RSVP sort of thing.
We used Slack as supplementary communication, but invited people to join the associated channel because we would use that as primary communication during Devcamp.
We tried to push for some content to be shared on social media, but I think we were all enjoying things too much and feeling rather busy that the excitement to actually post on social media wasn't really there. We did have some people posting last year, but definitely not a lot. I suspect it might also be that close-knit atmosphere that made us feel like keeping that behind closed doors. The original intent behind sharing on social media was to be a window into our engineering culture for other people in tech, but hey, even though I'm (unhealthily) attached to Twitter, I don't mind that spreading the word beyond our company didn't really happen.
🧠 Mental health awareness and taking care of each other
You can never remind people too much about mental health awareness. Last year we endeavoured to tell attendees to take care of themselves and their mental health. This time we further encouraged everyone to take care of each other. I decided to create a code of conduct well before we had things organised – nothing happened that we "needed" to create one, but it's not about it being a "need", events should have one anyway – it was just a reminder to be respectful and kind to each other despite not being on office turf. We wanted to foster a healthy and caring atmosphere, exactly like what many people value at the company and that has been valued even in years before I was employed at CM.
I've only just realised how relevant this global pandemic is, but, I can confidently say that we were caring and looking out for each other before COVID-19 barged onto the scene. 💙
I noticed many people choosing to take breaks by sitting in the breakout rooms, going back up for a nap, going for a walk, and just getting away from the sessions for a bit. I'm glad that they felt okay to do so. In my heart, as an introvert and someone who really struggles to be social for long periods of time, it was always my vision for people at Devcamp to be able to say "I need a break" and not be judged for it or questioned about it at all. In my experience, I've never known how to easily and comfortably communicate the same sentiment at other events. Even sitting in the corner invites some kind of invasive company. But when you make it clear that the need for being away from people is completely normal and not wrong, people have a very different approach. They either leave you alone and figure that you need the space, or they check that you're at least OK, or they ask if you mind their company or if you'd rather be alone. Mental health awareness is not just about recognising when your mental health is low, but it's about noticing it in others, too.
At some point before everything began on day 1, I decided that it might be a good idea to do a periodic check-in in the Slack channel, encouraging people to react with how they're feeling with emoji. I encouraged everyone to be honest and that they wouldn't be judged, it was just to gauge how everything was going and to simply remain connected. I did it a couple of times a day at slightly random times. This went well – I thought people might find it annoying at first. The majority of people were excited. Many were tired. Some needed a coffee. Some were surprised (probably at how much they were learning). I'm glad that people felt that participating and tapping a few emoji was worth their while. 🥳
---
Thank you for reading all the way up to here. 😊 Thank you to everyone who was involved in getting Devcamp together. Shen, Stu, Chris, and Farnaz for being incredible organisers. Elle for designing the shirts. Walt, Rob, and John for being the unsung heroes in helping us with logistics and making sure everything ran smoothly. Riz for playing tunes all of Wednesday night as our entertainment. All you fucking amazing speakers, you. 😌 And everyone who attended. You were all wonderful.
I am really grateful that I had the opportunity to organise Devcamp. I encourage anyone (from CM) who wants to organise to not be afraid to step up! And if you are planning organise something similar in your company, I'd be happy to chat about my experience.
A lot of my inspiration for some of the initiatives and the way I approached Devcamp came from XOXO festival, which I attended for the first time in 2018 and again in 2019. It was the first event where – despite travelling alone and internationally for the first time, only knowing one person at the event (and at the time, not even that close of a friend yet), and not really knowing what the fuck I was getting myself into – I felt like I could truly be myself. I was welcomed and I wasn't judged. XOXO was inclusive of everyone, many people were open about mental health, and there was a real care for people in the community. The organisers, Andy and Andy, were open to improving the event even after it had already started.
Sadly, there will be no XOXO 2020, because as an independent event, the organisers have a lot of uncertainty and risk because of the global pandemic. Because of the hard decision they have had to make, they are now unemployed. You can continue to support their work; Andy Baio on Twitter and Andy McMillan on Twitter and on Patreon.
I didn't want to necessarily re-create XOXO, but my experience at XOXO made me realise that the things I cared about did matter, and that they were important. They were important to many people, not just me. And it gave me the confidence that I could bring these things to the table in organising an event like Devcamp. But, although I helped organise and put a few things in place, it's really the people who were at Devcamp who made it what it was.