XOXO 2019: progress, not perfection.
This year I had the privilege of attending XOXO again, and without a doubt I cite the event as having changed my life last year. I'm willing to admit that I have a tonne of bias towards this event, but I'll write about it again from the bottom of my heart, and in any way I can. 💖
A lot of folks will mention that XOXO is a conference and falls in the bucket of being a tech conference. I have said that, too – but that's just because people will think I'm talking about Burning Man or think of EDM vibes if I say the word "festival". So, there is a conference that is part of XOXO, and XOXO does have a lot of folks "from the internet", many of whom happen to work in tech, but I will put it quite simply: XOXO is an experience. On top of that, it is an environment where everyone is welcome, and I think that's one of the best things about it.
This year, XOXO took place at Revolution Hall – the venue that XOXO took place in in 2016. In 2018, XOXO was more than twice its size in attendees, and thus needed to be at a larger (and less intimate) location – at the Veterans Memorial Coliseum. As last year's event was my first XOXO, this one was a little different on the surface, but honestly, the warm feelings I felt were much the same, or better.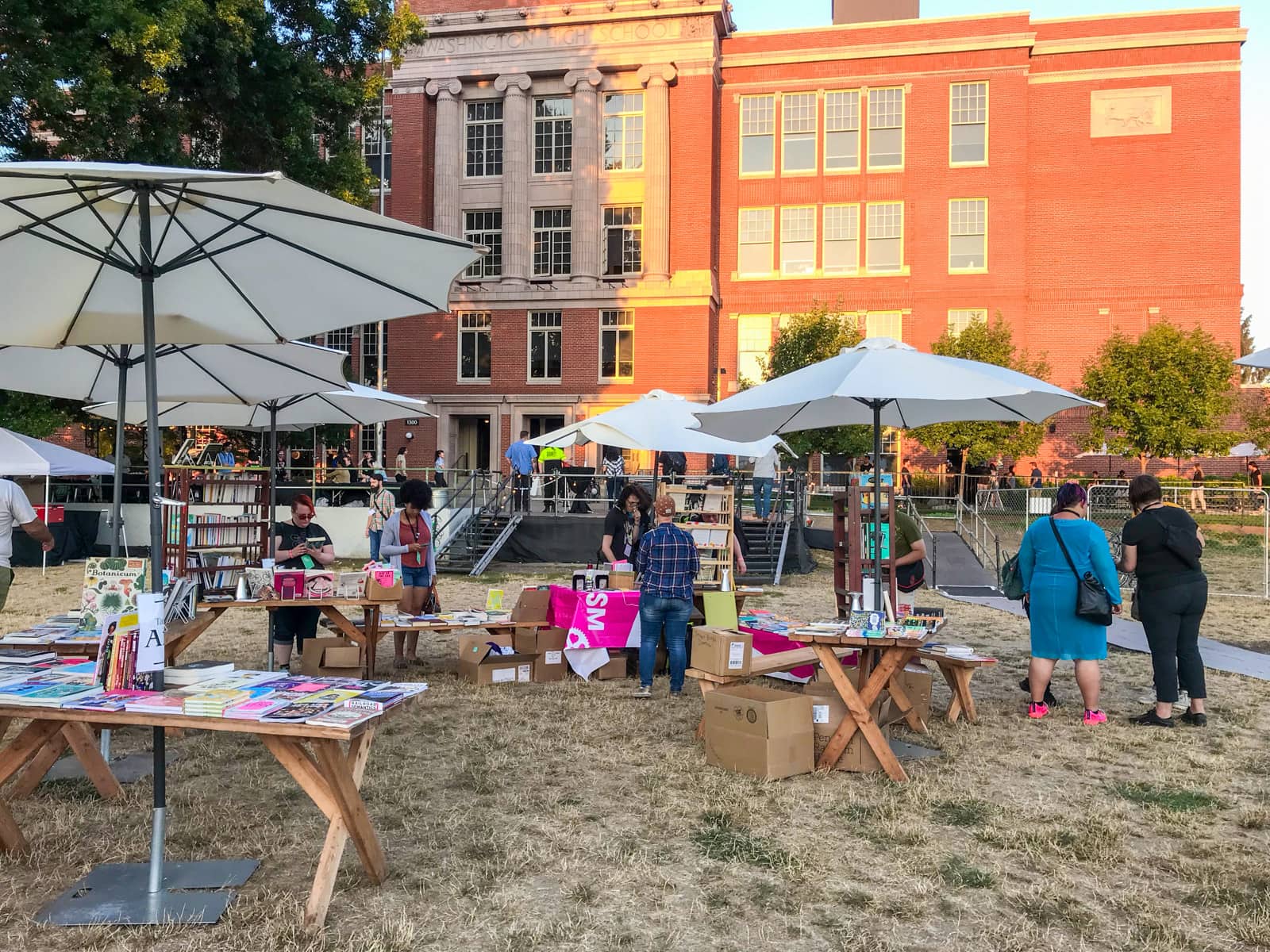 Before I dive into the real part of this post, I wanted to share the postcard I sent myself at last year's XOXO, which was delivered a year into the future. It arrived in my mailbox while I was gone, but I read it when I returned home after XOXO and after our brief stint in LA. In anticipation of receiving it, all I remembered was that I wrote something generic and encouraging, not tied to any particular events. Knowing me and how my "future me"-type letters have surfaced in the past, they were always 101% embarrassing, and at the time of writing this, I knew I didn't want to read anything like that.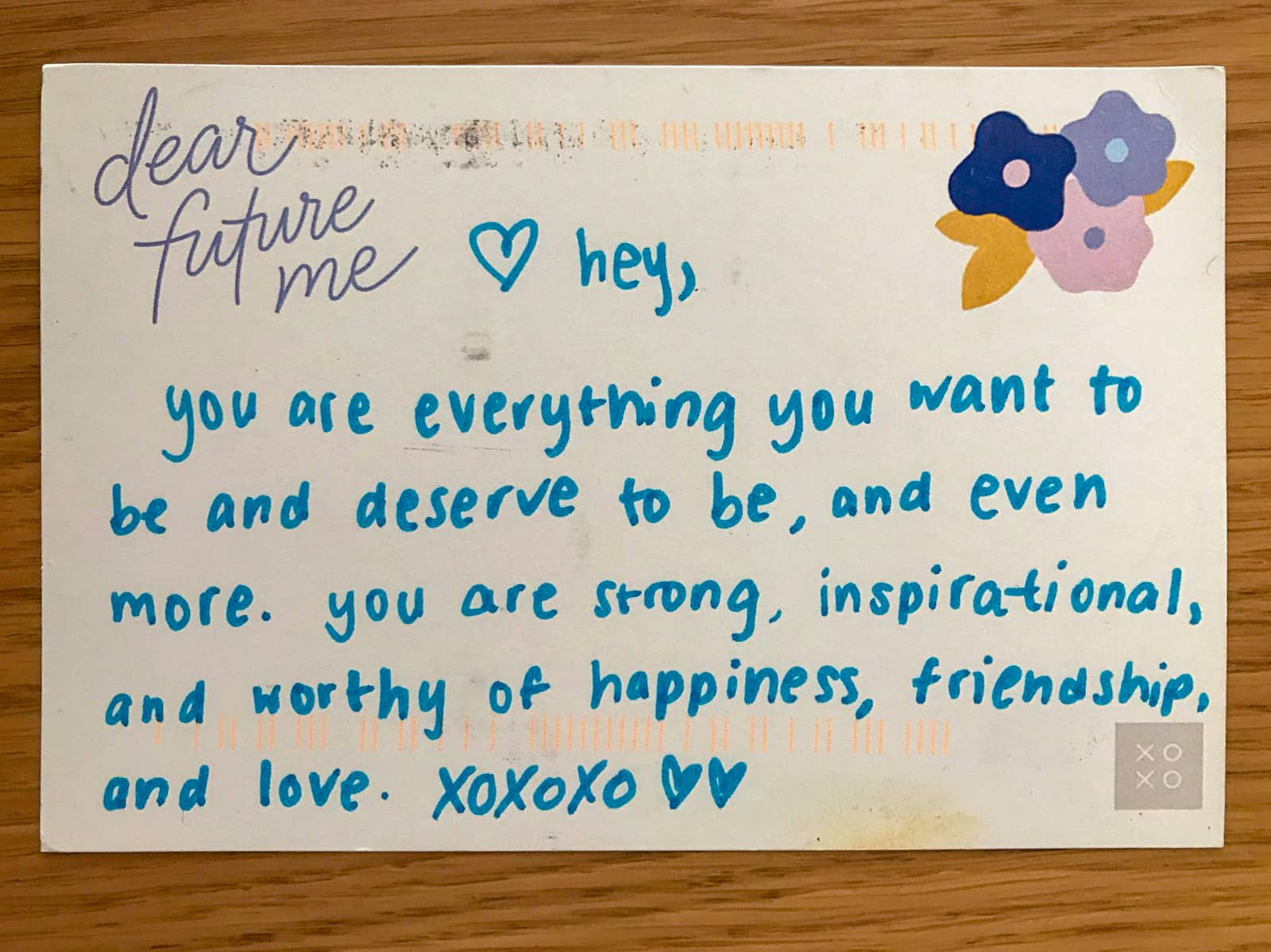 When I read this, I read this like the person I am today, and I feel like, gosh, Georgie knew what was up, hey? But when I think back to Georgie, this time in 2018… bloody hell, how naïve she was. I was strong, confident, and so sure of myself. But if I compare myself now, to myself back then, it is incredible how much I've grown in the past year. I hope that you read this message and know and believe that you deserve to be here, too.
🍳 Pre-XOXO breakfast
There is a lovely breakfast/brunch spot called La Luna cafe near Rev Hall, that used to be a rock club. On the last day of XOXO in 2018, I actually had brunch here with Phill, Kyle and Linn. Tamás organised a breakfast here before registration opened for XOXO, and I was happy that we were going to a spot that I previously enjoyed and would recommend. I met Tamás last year at XOXO and he had made a thing out of capturing people's photographs and printing them on polaroid film. He had also put together an incredible shareable calendar with all the events from XOXO.
I invited Nick along to the breakfast – even though he wasn't attending XOXO, I didn't see why he couldn't meet some really lovely folks too.
I wasn't really hungry, so I just got a chai latte, but then I saw all the food everyone was getting and was reminded of how great it was, so I decided to order. 😆 It was much the same as my friend Phill experienced last year: he decided to skip breakfast and get just a cookie… but then he saw all the meals we ordered and caved. Hahaha.
I got to meet a handful of people at the meetup whom I knew only on the XOXO Slack workspace/group, and had not met previously – Eliza and Emory to name a few! It was nice to put a few avatars to folks in real life, and I smiled at being able to see them around for the rest of the festival and recognise them, even if I just happened to see them from afar.
I also got to see my dear friend Kylie after not having seen her for two years. 😱 This was her first XOXO! I first met Kylie in Perth for Mixin 2016, which she organised (read my recap post!), and another time when I visited Perth in 2017. She has since moved to San Francisco as she got a job there, and even though I haven't seen her for so long, it really feels like I saw her last week. Something about being in touch via the internet and seeing each other posting on social media always makes it feel like it hasn't been that long.
🥳 Opening party
I'll say it out loud: I'm not a party person. "Work hard, party harder" reads as "Work hard, party soft" in my book. 🌺 The word "party" conjures up some really uncomfortable scenarios for me, in an uncomfortable environment (or a collection of uncomfortable environments), all of which really challenge my natural introversion, comfort zones, and energy levels. Last year, there was only a closing party, but I was so emotionally drained after the festival's events that I went back to my hotel. But this year, I did go to the opening party.
I don't really get FOMO, so it wasn't FOMO that made me go to the opening party – I genuinely had a little energy after the brunch, and a partial day of working and chilling out. Nick was working remotely throughout the whole week, but I'd only done it from Monday–Wednesday, and tying up a few loose ends on the Thursday. So I read a book, and we did a bit of cafe hopping.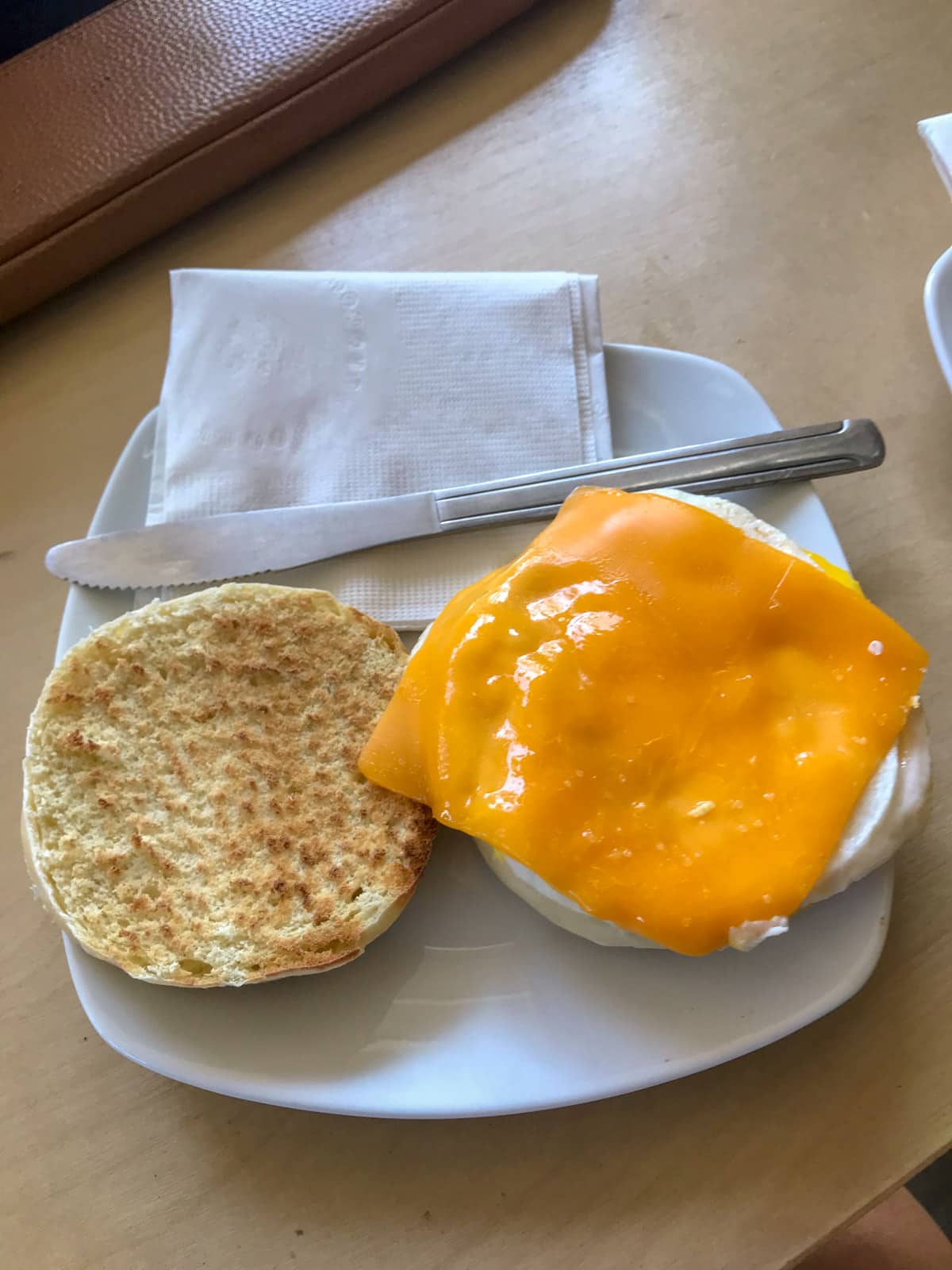 We bumped into Tamás at Push X Pull cafe. I really loved the vibe there! And the chai latte was very good. Ourselves and Tamás were pretty clearly tired, and recuperating, so we were cool to be introverted and just sit in each other's presence and do our own thing.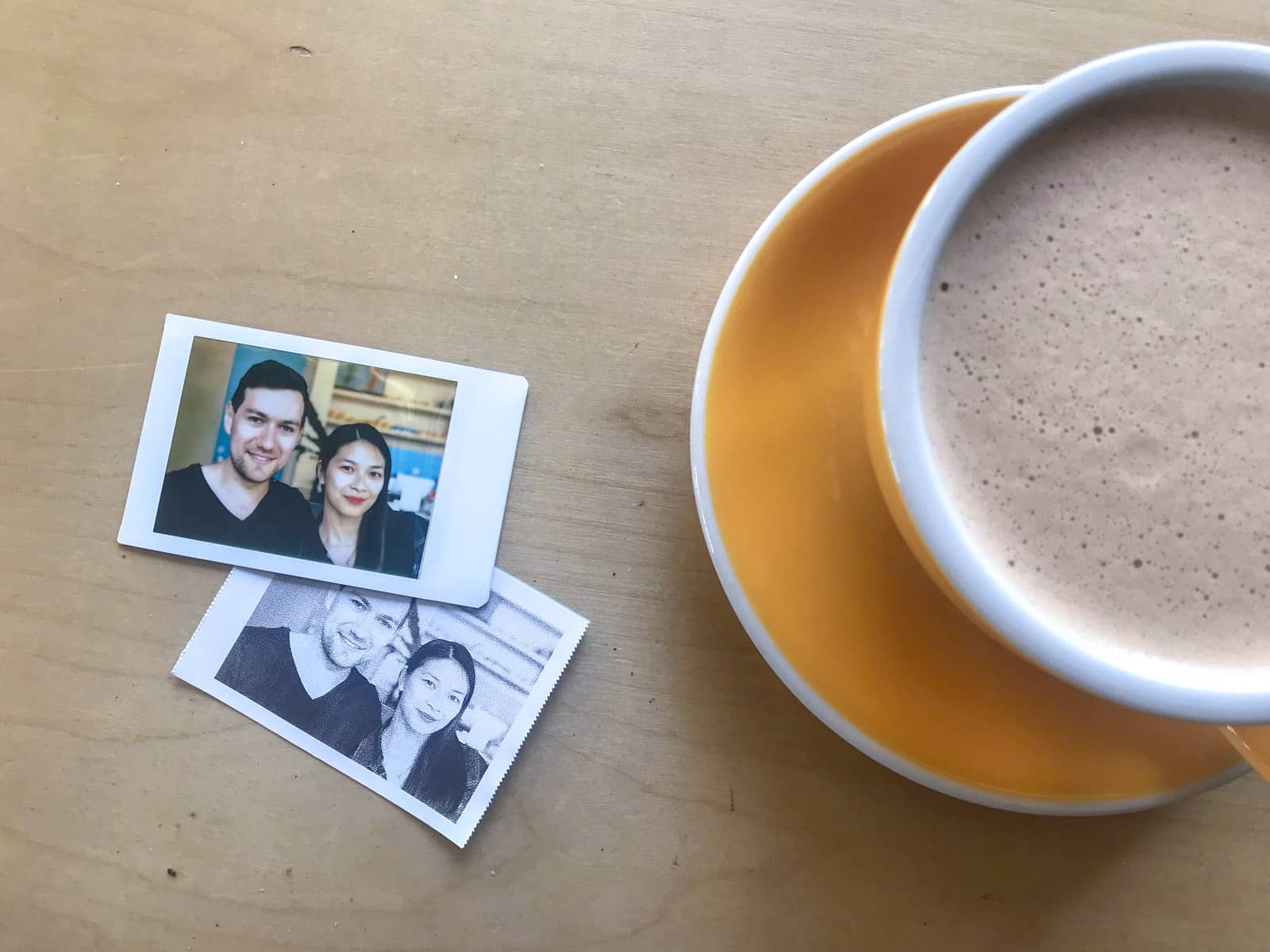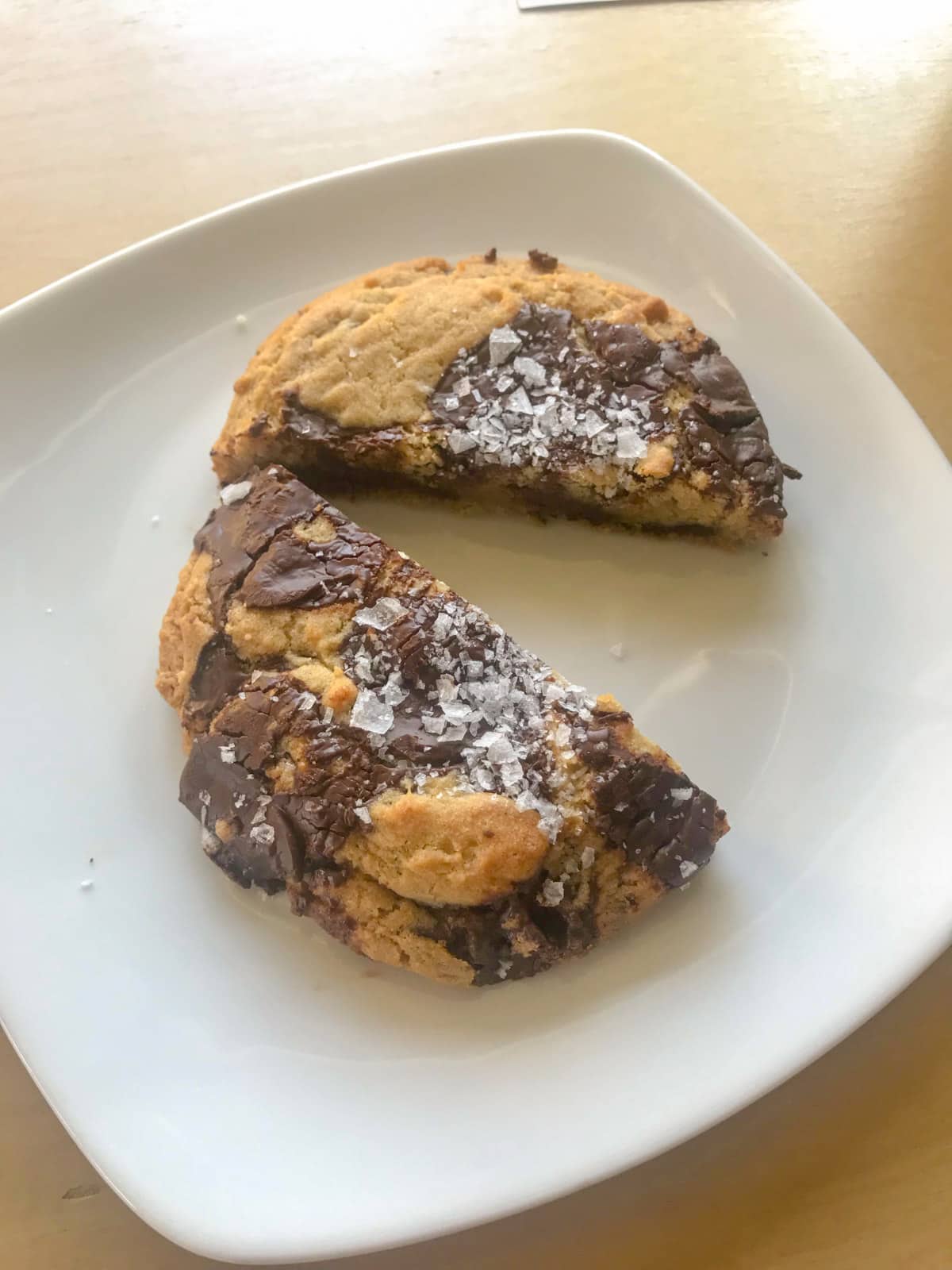 I decided to go to Powell's Books while Nick went back to our Airbnb. I started to read a book, but after several dozen pages I decided to put it down. In the past, I would read every book without fail… but I've since learned that a book may not be worth your time, or it just mightn't vibe with you (nothing against the author or the book at all), and it's far less enjoyable trying to finish it than just putting it down and accepting that you did not like it.
After dashing over to Rev Hall a couple of hours later, I bumped into Kylie and met a few other folks she already knew. I think one of the cool things about XOXO is that even if you're anxious about meeting people, and struggling to work up the courage to approach a person or group, you don't even really need to try (and everyone feels the same anxiety!). You will definitely meet people through someone else, or even by being in close proximity to someone. Sometimes, little groups of people approach you and say hello, instead of you having to approach them. 😌
So I ended up staying at the party until 10:30pm – a lot longer than I expected to stay. Kylie, Jay and I chilled out in the bar for a bit, regaining some energy. We tried some of the specialty non-alcoholic drinks that were available, and watched a jousting game with light-up microphones happening in the main tent outside. I gave it a try, but my tactic was to hang out in the background sort of unnoticed in order to last a long time in the game. Others chose to approach the game more head-on and target others. Either way, it was pretty fun, but not the kind of game I think I could play for long, haha.
👭 Social day
🇦🇺 #aussies
Just a few days prior to XOXO, I decided that the #aussies channel needed a meetup! There were less than 20 people in the Slack channel, many of whom were not really active, but I thought it would be great to meet anyone else who happened to be Australian. We met at an Australian inspired brunch cafe called Proud Mary, and eight people showed up altogether. I invited Nick along to that meetup too. 😀 Two folks who weren't Australian joined us because they wanted to hang – that was awesome!
A few of us ended up sharing one of the hotcakes because it was huge, delicious, huge, and really sweet and not quite breakfast-y but made sense for dessert. It was fabulous. All the decorated fancy-looking meals reminded me of home.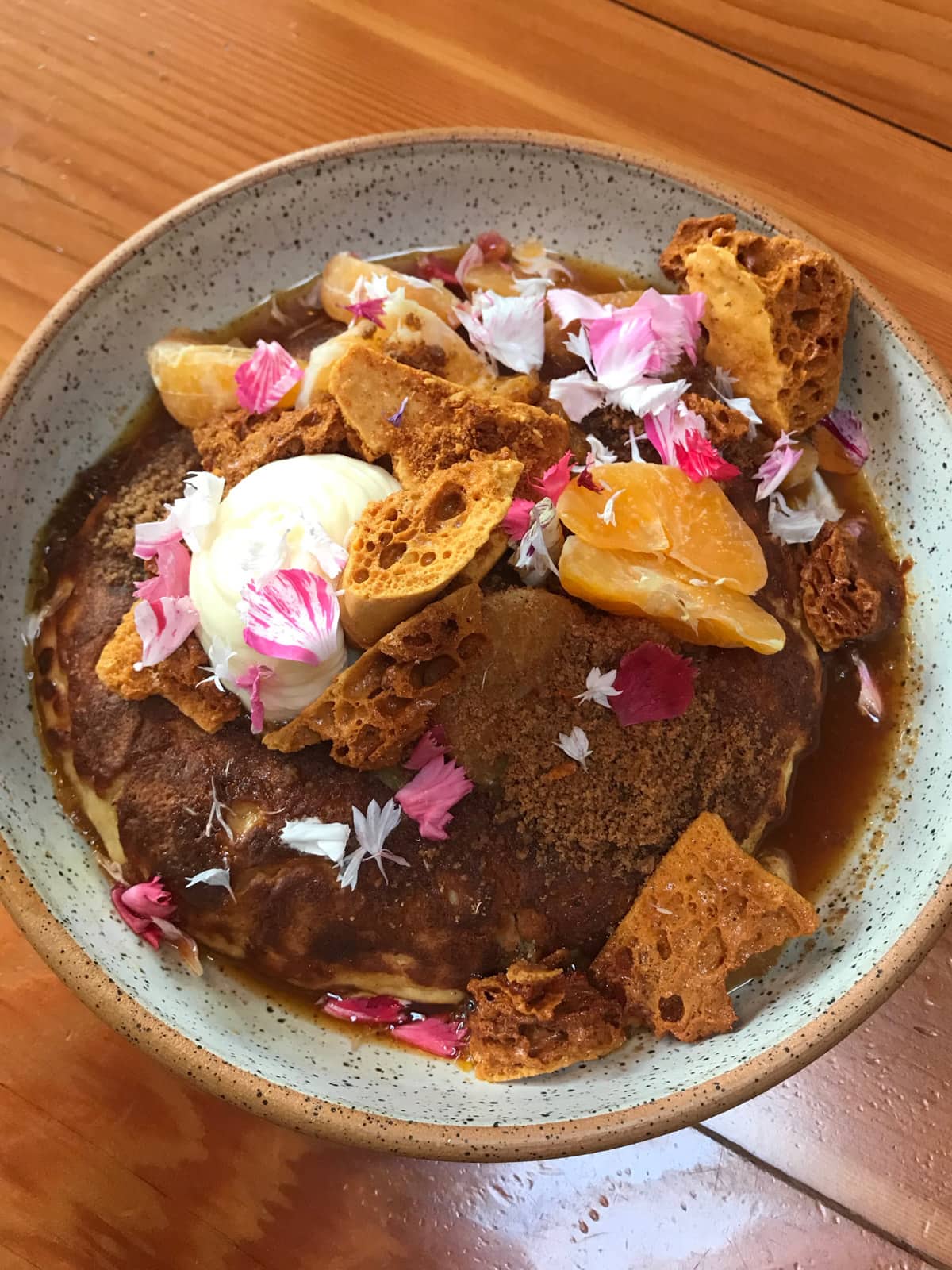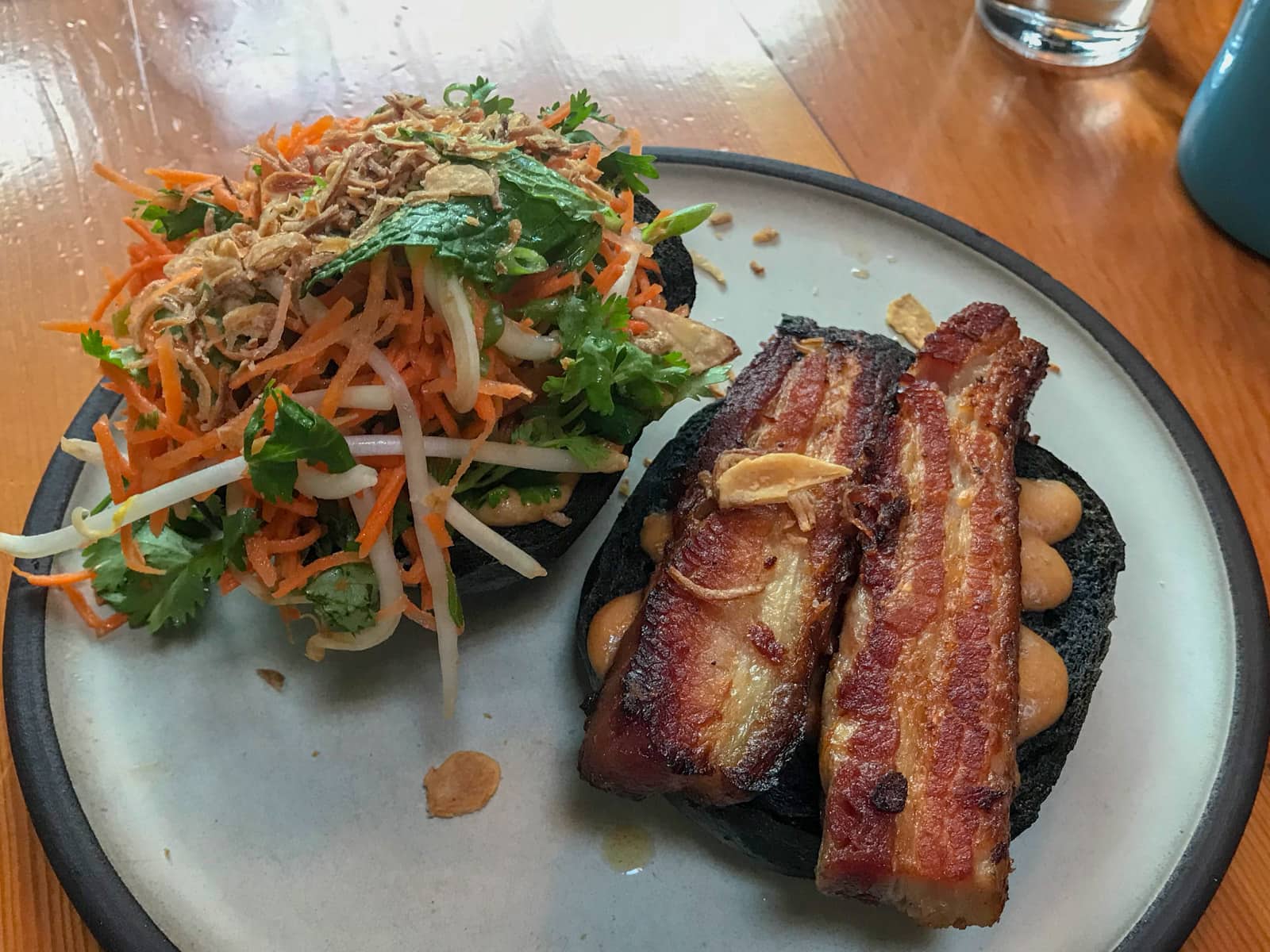 ✨ Welcome address
The welcome address got us hyped and giddy for the days to come. There was a joke about how close Rev Hall is to Andy's toilet… so much so that he could walk home and go to the toilet there. If he wanted to, you know. Which is totally cool and all.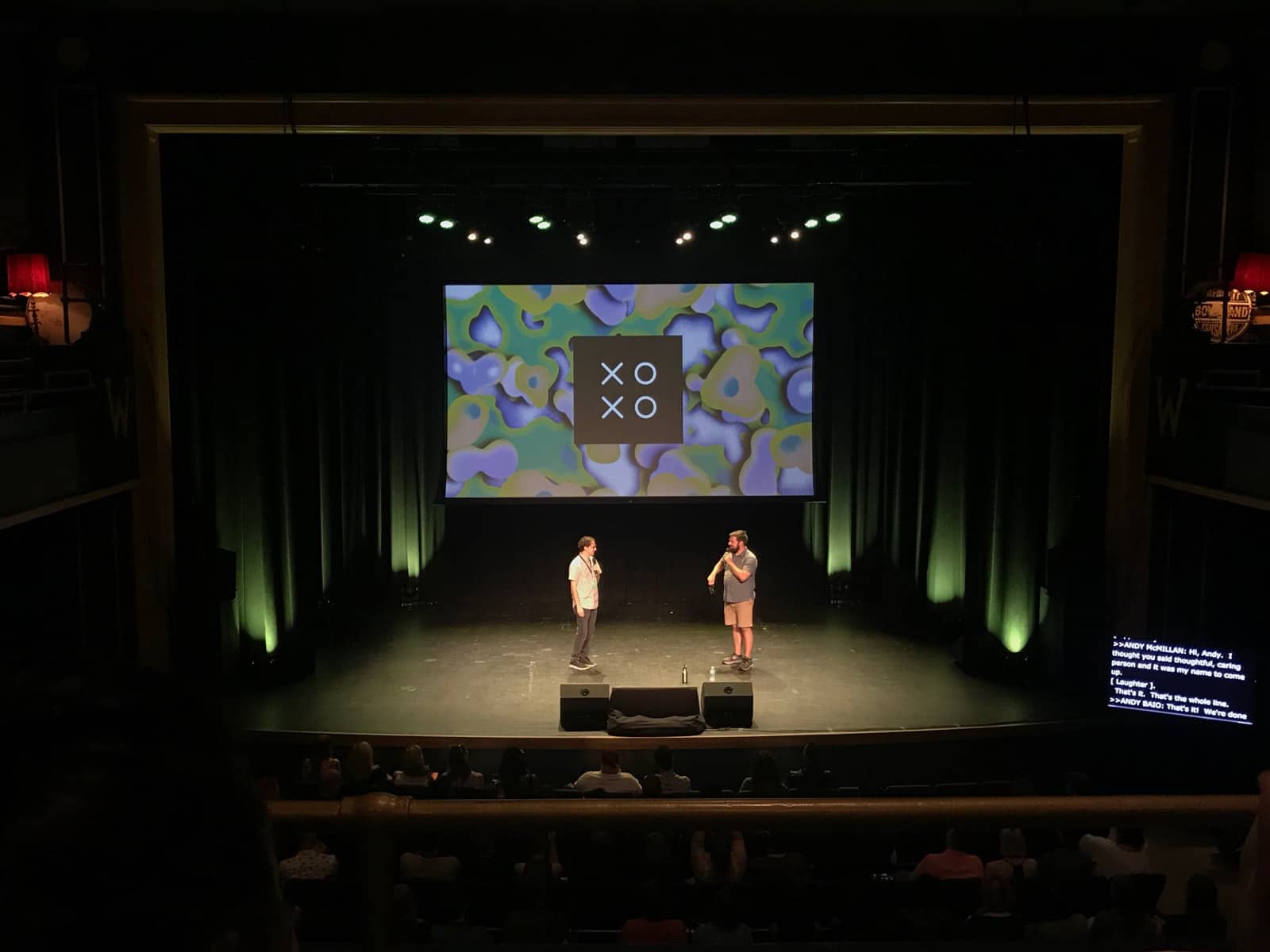 🍵 #poc dessert
I didn't go to any of the POC meetups last year. I felt largely disconnected from it, a bit like a lurker in the group, and only posted in the group Slack channel when I had stories or thoughts to share, stories and thoughts that I knew someone in there would be able to relate to. So the dessert we had at Soro Soro (a Korean dessert cafe) was the first time for me meeting some of those lovely people! I was glad I was able to, but I will admit to feeling a little like a new and different person (being from Australia and all) amongst them. 😅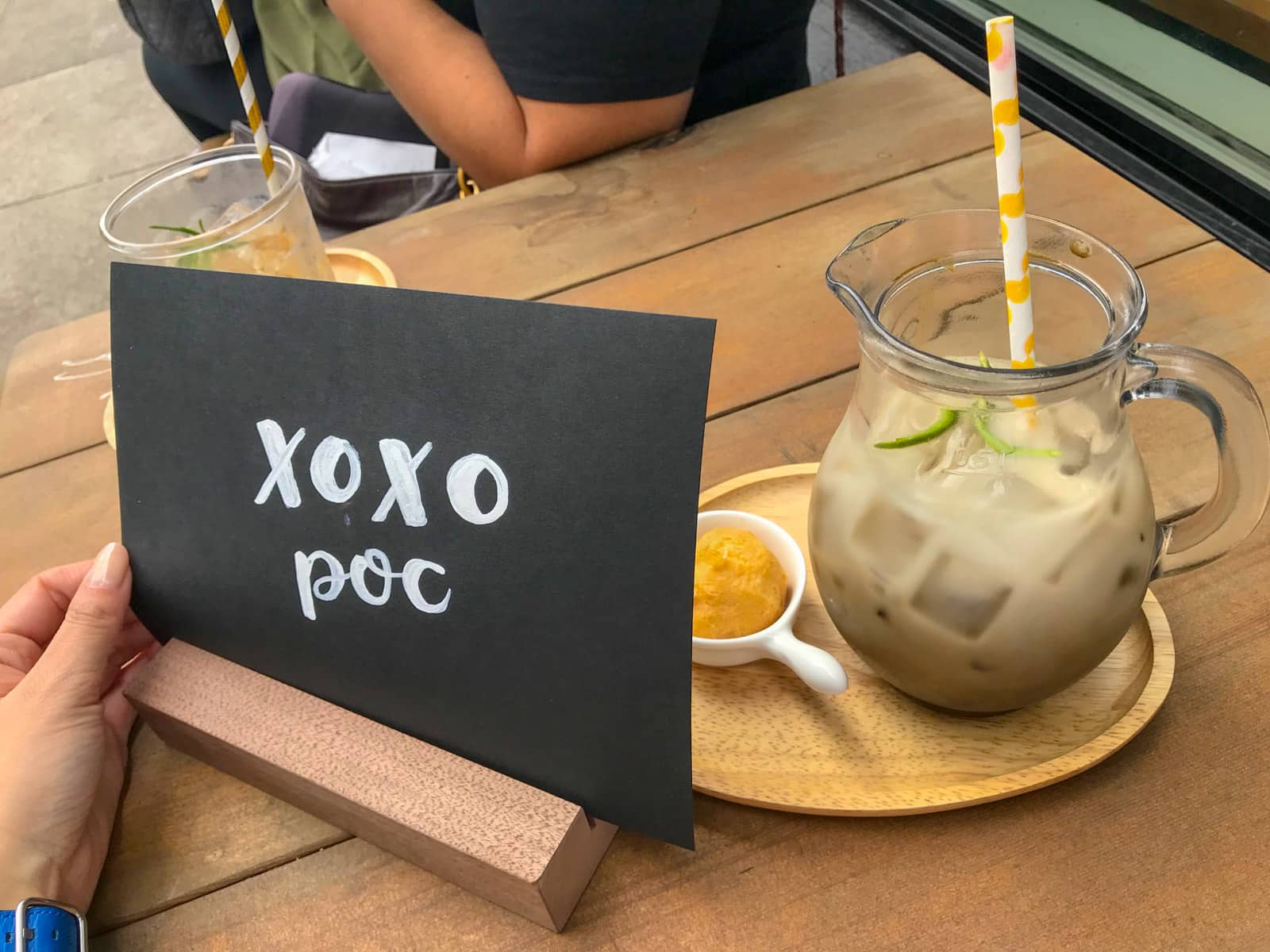 ✍🏻 #writing
I remember going to the writing meetup last year but it seemed to be a lot more popular this year! I suppose it also depends on what time you turn up to the meetup. Last year I arrived a little bit late. This year it was bundled with #book-club and #comics, so it seemed to be popular with a lot of people in attendance. We took over the whole brewery that the meetup was held at!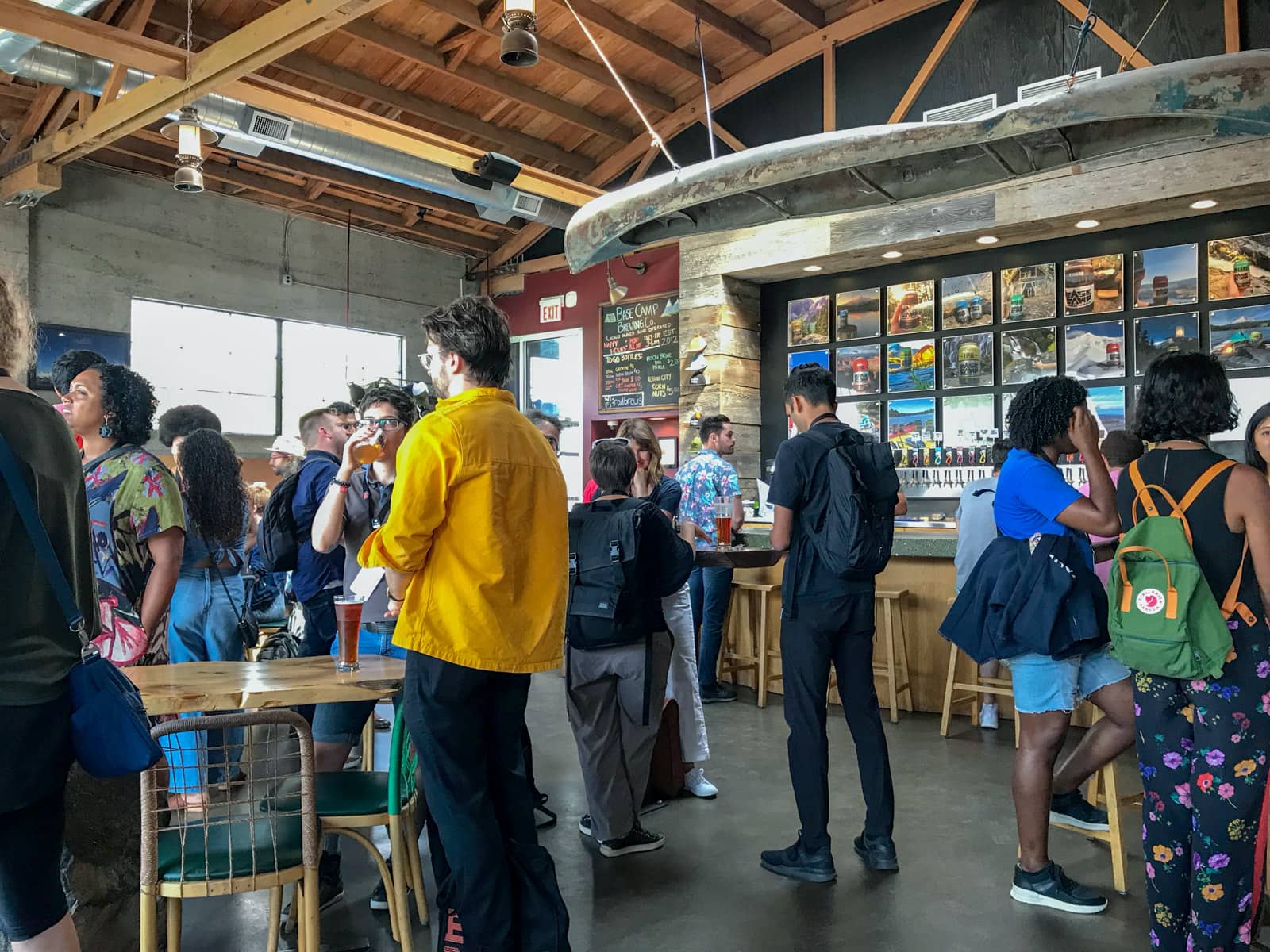 I met Elaine and Carrie at the #poc meetup and walked with them to the meetup and we ended up creating our own zines. I'd actually been meaning to create a handful of zines prior to XOXO and hand them out, but that didn't happen, so this was my opportunity to create one. I knew what it'd be about, and I'm going to segue into that right now… ✨
📝 My upcoming poetry collection: the off switch is broken
So, my supposed project I was working on after I took my social media detox is… 🥁 a poetry collection! It's not just any poetry collection, though. Many of you will have read at least some of my poetry in my archives and know that I used to write a lot of poetry about feelings and emotions and relationships. Things that felt universal, and that many folks could relate to.
But my upcoming poetry collection is kind of different. It was inspired by my anger for toxic thoughts in the technology industry, but also how much I really like my job as a UI engineer. I wanted to write poetry about the positive and negative effects of technology on our lives, especially after looking at some poetry I'd written that was inspired by technology (a300 radeons and Micro-chip, to name a couple). There are so many things to be written about – but the more I wrote, the more I found that writing the poetry was a great release for my frustration. A lot of the time, poetry has been a way to release and deal with my emotions.
I decided that my collection of poetry would be mostly about the negative things. I've never written about these thoughts and experiences in poetry form, but I think it will be both a challenge and interesting for other people to read. I've not yet come across poetry written about the tech industry, so I hope people enjoy it. I'll be sharing more about it as time goes on. 🌻
So I ended up creating a zine that was a preview of my upcoming poetry collection, and some people ended up really liking it. 😌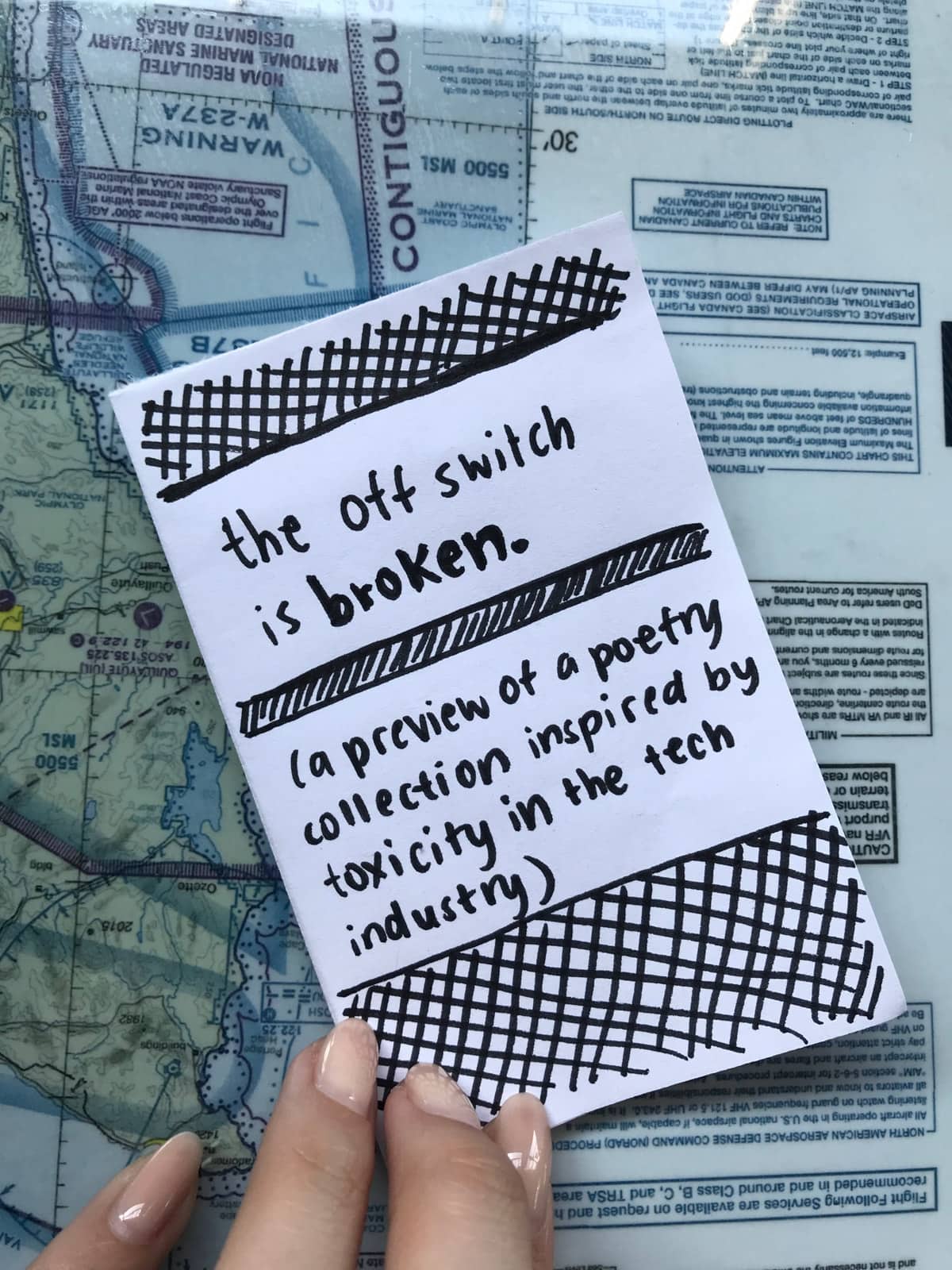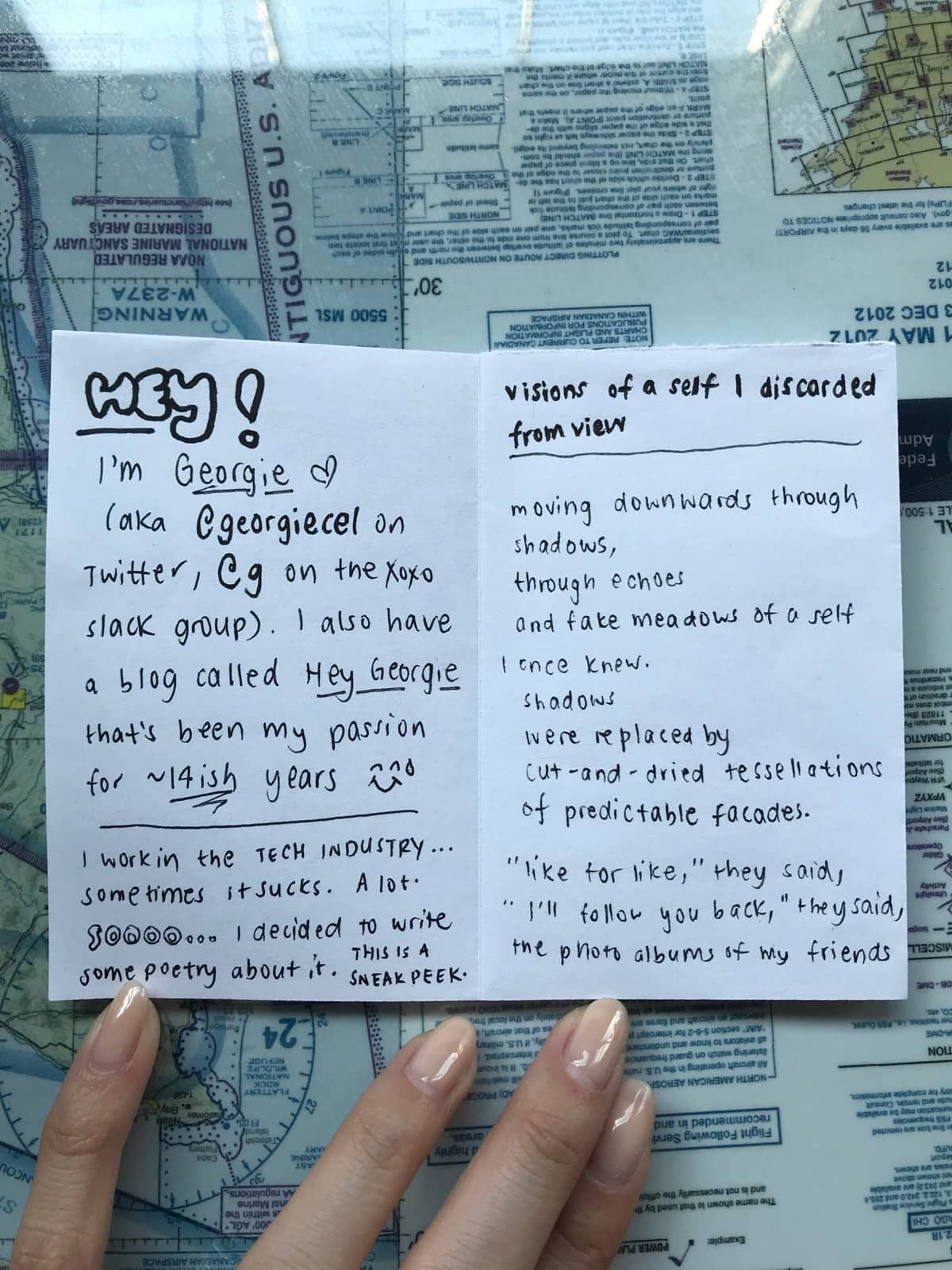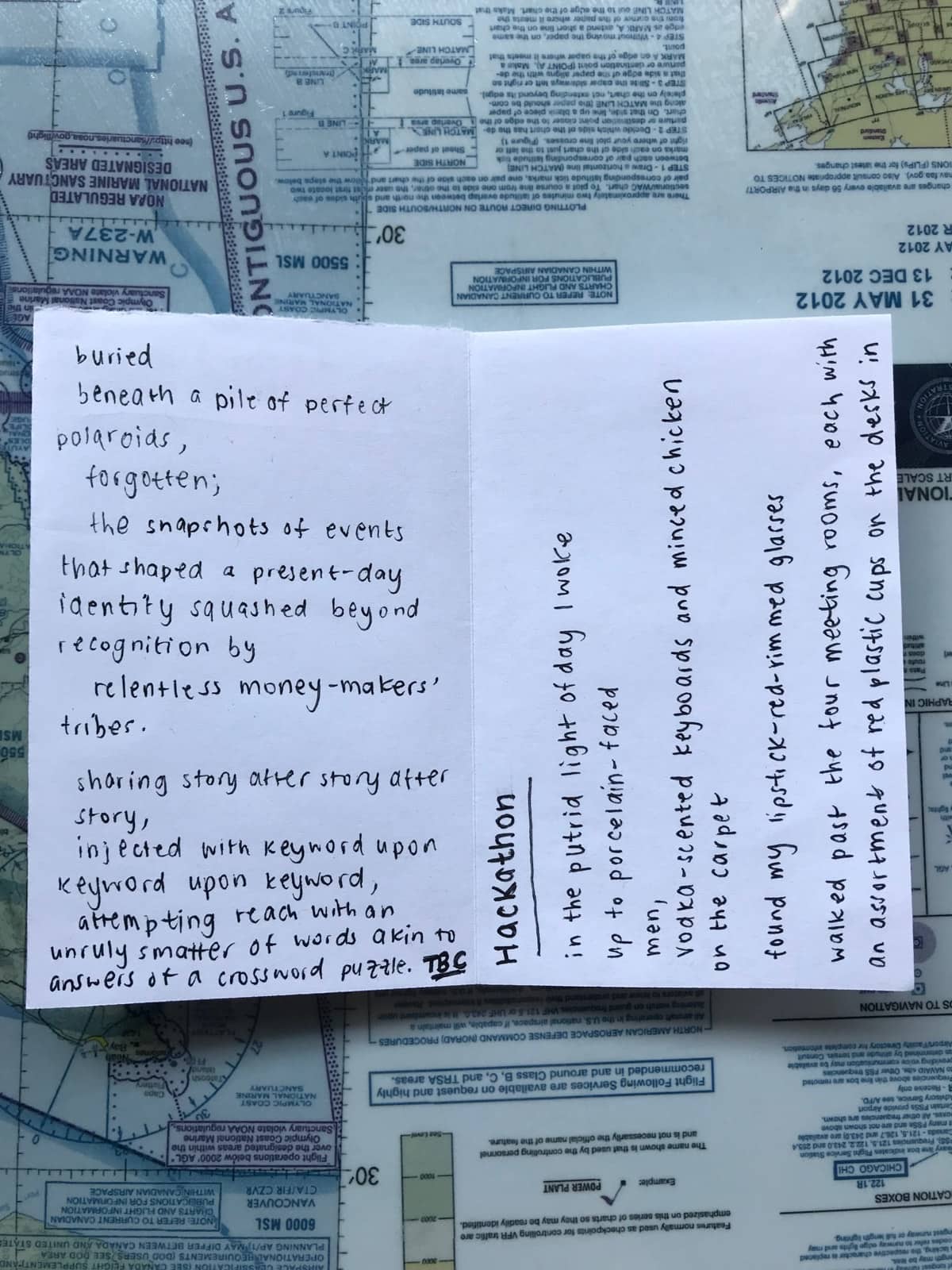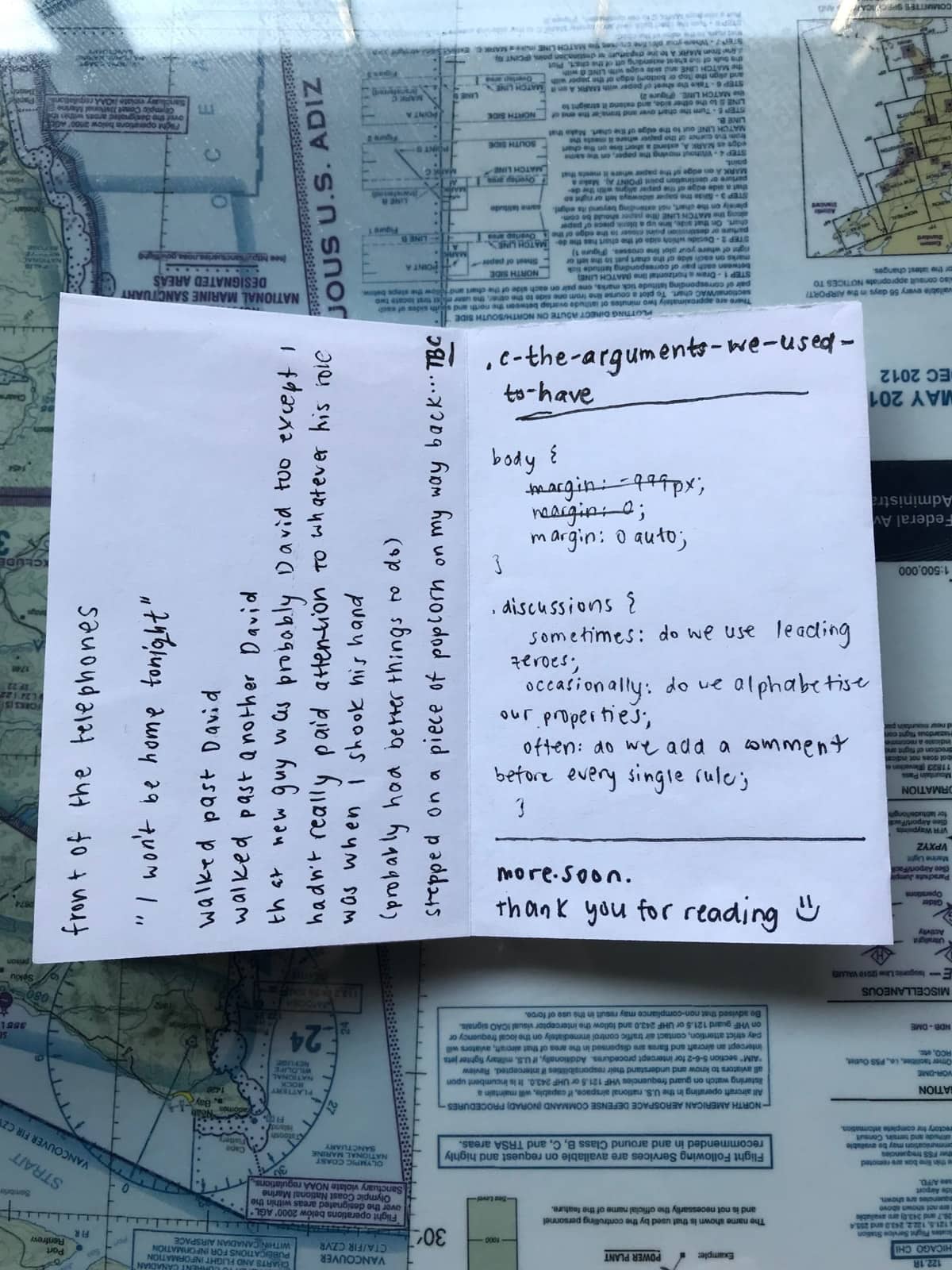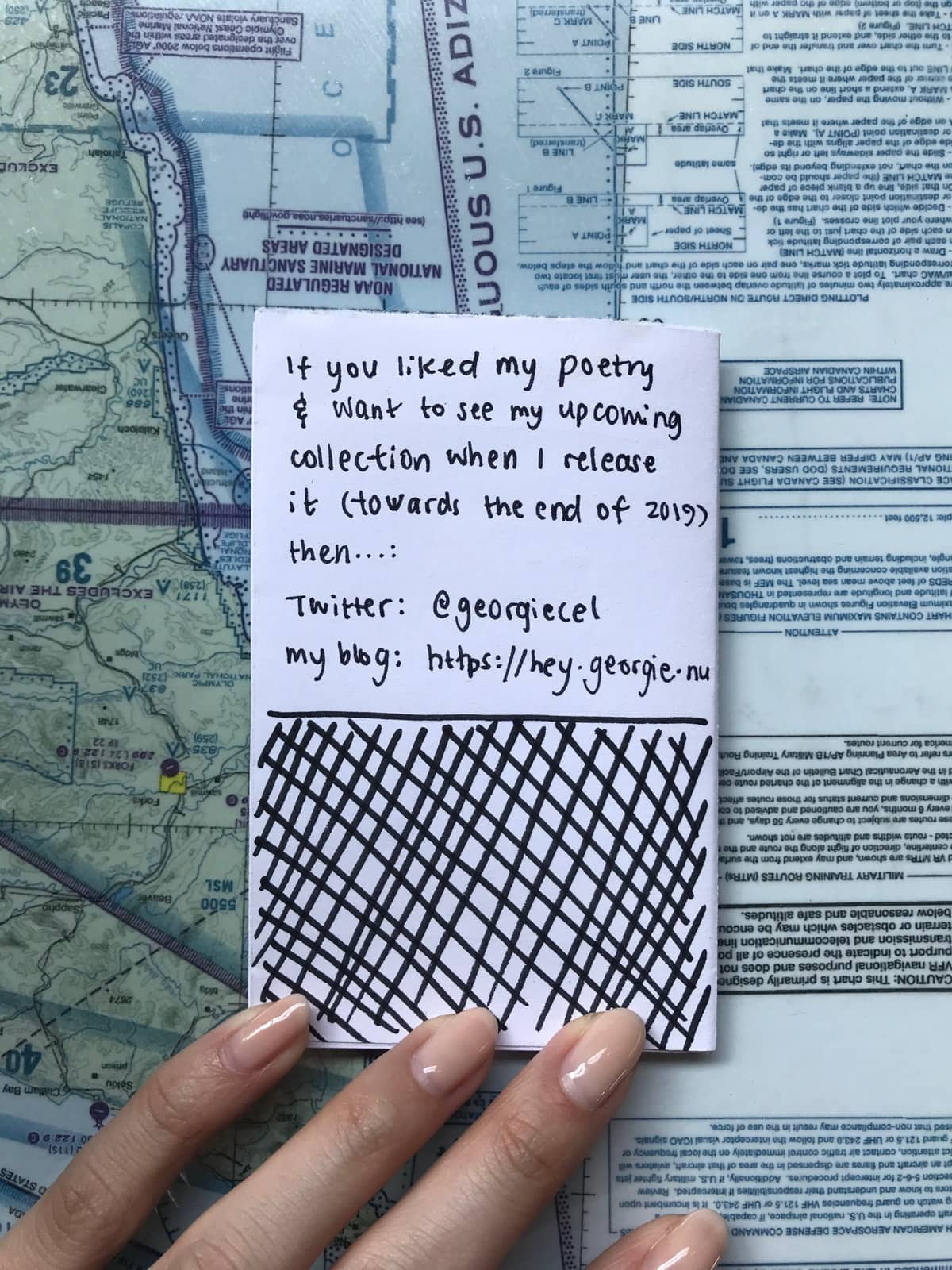 I want to thank Kawandeep for organising the #writing meetup, supplying drawing materials, and also for appreciating my zine, which I was happy for him to keep! I also recommend you buy his illustrated book Feeling Great About My Butt, it's fabulous.
💗 #anxiety
I was so glad I made time for the #anxiety meetup; the Slack channel has been one of the most supportive for me over the past year. I really wanted to meet some of those lovely people, and I arrived as some of them were making buttons/badges. I didn't feel creatively challenged enough to create one, but damn, if a creative setting doesn't calm my nerves, I don't know what does. 🧡 I met some lovely folx here!
🐅 #poc
The POC meetup was at Hungry Tiger, and last year it was in the same location. It was so nice to see so many people of colour, I can't believe I missed it last time! I had some really fabulous conversations with some people I had actually already bumped into during XOXO. I got to know some folx who I had only seen on the Slack group. 😁 Unfortunately I burned out really quickly and had to be by myself for some time after that. 😅
🔥 Arcade
I watched people play some of the games in Arcade, but I didn't play or have a go at as many games as I did last year. An independently created puzzle game (with limited instructions – making for all the fun) called Wildfire Swap, shown by PIGSquad (Portland Indie Game Squad) really caught my eye, though. I thought I'd just be there for a quick minute to give the game a go, but I ended up playing all the levels in the demo. The aim of the game is to save the house from being set on fire by swapping tiles, and it was inspired by forest wildfires in Oregon. The game was really addictive and every time I lost the house, it only made me want to keep trying again.
I got to speak to Ryan Kubik, who created the game. It's absolutely a game I would get behind – reminds me of the very old PC game Supaplex that I blogged about a while ago (after I'd remembered it and re-discovered it after excessive internet searching). I am really keen to play all the puzzles once it's fully released. You can sign up for updates about Wildfire Swap at wildfire.fun.
🎙 Story
I missed the entirety of Story last year as I didn't think it would pertain to my interests, but this year I took a seat for the first one and I didn't move for basically the entire night. It was so thoroughly enjoyable and although it reminded me of how many podcasts I've abandoned over the past 18 months (all of them y'all), I never forget how enjoyable it can be to listen to a podcast. It was even more fun watching them live – many of which I couldn't believe I'd never heard of.
You're Wrong About… covered the infamous story of Janet Jackson and Justin Timberlake at the Super Bowl over a decade ago (wow). We saw a chainsaw come to life in Everything is Alive – this particular chainsaw dreamed of sounding like Cher, and the outro music for the segment was Believe by Cher. 👏 Yo, Is This Racist? got a tonne of laughs from the audience, as well as a big gasping "oooooooh" and a heartfelt question from a member of the audience that made some of us tear up. In The Allusionist, Helen Zaltzman shared a humorous personal story that peeked into the reason why titles like Master, Mister, Miss and Mrs came to be, and begs the question – do we all have to conform to them? In Punch Up The Jam, the team explored the history of the Ghostbusters theme song, bizarre lyrics and all.
🎤 Conference
I have spent several weeks trying to flesh out this blog post, and the most daunting part, every time I visit this large amount of text, is the fact that I find it so difficult to write about conferences in detail. 🤐 I had a festival-only pass for XOXO, but could still watch the conference without being in the same room as it (which felt pretty alright to me!). I won't force myself to write about the conference talks – forcing writing just tires and makes me feel awful, so I'll do my best to outline what I did see.
Another thing is, I prioritised myself throughout XOXO, and really listened to my body feeling a need to sleep in. After three days of working remotely prior to XOXO, it became really difficult to get up even for a 10:30am start at Rev Hall – and 10:30am is pretty late. On both days of the conference, I decided it'd be best for my head and my body to skip the first lot of talks, and Nick and I had a nice breakfast instead.
Hundred Rabbits' story of living on a boat tickled the my minimalist tendencies and sustainable living interests, although I didn't find it 100% captivating. Black Belt Eagle Scout's performance was both heartwarming and tear-jerking. I absolutely adored Soleil Ho's talk, about what happens when you become the representation you were looking for, because I can relate to being in an underrepresented group. Caitlin Doughty's talk was funny and I genuinely enjoyed it. Left at London aka Nat Puff gave a wonderful musical performance. I held out for Jenny Odell's talk because I had recently read her book, and her humility in both her book and during her talk was admirable. I had a good laugh out of Rhea Butcher's talk, the last of the two days. I undeniably teared up when Andy & Andy made their closing remarks.
🎉 Closing party: Singing Shania Twain at karaoke
Last year, I was honestly such an emotional wreck – almost everyone I'd met at XOXO had left because they had to get their flights home, a feeling of loneliness sunk in, and I didn't feel right to meet new people right then and there. I talked to a couple of people, and then left the party, really needing to recuperate. But this year – this year was different!
After talking to my mate Scott (whom I met on Twitter, and then met for the first time briefly at last year's XOXO), I decided to stick around Rev Hall and get something from the food carts for dinner. I grabbed a crepe, since I totally felt like one.
I will admit that the night went by so quickly. But it basically went a little like this: I went to the tent, where karaoke had just started. There were maybe less than 20 people in the tent. I decided, what the heck, I'll sign up for karaoke. It was two hours before I went up to sing, and then after many more people sang, we had to leave the venue as it was time for the volunteers to pack up.
Wait wait whaaaaaat? Georgie sang karaoke?!
Wild. Yes I did. 😅 As I posted publicly on Twitter, I sung in front of several hundred people at karaoke… what comfort zone?! The crowd had grown from 20, to a large percentage of all XOXO attendees. I was losing my marbles the closer it got to me being on stage. I've done karaoke, sure, in a little room with like, 1–10 other people. But not to a large group, at least not singing alone. (Singing karaoke together with other people is less scary.) So somehow, for that reason, I was determined to make it count. I sang Shania Twain's Man! I Feel Like A Woman and really wanted to shout it out to everyone out there who's ever struggled to feel right in their own skin, but somehow couldn't make those words come out, so my mouth was zipped shut until cue to start singing.
My usual song choice for karaoke is something along the likes of Celine Dion and Whitney Houston – big ballads, big epic songs. But that didn't really match what I wanted to sing. I'd thought about Belinda Carlisle's Heaven is a Place on Earth, having recently discovered it's a pretty good karaoke song, but I looked away from the karaoke song book and Shania's song came to mind. I grew up listening to Shania as a kid, by way of my mother, and when I think about how genuine and pure Shania was – especially with singers baring more skin or changing themselves for attention – it was something that really resonated with me. Shania was a damn good role model and the song that I chose to sing was just, uh, well, damn powerful and strong.
It seemed that many liked my rendition. 🤭 If my voice hadn't disappeared from the early days of XOXO with my random hay fever and cough and all, it was certainly gone by the end of that.
So I hadn't heard of the musical group The Hold Steady prior to XOXO, but they were a hit at karaoke, with several of their songs being chosen. I haven't had a chance to listen to them yet, but their musical style sure sounded like something I would enjoy listening to regularly.
It was pretty wild how many folks had put their name for karaoke but sadly didn't get to sing before we had to leave the venue. I think many of them continued on at Baby Ketten Karaoke until the wee hours of the morning, and I had contemplated doing so, but I was pretty dead tired and definitely needed to recuperate. Joel sang the Ghostbusters theme song which was an incredible homage to the previous night's Punch Up The Jam session. 👍
I say that the night went by pretty quickly; it did feel like we didn't get enough karaoke in. But what I'd give to be properly young again and to have the energy I did when I was 21 – I would have followed the crowd and continued on through the night, knowing that opportunities like that come rare. But, I'd prioritised my sleep and wellbeing the entirety of XOXO, and I still had a good time, and I didn't get any FOMO! But it did remind me both that 1) I am not too young to have fun and 2) I kinda am too old to have too much fun? 😂
☀️ There is always today.
I feel like in writing this blog post I've just become more bummed about the fact that XOXO is over. It was great but I feel like I didn't experience enough of it. I want more. I wanted to meet more people. Have more fun. Have more time. You know, that shit that people worry about. Time. We have so much of it but can't even appreciate it.
Realise that there is today, and there's here and now. Sometimes, worrying about tomorrow or even ten minutes from now, fucking sucks.
And I realise XOXO was a wonderful experience and it seems quite ungrateful to comment about how it wasn't enough.
🧡 You're doing great.
XOXO is full of folx who are their whole true selves. It's a place where you can be your whole true self. I felt that for the first time last year, and this year was no different in that regard.
I think that what made XOXO the wonderful event that it was, was all the people. I met a lot more people than I did last year. If asked to compare XOXO 2018 to 2019… I'm not sure that I could. As I mentioned earlier, both events left me with the same warm, fuzzy feelings. But both events felt fundamentally different from each other. I had two different, but captivating, fun, and wonderful experiences. I might argue that the first time was the best time, simply because it was the first. Nothing quite equates to the glassy eyes one acquires for seeing and experiencing something new for the first time. While I may still view XOXO with rose-tinted glasses – and perhaps Portland, with similar rose-tinted glasses – I took those glasses off to experience XOXO this time. Something about the way I didn't get excited, or didn't adequately prepare myself for XOXO, made me bring my whole, full, true self to XOXO.
XOXO makes you see the world through a unique lens. It's the reason why many of its attendees will go home feeling energised, deflated, motivated, inadequate, inspired, like they are not enough, and like they can take on the world – all at once.
The past couple of weeks have been mentally tough for me to focus and I'm at a strange, weird point of dissatisfaction in my life. (I feel that it might be due to a health condition that I haven't really mentioned before publicly.) It's made it difficult to write most of this in the fashion I wanted it to be written.
I set myself a lot of goals related to writing and my blog that I've both kept private and shared publicly. I haven't really been doing well with them, even though I've put in as much effort as I can. There are posts I wanted to publish six months to a year ago, that I haven't even written. I wanted some kind of frequency with my blog posts, and that didn't really happen (at least not for very long). I think I fooled myself into thinking I'm a "content creator" when that's… that lifestyle isn't really me? Do I really have to post on the same day every week, or…? Does this even line up with my values?
I'm forever trying to make things better and accepting that everything is a work in progress, but with writing, it can be difficult to accept that something isn't perfect – and that's part of the reason why this blog post took so long to get here.
But I'm tired of saying the same things over and over – one might call them excuses, but it's a very hustle-type mentality to say "no excuses" and it's not something that sits well with my personality.
I know I can take on the damn world. I can do it my own way. Every day I'm doing what I can. Every day I'm trying. I have to remind myself: progress, not perfection.
I came across this sign when I was in Portland for XOXO. Incidentally, in the street we were staying in.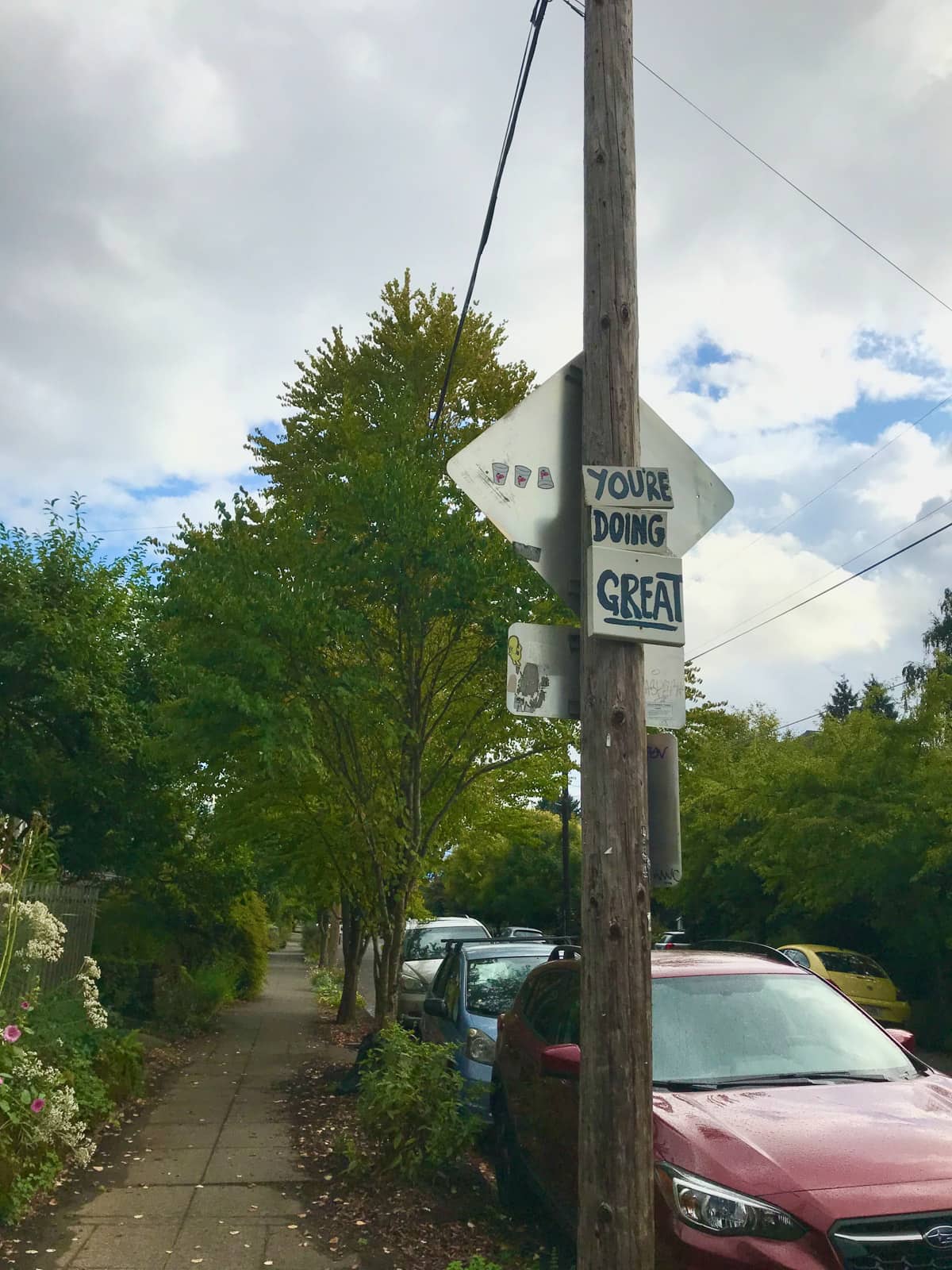 I need to tell myself that sometimes.
You're doing great.
Thank you for reading.