The Pacman Clone
It's been a long week. Wait, the week just started. :( Well, all in all, I've had a busy past week. I've been trying to squish in readings and catch up on research for one of my subjects. Thankfully Digg has a lot of relevant articles on emerging technology that I can sift through – all thanks to James for sending me in that direction.
While I'm in the midst of doing an assignment on emerging technologies, talk of the new Duke Nukem Forever game immediately brought back memories of when I used to play Duke Nukem and Duke Nukem 3D. Definitely one of my favourite games around the age of 11.
Pacman is clearly a game we're all familiar with, but what about other popular games? My favourites also included Doom, Quake and Diablo – but on the less violent and more adventurous side of things, Commander Keen and King's Quest topped the list.
I was made fun of in late primary school because of my geeky/dorky like for computers and various games. Prior to that (and my discovery of the internet, might I say), I didn't like playing with dolls but I played with toy cars and LEGO. Yeah, I did like dolls and Polly Pocket, but I think that got old fast.
Among the games I played though, was a Pacman spin-off known as Supaplex. Yesterday, talking with my brother about Duke Nukem sparked up memories of this game. I couldn't remember the name at first and was totally itching my brain and typing madly into Google. After 20 minutes, no thanks to Google's unreliability, I found the almighty Supaplex. A game released the year of my birth, that I played when I was nine or ten years old.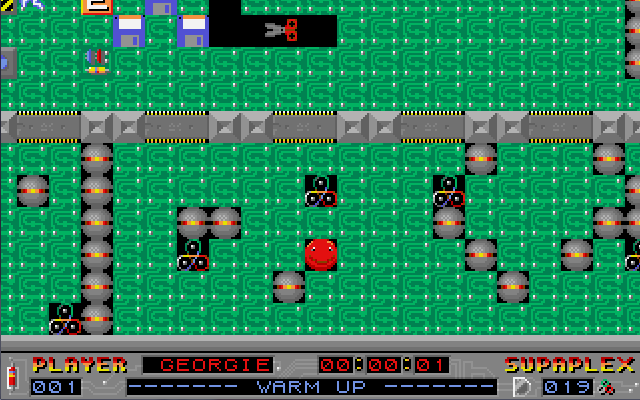 Basically, you move the red guy (Murphy) around to eat the computer chips, avoid getting hit by the rocks falling due to gravity, avoid the scissors, use bombs… you get the gist. Well, I love this game. I was able to get a download online. (If you're on Vista you do need the DOSbox.) And I'm already addicted. /faw
In random news, recently I got another job working as a web designer. I haven't started anything yet but I'm going to be working along with my job at the education centre. I can work from home sometimes, too, which is good.
Today I carried my laptop with me when I went over for the "interview". It wasn't really an interview since I was already offered the job and notified of the credentials… but I suppose that made it "official". :) Anyway… carrying my laptop resulted in my shoulder bag rubbing uncomfortably on my hip, so when I got home I realised that the skin around my hip had been chafed. /hmph It stung when I hopped in the shower, but whatever… I'll put some pawpaw cream on it later.
So, did you play any computer games as a kid? Do you have favourite computer games now? Do you recall any old computer games?