Fashion Friday: Leather + Lace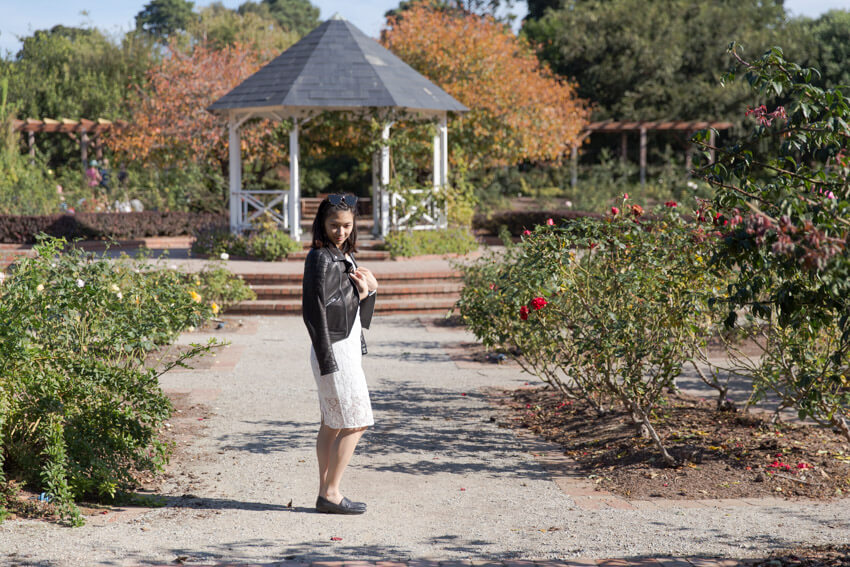 This Fashion Friday was taken in St Kilda Botanical Gardens in Melbourne, Australia. We visited Melbourne this week since there was a public holiday on Wednesday and Nick had a free flight to use up. 😜 Melbourne is just an hour's plane ride away from Sydney. Nick and I haven't had the time to do many location shoots even though we have used different locations in the past. We were going to do a few shoots on our honeymoon but we were too busy seeing the sights and enjoying our travel.
Since I made the decision to pare down my clothes a few years ago, I am slowly but surely finding a more refined style. Late last year I purged a lot of items in my wardrobe, made a handful of bad decisions, made some better decisions, bought countless items of clothing and returned 95% of them, and found things that worked and things that didn't work. It's become obvious what in my wardrobe works extremely well, and what has been more or less considered a failure.
---
If you're not yet aware, one of my goals by my birthday (next month!) was to pare down my clothes to 90 or less items. I've successfully done that! However, along with the number, I'm also trying to make my wardrobe as lean and minimal as possible, where I can live with fewer clothes but still be able to enjoy expressing myself with style. Coming from a point where I never bought basic/staple clothes and struggled to create outfits, and an upbringing where I always bought low-cost low quality clothing, this has been a tricky challenge.
My ultimate goal with Fashion Friday (which has been ongoing since 2014) is to get to a point where most of my clothes in my outfits is familiar and has been photographed in an outfit before. It's obvious that my blue ripped jeans make a comeback, and some of my high heels and boots have appeared in countless Fashion Friday posts – but take a peek in my wardrobe and things are not quite there yet.
Anyway, onto this week's outfit, which I declare a win, and you'll see why. ☺
---
In this outfit I'm wearing items that I've – so far – considered not a failure.
I decided to invest in Lauren Messiah's Personal Style University course last year, and learned some valuable lessons about style and how to master the basics (an area I was lacking in). The purchase of a leather jacket was one that came after doing her course.
I've not always dreamed of owning a leather jacket, but I often looked at them and knew that I would love having one and it would be worth the investment if I purchased one. I purchased this jacket from Kookaï last year in a Black Friday sale and I don't regret it at all. This has been my go-to jacket for both cool weather, and colder weather. Even when it's only a little cool (it's autumn in Australia), I found that the jacket warms me up really quickly.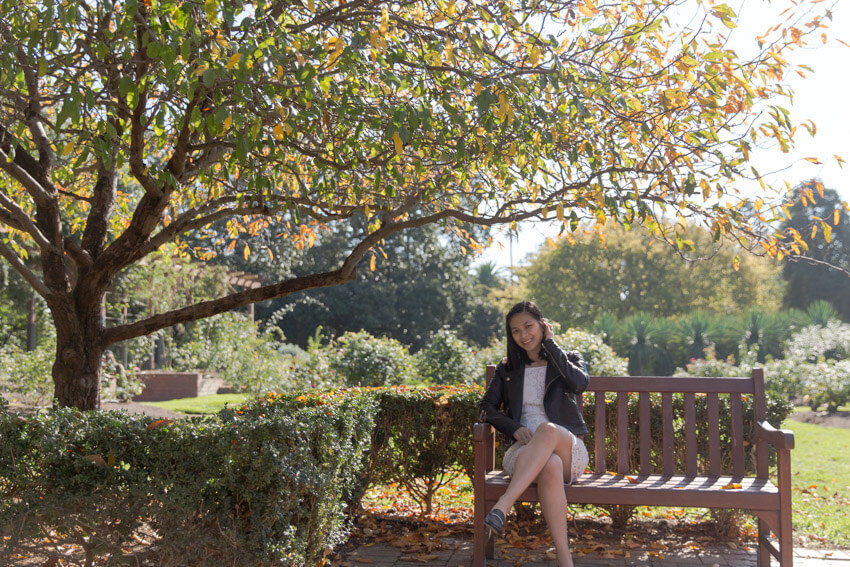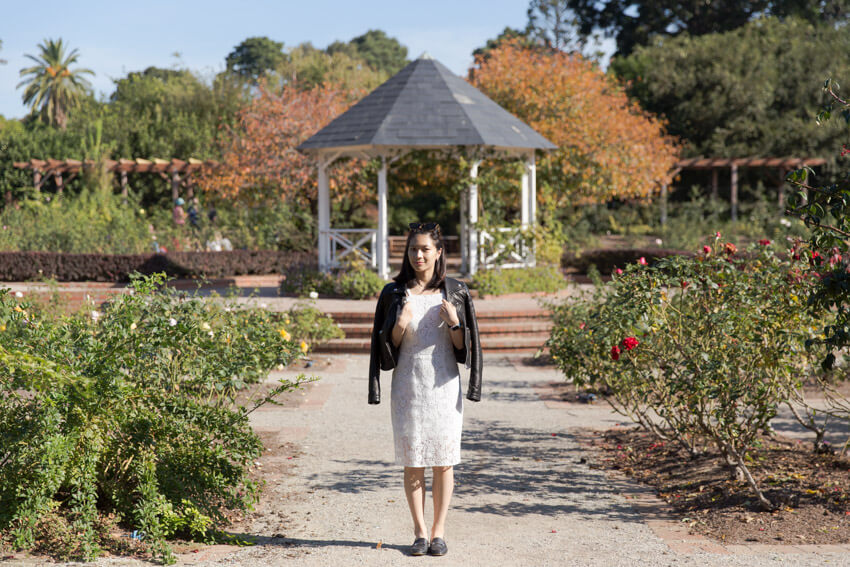 I had looked at Kookaï's leather jacket range in store before I bought this one. As I looked at one, I remember thinking, "Wow, such a nice jacket – but I don't know if I want to spend $500 on a jacket". After researching, I found that $500 was a pretty average price for a leather jacket, and a lot of faux leather ones were often a couple hundred dollars too. Knowing that leather stands the test of time, I made the decision to invest in a leather rather than faux leather jacket.
I read reviews and browsed the different jacket styles on the Kookaï website. I was able to rule out most of them because the styles had a belt or didn't have pockets – which I didn't like. I originally wanted a jacket that zipped through the middle, but I ended up going with this one. The ones that zipped through the middle had a stand-up collar, and my friend Krystalyn mentioned that collars could be a bit annoying when wearing scarves or certain tops. I also didn't want the double-breasted look my jacket has – but I had owned a plaid cropped jacket (featured in a total flashback Fashion Friday) that was double-breasted and looked pretty good, and the moto look of my leather jacket was something I'd more or less been craving for years.
Considering the jackets are not often included in some of the store's sales, I thought it was a great opportunity to get the jacket for a cheaper price. My jacket was originally $560 RRP, but I bought it for $448. As I mentioned, it's been a great friend to me so far, and I hope it lasts as long as I envisage it will. 😎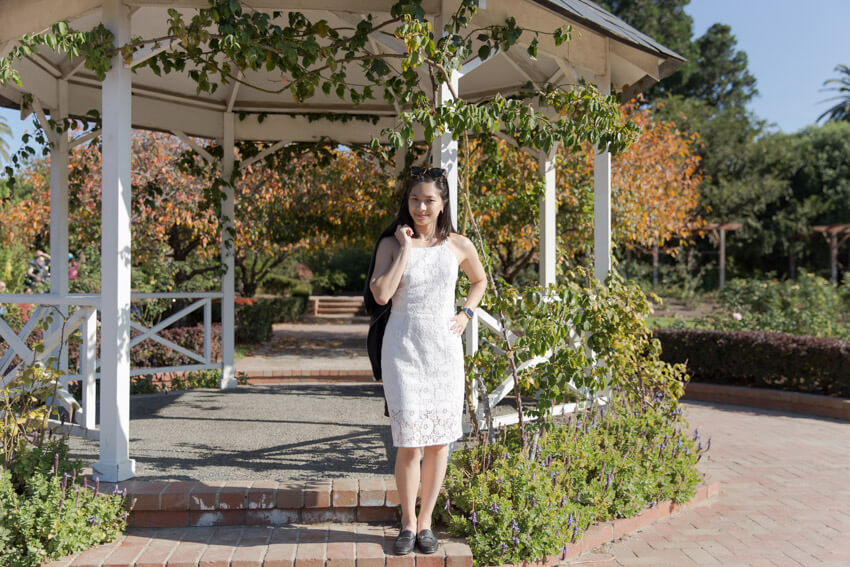 The lace dress! Oh! 😍 I love it so much. It wasn't really a necessity to begin with, but I was going through my many dresses in my wardrobe and realised a lot of them needed to be replaced, which came to me eventually buying this white one. The story goes that I used to own so many different styles and patterns of black dresses, but I got rid of a lot of them because they were wearing out, and they were all tight-fitting and too short. In recent years, I've gained muscle in my butt and legs – and short, tight skirts and dresses are uncomfortable to wear and I constantly have to adjust them. If you recall, in 2016 I said goodbye to tube skirts (which I loved, mind you), and they haven't appeared in my wardrobe since.
I also had a lot of dresses with full skirts or with a skater skirt style, and there just wasn't a lot of variety. Not to mention, the full skirts were a little on the fancy side. I noticed I didn't have a lot of casual summer dresses. I had a lot of fancy ones. So I set out looking for a casual one and this lace one popped up in a search.
Straight style, not too "bodycon"? Check. Slit in the back to make it stop riding up? Check. Summery colour? Check. Can I sit in it without adjusting or pulling the skirt down? Check. Can I take long enough strides in it without my thighs touching? Check. Can I walk without it riding up? Check. Can I raise my arms and stretch without it threatening to rip? Check.
All of these are what I generally look for in any kind of clothing these days. Everyone's pain points change over time. At the moment, my rough hourglass figure makes finding clothes difficult because I have broader shoulders and wider hips since I started working out at the gym. Clothes with sleeves often feel really tight in the armpit area, and if they're not tailored right, they are very loose around my midsection, which isn't flattering. As for bottoms, I wish more clothing brands remembered that women have hips and need some room down there, even if not every woman has meaty thighs like I do.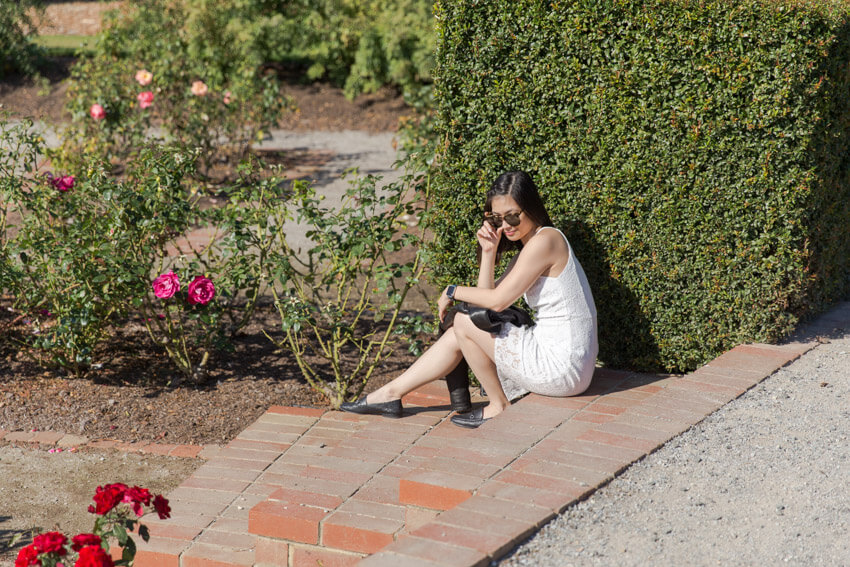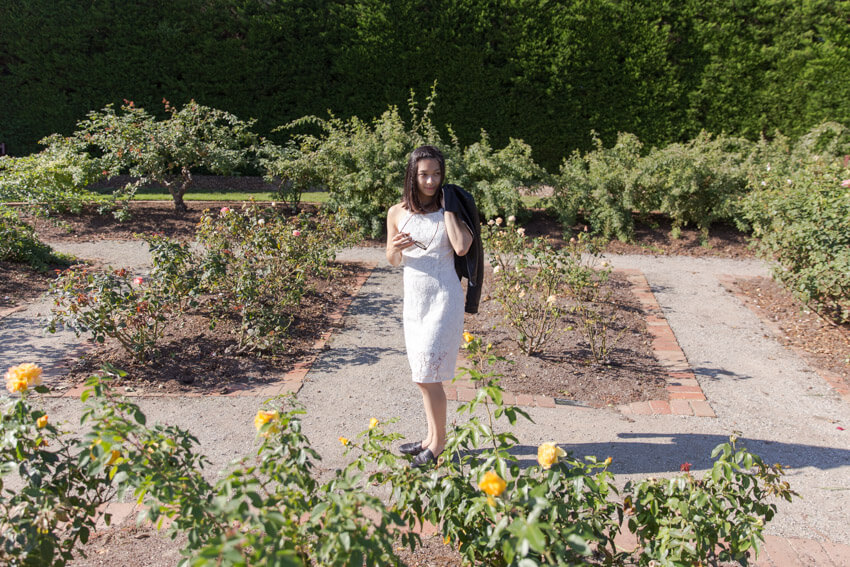 So in searching for a dress, I've found that sleeveless ones work for me very well, and a straight style but one that tapers in at the waist is more flattering. That makes this one almost perfect! I actually had to size up, though, because the smaller size was tight in the chest area and at the straps – which are non-adjustable – and I thought it'd rip even when I put it on. It was just a little annoying because going up a size meant that it was less form-fitting in the body. You can't win.
Another thing I learned when it's hard to find clothes: it's not you, it's the clothes. Remembering this generally makes me feel more positive about my body shape and size. I mean, I don't dislike parts of my body as much as I used to. I've come a long way. But knowing that clothes are not made to fit and flatter every body is something that has translated into my shopping habits. I have to find clothes that fit me – I do not need to change my body to fit clothes. 💕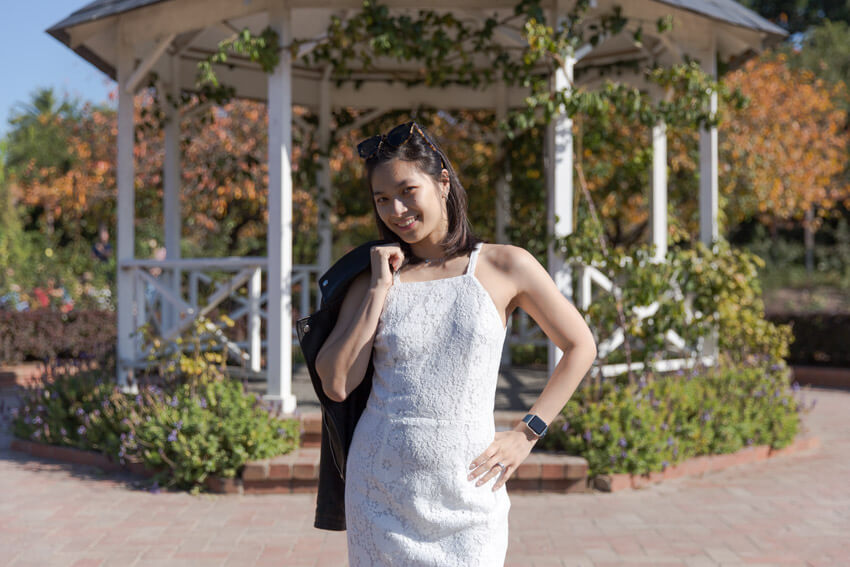 I do love the dress though. I have a small obsession with lace, but I am more interested in lace clothing with more interesting cuts, such as this dress. The square neckline is not only flattering for my body (in my opinion!), but it's a little unusual for this fabric. Some lace has a tendency of looking tacky but I feel you can't really go wrong with white. The other reason I like this fresh shade is because it is a shade of white that works well with my skin tone – I know some other skin tones don't do so well with a pure white. I have worn this dress five times already and I think it was a great purchase! I like that it reminds me a little of a dressed-down version of my wedding dress in some way.
I have rambled and rambled about the dress and jacket! 😅 So – not much to say about the loafers, which I debuted last Fashion Friday. The nails were not really intended to match with the dress as I did them last week, and all I wanted to do was remove my black and gold nail wraps and use some transparent ones. I have a few but I decided on this one as it was the most versatile. 👍 I am a little surprised they have held up without damage, as some transparent ones tend to be thin and more susceptible to splitting.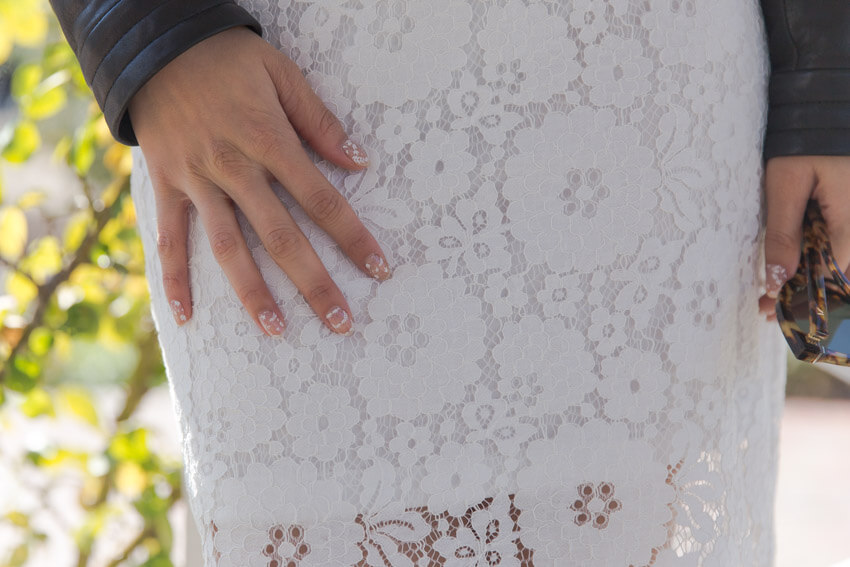 Although we didn't get any close shots, I'm wearing the same feature earrings I wore last time, which are small silver wings that I have owned for a long time. And the necklace is one I wore earlier this year and continue to wear as it looks good with necklines that are higher. Overall I'm pretty pleased with this outfit, I like lace but I like to make it less girly and more edgy and I think the leather jacket did the job here. 🙌
Also, there's a random braid in my hair. 😱 Recently I tried to move my hair parting over to the left side of my head more. But if you have a parting, you know full well that trying to change it only results in the hair gravitating to where it usually sits, even if you try using a hairdryer/heat. To remedy this, I've actually resorted to putting a small braid in my hair to "train" my hair to stay in its new spot. Anyone else have any tips on this? 😆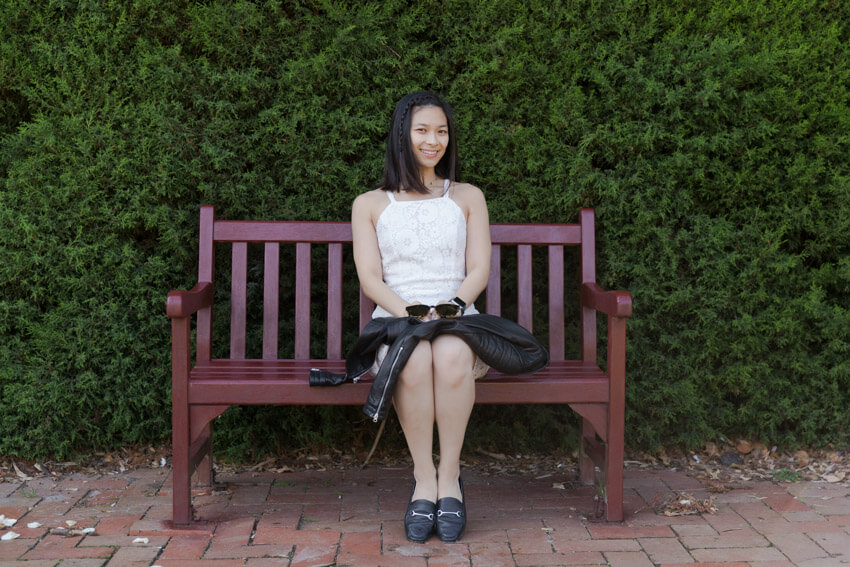 📷 All photography by Nick.
Outfit details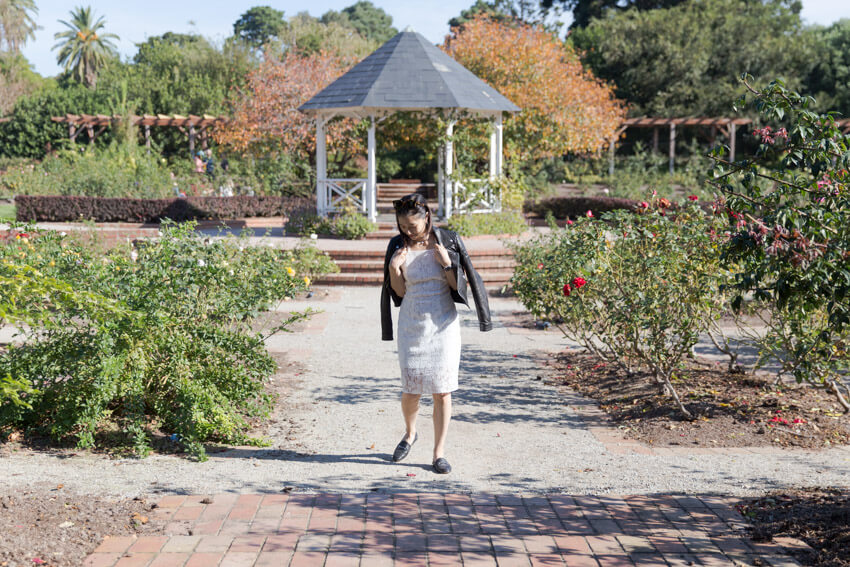 ---
Do you have any investment pieces like a leather jacket, or even something like a tote bag?
Are there any fabrics you naturally gravitate towards?
Do you have any tips for moving the parting of your hair?