Hey Girlfriend!: Olivia Hu
This month's interviewee is Olivia Hu, a young woman I've known for several years now. Her iconic blog designs never ceased to impress me, and it was no surprise that she later kickstarted her career as a visual designer. Her illustrations and designs bring life to her blog, and I'm sure you'll find her just as lively in this interview. 😊
Olivia lives in the San Francisco Bay Area. She has studied and worked in graphic design, web development, and game design, which gave rise to her current work designing for the tech industry. She is driven by the power of tech to connect people and create solutions, especially for social issues. Her goal is to create great visuals and imagery that can tell stories and spread messages.
Online, Olivia goes by her handle "livperspective". In her free time she takes photos of everything she sees. She also writes about her lifestyle and what inspires her to design on her blog Livperspective.Me.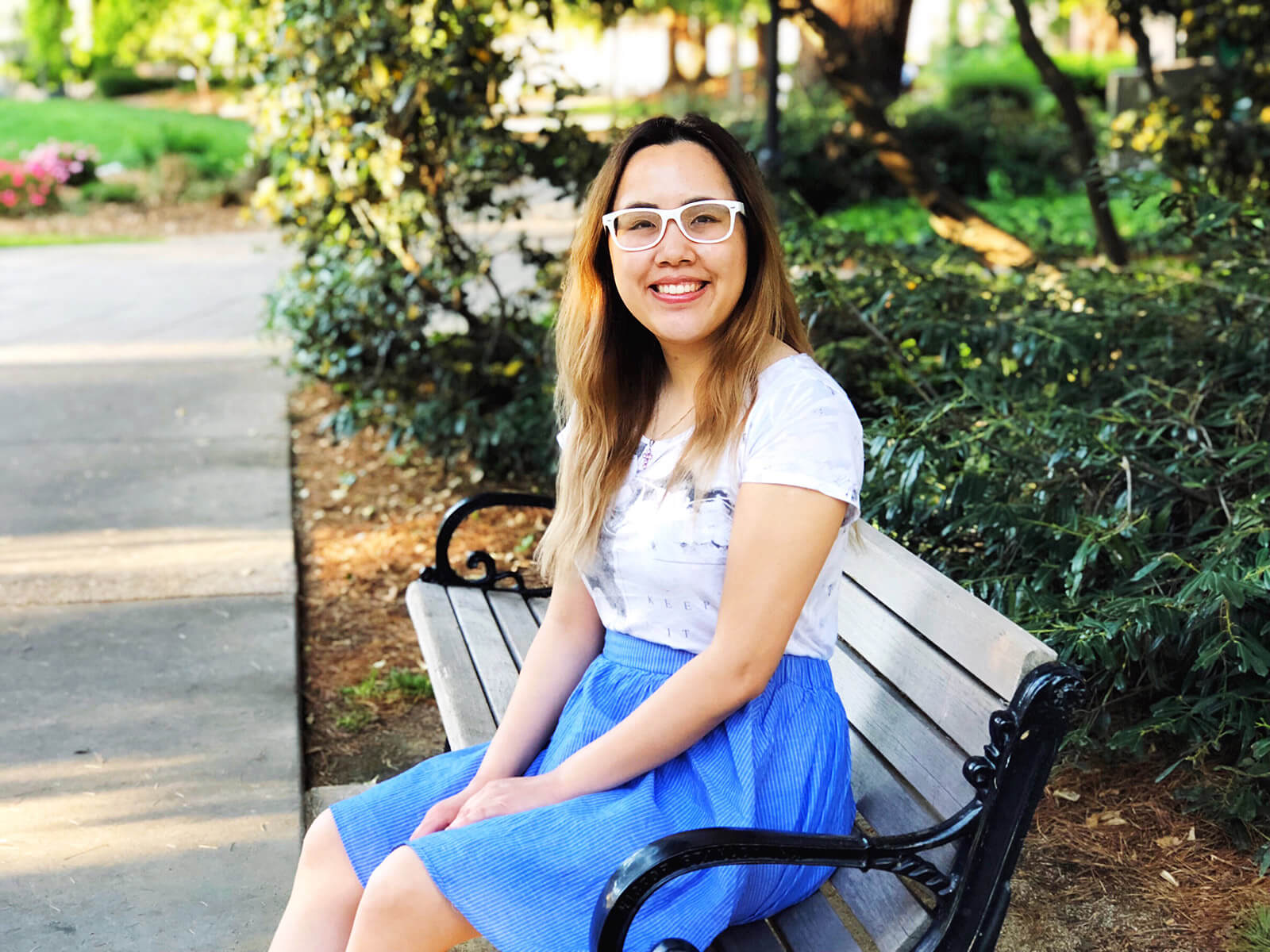 Hi Olivia! Many thanks for chatting with me for this interview! When I thought of where to start, I thought, well – your hair! It was a marvellous shade of pinky-purple at some stage. Is hair colour something that you change for fun, or is it a deeper reflection of your personality or mood at a given point in time?
Hi!
I first colored my hair when I turned 18 and only did brown for years just to give more volume to my natural thin hair. About 1.5 years ago, my friends made a goal/bet situation where if we achieved it, I'd have to dye my hair purple! Then, I dyed my hair purple again for my graduation from NYU in school spirit. I haven't done it since because purple fades quickly and is so tough to maintain. Bleach, however, doesn't go away, so recently I've gone for the ash blonde look. Being blonde(ish) has become an ingrained part of my style. I had to change my style completely after moving to California, so it gave me something fresh to explore. I want to return to my natural color in my later 20s!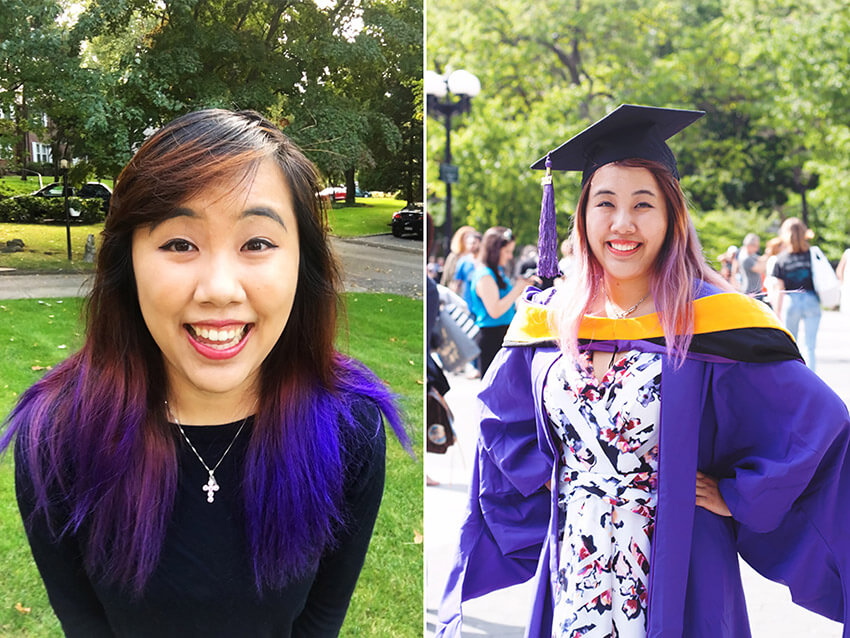 You're from Pennsylvania. When did you move to New York?
My family made it to New York when I was 13. My mom got a job at NYU the year before but we first had to make a one-year stop in New Jersey because we couldn't afford the rent in New York! We've moved twice since, to Queens, then to Long Island, where my parents live now after buying our first house when I was in college. I commuted to high school, college, and graduate school in Manhattan and Brooklyn, so I've covered almost all of the city!
When you and I first started chatting online, you were really into video games and game design. How did game design come about as an interest? Did you enjoy games and realise it was a potential career, or were you simply curious?
I've always played games, but I never considered it as a career until I stumbled into it at NYU. My Master's program in digital media was part of NYU's Game Center where there's a huge indie culture, and I took electives with game design students to make games. At the time I had a designer-developer job and thought my coding skills would come in handy, but how wrong I was. Game development involves complex programming (C#) that I didn't understand, so I was mostly responsible for all the artwork. I really enjoyed creating art for storytelling, but I didn't pursue it as a career because I felt my skills aligned better with the tech industry. However, my takeaways from game design probably gave me my biggest push into what I do now – visual communication!
Before moving to San Francisco, did you manage to snag up any job opportunities in New York?
I had previously worked in various industries (beauty, hospitality) as a graphic designer and at a small creative agency as a designer-developer, but I think the biggest industry for designers in New York is advertising. My brain is quite technical – for a designer, that is – and I had a hard time creating aesthetically unique work, which is the selling point. I didn't think I was good enough and stopped seeing myself as a creative, so when the time came to look for a job again, I had no idea what to apply for in New York.
Speaking about work specifically, how does the tech industry compare between New York and San Francisco?
Although I had technical jobs in New York, I wasn't really part of the tech industry – as in working at a tech company. When I packed my bags and moved to San Francisco, I dove head first into the industry by looking for anywhere I could volunteer at and networking with everyone I met. San Francisco is a lot smaller than New York and almost everyone works at a tech company, so the community is very tight-knit. I think New York may actually have more people working technical jobs just because of the greater population, but the community is probably more sparse.
New York is an extremely popular city for tourists to visit, but we all know that nothing beats suggestions from people who have been there or lived there and know exactly what it's like. Please share your favourite and most memorable things about New York.
Since I went to NYU, my friends and I always hung out in the East Village and made it our turf. The East Village (from 1st – 3rd Ave, between Houston and 14th St) is not super accessible by the subway system. That's probably why it's not touristy, but perfect for locals to hang out and eat the best food and desserts! What I love most about New York is being able to go out and eat at 10P.M. Contrary to popular belief, New York is very safe at night in many areas in Manhattan, including the East Village!
You've recently been taking photos around San Francisco. Were you always into photography? Being a visual designer, do you have a particular photography style or editing style?
San Francisco definitely bred me as the hobby photographer I am on Instagram. It wasn't my first time taking photos though. My favorite class in college was design photography – we shot photography and used them in magazine layouts and posters. I bought my DSLR for that class, but I didn't walk around New York and photograph it the way I did in San Francisco.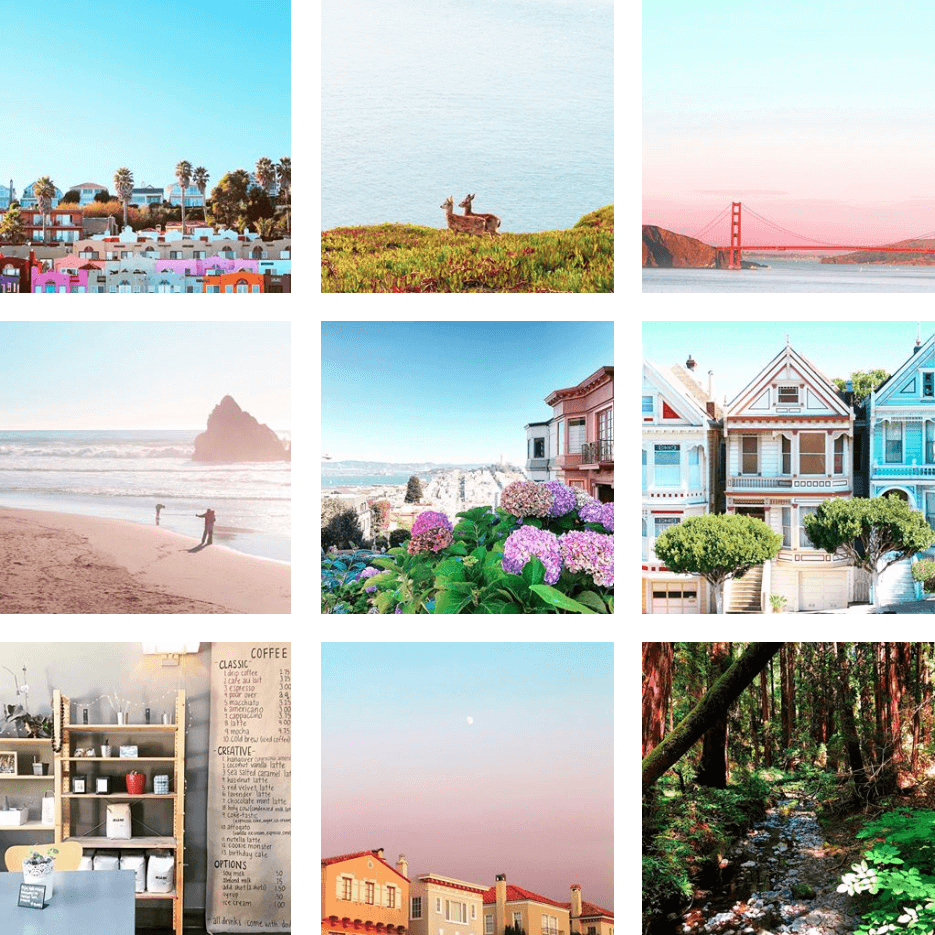 I do have a visual design approach to my photos. I position and crop everything as if I'm designing a layout. You can see that my photos all have a pastel-y and highly saturated palette, and I've been told they look more like illustrations than photos. San Francisco in reality is more gloomy than sunny, but I want to make my audience to feel positive and curious about what they see.
You've got a knack for designing icons. With so many people creating free icon packs and icon plugins and icon-all-the-things, what motivates you to keep your head down and build something unique when it could be oh-so-easy to just grab a set of free icons? Any design tips and tricks you can share in that regard?
I think designing little things like icons is what sets apart a brand from when you just need a design to be up and running. Icon sets are super helpful for the latter and praise the generous people who create them for free! But that eventually will create the problem of everyone using similar icons, so it's not a solution if you want to design a brand. Design has to not only be easy on the eyes, but also get people's attention, or else we will ignore it for sure. If we associate something or someone with a particular design, it creates the brand to allow us to remember it.
So when I chose to design my blog as a personal brand, icons came along with it. My icons show off my personality, and the colors and illustration style can help people to associate me with a playful design style and over time remember me as a visual designer inspired by game design. 😁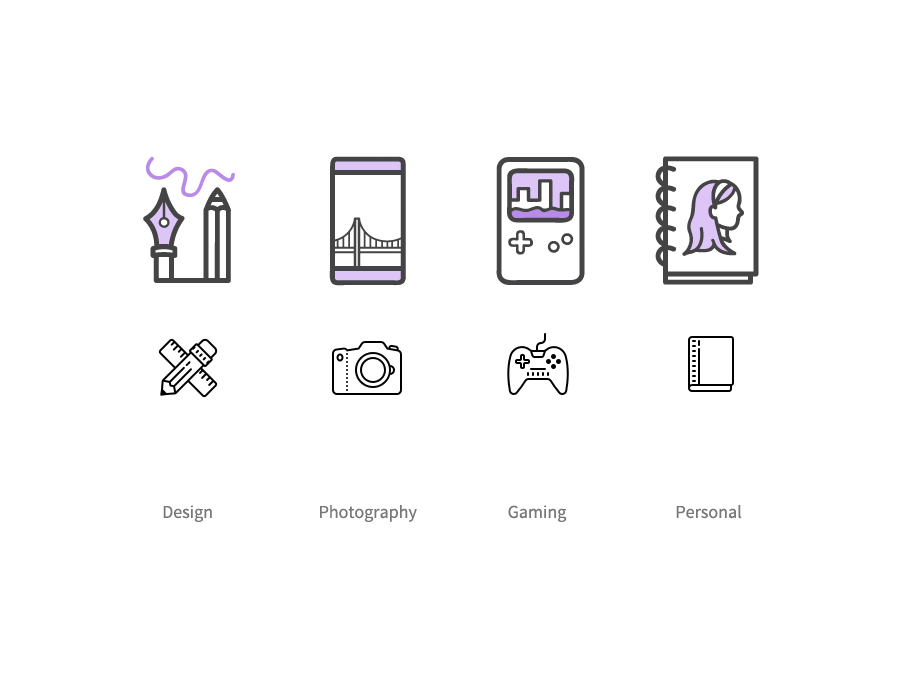 You were volunteering as a lead designer for ChickTech Bay Area which paved the way for your recent change in situation: your new job onsite at Google. Congratulations! How did working for ChickTech help you land this opportunity, and what excited you most about it when you received the news? What have you recently learned in your new role so far?
Thank you! I only started at Google a week ago, and it's been wonderful. I'm learning about Google's initiative to create a clean and friendly design style that anyone across the world can relate to, and it's truly inspiring. I think I was most excited when I got the opportunity because never did I think my first full-time job after graduate school will be at Google.
I did want to work at Google at some point later in my life, and was searching for a role that can prepare me and get me to that point.
It's been no easy journey, since I did volunteer and freelance work for a whole year as I tried to transition from a multi-discipline design background into design specifically for the tech industry. I found ChickTech through networking, and dedicated my heart and time to it for six months. ChickTech is a non-profit that brings girls into tech, and like any non-profit job, you're on your own. While I worked on designing our communication materials and assets, it taught me how to lead a brand and carry it into the rest of what we do. I guess ChickTech was the role that I was looking for all along!
Let's talk clothes! Everyone's style progresses over the years, but what is your signature look these days? Was it ever a case of "hey, actually, I think I might like this thing I didn't like before"?
As I answered in an earlier question, I changed my style completely after moving from New York to San Francisco! It wasn't exactly my choice – fashionable overcoats are too heavy to carry around when the Californian sun comes out, and my summer section is too breezy when the fog consumes the city, which is most of the year. I could only bring over essentials when I moved, so sweaters and jeans. Another thing – I sprained my ankle pretty badly last summer, so I had to come up with a style that works with sneakers. I'd say now I dress super casual, but I'm always looking for cute tops and colorful pants to make it a bit more interesting. And sneakers – you never would've caught me in New York wearing them!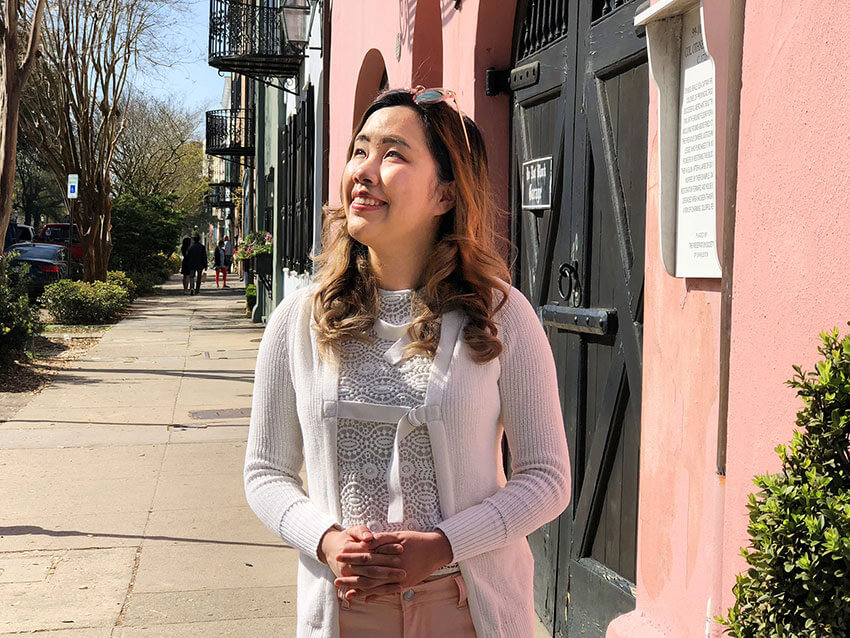 You've clearly fallen in love with San Francisco. If someone wanted to hit you up for a meal or a coffee, what's the first place you'd suggest?
We're going to Kevin's Noodle House! Or, Pho Huynh Hiep, as it's otherwise known. You must take advantage of the Vietnamese food in San Francisco, and this place has been approved by locals, Uber drivers, Vietnamese friends. I disliked pho before moving to San Francisco, but the homemade broth at Kevin's is uniquely rich which I haven't tasted anywhere else! It's also only $7.
---
A big thank you to Olivia for sharing her story. I want to commend her for the hard work that has helped her get to where she is today, and wish her all the best in continuing to progress in her career. ✨
You can find Olivia blogging at Livperspective.Me and catch some of her photos of San Francisco on Instagram. She also tweets @livperspective, and more of her wonderful work is showcased on her portfolio.