Fashion Friday: Iris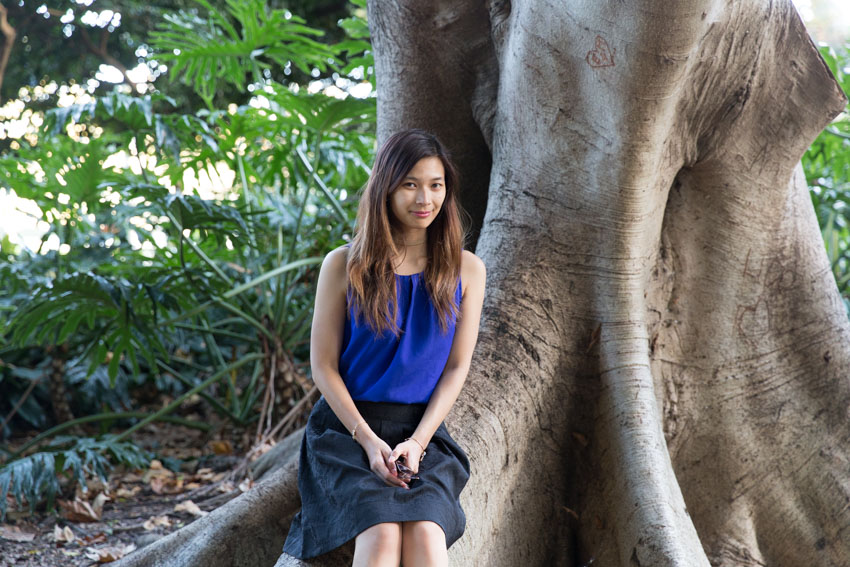 Time for another Fashion Friday post! This one contains some clothes you might have seen before. ;) We shot this in Hyde Park in Sydney, which is definitely a common location in the city for my Fashion Friday shoots. It was a hot day, so we wanted to get some shade.
I wore the skirt a while back in my outfit called How not to hate pink. I wore it with a pink flowery top. I love this skirt but since losing some weight, it sits more on my hips rather than my waist. I am considering getting it taken in, but because of the pleats it might cost a lot. I think it's worth it though – definitely one of my favourite pieces. It is nice on the hips with crop tops, but not so nice when tucking a top in. It's definitely a skirt that's supposed to sit on the waist.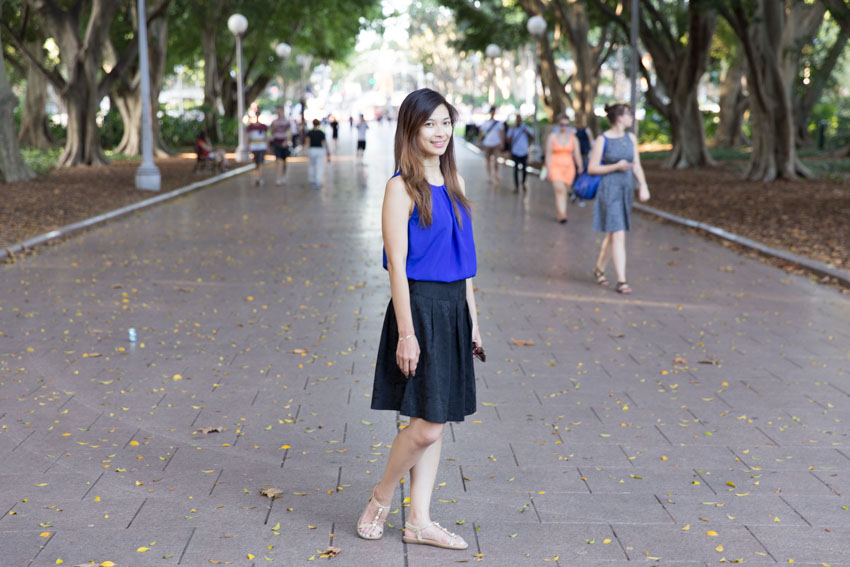 You may recognise the blue top from my Lapis Lazuli outfit. I chose a solid colour to go with the floral skirt. I don't think it's the best match, in terms of style of the top, but I do like the contrast between the colours.
I have not owned a pair of sandals for maybe five years or so… I really thought it was time to get some "open" shoes for summer instead of trying to live in boots. My friend Monica got me the sandals at the store she works at. She got a staff discount (the shoes are already pretty cheap) and I was pretty keen on trying something more affordable. I browsed online and these looked good. I really don't like sandals where the bottom of the strap goes between your big toe and the next toe. I find them very uncomfortable and I wanted to avoid that. I chose this colour because I'm pretty bored of black, and I wanted something more brown or nude-coloured.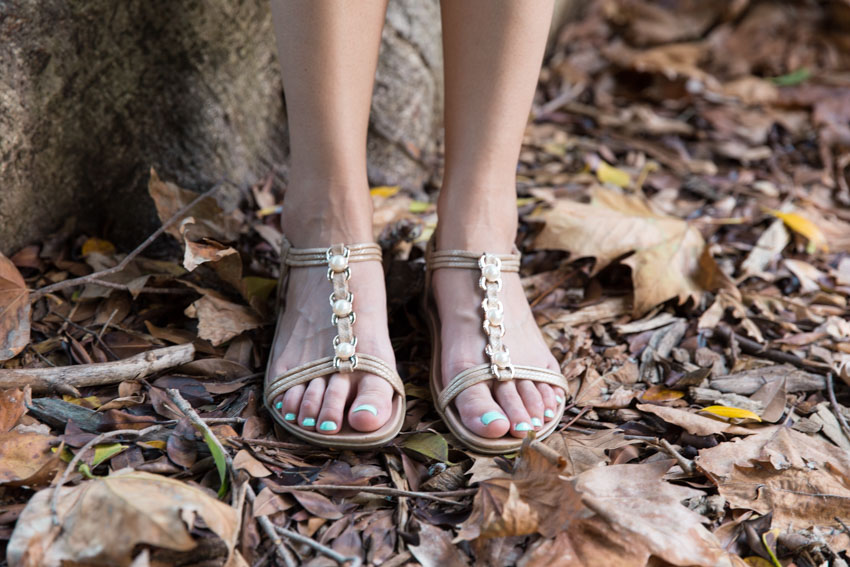 The sandals are really comfortable! I wore them while I was in Perth, with hardly any issues. I think they get dirty easily because of the colour, and the first day I wore them I got a little blister on the side of my foot, but it doesn't hurt anymore. I walked for forty minutes straight and they didn't hurt! The elastic back was a bit hard to get used to until it stretched out a bit. I rate these sandals pretty highly – they are much, much more comfortable than I expected, very cheap and still don't look like they're going to fall apart.
I'm wearing a few new jewellery pieces. Last year I made some purchases from Wanderlust + Co and wrote an honest review about my experience. One of the lovely ladies from the company's PR department emailed me and said that the team loved my reviews and wanted to send me some jewellery as a thank you. That got me pretty excited! 🙃 They picked out this choker for me, and the cuff with the blue stone. I was pretty excited about the choker because I wanted to try one. I used to wear a simple black choker all the time until it wore out, and so trying this camel colour got me excited because I think it'll go with a lot of outfits and is more subtle against my skin.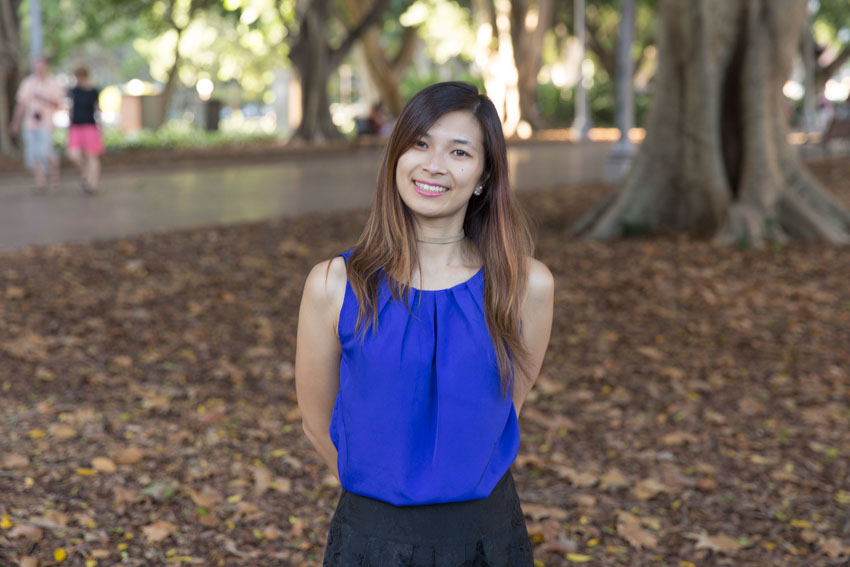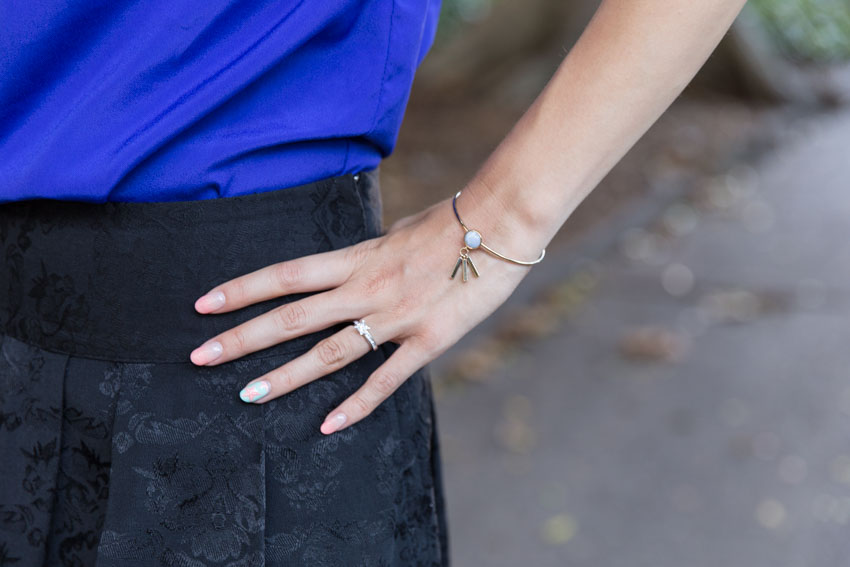 To the jewellery, I added the two cuffs. I bought ivory cuff in a sale, while the light blue one was given to me by Wanderlust + Co. As I mentioned in my review, you might find that their jewellery is on the pricey side, it's all quite delicate so may not be everyone's style, and it's worth waiting for a sale (they have sales all the time though). But I like their jewellery, even though you have to be careful with some of the pavé ones that they don't get caught on your clothes like the ivory cuff sometimes did for me. Then again, I can't fault their jewellery, as pavé-set stones do have a tendency to get caught on soft materials.
I got my nails done in Perth, including my aqua coloured toenails! It was a bit pricey because of the nail art on my fingernails, but worth it. I will have a more detailed post about my experience soon. But you can guess that I got the aqua colour so it would match my blog somewhat! And yes, I love the little five-legged octopus that the nail artist drew. 🐙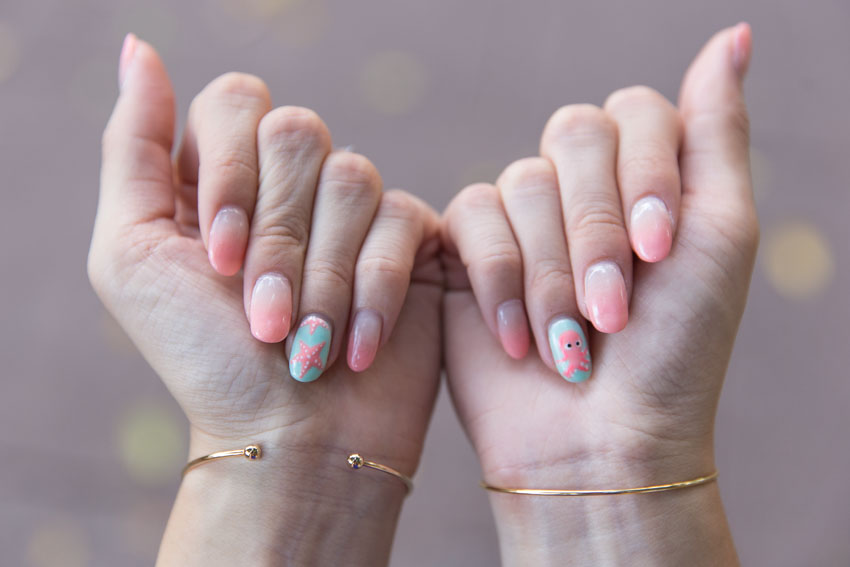 Choosing earrings wasn't too hard, I really just went for whatever went best! These pearl ear jackets look best with other pearl studs, but I actually couldn't be bothered changing my other earrings. 😆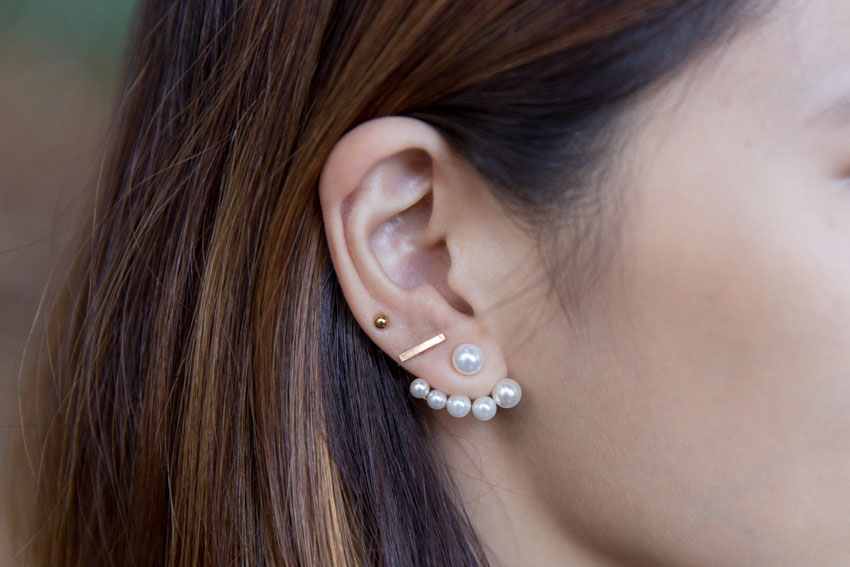 Overall I've got to admit that this is not the greatest or most interesting of outfits. But I wanted to show something recycling a few pieces in my wardrobe and dressing them up with new things, like the jewellery and shoes. It's also a way for me to get used to the clothes I have and try to like them a bit more. 😅
I named this outfit Iris, not after the Goo Goo Dolls song (even though I love it) but because I had a previous outfit called Jasmine and I felt like naming this after a blue-coloured flower.
📷 All photography by Nicholas Cooke. ❤️
Outfit details
What do you think of this outfit? Since I said it wasn't the greatest, how might you improve it or what would be your take on the clothing pieces?