An honest, detailed and in-depth experience of buying jewellery from Wanderlust + Co
Yeah… I bought some more jewellery. 😳
Before you scold me, though, I have my reasons, and I hope you find this post interesting!
I had been eyeing the online jewellery store Wanderlust + Co for a while. I was going to try and hold off buying jewellery until our Europe trip next month, but I gave in and made a purchase just over a week ago, using a 30% discount code (I am all about the sales).
I have followed Wanderlust + Co on Instagram and been on their mailing list for a while. I can't remember how I first came across the company, but it must have been from another fashion blogger. It was a while ago because I remember already knowing the company when it was my birthday last May.
My package arrived in the mail today. This isn't just a run-of-the-mill review, as a lot of thought and research happened before I made my purchase. This review is quite detailed, but I hope it is useful, and that you consider doing a lot of research as well before you next purchase something online!
Thoughts before purchase
Jewellery style
The style of Wanderlust + Co could be defined as casual and bohemian (boho) (mostly). Very minimalist pieces. Earthy stones, geometric shapes, and long dainty chains make up most of the jewellery. They love, love, love layering. I have to admit I am terrifyingly far from having the style of a 'boho chick', and not to generalise or put anybody in a box (myself included), but I find that as an Asian it is challenging to pull off a bohemian look. Asians sort of have their own way of doing it. If I were to do it, I would take a more minimalist, sleek and professional approach.
That said, I have loved boho-style jewellery for a long time, but bold colours or edgy pieces took precedence when I went jewellery shopping. I am keen to see what Wanderlust + Co can do for my style, though.

Questioning quality
The number one question is the quality of the jewellery. I know it's still costume jewellery, but a lot of the pieces in Wanderlust + Co's store are plated gold, silver, or rhodium. The stones are usually Swarovski crystals.
If I look at the photos on the website, some of the pieces seem to be better quality than others. Others seem to look cheap. Rows of crystals look like they are set unevenly, but again, I can't tell a hundred percent. Another thing I'm not a huge fan of is brushed metal, the kind of metal surface that has a lined texture. I feel like it cheapens the look of items (remember that really strange look of the old Mac interfaces?). Not all of Wanderlust + Co's products are like this, though.
Many of the rings in the store are adjustable. Personally, I am very sceptical about any adjustable rings. It's great that it's malleable, but it makes me think that the strength of the ring can't be too terrific. Then again, I suppose you're not going to be adjusting it all the time. But keep in mind, pure silver is very hard and not very malleable, so it makes sense that these pieces are only plated.
Price point
The jewellery that Wanderlust + Co sells ranges from $10 up to around $90. Most new pieces seem to fit in the $40-$50 range, but when there are sales, you can pick up a bargain for about $10. Given my thoughts above on quality, and knowing I can buy real silver jewellery for $50 or less in Australia, I wonder why costume jewellery can be so expensive.
It might be that the pieces are very delicate, even though the materials used are not expensive. They might be more complex to make because some of them have quite intricate detail. In light of the ones with small Swarovski crystals, we know that Pandora charms are very small but can be very expensive because of the work and technology required to create them.
Questioning uniqueness
I wondered how unique the store's pieces were. I have come across jewellery websites that have pieces I have seen elsewhere, and I know they must have been sourced from the same place (not surprisingly, it seems they are mostly somewhere in Asia). Wanderlust + Co has pieces that are branded with a 'W+CO' engraving, so because of that, I think they have rather unique pieces that you can't find anywhere else. I even went as far as to search using Google for similar jewellery images. Nope.
After looking through some blog posts by fashion bloggers I realised that Wanderlust + Co were around from 2010 or 2011, and the style of their products changed. They used to sell very cutesy, quirky sort of jewellery, and they looked a lot like jewellery I had seen in other stores. I would describe them as typically Korean or Malaysian made – the Asian jewellery stores here seemed to stock jewellery with bows, patterns, and other chunky things.
When I first came across the online store, I noticed that a few sale pieces were hugely different in style from the rest of the pieces in the store. They were chunky, with a very 'glam' statement style, compared to the other delicate pieces. Perhaps old stock?
Intensive research for reviews and feedback
I decided to do some research about Wanderlust + Co. I wanted to hear feedback and read reviews from others. Unfortunately I couldn't find much. I saw a couple of reviews that complained about delivery time being too long. I also saw many outdated blog posts from bloggers, where the style of the jewellery they purchased was vastly different to what is currently on the site.
Wanderlust + Co seems to be a popular brand of jewellery for use in subscription boxes, particularly JewelMint (which no longer exists) and RocksBox. I did see one blog post from a JewelMint subscriber, where a lot of the comments mentioned that the quality of Wanderlust + Co's jewellery was cheap and terrible. Granted, it was at least a year ago, so perhaps it's changed? I found a few RocksBox reviews that were positive, and I went so far as to look on Instagram for people's thoughts – which were all positive.

Well.
I guess I decided to give in, and give it a go! It could be my favourite jewellery store, I could also hate it to bits. I purchased a handful of pieces that were on sale. I waited for a sale because part of me still questions the jewellery's quality. Silver or gold plated does not necessarily mean the quality trumps other costume jewellery, as plating can fade with time, and the craftsmanship may be lacking. I have also owned costume jewellery that has lasted a lot of wear, so who knows. There's only one way to tell at the moment.
Thoughts after purchase
I did see a tweet where someone complained about the shipping time. Wanderlust + Co's headquarters seem to be in Malaysia, as that is where my package was shipped from. It took seven working days for it to reach me. Not bad – but Malaysia isn't too far from Australia either.
The package arrived with no breakages, and the jewellery was beautifully and carefully packaged. Not only was the box wrapped with bubble wrap, but so was every piece of jewellery inside the box. The jewellery was packed in sealable plastic sleeves, which isn't as impressive as some companies which spend money on organza bags, but it was still nice.
Shipping was free for orders over $50. Pretty standard really. I was pleased with both the shipping time and the packaging. I even got a catalogue and a promotional magazine in my package. They don't send receipts in the mail to be kind to the environment, but they send catalogues, which seems contradictory… I assume they are on recycled paper?
I was concerned about quality. Well, I have to admit I'm a bit impressed. All the jewellery I purchased was shiny and well made. The pieces were delicate, as per the style, and the rings I selected were quite malleable. They look like they will last and not just break after one use. Because of the style of the jewellery, I wouldn't be surprised if anyone thought the quality was bad. One of the pearls on one of the rings I bought wasn't smooth in one tiny spot, but it's not a big deal.
I only hope that the silver/gold plating for the jewellery will last. (I couldn't get a better photo due to me taking this photo at night – sorry about that.)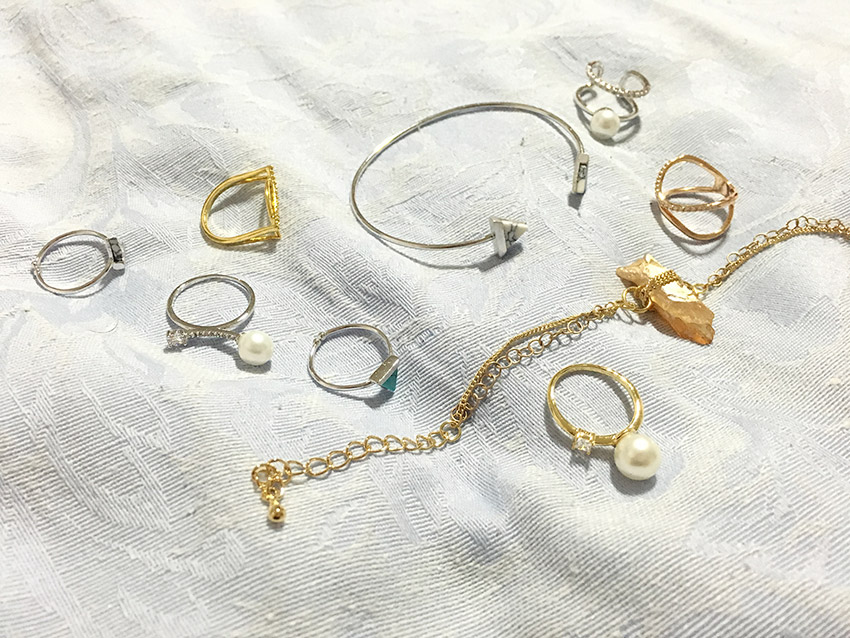 So yes, I love all the pieces I picked out!
Was it worth the $160 I paid, though?
Not really. I bought all the pieces on sale (30% off, with some reduced further), but I don't feel like some of them are worth $40 a pop. I feel like I will only ever buy from the store if there is a sale.
Beautiful jewellery though, and I can't really complain about any of the pieces I bought. The only little gripe I have with one of them is the cuff being a bit too big for my small wrists. It's adjustable, but does require a lot of adjusting. I love cuffs but I always seem to have the problem with them being too big. Maybe I will stick with chain bracelets next time.
I like all the rings (I bought seven!) very much and they will all get a lot of wear. You'll see them in upcoming Fashion Friday posts. ;)
Closing thoughts
I actually would recommend Wanderlust + Co if you like the jewellery. The price point is a bit high, but there are sales every now and then (which is when I would recommend buying). If the jewellery is very much your style, shop around and see if you can get something similar for a bit cheaper. I found maybe one or two stores with similar jewellery to some of Wanderlust + Co's styles, so I avoided buying too much (if any) of the jewellery in those styles.
The quality of the jewellery is not bad. Not gonna lie, it is pretty beautiful. I have yet to try wearing them, but as I said, I hope the plating doesn't fade too quickly. But as with all jewellery, you should take care of it and store it properly.
Update (the next day): I wore two of the rings and the cuff today, and unfortunately one of the crystals fell off one of the rings. It happened when I was sitting down, no force applied, but the crystal dropped on the floor and I could not find it because it's so small. :( I contacted the website and got a reply within a few hours (nice!), and sent photographic evidence as requested. I am guessing this is just a one-off unlucky occasion, but they said they will send me a replacement ring, which was really lovely of them. :)
Waiting over a year before I purchased anything? It was worth the wait. It pays to do research!
I would love to hear of any experiences you've had with making online purchases, jewellery or not. Did you do a lot of research? How long did you wait for a sale?