Fashion Friday: Hibernal
I haven't caught up with my friend Seb for a while but I'm thankful that he had time to do this shoot for me! Of course, he was excited to see my engagement ring and include it in the photos. Another thing to get excited about is the fact that this Fashion Friday has my awesome brogues that I bought in Florence!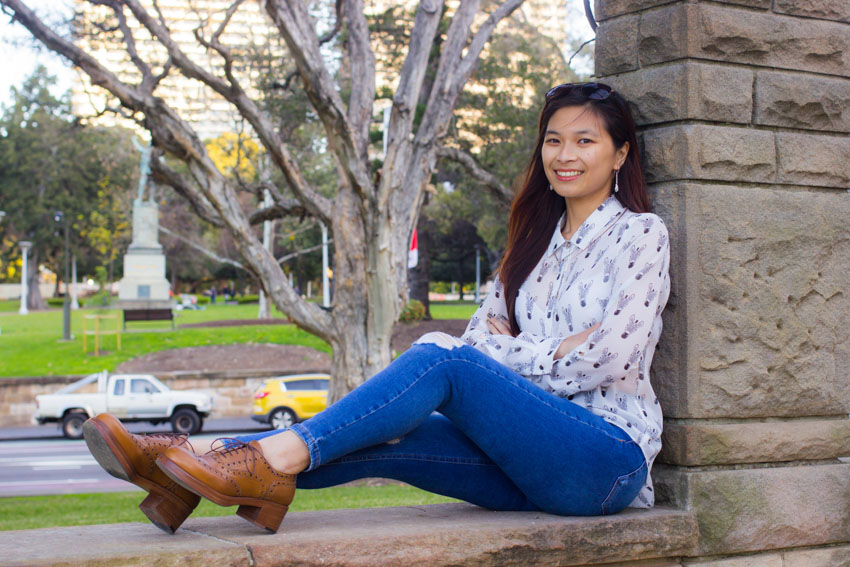 In this outfit, I'm wearing the jeans I bought in Topshop in the UK, that made their debut in the Parisienne Walkways edition of Fashion Friday. I really like them and I'm glad I bought them, they fit perfectly and are petite sized. I definitely want to buy my jeans from Topshop in the future!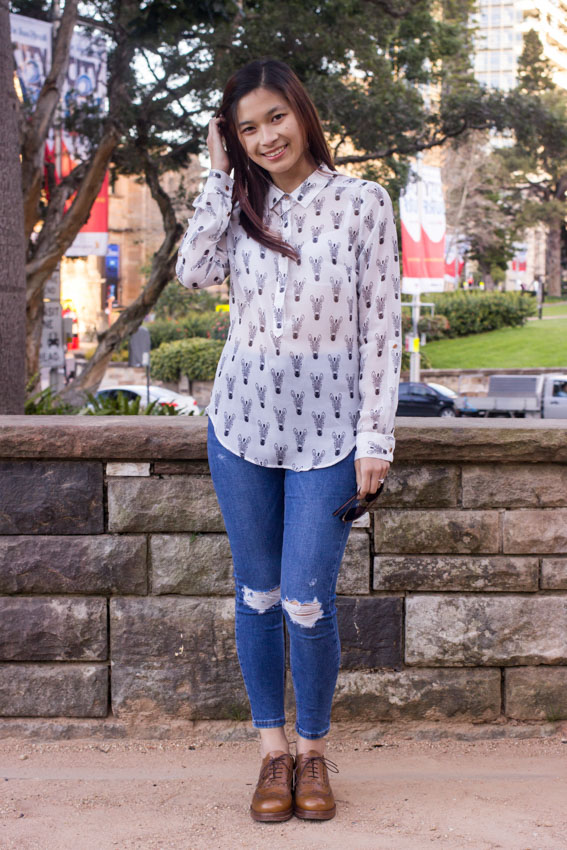 The jeans go very well with the brogues, not just because of the colour but because of the cut of the jeans. I tried wearing the brogues with regular straight-cut jeans, but they looked weird. I think it's because I needed to get the jeans hemmed. They were too long.
I love the brogues so much. I was debating between getting a flat pair and this pair, but I really, really wanted shoes that I could match with both casual and dress-up clothes. I knew this pair would be perfect for dresses, so I opted for this, even though they were more expensive. I love when shoes are comfortable but add some height, and these brogues are so perfect. It took a few wears for them to break in and stop leaving blisters on the back of my ankles, but I am glad they fit comfortably now. I don't think I will buy another pair of shoes for a long time! Except sandals because I don't have any for summer… but I'm usually picky with sandals anyway.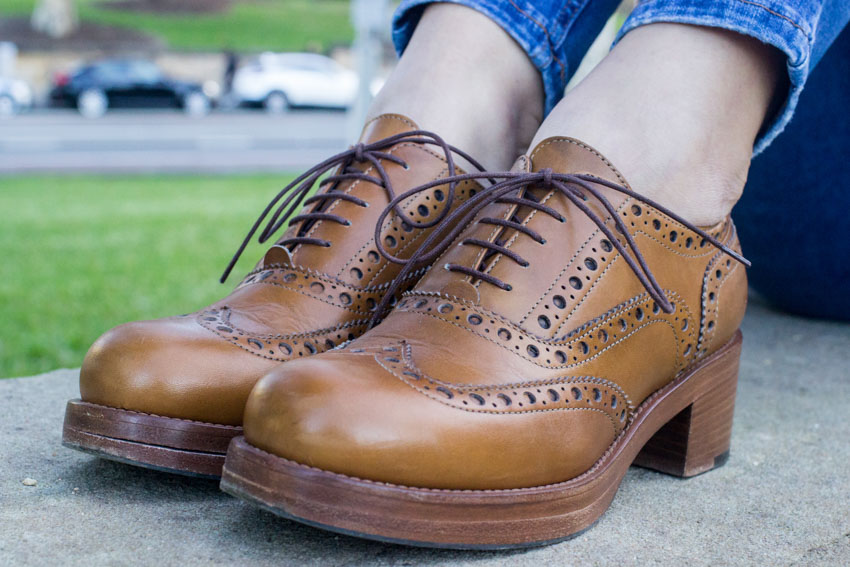 I wore the zebra-print top in an outfit I titled Africa, and I usually wore it with skirts, but I thought it went so well with this whole outfit. It gives the outfit a pretty earthy look. Might I add, it was quite cold and windy on this day and I did wear a coat. Because of the thinness of the top, it's not a great winter piece if you want to wear it alone!
I actually also chose the top because the stripes matched my nail wraps, which are the Fibre style from Scratch. It's a pretty funky design and I like the gold glitter, which is more interesting than just plain colour.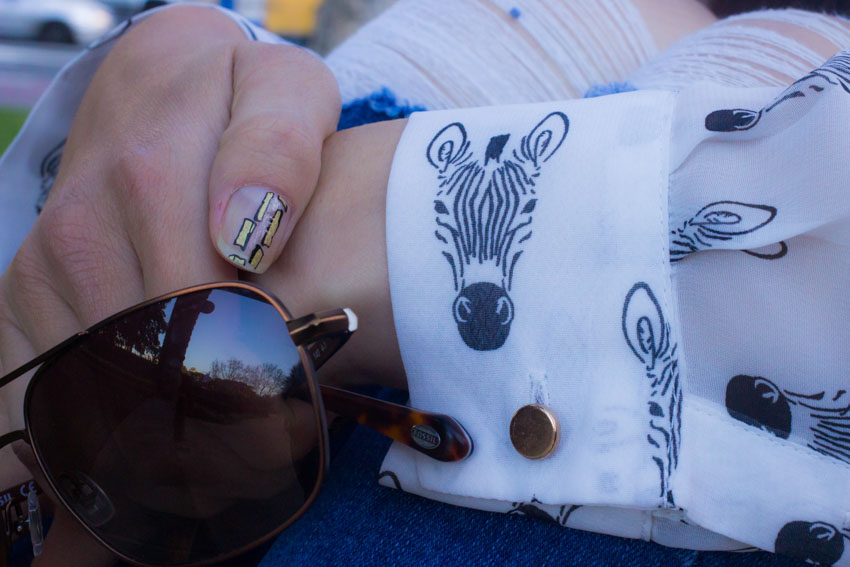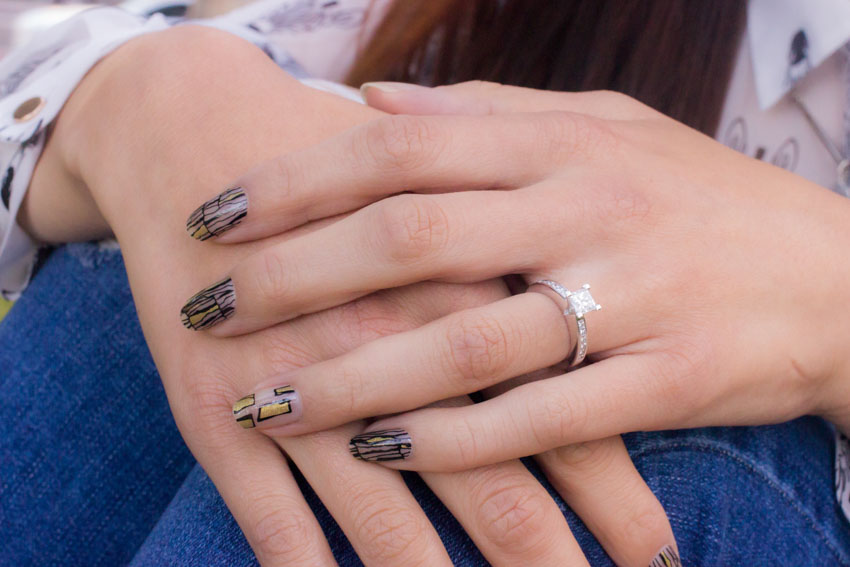 Adding to this sort of earthy look is the herkimer diamond necklace. I got it from By Invite Only, an independent Singaporean jewellery store. I really like Singaporean fashion and I actually found out about the store from a Singaporean model whom I follow on Instagram. I love that the store sells a lot of raw, crystal-like, bohemian-style jewellery. I think crystal necklaces are very pretty.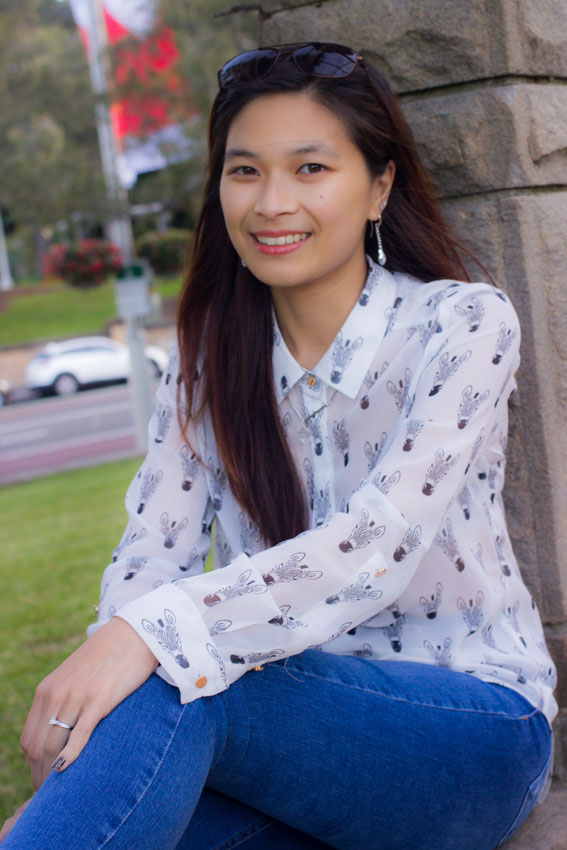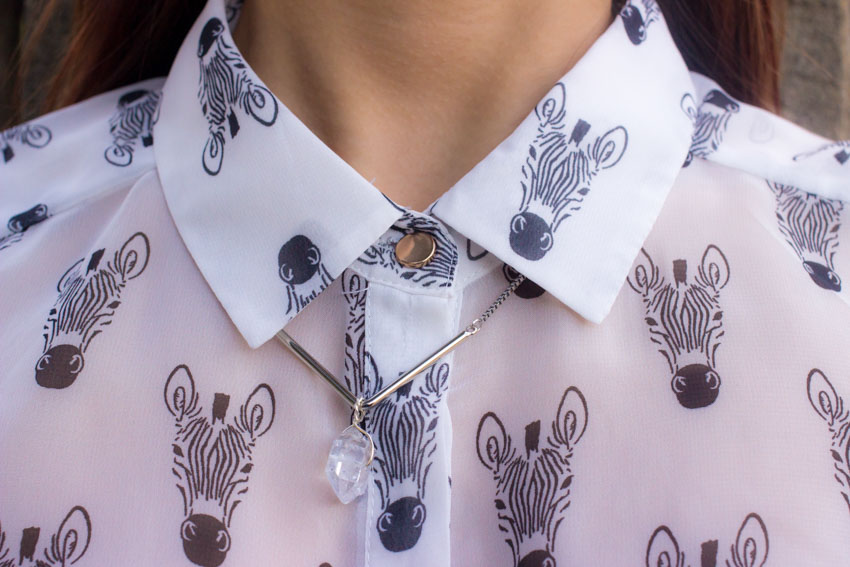 I'm wearing snake earrings that I got from my mum. She really doesn't like snake jewellery, necklaces or even chewy snake candy. She freaks out when she sees worm-shaped candy. 😂 I think the earrings are a little out of place with the rest of the outfit but I felt like wearing some longer earrings.
The title of this outfit is named after the second part of an in-progress epic album by Packwood. You can listen to Hibernal on Bandcamp for free. Packwood writes beautiful orchestral folk music, and I felt like the name was appropriate.
Photography by Seb.
Outfit details
Top: Miss Shop (available at Myer)
Jeans: Topshop
Shoes: Mauro Volponi
Necklace: By Invite Only (Silver All About Balance Necklace)
Earrings: Guess
Nails: Scratch (Fiber)
Sunglasses: Fossil