Fashion Friday: Ever After 🤍 | Blazer and skirt combo
Hey everyone! 👋 A bit of a delayed Fashion Friday post by a few days, haha. Even though this series has been going for over six years, since around 2014, I do wonder if it's due for a renaming. I feel like the every-second-Friday format generally works for me, but I also wonder if the name "Fashion Friday" is a bit tired. 😆 I know "fashion" is a bit of a loaded and possibly misinterpreted term that doesn't quite pertain to the way I see my wardrobe, my clothes, and overall personal style. I don't mind losing the alliteration, but am wondering if I should be calling this something else – let me know if you have any thoughts!
The weather this weekend in Sydney has been extremely hot (almost 40°C/104°F). These photos were taken quite a few days ago when the weather was a lot more tolerable. We've had some very warm days and some cool days, but it doesn't quite feel consistent yet.
I thought I'd try wearing my blazer with a skirt, so that's where the inspiration for this outfit came from!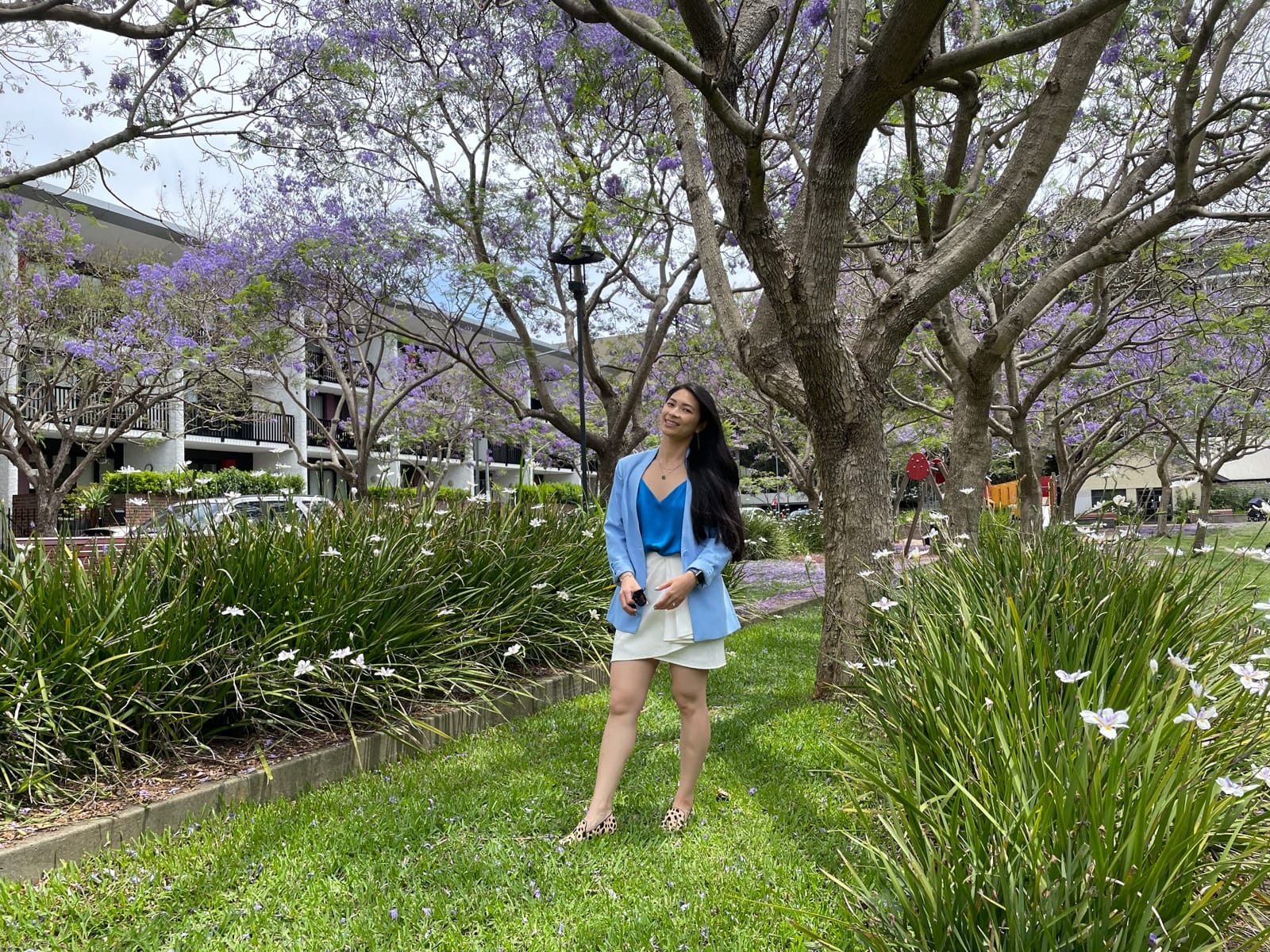 I also mainly wanted to showcase a piece that I wear frequently but haven't yet posted anywhere on my blog, so I wore this white skirt instead of one that I have posted about before. Many people know that I'm drawn to white clothes – despite the curse it brings to some people – and I decided to buy this skirt because I liked the feminine shape and it was very comfortable for a mini skirt. I've owned quite a lot of mini skirts in the past that had the tendency to ride up, or be a bother to sit in because I'd have to make sure it had enough coverage over my legs – stuff like that.
This skirt sits really nicely on my body and is comfortable to both walk and sit in without it moving around. I had a white skirt that I loved and showed in the Blue Lagoon outfit a while back, but despite how great that skirt was, the fabric was too stiff for my liking and didn't drape nicely over my curves, which made it uncomfortable to sit in. I was able to sell it to a friend of mine. This skirt ended up being its replacement.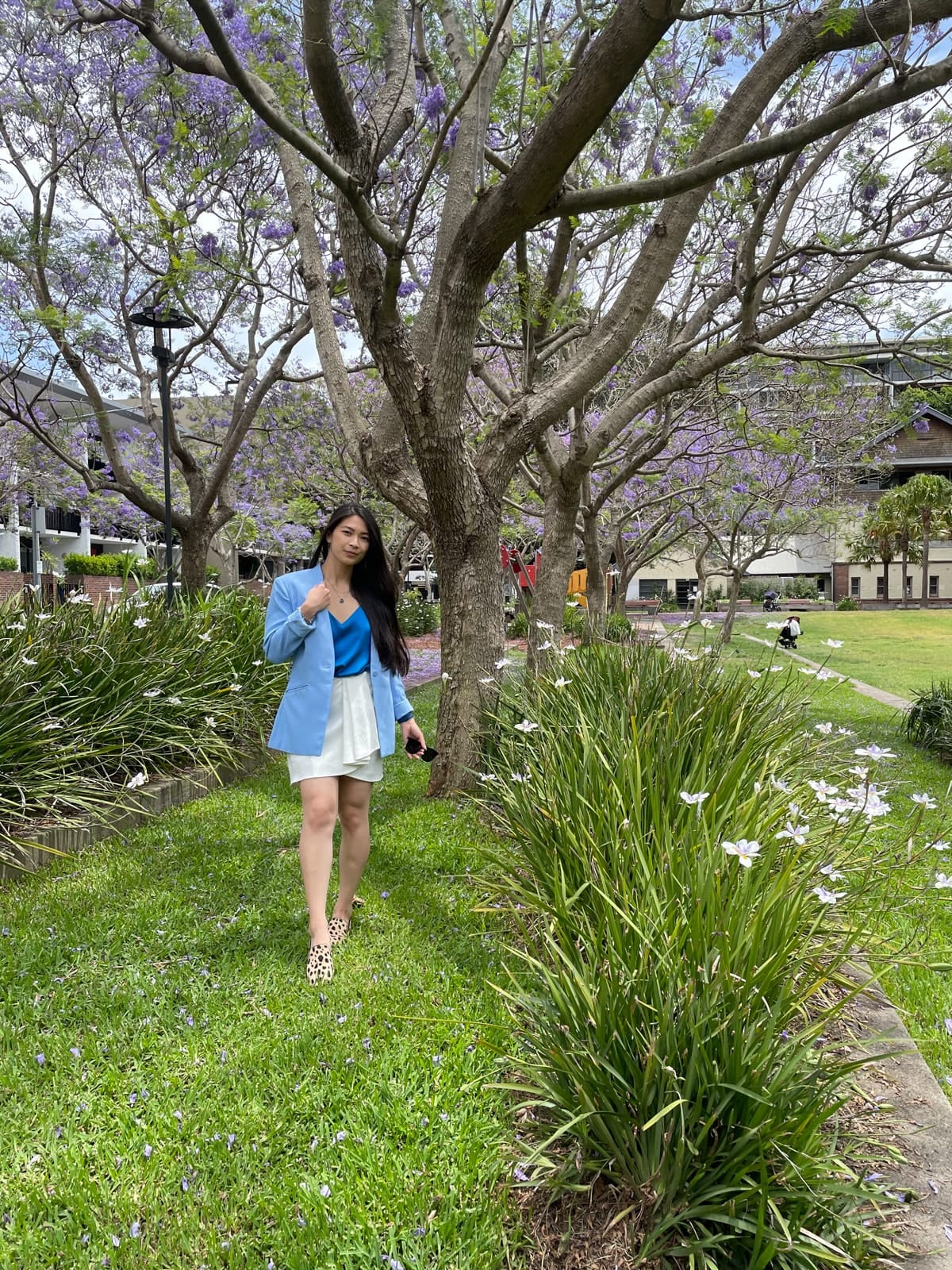 I sort of feel like this skirt isn't the "perfect" white skirt but I've also tried really hard to move away from becoming too obsessed about finding something perfect. It can make you go down a spiral of frustration, with some time wasted looking for the perfect thing, and potentially some money and energy wasted too. Maybe I'll find an even better skirt in the future, but for now, this really does tick all the boxes.
The other pieces in this outfit shouldn't look out of the ordinary if you've been following my blog for a bit. I wore the blazer in The calm between the storms a month ago, and the top a couple of times already! The last time I wore these giraffe-print shoes in a Fashion Friday was in March last year, but they have actually been one of my go-to shoes during this pandemic and while working from home. They are easy to slip on, not too bad to walk in, and are stylish too. I had them re-soled not too long ago so that I can continue to wear them over and over again.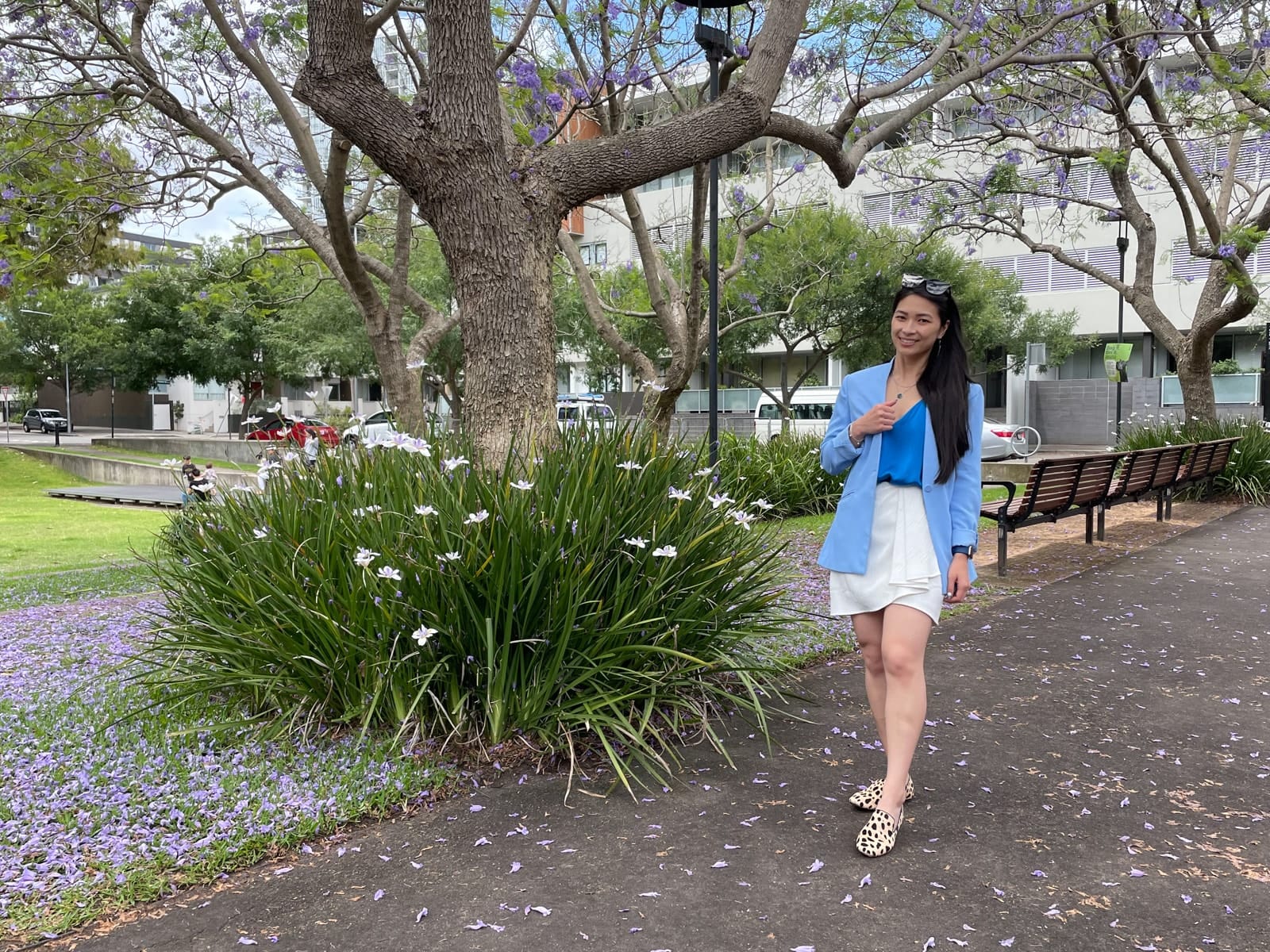 As I mentioned before, this blazer has really grown on me. I like the idea of wearing an outer layer as a "topper" piece but sometimes I find it difficult to find a piece of outerwear that I like. I think this blazer suits my personal style and has worked really well with a number of different outfits I've put together. I don't love wearing very formal clothing, and I don't like to wear a lot of black, so the simple fact that this blazer is sky blue has been one of the best things about it. I throw it on top of an outfit and it just transforms into something else. ☺️
With the accessories, I picked a necklace that I've just been wearing time and time again. Both my earrings and necklace have apatite gemstones in them. I bought my earrings recently from a seller on Etsy. It's a one-of-a-kind piece and I was drawn to a lot of the seller's items, but I was really drawn to this one because of the blue colour – my favourite. The earrings are quite light as well so they don't weigh down my ears.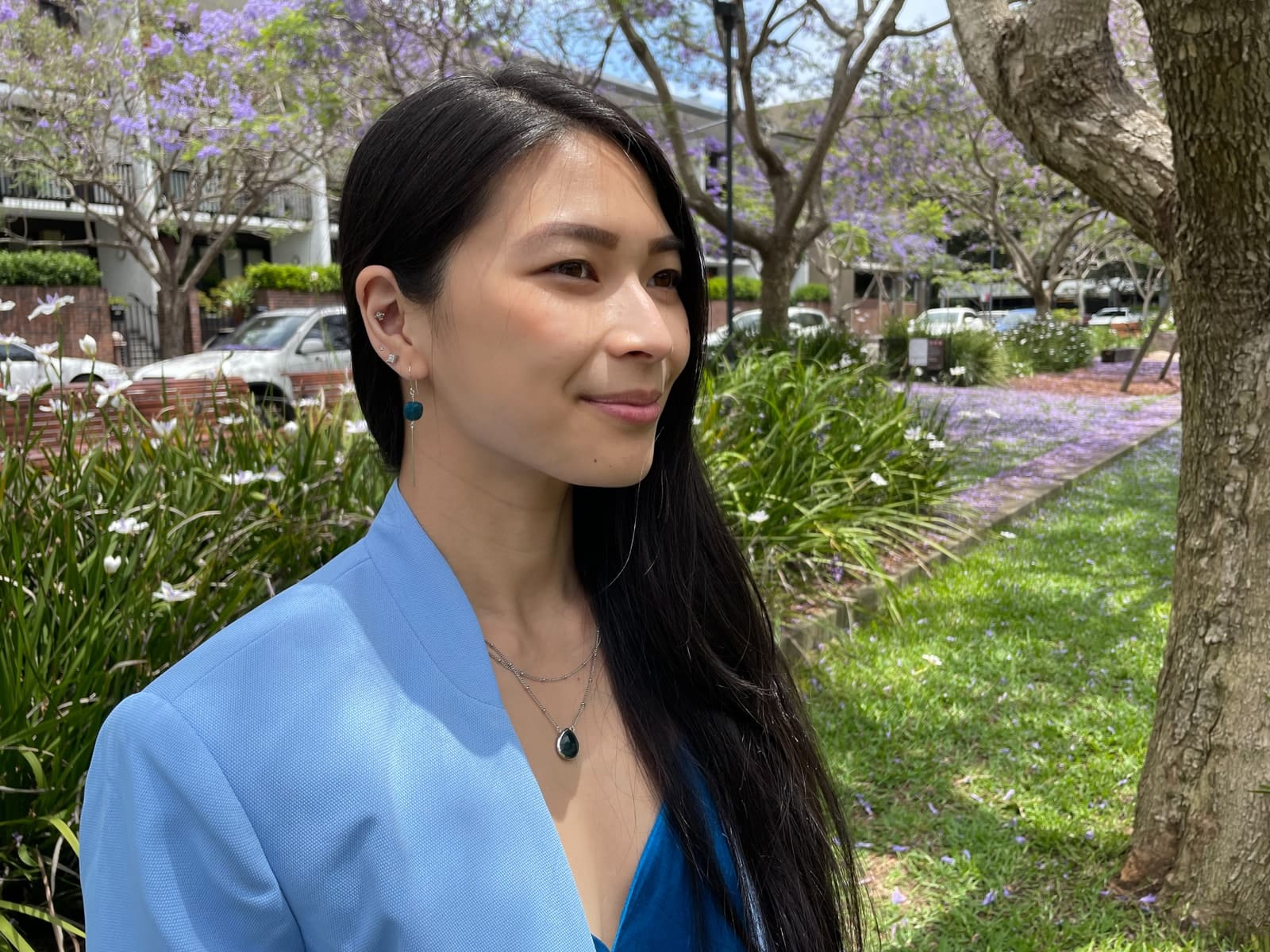 I've found that I have been gravitating towards certain pieces of jewellery and have been keeping in mind curating my collection to be smaller. There are definitely a lot of pieces that I own and no longer wear as much – sort of the result of experimentation or just not putting as much thought into what I was purchasing. I think it can be easy to collect accessories thinking they will always do something to complete an outfit, but that's not always the case! 😅
I didn't make a specific choice to apply these nail wraps based on what I was wearing, but I actually just wanted to use my Totoro nail wraps because I had some left over from the last time I applied them to my nails. Totoro is definitely one of my favourite anime films. 🌱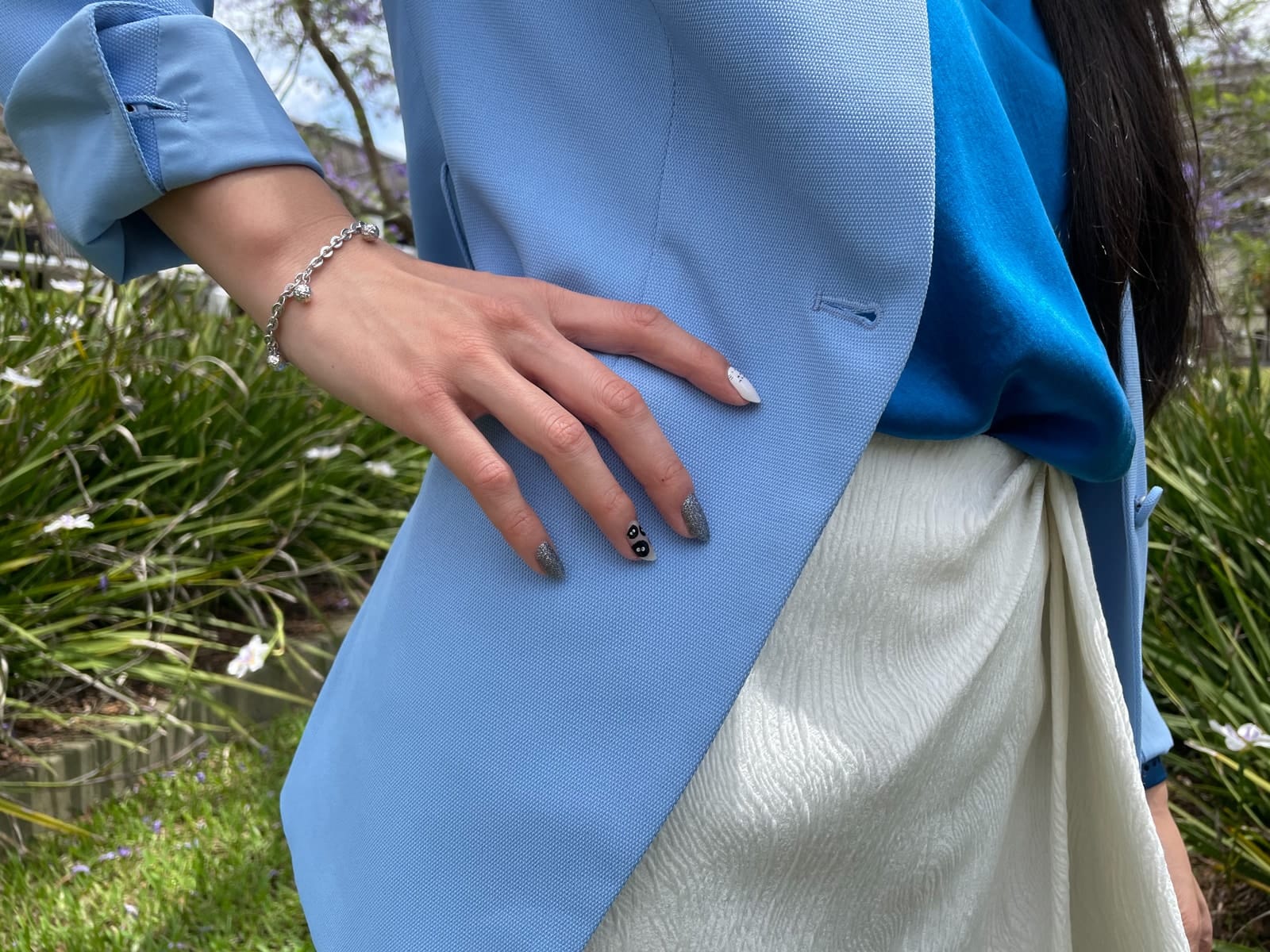 Overall I'm really happy with how this outfit turned out. The blazer was something I was planning to try wearing with a skirt and it really worked with this one. I can't imagine it working too well with a longer skirt – at least on my shorter frame – unless the blazer was more cropped. I think this is definitely an outfit I'll be wearing again. ✨
Outfit details
Top: Witchery (purchased second hand)
Blazer: Sheike (Charlize Jacket in corn blue – no longer available)
Skirt: BWLDR (Arizona skirt – no longer available)
Shoes: Witter (Layano Loafer in Giraffe – no longer available – shop similar)
Earrings: SensualStones on Etsy
Necklace: By Invite Only [referral link for 15% off] (Stainless Steel Bethany Blue Apatite Necklace – no longer available)
Sunglasses: Gentle Monster (Papas – currently sold out)
Colophon
📸 All photography by Nicholas Cooke. (🆕 iPhone 12 mini)
These photos were taken in a park you might recognise from a previous Fashion Friday a month ago. The jacaranda trees are coming close to being completely shed of their flowers.
I named this outfit Ever After, after the Marianas Trench album. Even though it was released in 2011, I've been listening to it from beginning to end recently. I thought about the fantasy and dreamlike themes of the album, and I guess the title came to mind after I thought mostly about the shape and design of the skirt being quite feminine and somewhat ethereal.