Fashion Friday: Wildflower 🌺 | Embracing asymmetry and juxtaposition
Hello friends! Whether you are spooked by today's date or not, hopefully this "Friday the thirteenth" has been a pretty good one for you. 🦇
Today's Fashion Friday is an interesting one because I mixed a few things I liked on their own, but didn't love when mixed together. You'll see what I mean when I get into the details. But to kick it off, let's start by addressing the "repeated item" from the last edition – the shoes! I have really enjoyed teaming these white sneakers with other white pieces in my wardrobe. Even though white is notorious for getting dirty easily, and being high maintenance, I love it as a colour for so many of my clothes. That true, optic white is something that flatters my own features.
Since starting up Fashion Friday again this year – after unintentionally taking a years' break! – I've been repeating at least one item in each of my outfits that I wore in an earlier outfit. Also unintentionally. 😅 So today it's the sneakers.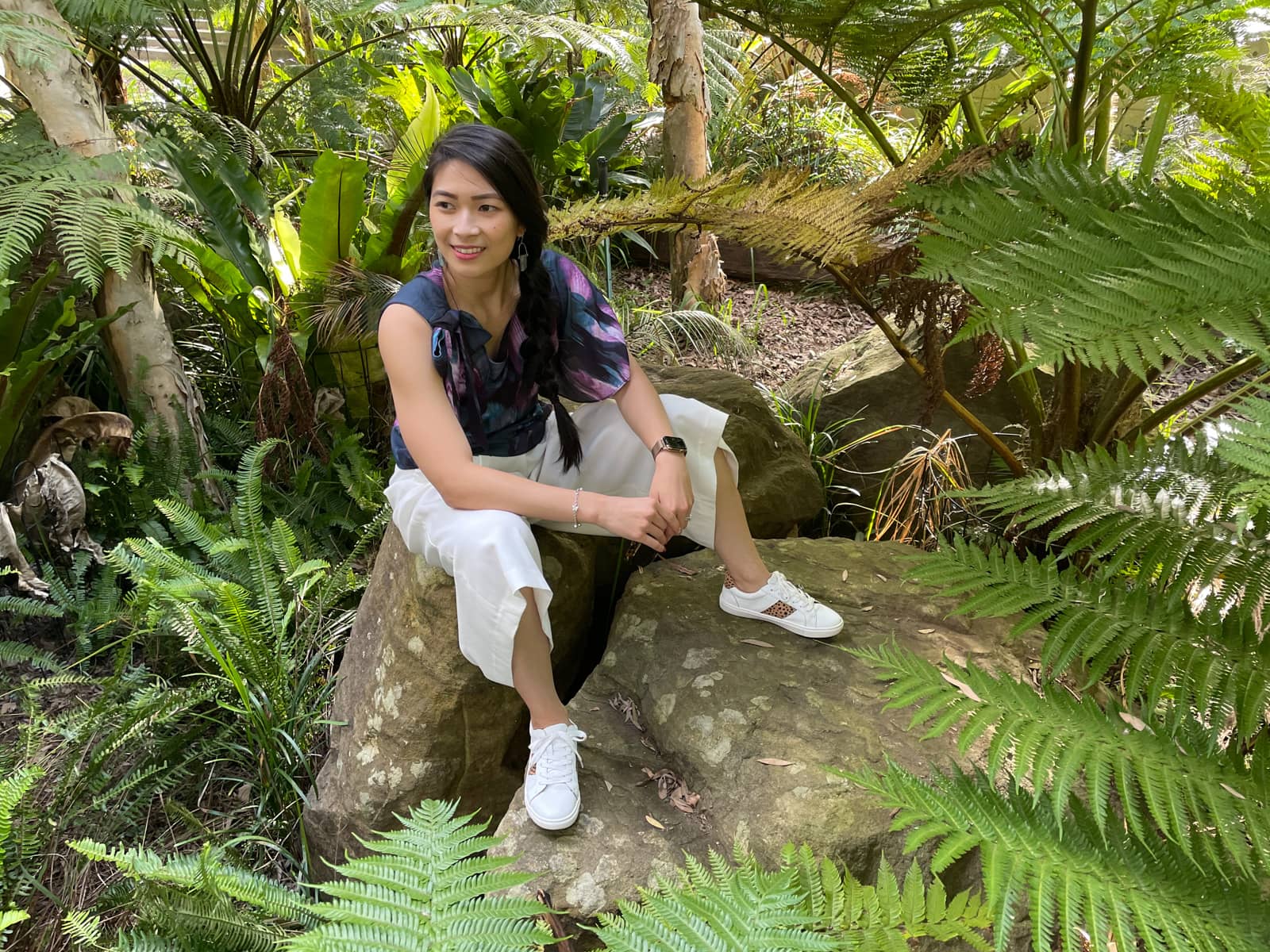 I didn't mention this publicly, but a while ago, one of my goals for Fashion Friday was to one day have documented almost every outfit in my wardrobe, with enough items of clothing having been repeated, so that all my Fashion Friday blog posts felt extremely current to my sense of style. With my wardrobe having changed so much over the years, and many clothes having not made it to a Fashion Friday post, I think I am in a much better place now. I've stopped buying clothes on impulse and have put a lot more thought into my wardrobe, specifically how I put outfits together. I'm keen to see where Fashion Friday ends up at the end of the year and into 2021. ✨
Experimenting with culottes
The white culottes are actually a second-hand purchase. I had a long white skirt (also purchased second-hand a couple of years ago) that I loved for a very long time, but that I sold to a friend of mine. I didn't bother getting it altered even though it wasn't the best fit for me, and because I'm quite short, the length was not flattering on me. My friend is a lot taller so I think it was a better fit for her! I had sought out to replace that skirt with something similar, and in wanting to experiment with wide leg pants or culottes, I browsed eBay and found these pants for just $10. They have pockets, and they are a bit too big for me in the waist, but it does allow me to tuck my top in if I want to.
To be honest, I'm not sure if wide leg pants suit me as much as I thought they would! I have my wide-legged jumpsuit but I think these pants have more fabric than my jumpsuit does. I get the feeling I look a little stumpy. I think this outfit might have looked better with a tighter top. Maybe. It's hard to tell because I take photos in mirrors with these pants and they look OK, but having actual photos taken of you can be from completely different angles you don't see, compared to a selfie in a mirror. One thing is for sure, though – I can't deny that these pants are absolutely comfortable and that is one thing I love about them. 👍
Asymmetrical style top
I didn't tuck my top in because it's fairly tailored, and the hem hits at a nice place on the hip. I think it might have been more flattering if I did tuck it in. Another thing that stops me from tucking it in is that the top zips up on the side, and the zipper is stiff so it doesn't allow for it to be loosely tucked, if that makes sense.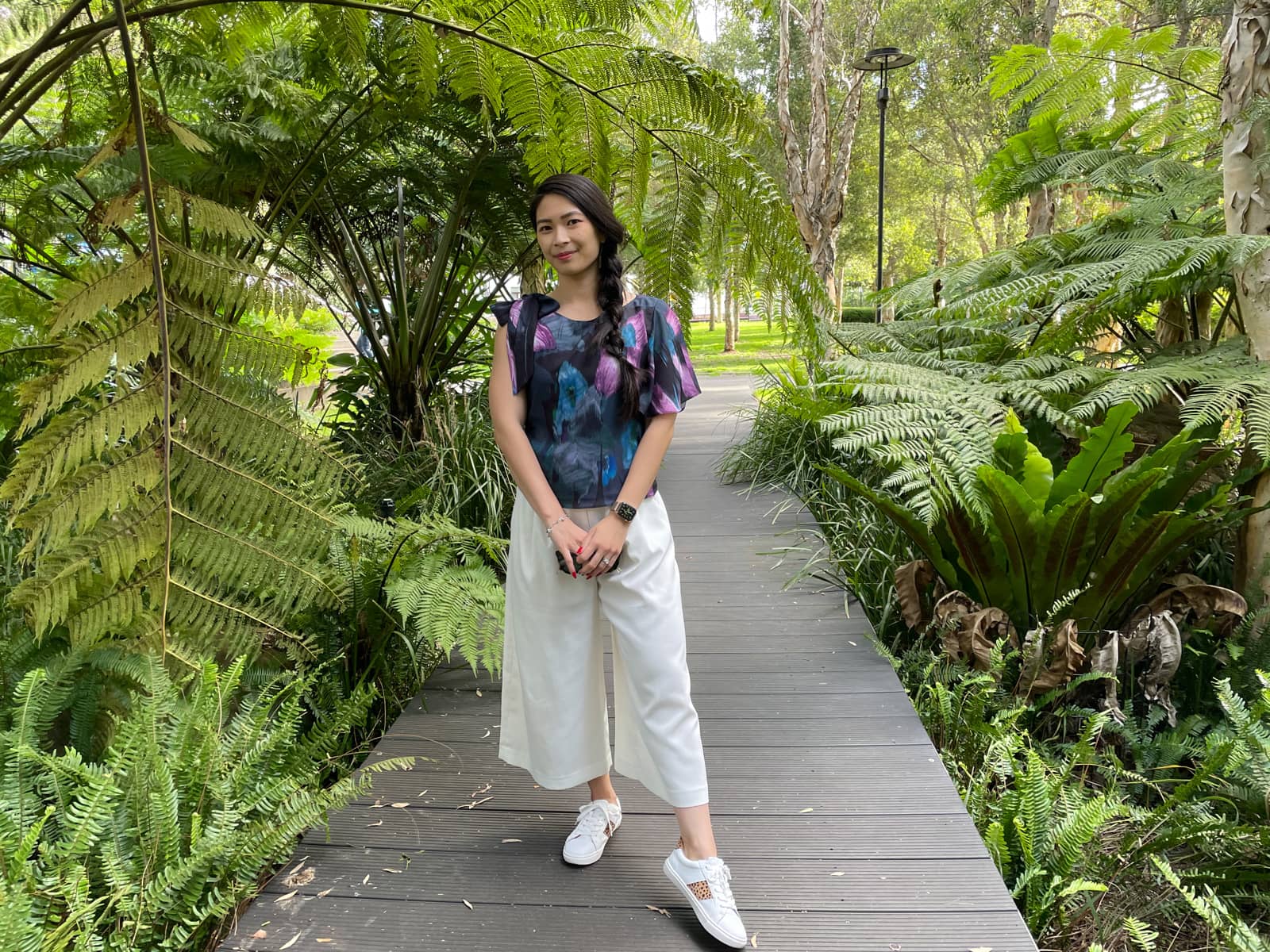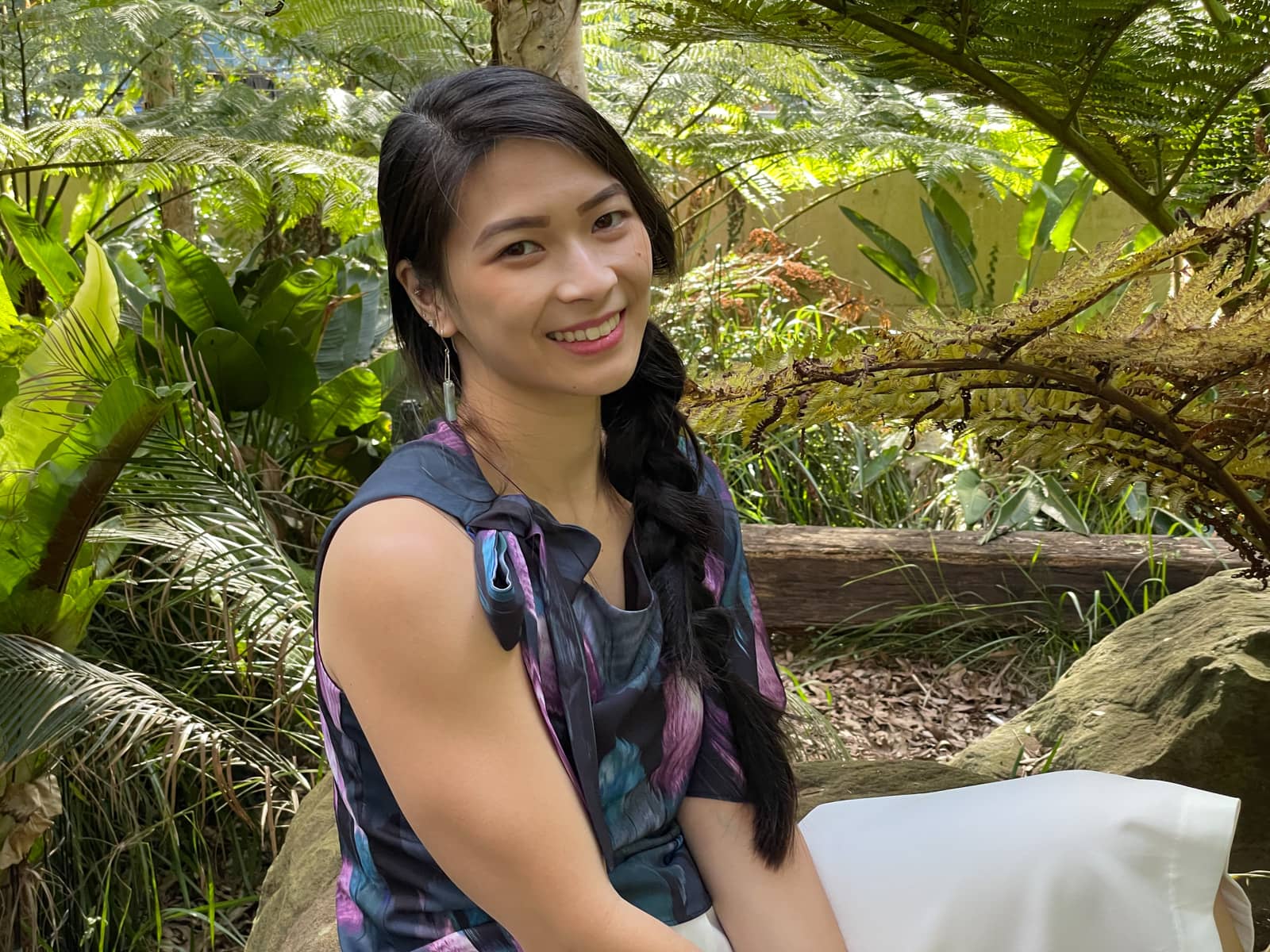 When I found this top I was thrilled! I had been searching for an asymmetrical or one-sleeved top for a couple of months, but one that was not too tight. I tend to look rather plain in clothes that are too symmetrical, so I was trying to look for something unique. I'd seen a lot in 2019 as it was trendy, but they were all mostly tight-fitting. I searched second-hand markets but struggled to find anything until I found this top on sale online. It's in dark but bright colours that suit my skin tone, the fabric is not skin-tight and skims the body nicely, it's fairly easy to put on, and it's bra-friendly, too. I just find that all of that is a difficult set of criteria to meet.
I tied the straps on the one side into a bow, although it can just be worn as two loose ribbons. I just love the asymmetry with the floated sleeve. It was exactly what I was looking for in a top. People often say that something can be "dressed up or down", but they say that about the simplest of items. This top is truly an item that can be dressed up or down but still gives this amazing visual interest. I think it has a causal vibe here but if I wore it with dark jeans it would feel more formal and dressed up, for sure.
Aquamarine stone earrings
I had also been looking for natural stone earrings, which is how I landed on buying these raw aquamarine earrings from the seller SensualStones on Etsy. These earrings are one of a kind! The seller has some other gorgeous earrings and I even bought another pair (you might see them in a future outfit 😉). I chose these earrings because of the large stones and fairly neutral colour, as well as the long drop from the earring hook. It means that I can wear over-ear headphones and actually have the earrings still visible underneath, which is really cute. I also specifically chose earring hooks rather than a stud closure, because I really dislike when big earring studs clash with my other earrings in my other piercings. I have worn these earrings almost every day since I got them. They are beautiful and just what I was looking for in a pair of natural stone earrings.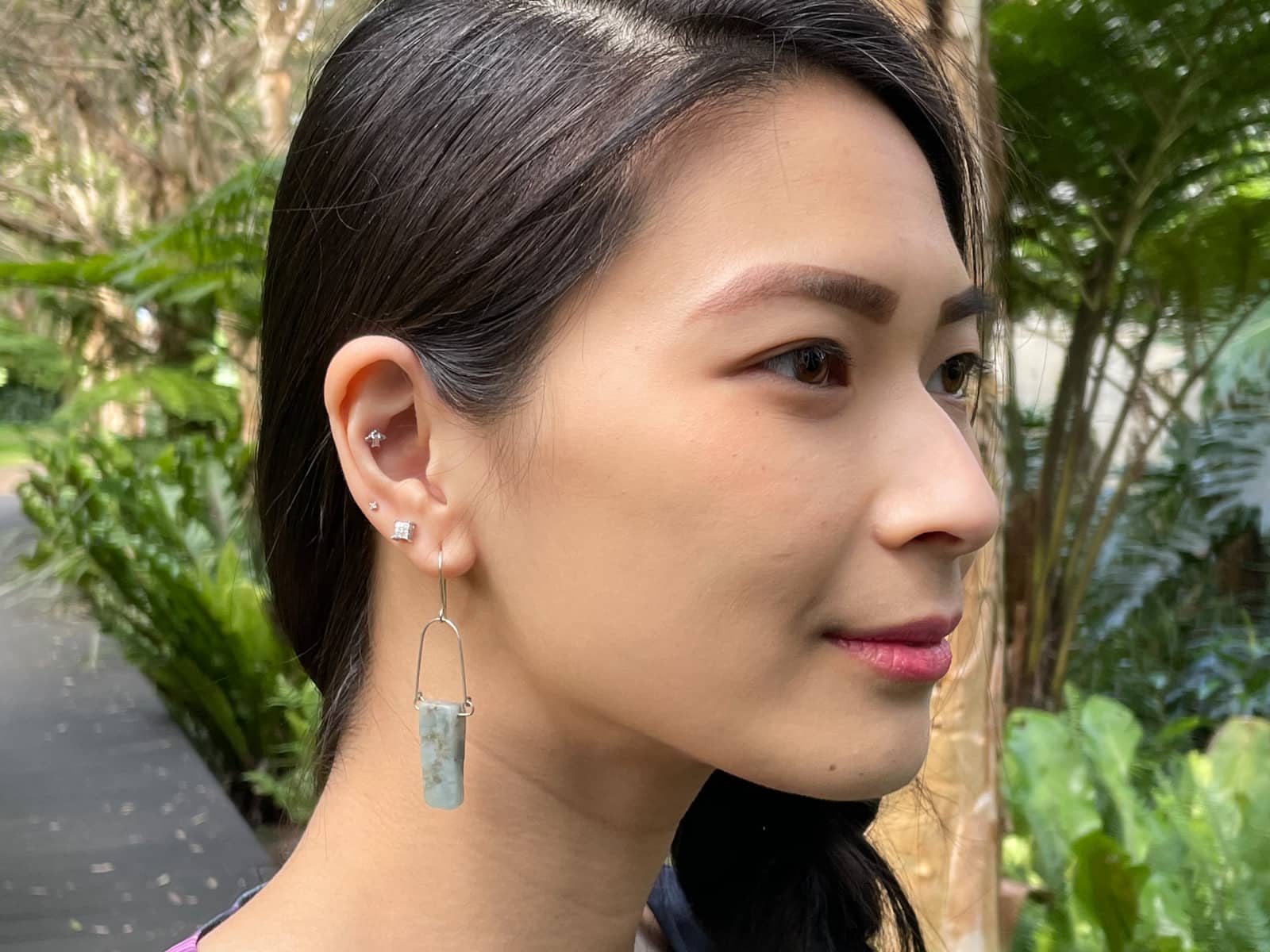 Hair and makeup
I wore my hair in a braid again because I felt that it best suited and complemented the outfit and the asymmetry of the top. It also lets the top shine a little, because my hair isn't in the way. I don't actually love the braid, I feel like it's a bit flat in these photos. 😆 But not everyone looks perfect in photos!
I tried a new colour for my eyebrow colour, but I think it's a tad too light for me. I generally love having my eyebrows drawn in, but I'm not always a fan of how I've drawn them in. I think this particular refined look is a bit "cartoony" on me. Oh well, I can practice and figure it out.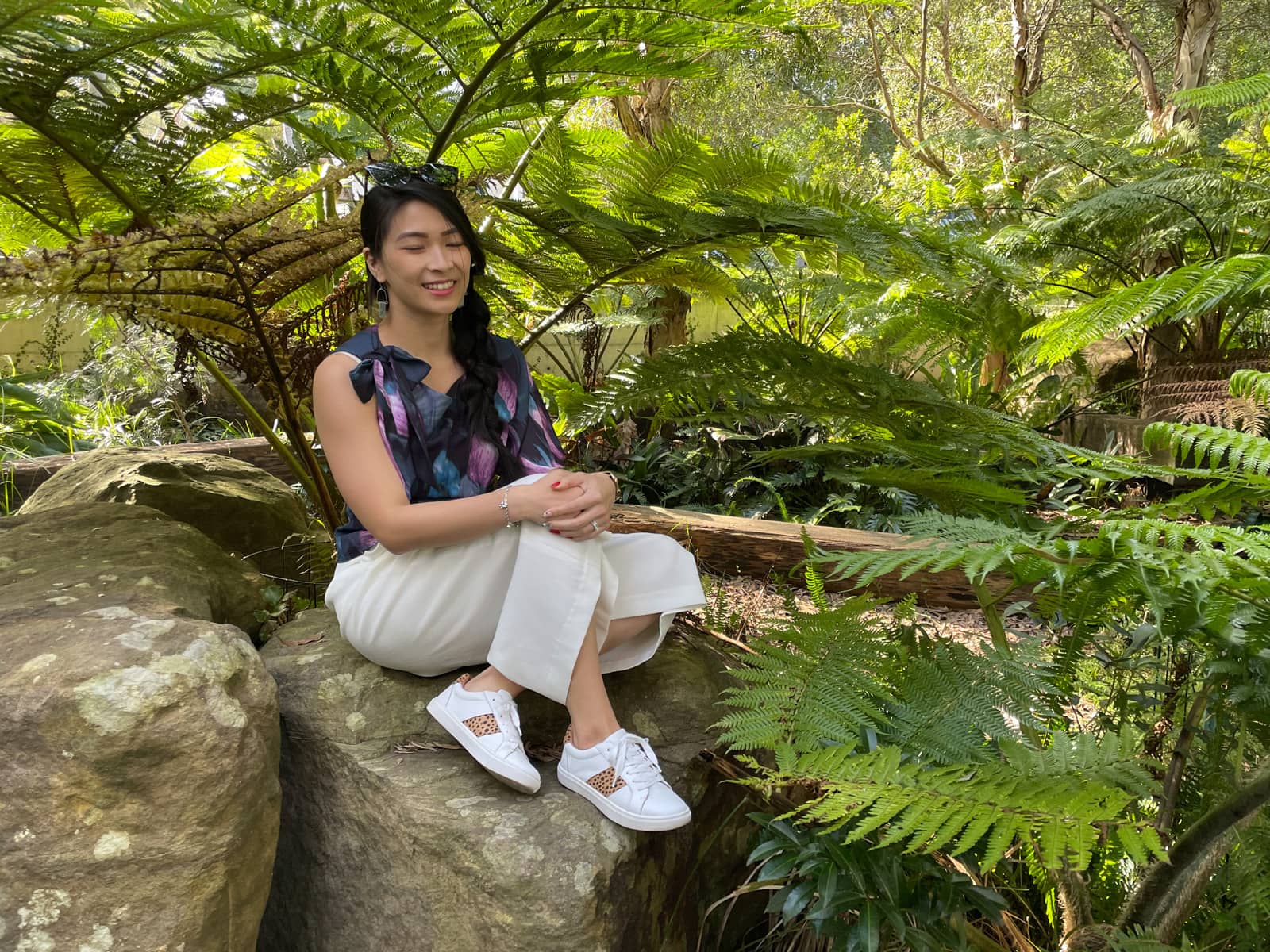 What do you think of this outfit? (I think I like the setting more than the outfit, haha!) Do you like wide leg or loose pants or do you steer clear of them? What about asymmetrical tops? I'd like to hear your thoughts, so let me know in the comments. 💬
Outfit details
Colophon
📸 All photography by Nicholas Cooke. (🆕 iPhone 12 Pro)
These photos look like they were taken in a proper jungle or forest, but it's secretly in a local park with a fair amount of trees. 🙊🌿 I love finding nice locations like this, though, just in and around where you might live. Go for a stroll and you might find something similar in your neighbourhood!
I named this outfit Wildflower because of the pattern of the top, and because it has some association with the natural environment of these photos.