Fashion Friday: Split ends • Finding a chambray shirt
Hello friends! 👋 It's time for another Fashion Friday, which follows a pretty similar style and colour scheme to my previous Paper doll outfit. I also share a bit about my journey to find a chambray shirt that suits my personal style.
The weather in Sydney has become a little more consistent lately, with days slowly cooling down. We still have some temperatures in the high 20s (Celsius), but haven't really had a day in the 30s for a couple of weeks.
Let's talk chambray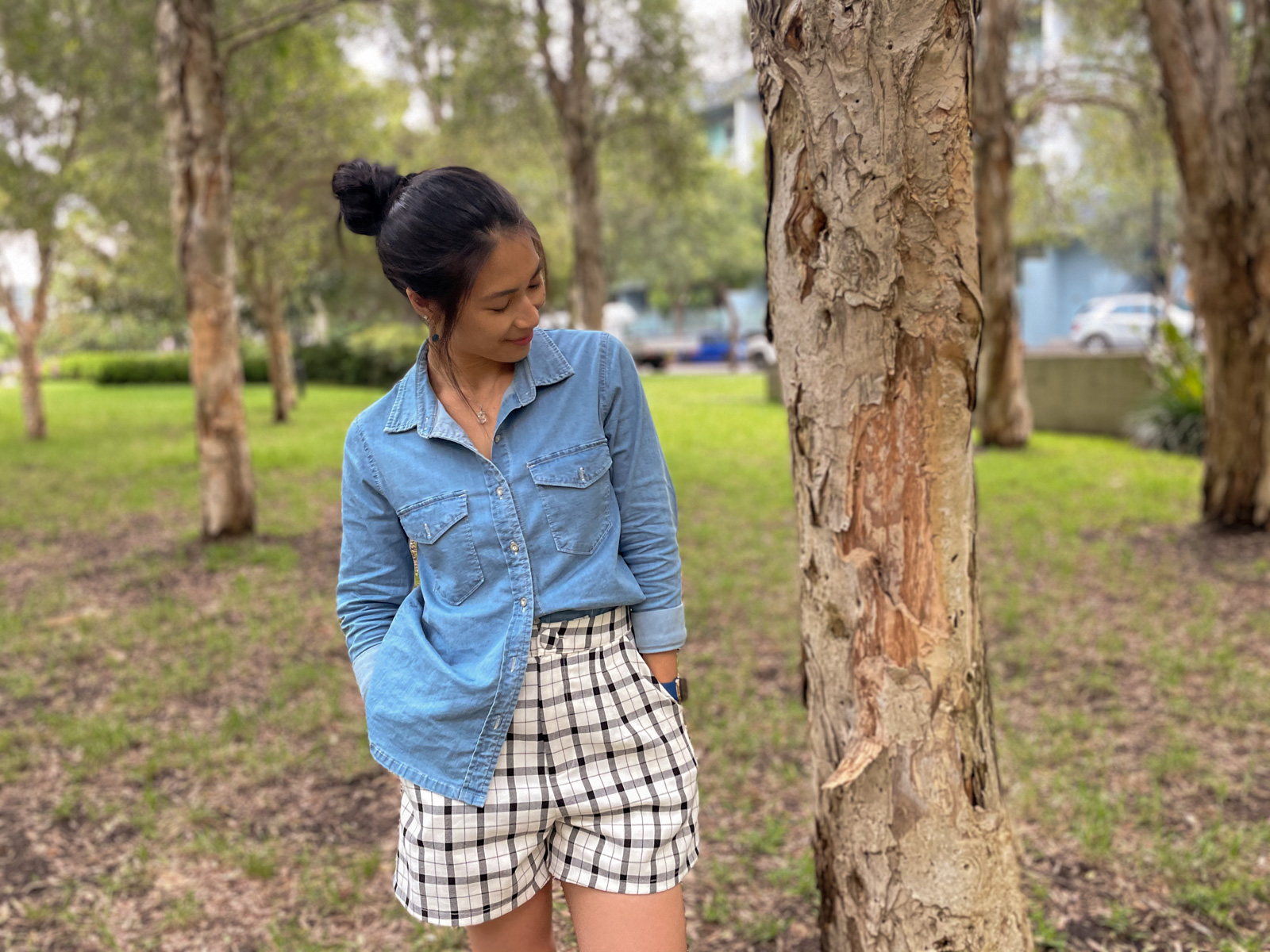 When I sought out this chambray shirt, I remembered the one I had worn in a Fashion Friday from many years ago. I didn't mind that one, but it wore more like a dress, or a thin coat, because it was so long. After I owned it for a bit, I realised I didn't like it that much because of the length. At the time, I didn't think a lot about alterations, but if I had, I probably would have shortened it. Needless to say, I ended up either selling or donating it – I don't recall.
I also generally felt like chambray didn't suit me well. I think that a lot of chambray is light in colour and that tends to suit people with very light, pale skin tones, or people with very dark skin with a cool undertone. I prefer colours that are deeper and somewhat brighter. I spent some time trying on a few chambray shirts – some of them were far too long or baggy, but this one fit the best. I wasn't a big fan of the fact that it had two chest pockets rather than one (I was specifically looking for something with none, or one!), but I let that slide since it ticked the rest of the boxes for me. It's not the perfect shirt – but I do like to avoid getting too caught up in finding a perfect version of any item of clothing, especially understanding that I've wasted so much time on that in the past – so I settled for one that was great/good enough.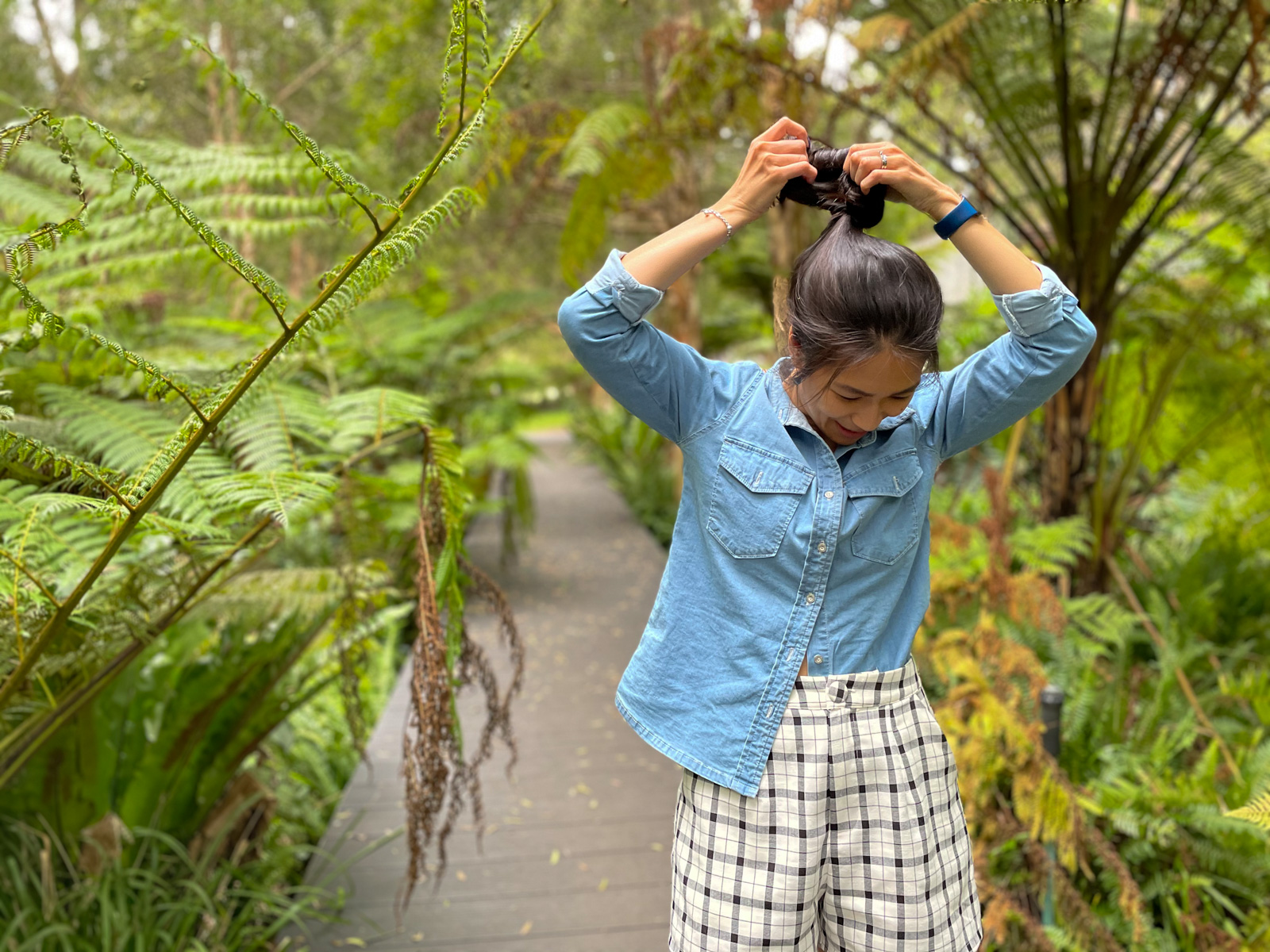 A big factor for me in choosing a chambray shirt was the feel of the fabric. I'd tried one too many of them that were too stiff, rough, or thick. I was looking for one that was light and would drape nicely on my body, and this was the best one.
…and outfit repeating is allowed
I'm wearing the shirt with the shorts and shoes I was wearing in Paper doll. I have found these shorts to be really comfortable and stylish, as well as being practical. I am still actually thinking of buying another pair because I like them that much!
I think I've fully broken the shoes in, but I've learned that these shoes are also quite solid in form, so they do feel a bit "heavy" to wear. I don't wear them too much when I want to walk long distances, but the main thing is that they are comfortable to walk in. 👟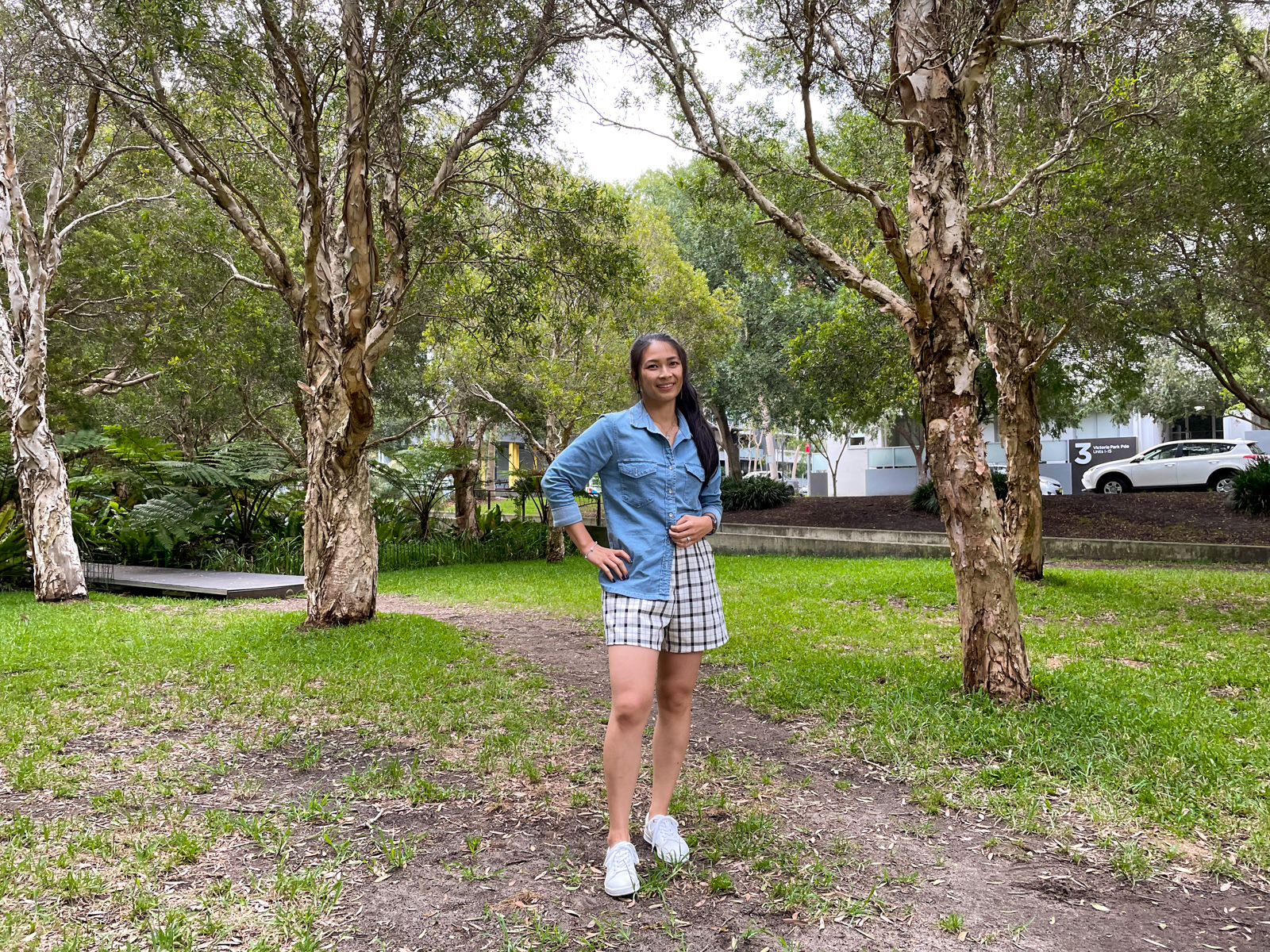 Now the finer details
Tucking in the shirt in asymmetrically was deliberate. I've worn the shirt with skirts and jeans, so I've found it quite versatile already, but tucking it in like this gives my whole outfit the asymmetry I want. Asymmetry is something I've been exploring lately, and although it's not always possible to find garments that come ready-made or already cut in an asymmetrical fashion, it's something you can kind of play with in the way you wear outfits too. I think this also downplays the two chest pockets – which sometimes looks like a bit too much, in my opinion.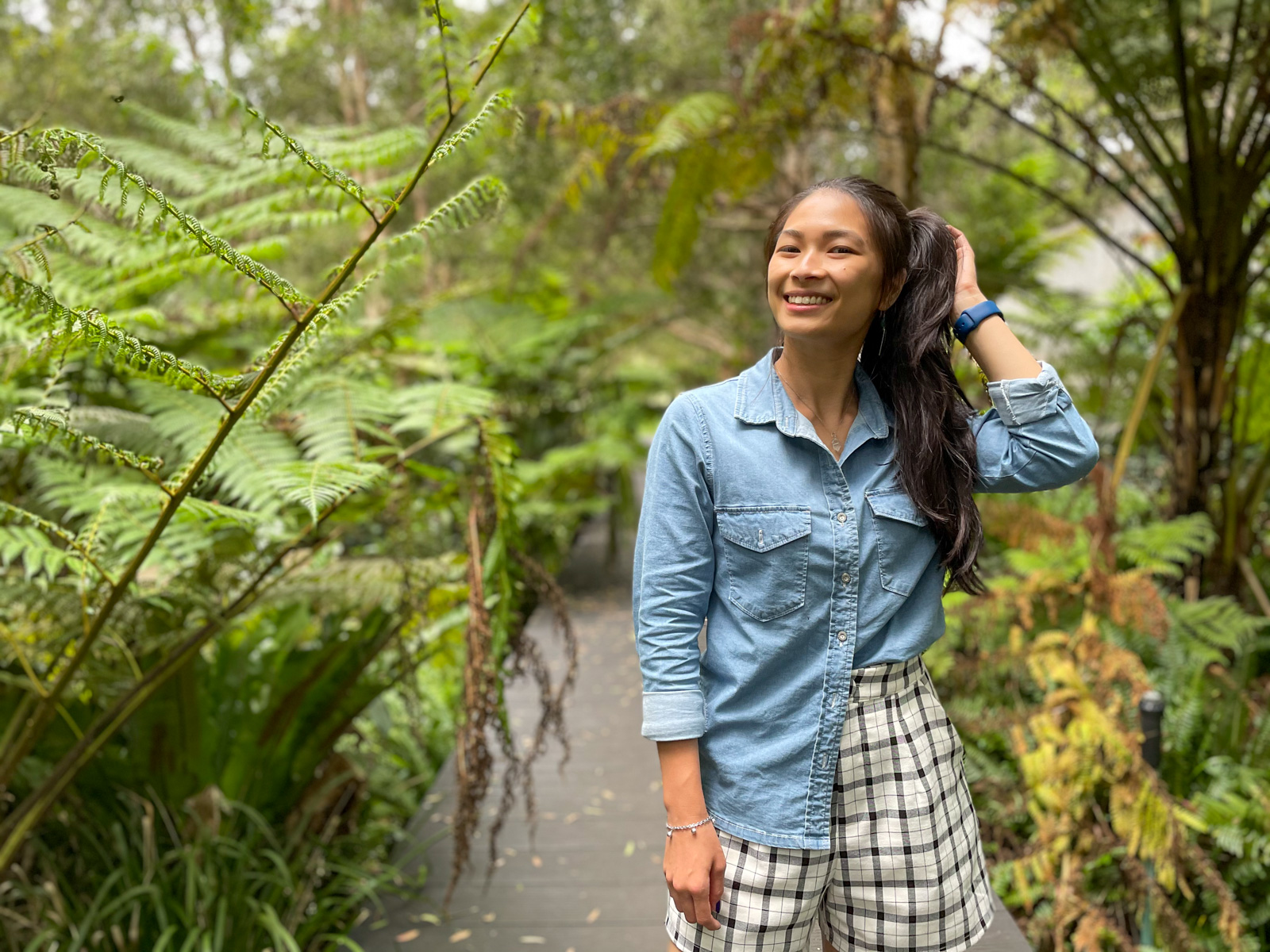 Although I would wear this shirt with the sleeves unrolled, I love wearing rolled-up sleeves. I also think it works a bit better with my proportions! I would certainly wear the sleeves out if it was in much cooler weather and I needed my wrists covered.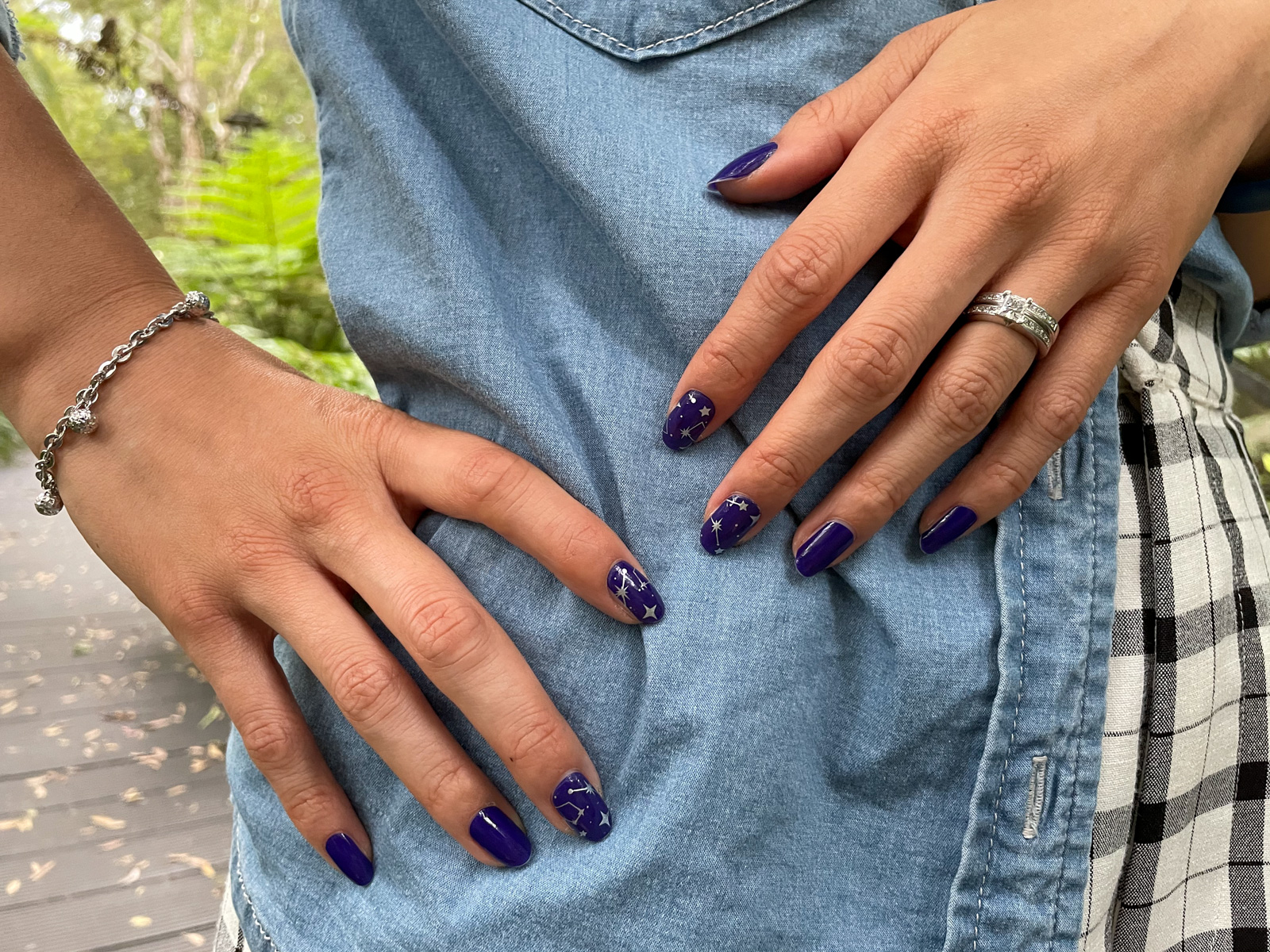 I am quite happy with how my nails look. I hadn't worn nail wraps for a week or so since we went on a short trip away, and I wanted to give my nails a break. When I picked out this colour from the nail wraps I have, I was pleasantly surprised with the look. I had some leftover nail wraps with the silver star pattern and I honestly wasn't sure it was going to work out, since the wraps were quite old. But they did work out and I love the night sky kind of look. ⭐
Overall, think this outfit is nice and casual, and it's something I would wear again, although I actually think I prefer the shirt with some of my other items of clothing in my wardrobe. Definitely something I'd like to share in the future. I'm glad I introduced a chambray shirt into my wardrobe again – I was doubting its place, but I think I've found enough versatility with it already. Including wearing it as an outer layer!
Outfit details
Colophon
📸 All photography by Nicholas Cooke. (on my iPhone 12 mini)
These photos were taken in a park near where we live, which has an open area but also this small boardwalk and some areas with lots of trees that are spread out.
I named this outfit Split ends because I thought about the effect of half-tucking in my shirt, which made me think of the word "split", and I suppose that led me to split ends. I think that I've lost a little bit of my creativity in some of my outfit names, haha. Maybe better inspiration will strike at some point in the future. 💫