Fashion Friday: Hip to be square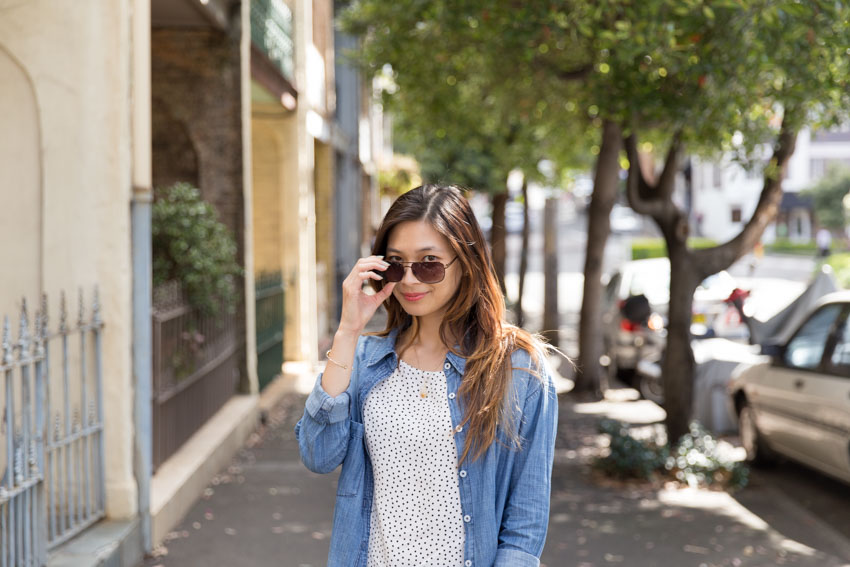 I'm excited to share this outfit because I've put together a lot of new items to go in it. I donated a bag of clothing to H&M earlier this week, so the amount of clothes in my wardrobe is still somewhat in check. But being able to mix and match pieces that I bought is a sure sign that I am doing better at selecting clothes that are pretty versatile, I think!
We did this photoshoot in the backstreets of Sydney, a couple blocks away from the busy streets around Hyde Park. I like the bits of greenery in the area (including the small reserve that can be seen in the background of the photos), as well as the style of the buildings around this area.
I'm donning a chambray shirt over my top, and I have to admit that chambray is yet another trend I've fallen for. I used to never follow trends, and I still don't – I am open to experiment, but if a trendy item doesn't look good on me, then there is no way I am going to force myself to wear it. I spotted this chambray (or denim, if you like) shirt on Rut & Circle, a Swedish online clothing company. They seem to be owned by NA-KD, another store I have been buying some clothes from recently. I haven't yet found any other stores under the NA-KD umbrella, but both NA-KD and Rut & Circle share a similar sort of edgy and "trendy" feel.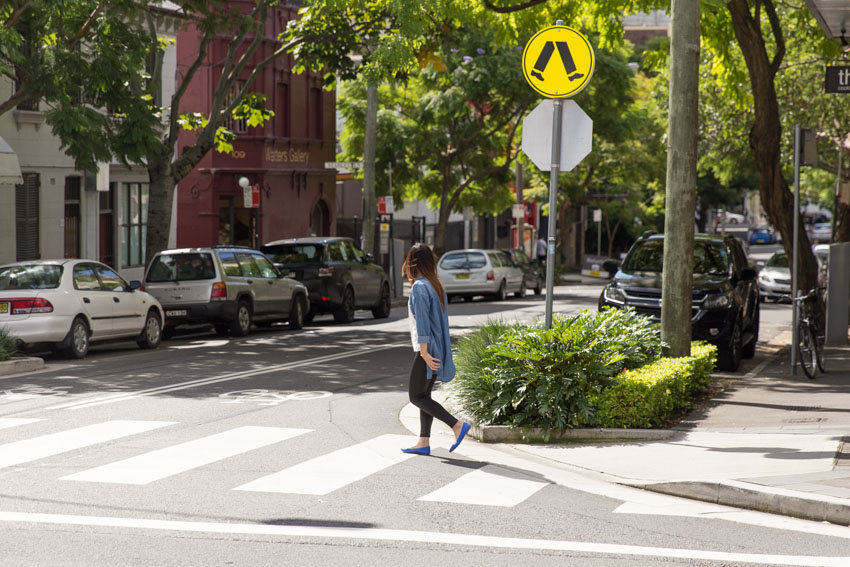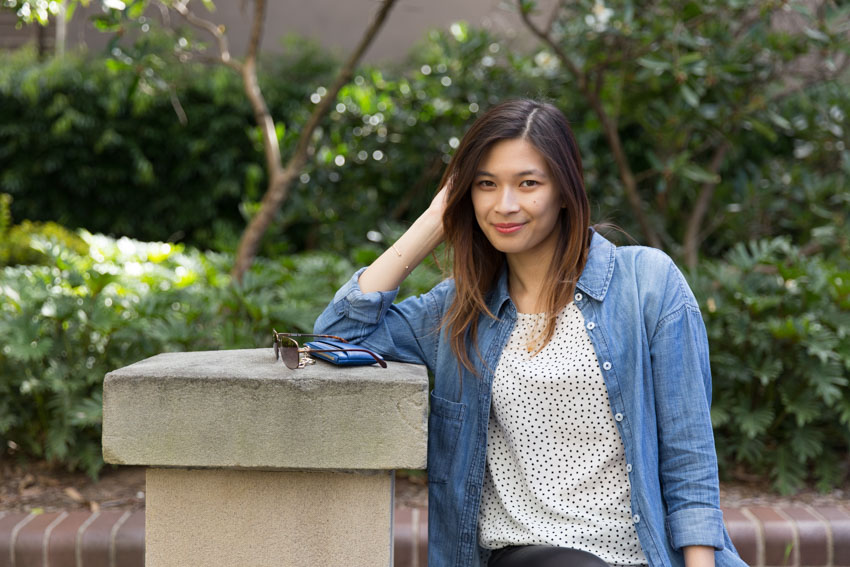 I've gotta admit that I was reluctant to go for a denim shirt as I was not sure what I would wear it with. I can try denim on denim – but this shirt is rather long. It works better worn over something like I have in this outfit. In time, I will experiment with it, but it's a nice shirt and I think I can figure out a way to wear it as a dress because of the length.
I love tops with prints. You might recall my top printed with whales and my top with cats. I spotted this top on The Iconic for a discounted price, and since they have free returns, I bought it and decided I would inspect the quality when it arrived. I'm quite happy with it. It's little squares, though the print might look like spots from a distance. I am trying to get my wardrobe refined so that I have few basic bottoms that any printed top will go with! I opt for smaller-scale prints because I'm quite small and any large-scale print will swamp my figure.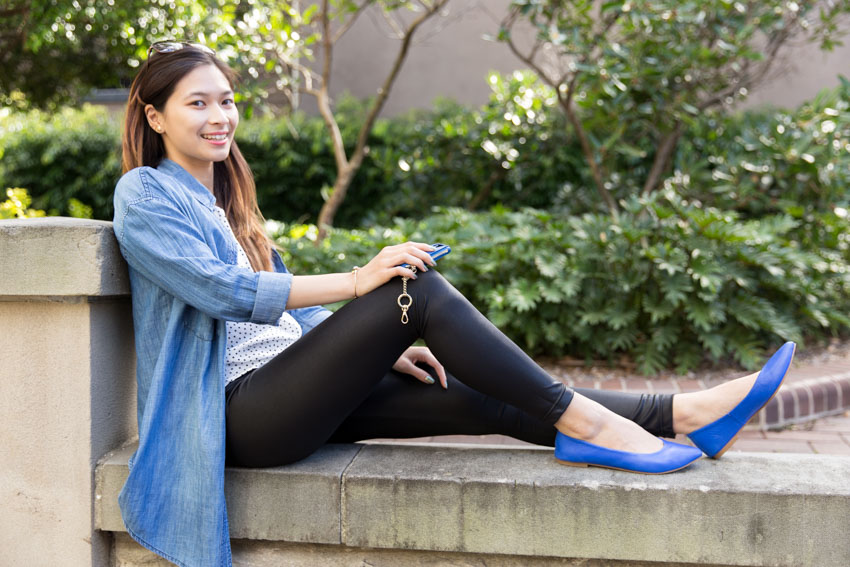 I could have worn this outfit with blue jeans but I chose to go with black leggings, because I wanted to wear my new blue shoes and wanted some contrast! My blue shoes are also from The Iconic. I have never bought shoes online because I am so unsure about sizing, but I was pretty confident that these shoes were great quality (real leather) and was so in love with the colour.
I think that bright blue goes with my skin tone pretty well, the same with other bright colours. I've tried to embrace that more lately, and have taken a liking to cobalt-blue-coloured items, which is why I was so drawn to the shoe. I got them a size up (37) from what I usually get (36), because my feet despise flat shoes and I could definitely anticipate some toe squish in such a pointed flat. I wanted to completely avoid toe squish, because I have a size 36 in another similar styled shoe, and my toes were not happy. After all, 37 was also the only size they had left. :P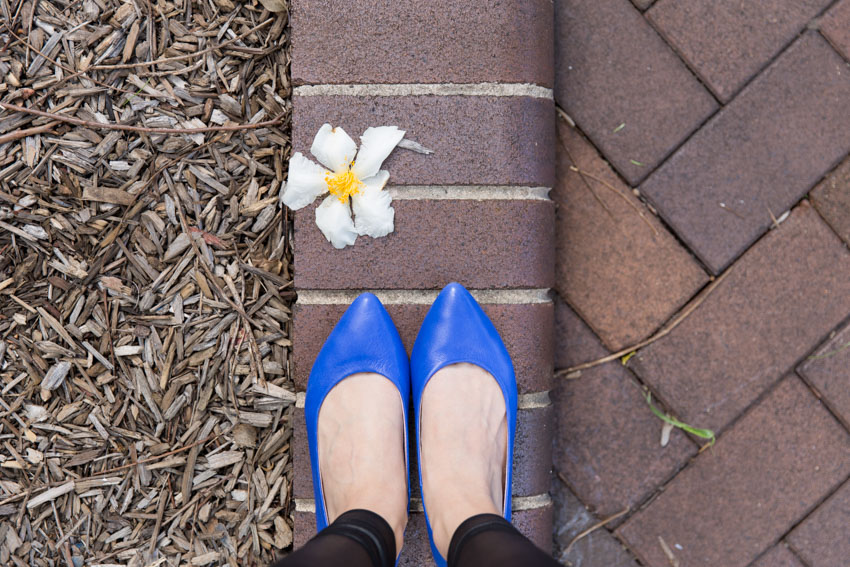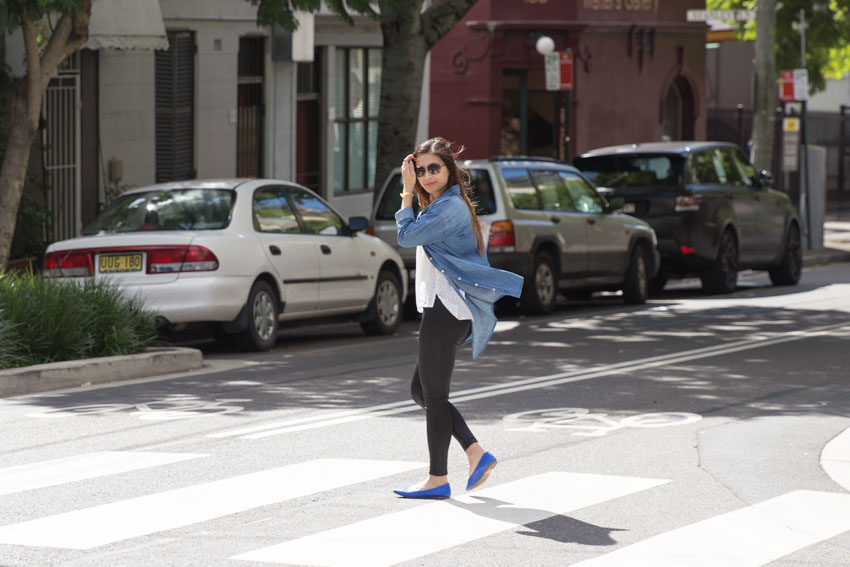 I put gel soles in the shoe to get a better grip and support my feet better. That said, I can still sometimes feel the looseness in the shoe when I have been walking for a long period of time. But cosy, ever-so-slightly roomy shoes are far better than too-tight ones.
I picked out the gold jewellery because it contrasted with the blue in the outfit. The necklace was a piece I created myself when I purchased a crystal pendant from a shop in Fremantle (when I visited Perth), and put it on a gold chain that I already had at home. The gold bracelet and earrings matched with it too, and I chose the sky blue one to match the chambray.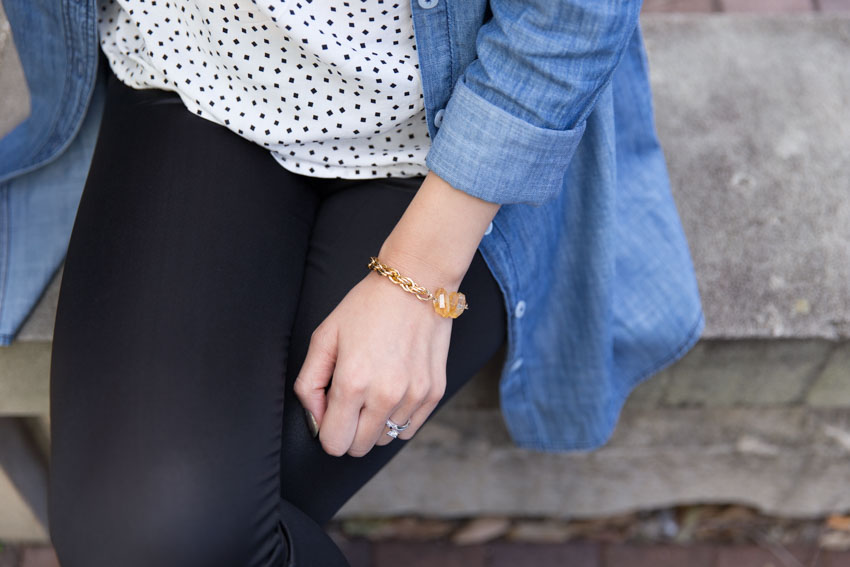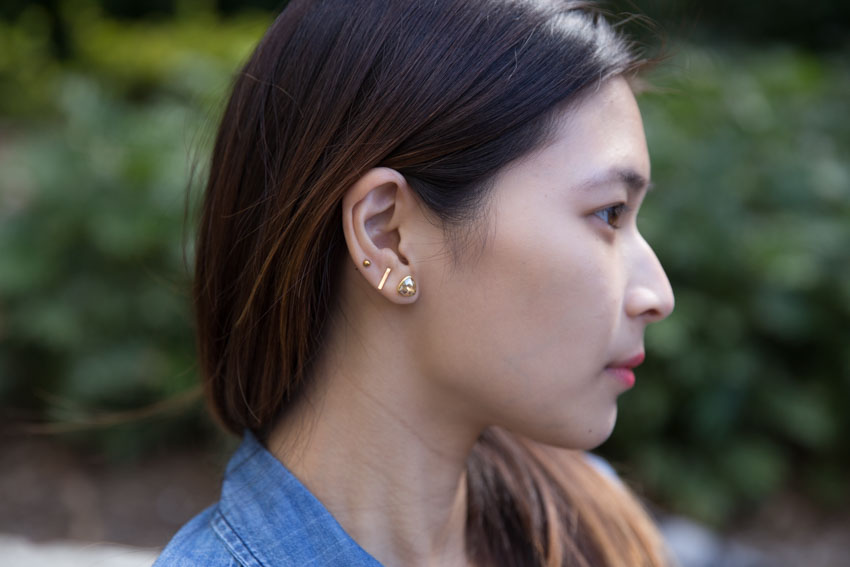 I was going to buy a new wallet from Fossil to fit both my phone and all my cards and cash, but when I saw this coin purse I really wanted to give it a go. It fits all my cards and brings my wallet to a much lighter state, because instead of one card being in each slot in a wallet, I just stack the cards and put them in the one place. It might take an extra couple of seconds to pull out the card I want, but at least it's a wallet/purse I can more comfortably put in my pocket. I love the chain too, so that I can attach it onto something if I want, and I can pop my keys on it too if I want. Also, the colour! 💙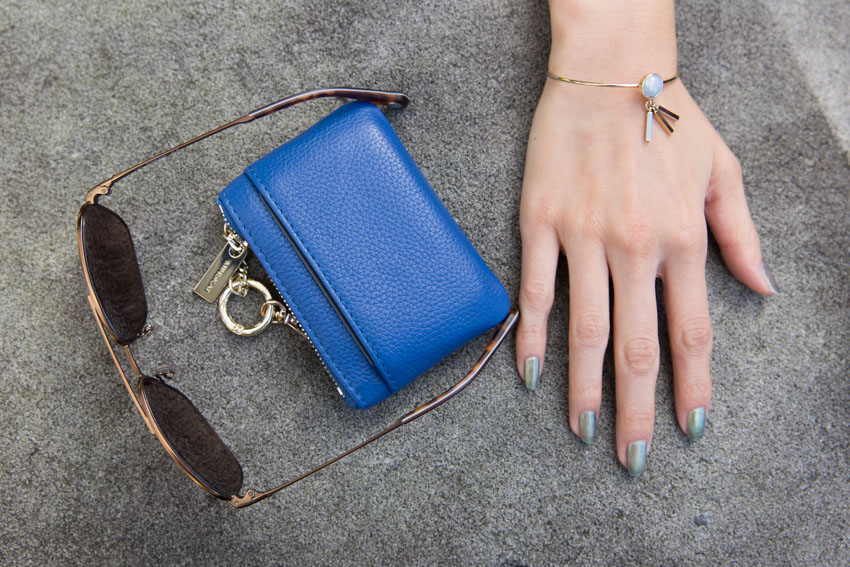 My nails were already painted from a couple of days prior. I like the slight glittery feel of this polish. It looks a little blue in the bottle but is actually a bit like a shiny green.
The name of this outfit, Hip to be square, most certainly comes from the song of the same name. 😄
📷 All photography (except shot of my shoes) by Nicholas Cooke. ❤️
Outfit details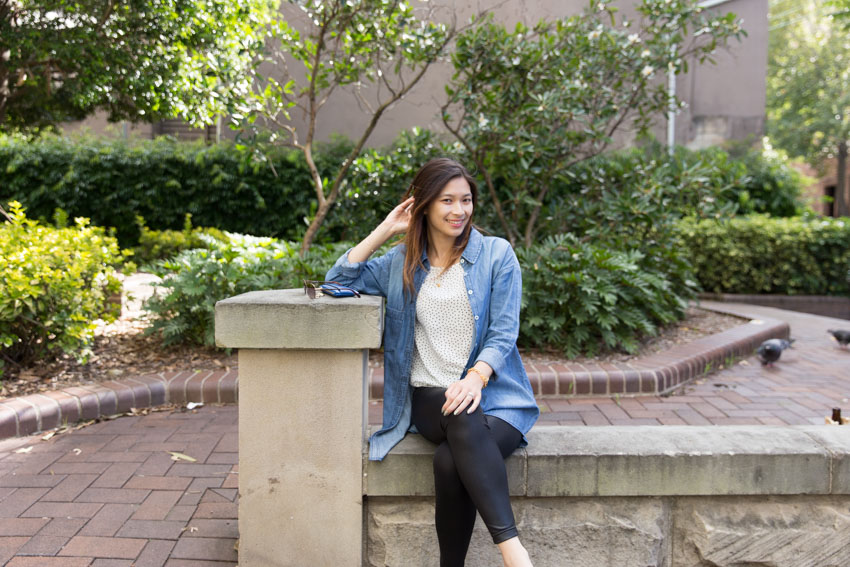 Do you like printed shirts? What about chambray shirts? What do you think of the whole outfit?