Fashion Friday: A Whale of a Time
Who likes whales? 🐳
I bought a whale shirt online from Myer, hoping it would be a similar material to the one I wore in Peach & Pearl. It wasn't a sheer chiffon-like material, and I didn't really peek into the materials before I bought it, but I liked the style and it looked cute. It turned out to be a slightly stretchy cotton blend. It works! It means that it creases easily, but that's alright.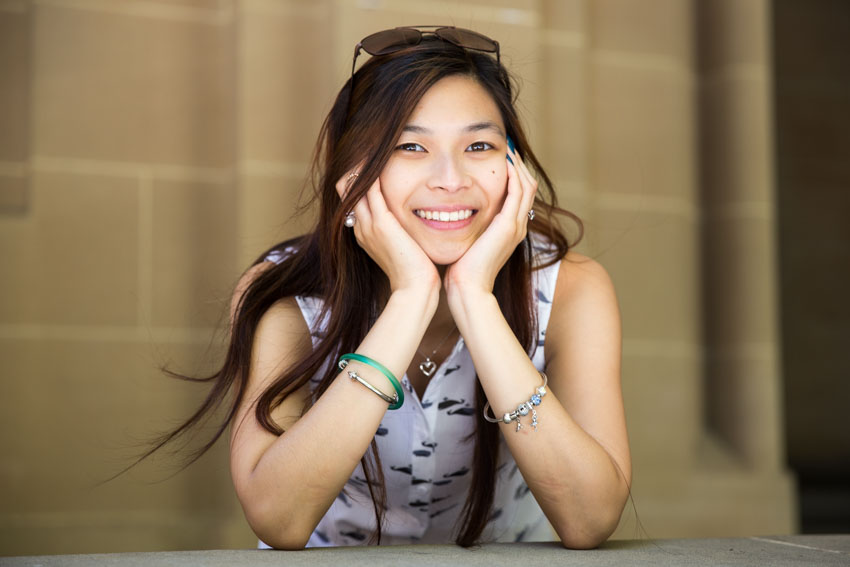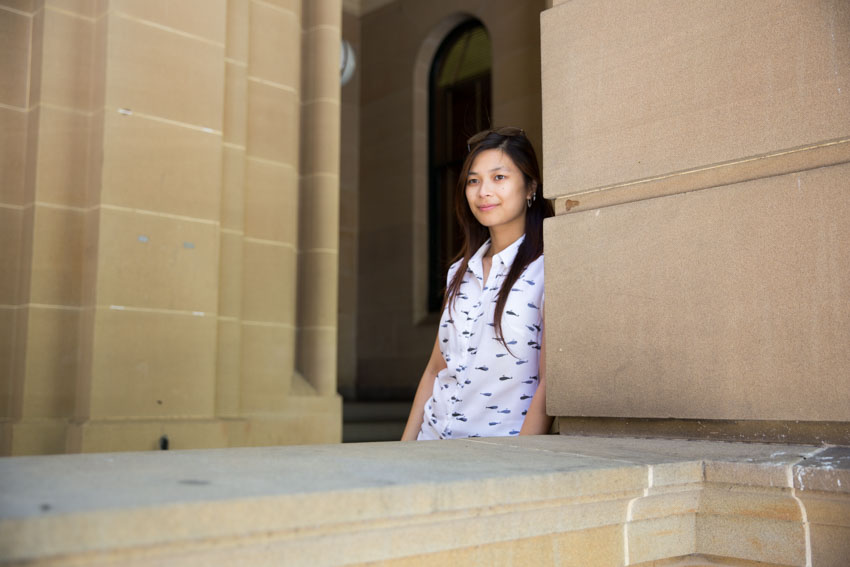 I've had a couple of compliments on the shirt already, mostly people saying, 'Ooh whales!' followed by 'awesome' or 'cool'. I suppose it's unusual for whales to be on a shirt. I quite like these cute shirts with patterns on them. I have to admit that they are my style.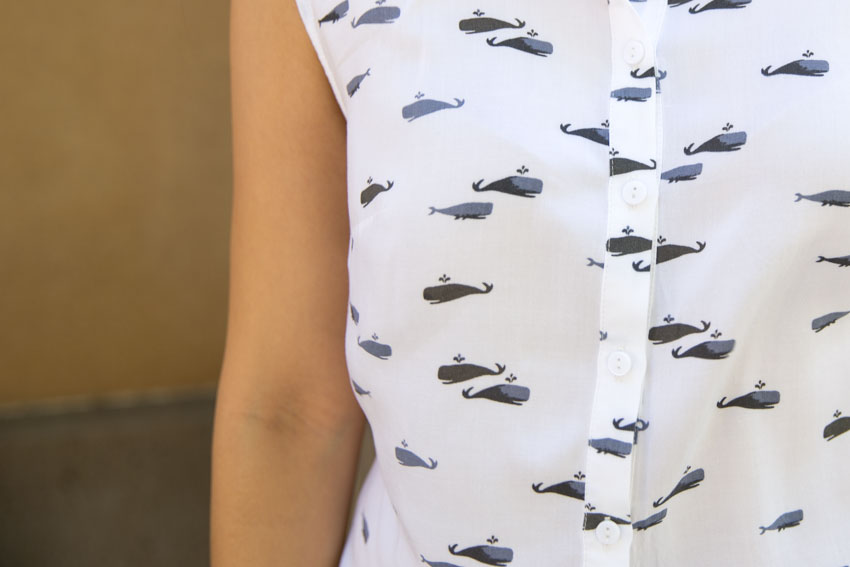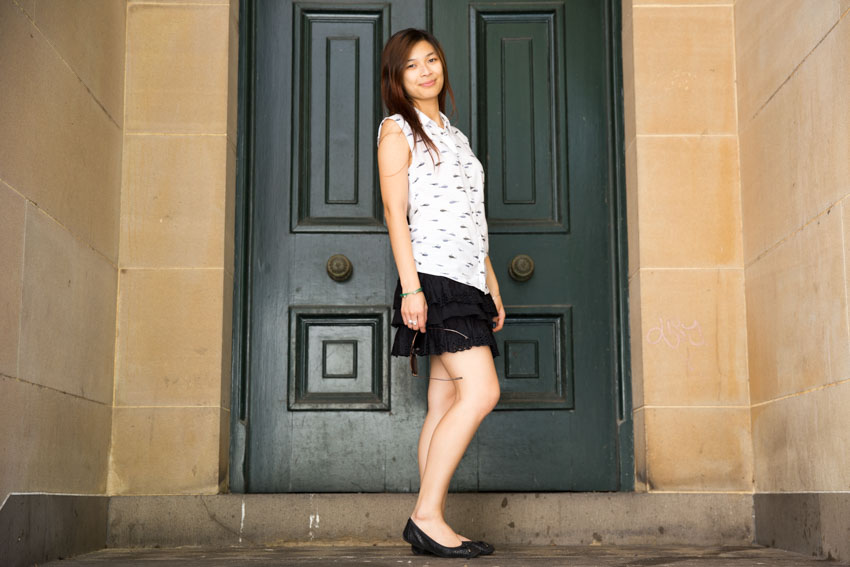 I have been trying to wear less tube skirts lately so I went for a frilly skirt. I don't think it went too well with the shirt but it was nice for something different.
I didn't want to go for a mad trek, so I chose flats over heels. I'm really over my flat shoes though, and I can't walk a lot in them because they hurt my calves. I will be looking for flat shoes with a small heel, because it gives me better support when I walk.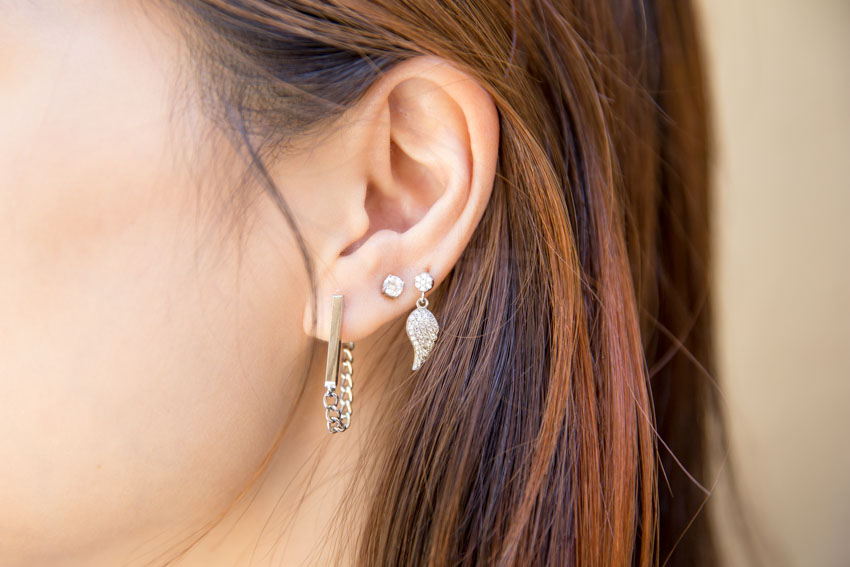 I chose the earring combination because I wanted to change my top two piercings as well, not just the one at the bottom of my lobe. I have been looking for earring inspiration to dress my top two piercings up a bit more. It's just a bit hard to mix and match piercings that are so close together. Obviously I can't wear giant studs as they would just clash. I looked for any simple drop earrings I had, and the wings and the bar went perfectly together. Instead of putting them next to each other I separated them with a stud, it keeps it interesting.
The choice of rings was a bit random as well, the gold one is a small midi ring (I find that cheap ones don't last very long at all) and I have worn the pearl one quite a lot. I wore my Pandora bracelet because the blue matched the shirt, and the resin bangle because I love wearing that with blue. I actually painted my nails before I chose to wear the shirt. It is a deep colour labelled as 'Get Teal' but I find it quite dark and ocean-like.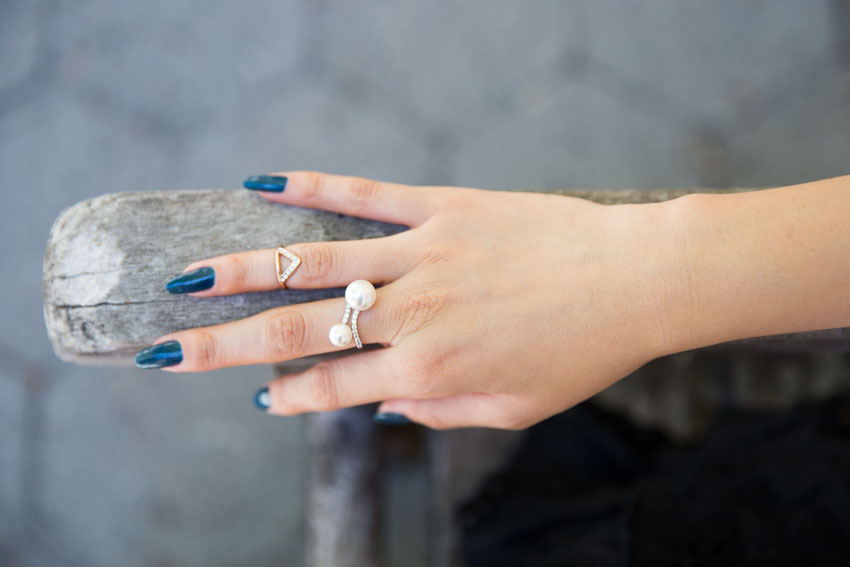 Photography by Nick. <3
Outfit details
Top: Miss Shop (available at Myer)
Skirt: I believe I bought it from a cheap chain store
Shoes: Sandler
Earrings: Floralpunk; The Peach Box
Wristwear: Custom Pandora bangle; Kor Creations (similar blue resin bangle); The Armored Club (Titan Hinged Bangle)
Nails: Ulta3 (Get Teal)