Timeless Thoughts: The day I said "yes"
Timeless Thoughts is a monthly linkup hosted by Georgie and Tara, where bloggers write about something from their past – it could be an item, a place, an event – anything that evokes a trip down memory lane. Timeless Thoughts is held on the first Saturday of the month, and runs for two weeks.
---
We kinda forgot about last month's Timeless Thoughts (did anyone notice?), but we're back. :) It's been some time since I have written my own post as well, because I've been really busy with wedding planning.
Speaking of wedding planning, with two weeks to go I thought I'd bring back an obviously fond memory of mine and that is the day Nick proposed to me a little bit over a year ago. It's crazy to think that a whole year has passed since then. It's gone by so fast! And we even booked in our wedding venue soon after we got engaged.
I remember that everything happened so perfectly. It wasn't a complete surprise as I expected Nick would pop the question very soon, but I played along with what was happening even though I picked up a few things that seemed out of place. We went to Villa Monastero on Lake Como in Varenna, Italy, and it just so happened that other people visiting and sightseeing the villa finished exploring that particular spot just before Nick proposed. There was even a man and his son who snuck near the lake to go fishing just after we had our special moment.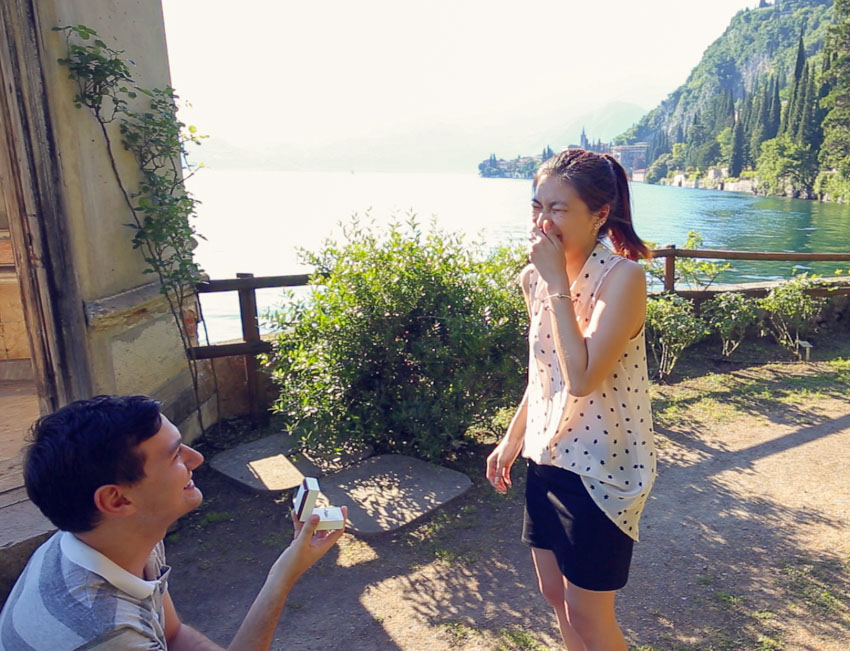 There was no hesitation in my answer to Nick, of course… I didn't think I'd cry since it wasn't a complete surprise but I was very overwhelmed with emotion that I did. 😭😍
Most of our wedding planning is done and I didn't blog about a lot of it for privacy reasons (and not just me being busy), but I'll be writing about it in the days to come and shortly after. ☺️
If you'd like to join Timeless Thoughts this month, you can add your link below.
Loading InLinkz ...