Fashion Friday: Jala-piña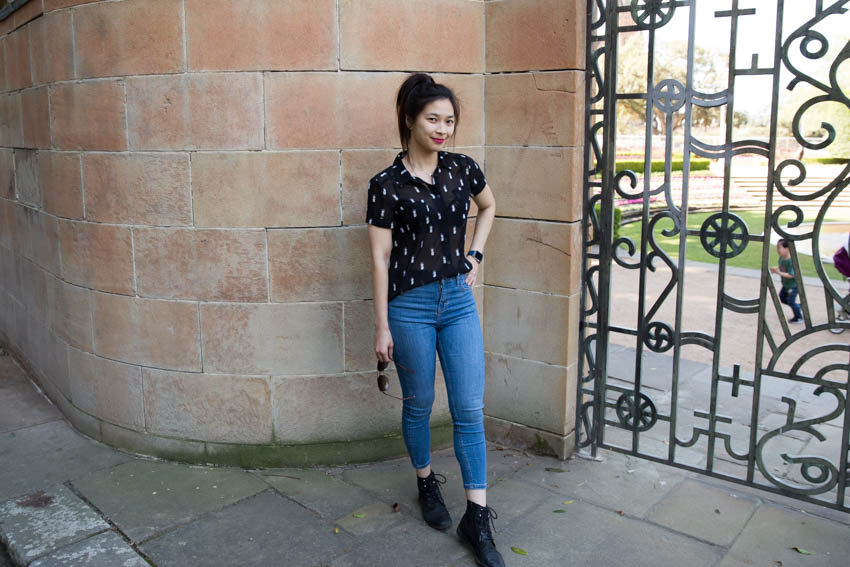 Woah, pineapples! 🍍🍍🍍
The top in this outfit definitely look familiar as you might have seen it a couple of years back in Piña Colada. I haven't fallen out of love with it yet! And as the days get warmer, the light style and sheerness is more comfortable.
You noticed the pineapple print, right?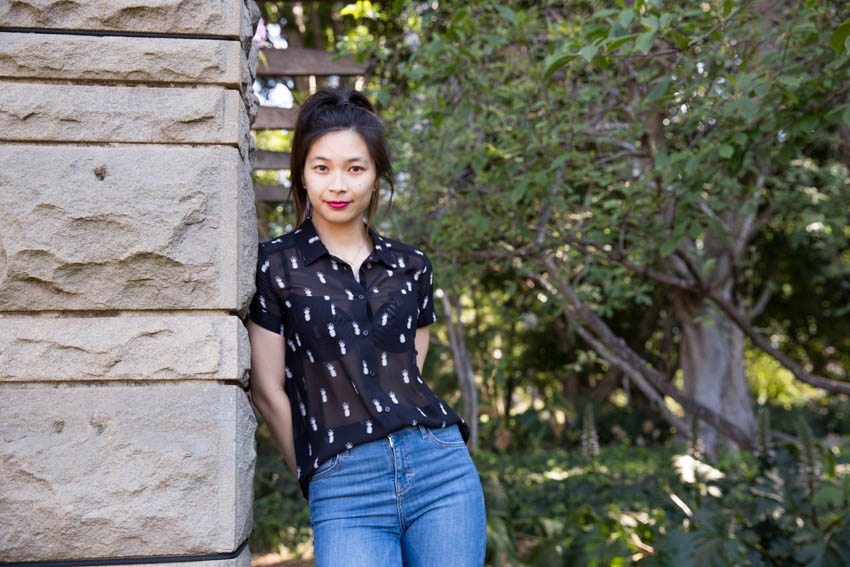 I've given this outfit a bit of an edge, although the shoes already add that edge really. ;) And it's the same shoes from that outfit too.
#throwback! #flashback! Flashback Fashion Friday?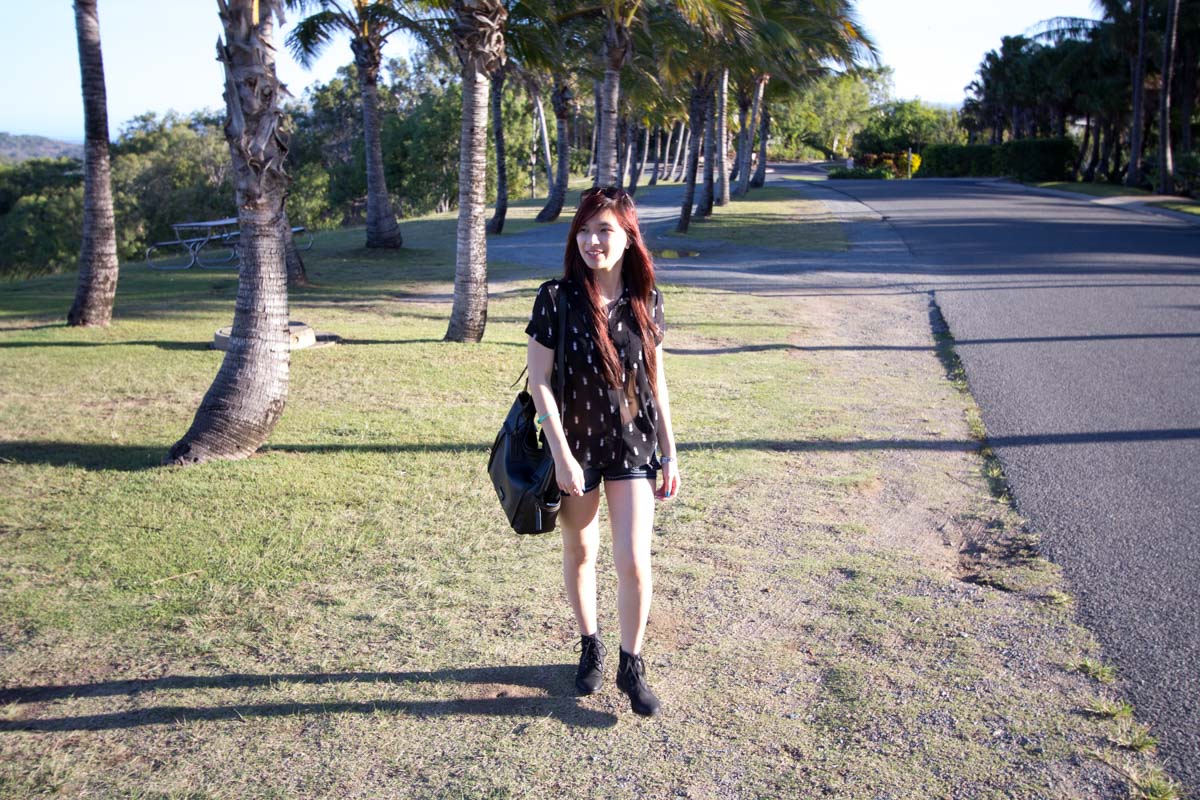 You can see that, apart from looking older, I've tied my hair up in a messy ponytail and added a deep pink lip to rock the outfit a bit more. The ponytail was an easy 'do – just as the hair tie was getting tight, I didn't pull the ponytail all the way through, so instead it made a bit of a loop that gave the hairstyle some volume. I deliberately tied it more towards the top of my head to make it more flattering.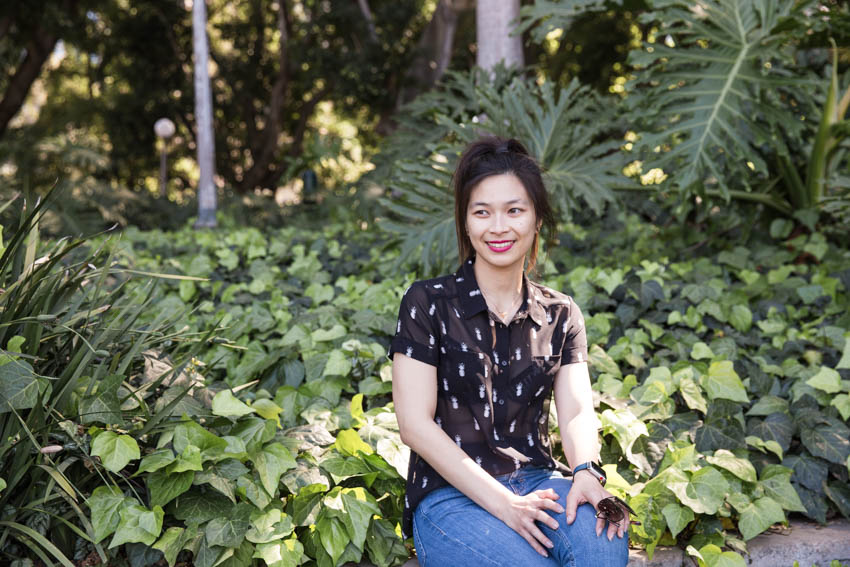 Another thing to note is the front-tuck of the shirt. I have been doing more of this recently because it does stop a top from looking shapeless, boxy, or unflattering. I have a lot of lovely tops which sit very long on me, and I often like to bring a bit more attention to my waist so I tuck the top in a little bit at the front, letting the back hang loose. Or I might tuck the back in a little bit too. It depends. But if I leave some of my tops loose, the hem sits around my lower hip/butt area, and even though I like to accentuate the lower half of my body I've been working so hard on at the gym, having the hem of a top end around that area makes it look less flattering.
With this particular top – although my arms have filled out more so the top looks less boxy than it did on me two years ago – I decided to avoid it looking too boxy by doing the little front-tuck. :) Of course this kinda makes my legs look longer too because you can see more of my leg between my waist and my knee.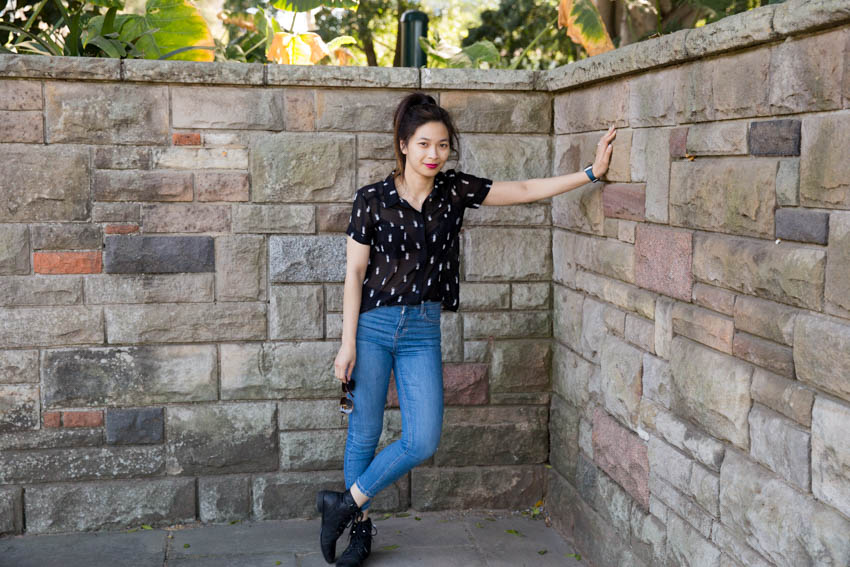 I bought the jeans when I was down in Melbourne not too long ago. I'd been after a pair of lighter (but not too light) denim jeans that actually fit me – some really "traditional denim" sort of jeans that would go with anything. I got these from Topshop in Melbourne as the Topshop stores in Sydney haven't had very good stock, or not a lot of variety, recently.
This shade of blue is pretty good – denim that is too light does not look good on me as it kind of makes my big legs stand out. I went with the trusted Jamie style of jeans (which I have in a version that has rips in the knees, and you will have seen it in quite a lot of other posts). The styles are exactly the same apart from the rips but for some reason this pair ends quite high above my ankles.
I bought from the petite range but this pair of jeans is definitely not as long as my other pair. I've heard that Topshop can have some inconsistent sizing. Speaking of sizing, I went a size down because I know these jeans are prone to stretching. I got a size 25 instead of a size 26. It's worth noting that I've lost a fair bit of fat over the past year too.
And the other thing you probably noticed is the Apple Watch! I got it last Friday and what I have been enjoying about it most is the activity rings. I like trying to hit all my goals every day for moving, exercise and stand hours. 👏 Totally smashing it already and it's always making me keen to work hard at the gym. I'm kinda glad I held out to get a model I liked. The previous two series of watches didn't quite win me over.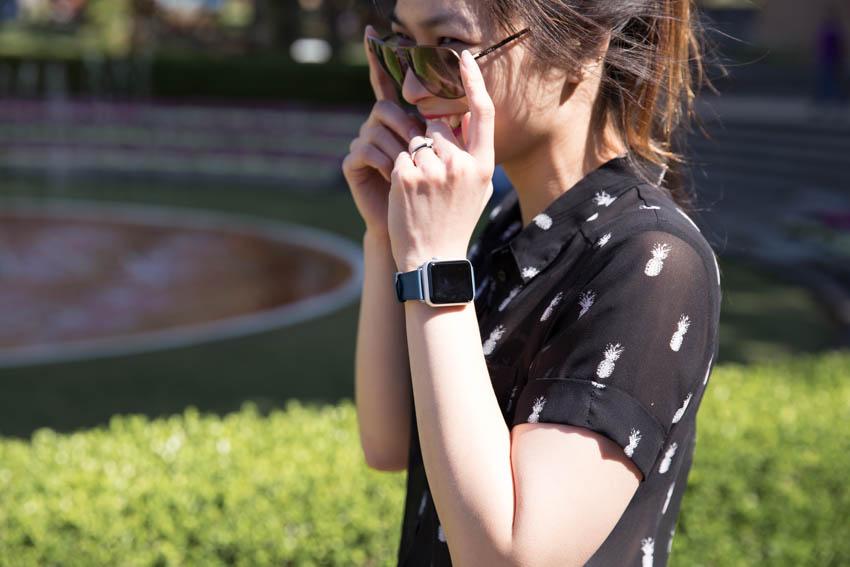 I bought the watch with the seashell sports band and bought the cosmos blue leather band separately. It's a new colour and seems to be limited edition? Either way, I really liked the shade of blue compared to the other blues. It's a deep blue, but not quite navy and of course not a regular or brighter blue. I feel that because of that, it would go well with a lot of my outfits, especially because I have a lot of blue.
Supposedly navy is a more "neutral" colour that matches with anything, but ah well, I am still very much in love with the shade of the band. I had thought about getting the tan one until this one was released, but I don't regret my decision to go with this one.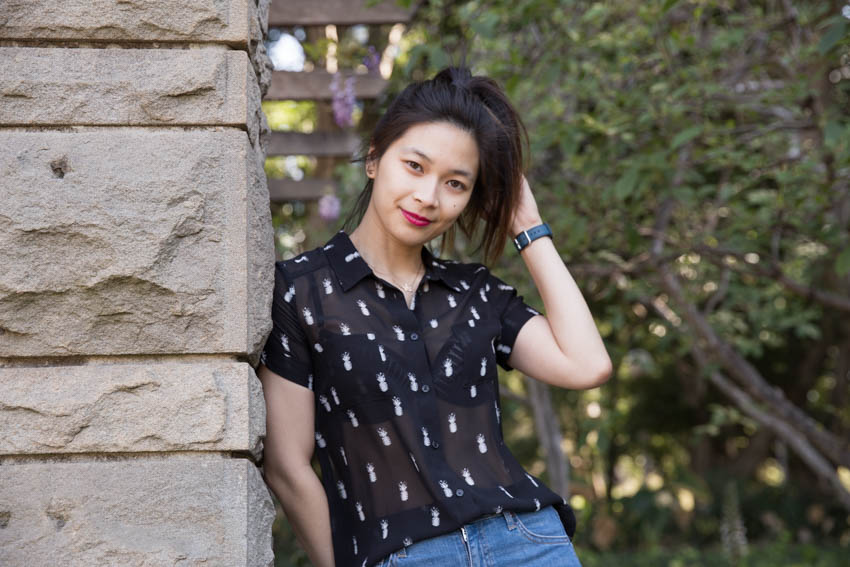 OK, so given that the last outfit I did with this top and the same shoes was called Piña Colada, I had thoughts of calling this the same thing or something similar. I then regretted calling the other one Piña Colada because it would have been funny if it was a non-alcoholic pineapple drink name, and this one was the alcoholic one because it is a more "mature" version of the outfit. 😆 That said, I found Jala-piña by using the internet to search for recipes of other pineapple-based alcoholic drinks.
Tequila, pineapples (of course 🍍), lime and jalapeño. Anybody? 🍹
📷 All photography by Nick. ❤️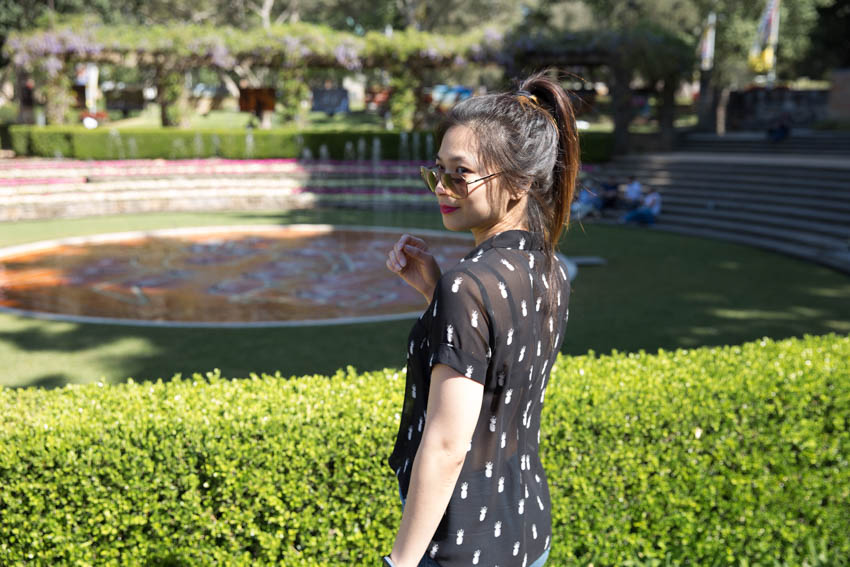 Outfit details
Top: Miss Shop (available at Myer)
Jeans: Topshop (Jamie Moto Petite ankle grazer)
Shoes: Sandler ('Corey' boot)
Sunglasses: Fossil
---
What are your thoughts on this outfit compared to the one I wore two years ago with the same top? Any thoughts about my little ramble on the front-tuck of the shirt?
Did you get the Apple Watch recently? ⌚️