Timeless Thoughts: Screenmates/Deskmates
Timeless Thoughts is a monthly linkup hosted by Georgie and Tara, where bloggers write about something from their past – it could be an item, a place, an event – anything that evokes a trip down memory lane. Timeless Thoughts is held on the first Saturday of the month, and runs for two weeks.
Tara hosted Timeless Thoughts this month!
Listening to Linkin Park always reminds me of when I was in the eighth grade, heavily obsessed with the rap metal band that my then-boyfriend was a fan of. It was a time I grew my music taste significantly, and I would blast somewhat rebellious, underground music from the speakers in my room almost every weeknight.
At the time, I had a PC with the biggest screen you could get at the time (21 inches). My desktop was not complete without a Linkin Park wallpaper, desktop icons neatly arranged, a silver Windows XP theme, and a slightly-out-of-place screenmate. Maybe even more than one.
But what is a screen mate?
Screenmates were small computer applications, only a few kilobytes in file size, that placed a small, animated character on your computer screen. Some were cats, some were dogs, many were Sanrio characters. You could interact with the screenmate by clicking on it. Usually it was moving around your desktop slowly enough so you could click it, but there was sometimes an option to speed it up. Sometimes the deskmate would make a cute face or jump or do some kind of action when you clicked it, satistified that you acknowledged it. Some, like a white cat named Neko, followed your mouse around slowly.

One of my favourites was a cute orange cat called Favour Cat, that would sometimes just sit, sometimes it would crawl around and swish its tail, and sometimes it would claw and slide down the screen with its back to me. Two other variations on the cat were Silver Cat (though technically blue) and FaFa Cat.
The screenmates were really cute. They brightened up your computer, and made it feel like you had a little pet walking around on your screen. There were many variations of a cat screenmate, and there was also a notorious bouncing sheep. I think the cars were very common. Sometimes you could open many instances of a screenmate and have them litter your screen.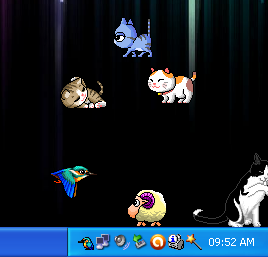 I remember opening the screenmate application every time I started up my computer, but over time, I forgot about it. It rarely became a distraction. I don't think screenmates were compatible with Macs, since they were usually .exe files, but I wouldn't mind having a play with one again! I've actually found a blog that links to a handful of screenmates (including Silver Cat and FaFa Cat) so you can go ahead and download them if you're on a Windows system. :D
If you want to download my favourite Favour Cat, you can visit SilverMeow.com.
Have you ever heard of screenmates or deskmates?