Is it time to remove some apps on your phone?
I used to be a total fiend with to-do list and productivity apps, downloading every app in sight… my phone screen was an archaic mess of icons with big, coloured ticks, because at the time, no one could be original about their app icons.
Now I wish I had a screenshot of my phone at that time, but obvious reasons meant that I did not see any point in keeping the screenshot I originally took.
Just my two cents on productivity apps…
I found – well, eventually went back to – my beloved Wunderlist and deleted every other productivity app.
Everyone is different, their preferences and ways of working are different, and I'm honestly tired of seeing rinse-repeat articles on the '5 Best Productivity Apps', or '5 Apps That Will Increase Your Productivity Now', where 5 can usually be a number between 3 and 15. Maybe 20. 25? I find these articles are mostly promoting new apps that no one has heard of yet, or giving more kudos to apps that already have a large following.
That aside, I am well over having a phone that is littered with games, productivity apps, every app by Google, every app by Apple, and a range of photo editing apps.
I enjoy having a phone that only has the apps I need and use regularly.
Before I install an app
To be honest, I am not a huge fan of installing apps and think twice before installing one. I really want to know, before installing an app, whether it will be useful to me and if I will use it regularly. I think of it the same way as an application or program on a computer. It needs to be something I need and that I know I will use, before I decide to install it.
To me, installing an app feels like I am subscribing, like I am showing my identity to receive a product. I am still annoyed that my ex partner downloaded an erotic novel using my Apple ID as a 'joke', but that embarrassing free purchase was stored in my purchase history forever.
Websites that want you to download their app
I do not like when websites encourage you to install their app on your first visit, especially with a pop-up message. Sometimes the app has benefits or features that are not available on the website, and that's understandable. Some websites have apps that are built the same way as their website. The apps offer easier access and perhaps an easier way to navigate. I like apps like those.
Sometimes you just want to visit the website or just landed on it because someone shared a link with you. You might have no interest in getting the app.
Regular culling
I like taking a look at my apps about once every few months to review how much I use them and if any can be deleted. I rarely keep an app 'just in case'.
It's a bit hard to get used to if I do it too often, but I reorganise how my apps look, and move some to another screen if I don't use them as much. At present, I don't know of any phone that detects which apps you use the most or least, so I just figure it out manually.
My screen today
I was actually inspired by an interview with Brian Lovin, designer at Facebook, to clean my home screen and leave only the apps I use on a daily basis. I cut it down to eight apps I touch every day, with my most frequently used apps placed in the dock.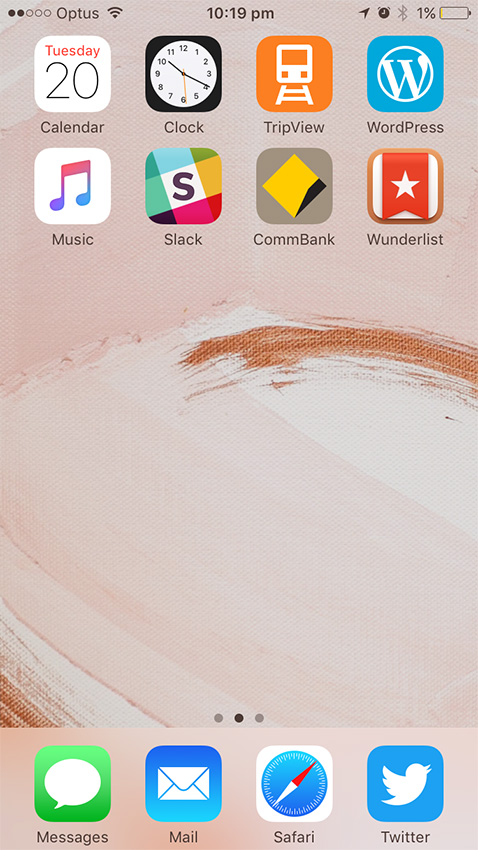 What difference has it made for me?
It has given me a clearer mind when I look at my phone. Although muscle memory means that I often forget the new positions of some app icons, it doesn't take me long to find them. I am not distracted by apps I only check or use once a day or less frequently, and I can easily find what I am looking for.
Yes, it is true that my Phone application is not visible because I only make about three phone calls a month.
What do you think about the current state of your phone and the apps on it?