Review: Helene Jewelry Subscription Box (September 2015)
I renewed my Helene Jewelry subscription for another three months. As the owner Elena was working on adjusting to a new system, my box did not ship until the 26th of September. But the new system also seems to suggest that I get tracking information all the way up to Australia! Previously, I wasn't able to track my package at all, so I was pretty happy with that. :D
My box arrived today, so I would have to say that the delivery was pretty quick. We had a public holiday yesterday so I imagine it would have arrived then if it wasn't a holiday.
The box was the flatter version, and the label/address was printed on it this time rather than handwritten. While I loved Elena's handwriting in hot pink every month, I can understand this printed label must save her a lot of time.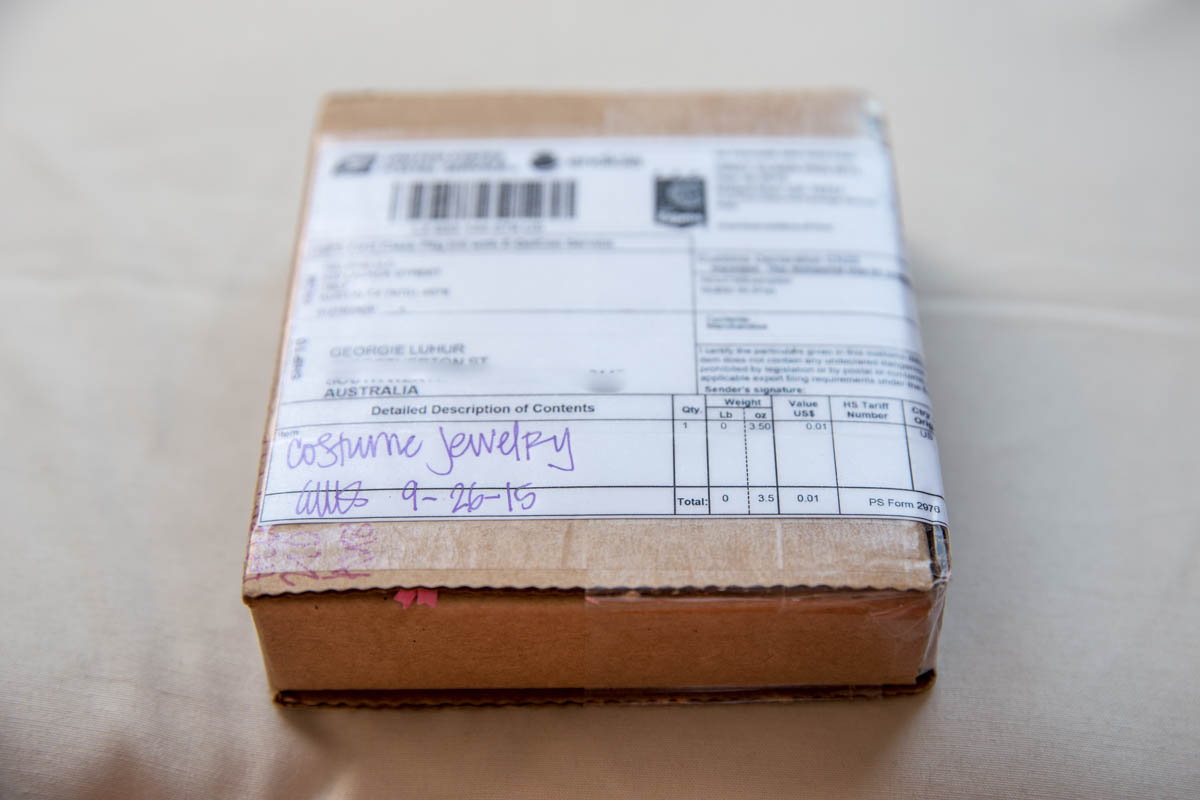 Opening the box, I was thrilled to see two bracelets, one of which was in a hot pink organza bag. Resisting the urge to look at the bracelets first, I took out the nail polish, which was another from the Sally Girl variety – the shade was called Splurge. It wasn't too exciting since I have a similar neutral dark-beige sort of colour, but I always love these small bottles. As Nancy mentioned once, you don't feel like it's a huge commitment with these cute little bottles.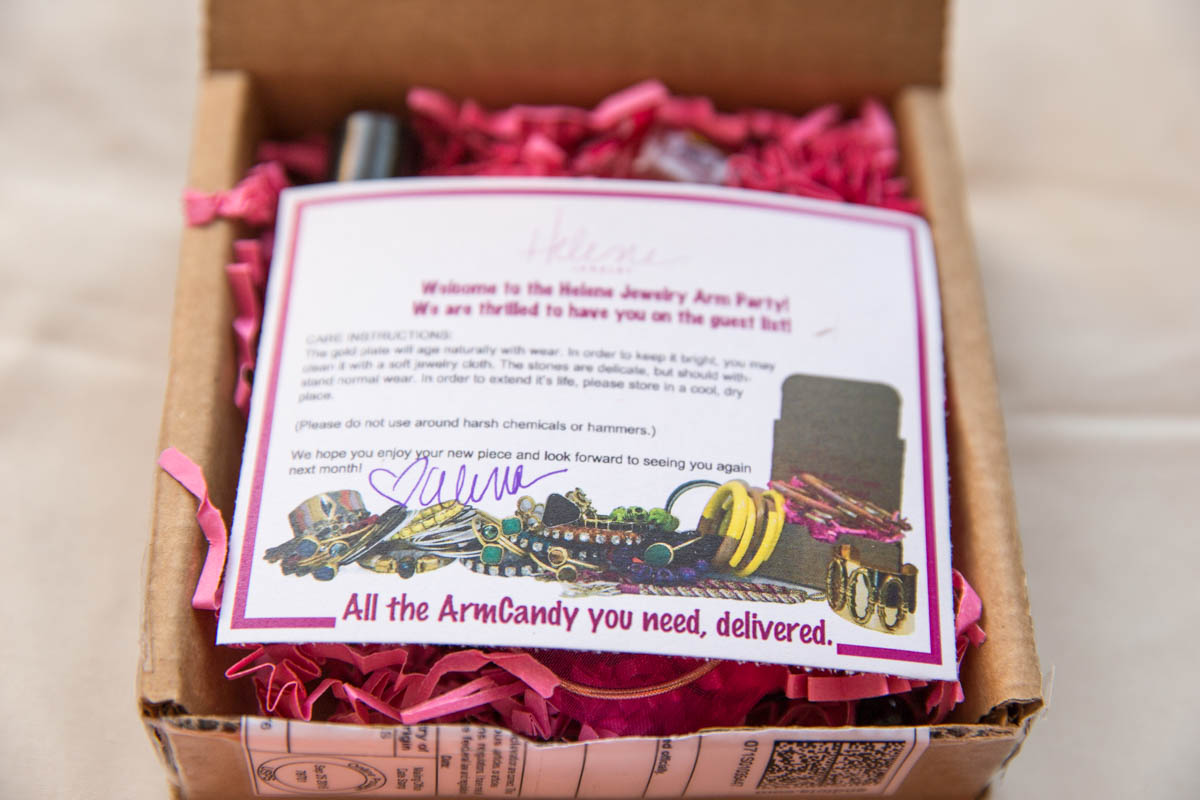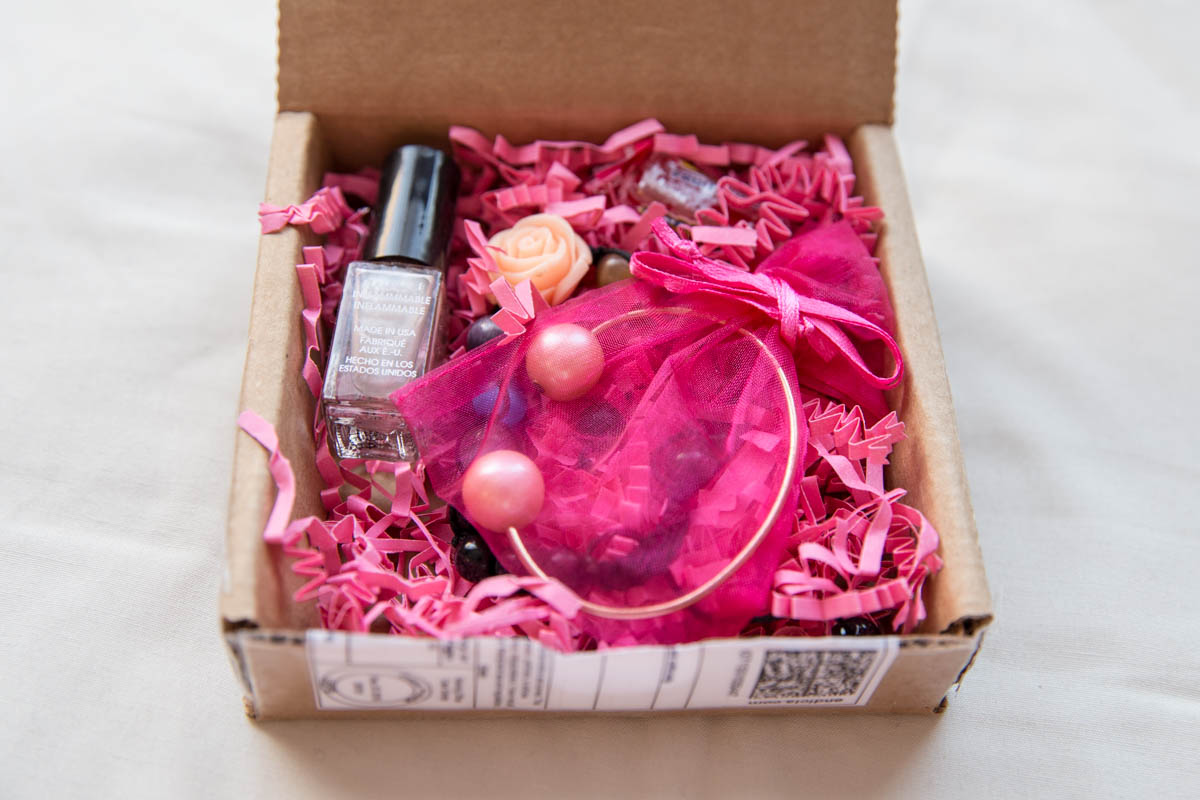 There was also a Jolly Rancher (which I devoured as soon as I finished going through the box because I needed some sugar), but no hair tie that I had been used to in past boxes. That's OK though, I have been using my hair ties quite regularly and don't really need any more at this stage!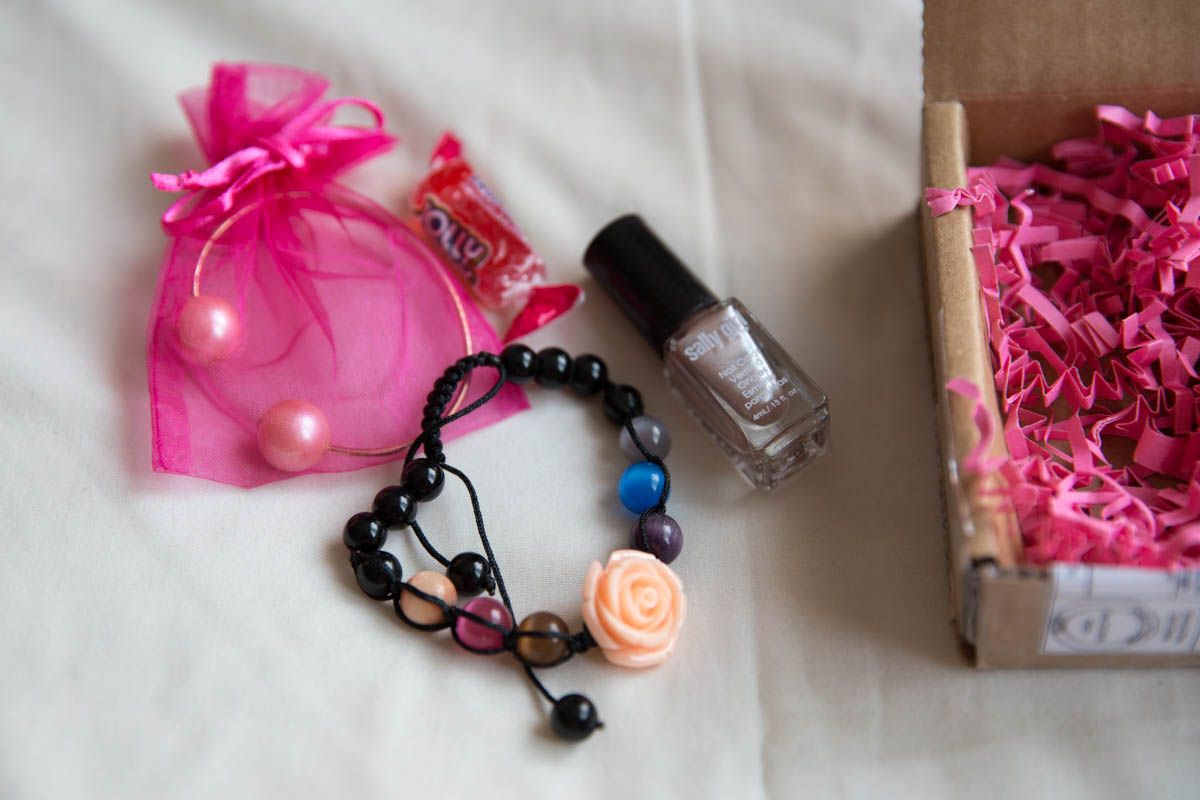 I tried on the beaded bracelet with the flower first. I'd seen this on the Instagram account for Helene Jewelry a while back. They looked awesome stacked together but putting it on, it looked great on its own. I wasn't that interested in it when I saw the photos, but I like this as a casual piece. The cord style gives it that casual feel although the beads have some weight to them and look quite classy. Considering the pink stone bracelet I got back in February, also a corded bracelet, I think I prefer this one with the rose. The mix of colours are nice and subtle and I like that the rose bead is a light colour.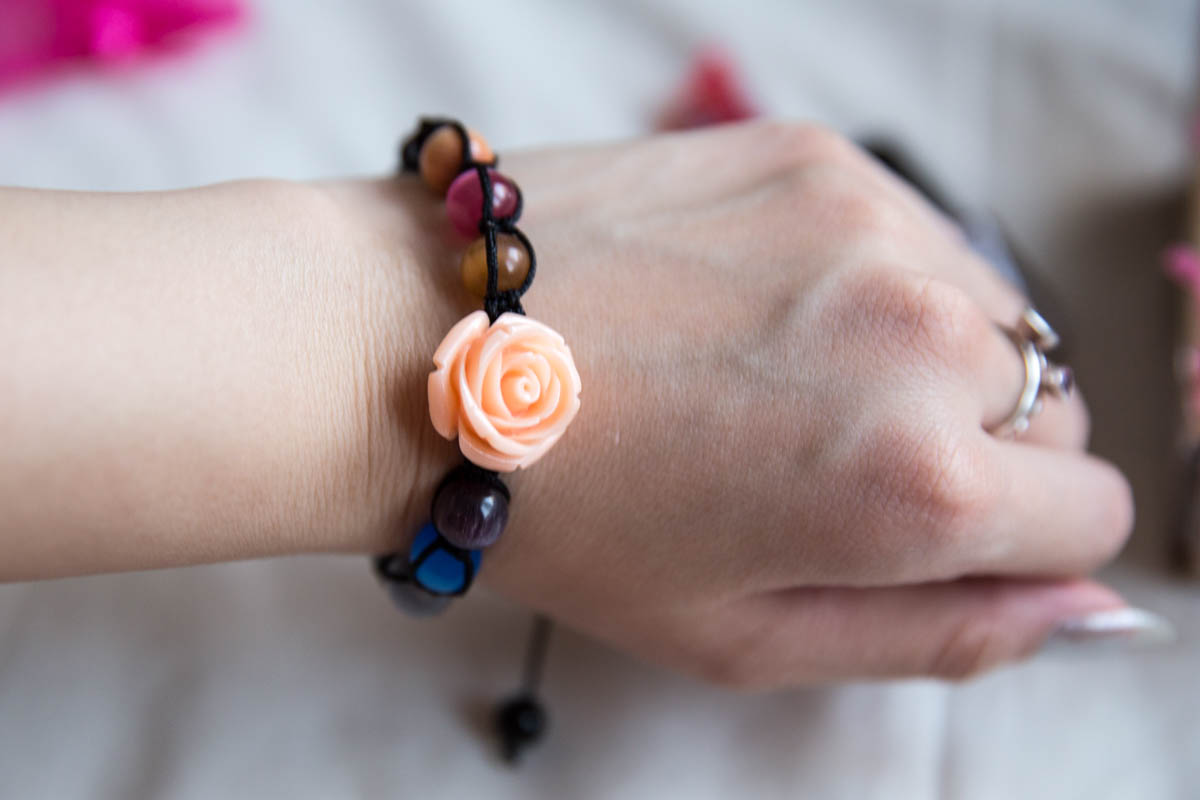 I was so, so, so happy when I saw the bangle in the pink bag. Elena had posted some photos of a similar (or, I suppose it was the same) bangle on Instagram, and it hasn't been included in the store yet but I knew it screamed my style when I saw it. There was a sale on Zulily for Helene Jewelry and I even told Tara that it was a piece I would love. I was thrilled to have it in my box.
It was very small. Elena custom makes her bracelets and she's aware of how tiny my wrists are. I had to pull on the metal a bit – thank goodness it was quite malleable – but it fit ever so snugly on my wrist. This made me really happy. I love the style, but in my travels, I have found that a lot of bangles/cuffs in this slim style are still huge for me. I spent a while looking at some rather lovely bangles in Lovisa, but gave up because even after trying to tighten them on my arm, they sat loosely or weren't even a round shape anymore. -_-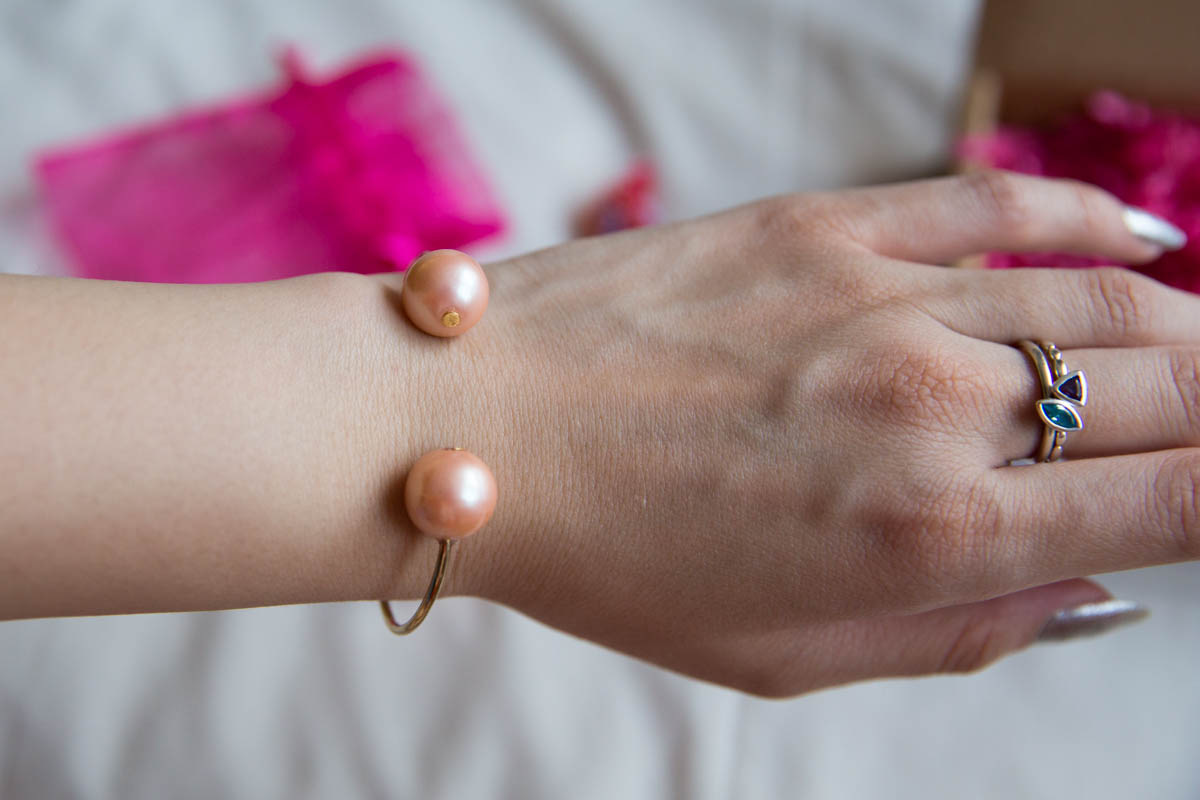 So I'm very happy with this bracelet/bangle. Here is the description as taken from the old Zulily listing:
Exuding simple elegance, this open cuff sports two sublimely spherical pieces of rose quartz for a touch of earthy beauty.
I am going to enjoy wearing this in a small bangle stack, or even on its own. I usually hate pink, but this light shade is nice enough for me to like. I suppose it's more of a peach colour – which I am totally okay with. I'm also currently obsessed with rose gold, what with my new rose gold iPhone. And I have really taken a liking to gold jewellery pieces. :D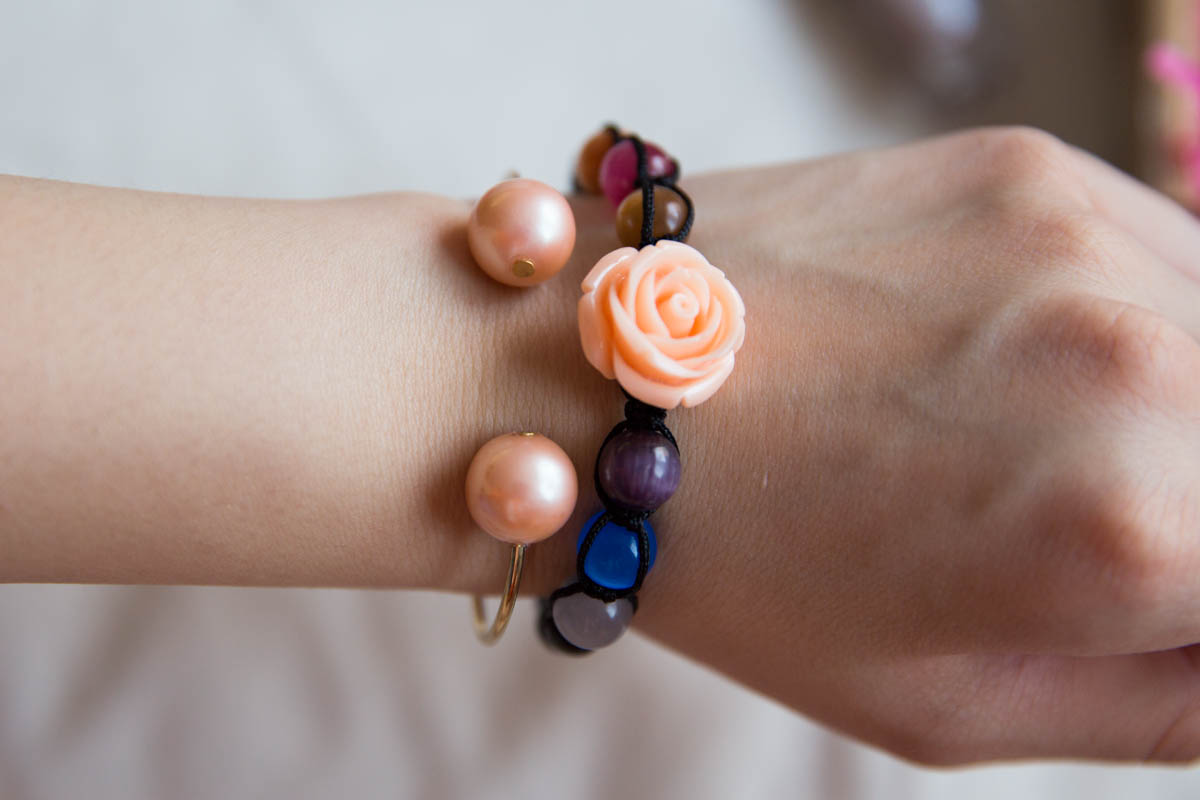 This is my favourite box yet, I think – so I'm excited to see what I will be getting next month.