Anatomy of a flatlay photograph
During my five-or-so years using the photo sharing service Instagram – yeah, I jumped on the bandwagon pretty early – nothing has given me quite the irritating itch that the term 'flatlay' does.
Yes, Instagram has its fair share of different 'types' of photos, and what with the ability to now make your photos rectangles too – there are even more different ways of being creative. I used to be a huge fan of the 'collages', where you could arrange a number of photos into a series of frames, but now I prefer to have one photo that gets all the attention. I now find that it's a bit hard to pay attention to all the different frames because there is a lot going on.
The one type of Instagram photo that seems to gain a lot of likes and 'credibility', so to speak, is the flatlay – a typically birds-eye view of an area of space that encompasses one's belongings and gives an idea of what that person is interested in, loving at the moment, or doing right now.

Just 'organised clutter'
I began to notice a lot of these flatlays and become enamoured in their prettiness, until I began to see it everywhere. Is it just me or does the photograph look like more of an organised clutter than a nice photograph?
Similar to the collages, there is a lot going on in everyone's flatlays. Don't get me wrong, they are beautiful, but are they really just a fixed-up mess? No one's desk really has notebooks half-covering their laptop and all their jewellery laid out on the desk while they work – or do they? No one really organises all the food they've ordered in the most perfect lined-up fashion with their bracelet-adorned hands so perfectly in frame.
How to spot a flatlay
A birds-eye view of everything.
Gotta see jeans folded up and with that pocket detail visible.
Lots and lots and lots of ring stacks on outstretched hands.
Carefully arranged jewellery on a flat and clean surface.
Crisp, ironed shirts (or t-shirts!) laid out with the slogan or graphic art clearly visible.
Decorations are a must – flowers, accessories, stationery.
A stationery flatlay tends to have a lot, lot, lot of colour and open books.
Spilled nail polish and makeup powder is a must.
Magazines and doilies make nice 'backgrounds' for items on a table.
M&Ms, pieces of cereal, pieces of fruit – arranged meticulously.
I could really go on, but you get the idea.
But in the end, it's effort, effort, effort.
Over time, these lovely flatlays have become less and less natural to me. The more I look at them, the more I think, 'That is such a nice photo, but there is so much going on in it'. Soon, my attention doesn't focus on any one part of the photo and I find myself scrolling down my feed to the next photo.
A lot of hard work goes into flatlays, but I've seen people scroll through their Instagram feeds faster than the time it takes for their thumbs to actually scroll the height of their phone.
I cleaned my kitchen counter yesterday. It really did take some time!
I wanted to take a photo of my orchids… just the damn orchids… but my dad's garlic bread got in the way. And his knife just so happened to be in the middle of the plate not touching the bread or the edges of the plate. I thought it was like, such a good photo opportunity, but not before I moved all the newspaper I was using under my nail polish bottles and refilled my actually empty cup of tea and opened my laptop more so you can actually see what's on my calendar. But no, you really can't, because I strategically rotated my laptop into a more flattering position.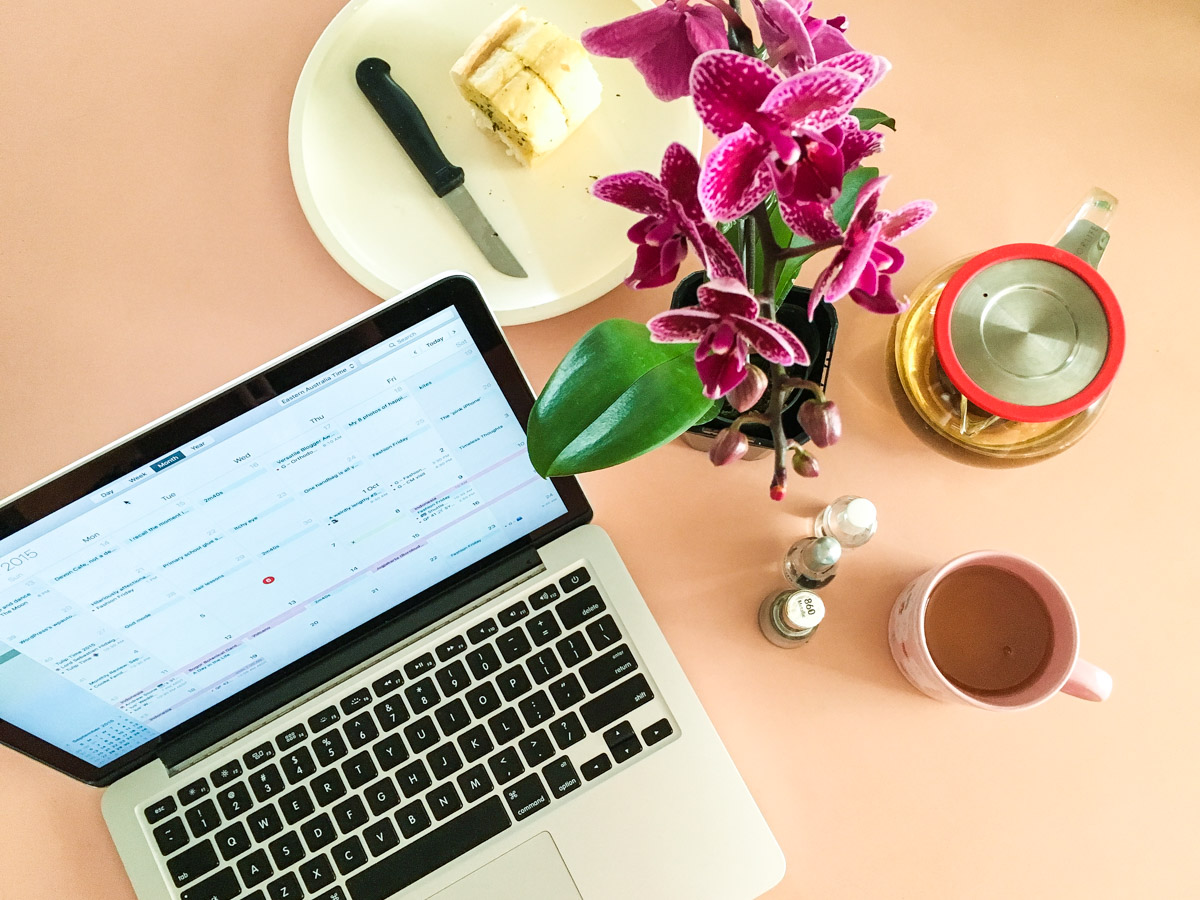 Disclaimer: This post was partially satirical.