Monthly Music: August 2014
I'll be honest, I just realised I don't particularly like digging up my favourite tracks of the month and this Monthly Music segment was not the best of ideas. I guess that may be because I am not in a particularly good mood right now, or I had way too many favourites in August, or I left this until the last minute, but something struck me as fairly obvious as I was ready to crawl in bed and skip this month (it's 11pm).
For starters, I'm sick. I dare say I'm getting better, actually. It was on Friday, after drinking a soy latte, that I realised it had irritated my throat too much. Whether that is because the milk was bad, or I had too much soy milk that day, or had just inhaled some pretty nasty toxins at work, or the weather tickled my lungs a bit too much, I found my throat really hoarse on Saturday morning and my nose slightly runny. Uncool.
I took a lot of vitamin C tablets. I like to say it's time to overdose on those things when I have a cold, but you can't really, because your body gets rid of any excess of vitamin C. Anyway, I let myself have a lot, lot, lot of tea, and honey, and lemon tea. I spent most of the day in bed, and I took a few-hour-long nap in the afternoon. I didn't go to bed quite so early, but I let myself have enough sleep.
Today was yet another lazy day, and the morning was absolutely ghastly. But after having some warm soup and a lot of olive leaf extract (bitter stuff… but reduces cold symptoms! Thanks James!), and some deeeeelicious soy & sesame based noodle soup for dinner, I now feel much better.
Also, at work (which has been really busy, mind you!), Dean and I have been making regular playlists with themes. We have covered Pop Punk, Classic Rock, and Soundtrack of My Life (still in progress, that one). Along with that, I have re-discovered a lot of old favourites.
I don't feel up for making a new playlist on 8tracks because I don't have all my music files readily accessible. But the thing I realised is that I have listened to one band's album on repeat, practically non-stop, at work, in the car, on my way to work, and at home – the entire past week.
It's called Velociraptor, by – you guessed it – Velociraptor, and was released on the 22nd August. This eleven-track beauty, the band's debut album, is wonderful. I've likely said it before, but the matured sound of this garage rock band just takes my breath away. Their ability to create lyrically emotional ballads while staying true to their surf rock riffs and hollering catchy hooks is incredible. Very few bands will change their sound and style but still own their music or give it their own touch.
Velociraptor by Velociraptor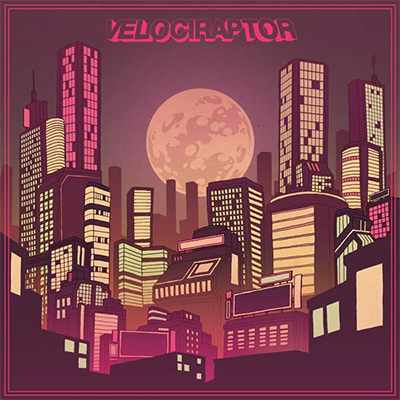 Robocop
The Right To Call You
Hollywood Teen
Ramona
All You Need
Monster Mash
Leeches
One Last Serenade
I Don't Know Why (It's You)
Cool Baby, Cool
Sneakers
Oh, yeah, I was also quoted in their media release (as Casual Band Blogger). You could say I'm biased, but this segment is all about sharin'. So get it on iTunes.
It's not everyone's cup of tea. It's certainly not intolerable, for I know some people who have found the raptors' previous work a bit too loud. The songs on this album are a wonderful variety. I would definitely recommend listening to Ramona. It's probably the catchiest tune of the lot. If you prefer something more mellow, One Last Serenade and Cool Baby, Cool are two tracks that feature the lovely vocals of Sweetie Zamora from Sydney band Bloods, so they are gentler.
If you are in for something different, All You Need is a number written and sung by James X Boyd, and I Don't Know Why by Joshua Byrd – these two songs will definitely provide a different flavour compared to the vocals of frontman Jeremy Neale. It's worth going through once, for there are some powered up songs like Robocop and Leeches.
Jeremy called it an apology record, but damnit guys, you have no need to be sorry.
I promise I won't just cheat and throw in my album of the month next time. Well, I'll try.