My current makeup routine
Hey everyone 👋
Since writing about my skincare routine, I wanted to write about my makeup routine as well, but considered it separate, so I wanted to write about it separately. 😊 Growing up, I never really wore a lot of makeup, so it's only in the past few years that I have done so. I actually didn't like makeup at all – I was quite happy with the way my skin looked and felt with just moisturiser applied. A lot of my friends wore makeup, but I didn't really care much for it. I liked that I didn't have to worry about it, and I didn't have to factor in any extra time getting ready to put it on. As I've gotten older, I've realised that I don't mind wearing it because it can enhance my features and I don't have to use much of it to achieve a more "done-up" look. But I do try to make my routine really quick!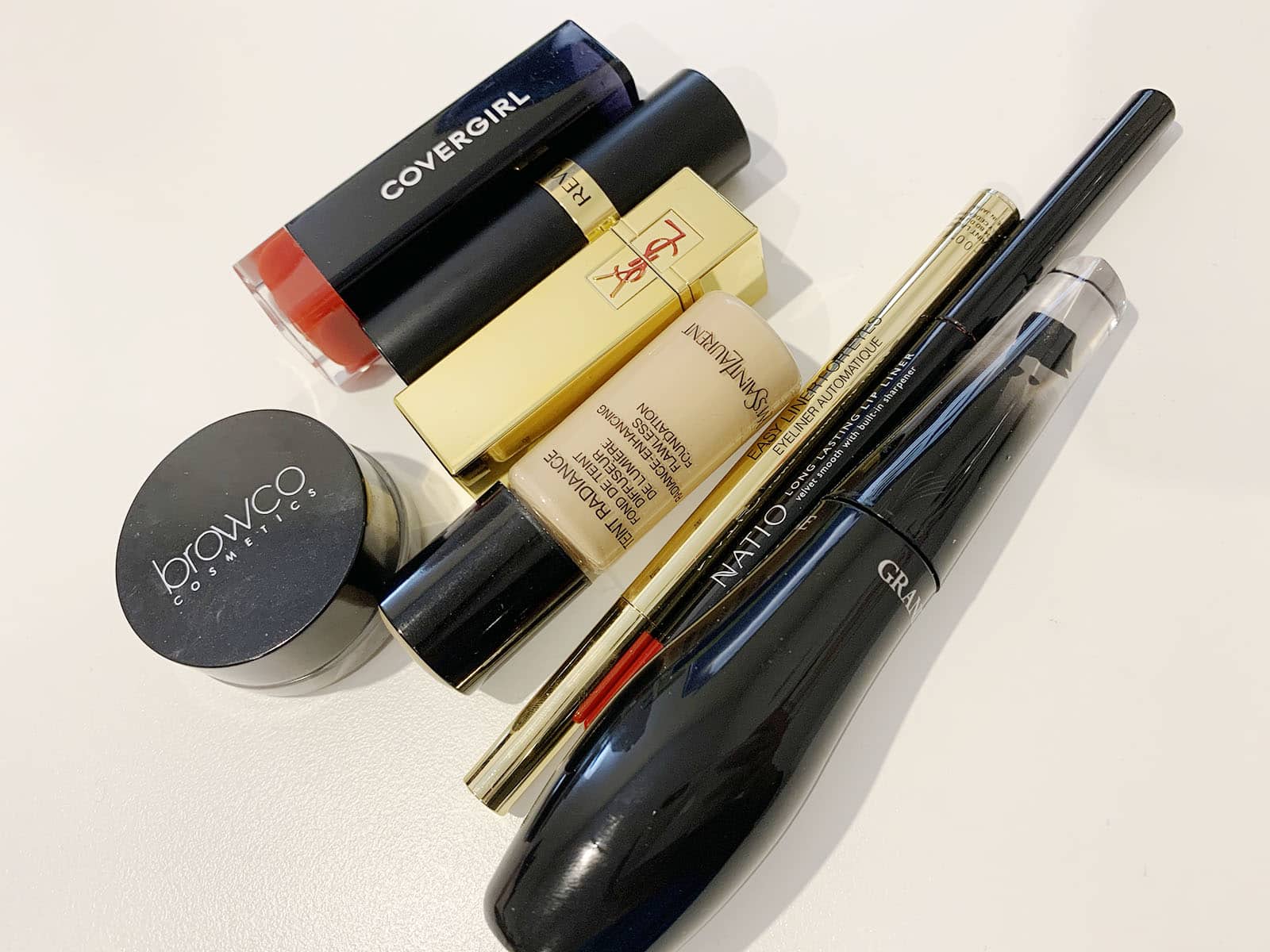 Most of my makeup products were given to me by my mum, except for my eyebrow balm. My mum has worked in cosmetics and skincare for over a decade and I generally trust her selections. 😊
Foundation + pressed powder
I used to use a L'Occitane CC cream called Pivoine Sublime as a foundation, but they discontinued that product. I now use another foundation, which I apply really lightly because I don't like really thick coverage.
Then I apply pressed powder with a large brush, just a thin layer and enough around my eyes to help conceal any darkness around my eyes. I don't like to fuss too much about completely covering blemishes – I care more about an even appearance. I'm not sure what powder I'm using but I know it's a YSL one and I'm certain it's an old one which might possibly be discontinued.
Eyebrow balm/pomade
I kinda got conned into buying eyebrow balm/pomade from the brow bar I used to go to. 😅 I say "conned" because I really didn't want to buy any products and wasn't interested in makeup at the time, but now, drawing in my eyebrows is one of my favourite things to do makeup-wise! 😆
I no longer go to that brow bar because I had a bad experience with one of the beauticians there – she was really rough tweezing excess hair around my eyebrows and I was left with some painful and visible scars near my eyebrows for a few weeks. I now get my eyebrows waxed every five weeks to so, and I've now been seeing the same beautician that my coworker recommended to me. She's really wonderful and I'm always happy with her service – she has great attention to detail and really takes care of my eyebrows. I had been too shy to ask anyone how to draw my eyebrows in properly but she showed me how. I am actually still using the same eyebrow pomade that I've owned for a couple of years. 😳 The lady I bought it from was right when she said it would last a really long time and I wouldn't need to apply a lot.
I wanted to share a brief history of getting my eyebrows waxed. I only started getting my eyebrows "done" three or four years ago. I didn't really understand the impact that eyebrows can have on your overall facial appearance, and I didn't really understand what my eyebrows were "supposed" to look like.
Since I'd heard that threading eyebrows was a slightly more pleasant and less painful experience than waxing so I went with that first. It was all new to me so I simply assumed waxing was painful and threading was less so. I got my eyebrows threaded for a good year or so before switching to waxing; immediately I preferred the look of my eyebrows after having them waxed. I don't know what it is about threading but I have a lot of baby hairs which always felt like they weren't cleaned up after I had my eyebrows threaded.
Eyeliner
I, one hundred percent, suck at drawing on eyeliner. I simply can't do it. 😂 I've had some practice since being at home and having more time, but I can't for the life of me draw that famed wingtip eyeliner that everyone can do. I have super creased, slightly hooded eyelids, and drawing eyeliner near the corners of my eyes causes a massive mess.
I used to use pencil eyeliner for a less defined look, and sometimes did it with brown, which was more natural-looking on my skin. Black pencil eyeliner would always smudge and transfer all around my eyes. But these days I've had enough practice and apply enough foundation and pressed powder and keep my eyes closed for long enough that I can more neatly draw simple eyeliner on my top eyelid. Sometimes I draw a thicker line if I want a bolder look.
I'm currently using a YSL eyeliner called Eyeliner Automatique which I actually really like. It goes on really nicely and the brush is thin enough to allow enough precision. I believe the product is discontinued now but the Eyeliner Effet Faux Cils seems to be the closest candidate currently available. When mine runs out I'd be keen to try anything else that has the same qualities and is widely recommended. 🙂
Mascara
I don't love mascara because I'm the kind of person who will touch their eyes and smudge their makeup. 😅 My eyelashes are quite short and straight, so mascara doesn't do much for my eyes, but I do wear it occasionally when I don't have my lashes lifted.
I got my first eyelash lift about a year ago, and I was really impressed with the results. A lash lift is a procedure that enhances your natural lashes by lifting and curling them. The result is permanent and lasts for as long as your eyelashes do – so pretty much until they shed naturally and new eyelashes grow. I really loved this procedure and it was really low-maintenance – less so than eyelash extensions. I didn't really apply mascara when I got my eyelashes lifted because they looked great without me having to do anything.
The mascara I use is Lancôme Grandiôse mascara, which was a gift from my mum. I don't think it's the greatest mascara, since it gets a bit clumpy sometimes, but it does the job. I don't fuss too much over mascara as I'm more partial to eyebrow makeup. 😉
Blush
I'm not sure exactly of the shade of my blush but it's a subtle pink-brown colour that isn't too bright on my cheeks. I apply it to the top of my cheeks and I have definitely been guilty of applying too much sometimes… 😅 I use the YSL Poudre Compacte Eclat e Matte powder, the Poudre Compacte Radiance is probably the closest product currently on the market.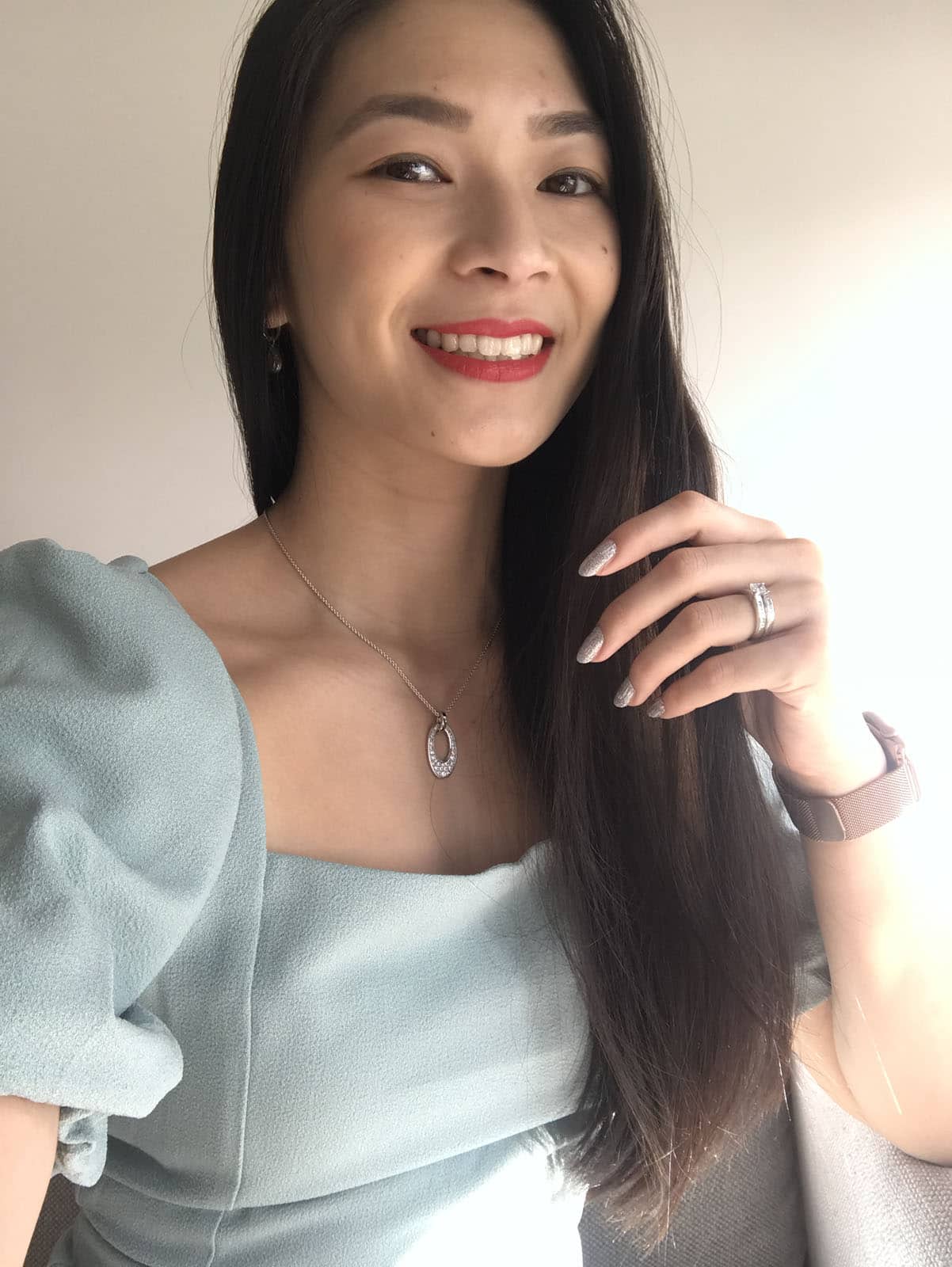 Setting spray
I use a pretty affordable non-fancy setting spray from Aldi. It serves as a refreshing mist as well, but I use it on top of my makeup. It gives a slightly dewy look and just sort of "sets" my makeup.
Lipstick
I cycle between a few lipstick colours: deep rose-brown (more of a natural look), hot pink/fuchsia, and a deep red.
The deep red is definitely my favourite but it's pretty full-on. I use a Natio lip liner to online my lips and colour in parts of my lips. It's particularly useful for the outer corners of my lips where applying a bullet lipstick is tricky. I have several red lipsticks that I like to use, some of them by YSL, but my current favourite happens to be a cheap drugstore lipstick by Covergirl (I think it is the Exhibitionist range). It has a shea butter formulation, making it apply really smoothly. It does transfer and I've yet to find a lipstick that doesn't transfer that much, but it's hard. 😘 To avoid too much transferring, I carefully blot my lips after applying lipstick, and when I do apply it I try to apply as thin a layer as possible. I usually add another layer and re-blot if the colour is not enough.
My hot pink lipstick is by YSL. I don't love to wear it because I find that red goes better with most of what I like to wear, and pink can sometimes look harsh on my skin, but I'm also just trying to use up my lipsticks too. 😆
I tend to go for my Revlon Rise Up Rose matte lipstick on days I'm feeling lazy and don't want bold lip colour – but most of the time, I love a bright lip. 💋
---
All in all, I think that if I was in a hurry or had wear less makeup, I'd probably only go with eyebrows and lipstick. Before I got into filling in my brows, I would wear coloured lipstick or lip gloss all the time because I liked the colour on my lips. As I mentioned, I really like the drawn eyebrow look, so I find it hard to forego that, but usually on the weekend I don't apply any makeup and have a brow gel that I apply to my brows to make them look more filled in. 😀