🇯🇵 京都 (Kyōto)
This post is the third in a series on our honeymoon trip in Japan. We also visited Seoul, South Korea. Have a read of part 1 and part 2 of our Seoul adventures, and read about our first two days in Osaka and our day trip to Hiroshima and Kobe.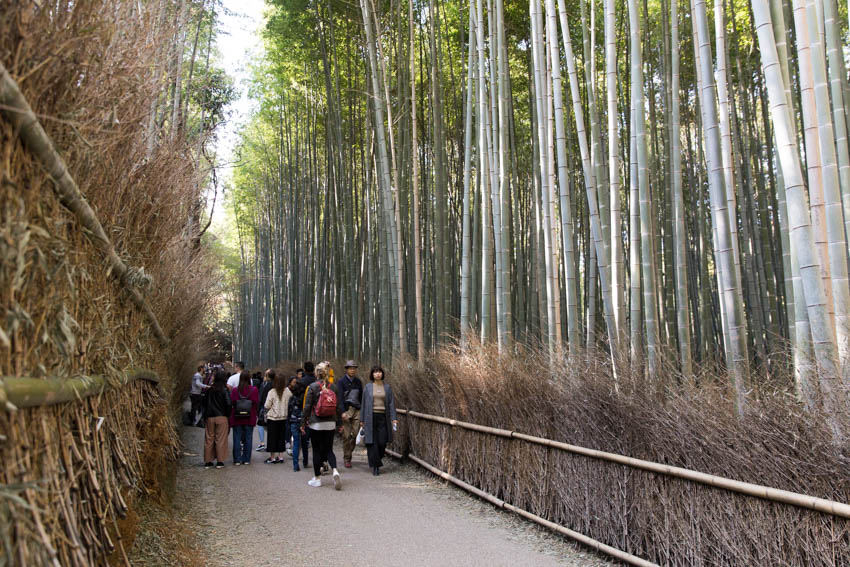 After our day trip to Hiroshima and Kobe we returned to Osaka for the night, and packed all our belongings so we could check out of our Airbnb apartment in the morning. Our next stop was Kyoto!
It's worth noting that, unlike our Europe tripe in 2016, we did not plan our days as meticulously. We thought of each day's plan about one to three days beforehand, so we were effectively doing some planning mid-trip. We were so busy with our wedding and work before our trip that we only had time to book in all the important things. It was an interesting contrast, as I know Nick really likes to be organised. I personally do too, but I also like a bit of spontaneity.
Since it was quite a relaxing holiday with little planned, we sort of had time during the evenings to plan the next few days. I still think we did a fairly good job of covering most of what we wanted to cover!
Day 1: Gion & Kiyomizudera Temple
🌟 Main highlight: Experiencing a traditional kaiseki dinner
🍴 Food feature: Gram pancakes
Since we had some time to kill before checking into our place in Kyoto, we went to a place called Gram, which made pancakes. I had spotted it several times on our travels. It's interesting to see how the Japanese do Western food their way – in particular, they like parfaits a lot, but they also do their own version of spaghetti and pasta. Pancakes are no exception – Japanese pancakes are massively thick and fluffy.
Gram did extremely thick pancakes and I spent some time deciding whether I wanted a sweet or savoury style pancake. It was, for us, breakfast – since Japan isn't big on what breakfast is like in the Western world – and so naturally I felt like something savoury, but the tea apple pancakes were winning me over just by the photo on the menu, and looked sweet enough to be tolerable as my first meal of the day.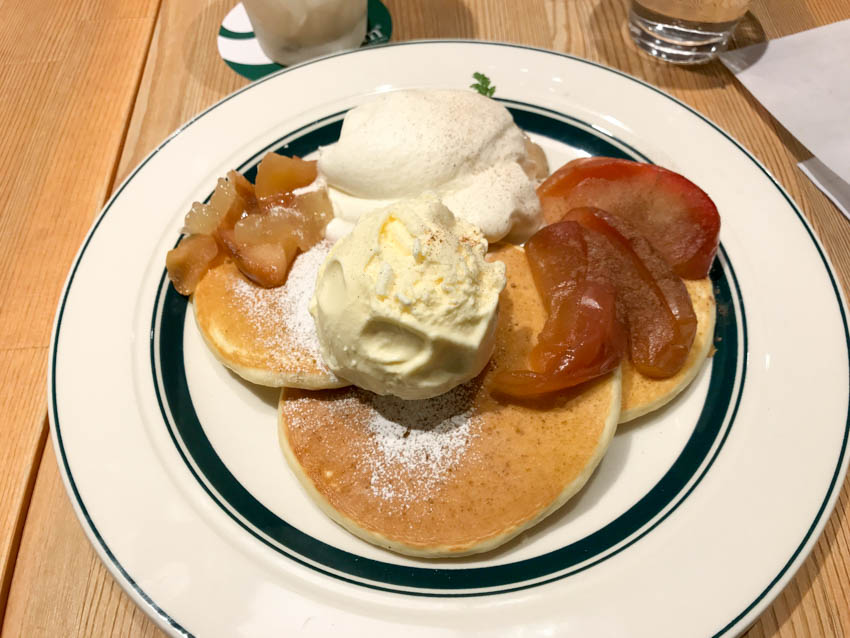 I did feel a little stuffed after eating it, since my stomach very much wasn't used to it, but it was tasty.
We had to check into our place in Kyoto at 3:00pm. We took the shinkansen and then a bus to Nijo station (just a couple of stops), and then it was a ten minute walk from there. Maybe I am a little bit spoilt but I thought that the ten minutes seemed to go on forever, and seemed quite far.
We didn't have much trouble getting there, or getting into the apartment. However, we had spent some time wondering how to get a travel card when we disembarked the shinkansen, because we needed it for the local buses in Kyoto. We ended up just asking a staff member at the station, but when you are travelling in a foreign country sometimes you just want to have a go at things on your own. You want to look less like a lost tourist and like you know where you are going! I think we did that most of our trip, fairly successfully, because we had done our research and knew where to get things. I found myself remaining alert with regards to signage and where pointed. At the same time, in Japan, they love their signs – so it's easy even as a tourist to know, for example, which exit to take at the train station, where to go to change lines, even which side of the walkway to walk on (usually the left).
Although I have been to Kyoto before, I spent most of my time in Arashiyama, and didn't actually look around at all the temples in the Kyoto area. This time I got to see a fair bit that I didn't see last time.
We went to the area of Gion and saw Kiyomizudera temple. It was a beauty, but we were there at night so it wasn't long before it became cloaked by the night.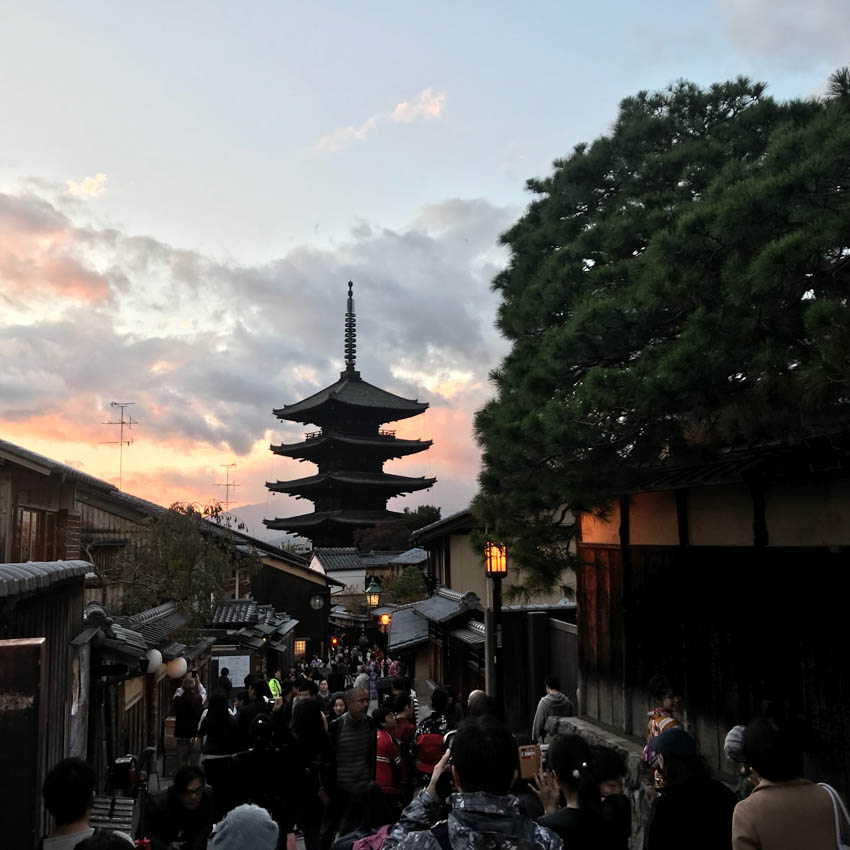 It began to rain as we were looking for dinner. Dinner meal sets seemed to be popular in the Gion area, but we were wary of tourist traps in the area. We stumbled upon a tiny Michelin-star sushi restaurant but it was booked out for the evening, so we had to keep looking. Everything around the area seemed really pricey as well, or were big dinner buffets.
Eventually we settled on Oku and had a traditional kaiseki dinner. We had about seven or eight dishes so it was basically a degustation menu. The servings were reasonable though, and we were not left feeling crazy full.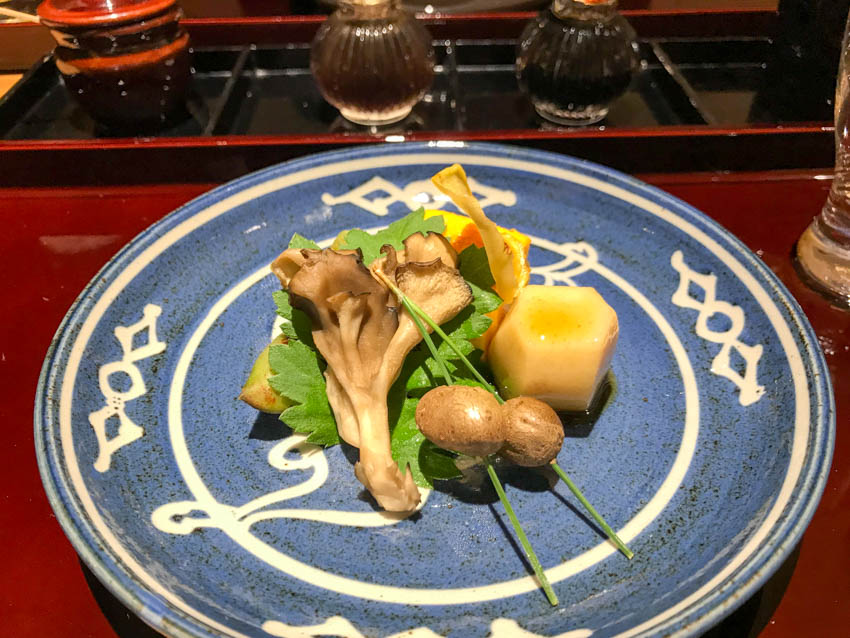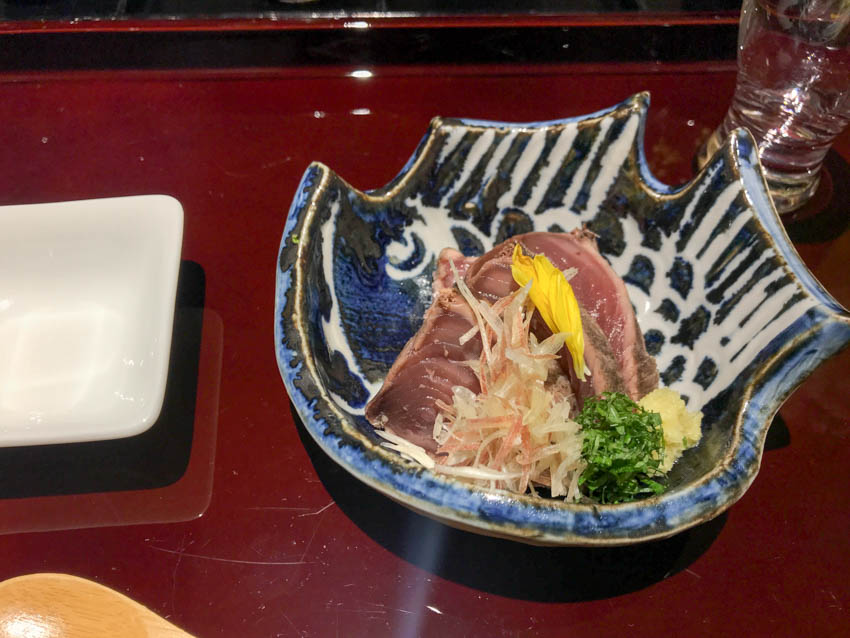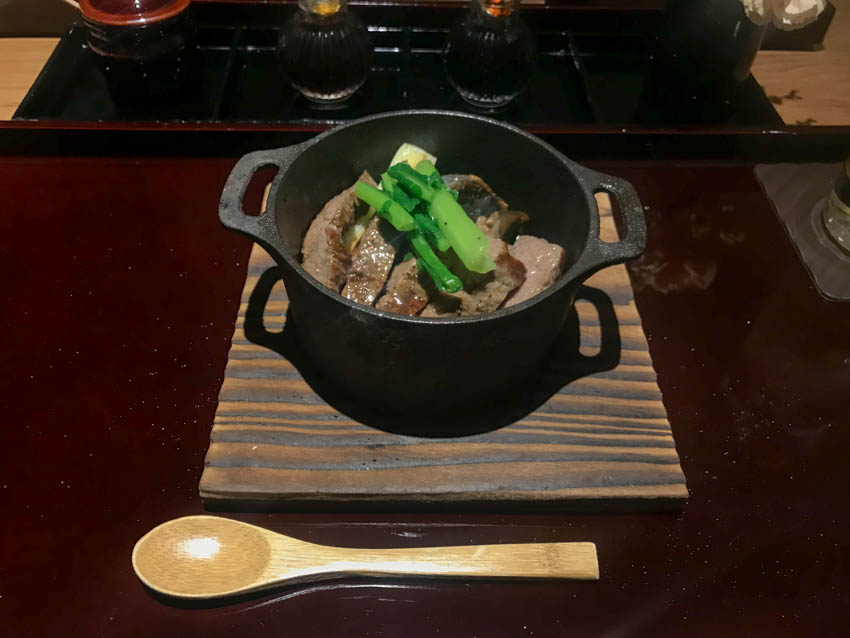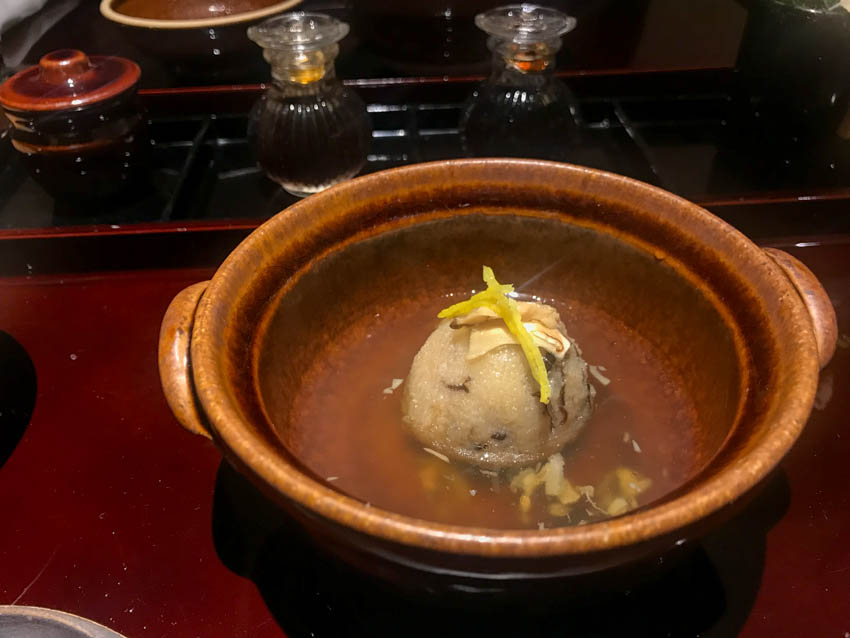 Nick did a series of Instagram posts for today which has some more beautiful photos of Kyoto and the temples:
https://www.instagram.com/p/BbHEscEl7LC/
You can certainly visit his profile to see the other days he posted photos – he did it consistently throughout our trip!
Day 2: Arashiyama bamboo rainforest, Monkey Park, Kinkakuji Temple
🌟 Main highlight: Being entertained by monkeys
🍴 Food feature: Ichiran Ramen!
On our second day in Kyoto we went to Arashiyama. I had been there on my last visit to Japan and I really loved it. It was winter last time I went there, and this time it was autumn, so it made for some beautiful autumn colours in the trees. The weather was also just a little warm.
We walked quite a bit through the Arashiyama bamboo forest. We stopped for periods of time so that we could play with our cameras and try to get time lapses. My time lapses all failed. 😂 After some time I decided to just try and take some photos of the bamboo trees from nice low angles. There were a lot of people around, but it wasn't hard to get a break through the crowd to take good photos.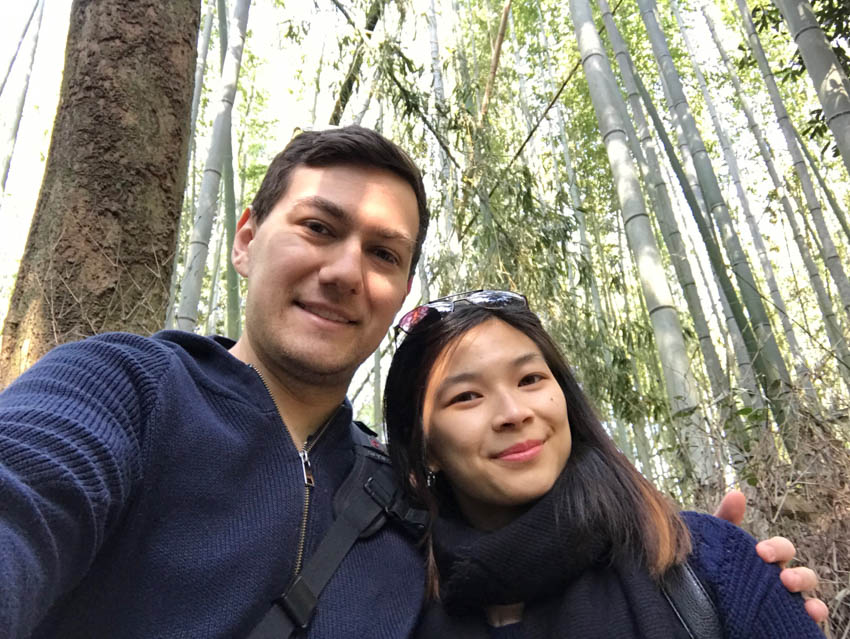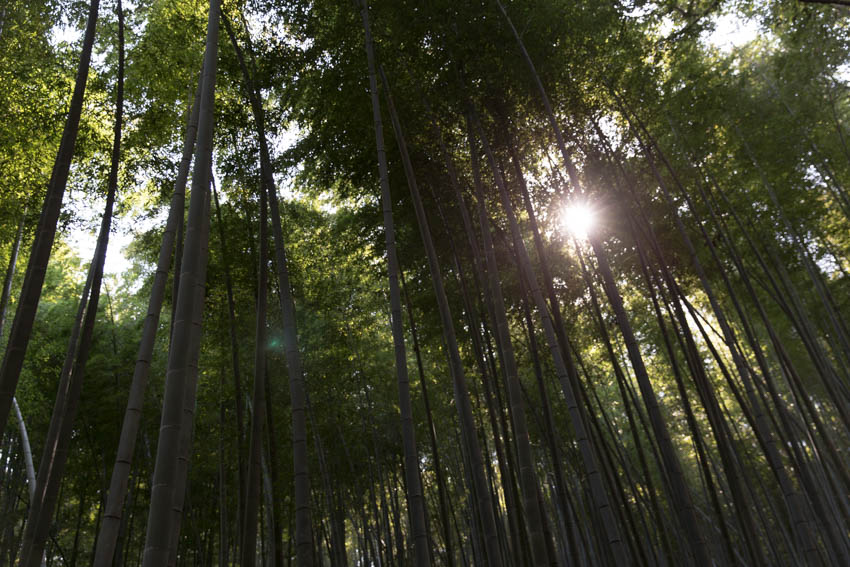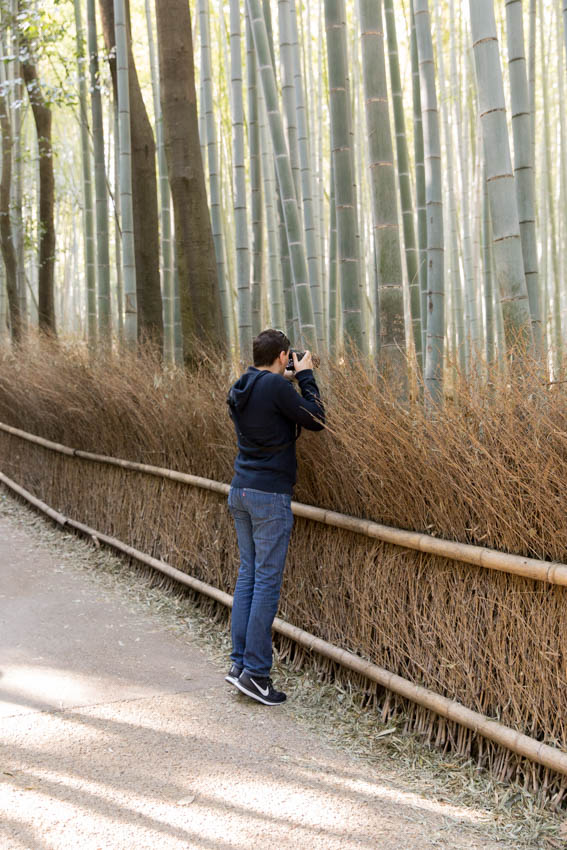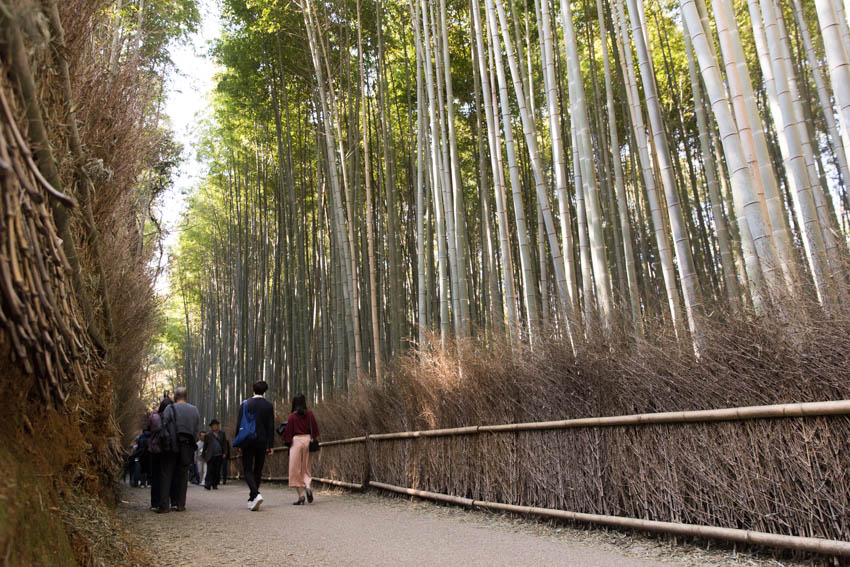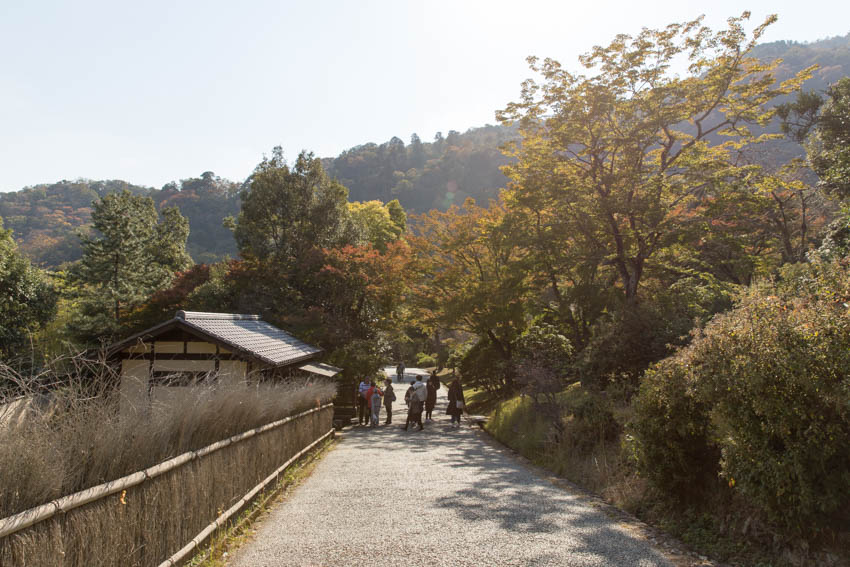 We had really warmed ourselves up by the time we finished walking through the forest, so we had some ice cream before entering the Arashiyama Monkey Park.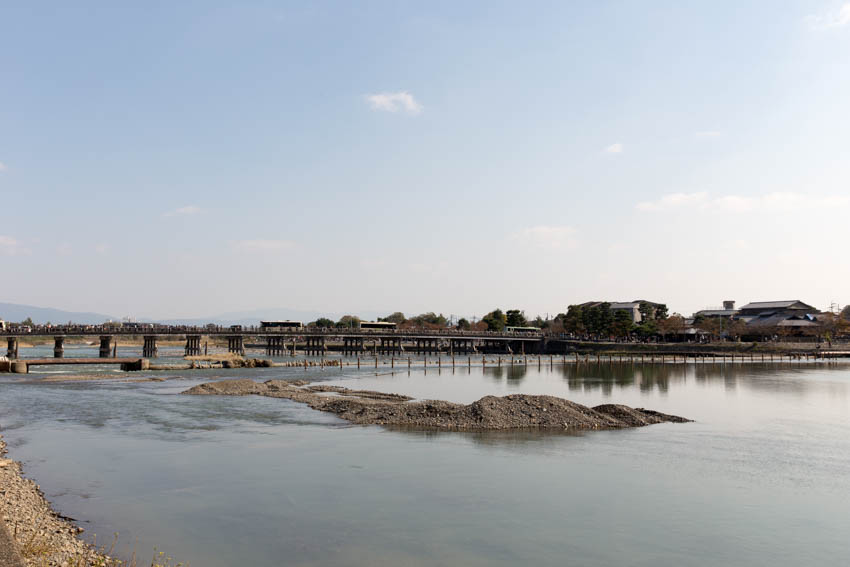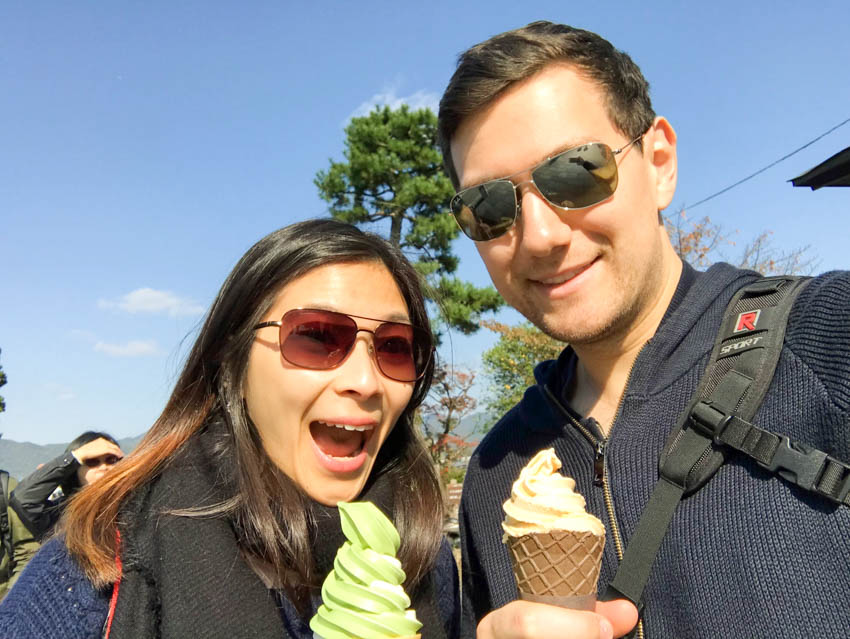 It was about a 20-minute walk to the top. I enjoyed going as fast as I could to the top, to try and get my exercise in.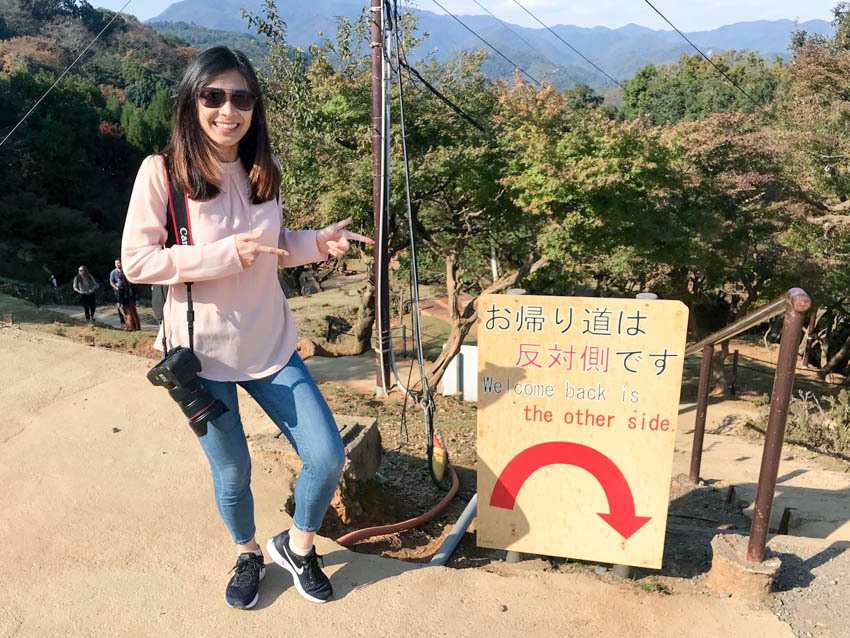 The monkeys were really entertaining to just watch. Last time I had been to the monkey park, I think it was too quiet for feeding time or the monkeys were really lazy. This time there were so many tourists that we didn't need to pay to feed the monkeys – everyone else was feeding them from inside the feeding shed.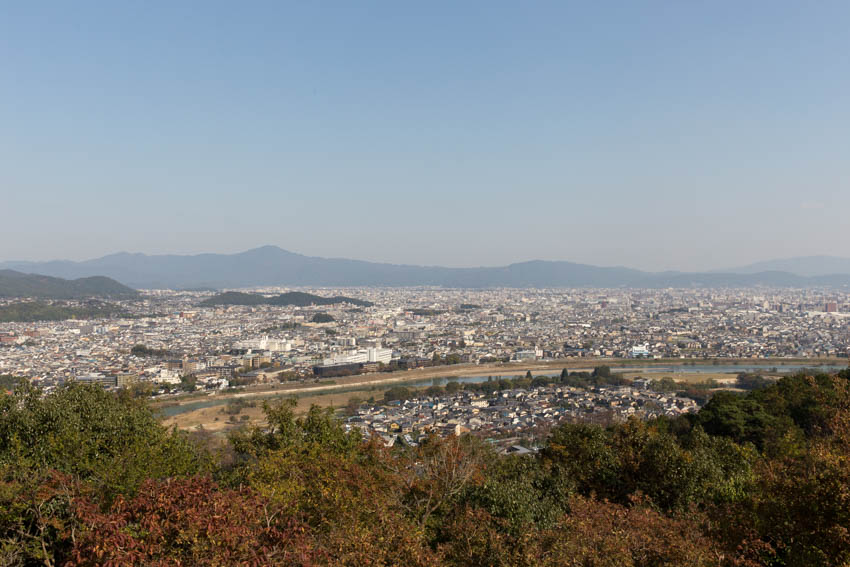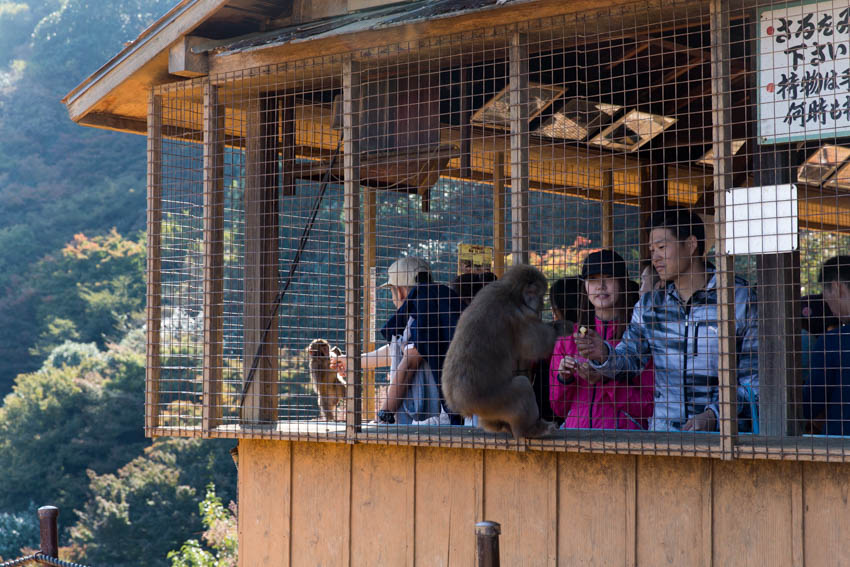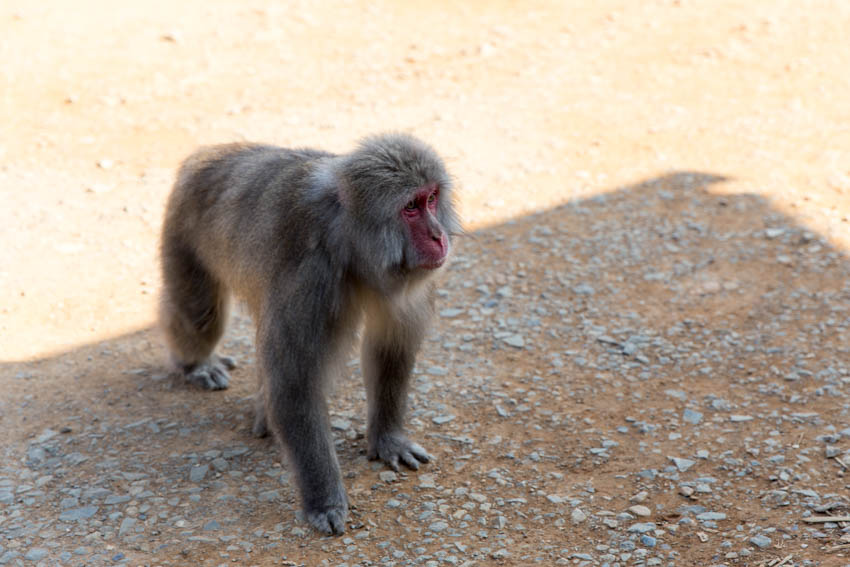 The monkeys climbed enthusiastically all around the wire windows, eating the snacks right from people's hands. There were excited children everywhere!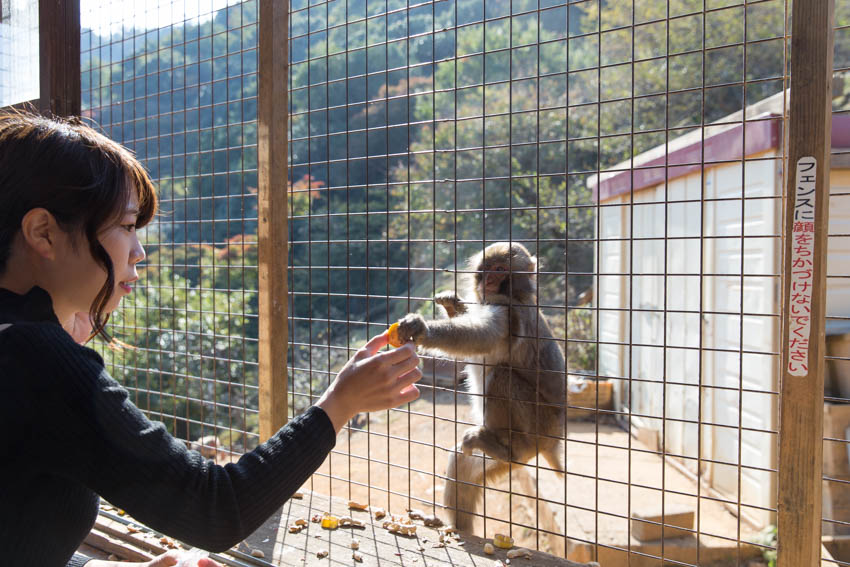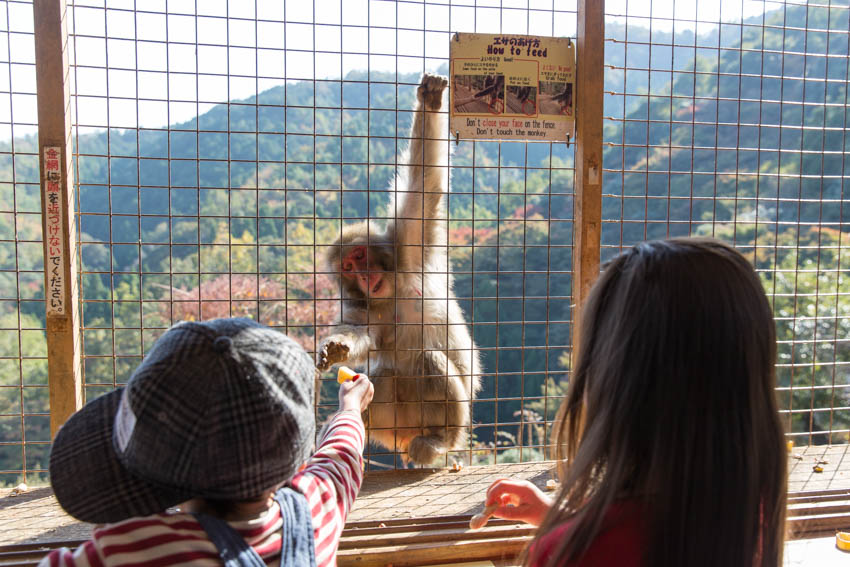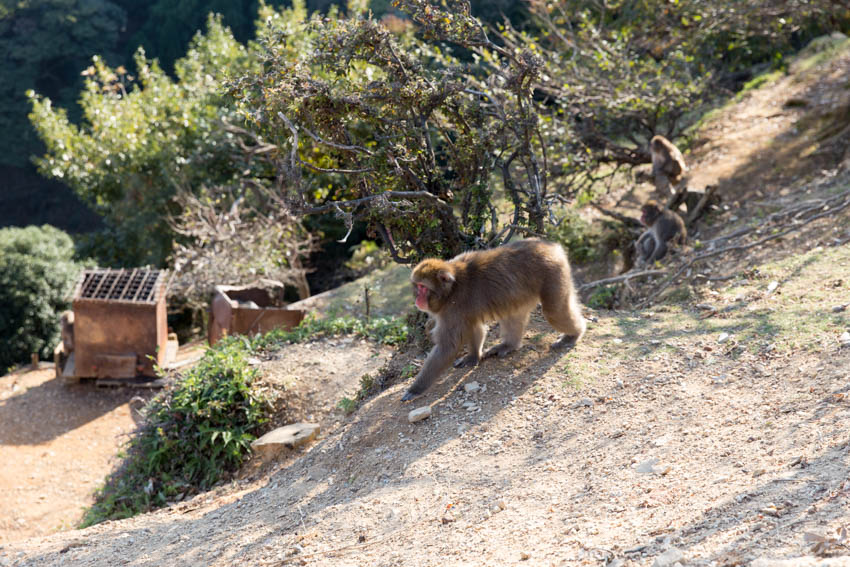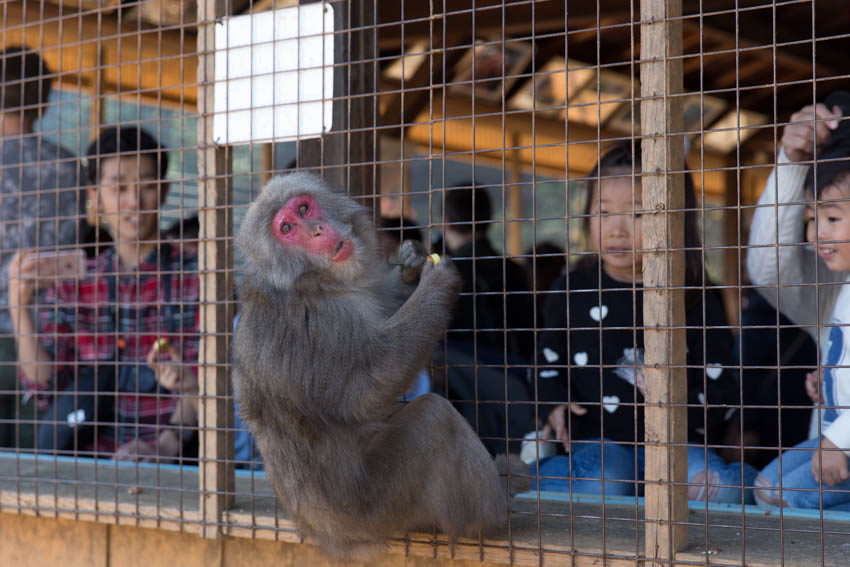 We ate lunch in Arashiyama, having a set lunch. I love set lunches in Japan because they are huge compared to what you get in Australia, and they are fairly affordable. It's basically like a huge bento box. Nick just wanted some udon, whereas I went all out on the lunch set. Bento boxes are a lot of fun in my opinion – you get a compartmentalised box with different kinds of food in each compartment.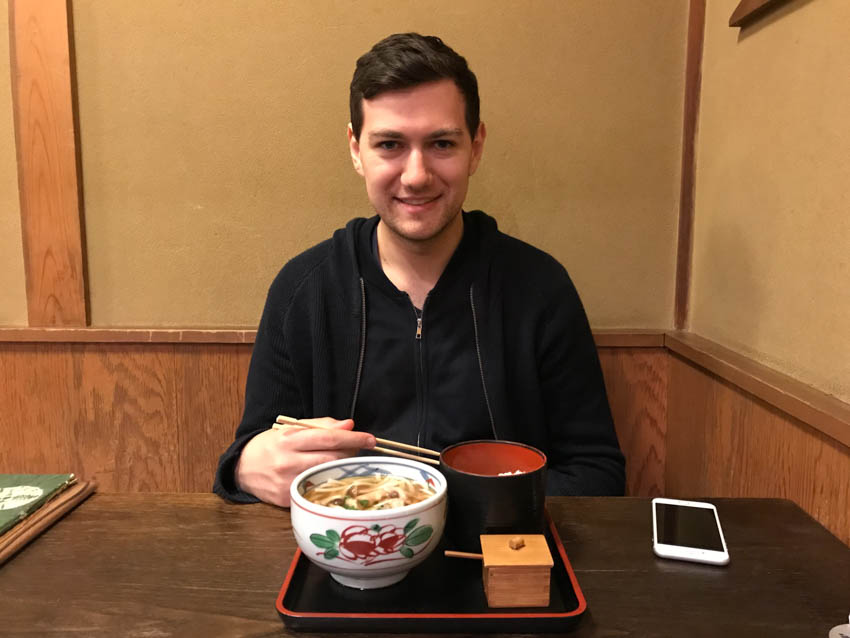 At this particular restaurant I was so keen to sit on the tatami floor, traditional Japanese style. We had this experience several times during our trip. While I love sitting on the floor, it's quite difficult for Nick as he has long legs, and generally just doesn't find it comfortable to sit on the floor.
I thought all my food had arrived when I got the bento box and some soup on the side, but no – the waitress kept bringing out more of my meal. Looks like there was a lot included, haha.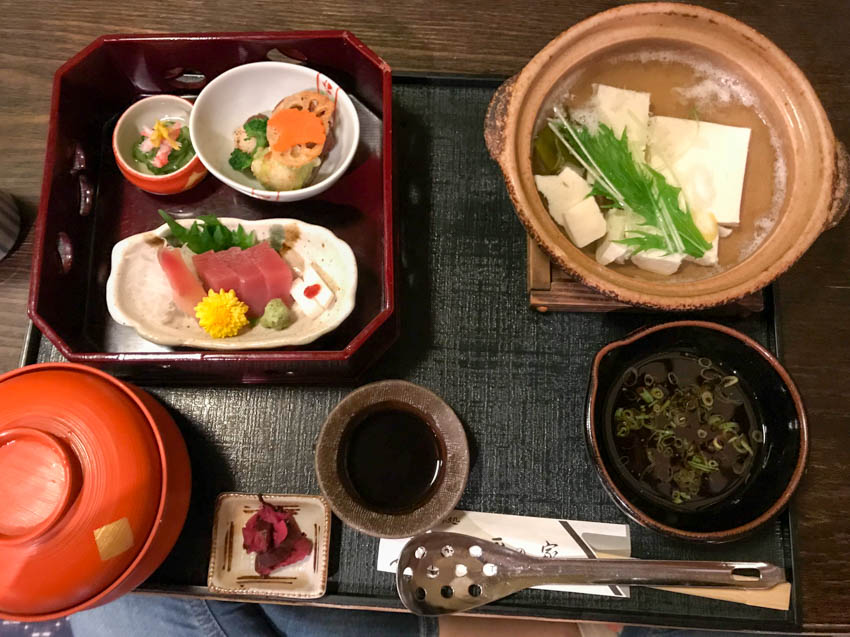 After lunch we headed for Kinkaku-ji, which is also known as the Temple of the Golden Pavilion. I hadn't seen Kinkaku-ji before, and I really liked its appearance as well as the grounds of the temple. It was very pretty and this was a spot where we could really see the colours of the autumn leaves.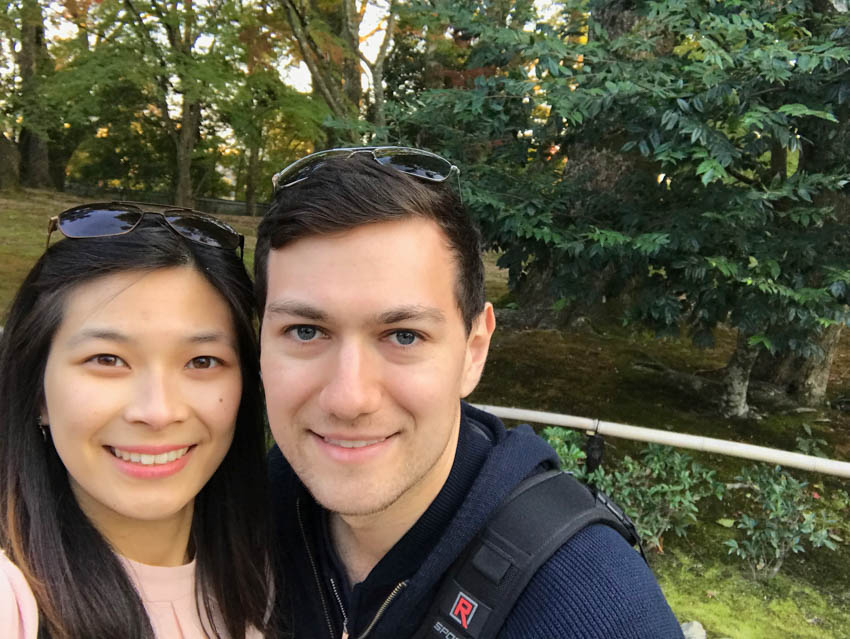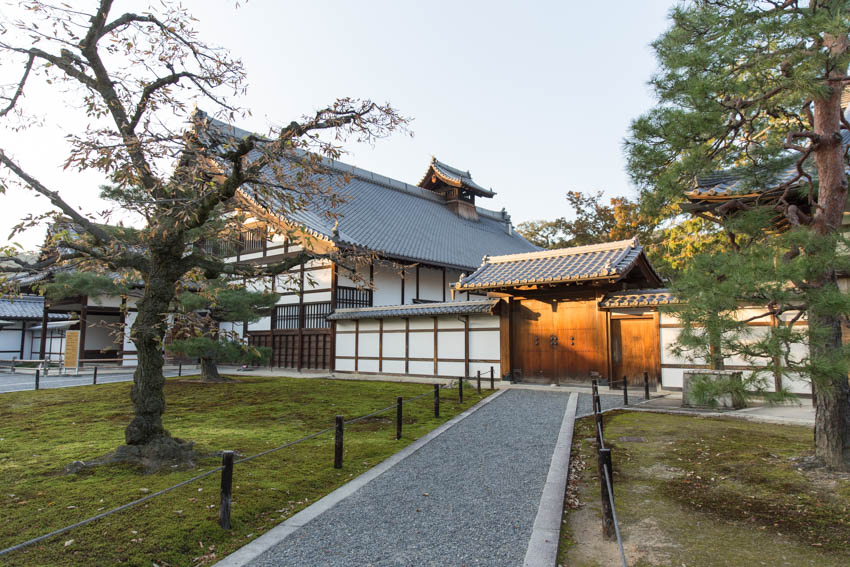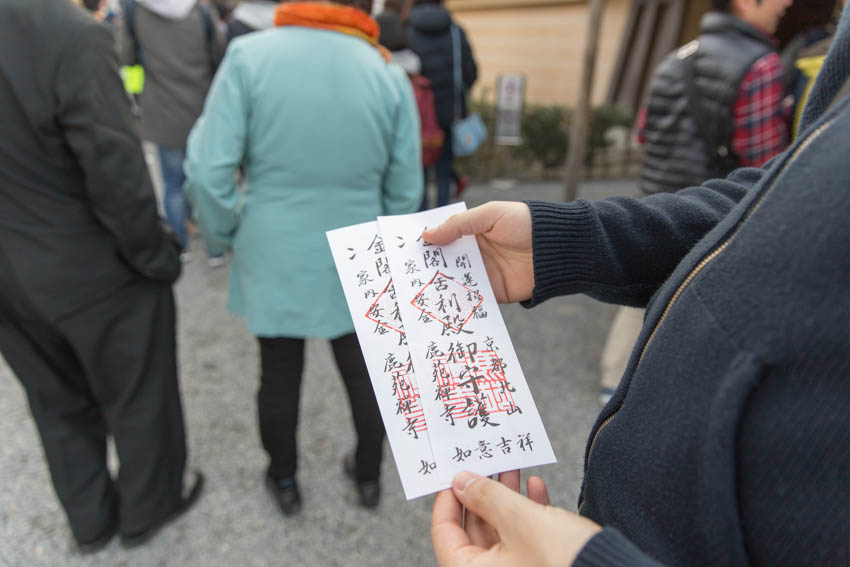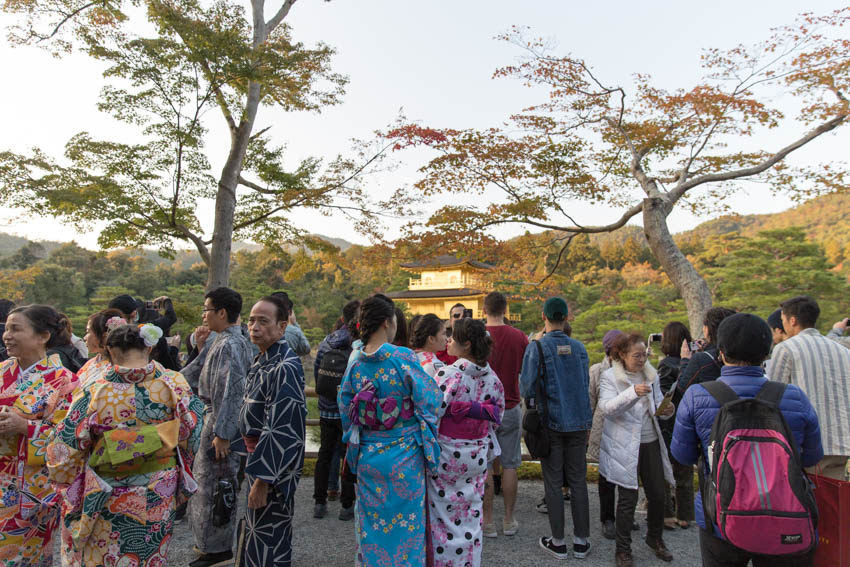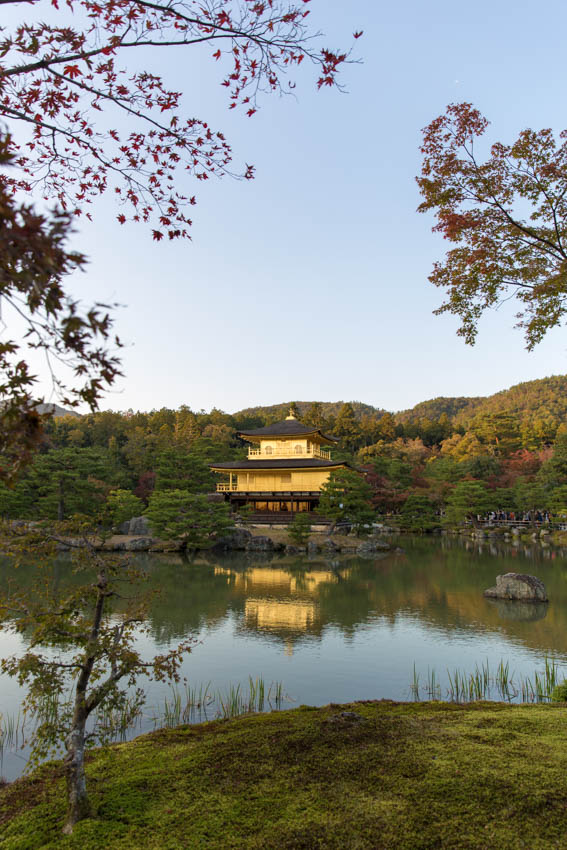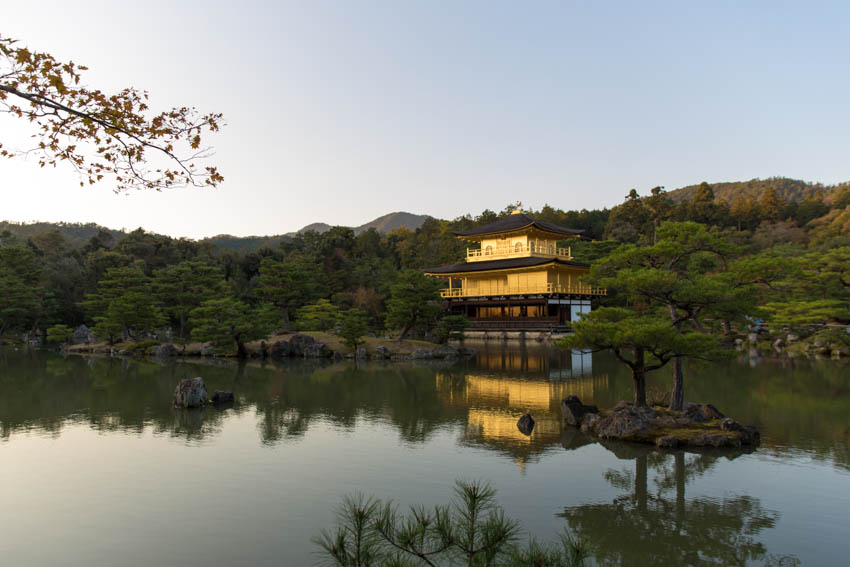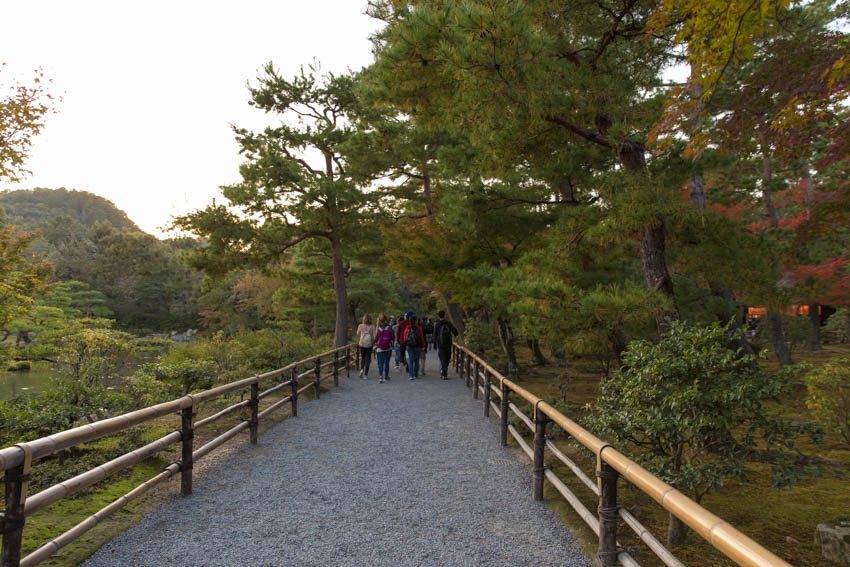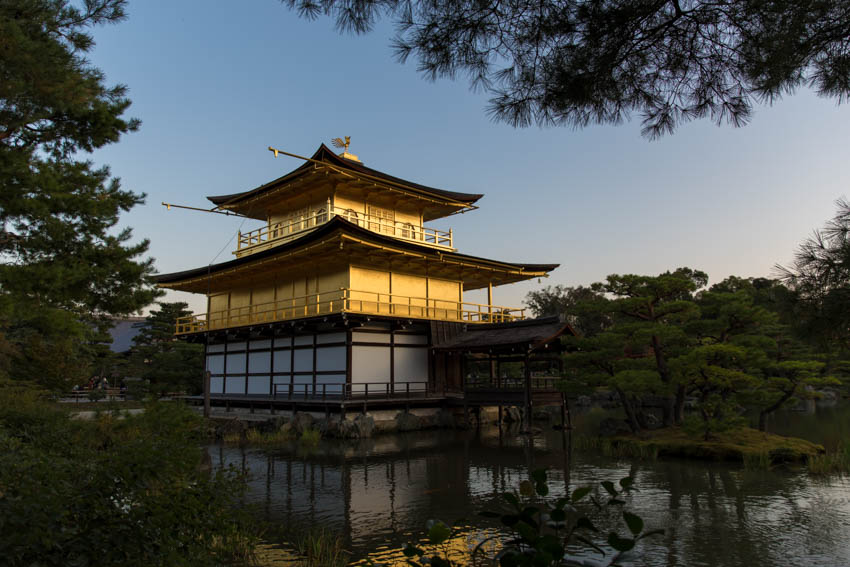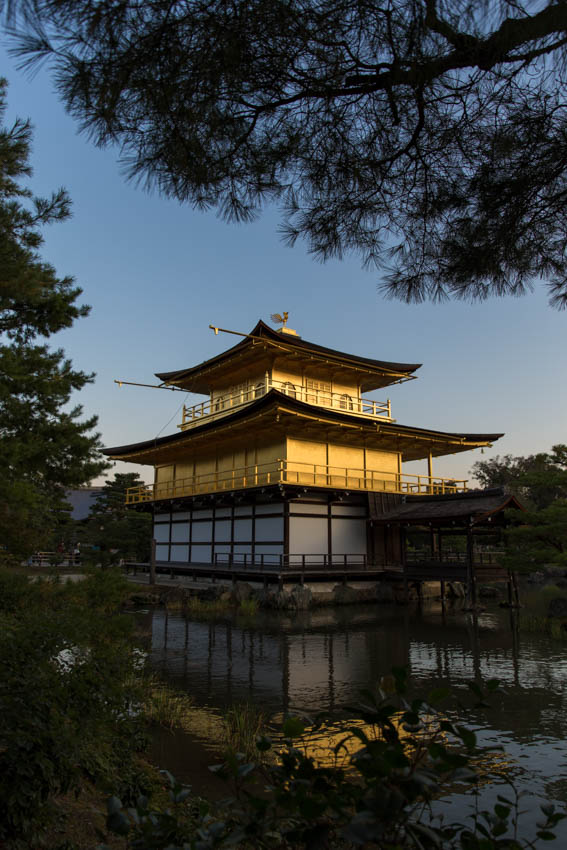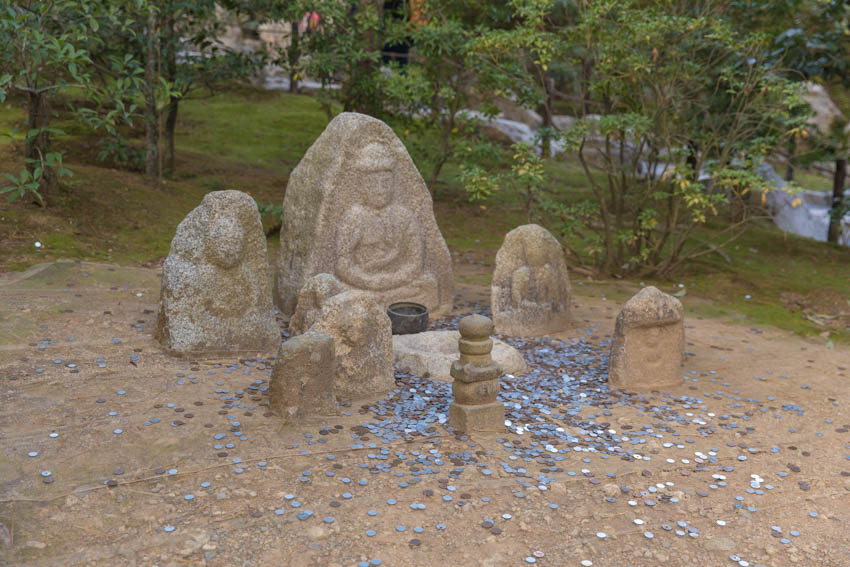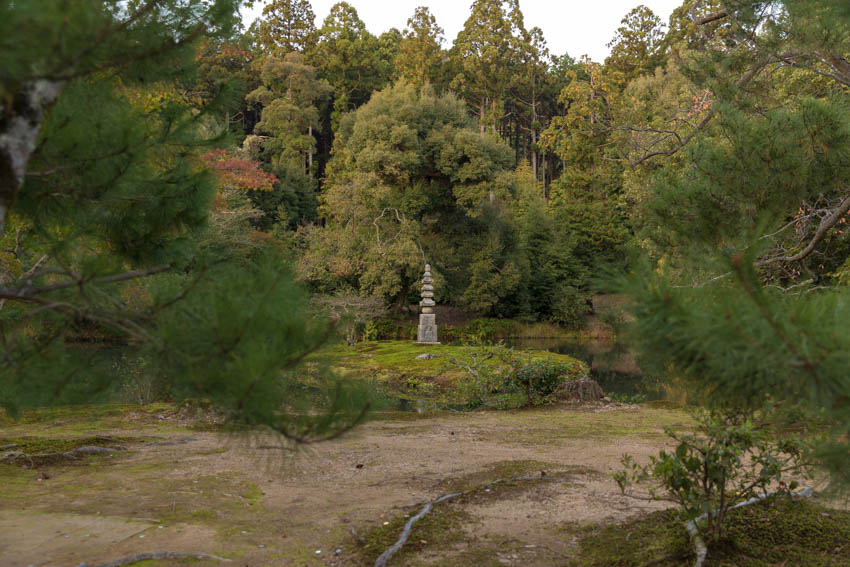 By the time we left, the temple was about to close and it was getting dark.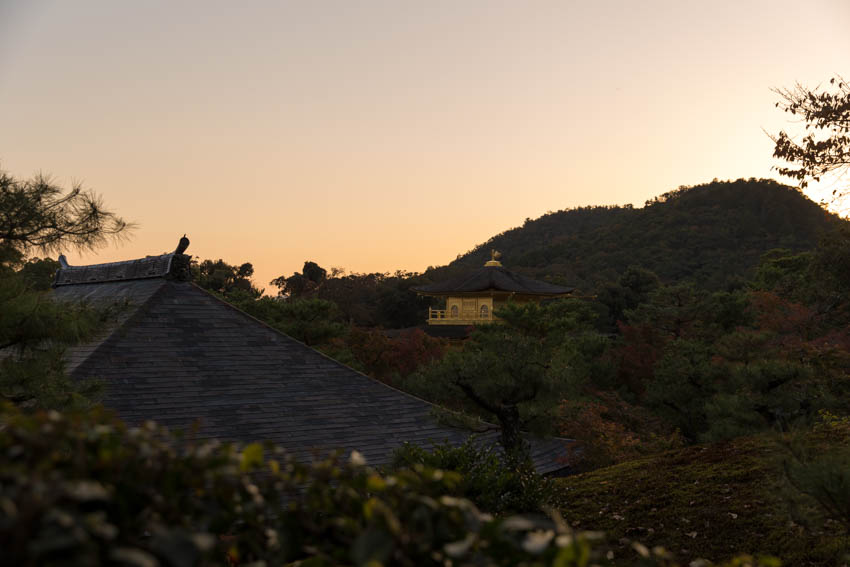 We headed back to the city centre near where we were staying and we had Ichiran Ramen. Ichiran is a restaurant chain, so there are many of them around Japan. Even though it's a chain, don't let that fool you. It has very good ramen. 🍜 At Ichiran, you sit in divided booths, although you can remove the divider next to you if you are dining with a friend. The idea is that you are focussed on enjoying the taste of the ramen and not distracted by other happenings.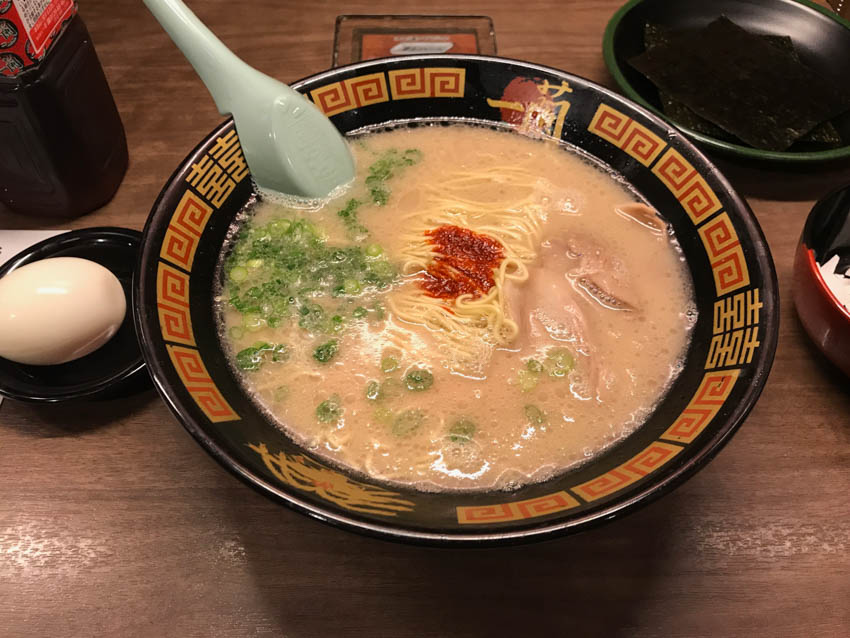 The ramen was delicious but unfortunately did not live up to our awesome experience at Zundoya in Osaka – which we very much preferred! Still, most ramen in Japan is undoubtedly delicious. 🤤
Day 3: Nara, Fushimi Inari-Taisha
🌟 Main highlight: Getting to the top of Fushimi Inari-Taisha
🍴 Food feature: 3D coffee art!
In the morning, we went to Nara deer park. I had heard about Nara from friends of mine, particularly that the deer are "evil" and can attack you. I wasn't too afraid of them but I saw just how full-on they were when we walked into the main park. I mean, everyone was feeding them! Of course they just wanted more food and took to following people sometimes. They just want food. 😂
It was fun just observing the deer and the way they interacted with people. Even though buying food to feed the deer wasn't that expensive, we got a lot of fun out of watching other people feed them. A couple of times I held out my hand and pretended I had food just so they could come up to me.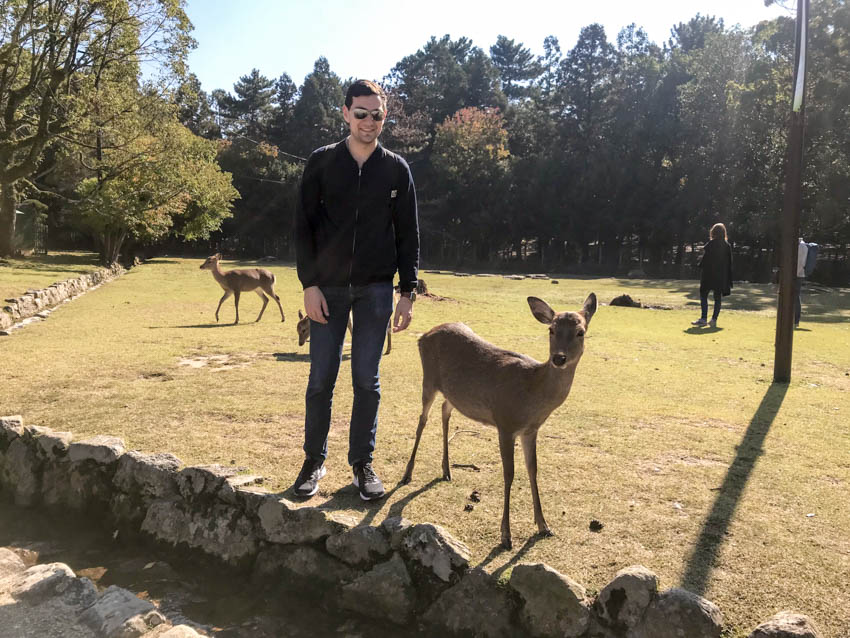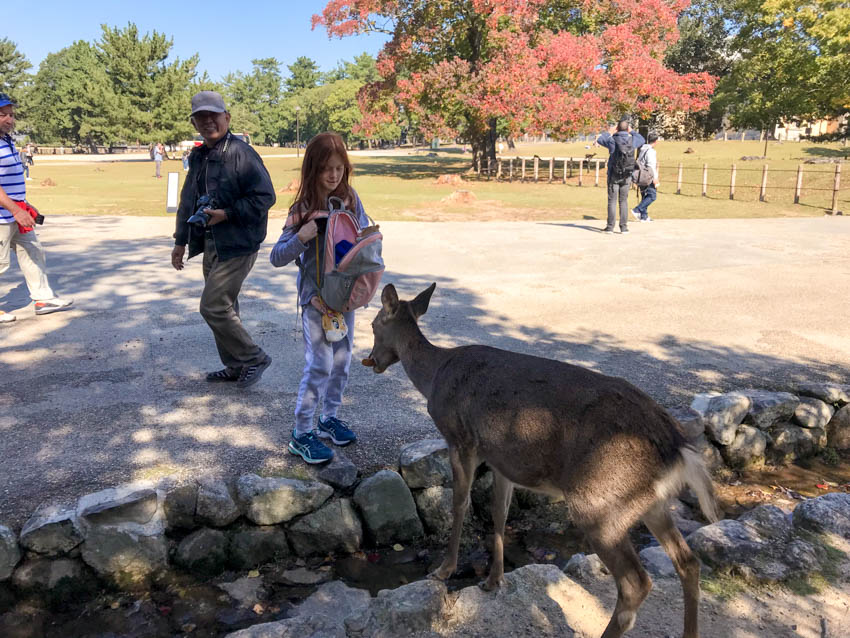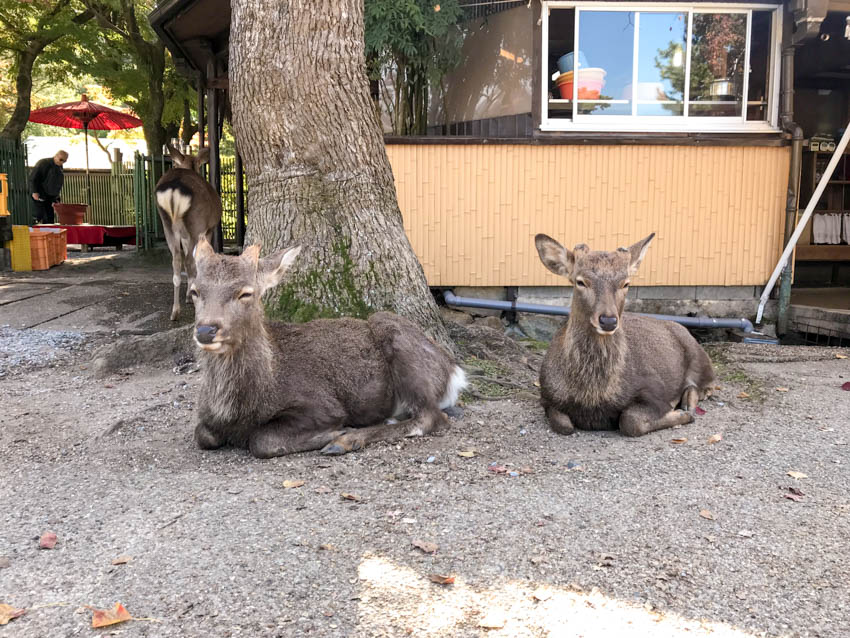 The deer seemed really smart – they crossed the road with pedestrians, and they tugged at people's clothes with their mouth when they knew they had food. See, you can't hide a whole stack of shika senbei (special crackers for deer) from a deer while you are feeding them one piece. They know you have more!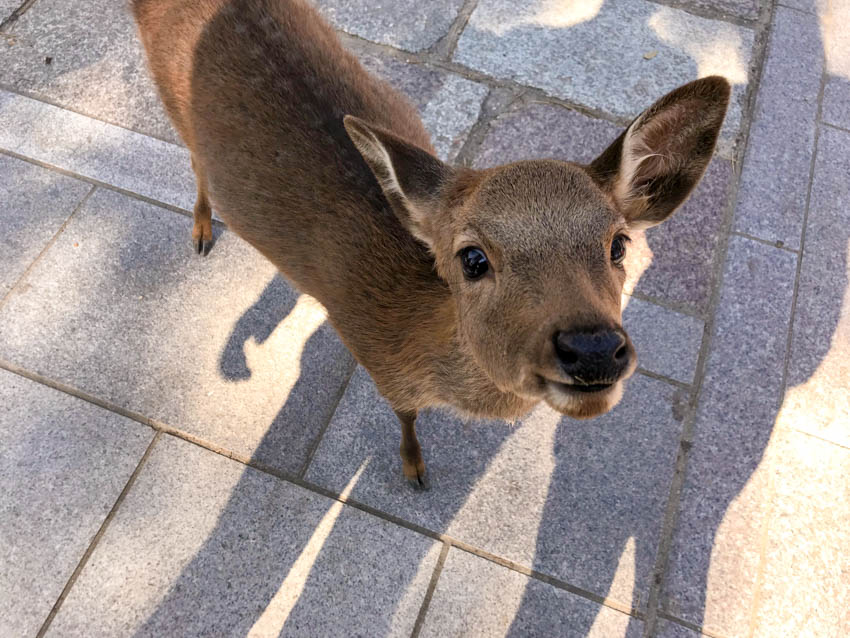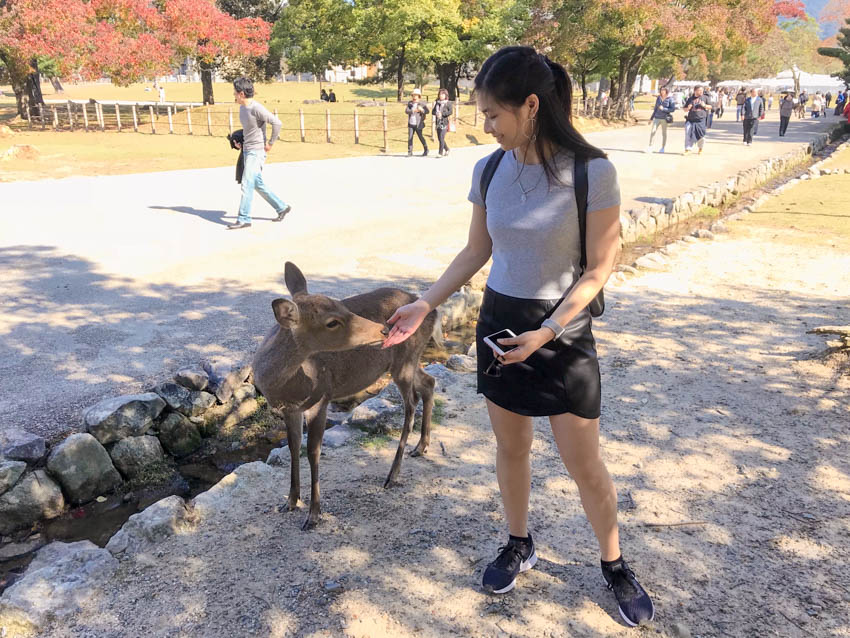 While we were in Nara we also stopped by Tōdai-ji, a famous Buddhist temple. It's made from wood! It is the largest wooden building in the world. There is a large bronze Buddha statue inside, and it's one of the biggest ones in Japan.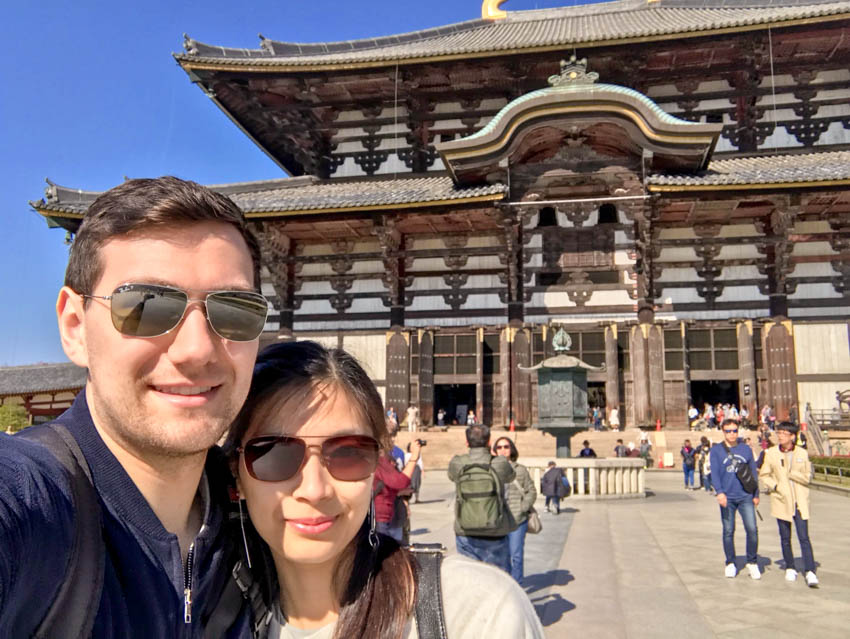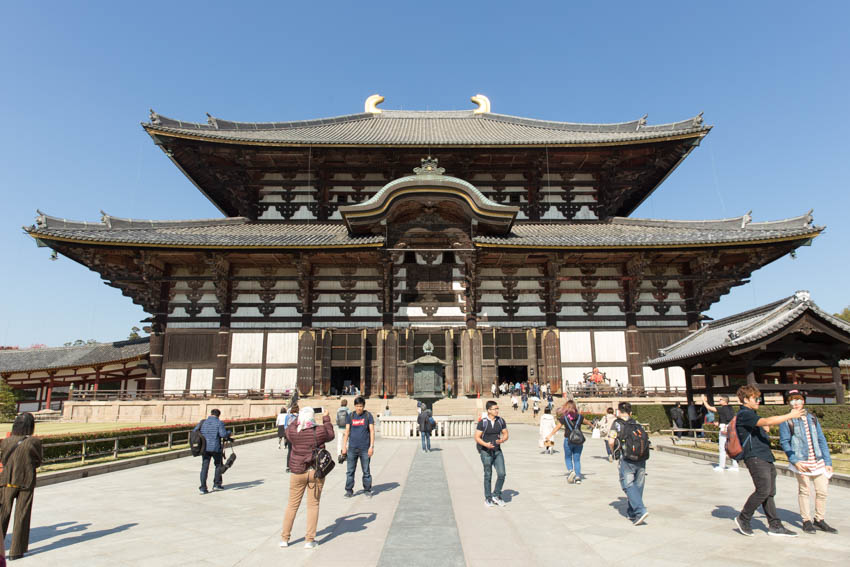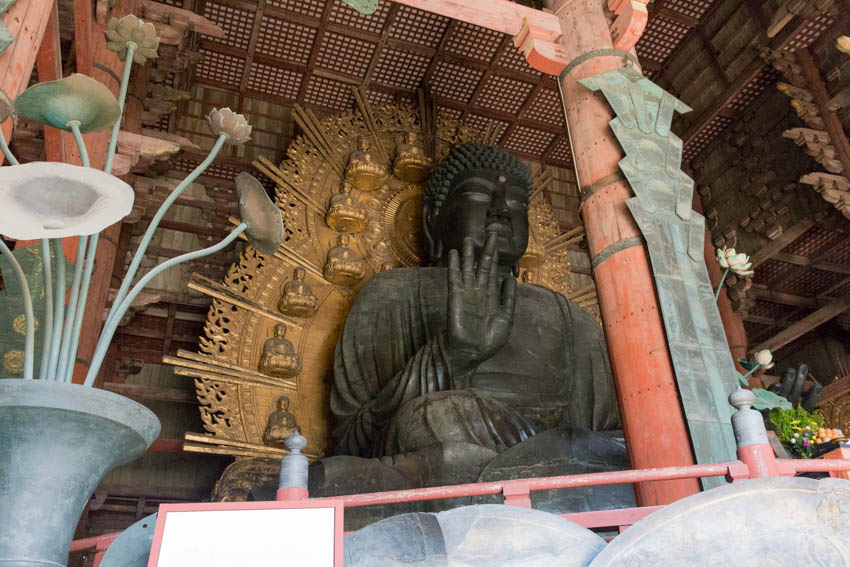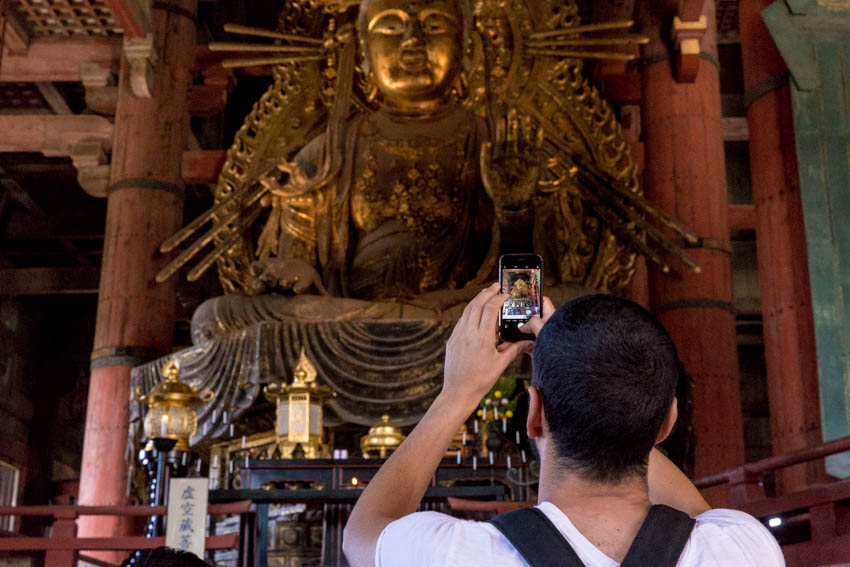 The whole time we were in Nara we kept an eye out for the deer. We definitely didn't want to be attacked. :P They were basically everywhere we went (not in the temple though).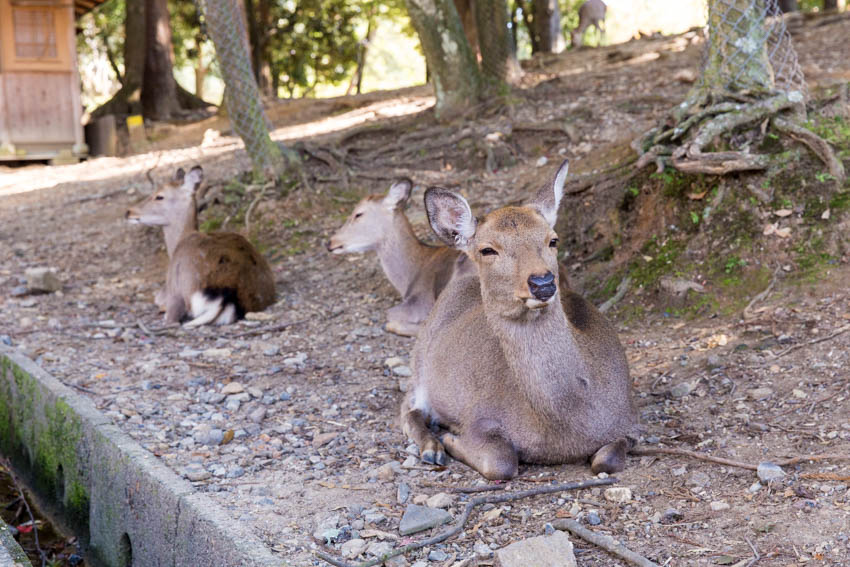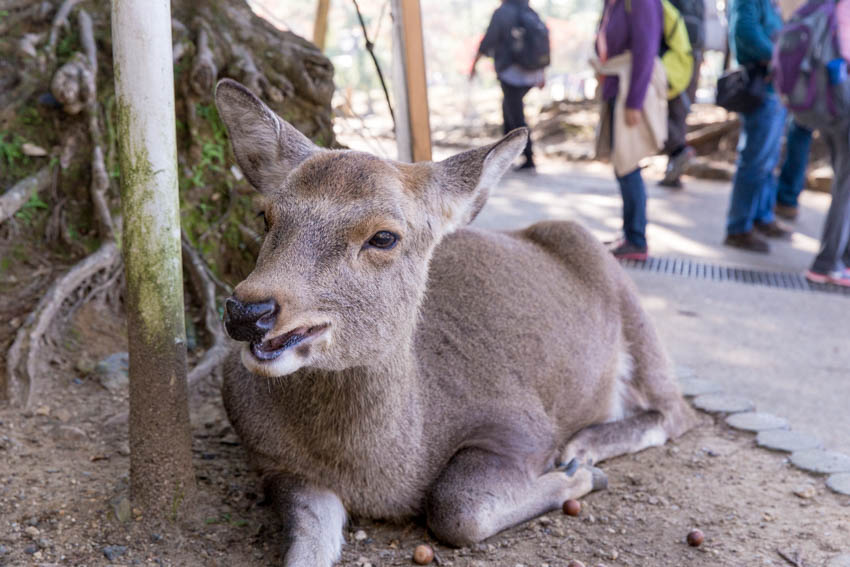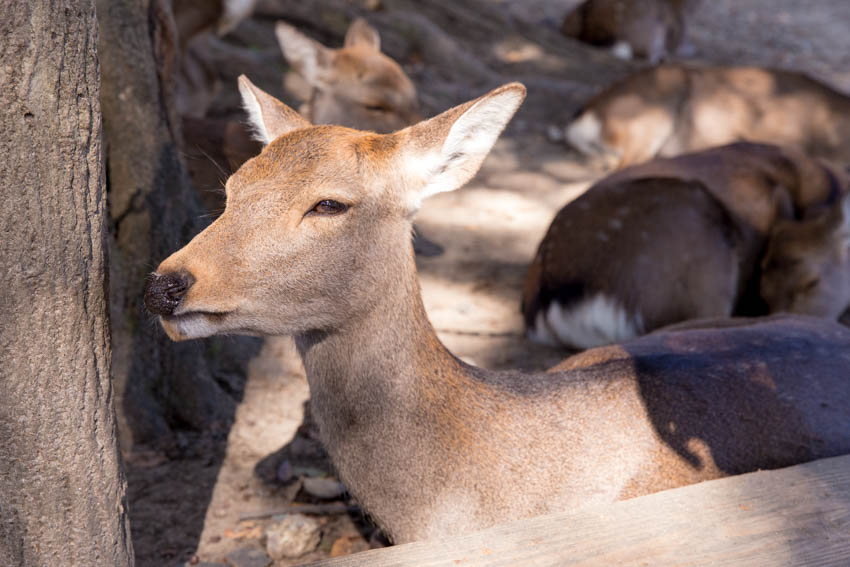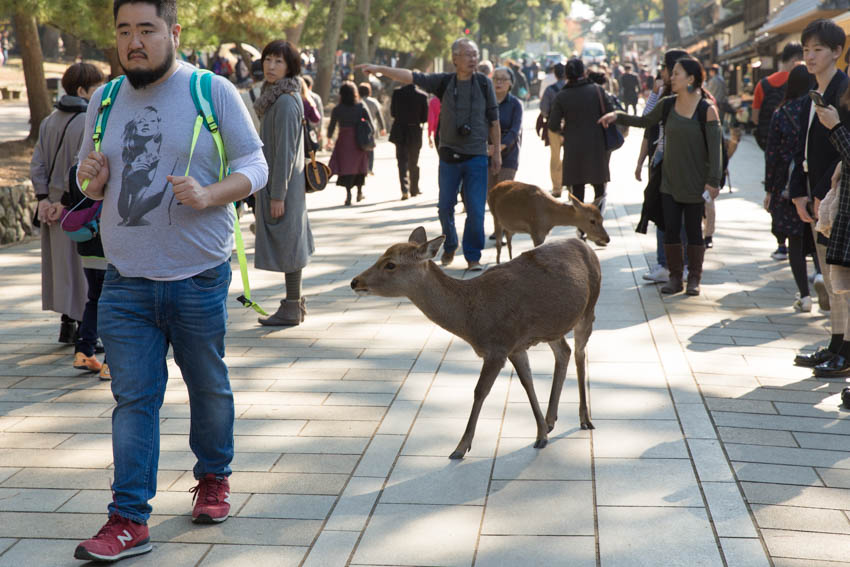 Our last stop was Fushimi Inari-taisha, the famous Shinto shrine made up of thousands of orange torii gates. This was probably one of my favourite spots in Kyoto. Something about it just made it a complete adventure. It takes about two hours to walk through from beginning to end and the hike up is about 4 kilometres.
Even though it was late afternoon upon our arrival, and we wanted to go as far as we could through the torii gates, Nick was tired. But I persisted because I really wanted to go to the top. I love a long walk through places like this. Anything that feels like exploring really drives me.
About halfway up, there is the Yotsutsuji intersection, which is where you can catch a great view of Kyoto. Most people don't bother venturing past this point because there isn't a scenic view at the top and it's mostly venturing deeper into the forests of Mount Inari.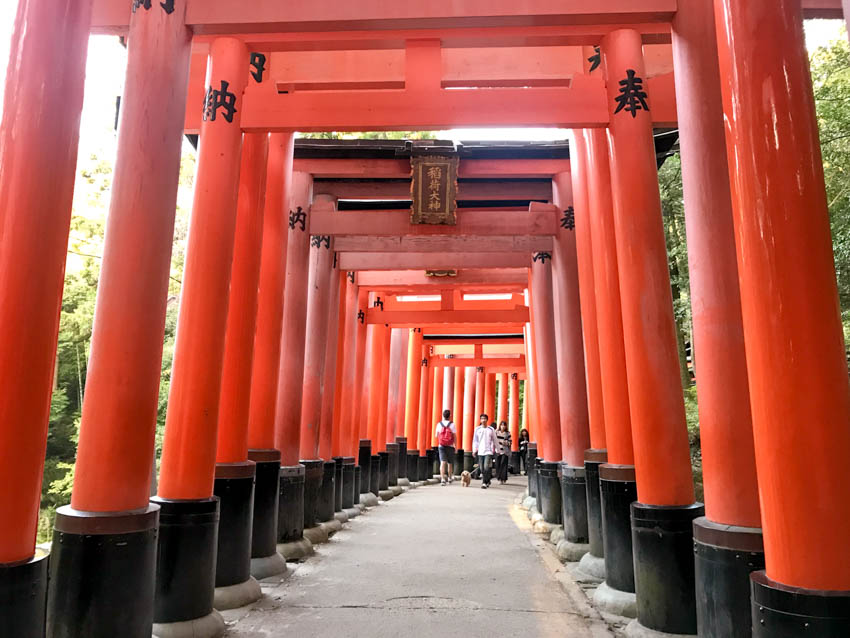 I still wanted to continue and to go through the whole shrine, even if the view was nothing fabulous. Something about going the full length made me think of accomplishment, and I knew that surely it couldn't be that hard. It might be tiring, but I pressed on and I hiked up the concrete stairs really fast. I started to sweat, and Nick just followed me, as we quietly hoped that the ice cream store at the Yotsutsuji intersection would still be open on our way back down.
It wasn't, and we weren't surprised. 😆 We got through the shrine pretty quickly and it was very dark by the time we finished. It was still a great feeling to make it to the top and see the biggest shrine. I would definitely recommend it for a unique experience. Most people recommend going very early in the morning – particularly if you want some beautiful light for photos. I have to say, I really enjoyed walking through it just before twilight.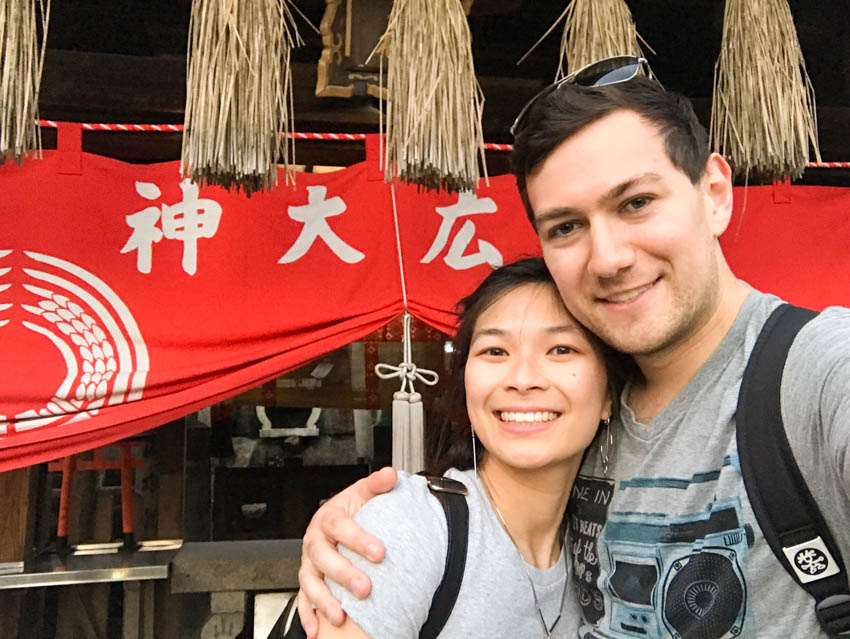 Below is a photo of my 3D coffee! It's really just a design on the froth. We had pancakes for dessert at a small cafe in downtown Kyoto, and I ordered this. It was worth the 30-minute wait. 😜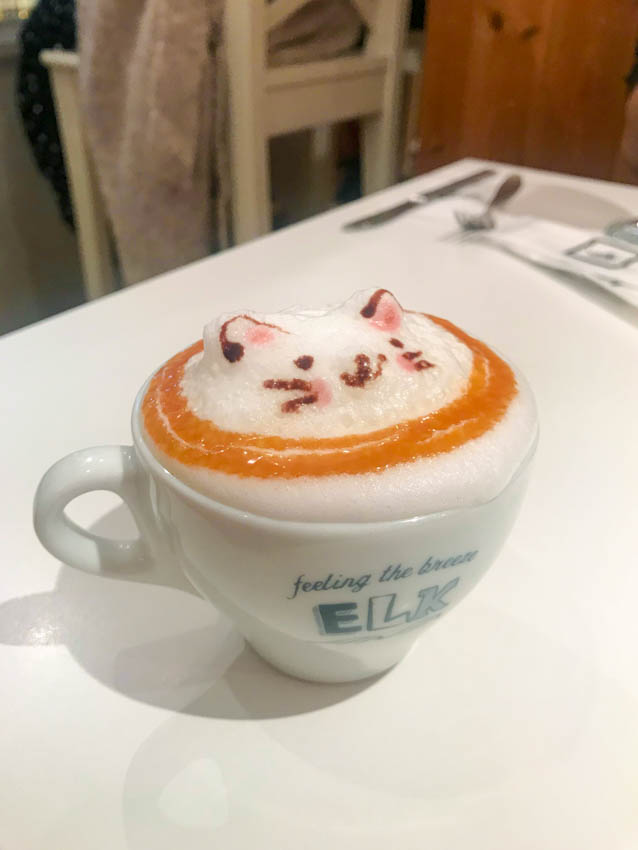 ---
Photos in this post were taken by me or Nick on our iPhone 7s, or on my Canon 6D.
Although we are safe back at home now, you can see the rest of our honeymoon adventures with the hashtag #thecookeshoneymoon on Twitter (mostly me) or on Instagram (mostly Nick). 💖