Hey Girlfriend!: Pauline Narvas
Pauline Narvas is a biomedical science student from Sheffield in the UK whose passions include coding, weightlifting and blogging. She is involved in the Code First: Girls community and a number of other hackathons, not to mention being involved in some science-related community initiatives as well.
I've known Pauline since we were both quite a bit younger. We were great blogging friends before she took a little break and we didn't talk to each other much for a while. She hit the blogging scene again a couple of years ago and is sending great vibes to her peers and even outside of her friendship circles, encouraging people to maintain good health and wellbeing, introduce meditation into their lives, and to always give back to the community.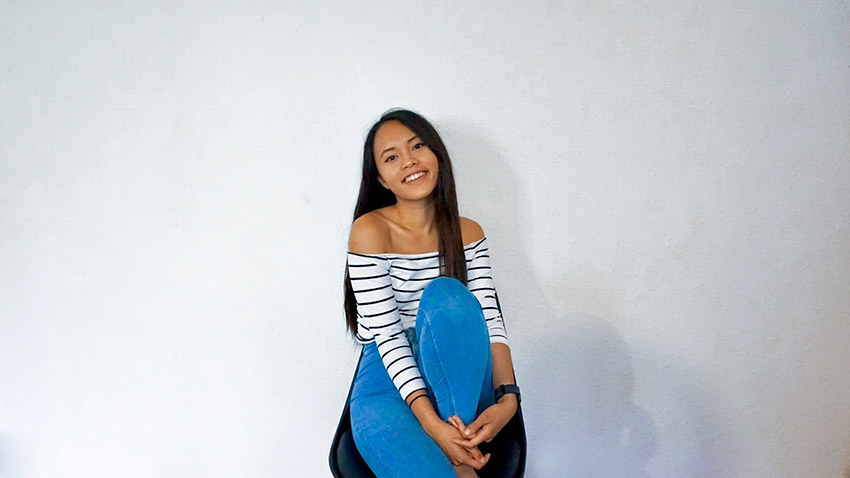 Pauline, hi! Where do I even start?! How about I start with a super challenging question to throw you off a bit. You've got a plethora of hobbies and I'm even seeing a bit of my younger self when I see you engage in so many activities and things you love doing.
For a period of time I was doing so many different things and you're doing the same – science, coding, lifting, travelling… you're studying in the science field at the moment, and typically that would be where one would assume their career is headed. Is that the case for you, or does your career sit more with where your other interests are?
Hey, Georgie! 👋🏼
So during my second year at University, I went to various interviews for "year in industry" and summer placements. I'm very thankful for the opportunity to go through the whole interview process because it gave me an idea of what it is like to work in the biopharmaceutical industry. From the experience, I learned that I didn't want to be a lab technician or do any lab work at all (which is the main career path my degree ultimately leads to)
During one of my more intense interviews in Oxford, the interviewer told me that I had potential in Marketing Communications type of roles. It was from then that I had the idea to look for this type of role which resulted in my current placement.
Working full time this year has taught me a lot: about where my skills lie and have allowed me to explore different career paths I didn't even know existed, and to spend more time on my interests which led to networking with people in the tech industry, almost accidentally.
I have two tech placements coming up once I finish my current placement, which I wouldn't have thought could have happened. I'm so excited to explore the opportunities and see what it's like! So right now, I would say that my career "plans" is headed towards where my interests and hobbies are more than the science field at the moment. But who knows where I may go? 😁
Meditation is really important to you and you are currently on a longer-than-a-year streak using the Calm app. In what ways has meditation changed the way you go about your day-to-day life?
I'm on a 400 day streak as of right now 💭
Meditation has changed so much. I used to suffer from terrible anxiety and panic attacks that often lead to days where all I do is sit in a corner of my room in a bad circle of thoughts. Now whenever I'm about to have another panic attack from my anxiety, I do the "emergency relief" session with Calm which has really helped prevent it.
Not only this but being consistent with my meditation practice has changed my outlook on life. I'm so much more accepting of things, mindful of other people's feelings (as well as my own) and aware of my life in the present rather than dwelling in the past or stressing about the future and about things I can't control.
I'm happier, calmer and less anxious. I'm also a lot more productive and can focus a lot quicker! I can't recommend it enough.
You usually do meditation in the morning. Do you have any opinions about doing it at a different time of the day? How can someone get the most out of their meditation sessions, particularly if they are a beginner or just starting out?
My advice for those starting out meditation would be to start with a guide. The apps Headspace and Calm are good for this! Aim to do your practice at the same time every day – whether that be morning or evening and for the same duration (I started my practice with 10 minutes, but have increased the amount of time when I got better at it) It doesn't matter what time of day you do your practice, I just like doing it in the morning – best way to start the day! I occasionally meditate in the evening too especially when I'm struggling to sleep, it puts me to sleep almost immediately.
As for "getting the most out of it" I think having the motivation to do it in the first place is already great because you're already in the mood to do it, more mindful and aware of the benefits and thus more focused! Great job, stay aware and in the moment but equally be accepting of the fact that our mind is bound to drift off sometimes – and that's OK! I know a lot of my friends say that they cannot meditate because they think too much of other things during the practice. The aim of meditation isn't to "empty your mind" but to ground yourself to the present, to become more mindful, because that's all that really matters.
Let's talk about what you are studying for a bit. What made you choose science, and what are some things about the course you are studying that you really enjoy?
Truthfully, during the time I was choosing what to study at University, I actually wanted to go into Computer Science or Biochemistry, but because of my family who pressured me into the medical field, I ended up in Biomedical Sciences.
That sounds a bit negative but it is the reality of lots of 17-year-olds choosing their subjects. In hindsight, I wish I took a gap year to work or travel to really understand what I wanted to do. I really did enjoy Chemistry and Biology, however, so it wasn't all on my parents though Biochemistry was probably something I wish I did instead.
BUT Biomedical Sciences has been an experience so far; a lot of the content of Biomedical Sciences is heavily led by leading researchers in their field so I've been exposed to a diverse number of key research interests in Sheffield. I think learning more about humans is the area I really enjoy (which sort of reflects on why I'm so into self-development, one day we'll all be turning into cyborgs and it will totally be normal! 😉)
My favourite module from last year would have to be Human Anatomy which not only made me more aware of all the wonderful organs in my body but also had the opportunity to see everything for myself through our human dissection classes – always the highlight of my week!
You began blogging at a pretty young age. Did writing come naturally to you or was it something that grew on you?
When I started blogging, I was also writing short stories for a site called Fiction Press. I wouldn't say that writing naturally came to me though. It definitely was something that grew on me and I got better at.
I used to have the motivation to write but struggled to put things into words which would demotivate me to write at all. It would be a constant cycle, to be honest. Even today I struggle to sit down and blog – I have to be in the right mood to do so (which thankfully comes more often nowadays because of the nature of my placement – I do a lot of writing for different audiences!)
We know how much blogging means to you now – was there a single moment or series of moments that made you want to come back to it, or were you always meaning to come back?
The reason I first quit was that I wanted to focus on my studies. At the time actually, I was under a lot of pressure from my family to do well in my GCSEs and A Levels.
Looking back, I wasn't very happy because this time period the only thing I would do was go to school have my lessons, see some friends during school hours then go home and study. Over the weekends, I would just wake up and study until I had to go to sleep again. I wanted to go back and write, share and talk to all my blogger friends just like before but I had such a horrible fear of failure.
I was quite young then and all I seemed to care about was what people thought of me and at the time of A Levels especially, all my peers cared about was who was top of the class, who had As, who had grades to get into a good University so I dropped EVERYTHING to "fit in", including blogging and coding and even gaming (which was my favourite hobby at the time.)
I always knew that I'd want to go back but I just didn't know when. For a while, I thought I would never go back to it especially when I started University. But I recall thinking in a lecture where one of my lecturer's talk was passionately about fruit flies; who then proceeded to throw them at everyone in the lecture theatre, "Oh my god, I wish I could share this." Which then followed a reflective conversation with my boyfriend at the time, "Oh my god, I'm suddenly inspired to start my blog up again."
I still haven't published that blog post about fruit flies but that's it in a nutshell – you heard it here first! xD
We both know quite a few people who began blogging and coding at the same time and eventually went on to become web developers or do community work related to web development. You have participated in some hackathons and also given some talks at meetups, as well as attended some conferences. Can you share more about your community involvement and some of the programming languages or concepts you are learning right now?
So I take a leading role in organising the Code First: Girls community courses here in Sheffield, when the course first launched the overall aim was to teach code to female students who had very little to no coding experience. I felt that it was great that we were teaching these girls how to code but felt that at the end of the course, they all sort of got their certificate of completion and left without understanding that they were part of something bigger than an evening class that ran one semester.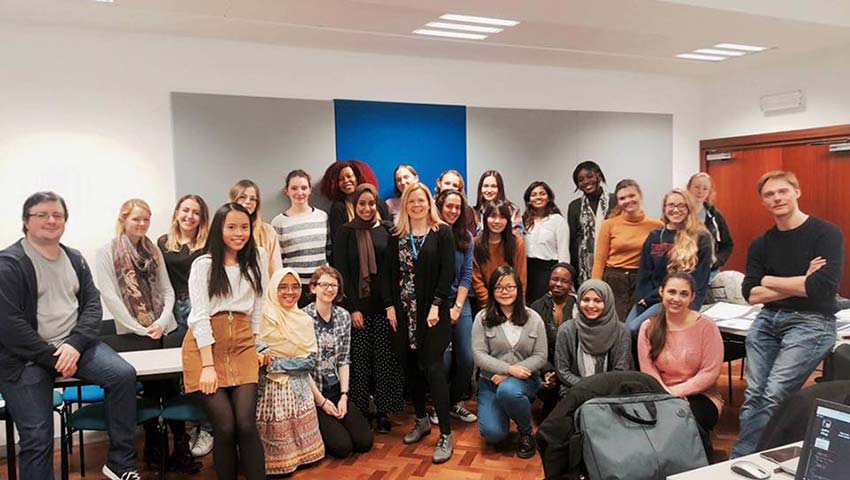 It wasn't until Spring semester '17 where I began talking a bit more of about the events going on that related to tech, women in tech, and just generally brought awareness of the bigger, empowering community that was out there. With the help of Matt, we organised a trip to our first Women in Tech conference. Students who took part started feeling like they belonged in a community and the value of being in that community. I started organising guest speakers at our meetups and classes, further connecting people with others and creating a network of like-minded people.
Being a CF:G "alumni", it's been a pleasure to see that the time and effort I've invested into the course through teaching, communicating, showcasing, documenting has resulted in not only the growth of a strong, empowering community in Sheffield but has had a positive impact across the UK – with #shefcodefirst being one of the best community courses in the country.
I am also recently involved in the hackathon community – I am currently part of the organising team for the next HackMed Hackathon! Hackathons are new to me and something I wanted to explore this year (as one of my new year "goals") I didn't expect to be organising one next year but here I am – it's again, such a positive community to be a part of!
I'm currently learning Ruby and Rails on Codecademy – I'll be applying what I learned to the ShefCodeFirst website; keep an eye out for updates!
On the side, I've been given some awesome freelance web-development jobs too where I've applied my current knowledge of front-end web development but also learning new things. I'm crap at Javascript but have been playing around with it for some of my projects and now my brain is pumping with ideas!
Diversity in the technology field is something you are passionate about. It's well known that there is a lack of diversity with regards to gender and racial and cultural background when it comes to information technology. But science is considered "tech" as well. With reference to this article… I would love to hear your thoughts on it and anything you can share about diversity in the science field.
Firstly, in response to that article, THANK YOU MARILEE TALKINGTON for yelling that and giving Veronika Hubeny the chance to speak. Watching the video reminded me of times where I would try and explain some biological concept to a friend and my male friend would always interrupt me. At the time I didn't think much of it (my now-enhanced awareness wasn't there!) but it became frequent and increasingly patronising. I wish I could've called him out on that.
Similar to the tech industry, there is a lack of gender diversity in the science field. From a Higher Education point of view, Biomedical Sciences is highly dominated by females (67%) in comparison to the 25% in Computer Science. Although we have such a high number of female Biomedical Science graduates, the number of them who make up the STEM workforce in the UK equates to 12.8% with the number of female technicians declining over recent years. I see this in my own Department where the number of male researchers outnumbers the number of female researchers.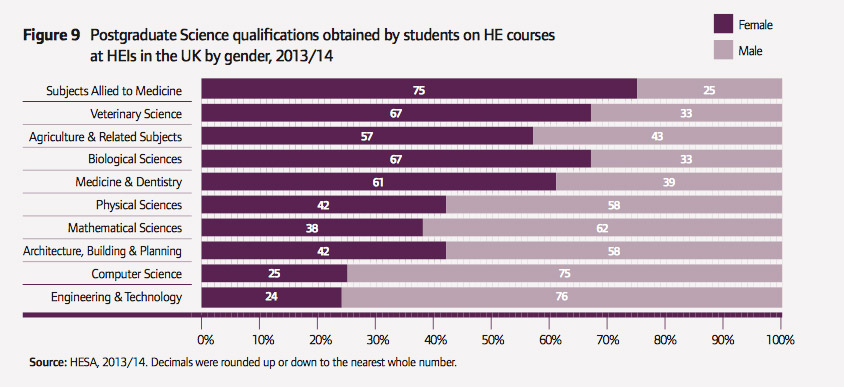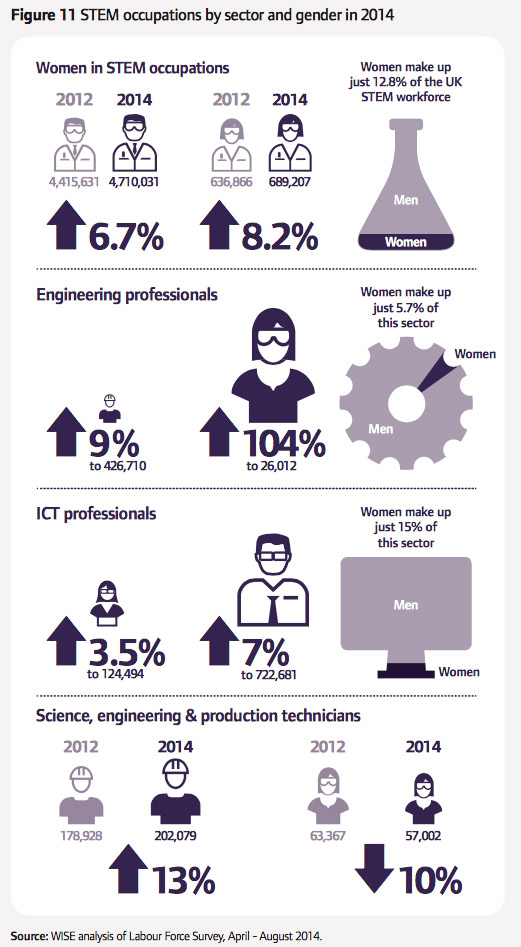 Then there are photos like this that surface the internet that worry and anger me but also gives me the fire to keep raising awareness of the inequality. Further Biomedical and scientific milestones can not be achieved without a diversity of bright minds coming together.
I was talking to my little brother after school once about the scientists he was learning about at school, he would name the one's education would talk so frequently about Einstein, Newton, Richard Roberts, James Watson. I remember this was soon after the Empowering Women with Tech conference in Leeds where I listened to Anne-Marie Imafidon's talk about the Herstory of female inventors and scientists such as Marie Curie, Stephanie Kwolek, Hedy Lamarr… She shared a story of going into schools, seeing posters about great scientists who were all white men. As co-founder of Stemettes, she educates and empowers young girls about the incredible female scientists around. I truly believe that this is the path we should take in the long-run – educating young girls that there are female leaders in science that will motivate them to think of a scientific career, ultimately diversifying the science field.
I'm proud to say that I am part of the movement who will not stop talking about equal pay, equal treatment, equal opportunities for ALL in science. I'm a passionate believer in the power of socialisation – keep educating and exposing young girls of all the wonders of science, tech and the founding female leaders behind them! Teach them that they can be that chemist, that biologist, that scientist, that astronaut.
I want to leave you all with one of my favourite videos:
When you were younger you felt a little insecure about your image, and how you felt physically. Many young people go through this stage, women especially, but everyone has a different story about how they changed. You said that you wore a lot of makeup and coloured and straightened your hair endless times to make it look anything different from your natural hair. How have those feelings changed over time and what's it like looking back on your younger self, not just from the outside but on how you felt inside too?
Ahh, this one hits home.
I was insecure, I was always comparing myself to others, always wishing and trying to look like someone I saw on TV or in magazines; it was a constant attack on myself.
There was a time I wanted to lose weight, so I used to just skip breakfast and eat one cupcake at school then try and skip dinner. It was so unhealthy, but at the time I just wanted to get away from who I was, I couldn't accept myself or my imperfections so I covered them or tried extreme methods achieve changes. This lack of self-love extended to the inside where I kept comparing myself to others in my class who would get higher grades than me despite not studying whereas I'd study my ass off for a quiz.
My mind was my biggest enemy at the time. There's one thing being critical but it got to the point I was just bullying myself at times (which in addition to bullying from others was just not what a little girl growing up needed)
Looking back, it makes me sad thinking about how much I wanted to change my own skin and mind so badly. I wish I could go back in time and take the all the makeup off, the hair dyes, the straightener, the various products that I honestly believed would change my face etc from my younger self and just take her to a mirror without any of those excess stuff and make her really take a look at her dark eyes, dark curly hair and darker skin. All the while talking her through the reasons as to why her features are beautiful and that there is no need to change a single thing. And why "how smart she is" was not bound to a grade sheet produced by a one-sided education system.
I wish I had some sort of supportive network or older role model to talk me through it, I learned this slowly over time myself but not without all the breakdown of my own self-confidence in the process.
Currently, I'm the most confident I've ever been. I have to thank the healthy habits I've brought into my life – and I'm not just talking about exercise – meditation and gratitude journaling has really helped me think in a more positive light, not only about others but also myself.
I no longer hide away with my makeup and crazy hair colours. I love my dark features. I love my darker skin that doesn't burn in the sun. I love my body. I love my mind. Loving myself has been a tough journey, and I still put myself down sometimes but now I'm much more mindful of it and stop myself at every point I can. 💖
Working out six days a week is completely normal for you. We've had hilarious conversations about Team Booty / Team Peach but what is your workout schedule looking like these days, and what exercises would your favourite workout involve?
Before we start – team peach all. the. way. 🍑
Now I got that out of my system, my workout schedule looks a little different to what it used to look like when I first started out. When I first started, I discovered Fitnessblender, a team of husband and wife who post home workout videos on YouTube. I love their channel because of how they approach fitness – in the most honest, skip the bullshit way, focusing on making it a positive lifestyle change rather than other fitness channels who focus on "getting a bikini bod".
If you're just starting out, I would definitely recommend their workout programmes! I did a few of their programmes up until the start of July, although I still take certain elements from their HIIT workouts, I now have focused on structuring my workouts to muscle-specific days. I had thought of this for a while, especially taking inspiration from Whitney Simmons, but was struggling with coming up with my own workout structure.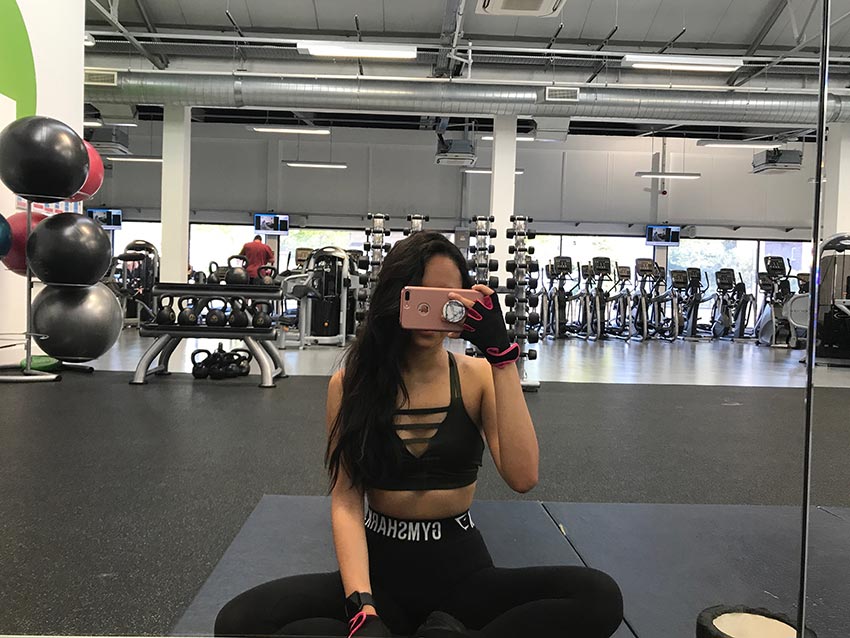 I discovered Grace Fit mid June and purchased her guide which I've been doing for 4 weeks now (half way there!) Not only has the workouts been challenging (much more so than FB for a while, I feel like I've started from scratch) but I've seen improvements almost straight away in strength and tone (especially my arms!)
So my workout schedule is:
Monday – Legs
Tuesday – Arms and Chest
Wednesday – Booty
Thursday – Back and Shoulders
Friday – HIIT cardio and Abs
Saturday – Legs (I usually do this at the gym where I have more access to heavy weights – 55kg squats come at me!!)
My favourite days are leg days (training my legs is super fun!) My favourite tri-set at the moment is weighted squat-lunge complex, Bulgarian split squats and squat pulses (done back to back.) Kicks my 🍑 HARD!
Let's say I gave you free space right here to rave about workout clothes as long as you keep it to 100 words. Go.
ONLY 100? How could I possibly tell you about my love for Gymshark in 100 words?!
Tell me about the same lunch you've been having for the past year and why you love it so much.
I don't usually talk about my lunch to people because when I have in the past, I get the "what the hell" reaction. Even though I spend most of my lunch breaks with my best friend, Hamdah, she's still shocked by my lunch. It's hilarious.
So, my lunch is a salad that is made up of the core: kale, spinach, chicken, seeds (usually pumpkin but I mix it up), but sometimes I also put in carrots, cucumber, sweet potatoes (or regular potatoes), black beans. I top it all off with a teaspoon of Apple Cider Vinegar.
Yep.
I think that part usually shocks people – as soon as I open my lunch box, the smell hits you in the face. 😆 I've had the same lunch for the past year, sometimes when I run out of kale and spinach, I just have mushrooms, brown rice and chicken but this is rarely the case.
I think I enjoy it so much because of the Apple Cider Vinegar, I love the added taste. Of course, I could have it without ACV no problem. I haven't gotten sick of it yet and it's already been a year 😆 I always feel energised after lunch, it's filling too so I don't usually have to snack between lunch and the end of work (but when I do, I usually have rice cakes or Greek yoghurt. I try to avoid the chocolate and cupcakes that are always around in the office 😛)
You recently spent your 21st birthday in New York and you were spoiled by your boyfriend with some really lovely surprises like a birthday book of birthday messages from your friends, and a private plane ride where you got the most amazing views of New York. It seemed like it was a spontaneous trip since you booked it pretty close to the date – what was it like organising the trip? How do you typically go about organising your holidays to ensure that they run smoothly? Did anything pop up during the trip that didn't go to plan?
I actually recall talking to Matt (before we got together) about New York, how much I've always wanted to go – if you've read my blog over the years, it's basically the city of my dreams. Matt had already gone in the last year for a Hackathon actually so I really enjoyed listening to his experiences in the dream city. He kept saying that it was possible to go this year but it was such a dream that it got to the point I thought it was impossible, it was simply a fantasy. 😅
When May came around, Matt was in Bordeaux in France, I think it was the fact that he was travelling that made me bring New York up again.
I set up a Twitter poll, where people encouraged me to go and then next thing I know we're talking about dates. August was too expensive. July was too. June happened to have really cheap tickets – especially the dates that fell on my birthday.
It was such a #yolo moment but once the tickets were bought, I immediately started planning. Normally with travel, I book 3-4 months in advance so this was definitely not like me. I felt a little rushed this time with planning but I spent hours every day researching, I also spoke to a lot of colleagues who had been before who helped me plan a lot of it, and before I left my colleagues bought me a New York travel guide for my birthday which helped fill any spaces.
You're gonna laugh at me but I actually created a separate Google calendar, between Matt and I where I started blocking out days for certain activities/areas. Matt did the same with my birthday but he sneakily entitled them in emojis which I couldn't guess? 😂 We also had a shared todoist list where we'd put important information such as hotel reference numbers, links to routes and maps, places to see etc.
When I went travelling around Europe with Hamdah (#pawdahtravelz forever), I organised it the same way: a shared Google calendar and todoist!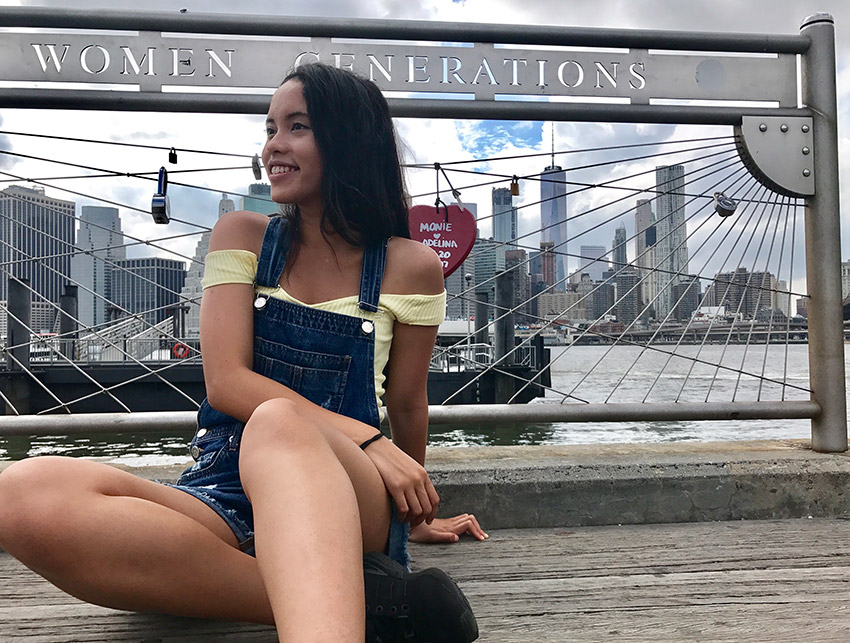 I think one of the things that didn't go to plan in New York was travel time. Looking at the map and being an eager fit rabbit, I assumed that the blocks weren't that big and that we could just walk everywhere. Matt kept telling me that certainly isn't the case but I was like "YOU'RE JUST BEING SILLY! LET'S BE FIT AND WALK"
Only to learn the hard way 😆
So we ended up taking the subway most of the time but this itself was a headache to get to grips with and one I didn't plan on studying because I assumed we were walking! The first few days we got off the wrong stop most of the time and missed places I wanted to see but once we got the gist of it, we saw them anyway!
After travelling a lot, are you more keen on revisiting places you have already seen, or do you have other destinations on your list at the moment?
The past year working full-time has really taught me to make use of my annual leave and so I would definitely explore beyond the places I've already been to. The world has so much to show off – I want to see it all!
Without a doubt though, I would go back to New York and explore Brooklyn and East Village a bit more.
You and I have recently talked about being superhuman enough to do everything we want to do. With many people wondering how people can fit so much into their lives that looks fun, makes them feel good, and makes them successful, we both know that having all of this is hard work, and impossible.
It's easy with social media for people to judge the lives of others based on a handful of square photos or positive posts, and be convinced that someone else has their whole life figured out, or even be envious of someone's strengths and happiness. What can you say in response to people who seem to think you live the perfect life, but quite simply, don't?
Ahhh I love social media because I feel so connected to everyone I interact with online. Like when I share something and get comments from folks relating or asking for advice, I feel like I've made an impact and it just makes me so happy! But as you highlighted, there's the bad side too. I've actually had a similar conversation with friends who have brought this to my attention recently.
The reality is every photo I post on my Instagram, Twitter, Facebook and blog is after a long process of critical elimination. Matt and Hamdah have seen this from me first hand – how I spend a few minutes during my travels to look at photos and critically analyse them to get the best photo out there. The "best" meaning the best frame, the best angle, the best lighting according to me. It is NO WAY real life. I post my highlights.
I try not to share anything negative on social media, I aim for good vibes most of the time. I don't post media of when I'm struggling to breathe from my anxiety, breaking down from stress or doubting myself from serious imposter syndrome.
I also don't share my life 24/7 although on some days (especially when I'm travelling) it may seem like it.
In fact – travelling is a good example. You guys didn't see it when I cried and got frustrated in New York because the ticket machine took my money without giving me a working ticket on the subway – my anxiety was out of control then because I was so scared of missing our flight. Instead, I shared a photo of me smiling in Central Park. I'm not happy all the time, New York wasn't just all smiles with absolutely nothing going wrong.
I don't always have abs, I only have them in the mornings tbh before I have lots of food throughout the day, in fact, most days I look either like this or like this.
I don't have my whole life figured out – I like to think that my online profiles is a reflective diary that shows my journey of the process of figuring stuff out! Over the years, I've really trained myself to not compare my life with others especially on social media. I've learned to be happy with everything I have. When I slip, I remind myself that posts online are snapshots of time, never the full story.
What is the single greatest thing you have learned in the past five years of your life?
I have learned a lot about self-worth. I wrote about this in one of my reflection posts last year.
Growing up, I've naturally been such a pushover – at school, at university, at home, at work. It wasn't until the last two years or so when I was treated unfairly in one of my part time jobs and dumped like trash by a long term relationship and friendship that I had a reality check and realised that I could not let people keep taking advantage of me and walking all over me.
I think the past year I've really got to grips with my self-worth – whereby meditation helped A LOT. My time is a worth a lot, so I will not spend it in toxic relationships or unhealthy habits that do not bring any value to my life.
---
Pauline keeps it real on her blog, with posts about technology, science, community events, travel, heart, mind, body, and soul. 💭 You can find her tweeting regularly about everything career and positive-mindset related or add her on LinkedIn. Her Instagram stories are bound to keep you motivated, no matter what fitness level you're at. 💪
To find out about more women in tech from around the world with different backgrounds and experiences, check out other Hey Girlfriend! interviews. A new interview is posted on the fourth Tuesday of every month.