Fashion Friday: Tigerlily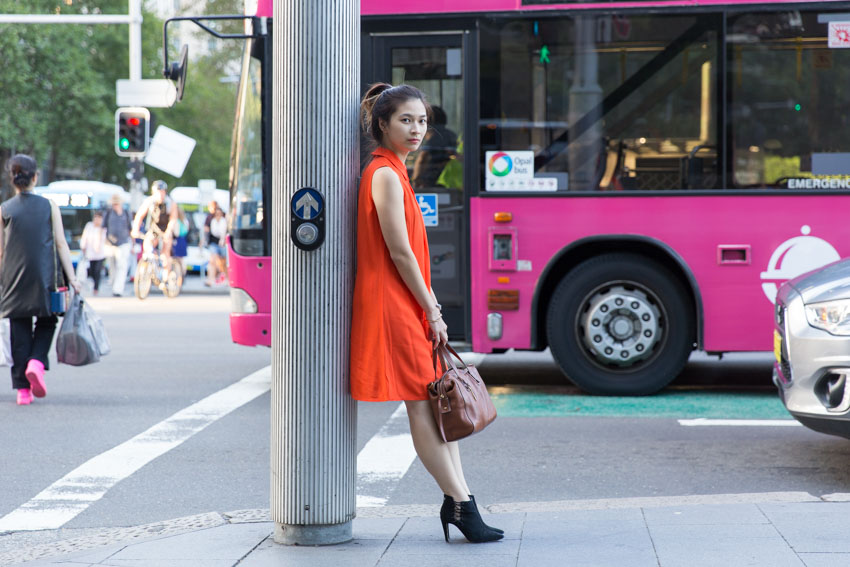 Nick and I saw Explosions in the Sky last night. EITS is an instrumental post-rock band. Yes, their music doesn't have any words. Their songs all a little on the long side (6-10 minutes). Watching them is truly magical – you don't really know what to expect. If you think of a bit of soundtrack music mixed with some melodic orchestral music and a whole lot of guitar pedal… you have an idea of what they are about.
Since we had some spare time before the concert I got Nick to help me take some photos. We tried something a little different and included more of the city. These photos were taken in the park and streets near my work building. As a result, the photos are also more interesting and show me amongst the background, rather than lots of close-ups of me.
The dress I'm wearing is not a new piece, but it's a more "fancy" piece that comes out on hot summer days when I feel like making a statement. I've mostly worn it for parties or when I do presentations, but sometimes I wear it on an ordinary day.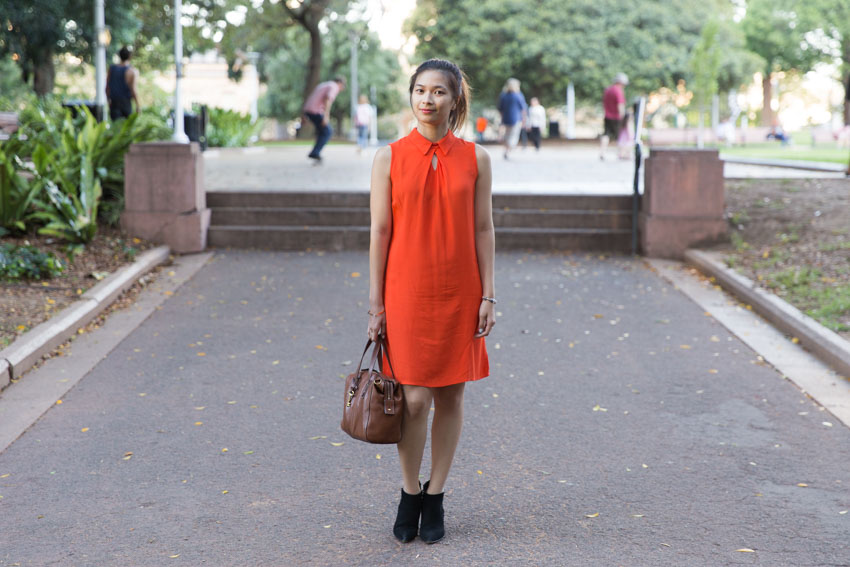 I've actually grown out of shift dresses a little bit. Since getting this dress, I moved towards more fitted dresses, but there are days when a comfortable dress like this is just what you need. I used to love really tight bodycon-style dresses until I got pretty fed up with them. They rode up, accentuated anything that wasn't flat, and were hard to move in after several hours. On the contrary, I disliked shift dresses like this one because they seemed to hide my small body and not look good on me. But as with all clothes, I guess it depends, haha. I like this dress because of the colour and the attractive collar.
The boots seemed like the right choice for the dress. I get the feeling I might have looked very short if I wore flats. Any short girl would love a bit of height! These shoes are one of my favourites which you might have seen in many other outfits. I'm a big fan of heeled, pointed ankle boots. The criss-cross detail on the side is awesome.
During the day I wore my hair a number of different ways. Most of the time it was down, but I think wearing my hair up in a messy sort of bun best matched the outfit. Out of the way, and in a way, "neat", like the up-and-down simple style of the dress.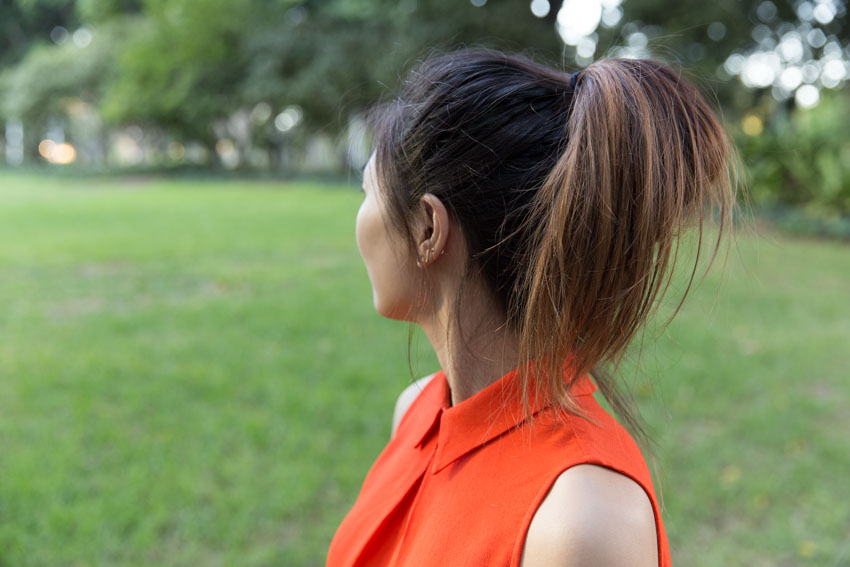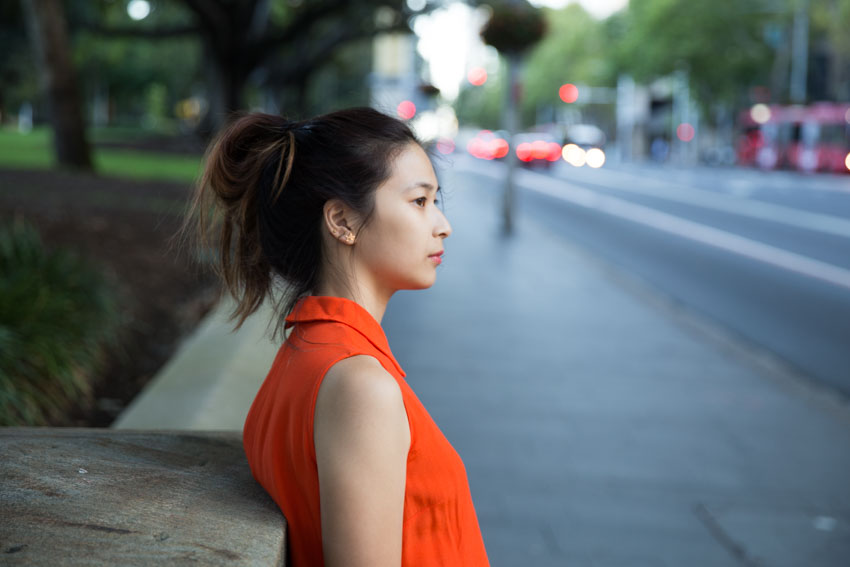 I wore my bag without its long strap. Again it was a case of what looked best with the dress. Given the minimal look, the strap was going to make the look seem rather casual and probably a little busy, so I went without that long strap.
I am wearing a few pieces of rose gold jewellery which we didn't take close shots of, but they were pieces from my collection and nothing new. You can catch a glimpse of my origami crane earrings, and I first wore those in House of Mirrors. (By the way, we gotta get my friend Pat to do another shoot, amirite? 😄)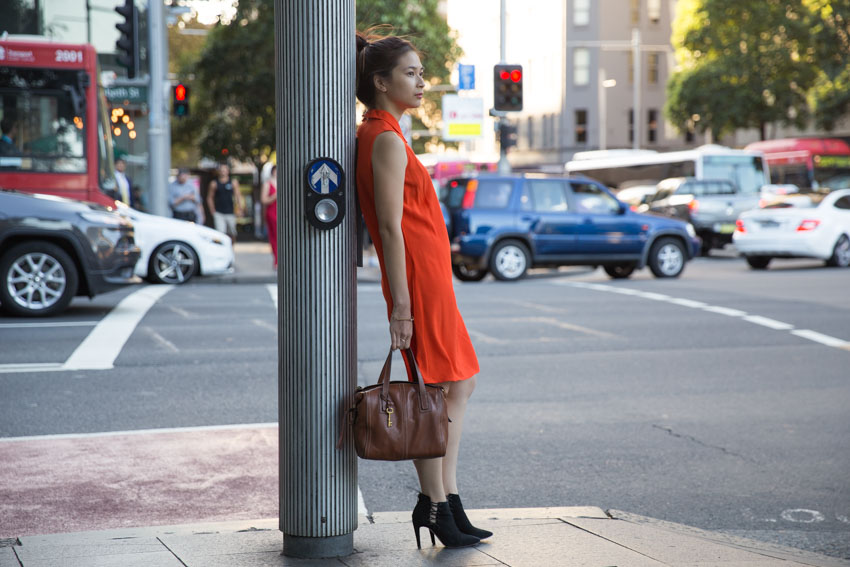 We also didn't get close shots of the nails but I had some nail wraps left over from a pack, so they look like the nails I had in Moonlight. I did them before I chose the outfit, but I did want something simple. I actually had some really nice black swan nail wraps on, but because of an accident with some nail glue, I not only fucked up my manicure but I fucked up my skin. The nail glue burned like hell – I won't go into detail about the incident (look out for an upcoming Georgie Gazette post) but it took me a heck of a long time to properly get the terribly bonded glue off my hands. And because I love doing my nails, I couldn't not go without nice nails, so… :p
I named this outfit Tigerlily because of the orange colour, and the brown bag kinda adds to the warm tones too. It also looks like a lot of photos in this post are the same… we probably could have changed it up a bit. The photos are slightly different but I suppose there are not that many poses. Any suggestions to improve would be appreciated!
📷 All photography by Nicholas Cooke. ❤️
Outfit details
What do you think of this outfit? Should we try to take more photos in the streets?