Fashion Friday: Moonlight
Hi everyone! I am in Perth again for ten days, and Nick is staying with me for the first four. He helped me out with this Fashion Friday shoot, which we did outside our apartment in Northbridge, a hip and lively town in Perth.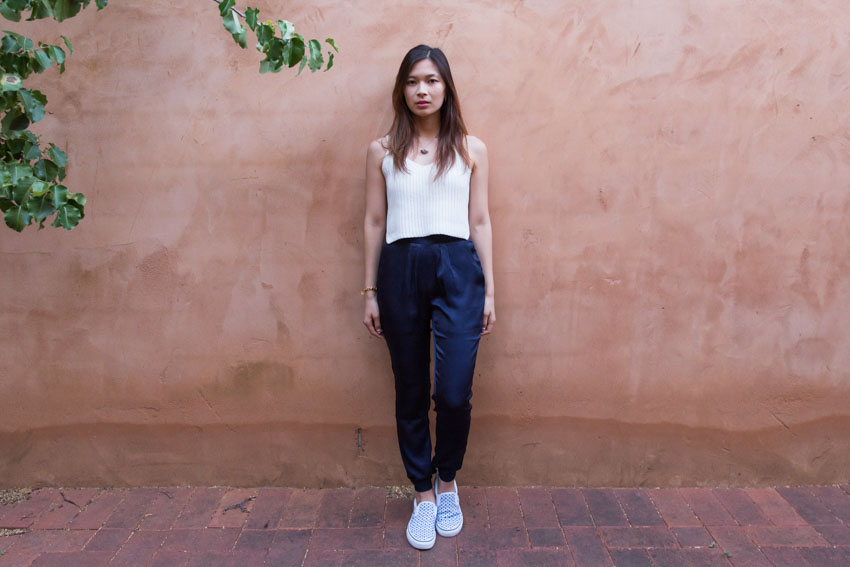 Before I go into the details of this edition, this outfit is really something different to what I would usually wear. My friend Monica encourages me to experiment with different kinds of clothing – something I was previously afraid of doing. I tend to find something I like and stick with that, and really be afraid of trying new things for fear it will make me look unsightly. But I do go through phases of liking different kinds of clothing. For example, I used to dress like a punk but not so much anymore. I used to wear tube skirts but now I don't like them as much. I used to wear sneakers but I never wore them because I preferred heels. I used to hate crop tops and high-waisted anything but I realise they accentuate my small waist – so we all go through different phases at different times. :)
Let's start with the pants. I've never owned a pair of pants before. I've only ever owned jeans. Not once have I had a pair of cool pants. I bought this pair from NA-KD clothing, an online retailer that I found linked on someone's Instagram photo. I was drawn to the website straight away because their clothing was affordable and had a lot of basic clothing that I could really do with. They ship for free, and have completely free returns too! I've actually bought from their website a couple of times since I found out about them. They stock a brand called Rut & Circle and I really, really like the style and quality of their stuff. More on that in a sec – but these pants are by Rut & Circle as well, and they have a shiny, satin feel. They are dark blue and definitely not too bright.
The pants are elasticated at the back of the waist and the back of the pant leg. I got a size smaller than I usually get and it fits alright, but I have to admit that when I sit, because of my meaty thighs, they feel a little tight. 😂 I totally can't do squats in these either.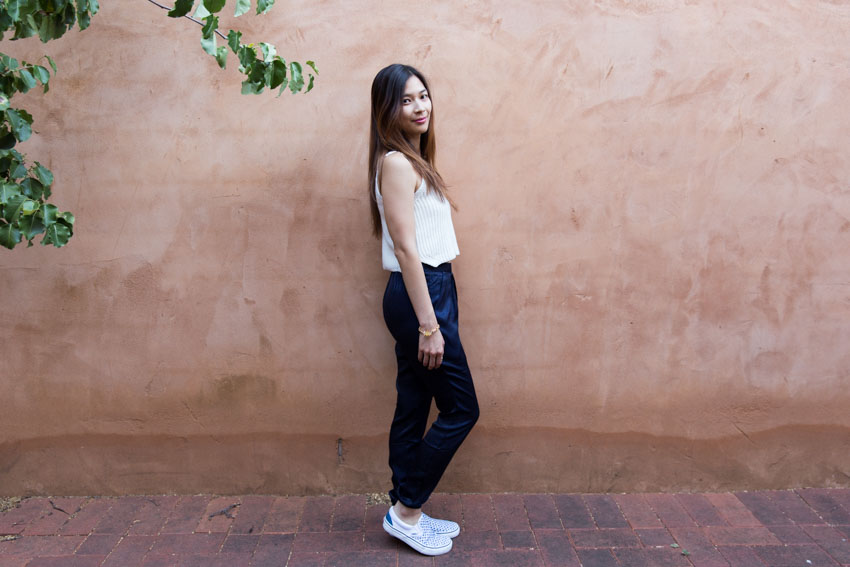 Let's also take a moment to talk about these "meaty thighs". I'm still working on my post about my fitness journey – but had you mentioned my thighs about a decade ago, I would have hung my head in shame and been really upset. I never loved my thighs growing up, and they were – to me – fat. I hated them and I wished they were thinner. I was a dancer and I loved to ride my bike as well as use an exercise bike, and that meant my thighs became more muscly. Back then, women being strong was not a good thing. Women had to be thin. And I know there is negativity around the notion of a thigh gap – but because of my bone structure I did (and do) have a thigh gap along with my meaty legs, and that didn't make sense to me. I just hated my legs, a lot. Now, I love them and they are slimmer, but definitely more muscular, and that doesn't bother me anymore. #bodypositive 💪😄
But yes, I do love these pants. Without sitting down, they skim my legs nicely. If I ever have an accident and these rip or get damaged, I might even ask a tailor to make me a similar pair! I like the high waist, and the material is very comfortable. I think it accentuates my small frame in the right places. It also has pockets to fit my phone and my wallet, which I love!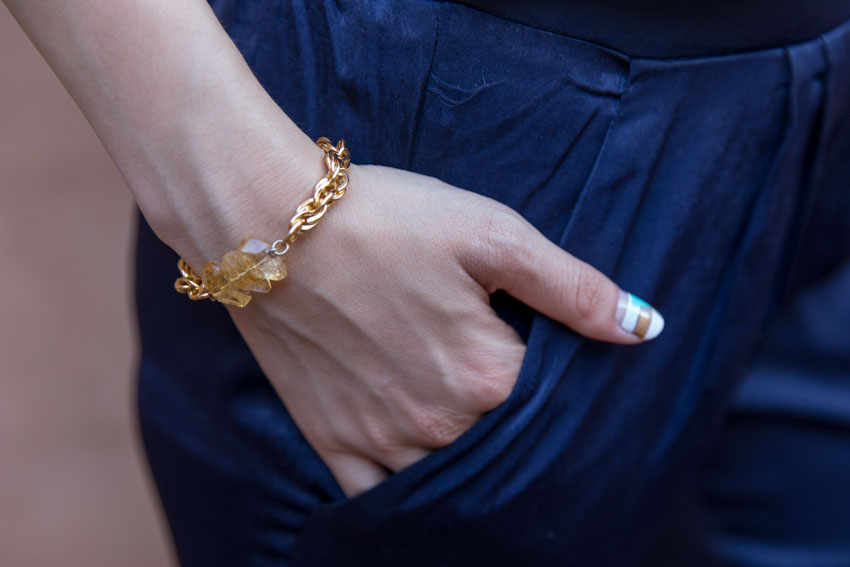 I mean, don't even get me started on the sexist pockets on women's clothing.
As you can see, I have worn this top in multiple Fashion Friday outfits since I bought it, and it makes an appearance here again. I brought it with me to Perth because I knew the weather would be warm, and I love the top. It's good for summer and I am still very much in love with the style and cropped fit. I felt that it went best with the jeans to balance the high waist.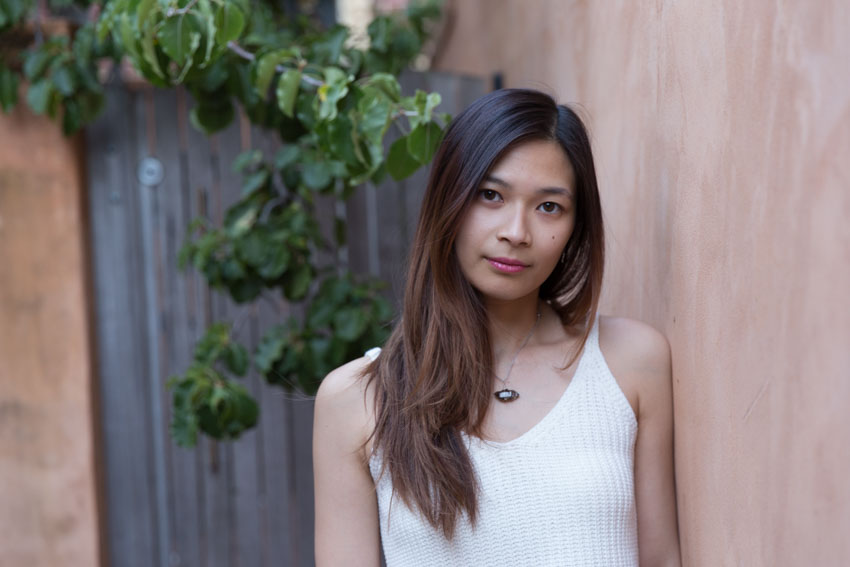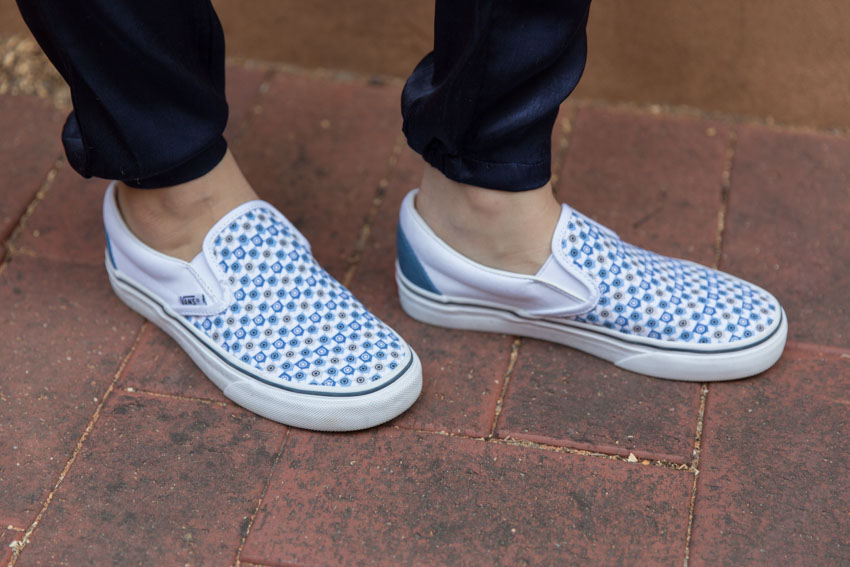 I only brought two pairs of shoes with me on this trip, and both are new! I needed a pair of sandals so Monica bought me a pair from the shoe store she works at, but this pair of custom Vans I actually got from Campaign Monitor because they gave a pair to every employee! Not only are they custom made, but the design is very cool. The shoes are very comfortable – I have never owned a pair of Vans before. They came right on time, too, since I didn't have a pair of sneakers or casual "soft" shoes before. :) I love them a lot.
In deciding between the shoes I really wanted to showcase this pair – the sandals went well with the accessories in this outfit, but I really liked the cool look of the Vans with the pants.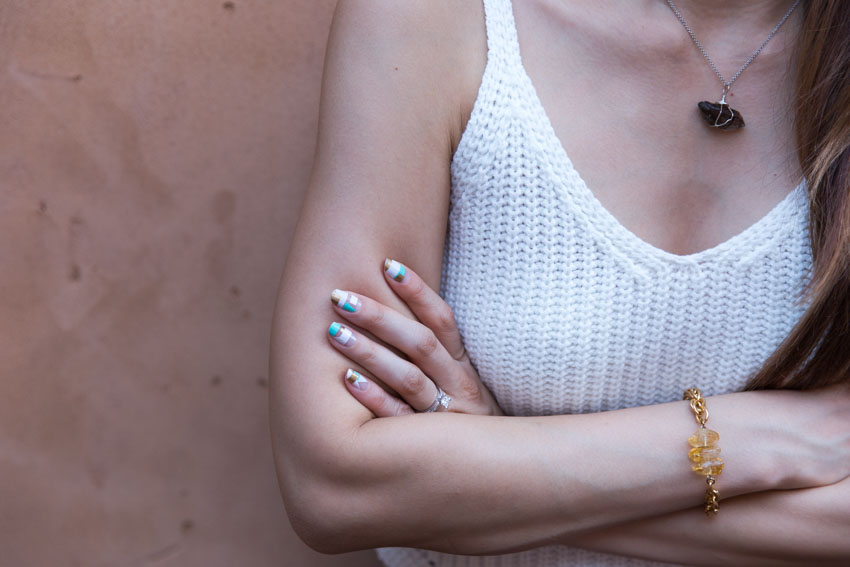 My nails are wraps from Scratch. They are a limited edition from the Scratch Monthly Mani Kit subscription. I did them today, and I think they have a pretty summery look. I chose the bracelet based on the gold in the nails and the crystal necklace I was wearing.
I chose the necklace to go with the top because it goes best with shorter necklaces. This is one I wore in Silence is Golden, and I bought the crystal in Fremantle (a town outside of Perth) last time I visited Perth. I just popped it onto a chain I already had.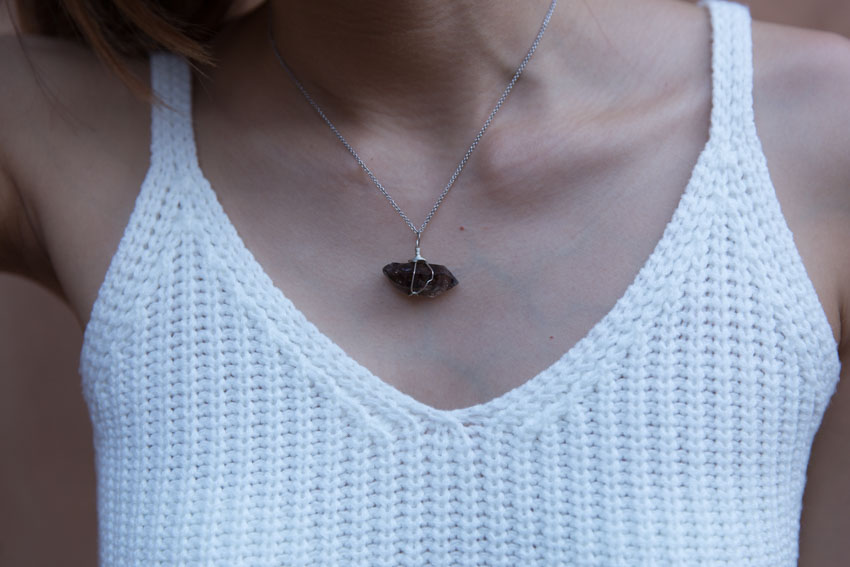 Overall I am pretty happy with this outfit, it feels very street-chic. It's very casual but the pants dress it up a little, and the jewellery adds a nice touch. I like that the pants can be dressed up or down.
📷 All photography by Nicholas Cooke. ❤️
Outfit details
Top: Carrislabelle (White knitted top)
Pants: Rut & Circle (Price Reina pant in Mission Blue available from NA-KD)
Shoes: custom Vans gifted by Campaign Monitor
Wristwear: By Invite Only (Gold Citrine Trio Bracelet)
Necklace: purchased at a market in Perth
Nails: Scratch (Monthly Mani Kit exclusive)
What do you think of this outfit? It's different from what I usually wear but did you think I pulled it off well?